How to Bet on the UEFA Nations League
It's safe to say the UEFA Nations League wasn't the most popular soccer competition when it began back in 2018. With major tournaments like the World Cup and European Championship revered among fans, adding another event to the schedule didn't feel right at first.
However, the new competition swiftly gained popularity, bringing about countless Nations League betting opportunities in the process.
Over the past few years, the best sites for betting on the Nations League have enabled us to win real money while gambling on European soccer's top teams. If you want to get involved, we suggest you keep reading!
Our guide teaches you exactly how to bet on the Nations League. We share our top Nations League betting tips, discuss all the different wagering options, analyze the format of the tournament, and a whole lot more.
Our Guide to Betting on the Nations League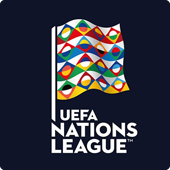 Where to Bet on the UEFA Nations League
Rank
Betting Site
Exclusive Bonus
Get Started

#1

Bovada Sports

50% Up To

$250

Visit Site

Visit Site

#2

BetUS

125% Up To

$2,500

Visit Site

Visit Site

#3

MyBookie

100% Up To

$1,000

Visit Site

Visit Site

#4

Everygame

100% Up To

$500

Visit Site

Visit Site

#5

BetOnline Sports

60% Up To

$1,000

Visit Site

Visit Site
Although the UEFA Nations League is covered by pretty much every sports betting site online, we truly believe that our recommendations are the very best sites for betting on the Nations League.
We have chosen these sites for a variety of reasons. Above all else, we ensure that our recommendations are reputable. They can be trusted with your money and will pay out when you win.
The top Nations League betting sites also offer excellent apps for betting on the Nations League, giving us more opportunities to win cash.
If you're new to gambling on sports online, make sure you check out our guide to online sports betting.
UEFA Nations League Format
If you want to bet on the Nations League with money, you need to familiarize yourself with the format of the competition. The Nations League is unlike any other international soccer tournament out there.
Here are a few of the most commonly asked questions.
What Is the UEFA Nations League?
A biennial international soccer competition, the UEFA Nations League was established back in 2018.
The tournament includes teams from the 55 member associations of UEFA – the Union of European Football Associations (European soccer's governing body).
With an increase in the number of international friendly matches taking place, the Nations League was introduced to replace friendlies and add more competitive games to the calendar.
How Does the Nations League Work?
The 55 teams are split into four different divisions, with 16 sides in Leagues A, B, and C, as well as seven teams in League D. The highest-ranked teams are in League A, while the lowest-ranked are in League D.
The top three divisions are made up of four groups of four teams, while League D features one group of four and another group of three.
Over the course of the campaign, teams play each of their group opponents both at home and away. The final standings are decided when each side has played six games.
League A and the Finals
The winners of each League A group qualify for the Nations League Finals. The top four teams go head-to-head in one-off semi-finals before the remaining two sides battle it out for the trophy in the final.
As the table below shows, Italy, Belgium, France, and Spain qualified for the 2020/21 Nations League semi-finals.
UEFA NATIONS LEAGUE (2020/21) – LEAGUE A STANDINGS
Group A1
Group A2
Group A3
Group A4
Italy
Belgium
France
Spain
Netherlands
Denmark
Portugal
Germany
Poland
England
Croatia
Switzerland
Bosnia & Herzegovina
Iceland
Sweden
Ukraine
At the opposite end of the standings, the bottom four teams from each League A group are relegated to League B.
During the 2020/21 tournament, Bosnia & Herzegovina, Iceland, Sweden, and Ukraine all lost their place in League A.
Leagues B, C, and D
The winners of each group in Leagues B, C, and D are promoted to the division above for the next tournament.
With just two groups in League D, only two sides from League C can get relegated. Consequently, the losers of each League C group face off in the relegation playoffs, with the two losing teams dropping into League D.
Now that you're up to speed with the format of the competitions, it's time to learn about all the options for betting on the UEFA Nations League.
Nations League Betting Options
UEFA Nations League betting isn't too unlike general soccer betting. However, the tournament does have some unique gambling opportunities that you need to be aware of.
If you want to bet on the Nations League online, here are the markets you should check out.
Nations League Futures
For those of you looking to place outright wagers on the Nations League, we suggest taking advantage of the following futures markets.
Tournament Winner – Undoubtedly the most popular of the Nations League futures, this market enables you to bet on the winner of the competition.
Group Winner – You can also bet on the group winner across all four leagues in the tournament.
To Be Relegated – Not only can you back teams to win groups and get promoted, you can also wager on sides to get relegated from their group.
Top Goal Scorer – This Nations League betting market allows you to predict which player will score the most goals throughout the competition.
Betting on Nations League Games
Betting on individual matches is a great way to enjoy Nations League gambling. Below, we cover some of the main options.
Moneyline – This is as simple as it gets. Either back a team to win the match or select the draw option.
Both Teams to Score – As the name suggests, this market enables you to predict whether both teams will score in any given game.
Over/Under Goals – You can also predict the total number of goals in a match. For example, over 1.5 goals or under 3.5 goals.
Correct Score – This market requires you to pick the exact final score of a game. For instance, 1-0 or 2-3.
Half Time/Full Time – If you think a team will be winning at half time and full time, use this market to get tastier odds than the regular moneyline option.
Live Nations League Betting
If you're serious about betting on the Nations League and want to make a sizeable profit, we encourage you to develop a Nations League betting strategy for in-play wagers.
Let's look at some live betting options.
Next Goal Scorer – While you're watching the game, you can pick a player and back them to score the next goal.
Next Team to Score – If you want a slightly safer option than the one above, you can wager on the next team to find the back of the net.
Next Player to Be Carded – If you think a player is on the verge of receiving a booking, back them to get carded next.
Picking the Nations League Winner
Although you can bet on the winner of each group, betting on the Nations League champion is always the most popular option.
This section includes our top tips for picking the overall winner of the Nations League.
Assess the Group Stage Draw
Before making your Nations League predictions or picking a tournament winner, you should always analyze the draw for the group stage.
With multiple top-quality teams featured in each League A group, some highly rated sides could finish outside the qualification spot in their group and fail to reach the semi-finals altogether.
In fact, we saw this during the 2020/21 Nations League group stage. Portugal was the defending champion heading into the competition but finished behind France in Group A3.
Elsewhere, the Netherlands trailed Italy in Group A1, Belgium qualified from Group A2 at the expense of England, and Spain topped Group A4 ahead of Germany. The Netherlands, England, Germany, and Portugal were all among the bookies' pre-tournament favorites but didn't even make it to the semi-finals.
Studying the groups will help you to assess each team's chances of progressing.
Consider Home Advantage in the Finals
During the group stage, all teams play against each other both home and away, giving every side an equal chance. However, the finals are staged in one country, meaning certain nations can gain an edge in the later stages of the competition.
It is no coincidence that Portugal won the inaugural edition of the tournament on home soil. Sure, they were one of the best teams in Europe. But they almost certainly benefited from the home-field advantage in 2019.
With their supporters cheering them on, Fernando Santos' men dispatched Switzerland 3-1 in the semi-finals before beating the Netherlands 1-0 in the final at FC Porto's Estadio do Dragao.
Before you even look at the Nations League odds, it pays to find out where the finals will be played.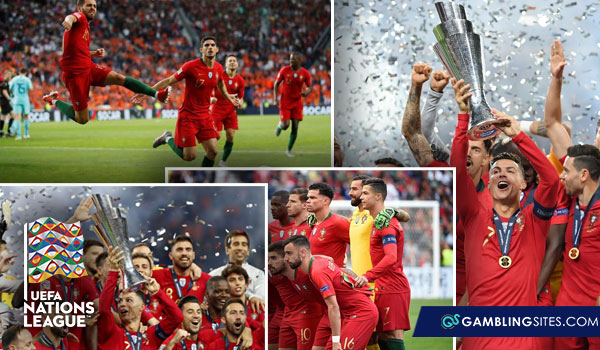 Examine Other Recent Tournaments
With major international tournaments like the World Cup and the European Championship taking place around the Nations League, you can gather plenty of useful information by looking at the results in these other competitions.
Certain countries excel in high-profile tournaments and invariably rise to the occasion, while other teams have a history of flopping on the big stage.
Portugal won Euro 2016 before going on to clinch the inaugural Nations League title. Similarly, Italy went unbeaten in Group A1 during the 2020/21 Nations League before going all the way at Euro 2020.
Studying other tournaments will stand you in good stead for making winning Nations League betting picks.
Look at the FIFA World Rankings
Granted, the FIFA World Rankings don't always tell the full story. But they can be extremely helpful for online Nations League betting, especially if you're a beginner.
The rankings tell us where countries place in the current standings and can give us an idea of how teams will fare in upcoming tournaments. Just remember that FIFA's rankings are always changing, with a points-based system used to order the teams.
Make sure you check the rankings on a regular basis, as they often fluctuate after batches of games.
Tips for Betting on Nations League Matches
Now that you know how to bet on the Nations League winner, you're probably wondering how to bet on individual Nations League games.
Check out the following Nations League betting tips related to individual matches.
Analyze Each Squad Thoroughly
The first Nations League tournament spanned almost 12 months, with the 2020/21 edition lasting well over a year. That's why we strongly recommend studying each squad before betting on games.
A country's starting XI right at the beginning of the competition could look completely different come the end of the campaign. With injuries changing squad selection and players dipping in and out of form across the course of a season, teams' performance often varies drastically throughout the tournament.
If a star player is on the sidelines, their team might struggle. Smaller nations with up-and-coming players could upset the Nations League betting odds.
Before you part ways with your cash, make sure you take an in-depth look at the squads.
Look Out for Newly Promoted and Relegated Teams
The gulf in quality between the different Nations League divisions can be vast. Due to the promotion and relegation rules, lesser sides often come up against top teams, leading to mismatches.
For example, Bosnia & Herzegovina was promoted from League B in 2018/19. The following tournament, they finished rock bottom of Group A1 without a single win to their name.
In the same way, relegated teams can drop into the league below and dominate their group, so it's important that you know which teams were promoted and relegated in the previous competition.
Make Full Use of All the Markets
All the best Nations League betting apps and sites dish up dozens of markets for gambling on matches, giving us countless opportunities to win money.
Of course, there is nothing wrong with backing Team A to beat Team B. But if you think Team A is going to thrash Team B, why not take advantage of the goal-based markets and find better value?

Top Tip
Rather than sticking to the regular options, we urge you to explore all the different possibilities and maximize your chances of making successful Nations League picks.
Tips for Live Nations League Betting
It's safe to say that in-play betting is a great way to bolster your bankroll. Bookies usually offer juicy live odds, so you can often win big by wagering on Nations League matches while they are taking place.
However, live betting is risky. Games can change in the blink of an eye, making it difficult to predict what will happen next. For that reason, we recommend watching matches closely and betting accordingly.
If you're betting on the next goal scorer, for instance, you need to follow the game and see which players are getting chances. By watching the match and following the players, you instantly give yourself a far better chance of making money.
Be sure to keep your emotions in check, too. If you find yourself losing a string of in-play wagers, it could be time to cut your losses.
Follow our Nations League Picks
We cover games from a wide range of tournaments – including the UEFA Nations League – in our soccer picks section.
Also remember that many of the top online sportsbooks offer attractive Nations League betting promotions. Keep an eye out for those!
Comparing Nations League Groups
When it comes to Nations League betting online, it is important to consider the differences between the top division and the lower leagues.
Yes, the majority of Nations League betting tips are relevant across all divisions and groups. But there are a few nuances that you should be aware of.
Lower-League Teams Have Added Incentive
Major sides competing in the Nations League don't need to worry about qualifying for major tournaments, as they pretty much always dominate their qualifying groups.
The so-called smaller countries, on the other hand, can use the Nations League as a springboard for reaching high-profile competitions like the World Cup and the Euros.
The Nations League is linked with European Championship qualifying, giving lesser teams another chance to qualify for Europe's leading international competition.
Teams that perform well in the Nations League get a high ranking from FIFA, handing them a better chance of reaching the World Cup.
Teams in lower divisions often take the Nations League more seriously than elite countries. This is definitely worth considering when you're making your Nations League betting predictions.
Top Countries Don't Always Give 100%
While the Nations League is crucial for many European sides, the continent's best teams are far more concerned with the more prestigious tournaments.
Managers of the highest-ranked countries may opt to rest players during the Nations League if a bigger competition is on the horizon. That means the top sides aren't always at full strength, giving lesser teams more of a chance.
It is worth noting that the Nations League generally takes place at various points throughout the domestic season, too. If players are competing for major honors such as league titles and the Champions League, they may not be too bothered to give their all in the Nations League.
Most players always give 100%. But you should keep an eye out for high-profile stars who might not perform to the best of their ability.
More Soccer Betting Content on Our Website
That concludes our UEFA Nations League betting guide, but our gambling advice for international soccer tournaments doesn't stop there.
We cover all the major tournaments around the world in our soccer blog, so make sure you check the blog regularly for all the latest content.
We also have several other tournament-specific betting guides for other soccer competitions on our site. So, whether you want to wager on the World Cup, or you fancy trying your hand at Copa America betting, we have you covered!
May
Sportsbook of the Month

Sign up Bonus
60% Up To $1,000
READ REVIEW
Visit Site
X