Best La Liga Betting Sites for 2022
La Liga is one of the most popular soccer leagues on the planet. As one of Europe's "Big Five", the Spanish top flight is home to many of the best teams and players in the game. Naturally, Spanish soccer generates a lot of interest from online gamblers. If you want join the fun, we highly recommend using the best La Liga betting sites listed below.
Rank
Betting Site
Exclusive Bonus
Get Started

#1

Bovada Sports

50% Up To

$250

Visit Site

Visit Site

#2

BetUS

125% Up To

$2,500

Visit Site

Visit Site

#3

MyBookie

100% Up To

$1,000

Visit Site

Visit Site

#4

Everygame

100% Up To

$500

Visit Site

Visit Site

#5

BetOnline Sports

60% Up To

$1,000

Visit Site

Visit Site
Even if you're not familiar with Spanish soccer, chances are you've heard of Real Madrid and Barcelona. The two La Liga powerhouses are among the biggest sports clubs in the world.
But Spain's top tier isn't all about Real and Barca. If you dig a little deeper, you will discover that all the leading online sportsbooks offer a vast range of La Liga betting opportunities.
The main purpose of this page is to share the best sportsbooks for betting on La Liga, but that is only the beginning. We also compare the top sites, explain how we rank them, detail the importance of finding the best La Liga odds, and even provide some useful soccer betting tips for you.
Before we get stuck into all of that, let's dig into the best sites for betting on La Liga matches and see what they have to offer.

More About Our Top-rated La Liga Betting Sites
Comparing Sportsbooks for La Liga Betting
All our recommended La Liga betting sites listed above are excellent options when it comes to wagering on Spanish soccer online. The top sportsbooks offer a vast range of benefits that you can't find elsewhere. That said, each of our recommendations offers slightly different perks – meaning all of the sites are unique.
In this section, we take a closer look and compare our top-rated La Liga betting sites. We cover a number of key aspects to help you decide which sportsbooks are right for you.
La Liga Sportsbooks for Americans
La Liga may be a European soccer league, but there are plenty of top La Liga betting sites that cater for US customers. Below, we break down our top US online sportsbooks for La Liga betting. We compare bonuses and promotions, La Liga betting limits, and crypto options.
| | | | | |
| --- | --- | --- | --- | --- |
| Site | Welcome Bonus | Other Promotions | La Liga Betting Limits (Moneyline) | Crypto Accepted? |
| BetUS | 100% up to $2,500 | 20% reload bonus on all crypto deposits | $2,000 | Yes |
| BetOnline | 50% up to $1,000 | $50 free play for mobile betting | $3,000 | Yes |
| MyBookie | 50% up to $1,000 | 25% reload bonus | $2,000 | Yes |
| SportsBetting.ag | 50% up to $1,000 | 25% reload bonus | $1,000 | No |
| Bovada | 50% up to $250 | Various evergreen bonuses | $2,000 | Yes |
As you can see, many US sportsbooks have relatively low betting limits for La Liga moneylines. Some American betting sites accept wagers up to $50,000 or more for popular sports such as football, basketball, and baseball. But that is not the case with Spanish soccer.
Still, you will invariably find tasty welcome bonuses at our recommended sites for La Liga betting.
La Liga Betting Sites International Bettors
Our top-ranked La Liga betting sites for customers outside the United States are displayed in the table below. Betway and 10Bet are our recommended options. Although both sportsbooks are not renowned for overly generous bonuses, they excel in other important departments such as betting limits and a variety of soccer betting markets.
As the table above details, Betway and 10Bet enable their customers to wager up to £5,000 (approx $6,600) on moneyline markets for La Liga matches. It is vitally important that you consider betting limits while choosing a sportsbook so that you're always able to wager an amount you're comfortable with.
However, it pays to shop around to find the best betting limits for the particular wager you want to make. We'll talk a bit more about the importance of exploring multiple sportsbooks later on.
How We Find the Top Sites for La Liga Betting
Here at GamblingSites.com, we leave no stone unturned when it comes to reviewing, rating, and ranking online sportsbooks. You will be pleased to learn that all our recommended La Liga betting sites have come through a stringent process that involves rigorous testing and extensive research.
As a result, each of our trusted online sportsbooks for La Liga betting meets the following criteria.
Non-Negotiables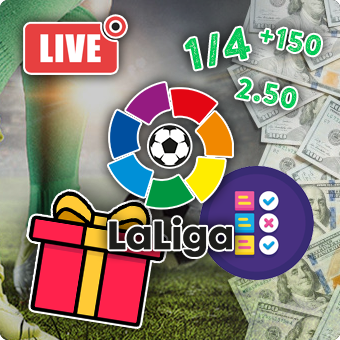 There are several non-negotiable features that all of our recommended La Liga betting sites must have. We're sure you'll agree that the following traits are essential.
High La Liga Odds – The best sportsbooks for betting on La Liga should have the highest La Liga odds. This enables you to get the best possible value for each wager.
La Liga-Specific Promotions – Our recommended sites also offer plenty of attractive bonuses and promotions, many of which are specific to betting on Spanish soccer.
Tons of La Liga Betting Markets – All the best sites for betting on La Liga matches have lots of markets, allowing you to make full use of futures and outrights, prop bets, and many other options.
In-Play La Liga Betting – Want to try your hand at live La Liga betting? No problem. Our trusted sportsbooks always have plenty of in-play markets to take advantage of.
Other Key Aspects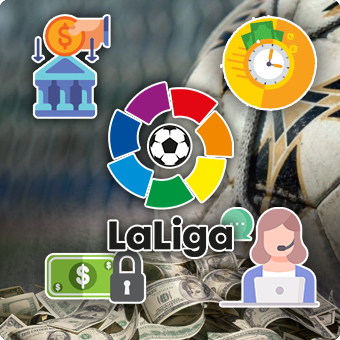 We don't just stop there. Alongside the betting-specific features, there are various other aspects to take into consideration – some of which are behind the scenes.
Wide-Ranging Banking Options – The best La Liga betting sites have multiple banking methods to use, including debit and credit cards, crypto, e-wallets, and other convenient options. Interested in crypto for online gambling? Learn why you should use crypto to gamble online here.
Speedy Payouts – All our recommendations offer fast and efficient payouts, meaning you can get your hands on your winnings without having to wait too long. Interested in getting your payout faster? We explain how in our fast payout betting sites guide.
First-Rate Customer Service – The customer support offered by the top-ranked La Liga sportsbooks is second to none. Live chat functions enable you to get a response almost instantly.
Safety and Security – You can rest assured that our trusted sites are licensed and regulated by only the most reputable and strictest companies in the industry. We recommend many if not all of these sites on our safest betting sites page too.
La Liga Betting on Mobile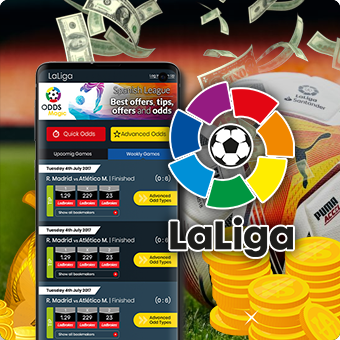 Mobile betting is another hugely important factor for us. Before we recommend any site, we ensure that it has adequate options for mobile gambling. Here is a general idea of what you can expect.
La Liga Betting Apps – Many of our trusted sportsbooks have an app for betting on La Liga. Better still, all of our top-ranked sites have a mobile version of their desktop sportsbook that works on portable devices.
Mobile-Specific Bonuses – You can often find mobile-specific promotions for app users. These offers are not available to regular customers, making them unique to mobile bettors.
Useful Features – Live streaming, push notifications, and cash-out are just some of the many handy features that mobile gamblers can utilize.
Keep Up to Date – If you stay on top of all action on your mobile device, you will give yourself the best possible chance of finding the highest odds.
Mobile devices are a great way to enjoy betting on La Liga for real money. If you're curious to know more, we encourage you to check out our soccer apps page for some soccer-specific advice and recommendations. Or check out our betting apps guide for some more general mobile betting information.
Why Compare La Liga Odds?
One of the main advantages of real money La Liga betting online is the ability to join multiple sportsbooks. This allows you to compare the different prices on each site – and quickly so that you can take advantage of any pricing differences you come across.
It is important to remember that La Liga odds vary from sportsbook to sportsbook. Sometimes the contrast can be small, but it can often make all the difference. But you'll never know how much you can save or how much more you can win if you limit yourself to only one bookmaker.
The table below outlines the varying prices across our top-rated La Liga betting sites. At the time of writing, these were the odds to win the 2021-22 La Liga title. Odds are that these prices have changed, so bear in mind this is just an example.
COMPARING ODDS FOR THE LA LIGA TITLE
Sportsbook
Real Madrid
Atletico Madrid
Sevilla
BetUs
1.25
5.00
13.00
BetOnline
1.25
6.00
14.00
MyBookie
1.19
6.30
15.30
SportsBetting.ag
1.20
6.50
15.00
Bovada
1.20
6.00
15.00
Betway
1.22
7.50
17.00
10Bet
1.23
5.50
12.00
At first glance, the prices above may not seem drastically different. Yet, when you examine the odds closely, you will begin to notice some inconsistencies. For example, the odds for Real Madrid to win the title only range from 1.19 to 1.25. Granted, that is not a big gap. But the odds for Atletico Madrid and Sevilla to lift the trophy fluctuate massively.
BetUS (5.00) offers the lowest price for Atletico, while Betway (7.50) offers the highest. For Sevilla, Betway (17.00) has the biggest odds again, while 10Bet (12.00) presents the lowest value.
A $100 wager on Sevilla at 10Bet would return $1,200. On the flip side, the same bet would return $1,700 at Betway. That's a whopping $500 difference!
That covers the gist of why it's important to compare La Liga betting odds before you lay down your Spanish soccer bets. If you want to learn more, then read our guide to comparing odds and line shopping.
Simple Tips for Betting on La Liga

Now that you know WHERE to bet on La Liga for real money, it's time to learn about HOW to wager on top-flight Spanish soccer.
If you're looking for some more in-depth betting tips, be sure to check out our expert soccer betting strategies and tips guide. All the tips on that page will help to take your La Liga betting to the next level. For now, though, we want to share some simpler, La Liga-specific betting tips with you.
The La Liga Title Race is Relatively Uncompetitive
Across the league's nine-decade history, only nine clubs have won the La Liga title. Three teams – Deportivo La Coruna, Sevilla, and Real Betis – have one title to their name, while one club – Real Sociedad – has two titles. Athletico Bilbao (8) and Valencia (6) have also enjoyed success in the past.
As the table below details, Real Madrid and Barcelona have dominated Spanish soccer over the years, while Atletico Madrid has tried its best to upset the top two.
LA LIGA TITLE WINNERS
Club
Titles
Runner-Up
Real Madrid
34
24
Barcelona
26
26
Atletico Madrid
11
10
Athletic Bilbao
8
7
Valencia
6
6
Real Sociedad
2
3
Deportivo La Coruna
1
5
Sevilla
1
4
Real Betis
1
–
Barca has won ten of the past 17 titles. Real Madrid has triumphed on five occasions during that period, with Atletico lifting the trophy in 2014 and 2021. No other side has won the La Liga title since 2004.
With this in mind, backing one of Real Madrid, Barcelona, or Atletico Madrid to win the La Liga title is a no-brainer in this day and age. Until other teams show signs of challenging for the trophy, it doesn't make sense to opt for a different strategy.
Sure, the odds for other clubs may be hugely attractive. But if the past two decade are anything to go by, the chances of a different team upsetting the odds are extremely slim.
Keep an Eye Out for "European Hangovers"
Every year, the top teams in Spanish soccer qualify for the following season's European competitions. The top four sides qualify for the UEFA Champions League, while the fifth-place team qualifies for the UEFA Europa League. The club that finishes sixth heads into the newly-formed UEFA Europa Conference League.
Champions League matches are played on Tuesday and Wednesday, with both Europa League and Europa Conference League matches taking place on Thursday.
This can lead to teams suffering from a "European hangover" when they return to La Liga action the following weekend.
Essentially, a European hangover occurs when a team plays a testing midweek match and then has to play a domestic match only a few days later. If a team has travel across the continent on Thursday and then play in La Liga on Sunday, the players will be drained. Therefore, they won't be able to perform to the best of their ability – often leading to surprising results.
Even the best teams suffer from European hangovers. If you can determine which sides might struggle after playing in UEFA tournaments, you could get the better of the La Liga oddsmakers.
Below is a list of the La Liga teams taking part in European competitions during the 2021-22 season. Make sure you keep an eye on these sides.
Atletico Madrid (Champions League)
Barcelona (Champions League)
Real Madrid (Champions League)
Villarreal (Champions League)
Real Betis (Europa League)
Real Sociedad (Europa League)
Consider the Goals-Per-Match Average
The total number of goals scored in a La Liga campaign has been on the decline over the past five seasons. During the 2016-17 campaign, there was an average of 2.94 goals per match. Last season, the goals-per-match ratio was just 2.51. That is a significant drop-off – 0.43 goals per match to be exact!
GOALS-PER-MATCH TRENDS IN LA LIGA
Season
Goals
MATCHES
Goals Per Game
2016-17
1,118
380
2.94
2017-18
1,024
380
2.69
2018-19
983
380
2.59
2019-20
942
380
2.48
2020-21
953
380
2.51
When it comes to utilizing the goal-based markets at the best La Liga betting sites, considering the goals-per-match average in Spain's top flight will stand you in good stead for winning cash.
Whether you like the over/under wagers, or you enjoy exploring other options like team totals and both teams to score, always remember that you can use stats and trends to your advantage.
You can keep up to date with all the latest Spanish soccer developments in our soccer blog. If you're ready to bet on La Liga for real money right now, why not check out our free picks?
Final Word on Betting La Liga Soccer Online
Hopefully, this page will help you to bet on La Liga and win cash. We have spent hours searching for, analyzing, and rating our top-ranked La Liga betting sites. So, you can rest assured that all our recommendations are 100% legit.
To summarize, here is a six-point list to adhere to. The keynotes below cover all of the pivotal points on this page and present them in an easy-to-follow checklist.
Join the best La Liga betting sites.
Choose sportsbooks that have the right features for you.
Make full use of generous welcome bonuses.
Shop around to find the best odds.
Follow our trusted La Liga betting tips.
Bet on La Liga and have fun!
Just in case you need reminding about where to bet on La Liga matches, here are the best betting sites for La Liga wagering once again.
May
Sportsbook of the Month

Sign up Bonus
60% Up To $1,000
READ REVIEW
Visit Site
X