Soccer's Greatest Games – 20 Memorable Matches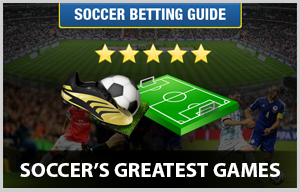 What makes a soccer game great? Is it a lot of goals? Most soccer fans would agree that goals help to make a game exciting, but they're surely not the ONLY factor. We've seen plenty of high-scoring games that we wouldn't class as "great," and we've seen plenty of low-scoring games that are up there with the best.
The truth is that a soccer game can be great for any number of reasons, and these reasons are ultimately subjective. If you asked 50 soccer fans to each compile a list of the all-time greatest games, it's unlikely that you'd see the same list twice. Everyone has their own opinion about what makes a soccer game great, and there's no right or wrong here.
For this article, we've selected the games that WE think are the greatest of all time. This wasn't easy, as there have been hundreds of memorable games throughout the history of soccer. We've managed to narrow it down to 20 though, and you'll find details of them all below.
We doubt you'll agree with every single one of our choices, but we hope you enjoy the read anyway!
West Germany vs Hungary


Competition: FIFA World Cup (Final)
Date: July 4th, 1954
Venue: Wankdorf Stadium, Bern, Switzerland
The 1954 World Cup final is known in Germany as "Wunder von Bern." In English, this means "The Miracle of Bern." The game produced one of the biggest upsets in international soccer history, and it's easily among the greatest World Cup games ever played.
Prior to the final, the Hungary soccer team had not lost a game in four years. They'd won 36 of their last 40, drawing the other six. The team featured several of the leading players from the era, including the great Ferenc Puskas. Other notable names included Sandor Kocsis, Nandor Hidegkuti and Zoltan Czibor.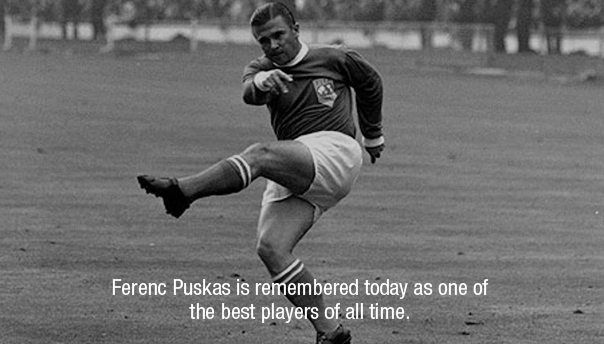 The West Germany team was much weaker in comparison, in terms of both quality and experience. West Germany had only been formally recognized as an international soccer team since 1950, and most of the players were semi-professionals. They had only played a few games before the World Cup, so it was actually a surprise that they'd made it as far as the final.
Virtually everyone was expecting Hungary to beat West Germany comfortably. Especially since that's exactly what happened when the two teams met in the group phase of the tournament. Hungary won that game 8-3, so they were the clear favorites for the final. The West Germans had other ideas though.
The game started as many predicted it would. Hungary took the lead after just six minutes, with Puskas scoring from close range. When Czibor added another goal in the eighth minute, it looked like Hungary was well on their way to a routine victory.
However, the West Germans responded almost immediately. In the tenth minute of the game, Morlock made the score 2-1 with a close-range finish of his own. Then, in the 18th minute, Rahn scored to bring the scores level.
Hungary recovered from this unexpected setback, and proceeded to dominate the rest of the first half. There were no more goals, though, and the half finished 2-2. Hungary again dominated for most of the second half, but it was the West Germans who got the breakthrough goal. In the 84th minute, Rahn scored his second of the game to leave Hungary reeling.
Puskas thought he had equalized for Hungary just two minutes later, but his attempt was ruled out for offside. A final minute chance for Czibor was well saved by the German goalkeeper, and the West Germans held on for a famous victory.

Team Line-Ups

West Germany
Toni Turek
Josef Posipal
Werner Liebrich
Werner Kohlmeyer
Horst Eckel
Karl Mai
Max Morlock
Fritz Walter
Helmut Rahn
Ottmar Walter
Hans Schafer
Gyula Grosics
Jeno Buzanszky
Gyula Lorant
Mihaly Lantos
Jozsef Bozsik
Jozsef Zakarias
Zoltan Czibor
Nandor Hidegkuti
Mihaly Toth
Sandor Kocsis
Ference Puskas

Hungary
Blackpool vs Bolton Wanderers


Competition: FA Cup (Final)
Date: May 2nd, 1953
Venue: Wembley Stadium, London, England
The FA Cup is the oldest soccer tournament in the world. It was first played nearly 150 years ago in 1871. Therefore, it's no surprise at all that there have been dozens and dozens of memorable matches throughout the competition. Few people would argue against the 1953 final being the most memorable of all, though.
The game is best remembered for the performance of Blackpool's Sir Stanley Matthews. Despite being the leading British player of his generation, Matthews had not yet won the FA Cup. He'd been in two finals with Blackpool previously, but was on the losing side both times. At 38 years old, the 1953 final was sure to be his last chance to lift the famous trophy.
With just over 30 minutes left to play, it looked like Matthews was once again going to miss out. Bolton Wanderers had taken an early lead in the second minute, courtesy of the legendary Nat Lofthouse. That was followed by another Bolton goal from Willie Moir. Blackpool got a goal of their own through Stan Mortensen, but Bolton scored again in the 55th minute.
The turnaround started in the 68th minute.
Just when it seemed as though time was running out for Blackpool, Matthews delivered a cross from the right wing that reached Stan Mortensen. He scored his second of the game to make the score 3-2. He then completed his hat-trick with less than two minutes to go. In the last few seconds of the game, another cross from Matthews led to a goal from Bill Perry.
Although Matthews was not among the goal scorers, he was the main inspiration behind Blackpool's incredible comeback. His performance was truly spectacular for a man of his age, and he fully deserved the plaudits that came his way. The game was subsequently nicknamed "The Matthews Final."

Team Line-Ups

Blackpool
George Farm
Eddie Shimwell
Tommy Garrett
Ewan Fenton
Harry Johnston
Cyril Robinson
Stanley Matthews
Ernie Taylor
Stan Mortensen
Jackie Mudie
Bill Perry
Stan Hanson
John Ball
Ralph Banks
Johnny Wheeler
Malcolm Barrass
Eric Bell
Doug Holden
Willie Moir
Nat Lofthouse
Harold Hassall
Bobby Langton

Bolton Wanderers
Argentina vs England


Competition: FIFA World Cup (Quarter Final)
Date: June 22nd, 1986
Venue: Estadio Azteca, Mexico City, Mexico
World Cup quarter-finals are always big games. The 1986 quarterfinal between Argentina and England was ESPECIALLY big, though, even before a ball had been kicked. It came just four years after the two nations had fought the Falklands War. There was already an established soccer rivalry between Argentina and England, and the military conflict had added to its intensity.
Everyone knew that this was going to be a game to remember. No one could have expected what actually happened though. The two teams both played their parts in an intriguing and hard-fought contest, but the game will forever be famous for Argentina's two goals. Both were amazing, for very different reasons.
The first half of the game was goalless. England and Argentina both had chances to score, but neither team could find the breakthrough. It wasn't until the second half that the game exploded into action.
A few minutes into the second half, one of the most memorable incidents in the history of the World Cup took place. English midfielder Steve Hodge mishit a clearance, and the ball sailed into the penalty area. As goalkeeper Peter Shilton came off his line to punch clear, Diego Maradona challenged for the ball.
Despite being several inches shorter than Shilton, Maradona made contact first and scored with what appeared to be a great header. As he was celebrating the goal, however, replays showed that he actually used his hand to push the ball into the goal.
A free kick for England then? No. The referee had not seen the infringement, and the goal was awarded. The English players were incensed, surrounding the referee and complaining. It was to no avail, though, and Argentina had the lead.
After the game, Maradona claimed that the goal was scored "a little with the head of Maradona and a little with the hand of God." It subsequently became known as the "Hand of God" goal, and you can see it in the following video.
Just a few minutes after Argentina opened the scoring, Maradona scored again. There could be no complaints about this goal though. It was absolute genius, and arguably the best World Cup goal ever scored. Check it out in this video.
This goal helped to cement Maradona's reputation as one of the finest soccer players of all time. Although it will always be tarnished to some extent by his earlier "cheating," it was a spectacular moment of individual skill. There have been very few players in the history of the sport that could score such a goal.
With Argentina taking a two-goal lead, England had to react. Manager Bobby Robson made two attacking substitutions, and the team started to force their way back into the game. When they scored through Gary Lineker in the 80th minute, the it set up a frantic final few minutes. Argentina held on though, and progressed to the semi-final.

Team Line-Ups

Argentina
Nery Pumpido
Jose Luis Brown
Jose Luis Cuciuffo
Oscar Ruggeri
Sergio Batista
Jorge Burruchuga (Tapia, 75)
Diego Maradona
Hector Enrique
Ricardo Giusti
Julio Olarticoechea
Jorge Valdano
Peter Shilton
Gary Stevens
Kenny Sansom
Terry Fenwick
Terry Butcher
Glenn Hoddle
Peter Reid (Waddle, 69)
Trevor Steven (Barnes, 74)
Steve Hodge
Gary Lineker
Peter Beardsley

England
Benfica vs Real Madrid


Competition: UEFA European Cup (Final)
Date: May 2nd, 1962
Venue: Olympisch Stadion, Amsterdam, Netherlands
Benfica won the European Cup in 1961, beating Barcelona in the final. In doing so, they ended Real Madrid's run of five successive victories in the tournament. The 1962 final offered Real Madrid the opportunity for revenge, and it turned out to be a truly memorable game.
Real Madrid dominated the first half, mostly due to Alfredo Di Stefano and Ferenc Puskas. The two forwards were in scintillating form, with Di Stefano controlling the game from deep and Puskas terrorizing the Benfica defense, but despite their domination, Madrid only had a one goal lead at half time.
Puskas scored twice in the first 25 minutes to give his team a two-goal lead, and it looked like Benfica were already beaten. They hit back, though, and scored two goals of their own. With the game tied at 2-2 as half-time approached, Puskas then completed his hat-trick to put Madrid back in front.
Although it was Puskas who had scored all Madrid's goals, Benfica identified Di Stefano as the biggest danger. They set out to stop him in the second half and their plan worked. By restricting his time on the ball, they cut off the supply to Puskas. This enabled them to take control of the game.
Benfica levelled the game in the 50th minute, when Coluna scored a wonderful goal from 25 yards out. The young Eusebio, who would go on to become a true legend of the game, then began to shine. He won and scored a penalty in the 64th minute and then again just five minutes later.
With a 5-3 lead and 20 minutes to play, Benfica slowed the game down. There were no further goals, and the Portuguese team secured a famous victory. They looked set to dominate the European stage for years to come, but it was not meant to be.
The manager of Benfica at the time was Bela Guttman. After winning two successive European Cups, he approached the club's board to ask for a pay raise. When his request was denied, he resigned. He stated at the time that "not in a hundred years from now will Benfica ever be European champion." His assertion has proved true so far, with many believing that he cursed the club with his words.

Team Line-Ups

Benfica
Costa Pereira
Mario Joao
Germano
Angelo Martins
Domiciano Cavem
Fernando Cruz
Jose Augusto
Eusebio
Jose Aguas
Mario Coluna
Antonio Simoes
Jose Araquistain
Pedro Casado
Vincente Miera
Felo
Jose Santamaria
Pachin
Justo Tejada
Luis del Sol
Aldredo Di Stefano
Ferenc Puskas
Francisco Gento

Real Madrid
Italy vs West Germany


Competition: FIFA World Cup (Semi Final)
Date: June 17th, 1970
Venue: Estadio Azteca, Mexico City, Mexico
The 1970 World Cup semi-final between Italy and West Germany was fairly unspectacular for 90 minutes. Italy took an early lead through Roberto Boninsegna and completely stifled the game. They played defensively and cautiously, allowing the West Germans to have the ball, but preventing them from doing much with it.
As the end of regulation time approached, no-one would have believed that this game was about to become one of the all-time classics. Other than the initial goal from Italy, the only incident of any note was when German player, Franz Beckenbauer was injured by a brutal foul.
Beckenbauer suffered a dislocated shoulder as a result of the foul, and couldn't be replaced, as West Germany had used up their allotted substitutions. Rather than leave his team to play with 10 men, Beckenbauer had his arm strapped up and continued to play.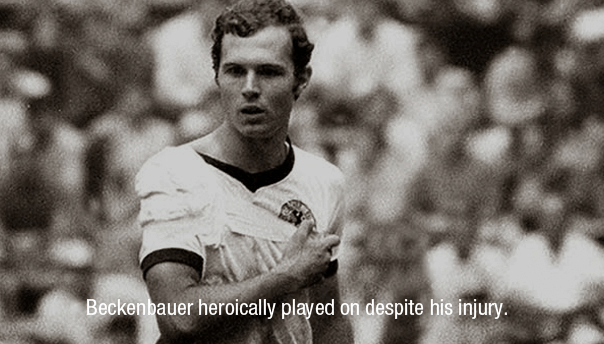 In the third minute of injury time, West Germany finally broke through the resolute Italian defense. Karl-Heinz Schnellinger scored with a diving header, leveling the game, causing another 30 minutes of extra time.
It was during this 30 minutes that the game earned its status as a classic. The Italians abandoned their defensive style completely and played much more offensively. Five goals were scored as the two teams battled to earn a place in the final.
West Germany got the first goal in extra time, with Gerd Muller scoring in the 94th minute. Italy responded almost immediately through Tarcisio Brurgnich, and then took the lead through Luigi Riva. Muller struck again to make it 3-3, before Gianni Rivera scored the decisive goal for Italy.
The Italians went on to meet the Brazilians in the final of the tournament. That turned out to be another great game, and we cover it later in this article.

Team Line-Ups

Italy
Enrico Albertosi
Tarcisio Burgnich
Giacinto Facchetti
Pierluigi Cera
Roberto Rosato (Poletti, 91)
Mario Bertini
Sandro Mazzola (Rivera, 46)
Giancarlo De Sisti
Angelo Domenghini
Roberto Boninsegna
Luigi Riva
Sepp Maier
Berti Vogts
Bernd Patzke (Held, 66)
Willi Schulz
Karl-Heinz Schnellinger
Franz Beckenbauer
Wolfgang Overath
Jurgen Grabowski
Uwe Seeler
Gerd Muller
Hannes Lohr (Libuda, 52)

West Germany
AC Milan vs Liverpool

–
(After Extra Time, Liverpool Win on Penalties)

Competition: UEFA Champions League (Final)
Date: May 25th, 2005
Venue: Olympic Stadium, Istanbul, Turkey
This is one of the most recent games to have made our list. It deserves its place here without doubt, as it featured a truly astonishing comeback from Liverpool. The game has been labeled, "The Miracle of Istanbul," a very fitting description.
Liverpool was the underdog going into this final. It had been 20 years since they had last made the final of Europe's premier tournament—back when it was still known as the European Cup. AC Milan, on the other hand, were appearing in their second final in three years. They also had an incredibly talented team. Liverpool was not exactly lacking in quality, but AC Milan looked far superior on paper.
It was, therefore, no surprise when Milan raced into a three-goal lead. Paulo Maldini put them ahead inside the first minute, and Hernan Crespo added two more goals before half-time. Although Liverpool had not played poorly, it appeared that their chances of lifting the trophy were already gone.
This was not a team that gave up easily though. Manager Rafa Benitez made a half-time substitution, bringing on Dieter Hamann for Steven Finnan. He also adjusted the formation of his side to make it more attacking. His changes had the desired effect, as Liverpool started playing much better the second half.
They were level within 15 minutes. Steven Gerrard scored in the 54th minute, followed by goals from both Smicer and Alonso. The last half hour saw chances for both teams to score a winner, but there were no more goals. 30 minutes of extra time didn't produce a goal either, so the game went to a shootout.
Milan took the first penalty and missed. Liverpool scored their first, then Milan missed again. When Liverpool scored their second, the pressure was really on Milan. They scored with their third penalty, though, and then Liverpool missed one. The tension was unbelievable at this point.
Kaka converted Milan's fourth penalty to keep the tie alive, then Liverpool converted through Smicer. This made it 3-2 in the shootout. When Shevchenko missed Milan's fifth penalty, it was all over. Liverpool's comeback was complete.
Interestingly, the two teams met again in the 2007 Champions League final. That was a much less dramatic game, with AC Milan securing a relatively routine 2-1 victory.

Team Line-Ups

AC Milan
Dida
Cafu
Jaap Stam
Alessandro Nesta
Paulo Maldini
Andrea Pirlo
Gennaro Gattuso (Costa, 112)
Clarence Seedorf (Serginho, 86)
Kaka
Andriy Shevchenko
Hernan Crespo (Tomasson, 85)
Jerzy Dudek
Steve Finnan (Hamann, 46)
Jamie Carragher
Sami Hyypia
Djimi Traore
Xabi Alonso
Luis Garcia
Steven Gerrard
John Arne Riise
Harry Kewell (Smicer, 23)
Milan Baros (Cisse, 85)

Liverpool
Brazil vs England


Competition: FIFA World Cup (Group Stage)
Date: June 7th, 1970
Venue: Estadio Jalisco, Guadalajara, Mexico
England came into the 1970 World Cup as defending champions. They'd won their first World Cup four years earlier, and had high expectations once again. Brazil, meanwhile, was widely regarded as the best team on the planet at that time. In fact, the 1970 Brazil team is considered by many to be the best soccer team EVER.
There were no seedings for the group stage of the 1970 World Cup, and that allowed for Brazil and England to be drawn together in the same group. Many people were expecting a Brazil versus England final, but instead the two teams met early in the tournament. Their game was labelled as "The Final That Never Was," and it turned out to be a classic.
In the introduction of this article, we mentioned how we've seen plenty of entertaining games that were low-scoring. This game is a prime example of that. There was only the one goal, but it was an enthralling encounter nonetheless.
For the first hour of the game, England's famously strong defense was put to the test by the impressive Brazilian attackers. Bobby Moore put on a heroic performance, producing tackle after tackle to stop his opponents getting through on goal. One such tackle, on Jairzinho, was especially brilliant. To this day, it's regarded as one of the best tackles ever seen.
The game also produced one of the best saves ever seen. Brazil came close to taking the lead when Pele directed a powerful header towards the England goal. It looked certain to cross the line, but the English goalkeeper Gordon Banks managed to get his hands to the ball. He pushed it up and over the crossbar just as Pele was starting to celebrate.
Eventually, the Brazilians found a way through the English defense. In keeping with the rest of the game, it was a memorable goal. Tostao made a great run into the penalty area, beating Moore in the process before cutting back and crossing to Pele. Pele controlled the cross with his first touch, then sent a perfect pass to Jairzinho. Jairzinho took one touch and smashed the ball into the top corner.
England spent the next 30 minutes pushing hard for an equalizer. They created some notable chances, with Alan Mullery hitting the crossbar and Jeff Astle missing an open goal. It wasn't meant to be though, and the game finished 1-0. Brazil went on to win the rest of their games and secure the World Cup trophy for a third time.

Team Line-Ups

Brazil
Felix
Carlos Alberto
Piazza
Brio
Everaldo
Clodoaldo
Paulo Cezar
Jairzinho
Tostao (Roberto, 68)
Pele
Rivelino
Gordon Banks
Tommy Wright
Brian Labone
Bobby Moore
Terry Cooper
Alan Mullery
Alan Ball
Bobby Charlton (Bell, 63)
Martin Peters
Geoff Hurst
Francis Lee (Astle, 63)

England
Liverpool vs Alaves


Competition: UEFA Cup (Final)
Date: May 16th, 2001
Venue: Westfalenstadion, Dortnund, Germany
The 2001 UEFA Cup final between Liverpool and Alaves was memorable for a number of reasons. It was Liverpool's first appearance in a European final since being banned following the Heysel Stadium disaster, and it was the first time Alaves had made a European final of any kind. Liverpool's victory secured them an historic cup treble for the season, as they'd already won the FA Cup and the Football League Cup.
The MOST memorable aspect of this final was that it was simply a breathtaking game of soccer. There were goals galore, and the action was non-stop from the first minute until the last. Although Alves was ultimately left empty-handed, they could certainly be proud of their involvement in such an amazing game.
Liverpool went into the 2001 UEFA Cup Final as favorites. They lived up to that billing by racing into an early lead, with defender Markus Babbel scoring a headed goal in the fourth minute. Twelve minutes later, a young Steven Gerrard scored following an excellent pass from Michael Owen. Liverpool was firmly in control, and looked to be cruising towards their third UEFA Cup title.
The Alaves manager was quick to react, making a substitution in the 22nd minute. Ivan Alonso came on for Dan Eggen, and he had an instant impact. Just four minutes after joining the game, he scored a towering header to bring Alaves back in contention.
Liverpool regained their two-goal lead in the 41st minute, when Gary McAllister converted a penalty won by Michael Owen. The score remained at 3-1 until halftime.
Alaves started the second half with real intent, and they scored twice inside the first six minutes. Moreno scored a header in the 48th minute, then followed that up with a 25-yard free-kick. Alaves was level, and Liverpool was reeling.
It was another substitute, Robbie Fowler, who scored the seventh goal of the game. In the 73rd minute, he guided a shot past the Alaves keeper after collecting a pass from McAllister. With just two minutes of regular time remaining, Alaves then equalized again. Jordi Cruyff scored a header from a corner, and the game was tied at 4-4.
With no more goals in the allotted 90 minutes, the game went into extra time. The "golden rule" was in effect at this time, which meant the first team to score would win. It was Liverpool that secured the victory, when the unfortunate Delfi Gelli scored an own-goal in the 117th minute.

Team Line-Ups

Liverpool
Sander Westerveld
Markus Babbel
Sami Hyypia
Stephane Henchoz (Smicer, 55)
Jamie Carragher
Gary McAllister
Dietmar Hamman
Steven Gerrard
Danny Murphy
Emile Heskey (Fowler, 64)
Michael Owen (Berger, 78)
Martin Herrera
Antonio Kamona
Oscar Tellez
Dan Eggen (Alonso, 22)
Cosmin Contra
Delfi Gelli
Jordi Cruff
Ivan Tomic
Hermes Desio
Martin Astudillo (Mocelin, 46)
Javi Moreno (Pablo, 64)

Alaves
Brazil vs Italy


Competition: FIFA World Cup (2nd Group Stage)
Date: July 5th, 1982
Venue: Estadio Sarria, Barcelona, Spain
The Brazil team of the 70s and 80s was famed for it's free-flowing attacking play. The Italy team of that same time was famed for its solid defense and efficiency. When the two teams met in the 1982 World Cup, it was the ultimate clash of two contrasting styles.
Most people were expecting the Brazilian flair to prevail. Brazil was the pre-tournament favorite and had won all three of their games in the first group stage. Italy, by contrast, hadn't won a single game. Three draws had proved enough to qualify for the second stage, but they weren't looking at all impressive. Their star striker, Paolo Rossi, had failed to score, and many were questioning his place on the team.
Just five minutes into the game, however, Rossi scored the opening goal. Brazil replied shortly afterwards with a goal from Socrates, but Rossi then scored again in the 25th minute.
It was no surprise to see the Brazilians pour forward in search of an equalizer, and the rest of the game was a real test of the Italy defense. It stood firm until the 68th minute when Falcao made it 2-2 with a fine goal. The stage was set for a great finish to the game.
The much-maligned Rossi had the final word though, as he completed his hat trick in the 74th minute. The game finished 3-2, and it was Italy who progressed to the next round. They went on to lift the trophy, beating West Germany in the final.
Zico, the Brazilian midfielder, subsequently claimed that this game represented "the day that football died." Many others shared his view, as most purists of the sport believed that Brazil played the "right" way. Their attacking style was certainly easier on the eye than the defensive style of the Italians, but was Zico's claim really fair?
After all, Italy scored three goals in this game. Their display could hardly be described as boring, even if it wasn't full of creativity and flair. They played their part in an intriguing contest that even today is regarded as one of the best ever games in the World Cup.

Team Line-Ups

Brazil
Walder Peres
Leandro
Oscar
Luizinho
Toninho Cerezo
Junior
Socrates
Zico
Eder
Falcao
Serginho (Isidiro, 69)
Dino Zoff
Antonio Cabrini
Fulvio Collovati (Bergomi, 34)
Claudio Gentile
Gaetano Scirea
Giancarlo Antognoni
Gabriele Oriali
Marco Tardelli (Marini, 75)
Bruno Conti
Francesco Graziani
Paolo Rossi

Italy
Manchester City vs Queens Park Rangers

Competition: English Premier League
Date: May 13th, 2012
Venue: Etihad Stadium, Manchester, England
If games were ranked on the amount of drama involved, then this one would definitely be up there. It was the last game of the English Premier League season, and Manchester City needed a win to secure their first league title since 1968. Queens Park Rangers also needed a win if they were to guarantee avoiding relegation.
The first half of the game was relatively straightforward. Manchester City took the lead just before the break courtesy of a goal from Pablo Zabaleta. QPR had rarely threatened, and City appeared on course to get the win that see them crowned champions.
Shortly after the half-time interval, QPR equalized through Djibril Cisse. City's rival for the titles, Manchester United, was winning at Sunderland at this point, so a draw was not going to be good enough. City HAD to find another goal if they were going to win the league.
Their chances improved greatly when QPR had a man sent off. Joey Barton, an ex-City player, was shown the red card following a clash with Carlos Tevez. Surely City could go on and win now, right?
Unbelievably, it was QPR who got the next goal. Despite being down to 10 men, they took the lead when Jamie Mackie scored with a close-range header. The atmosphere in the Etihad stadium went from slightly nervous to full-on panic.
For the next 25 minutes, City dominated the game. They launched wave after wave of attacks, but QPR held firm. As the game went into injury time, it was confirmed that Manchester United had won at Sunderland. It looked like City were going to lose the title to their arch-enemies from Old Trafford.
What happened next was simply amazing. After two minutes of injury time, Edin Dzeko finally broke down the QPR defense. Suddenly, there was a tiny glimmer of hope for City. That hope became a reality a couple of minutes later when Sergio Aguero fired in a winner. The players and the crowd went wild. Just when all had seemed lost, City had done it. It was a remarkable finish to a remarkable game.
You can watch the last few minutes of the action in the following video.
It should be noted that, despite losing, QPR still managed to avoid relegation. Bolton Wanderers was the team to go down instead after only managing a draw at Stoke City. It seemed rather appropriate that QPR survived as they had just played their part in one of the most dramatic games in English soccer.

Team Line-Ups

Manchester City
Joe Hart
Pablo Zabaleta
Vincent Kompany
Joleon Lescott
Gael Clichy
Samir Nasri
Yaya Toure (de Jong, 44)
Gareth Barry (Dzeko, 69)
David Silva
Carlos Tevez (Balotelli, 75)
Sergio Aguero
Paddy Kenny
Nedum Onuoha
Anton Ferdinand
Clint Hill
Taye Taiwo
Shaun Wright-Phillips
Joey Barton
Shaun Derry
Jamie Mackie
Djibril Cisse (Traore, 59)
Bobby Zamora (Bothroyd, 76)
Queens Park Rangers
Honorable Mentions

France vs Portugal


Competition: UEFA European Championships (Semi Final)
Date: June 28th, 2000
Venue: King Baudouin Stadium, Brussels, Belgium
The 2000 UEFA European Championships saw France and Portugal meet in the semi-finals. The game was highly anticipated because it featured the two best European players at the time. Zinedine Zidane (France) was playing for Juventus at club level, where he had firmly established himself as a special player. The Portuguese Luis Figo was playing for Barcelona, and was on the verge of a record-breaking transfer to Real Madrid.
It was Zidane who was most impressive in this game, putting on one of his best ever performances for his international team. His quality really shone through, and it was fitting that he scored the winning goal in extra time. He was not the only highlight of the game, though. This was a pulsating encounter between two excellent teams, and it rightly goes down as a classic.
Portugal actually took the lead in the game with Nuno Gomes scoring in the 19th minute. Thierry Henry levelled things up shortly after half-time, and the game was still locked at 1-1 at full time. The two teams continued to match each other during extra time, until Zidane eventually broke the deadlock with a penalty in the 117th minute.
France would go on to meet Italy in the final of the European Championships where they would lift the trophy following another 2-1 victory.

Real Madrid vs Eintracht Frankfurt


Competition: UEFA European Cup (Final)
Date: May 18th, 1960
Venue: Hampden Park, Glasgow, Scotland
This game between Real Madrid and Eintracht Frankfurt was just the fifth final of the European Cup. Few, if any, of the subsequent finals have bettered it in terms of either quality or entertainment. It was a truly enthralling game, and easily one of the best ever in European club soccer.
Although the score line suggests that Real Madrid was dominant, this was not a one-sided game by any means. The Spanish team was THE best club team in world soccer at the time, but their German counterparts provided formidable opposition.
In fact, it was Frankfurt that took the lead in the game. They scored in the 18th minute, and the Real Madrid keeper had already made several good saves by that point. The game soon turned around though, thanks to incredible displays from the two Real Madrid forwards.
Di Stefano and Puskas were essentially what made the difference in this game, as Frankfurt just couldn't seem to handle them. They scored seven goals between the two of them, Di Stefano with three and Puskas with four. Both players were already well-established as top-quality players, but their performances in this final elevated their reputations to a new level.

West Germany vs France

–
(After Extra Time, West Germany Win on Penalties)

Competition: FIFA World Cup (Semi Final)
Date: July 8th, 1982
Venue: Estadio Ramon Sanchez Pizjuan, Seville, Spain
This would easily have been the game of the tournament in most World Cups. Although it was beaten to that accolade by Brazil versus Italy in an earlier round, it's still worthy of a place on our list of great games. Full of controversy and drama, it featured a remarkable comeback from West Germany. It was also the first World Cup game to be settled by a penalty shootout.
It was West Germany that initially took the lead in the game. Pierre Littbarski scored the opening goal in the 17th minute before Michel Platini equalized for France 10 minutes later. The score remained at 1-1 until half-time.
There were no further goals in the second half either. There was a major incident, though. French player Patrick Battiston had broken clear of the German defenders and was through on goal with just the keeper to beat. Harald Schumacher came off his line to challenge, and collided with Battiston. Battiston was knocked out cold, losing two teeth and breaking three ribs.
Surprisingly, the referee saw nothing wrong with the challenge from Schumacher. No foul was awarded, and play continued. With the score still tied after 90 minutes, the game went to extra time.
France took a 3-1 lead during extra time, but West Germany came back to level the game at 3-3. They then won the penalty shootout, with Schumacher saving the decisive penalty.

Brazil vs Italy


Competition: Tournoi De France
Date: June 8th, 1997
Venue: Stade de Gerland, Lyon, France
The Tournoi De France was an exhibition tournament. It was organized in France to prepare for hosting the 1998 World Cup and featured Brazil, Italy, France and England.
Although it was essentially just a friendly, the game between Brazil and Italy in this tournament has to be considered among the greatest of all time. Italy, who was generally regarded as a defensive team, started the game at a frenetic pace. They scored an early goal through Del Piero, and went two ahead following an own goal from Aldair.
Roberto Carlos pulled a goal back for Brazil before half time, and it was 2-1 at the interval. Del Piero then scored again in the 61st minute. The game was far from over though, as Brazil stormed backed through Ronaldo. He scored in the 70th and 84th minutes to ensure the game finished in a draw.
There may not have been anything but pride at stake in this game, but it was played like a competitive match throughout. It was one of the most entertaining friendly games you're ever likely to see.

Hungary vs Uruguay


Competition: FIFA World Cup (Semi Final)
Date: June 30th, 1954
Venue: Olympic Stadium, Lausanne, Switzerland
The 1954 World Cup was a notable edition of soccer's most prestigious tournament. It was the first World Cup with televised live games, and the average number of goals per game was higher than in any World Cup before or since. It also featured one of the best ever finals between Hungary and West Germany.
There were several other memorable games during this tournament, too. Austria beating Switzerland 7-3 after trailing 0-3 was amazing, and this semi-final between Hungary was Uruguay was a genuine classic.
Hungary was the clear favorite to win the 1954 World Cup, and had impressed everyone on their way to the semi-finals. They were missing their star player, Puskas, for this game, but that didn't seem to affect them too much. Goals from Czibor and and Hidegkuti gave them a two-goal lead and they were looking comfortable.
Then came the twist. Uruguay fought back hard in the second half and got the game back to 2-2. Hungary was looking vulnerable for the first time in a long time. They regained their composure during extra time, however, and scored twice more through Kocsis.
This was the first World Cup game that Uruguay had ever lost. They certainly didn't embarrass themselves though, and they contributed to a fabulous encounter.

France vs Portugal


Competition: UEFA European Championships
Date: June 23rd, 1984
Venue: Stade Velodrome, Marseille, France
France versus Portugal is one of two fixtures to appear on our list more than once. We've already mentioned the classic game between these two side from the 2000 European Championships, and this one from 1984 was arguably even better.
The main standout from this game was the performance of the legendary Michel Platini. He was almost mesmerizing in the way he controlled the game, proving beyond doubt that he was one of the top players of his generation.
Two years after suffering heartbreak in the semi-finals of the World Cup, France seemed destined to win the 1984 European Championships. The tournament was being held in their home nation, and they had several quality players in addition to Platini. This semi-final against Portugal was far from a straightforward victory though.
France took the lead in the 24th minute and dominated for most of the match. They couldn't find the second goal, though, and paid for it when Portugal equalized with 15 minutes to go. There were no further goals in regulation, and the game went into extra time.
Against the run of play, Portugal took the lead in the 96th minute. France's hopes of a victory in their home tournament appeared to be fading, but the players weren't about to give up. Domergue brought the French level in the 114th minute, and who else but Platini then scored with a minute to go. Having got the win they so desperately wanted, France then went on to lift the trophy.

Brazil vs Italy


Competition: FIFA World Cup (Final)
Date: June 21st, 1970
Venue: Estadio Azteca, Mexico City
Brazil versus Italy is the other fixture that makes our list more than once. We've already covered two games featuring these teams, and this one is just as memorable as they were. A World Cup final is always special, and this one was especially so.
Unlike the 1982 World Cup encounter between these teams, there was no clash of styles here. The Italian team of 1970 was just as attacking as their Brazilian counterparts and relied far more on their forward players than their defenders. This was expected to be a game with plenty of goals, which is exactly what it turned it to be.
Unfortunately for Italy, most of the goals were scored by Brazil. The 4-1 score line makes it look like Italy was dominated, but that wasn't really the case. Although Brazil was incredible and fully deserved their victory, Italy never looked outclassed. They gave an excellent account of themselves, but were simply beaten by a vintage Brazilian performance.

England vs Hungary


Competition: None, International Friendly
Date: November 25th, 1953
Venue: Wembley Stadium, London, England
Very few non-competitive games have been as significant as this one was. Hungary visited Wembley as the world's number one ranked team, but few people in soccer had realized just how far ahead of England they were. They completely outclassed their opposition in a game that sent shockwaves through what was then the "home of soccer."
Prior to this game, England had lost just once on home soil. The England soccer team was widely regarded as being among the best in the world, and even against the best of all, they were expected to have a good chance of winning. As the game played out, however, it was clear that they were up against a team that technically far superior.
Hungary scored within the first minute of the game. Although England equalized in the 13th minute, it came from one of the few occasions that they actually had the ball. Hungary was playing with a fluidity that England simply couldn't match, and it was only a matter of time before they made their dominance count.
The second Hungary goal came in the 20th minute. That was followed by the third four minutes later and the fourth shortly after that. England pulled a goal back before half time, but it was more of the same in the second half. Hungary scored their fifth and sixth goals in quick succession and were basically embarrassing their opposition. England scored a third goal from the penalty spot, but it was nothing more than a consolation.
Subsequent to this game, the English FA conducted a thorough review into the training practices and tactics used in English soccer. This led to a positive change that would ultimately see England lift the World Cup in 1966.

Brazil vs France

–
(After Extra Time, France Win on Penalties)

Competition: FIFA World Cup (Quarter Final)
Date: June 21st, 1986
Venue: Estadio Jalisco, Guadalajara, Mexico
This game was one of the closest quarter-finals in World Cup History. There was no clear favorite going into the game and very little to separate the two teams even after it was played. It took a penalty shootout to determine which team would progress to the semi-finals.
There's a strong argument that NEITHER team deserved to be eliminated after this game. That's not how soccer works, of course, but it seemed "unfair" that Brazil were sent home after such a hard-fought encounter.
Brazil took the lead in the game, with a 17th minute goal from Careca. Platini equalized for France just before half time. Although there were no more goals in the game after that, it was the kind of game that kept the spectators spellbound. Neither team had any real period of domination and there were constant chances at either end of the field.
It was virtually impossible to pick a winner at any point in the game, so it was no surprise when it went to extra time. That was 30 minutes of the same, with neither team able to establish any superiority. It's somewhat disappointing that such a great battle had to be settled by the lottery of a penalty shootout, but those are the rules unfortunately.

Britain vs Germany
This was not an "official" soccer match, but there's no doubt in our minds that it should be included in this list of great games. We can't tell you what the score was, or even who played, but we do know that the game marked an historic moment.
We're referring to a game that took place between British and German soldiers during the First World War. On Christmas Day in 1914, as part of the Christmas Truce, soldiers left their trenches and played a game of soccer in No-Man's land.
There are conflicting accounts of exactly how this game came about and what happened. We'll probably never know the precise details now. Nonetheless, it's a game that goes down in history for all the right reasons. It showed that, despite a bloody and horrible war being fought, there was still a common ground between the enemies. What the soldiers shared on that day was arguably more important than what divided them, and that should NEVER be forgotten.
May
Sportsbook of the Month

Sign up Bonus
60% Up To $1,000
READ REVIEW
Visit Site
X