Types of Soccer Bets – Futures & Outrights
Do you enjoy trying to predict which team is going to win your favorite soccer league? Or which team is going to win the next major tournament? If you answered yes, then learning more about soccer futures and outrights is just what you need to do! These popular soccer wagers can be hard to get right, but they're easy to understand and can offer some attractive payouts
Unlike most soccer wagers, futures and outrights are NOT based on what happens in individual games. They are typically based on the final outcome of an entire competition. A simple example is a soccer future on the winner of a competition. All you have to do here is pick which team you think will lift the trophy. If you pick the right team, your wager is a winner. If you don't, you lose your stake.
We expand on this example below, to demonstrate exactly how futures and outrights work. We've also covered a few other things that you need to know. We look at WHEN you can place futures and outrights, and the various different outcomes you can bet on too. Throughout this article we provide some useful advice for how to use these types of wagers effectively.
Before we start, we should mention that there's no difference between a future and an outright. These are just two terms that are used to describe the same type of wager. The term future is used predominantly in the United States, while the term outright is used in most other regions.
Betting On Competition Winners
This is the most popular way to bet soccer futures. It's also the most straightforward. Like we explained in the introduction to this article, we're simply betting on which team will win a specific competition. The wager works in exactly the same way regardless of whether it's a league competition or a knockout tournament.
Bookmakers and betting sites offer soccer futures for the winner of virtually every soccer competition in the world. They'll usually open the betting markets at least a few weeks before the relevant competition starts, and sometimes even further in advance than that. These markets will usually stay open right up until the end of the competition.
Here's an example of a futures betting market for the English Premier League.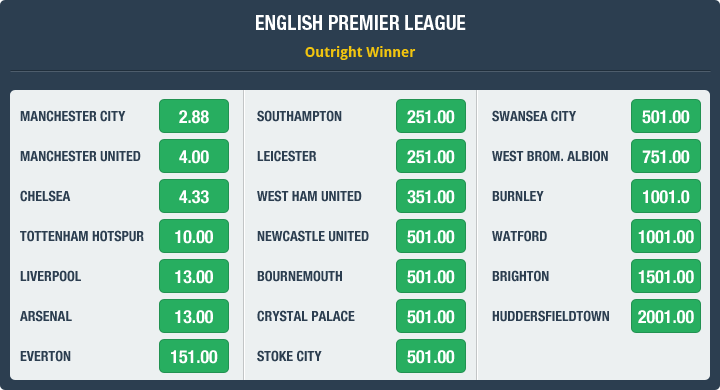 Even at first glance, the huge disparity in the odds becomes very evident. Manchester City are the favorites to win this competition, and their odds are just 2.88. Huddersfield Town are complete outsiders, with almost no chance of winning. Their odds are huge at 2001.00.
This kind of disparity is common in futures betting markets. There are usually only a few teams that have a realistic chance of winning a league or tournament, with many of the other teams effectively just making up the numbers. Underdogs CAN win though, so it's not like these competitions are foregone conclusions.
Placing a soccer future in a market like the one shown above is easy. We literally just have to decide which team we want to back, and how much money we want to stake. Once we put our money down, our wager is struck at the relevant odds. So if we put $10 on Chelsea to win the league, for example, we'd stand to win $43.30 if they were successful. If any other team won the league, we'd lose our $10.
This example demonstrates how soccer futures work in a nutshell. Like we said earlier, these wagers are easy to understand!
There are other outcomes we can bet on too, in addition to which team will win a competition. We'll look at some of those shortly, but first we'll discuss our options for WHEN to place soccer futures and outrights.
When to Place Soccer Futures/Outrights
Futures and outrights are classed as "long-term" wagers. This is because they're usually available well in advance of a competition starting. However, we don't HAVE to place these wagers as soon as the betting markets open. In fact, we actually have three options for when to place them.
Weeks or months in advance of the competition starting.
Shortly before the competition starts.
After the competition has started.
The first option here is not one we take very often. We don't really like betting on competitions that are months away. In fact, we rarely like betting on competitions that are more than a couple of weeks away. There's just too much that can change before the competition actually starts. Players can get injured, for example, or sold to other teams. A team might replace its manager, or completely overhaul the coaching staff.
These kinds of changes can drastically alter our outlook on what's likely to happen, which is why we prefer to wait until the competition gets a little closer. By then we have a more complete picture of where each team is at, meaning we can make much better judgements about what's likely to happen. If we wait until AFTER the competition has started, we'll have even more information to work with. This gives us the option to see the teams in action before making our betting decisions.
The best time to place futures is therefore shortly before a competition starts, or after it's begun. With that being said, however, there are SOME occasions when it's worth taking a risk in advance. A good example is for a tournament such as the FIFA World Cup, which only takes place every four years.
Bookmakers and betting sites usually start taking future wagers on the winner of the next World Cup as early as two or three YEARS before it starts. This can create opportunities for getting some good early value.
To demonstrate, here's a snapshot of the current betting market for the winner of the next World Cup. At the time of writing, this tournament is still over a year away.

We've only included a small selection of the teams here. There are actually odds available for nearly ONE HUNDRED different teams currently. This is because the qualification process hasn't even finished yet. Any team taking part in this process technically has a chance of winning the whole tournament, so they're ALL included in the betting market at this stage.
You'll see that there's again a vast difference in the odds available here. Teams such as Germany and France haven't yet qualified, but they're widely expected to do so. They're also expected to be in good shape to win the tournament when it comes around. That's why their odds for winning are quite low. Teams such as Estonia and Malta are NOT expected to qualify, so their odds for winning are high. Even if they did spring a surprise and qualify for the tournament, they'd still be considered huge underdogs to actually win.
As the tournament gets closer, the odds in this market will start to change. Some changes can and will be drastic. Take Wales, for example. They're not considered very likely to qualify at this stage, which is why their odds are 100.00. If they DO qualify, however, they probably won't be considered complete outsiders. Their odds will change to something like 50.00, or possibly even lower.
These changes in odds are why betting far in advance CAN be a good idea.
Let's say that we think Wales have a better than expected chance of qualifying for the tournament. We also think they'll have a small chance of winning the tournament by the time it comes around. Why wait until their odds fall dramatically to back them? Backing them NOW at 100.00 gives us better overall value.
This would obviously be a very speculative wager. It's not the type of bet we'd expect to win very often. Sometimes it's good to take risks though. Our chances of winning might be small, but that's offset by the size of the potential payout. We may also have the opportunity to use hedging techniques to balance our risk or lock in some profit.
Now, we're not suggesting that you should start placing such speculative wagers all the time. That's not a good idea at all. It's just something worth considering in the right circumstances. As a general rule, we recommend placing futures MUCH nearer the time of an event starting. Or even after it starts. You'll have more information to work with, and will be in a better position to make more sound betting decisions.
The same piece of advice can be applied to the other types of future bets too.
Alternative Betting Markets for Soccer Futures
Soccer futures are not JUST for betting on the winner of a league or tournament. They can also be used for betting on other outcomes, such as the ones listed below.
Team to be relegated
Team to stay up
Team to be promoted
Top goalscorer
Tournament qualification
Group stage winner/qualifier
The basic concept of the wager is the same for each of these outcomes. As with betting on a competition winner, the markets open sometime in advance of the relevant competition starting. The odds for each team or player are set accordingly, and we have to make our selection(s) based on what we think will happen.
For "team to be relegated," we're betting on which team(s) we think will be relegated to a lower division at the end of a league season. For "team to stay up," we're betting on which teams(s) we think will AVOID relegation. For "top goalscorer," we're betting on which player we think will score the most goals throughout a competition.
Most of the leading soccer betting sites offer even more markets for futures and outrights. They offer them for most soccer competitions too, so there are always LOTS of options for placing these wagers.
This is pretty much everything you need to know about soccer futures and outrights. Apart from how to use them effectively, that is. The advice in the final section of this article will help with that.
Advice for Betting Soccer Futures/Outrights
We started this article by stating that soccer futures can be hard to get right. Does this surprise you now that you know what these wagers are all about? It shouldn't! After all, it's difficult enough to predict what's likely to happen in an individual soccer game. Predicting what's likely to happen across an ENTIRE competition is obviously even more challenging.
This is true even when there's a clear favorite in a betting market. Why? Because favorites don't ALWAYS win. Quite the opposite, in fact, as upsets are especially common in soccer. It's not unheard of for a huge underdog to win a tournament, or for a player to come from nowhere to win the top goalscorer award. Nor is it unheard for a strong team to be unexpectedly relegated from their league, or for a weak team to overperform and stay up.
Despite the challenges that soccer futures present, you should NOT ignore them. There's money to be made with these types of wagers. The key, as always, is finding where the value lies. This means thinking carefully about all the different factors that can affect what happens in a league or tournament, and then assessing how likely each possible outcome is.
In order to do this effectively, you need to know what you're looking for. There are LOTS of different factors to consider, and not all of them are obvious. We explain more in the following article. Reading this will really help you when it comes to placing soccer futures.
Your ability to assess the potential outcomes of a soccer competition will depend heavily on what you actually know about that competition. It's therefore essential to learn as much as possible about any competition you plan to bet on. The following section of our website can help with that.
This section features information on a wide range of soccer competitions around the world. There are also some detailed betting guides for a selection of the biggest leagues and tournaments. These will teach you everything you need to know about each competition, and they feature lots of useful betting advice too. Here's a list of some of the competitions we cover.

World Cup*

EU Championships*

Champion's League*

English Premier*

Spanish Division*

MLS*

Europa League*

FA Cup*
We would like to leave you with one final thought; soccer futures can tie up part of your bankroll for a long period of time. For example, a preseason wager on the winner of the Premier League won't be settled for several months. This means it's more important than usual to practice good bankroll management. You may even want to consider allocating a separate bankroll for your long-term bets. We've found that to be the easiest way to stay organized.
July
Sportsbook of the Month

Sign up Bonus
60% Up To $1,000
READ REVIEW
Visit Site
X