Biggest Soccer Clubs in the World
There are thousands of football clubs in the world, each with their own devoted following.
From the Premier League to the Serie A, there are plenty of clubs for you to follow and support.
Today, we'll be taking a look at twelve of the biggest clubs in the world based on success, fan base, and history.
Let's head straight into it!
**Note: All statistics are as of August 2, 2017.
Inter

Success
Inter has won a total of 39 trophies, 30 domestic victories and 9 international trophies. They have won the scudetto 18 times, good for second in the league, behind Juventus and tied for second with city rivals AC Milan.
They have also won a total of seven Coppa Italia trophies and five Supercoppe. The 30 domestic trophies are also tied for second best in the Serie A with Milan.
In international competitions, Inter have excelled, winning the Champions League three times and finishing runner-up twice. They have also won three Europa League titles.
After all three successes in the Champions League, they were able to successfully claim the FIFA Club World Cup (previously the Intercontinental Cup).

Fan Base
Inter have fans all over the world, and they're the second most popular club in Italy. Estimates of their current fan base range around 50 million, making them one of the top ten most popular clubs in the world.
They are more popular than AC Milan in Italy, although they aren't close when you consider global figures. From 2015 to 2017, they've had the highest average attendance of any club, partly because the San Siro is the largest stadium in Italy.

History
Inter have historically been one of the greatest clubs in the world. Most of their success came in the 60s and the 00s, but they've been able to consistently rank atop the greatest clubs in Italy since their creation. They've also been home to some great players, most notably Javier Zanetti, Giuseppe Meazza, Milito, Ronaldo, and Vieri.
They've had a brief stint of poor performances in the second decade of the 2000s, but they're looking to get back on track, and the Suning management, along with a large amount of money, is trying to get them back into European competition.
Ajax

Success
Ajax has been by far the most successful club in the Eredivisie, winning the title 33 times and the league cup 18 times. While the Eredivisie may not be the greatest league, Ajax have proved that they can compete with the best of Europe.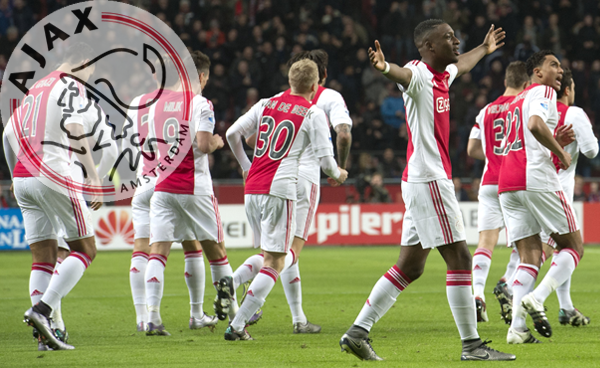 They have won a total of 12 international trophies, most notably four Champions League titles, one Europa League, and two Super Cups. These successes are often forgotten, and they are incredibly impressive, especially considering that Ajax have won the fifth most Champions Leagues out of any club in the world.

Fan Base
Ajax may not be the most popular club worldwide, but they are certainly the most popular club in the Netherlands. They've held the highest average attendance spot in the Eredivisie for 15 years straight (2002-2017).
They occupy a sort of Juventus role, being the most loved and most hated club in the Netherlands, mostly because of the incredible success and domination they've had over the Eredivisie. While their global fan base has dwindled due to less success in international competitions, they still have millions of loyal fans all around the world

History
Most of Ajax's international success came during the 70s where they won three Champions League titles, an Intercontinental Cup, and a UEFA Super Cup. They had some success in the 90s as well, but it wasn't enough to match their 70s glory days.
They've struggled in European competition in the last millennium, but that is to be expected as all the money and buying power seems to have shifted solely to Europe's five biggest leagues.
They've dominated the Eredivisie for practically forever, and they've had some great players in their squad. From Johan Cruyff to Frank Rijkaard and Marco Van Basten, most of the Dutch legends have played with the club, and they were an instrumental part of their international success.
Boca Juniors

Success
Boca Juniors have won the league a total of 32 times and the domestic cup 12 times. They have been the most successful club in the Primera Division, and they are one of the only teams to experience success internationally as well.
Boca Juniors have a total of 18 international trophies, tied with AC Milan for fourth in the world, behind Real Madrid, Barcelona, and Al-Ahly. They have won the Copa Libertadores (the equivalent of the South American Champions League) six times and the Copa Sudamericana (Europa League) twice. Perhaps even more impressively, they have won a total of three Intercontinental Cups, tied for first with four other clubs.

Fan Base
Boca Juniors have a massive following in Argentina, and their fans are among some of the rowdiest and hardcore in the world. They are probably the most loved club in Argentina, but with heated rivals, River Plate, hovering right next to them.
In fact, the rivalry with River Plate is so intense that it is often ranked as the greatest derby in soccer. Chants can be heard hours before the game, and the experience of witnessing the derby is an unbelievable sight, both fan bases clamoring for attention and barraging each other with insults.

History
Boca Juniors's domination has mostly come in recent years; in fact, eight of their eleven major international victories have come in the 2000s. While they weren't all that successful in previous years, they still had a massive following right from the start, establishing themselves as a force in the Primera Division from its inception.
Some notable players who have been with Boca are Carlos Tevez, Juan Roman Riquelme, and Diego Maradona, the Argentinian legend who finished his career with Boca. They've had an incredible history, and while South American football may not be what it used to, they're still a dominating force in soccer.
Chelsea

Success
Chelsea has won the Premier League six times, five of them coming in the last two decades. They have also won the FA Cup seven times and the Community Shield four times. In total, they have 26 domestic trophies, although 9 are from minor competitions, most notably their stint in the Football League, England's second division.
In European competition, Chelsea has only recently seen success. They won the Champions League in 2012 and the Europa League the following year. A relatively weak international record but one that will only grow with time.

Fan Base
While Chelsea may not be the most awarded club, they have a huge fan base to back them up. Partly due to the Premier League being the world's most popular league and Chelsea's recent return to success, the London club has quite the following; close to a 140 million to be exact, according to recent estimates.
That makes them the fourth most popular soccer club in the world,
only Manchester United, Real Madrid, and Barcelona in front of the Blues.
They might not be the most popular club in England, but they have tens of millions of dedicated followers in Asia and all around the globe. The draw of the Premier League and star players like Eden Hazard, Diego Costa, and Thibaut Courtois have contributed to this recent spurt of growth in Chelsea's already huge fanbase.

History
Chelsea hasn't always been a big club. For most of their starting history, they struggled in the league, only starting to show up in the 1960s. They went back to a pretty poor period in the 70s and 80s, and while they did experience a mild resurgence a little while after, it is only recently that they have started to see some real success.
After Chelsea was sold to Roman Abramovic, a Russian billionaire, a huge sum of new cash was used to purchase new players, and Jose Mourinho was able to utilize his team successfully, winning two consecutive league championships for the first time since World War II. In these latest years, they've cemented themselves as one of the top clubs in England and the World, reaching two Champions League finals and winning one.
Juventus

Success
Sporting an incredible 33 Serie A titles, far ahead of Inter and Milan, Juventus is the most successful club in Italy. 12 Coppa Italia victories and 7 Supercoppe only add to their impressive résumé. Counting their Serie B victory as well (following their relegation due to match fixing), Juventus have a staggering 53 domestic titles.
Outside of Italy, they have found a lot less success. Despite reaching nine Champions League finals, the Turin giants have only been able to convert on two of them, a disappointing statistic considering their immense talent and consistency in Europe's premier competition. Juventus has nothing to be ashamed about however. They have a total of 11 international trophies, including three Europa League titles and two Intercontinental Cups.

Fan Base
Juventus is the most supported club in Italy, but they are probably also the most hated club on the peninsula due to their unmatched success in Italian competitions. On a global scale, Juventus has a much smaller following than their Milanese rivals, but the number is always growing, especially with the recent European success they have seen.
They also sport the largest social media following in all of Italy. Between the three major social media platforms (Facebook, Instagram, and Twitter), they have over 40 million followers, surprisingly beating out most of the top clubs. Juventus may not have the biggest fan base in the world, and they certainly have their fair share of haters in the world, but the more success they continue to have, the bigger their following will grow.

History
Juventus has been one of the biggest soccer clubs in the world for a very long time. Their dominance in domestic competition truly started in the 1930s, and they haven't looked back since, winning the league in every decade since. While they were dominating the Serie A, they didn't have much success in European competitions until the 80s and 90s. In fact, eight of their nine Champions League finals appearances came in the last four decades.
Only recently have they really started to cement themselves as a global superpower, but they've always had success on the domestic side of things. If we take a closer look at their history, we can see the incredible players the club has been home to.
They've had some of the best Italians ever to play the game – Gianluigi Buffon, Dino Zoff, and Alessandro del Piero. They've had French icons as well – Michael Platini, Zinedine Zidane, and David Trezeguet. They've even sported some of the greatest players to play the game right now – Paul Pogba, Paolo Dybala, and Arturo Vidal.
Juventus has a rich history, one full of success. From dominating the Italian football scene to boasting some of the greatest players to ever play the game, Juventus is one of the biggest teams in the world, and they're only getting better.
Bayern Munich

Success
Bayern have a pretty successful past. With 27 Bundesliga titles, 18 DFB-Pokal wins (their equivalent of a domestic cup) and 6 Supercup wins, the Bavarian club is by far the most successful German team domestically. In fact, second place team FC Nürnberg only have nine Bundesliga titles, a staggering gap of 18 titles between first and second place.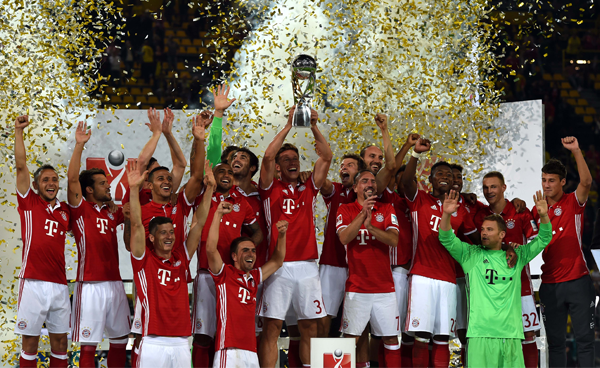 The same applies to international competition. Bayern have won the Champions League five times, the Europa and UEFA Super Cup once, and the FIFA Club World Cup (formerly the Intercontinental Cup) three times. Claiming 11 total international titles is nothing to joke around about, and they have been the most dominant German team since forever, securing the title of the best European club second only to Real Madrid and AC Milan.

Fan Base
Bayern are by far the most popular club in the Bundesliga, and they have even posted seasons with a perfect 100% attendance record, meaning that their home stadium, the Allianz Arena, was sold out every single time the Bavarians stepped out onto the pitch. Being Germany's best club for almost the entire history of the Bundesliga, there aren't many other clubs out there who can match the Germans' fan base.
With around 55 million followers across all three major social media platforms and hundreds of millions of fans scattered all around the globe, there's no doubt that Bayern is one of the most popular clubs in the world. While there aren't any accurate numbers as to how many fans each club has, it is estimated that Bayern is the sixth most popular club in the world.
Much of this popularity is relatively recent, inspired by the incredible success the Bavarians have had in past years, claiming a Champions League title in 2013 and consistently challenging the top teams in Europe's premier competitions.

History
Bayern hasn't always been the leader of German football. In fact, almost all their success has come in the last 50 years. It took until the 25th edition of the Bundesliga for the Bavarians to claim their first title, and their success only started in the 70s.
Only two of their twenty-seven league victories have come prior to the 70s, and they registered three consecutive Champions League victories from the years of 1974-1976. Since then, Bayern has consistently been among the top clubs in the world, and some incredible recent success along with the introduction of some big-name players like Manuel Neuer, Robert Lewandwoski, and Arjen Robben have allowed it to rise even further in recent years.
If we look further back, we can see even more of the incredibly rich history of this German club. Ever since its inception, Bayern has been a historically German club, and it has been home to the best German players of all time – Franz Beckenbauer, Gerd Muller, Oliver Kahn and some more recent legends in Phillip Lahm and Bastian Schweinsteiger.
Bayern hasn't always been a great club, but ever since the 70s, they have made themselves known, and if current form indicates anything, it looks as though they have no intention of leaving anytime soon.
Santos

Success
While they haven't been the most dominant team in Brazil (second to Palmeiro), they have still won the Brazilian league eight times and the Campeonato Paulista (the league in Sao Paulo) a total of 22 times.
Internationally, they've been much more successful. With three Copa Libertadores wins, two Intercontinental Cups, a Recopa Sudamericana, and another pair of trophies, Santos has a total of eight international victories, making them one of the most successful clubs in the world.

Fan Base
They have a huge fan base, probably the biggest out of all the Brazilian clubs and one of the biggest in all of South America. Located in Sao Paulo, the club has always been one of the biggest in South America, and following the legacy of Pele and other Brazilian greats, they've always had a huge following supporting them.
Santos doesn't boast the most impressive attendance figures, mostly due to their stadium only capable of holding around 16,000 people, but the small stadium is always packed, and it often overflows with supporters. They don't only have a presence in Brazil, but their success and incredible history also means that they have quite a large following all over the world, perhaps the biggest of all the South American teams.

History
This is by far the most impressive part of their résumé. They aren't the best team in South America, and they aren't the most consistent either, but they've sported one of the greatest teams of all time.
Santos' period of dominance came in the 1960s, and the Os Santasticos are still considered to be one of the greatest rosters in soccer history. With an all Brazilian team, Santos fielded Pele, Zito, Coutinho, and Pepe, all considered some of the greatest Brazilians ever. They won the first ever Continental Treble and won both the Copa Libertadores and Intercontinental Cup twice in a row.
While they haven't been able to replicate or even come close to that era and dominance, they have experienced a slight resurgence, and they still produce some of the best Brazilian talents. They were home to Kaka, Robinho, and Neymar, and they continue to be the go-to club for young South American talent.
Liverpool

Success
Liverpool has yet to win the Premier League, but they did win the Football League First Division (top league prior to the EPL) 18 times, 7 FA Cups, and 8 Football League Cups. The 18 league wins make them the second most successful English club ever, and they have one of the most impressive domestic records in England.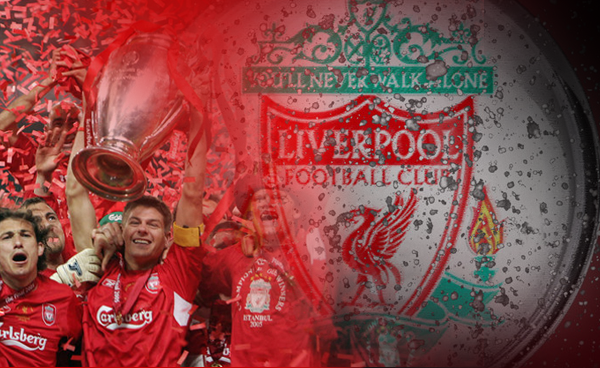 Even more impressive is their international record. With five Champions League victories (third-most in history), three Europa League trophies, and three Super Cups, Liverpool is one of the most successful clubs in all of Europe.
Their international success is unrivaled in England, and while they haven't been very successful in the league lately, they have been able to play at their best when it matters most.

Fan Base
Liverpool is one of the most popular clubs in the world. With almost 90 million fans worldwide, they are estimated to be the seventh most popular team in the world. Their fans typically range on the older side, but they're some of the most loyal and fiercest fans, and you'll rarely see a day when Anfield isn't full.
Their huge fan base also makes them the fourth most popular club in England, and while that number may not sound that impressive, you have to take into account the incredible popularity of the Premier League and its expansive global reach. Liverpool is one of the most popular clubs in the world, and their international success is a huge part of that.

History
Liverpool was founded in 1892, and they've been a global powerhouse for what seems like forever. They won their first league title in 1901, and they've consistently challenged for the title since their inception.
Their true period of dominance came in the 70s and 80s. During these two decades, the Reds won four Champions League titles and reached another final, proving themselves at the highest level. They've experienced even more success quite recently, reaching two Champions League finals, both against AC Milan, winning the first in 2005 and losing the second just two years later.
They've been home to legends like Steven Gerrard, Robbie Fowler, and Xabi Alonso, and there is certainly no lack of talent now either. Liverpool may not be the dominating powerhouse that they once were, but they're building a formidable side and could very well return to the top of the game soon.
FC Barcelona

Success
Barcelona has had incredible success, both domestically and internationally. In Spain, the Catalan giants have won a total of 24 La Liga titles, 29 Copa del Rey's, and 12 Supercopa wins, making them the most successful club in all of Spain, barely edging past Real Madrid.
On the international side of things, Barcelona has even more to be proud about. With five Champions League wins, five UEFA Super Cup trophies, and 3 FIFA Club World Cups, Barcelona has a total of 17 international trophies. This makes it the fifth most successful club in the world, just behind AC Milan and Boca Juniors.
If we look at things outside the realm of trophies, a strong case could certainly be made for the Blaugranes being the second/third most successful club ever.

Fan Base
Barcelona has one of the biggest fan bases in the world. With an estimated fan base of over 500 million and a social media following of 130 million, there's no denying that everyone loves Barca. It is probably the most popular club in the world, although Real Madrid and Manchester United are close behind, and their brand power is second to none.
Their tiki-taka style and the deadly trio of MSN (now no more) brought Barcelona back to the forefront of the footballing world. They have fans all over the world, and that isn't likely to change anytime soon, especially if they keep playing like they have in the last couple of years.

History
A lot of Barcelona's success has come since the turn of the millennium. Barcelona wasn't always the global powerhouse they are today, and while they have always been relatively successful in the league, this dominance is new.
Four of their five Champions League victories have come since 2005, and they've won the league eight times since then. A large part of this success has to be credited to Lionel Messi and their innovative style of play. Prior to the Argentinian's rise to stardom, Barcelona was still a top club, but it was only after the Messi era that they truly started to see success on the international level.
Barcelona has been home to some of the greatest players of all time. Whether you're looking for old legends like Johann Cruyff and Ronald Koeman or current superstars like Andres Iniesta, Luis Suarez, and of course, Lionel Messi — Barcelona has it all covered. Barcelona has an incredible history, and it's only getting better from here on out.
Manchester United

Success
Liverpool was the second most successful English club domestically, and Manchester United is the first. With twenty top-flight wins, 12 FA Cup trophies, and 21 Community Shield victories, Man U has had tremendous success in England.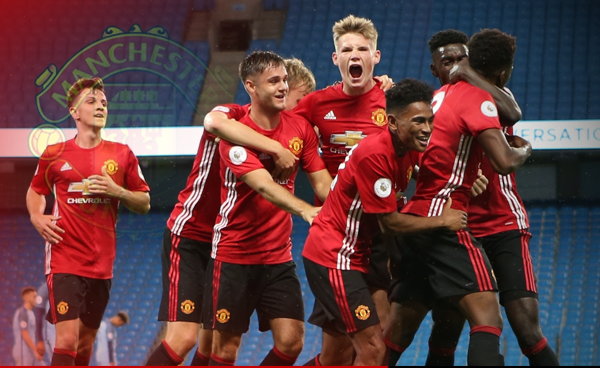 Internationally, United has still been incredibly successful. They have won the Champions League three times, the Europa League once, and the Super Cup once as well. It is also the only English club to have won the Intercontinental Cup, and the only one to win the FIFA Club World Cup.

Fan Base
With United's global appeal, there's no questioning their popularity. Between their massive following, easily the biggest in the Premier League and possibly the largest in the entire world, and the most valuable soccer team in the world, Manchester United has made quite the name for itself.
They consistently top the attendance figures in the Premier League, and they have the highest average attendance in all of Europe for home games. To say that United is popular would be an understatement. Being the most famous club in all of the Premier League, by far the world's most popular league, it certainly has quite the reputation.

History
Manchester United was founded in 1878, and they were the first English club to participate in the Champions League and also the first ones to win it, hoisting the trophy in 1968. But perhaps the most important moment in the club's history was the Munich Air Disaster of 1958.
After defeating Red Star Belgrade, United was on the way home when a plane crash cost eight players and fifteen others their lives. It was a horrific tragedy, and it killed off one of the most promising teams in the world, forcing United to start from scratch.
In the 90s and 00s, they finally made it back on top. Under the leadership of Sir Alex Ferguson, United managed to win eleven league titles and two Champions League trophies, making their mark and proving to the world that they were a formidable team.
They've sported some of the greatest players to ever play the game – legends like Bobby Charlton, George Best, and Ryan Giggs and some newer faces in Cristiano Ronaldo, David Beckham, Wayne Rooney, and Paul Pogba.
That fateful tragedy in Munich changed Manchester United forever, and it's something that makes their history all the more interesting.
AC Milan

Success
Milan has won 30 top flight domestic trophies – 18 Serie A titles, five Coppa Italia wins, and seven Supercoppe trophies. This makes it the second most successful club in Italy, only behind Juventus.
Their international success is even more impressive. The Rossoneri have won seven Champions League titles, five UEFA Super Cups, three Intercontinental Cups, and one FIFA Club World Cup. It is the second most accomplished team in all of Europe and by far the most successful in Italy.

Fan Base
In terms of fans, Milan is probably the third most supported club domestically after Juventus and city rivals, Inter. They are consistently at the top of the attendance figures, and a huge part of their fan base owes to the incredible accomplishments they've achieved.
Internationally, it's a completely different story. They are estimated to be the seventh most popular club in the world, and due to their more global reach and support, they beat out their Italian counterparts by a wide margin.
While Milan certainly isn't the club it used to be, it is still one of the most popular in the world, and their reputation hasn't disappeared completely.

History
Milan has one of the most interesting histories in all of soccer. Founded in 1899 by two Englishmen – Alfred Edwards and Herbert Kiplin, it was originally the only team to occupy Milan until, after some disagreement and conflict, Inter emerged in 1908.
Until the 1950s, Milan were unable to regain their previous form, led by a Swedish trio of Gunnar Gren, Gunnar Nordahl, and Nils Liedholm. They won the league five times and also won their first Champions League title.
Just twenty years later, their true period of dominance would come. With Silvio Berlusconi's takeover of the club, he made a sizable investment into the team and created one of the best teams to ever play the game. With a stellar Dutch trio of Marco van Basten, Frank Rijkaard, and Ruud Gullit and an almost impenetrable defense of Maldini, Baresi, and Costacurta, Milan was practically unbeatable.
They would win three Champions League titles during this era, and their success would continue until around 2010. They've been home to some incredible players – Kaka, Beckham, Nesta, Inzaghi, Ibrahimovic – and they've been a global powerhouse for what seems like forever, but a recent dip in form has people worried.
They've struggled since the departure of Zlatan and Thiago Silva, but with a new Chinese ownership, they seem to be on track to return to their former glory.
Real Madrid

Success
Real Madrid is the second most successful club in Spain. They have won 33 La Liga titles, the Copa del Rey 19 times, and 10 Supercopa trophies. While they may not have the most total trophies, they have won the league the most times out of any Spanish club.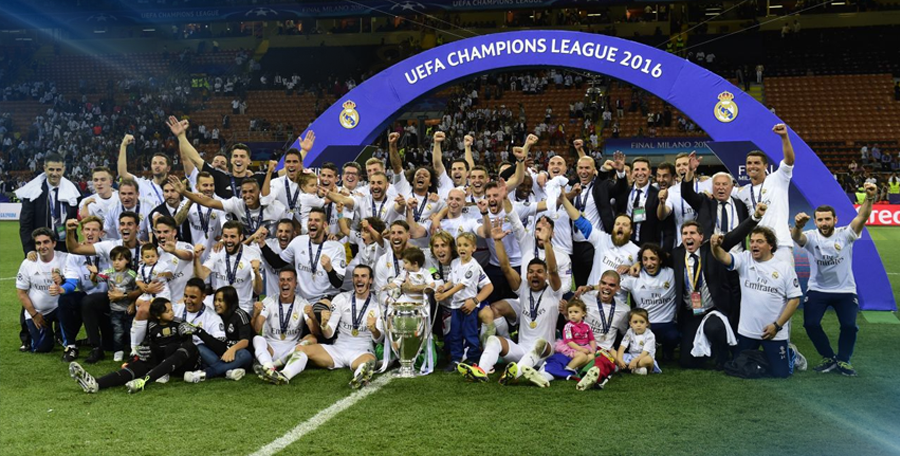 Their international success is what sets them apart from the rest. With a staggering 12 Champions League titles, five more than second-place AC Milan, four Super Cup wins, two Europa League titles, three Intercontinental Cups, and two FIFA Club World Cups, there's no doubting that Real Madrid has been the most dominant club in the history of the sport.
They may not have the most international titles (Al-Ahly barely beats them), but their success is unprecedented, and it doesn't look to be slowing down.

Fan Base
Real Madrid is probably the second most popular club in Spain and the third most popular in the entire world. They have some of the most passionate fans in the world, something that you would expect from a club of their stature.
They also have the highest average attendance figures in all of La Liga, barely edging out the Camp Nou despite the Catalan stadium being much larger than the Santiago Bernabeu, and if you face Real Madrid at home, you're probably not going to come out on top. Real Madrid is one of the most popular clubs in the world, and it's for good reason.
When you dominate the sport the way Real Madrid has, you're bound to experience a huge boost in popularity, and that's exactly what Los Blancos have done.

History
With any club as big as Real Madrid, you'll have an incredible history. While other clubs have gone through dry spells, you won't see many of those with Los Blancos.
They have won the league at least twice in every decade since 1950, and they've won the Champions League in all but two decades since its inception, including winning the first five versions of the competition.
There's no other team in the world that has had as much success as they have. If you ask a random soccer fan who the most successful club in the world is, they'll all give you one answer. Real Madrid.
If you want to look at players instead of trophies, Real Madrid has you covered. From two of the greatest icons in soccer history – Ferenc Puskas and Alfredo Di Stefano – to more recent legends like Zinedine Zidane and none other than Cristiano Ronaldo, Los Blancos have fielded some of the best players to ever play the game.
Simply put, Real Madrid have changed the sport.
They've forced teams to change with them. To beat the best, you have to become the best, and no one's been able to do that better than Madrid. They are the most important club in soccer history, and they have shaped the sport into the beautiful game we all love and watch today.
May
Sportsbook of the Month

Sign up Bonus
60% Up To $1,000
READ REVIEW
Visit Site
X