Best Sites for Bundesliga Betting – Bet Real Money on the Bundesliga in 2022
The German Bundesliga is one of the most-watched soccer leagues in the world. Thanks to powerhouses such as Bayern Munich and Borussia Dortmund, many of the best players on the planet operate in Germany.
Consequently, millions of people across the globe gamble on German soccer online – and you can, too. But where should you place your Bundesliga bets? We recommend using only the top Bundesliga betting sites listed below.
How We Rate

Safety & Security
You should be able to gamble online without fear. So we only recommend licensed sites that use the latest security and encryption techniques.

Bonuses
Maximize your bankroll with fantastic bonuses. Our recommended sites offer valuable bonuses with fair terms and conditions, including manageable wagering requirements.

Games & Betting
The best sites have the best wagering options. That's why you will find extensive games and betting opportunities on our recommended sites.

Banking
Getting your money to and from your account shouldn't be a hassle. We only recommend sites with a variety of convenient banking methods, including cryptocurrency and e-wallets.
Germany is famous for a lot of things: beer, cars, music, and castles instantly spring to mind. But if you ask any soccer fan what Germany is famous for, they will likely talk at length about "the beautiful game".
On this page, we explain both how and where to bet on the Bundesliga with real money. We share our criteria for ranking the best online sportsbooks, explain the importance of comparing odds, and a whole load more.
If you want to jump straight to a specific section, free to navigate your way around this page by using the links below. Alternatively, start from the top and work your way down to absorb all of the useful information that we provide.
Top Bundesliga Betting Sites – Table of Contents
Best Sites for Betting on the German Bundesliga

Before we go any further, we want to cover our top-ranked online Bundesliga sportsbooks in a bit more detail.
In this section, we explain what makes our recommended sites so special. You will find information about eight of our favorite Bundesliga betting sites below, as well as a link to our review of each website.
BetUS Review – Having been established all the way back in 1994, BetUS is among the most respected and reputable names in the online gambling industry. The company's longevity also makes it one of the best sites for betting on the Bundesliga.

BetUS offers tons of betting markets, same-day payouts, and numerous bonuses for both new and existing customers. What more could you ask for?
BetOnline Review – BetOnline is another highly trusted sportsbook. With more than three decades of experience in the bank, you can rest assured that BetOnline is 100% legit.

But what makes BetOnline one of the top Bundesliga betting sites? Well, they offer high odds, attractive promotions, and excellent live betting opportunities. On top of all that, BetOnline accepts multiple cryptocurrencies – including Bitcoin, Ethereum, Litecoin, Dogecoin, Ripple, and many more.
MyBookie Review – If you're looking for competitive Bundesliga odds, lots of betting markets, and a generous sign-up bonus, look no further than MyBookie.

MyBookie provides customers with all of the above, but that is only the start. Beginners can benefit from helpful on-screen information, while more experienced bettors can make full use of the sportsbook's unique props and specials. There truly is something for everyone.
SportsBetting.ag Review – You will be pleased to learn that SportsBetting.ag is owned by the same company that runs BetOnline. That means you get all the safety and security that BetOnline offers – and a whole load more!

Once you take advantage of the juicy $1,000 welcome bonus, you can enjoy loads of Bundesliga betting markets – as well as multiple in-play options. SportsBetting.ag has a props builder, too, enabling you to create customized Bundesliga bets.
Bovada Review – There are plenty of reasons why Bovada is one of the best sportsbooks for betting on the Bundesliga. Above all else, though, Bovada is the most trusted Bundesliga betting site for US customers.

Bovada consistently dishes up tasty odds and promotions, alongside a host of markets for betting on Bundesliga matches. Better still, crypto users get extra bonus money and faster payouts.
XBet Review – As a sister site of MyBookie, XBet is among the top-rated online sportsbooks for Bundesliga betting. Just like its sister site, XBet offers great odds, top bonuses, and loads of Bundesliga betting opportunities.

XBet boasts a number of unique features as well. Along with various banking options and speedy withdrawals, the sportsbook has odds boosts for select wagers that upgrade your gambling experience.
Betway Review – Wondering where to bet on Bundesliga matches? We strongly recommend heading to Betway to take advantage of both the pre-match and live betting markets on offer. It could be argued that Betway has more Bundesliga betting opportunities than any other site.

In addition to the vast range of markets, Betway has an excellent app for betting on the Bundesliga. The easy-to-use app enables you to gamble on the go, meaning you can land winning Bundesliga bets anytime, anywhere.
10bet Review – Much like Betway, 10bet has one of the best Bundesliga betting apps available. If you want to discover in-play real money Bundesliga betting, 10bet is the perfect place to start.

Also, the European-based company invariably releases lines before many of its rivals. That means 10bet customers get access to early Bundesliga betting odds. As a result, you can find unrivalled value in 10bet's prices.
In the next section, we share our criteria for ranking the top Bundesliga betting sites.
Why Are These the Top-Rated Bundesliga Betting Sites Online?
As you can see, we haven't just picked a bunch of random sportsbooks. Our process for ranking betting sites and apps is thorough and stringent, meaning only the best make it through our test.
Before we recommend any betting site, it must meet our list of criteria. Let's take a look at that list.
Criteria for Our Top Bundesliga Sportsbooks
The site must be licensed by a well-know and trusted regulator.
They must have legit terms and conditions with no hidden information.
Each site should offer a range of suitable banking options.
They should also offer quick payouts with no transaction fees.
The sportsbook must present competitive odds.
They should provide a wide variety of betting markets.
All of our recommended sites for betting on the German Bundesliga meet these basic criteria. While the six points above are non-negotiables, there are plenty of other aspects that we examine.
If you want to bet on Bundesliga for real money online, you should keep an eye out for the following facets. The four points below will significantly enhance your Bundesliga betting experience.
Bundesliga-Specific Bonuses and Promotions
Pretty much every online gambling site offers some kind of bonus or promotion. However, only the best Bundesliga sportsbooks have bonuses and promotions for bettors who wish to wager on German soccer.
Sure, most betting websites have sign-up bonuses. But they don't last long. On the flip side, our top-rated Bundesliga betting sites offer evergreen promotions for existing customers to take advantage of on a regular basis.
Before you join a sportsbook, make sure it has the best bonuses and promotions for you. Consider things like reload bonuses, free bets, and other potential benefits.
Mobile Bundesliga Betting
Mobile betting is hugely popular nowadays. Of course, a lot of people still use their computers to place bets. But many gamblers lay down their wagers on their portable devices.
You can use your smartphone or tablet to bet on the Bundesliga with real money. In fact, we highly recommend doing so. Here are just some of the perks of mobile Bundesliga betting.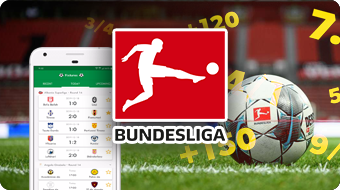 Great for in-play betting (more on that in a minute).
Live streams enable you to watch Bundesliga matches on the go.
The "cash out" feature allows you to get money back on your bet at any time.
Push notifications keep you up to speed with all the latest action.
Some apps offer mobile-specific bonuses.
Some of our top-ranked Bundesliga sportsbooks have an app that you can download to your portable device. These Bundesliga betting apps are super responsive and easy to use, adding a different level to your gambling experience.
That said, sportsbooks that don't offer a native app have a mobile-friendly website that you can access via your web browser. The sites adjust to the size of your screen, so quality is not compromised.
We have already ranked the best soccer betting apps. Follow the link below to find out more.
Early Bundesliga Betting Lines
When it comes to choosing the best Bundesliga betting site for you, selecting one that dishes up early lines is a great move.
Some sportsbooks are quicker than others in terms of producing prices – it's as simple as that. If you can find the sites that present the earliest lines, you will give yourself a big advantage over the majority of online gamblers.
You can often get the best possible value right after odds have been released. As we already mentioned, 10bet is renowned for early Bundesliga betting lines. But, in truth, all of our recommendations offer early lines.
Live Bundesliga Betting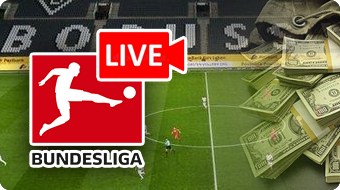 Not every online sportsbook has live betting options. Thankfully, our top-rated Bundesliga betting sites present a multitude of in-play opportunities.
Ultimately, live betting gives you more wagering options. But that is merely the beginning. In-play gambling has the potential to be extremely lucrative, as many of the live markets offer giant odds that you can't find elsewhere.
Many of the best Bundesliga betting sites are also among the top sites for live sports betting. If you want to learn more about this topic, feel free check out the best sites and apps for in-play gambling.
Comparing the Top Bundesliga Sportsbooks

It goes without saying that we recommend each and every one of our top-ranked sites for Bundesliga betting. Still, it is worth noting that each sportsbook offers unique features.
Deciding where to bet on Bundesliga matches online can be tricky. Hopefully, the comparison table below will help you to find the best option for your specific needs.
COMPARING THE BEST BUNDESLIGA BETTING SITES
Sportsbook
Year Launched
Sign-Up Bonus
Crypto
US Customers
App or Website
BetUS
1994
100% up to $2,500
Yes
Yes
Website
BetOnline
2004
50% up to $1,000
Yes
Yes
Website
MyBookie
2014
50% up to $1,000
Yes
Yes
Website
SportsBetting.ag
2003
50% up to $1,000
Yes
Yes
Website
Bovada
2004
50% up to $250
Yes
Yes
Website
XBet
2014
100% up to $500
Yes
Yes
Website
Betway
2005
100% up to $50
No
No
App and Website
10bet
2003
100% up to £50/C$200
No
No
App and Website
As you can see, our trusted Bundesliga betting sites offer slightly different sign-up bonuses. BetUS will match your first deposit by 100% up to $2,500, making it the best in that department.
Those of you who enjoying gambling with altcoins will be pleased to learn that all of our US-based recommendations accept multiple cryptocurrencies. Let's not forget that using crypto to bet online has many benefits.
Some of our trusted sportsbooks even have an app for betting on the Bundesliga. If gambling on the go is important to you, make sure you make full use of the best Bundesliga betting apps.
Helpful German Bundesliga Betting Tips

Now that you know where to bet on the Bundesliga online, we thought it would be a good idea to share some basic tips for betting on the Bundesliga with you.
In this section, you will learn about the different types of Bundesliga bets. We also share advice on how to successfully bet on the Bundesliga title winner, home-field advantage, and comparing Bundesliga odds.
Different Types of Bundesliga Bets
There are various different types of Bundesliga wagers. Not only can you bet on individual matches, but you can also place outright bets – as well as live and prop bets.
Let's take a look at the most popular Bundesliga betting markets.
Betting on Bundesliga Matches – Alongside the main moneylines, there are tons of goal-based markets for Bundesliga matches. You can wager on the correct score, both teams to score, first goalscorer, and many other markets.
Futures and Outrights – The most popular Bundesliga futures and outrights include gambling on the title winner, top-four finish, top/bottom half finish, relegation, and top goalscorer (Golden Boot).
In-Play Bundesliga Betting – Live Bundesliga betting enables you to wager on the next goalscorer, next player to get booked, next team to win a corner, time of the next goal, and other in-play markets.
Bundesliga Prop Bets and Specials – Think you know how many goals will be scored in a Bundesliga season? Or how many cards a certain player will receive? These are just two examples of Bundesliga props.
We recommend making full use of all the different Bundesliga bets that our top-ranked sites offer. The more markets you explore, the more likely you are to find money-making opportunities.
Right, it's time to go over some top Bundesliga betting tips.
Betting on the Bundesliga Title Winner
When it comes to betting on the Bundesliga champion, be sure to examine the league's history. This may sound like an obvious thing to do, but studying past and recent records will only enhance your chances of winning cash.
Bayern Munich is the most successful club in the history of the Bundesliga, having won a whopping 31 titles. The second-most successful club – FC Nurnberg – has claimed just nine top-flight titles, while Borussia Dortmund has eight.
As the table below details, Bayern Munich has completely dominated German soccer for the best part of a decade – winning each of the previous nine titles.
RECENT BUNDESLIGA CHAMPIONS
Season
Champion
Runner-Up
Third Place
2020-21
Bayern Munich
RB Leipzig
Borussia Dortmund
2019-20
Bayern Munich
Borussia Dortmund
RB Leipzig
2018-19
Bayern Munich
Borussia Dortmund
RB Leipzig
2017-18
Bayern Munich
Schalke 04
1899 Hoffenheim
2016-17
Bayern Munich
RB Leipzig
Borussia Dortmund
2015-16
Bayern Munich
Borussia Dortmund
Bayer Leverkusen
2014-15
Bayern Munich
VfL Wolfsburg
Borussia M'gladbach
2013-14
Bayern Munich
Borussia Dortmund
Schalke 04
2012-13
Bayern Munich
Borussia Dortmund
Bayer Leverkusen
Not only have the Bavarians claimed each of the past nine titles, but they have also won 18 of the previous 25. Dortmund has won three titles since the 1996-97 season and has finished as the runner-up five times in the last nine years.
These statistics tells us that backing Bayern Munich to win the Bundesliga title generally makes sense. If you fancy going against Bayern before the start of the season, picking Dortmund is your next best option.
Of course, all periods of dominance come to an end at some point. But there is absolutely no denying that Bayern is the strongest team in Germany right now, followed by Dortmund.
Home-Field Advantage is Huge in German Soccer
The Germans love their soccer. You only have to go through the top ten players in Bundesliga history to understand why many German clubs attract massive crowds week after week.
In fact, some of the top Bundesliga sides are among the most-watched sports teams in Europe. Borussia Dortmund boasts the highest average attendance of any European soccer club, with other German teams drawing huge crowds, too.
Highest Average Attendances in European Soccer (Pre-COVID)
Borussia Dortmund (Germany) – 80,520
Manchester United (England) – 75,530
Barcelona (Spain) – 71,325
Bayern Munich (Germany) – 71,000
Real Madrid (Spain) – 68,796
Schalke 04 (Germany) – 61,171
Arsenal (England) – 60,079
Hamburger SV (Germany) – 52,916
Newcastle United (England) – 50,517
Ajax (Netherlands) – 50,490
VfB Stuttgart (Germany) – 50,054
Borussia M'gladbach (Germany) – 49,722
Eintracht Frankfurt (Germany) – 48,044
Manchester City (England) – 46,974
Celtic (Scotland) – 46,917
Before the pandemic hit, seven of the 15 most-watched European soccer teams were German. When stadiums are allowed to host full-capacity events once again, the figures won't be too dissimilar.
Consequently, home-field advantage plays a key role in Bundesliga matches. Even some of the so-called smaller clubs in the league have over 40,000 fans cheering them on every weekend, giving them a significant edge on home soil.

Top Tip
Although Bayern has dominated the title race in recent times, the Bundesliga itself remains very competitive. Thanks largely to their passionate fans, teams toward the bottom end of the table frequently upset the odds while playing at home.
Finding the Best Bundesliga Odds
Finding the top Bundesliga betting odds can mean the difference between making a small profit and making a sizeable one. For that reason, be sure to always shop around and find the best possible price for your chosen wager.
You don't need us to remind you that all of our recommended online Bundesliga betting sites have competitive odds. Still, prices often vary from sportsbooks to sportsbook.
It is difficult to overstate the importance of comparing odds if you want to bet on Bundesliga for money. That's why we created a specific section that discusses the topic in more detail below.
Why Comparing Bundesliga Betting Odds is Crucial

At the time of writing, Bayern Munich is on course to clinch a tenth straight Bundesliga title. All of our recommended sportsbooks are offering 1.05 or under for the Bavarians to lift the trophy, underlining their dominance.
However, the prices for the closest challengers – Borussia Dortmund and Bayer Leverkusen – vary drastically. Dortmund's title odds range from 11.00 to 19.00, while Leverkusen's go from 101.00 all the way up to 151.00.
COMPARING ODDS FOR THE 2021-22 BUNDESLIGA TITLE
Sportsbook
Bayern Munich
Borussia Dortmund
Bayer Leverkusen
BetUs
1.05
15.00
151.00
BetOnline
1.05
17.00
121.00
MyBookie
1.02
19.00
151.00
SportsBetting.ag
1.03
19.00
151.00
Bovada
1.03
17.00
121.00
XBet
1.02
17.00
101.00
Betway
1.02
11.00
101.00
10bet
1.03
13.00
151.00
The table above shows you exactly why comparing odds is so important when it comes to betting on the Bundesliga. Prices differ greatly from one bookmaker to the next, so you should always weigh up your options before parting ways with your cash.
One of the best ways to keep an eye on all the different prices is to join multiple sportsbooks. This will enable you to easily switch between betting sites to search for the best odds for your Bundesliga bets.
You can use this method to bet on Bundesliga matches, too. For example, BetUS may have priced Wolfsburg at 1.80 to beat Hertha Berlin. Meanwhile, MyBookie might be offering odds for 2.00 for the Wolfsburg win.
On paper, the price differences may seem subtle. But if you're partaking in real money Bundesliga betting, you need to make sure that you're getting the best odds every single time.
Bundesliga Betting Sites FAQ
What Are the Best Bundesliga Betting Sites?

A

If you're looking for the top online Bundesliga sportsbooks, look no further than our recommendations on this page.

Can I Win Real Money Betting on the Bundesliga Online?

A

Yes, you can bet on the Bundesliga for real money. All you need to do is sign up to a sportsbook and begin betting.

Is Online Bundesliga Betting Legal in My Country?

A

Although you can legally bet on the Bundesliga in many countries around the world, it is prohibited in certain regions. Before you get started, check your local laws.

Which Betting Sites Have the Best Odds for the Bundesliga?

A

All of our top-rated Bundesliga betting sites boast high odds. If you create an account with multiple sportsbooks, you can compare prices.

Where Can I Find the Best Bundesliga Bonuses?

A

Whether you're looking for juicy sign-up bonuses, generous ongoing promotions, or other offers – the top Bundesliga betting sites cover all the bases.

What Are the Best Bundesliga Bets?

A

We recommend exploring all the different types of Bundesliga bets, including futures and outrights, live/in-play betting, and props and specials.

Which Teams Has Won the Most Bundesliga Titles?

A

With 31 Bundesliga trophies in the silverware cabinet, Bayern Munich is the most successful club in the history of German soccer.

When Does the Bundesliga Season Start?

A

The German Bundesliga season usually kicks off in August and finishes in May. The league also has a two-week winter break around Christmas time.
September
Sportsbook of the Month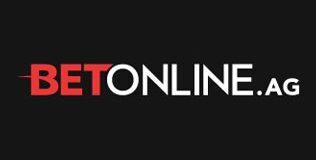 Welcome Bonus
50% up to $1,000