Online Snooker Betting – Best Sites and Top Tips
With countless snooker tournaments taking place around the world on an annual basis, there is no shortage of ways to bet on snooker and win money.
Superstars like Ronnie O'Sullivan, Ding Junhui, and Neil Robertson have globalized the sport in recent years, meaning more and more people want to know where to bet on snooker online. Here are the best snooker betting sites to help you get started.
Rank
Betting Site
Exclusive Bonus
Get Started

#1

BetOnline Sports

60% Up To

$1,000

Visit Site

Visit Site

#2

Bovada Sports

50% Up To

$250

Visit Site

Visit Site

#3

BetUS

125% Up To

$2,500

Visit Site

Visit Site

#4

Everygame

100% Up To

$500

Visit Site

Visit Site

#5

MyBookie

100% Up To

$1,000

Visit Site

Visit Site
Not only does our snooker betting guide cover the top sites for betting on snooker online, but it also features a wide range of useful snooker betting tips and advice.
Whether you're new to snooker betting, or you want to brush up on your strategy, our guide offers something for everyone.
Contents of Our Snooker Betting Guide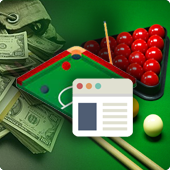 How to Bet on Snooker Online
If you're reading this page, chances are you want to know how snooker betting works. So, before we go any further, you need to learn about how to bet money on snooker online.
There are two primary things you need to know to get started.
How to join online snooker betting sites.
The different wagers for gambling on snooker.
Let's explain both for you right now.
Joining the Best Snooker Betting Sites
When it comes to sports betting on the web, it is imperative that you choose the right online sportsbooks. There are literally hundreds of options out there but finding the best online sports betting sites can be tough.
Thankfully, we've done the hard work for you. Our team of experts has scoured the internet for the very best snooker betting sites, meaning all the recommendations on this page are reliable, safe, secure, and legal.
Below, we guide you through how to register and make a deposit, so you can start placing your snooker bets online ASAP.
Step 1: Pick a Site – Before you do anything else, you need to choose the right site to bet on snooker. We strongly recommend using only the best snooker betting apps and sites.
Step 2: Create an Account – Creating an account is quick and easy. All you have to do is enter your email address, create a password, and add some personal details.
Step 3: Verify Your Account – Confirm your account by providing one or two forms of identification. You can use a passport, driver's license, or similar forms of ID.
Step 4: Choose Your Payment Method – Credit and debit cards, cryptocurrencies, e-wallets, and wire transfers are just some of the payment options offered by the best sites for betting on snooker online.
Step 5: Make a Deposit – Once you have chosen your preferred payment method, it's time to deposit funds into your account.
Step 6: Start Betting – After all the above steps are complete, you will be ready to bet on snooker for real money.
Don't forget to make the most of the snooker betting bonuses that all the top-rated online bookmakers offer. There are plenty of attractive snooker betting promotions to take advantage of, so make sure you look out for them.
If you're looking for more general advice, check out our guide to betting on sports online.
Snooker Betting Options
Sportsbooks offer lots of different snooker betting markets. You can choose to gamble on individual matches or wager on the winners of a tournament, and you can pick from live snooker betting or snooker props.
There truly is something for everyone. Here are the main options for betting on snooker.
Betting on Matches – This is undoubtedly the most popular snooker betting option, as you can wager on the winner of any snooker match.
Futures and Outrights – These snooker betting markets enable you to gamble on future events, such as the winner of a tournament.
Live Snooker Betting – You can also bet on snooker live. There are multiple snooker live betting markets, including wagering on the next frame winner and the next player to pot a ball.
Snooker Prop Bets – Snooker props are always fun. You can gamble on how many frames a player will win in a tournament, the number of 147s in a tournament, and much more.
We suggest exploring all the different types of snooker bets to give yourself the best possible chance of winning cash. The basic snooker betting tips in the next section will help, too.
Basic Tips for Betting on Snooker
We will get into some more advanced snooker betting strategy a little later. But for now, here are some basic betting tips for snooker.
Although some of the points below are general sports betting tips, they all apply to gambling on snooker and are very important to follow.
Research the Players – There are many snooker players participating in different events across the world, so it is important that you study all the players and use player stats to your advantage.
Look for Value in the Snooker Odds – Don't just back the bookmakers' favorite to win every time. Instead, find value in the betting odds to land bigger profits.
Explore the Rules of the Sport – Familiarizing yourself with the rules of snooker will only enhance your chances of winning money. Regulations vary between tournaments, so make you know the details of the event you are betting on.
Avoid Common Sports Betting Mistakes – Snooker gambling can be difficult, especially for beginners. For that reason, we recommend learning about the most common sports betting mistakes to minimize risk.
Now that we've shared our basic tips for betting on snooker, it's time to take a closer look at snooker futures and outrights.
Betting Strategy for Snooker Outrights and Futures
Betting on the winner of any snooker tournament is a fun way to make money. There are many snooker competitions taking place around the world at any given time, so there is no shortage of snooker futures to take advantage of.
In this section, we cover several tips for betting on snooker outrights.
Consider the Importance of the Tournament
Every snooker tournament is important, but there is no denying that some competitions are more important than others. That's why it is necessary that you know which tournament you are betting on.
The "Triple Crown" events – the World Championship, the UK Championship, and the Masters – are the top three snooker tournaments on the planet. Only the very best players tend to win these competitions, meaning participants rarely upset the snooker odds.
Smaller events give lower-ranked players the opportunity to win silverware. The top players may not be interested in winning these low-profile tournaments, leading to lesser-known players triumphing.
Before you make your snooker betting picks, make sure you consider the importance of the tournament and know which players are likely to challenge for the trophy.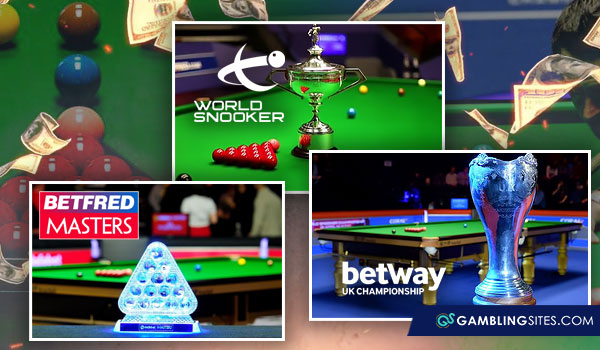 Examine the Tournament Schedule
While many of the major snooker tournaments feature a limited number of players, some of the smaller events have hundreds of competitors and include various preliminary and qualifying rounds.
Most elite players are used to participating in competitions that have small fields, while lower-ranked players often compete alongside a host of other participants. With that in mind, you should always look at the tournament schedule.
Some players use smaller tournaments to prepare for bigger events, so they might struggle to adapt to a change in format.
Think About the Prize Money
The value of prizes varies drastically from tournament to tournament, so it is important that you know how much money players win at each event.
Of course, some snooker players play the sport simply because they enjoy it. But the vast majority of players enter tournaments to win money.
The World Championship, for instance, has a prize fund of £2,395,000, with £500,000 going to the winner. The Champions of Champions, on the other hand, has a prize fund of £440,000, and the winner takes home £150,000.
The bigger the prize fund, the bigger the incentive. Players' motivation tends to be higher when there is more money on the line.
Study the History of the Tournament
Some players enjoy competing in certain tournaments more than others; that's just the way it goes. Whether it's the backing of the home crowd or the format of the competition, certain events suit specific players better than others.
As the table below shows, Ronnie O'Sullivan has reached far more Masters finals than any other player through the years.
MOST MASTERS FINALS
Player
Winner
Runner-Up
Finals
Ronnie O'Sullivan
7
6
13
Stephen Hendry
6
3
9
Mark Selby
3
2
5
Sure, O'Sullivan is one of the greatest snooker players of all time, so he is bound to win plenty of titles. But he has only managed to reach two China Open finals, while Mark Williams and Mark Selby have both reached five.
Before you start betting on a snooker event, look at the previous winners of the tournament to see which players generally fare better.
If you want more info on all the leading events, we have an entire section dedicated to the best snooker tournaments for betting on this page.
Handicap Betting on Snooker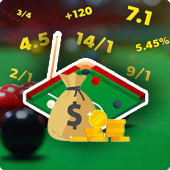 Snooker handicap betting is one of the most popular markets for gambling on snooker matches. It's a preferred choice for a lot of people because it can be easier to find good value wagers.
If you're just getting started with snooker wagering, you're probably wondering how snooker handicap betting works. To help you understand handicap betting on snooker, we have put together a simple example below.
Assume the following for the purposes of this example.
Player A and Player B are playing a first-to-five-frames match.
Player A is the heavy favorite and is priced at 1.10 to win the match.
Player B is the clear underdog at 15.00.
With a –2.5 frames handicap, you can get odds of 1.80 for Player A to win. This means the favorite would need to win, 5-2, 5-1, or 5-0 for your bet to be successful. Essentially, a handicap is placed on the favorite, making it more difficult for them to win.
In the same way, you could opt for a +2.5 frames handicap on the outsider. This would lower the odds but would also give you a better chance of landing your bet.
Bettors generally use handicaps when the odds for the favorite to win are very low, or when the probability of the underdog winning is unlikely.
Here are some useful tips for handicap snooker betting.
Analyze the Match Format
Some players perform better in shorter formats, while others thrive in longer matches. When it comes to handicap betting on snooker, it is vital that you know which players are better suited to specific formats.
The potential difference in the final score is a lot bigger in longer matches, meaning handicaps can be very useful. If a bookies' obvious favorite is likely to win by multiple frames, backing them to win with a frame handicap makes sense.
Shorter matches, on the other hand, tend to produce less disparity in the final score. If you think an underdog is going to lose a match but only by one or two frames, back them to win with a +1.5 or +2.5 handicap.
Consider Head-to-Head Records
It is always a good idea to check head-to-head record between players. More often than not, you can find useful information when you look at the results of previous encounters.
If a bookies' favorite has thrashed their opponent on many occasions in the past, back them to win with a handicap to enhance the odds. On the flip side, if an underdog normally rises to the occasion and performs well against a tougher opponent, the final score may not be very noticeable.
Before you partake in snooker handicap betting, make sure you consider the H2H record between players.
Compare Playing Styles
Another thing to consider when it comes to handicap betting on snooker is playing styles, as every competitor has a slightly different way of playing the game.
Each player has strong and weak sides, and by studying these nuances, you can get a better idea of how they might fare against players with contrasting styles.
An underdog's unique style of play could help them to compete with a bookmakers' clear frontrunner. If you can predict when this might happen, backing the outsider to win with a handicap could prove to be very profitable.
Picking Upsets in Snooker Matches
Considering that upsets happen often in snooker, it is worth building a strategy for picking upsets. Luckily for you, we have gathered a handful of useful tips to help you spot when an upset may be in the cards.
Underdogs often upset the snooker betting odds, so we recommend that you follow the tips below to make more successful snooker predictions.
Look Out for Rising Stars
Snooker is constantly evolving, which means more and more young players are bursting onto the scene. For that reason, we suggest keeping an eye on the rising stars of the sport.
The sports betting sites may underestimate an up-and-coming player, but that player could soon be ready to compete with the big guns. Check the results in recent events to see if any young players have the potential to upset the odds.
Watch for Underperforming Favorites
Even the very best snooker players in the world can't win every match. That's why it is worth looking out for top players who could have an off day in an upcoming tournament.
Players can be affected by a busy schedule, more important tournaments, and even distractions outside of the sport.
If you can anticipate when a bookies' favorite isn't at their best, you could land yourself a tasty profit.
Bet on Short-Formatted Matches
Overall, shorter matches tend to produce more upsets. With fewer frames for top players to dominate, outsiders often upset the snooker odds in shorter matches.
In terms of picking upsets in snooker matches, we recommend betting on shorter-formatted tournaments, as underdogs stand a greater chance of toppling favorites in these kinds of events.
Pick Tournaments with More Underdogs
This may sound like an obvious thing to do, but betting on events with more competitors who are considered outsiders can be hugely beneficial.
Certain tournaments feature very few competitors, and most of them are elite players. On the flip side, some events have hundreds of participants, many of whom aren't expected to win.
When more underdogs compete, tournaments with bigger fields usually produce more upsets.
Live Snooker Betting
Live snooker betting can be very lucrative, but it can also be risky. Just like all in-play betting, you need to make sure you are fully prepared if you're planning to bet on snooker live.
We have compiled a list of helpful tips to aid your snooker live betting experience. If you follow the steps below, you will give yourself an excellent chance of making winning in-play snooker betting predictions.
Preparation is Key
Before you start to bet on snooker live, be sure to prepare for the match. This involves studying the players, analyzing recent form, and considering the match format.
Essentially, it pays to gather as much information as possible before the match gets underway.
Watch Every Match
When it comes to live snooker betting, it is vital that you watch the match. Yes, you can bet on a match without watching it. But you are far more likely to win money if you are following the event.
By watching the match, you will be able to pick exactly the right moment to place your in-play wagers.
Observe Players' Mental State
A player's mental state can change dramatically over the course of a match, especially in longer formats.
With that in mind, we advise you to keep an eye on how each player is faring throughout the match. A player could be in control of a match but then miss a couple of easy chances and take a turn for the worse.
If you can identify when a player's mood is changing, you could take advantage of this and win cash.
Examine In-Play Stats
Not only can you follow in-play statistics on regular sports gambling apps, but you can also keep up to date with all the latest live stats on specific betting apps for snooker.
Stats like pot success % and safety success can be a great indication of how matches are going, so you should always look at the in-play stats to discover developing trends.
Keep Your Emotions in Check
It can be easy to get carried away while placing in-play bets, so we believe it is vitally important that you don't get carried away.
If your bets keeping failing, it might be time to cut your losses.
Best Snooker Tournaments for Betting
Across the world, there are countless snooker tournaments to bet on throughout the year. However, not all these competitions receive widespread coverage.
Although we recommend trying your luck at a variety of different events, the major tournaments are always the best for snooker betting.
The top online betting sites for snooker always offer a wide range of markets for the most high-profile competitions, providing us with more opportunities to bet on snooker and win money.
The major events are much easier to follow, too, as many of them air on television. It is also easy to find helpful information about the top tournaments online, giving you a better chance of landing your snooker wagers.
Here are some of the best snooker tournaments to bet on.
World Snooker Championship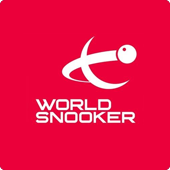 Inaugurated: 1927
Location: Crucible Theatre, England
Total Prize Fund: £2,395,000
Winner Receives: £500,000
As the longest-running tournament in professional snooker, the World Championship is undoubtedly the holy grail of the sport. The prestigious competition has been running for almost a century and is now the wealthiest snooker tournament in the world.
The World Championship takes place every year at Sheffield's Crucible Theatre, with 32 players competing in the main stage of the event, including the top 16 players from the Snooker World Rankings.
UK Championship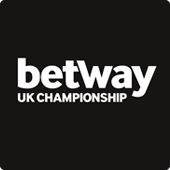 Inaugurated: 1977
Location: York Barbican, England
Total Prize Fund: £1,009,000
Winner Receives: £200,000
The UK Championship has the second-largest prize fund of all the professional snooker tournaments. It is held annually at York's Barbican Centre, with the first competition taking place in 1977.
England's Roonie O'Sullivan has won the tournament a record seven times. Steve Davis has six titles to his name, while Scottish star Stephen Hendry has won five UK Championships.
The Masters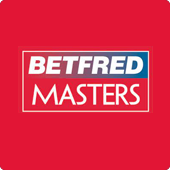 Inaugurated: 1975
Location: Alexandra Palace, England
Total Prize Fund: £725,000
Winner Receives: £250,000
Along with both the World and UK Championship, the Masters is one of the three "Triple Crown" events – the most prestigious tournaments in professional snooker.
A non-ranking event, the Masters sees the best players from all over the world flock to London's iconic Alexandra Palace every year. In total, 25 players from eight different countries have won the Masters over the years.
Champion of Champions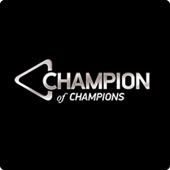 Inaugurated: 1978
Location: Coventry Building Society Arena, England
Total Prize Fund: £444,000
Winner Receives: £150,000
The Champion of Champions is arguably the biggest snooker tournament outside the Triple Crown events. It features winners from the World Snooker events over the preceding 12 months, as well as other high-ranked players.
There were two Champion of Champion tournaments in 1978 and 1980 before the competition took a lengthy hiatus. However, the tournament returned in 2013 and has since become an important event on the professional snooker calendar.
China Open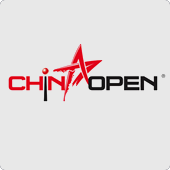 Inaugurated: 1997
Location: Beijing, China
Total Prize Fund: £1,000,000
Winner Receives: £225,000
Outside of the UK, the China Open is the leading snooker tournament. Running since 1997, the competition has the third-biggest prize fund in the sport.
Mark Williams and Mark Selby are the most successful players in the history of the event, each claiming three titles and two second-place finishes. China's Ding Junhui has reached three finals over the years, winning two and losing one.
Ready to Bet on Snooker Online?
Ultimately, the main aim of our snooker betting guide is to show you how to bet on snooker online and win cash.
We understand that it can be difficult to know exactly where to place bets on snooker. But if you start by shopping around for the best snooker betting sites and the top snooker betting apps, you will instantly give yourself an edge.
We cannot overstate the importance of using only the best sites to bet on snooker. Although there are tons of options out there, our recommended snooker betting sites are the way to go.

July
Sportsbook of the Month

Sign up Bonus
60% Up To $1,000
READ REVIEW
Visit Site
X