Best UK Sports Betting Sites – Recommended Online Bookmakers
The United Kingdom is arguably the most sports-betting-friendly nation in the world. Betting on sports is completely legal, and the betting industry is properly regulated. This includes ONLINE sports betting. Any gambling site can legally offer online betting services to UK residents, provided they meet the regulatory requirements and are licensed by the Gambling Commission.
This all means that sports bettors in the UK have plenty of options of where to place their wagers. There are bookmaking shops in virtually every town and city throughout the region, and some companies provide telephone betting services. There are also over one hundred betting sites and online bookmakers that accept UK customers.
Having so many options is mostly a good thing, but it also poses some questions. Should you bet online, or is it better to use bookmaking shops? Should you bet with the major bookmakers or the lesser-known brands? What should you look for when choosing a betting site?
We answer these questions further down the page. Let's start with the big one, though — the question that probably brought you to this page. Which are the best UK betting sites at this moment in time? The list below gives you our answer.
Rank
Betting Site
Exclusive Bonus
Get Started

#1

BetOnline Sports

60% Up To

$1,000

Visit Site

Visit Site

#2

Bovada Sports

50% Up To

$250

Visit Site

Visit Site

#3

BetUS

125% Up To

$2,500

Visit Site

Visit Site

#4

Everygame

100% Up To

$500

Visit Site

Visit Site

#5

MyBookie

100% Up To

$1,000

Visit Site

Visit Site
In all honesty, we could have made this list a lot longer. There are some other very good sites that wouldn't be out of place here. The ones we have listed, however, genuinely stand out from the rest. They're even BETTER than very good. There's no doubt at all that these are the sites you should be using.
So, if you're looking for somewhere to bet right now, look no further. We've tested each one of these sites extensively, and they all perform very well in the areas that really matter. They're reputable, trustworthy, and provide a first-class service. You can sign up at any one of them and be certain of a positive experience.
It may be that you're not ready to jump straight in and sign up with an online bookmaker. Perhaps you want to know more about what sets the best sites apart from the rest. Or perhaps you're looking to find a site that's suitable for some specific requirements you have. Maybe you're not even sure if you want to bet online.
We can help with all of this, too. Please see below for everything else we cover on this page.
Why Bet Online?
Although there are other ways to bet in the UK, betting online is definitely the best option. Let's take a look at why that is. Here's a list of the five biggest advantages that online betting has to offer:
Opening hours
Convenience
Better odds
More betting options
Bonuses, rewards, and promotions
Opening hours
Bookmaking shops aren't open twenty-four hours a day. We're not aware of any telephone betting services that operate around the clock, either. Online bookmakers NEVER close, though. They're open all day, every day. This means you can place your wagers whenever you want, and never have to miss an opportunity to get your money down.
Convenience
You're never too far away from a bookmaking shop in the UK. As we mentioned earlier, these shops can be found everywhere. There are nearly 10,000 of them throughout the region, and they're especially common in heavily populated areas. In London, for example, there's a street that's home to an incredible EIGHTEEN shops.
Therefore, visiting a bookmaking shop is pretty convenient. Unless you live in a very rural area, you shouldn't have to travel more than a few minutes to get to one. However, with betting sites, you don't have to travel AT ALL. You can place your wagers from the comfort of your own home, which is even more convenient. These days, you can even bet while on the move, as you can access most betting sites from your smartphone.
Betting online is more convenient than using a telephone service, too. You don't have to talk to anyone or wait for someone to confirm the odds. Everything you need is just a click or two away.
Better Odds
The odds available online are typically better than what you can get anywhere else. Not by a lot, but by enough to make a difference. This alone is an excellent reason to bet online. Getting just slightly better odds for every wager you place can greatly improve your overall betting results.
More Betting Options
Betting sites cover way more sports and events than most bookmaking shops. You can bet on pretty much every sport that's played professionally, and almost every event. This makes it much easier to find good wagers to place.
The variety of different wagers is greater online, too. Bookmaking shops and telephone betting services offer all the "traditional" types of wagers, but that's usually about it. Most betting sites also offer a wide range of alternatives, providing even more opportunities for potentially making money.
Bonuses, rewards, and promotions
At most betting sites, you'll get a bonus just for signing up and making a deposit. This will typically be in the form of a free bet or extra funds added to your account. There will usually be some kind of loyalty scheme in place, too, where you'll earn rewards based on your betting activity. A lot of sites also run regular promotions, such as enhanced odds for specific events or money-back specials.
These bonuses, rewards, and promotions are a MAJOR advantage of betting online. They can be worth a lot of money over time, especially if you bet regularly or for high stakes. Even if you only bet occasionally, they're still a great way to get some extra value out of your money.
There are other good reasons to bet online, too, but the ones we've discussed here are the ones that will benefit you the most.
What Makes a Good Online Bookmaker?
We've established that betting online offers some significant advantages over the alternatives. There's an important point to note here, though. You MUST use a good online bookmaker or betting site. If you don't, there's a risk that your online betting experience will not be a positive or enjoyable one. You certainly won't be able to make the most of all the advantages on offers.
The whole point of us providing recommendations on this page is to make sure that you DO have a good online betting experience. These recommendations have been carefully selected, and we're absolutely certain that they're the best options around right now.
We don't expect you to simply take our word for that, though!
You might be wondering WHY we rate our recommendations as highly we do, so we should explain further. Let's take a look at exactly what makes them so good.
There are actually many factors that we consider when rating online bookmakers. We're not going to list every single one here, as some of them are fairly minor. Instead, we're going to focus on the most important.
An online bookmaker MUST meet the following criteria to be considered for our recommendation:
Appropriately licensed to provide online betting services
Well designed and easy to use
Genuine added value from bonuses and rewards
Good coverage of different sports and events, with plenty of betting options
Consistently competitive odds
Fair terms and conditions
Quality customer service
Fast withdrawals
Some of these may seem obvious to you, while others may not seem important at all. In our opinion, they ALL have a significant impact on the overall quality of an online bookmaker. Any operation that meets all of the above criteria is definitely worth betting with. Any operation that doesn't is probably best avoided.

Further Information
Would you like to learn even more about our recommendations before signing up? Then you should check out our reviews. We've written reviews on each one of our recommended bookmakers, detailing everything you could possibly want to know. Find out what sports are covered, what bonuses and rewards are available, what banking options you can use, and much more..
Big Brands vs. Smaller Sites
We mentioned earlier that there are nearly 10,000 bookmaking shops in the UK. Nearly three-quarters of these shops are operated by four big brands that have been providing betting services in the region for decades. These brands are VERY well-known, even to those with no real interest in betting on sports.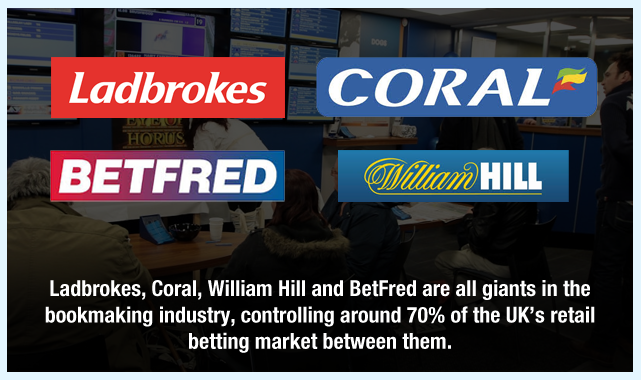 Ladbrokes and Coral merged in 2016 to create Ladbrokes Coral Plc, but they still operate as separate brands in the retail market. Despite the two companies being forced to sell off some of their shops as part of the deal, they've maintained a strong retail presence. Their betting shops form a large part of their business.
They also operate online betting sites, again as separate brands. William Hill and BetFred both operate online betting sites, too. These sites are all very popular with UK sports bettors, but not necessarily for the right reasons. A lot of people automatically assume that they must be the best places to bet simply because they're big brands. This isn't ALWAYS the case.
There are definitely some benefits to using betting sites operated by well-known brands. A big one is the fact that you know they can be trusted. These sites aren't going to disappear with your deposits or refuse to pay you your winnings. They've been in business for many years, and they're likely to be in business for many more to come.
It's not like these are the ONLY sites that can be trusted, though.
There are a lot of smaller betting sites that have not been in business for as long as the big brands and are not as well known. Many of these are perfectly trustworthy, too. They HAVE to be if they're licensed by the UK Gambling Commission, and if they're not, they can't operate legally in the region, anyway.
In our experience, some of these smaller sites are better than the big brands. They can't simply rely on their brand to gain customers, so they have to make sure they have something else to offer. For example, they might offer better bonuses and rewards or better odds.
Now, we're not saying that you should DEFINITELY use a smaller site rather than a big brand. We just don't think it's right to automatically assume that the bigger brands are guaranteed to be the best options.
We don't give much consideration to the size of the brand when we're deciding which online bookmakers to recommend. We look at the factors that really matter, such as those we outlined earlier. Our goal is to recommend the sites that perform the best and provide the best service, regardless of whether they're big brands or smaller operations.
Alternative Betting Sites
We've made it clear that the sites recommended on this page are excellent options for UK sports bettors. We've recommended some other sites too, though, in more precise categories. Here are some examples:
These categories might be of interest to you if you have certain requirements or preferences that are especially important to you. For a full list of everything we cover, please see the following page:
July
Sportsbook of the Month

Sign up Bonus
60% Up To $1,000
READ REVIEW
Visit Site
X