How to Bet on Hockey at the Olympic Games
Hockey has been a prominent sport at both the Summer and Winter Olympics for the best part of a century.
With field hockey debuting at the 1908 Summer Olympics and ice hockey joining the Winter Olympics schedule in 1924, hockey events invariably generate huge interest at the Games.
Naturally, betting on Olympic hockey is also popular. With men's and women's events at both editions of the Games, betting on hockey at the Olympics is always exciting.
In this Olympics hockey betting guide, we provide advice and tips for betting on field hockey and ice hockey at the Olympics. If that sounds good to you, let's get going!

Hockey Competitions at the Olympics
You probably don't need us to tell you that field hockey and ice hockey are completely different sports. However, the general concept of both sports is similar.
Before you start betting on hockey at the Olympics, you need to understand the differences and similarities of both events at the Games.
Field Hockey Tournament at the Olympics
Both the men's and women's Olympic field hockey tournament follow the same format, with 12 teams divided into two groups of six for the first phase.
Each nation plays every team in its group once, with three points awarded for a win, one point awarded for a draw, and no points awarded for a loss.
At the end of the group stage, the top four countries from each group qualify for the quarterfinals.
To give you a better understanding of the process, here are the final Group A standings for the men's competition at Rio 2016.
FINAL GROUP A STANDINGS – MEN'S FIELD HOCKEY (RIO 2016)
Team
Games
Wins
Draws
Losses
Points
Belgium
5
4
–
1
12
Spain
5
3
1
1
10
Australia
5
3
–
2
9
New Zealand
5
2
1
2
7
Great Britain
5
1
2
2
5
Brazil
5
–
–
5
0
In this instance, Belgium, Spain, Australia, and New Zealand qualified for the quarterfinals, while Great Britain and Brazil were eliminated.
Teams are then drawn against each other for the knockout phase, with the winners of the quarterfinals qualifying for the semifinals. The winners of the semifinals then compete for gold in the final, while the losing semifinalists play the bronze medal match.
Ice Hockey Tournament at the Olympics
The Olympic ice hockey tournament uses a slightly different format than field hockey. For starters, 12 teams compete in the men's competition but only eight sides partake in the women's event.
For the men's tournament, the 12 nations are separated into three groups of four, with each team playing every country in its group once.
The top side from each group qualifies for the quarterfinals automatically, along with the highest-ranked second-place team. The remaining eight teams then play an elimination game in order to book their spot in the knockout phase.
After that, the quarterfinals, semifinals, bronze medal match, and final are played using the same format as field hockey.
The women's event is slightly different, however, as there are only eight teams. This means there are two groups of four to begin with.
The seeded teams are placed in Group A, while the lower-ranked sides go into Group B. Once the group games have been completed, the top two teams from Group A receive a bye to the semifinals, and the bottom two sides in Group B qualify for the quarterfinals.
All the teams from Group B then play a further qualification match to determine the quarterfinalists before the usual knockout phase takes place.
Evaluating Squad Depth in Olympic Hockey
When it comes to hockey betting at the Olympic Games, evaluating the depth of each squad can give you a significant edge, especially if you're betting on Olympic hockey futures.
Before we explain why evaluating squad depth is important, let's take a look at the main futures markets for Olympics hockey betting. Remember – these options are relevant for both field hockey and ice hockey.
Gold Medal Winner – This is undoubtedly the most popular Olympic hockey betting market. All you need to do is pick a team and back them to win the event.
To Finish on the Podium – This market for hockey betting at the Olympics enables you to wager on a team to win a medal of any color.
Group Winner – Not only can you bet on the overall winner of an event, but you can also bet on the winner of each group.
If you want to learn more about futures, take a look at our complete guide to futures bets.
Why is Squad Depth Key to Olympics Hockey Betting?
More often than not, the nations with the deepest squads win medals at the Olympics Games. With a stronger pool of players to choose from, coaches can rotate their team in order to keep things fresh and avoid fatigue.
If you look at the schedule for women's field hockey at Rio 2016, you can see just how demanding the event is. The group stage took place across eight days at Rio 2016, with just one rest day given to the teams.
Each country had to cram five matches into an eight-day period, which is intense even for top-level athletes.
Considering each game comprises four, 15-minute quarters of vigorous action, it is inevitable that players will tire quickly due to the intense schedule.
Naturally, teams with deeper squads handle the hectic schedule better than those with less top-quality players to choose from. Nations with deep squads are able to make more impactful substitutes during games and can opt to rest key players to protect them for more important or challenging matches.
It is vital that you consider this aspect if you're betting on hockey at the Olympic Games.
How to Evaluate Squad Depth in Olympic Field Hockey
Field hockey teams consist of 11 players – one goalkeeper and ten outfield players. However, each nation is allowed to name 16 players in an Olympic squad.
Coaches will usually know their strongest starting XI before the Games get underway, but the five substitutes can play a key role in impacting matches when called upon.
This is what a typical field hockey line-up looks like.
TYPICAL FIELD HOCKEY LINE-UP
Goalkeeper
Defenders
Midfielders
Attackers
Goalkeeper
Right Half
Inside Right
Right Wing
Left Half
Inside Left
Left Wing
Right Back
Center Half
Center Forward
Left Back
Most countries name just one goalkeeper in their squad for the Olympics. But if a nation has a strong backup goalkeeper, the team's performances won't drop if the first-choice goalkeeper gets injured.
Keep an eye out for countries with strength in depth in attack, too. Forward players often come off the substitute bench and change the pattern of a match, giving their team a greater impetus at the top end of the field.
Ultimately, it pays to study all the squads and players before laying down your Olympic hockey bets.
How to Evaluate Squad Depth in Olympic Ice Hockey
Compared with field hockey, evaluating squad depth in Olympic ice hockey is completely different.
Although ice hockey teams only consist of six players (one goaltender, two defensemen, and three forwards), countries are allowed to name 25-person rosters for the Winter Olympics, comprising of three goaltenders and 22 skaters.
Ice hockey is one of very few sports that permits unlimited substitutions throughout a game. On top of that, teams use multiple sets of players – referred to as "lines" – for different situations.
Here are the different lines used in ice hockey.
First Line – Generally featuring the best three offensive players, the first line is part of the team's starting line-up and is normally responsible for most the team's scoring.
Second Line – Second lines tend to be composed of second-tier offensive players, giving teams different options in attack. First-line players are sometimes featured in the second line, too.
Third Line – Often referred to as the checking line, the third line is usually made up of defensively-oriented forwards and grinders.
Fourth Line – Fourth lines or "energy lines" often consist of pests and enforcers and are used to boost the team while giving other lines a rest.
In terms of evaluating squad depth in Olympic ice hockey, it is important analyze the various lines within each side. High-profile nations tend to boast stronger lines throughout the squad, while lesser countries can struggle to fill each line with first-class players.
You should also look out for compatriots that belong to the same team, too. Away from the Olympics, some players may play their regular-season hockey for the same domestic side, meaning they are likely to have good chemistry at the Games.
It's now time to get into some Olympic field hockey betting tips.
Basic Betting Tips for Olympic Field Hockey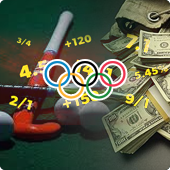 In this section, we share some basic tips for betting on field hockey at the Olympics.
There are multiple steps you can take to give yourself the best possible chance of landing your Olympic field hockey bets. In some ways, betting on Olympic field hockey is similar to betting on the sport in general.
However, there are also some nuances when it comes to the Olympic Games.
Follow the tips below and you should be on the right track when it comes to placing your bets.
Study the History of Field Hockey at the Olympics
Even before you think about looking at the bookmakers' Olympics hockey odds, researching previous Games and past medal winners can give you the upper hand.
We have an entire section dedicated to stats about the most successful hockey teams in Olympic history further down this page, so make sure you check that out.
Analyze the Olympic Qualifying Events
While some of the top nations qualify automatically for the Olympics based on world rankings, the majority of countries have to play in qualifying tournaments to punch their ticket.
If you look at the results of the pre-Olympic competitions and assess how each team fared, you will almost certainly find some useful information to aid your Olympics betting.
Keep an Eye Out for Weak Host Nations
Countries hosting the Olympic Games don't need to qualify, meaning they are drawn straight into the group stage. In certain cases, this can lead to weak teams coming up against the top teams in the world.
For example, the South Korean men's team participated in the ice hockey tournament at PyeongChang 2018. They ended up losing all three of their games, conceding 14 goals while scoring just once.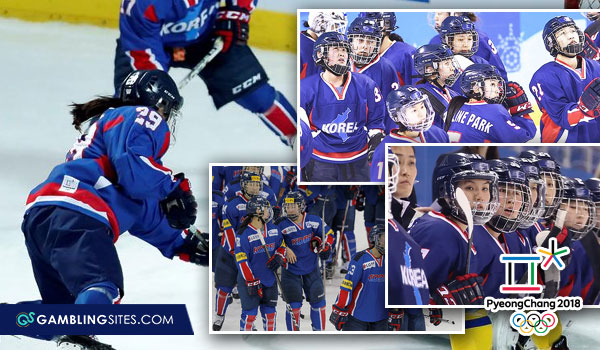 If you are interested in trying out goal-based betting markets, make sure you look out for weak host nations. South Korea was thrashed 8-0 by Switzerland at the previous Winter Olympics – and the odds for a score line of that nature would have been very attractive.
Consider the Stage of the Tournament
When it comes to betting on Olympic field hockey, it is vital that you know which stage of the competition you are gambling on.
During the group stage, there is usually a bigger gulf in quality between the best and worst teams. This can lead to certain nations dominating their group and qualifying for the knockout phases with ease.
But when the quarterfinals come around, a country that has just performed well in the group stage could struggle to compete with stronger sides in the knockouts. For that reason, we recommend following the competition closely and looking at each match individually.
Betting on Men's vs. Women's Field Hockey
As we have already established, there are plenty of similarities between men's and women's field hockey at the Olympics.
Both events comprise the same number of teams, both tournaments follow the same format, and both genders use exactly the same field dimensions and match rules.
But if you're betting on field hockey at the Olympic Games, there are some notable differences between the two events that you need to understand.
Men's Hockey Generally Produces More Goals
Generally speaking, games within the men's field hockey event at the Olympics dish up more goals than the women's event. This is largely down to the gulf in ability between the highest and lowest-ranked nations.
As the table below details, men's group matches at the 2016 Olympics produced far more goals than women's group games.
GOALS SCORED IN THE GROUP STAGE AT RIO 2016
Event
Total Goals
Men's Field Hockey
154
Women's Field Hockey
97
Men's group games at Rio 2016 produced a combined total of 154 goals. With 15 group matches taking place overall, that means there was an average of just under 10.3 goals per game.
As for the women's event, only 97 goals were scored during the group stage, giving us an average of around 6.4 goals per game. That is a pretty sizeable difference, right?
It is worth pointing out that this trend didn't just emerge at the 2016 Olympics. If you look back at previous editions of the Games, you will see that the men normally outscore the women.

Top Tip
If you're partaking in field hockey betting at the Olympics and want to take advantage of the goal-based markets, it is important to consider which event you are wagering on.
Different Nations Dominate Certain Events
Just because some countries dominate men's hockey, it doesn't automatically mean they excel in women's hockey. Sure, certain nations have a great record in both events. But that isn't always the case.
For instance, the Indian men's team has won eight gold medals over the years, along with one silver and two bronzes. However, the Indian women's team has never even won an Olympic medal in field hockey.
On the flip side, the Netherlands, Australia, Germany, and Great Britain have all won gold in both the men's and women's event.
Before you part ways with your money, make sure that you research the dominant nations in both events.
Olympics Ice Hockey Betting Tips for Beginners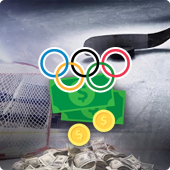 Now it's time to move on to Olympic ice hockey betting tips.
If you are completely new to betting on ice hockey at the Olympic Games, this section is perfect for you. But even if you are familiar with ice hockey betting at the Olympics, we think you will still find our tips helpful.
First of all, if you're betting on ice hockey at the Olympics, we highly recommend using the best sites for betting on hockey online. Of course, this applies to field hockey, too. WHERE you bet is just as important as HOW you bet.
Here are the rest of our tips.
Use History to Your Advantage – Don't be afraid to delve into the history books and research the top teams in each event. Looking at past trends will better prepare you for betting on Olympic ice hockey.
Research the Teams and Players – Even before the Winter Olympics get underway; you can prepare yourself for making winning Olympic ice hockey bets by familiarizing yourself with all the teams and players.
Find Value in the Olympic Ice Hockey Odds – Don't just back the bookies' favorite for every single game. Instead, we suggest assessing all your options and finding value in the Olympics ice hockey odds.
Look Out for Rule Changes – Like most sports, rule changes have occurred frequently in Olympic ice hockey over the years. Make sure you keep up to date with all the latest rule changes to give yourself the greatest chance of winning money.
Back More Than One Team to Win Gold – Backing more than one team to win gold can prove to be profitable. Let's not forget that four different nations (Russia, Canada, Sweden, Czech Republic) have all won the men's ice hockey gold medal in the past six editions of the Winter Olympics.
Betting on Olympic Ice Hockey vs. NHL
If you already bet on the National Hockey League (NHL), you already have a big advantage when it comes to betting on ice hockey at the Olympics, as many of the main ice hockey betting tips can be used universally.
However, there are numerous differences between Olympic ice hockey and the NHL that can impact how you make your ice hockey predictions.
Here are the key differences between the NHL and the International Ice Hockey Federation (IIHF), which set the rules and regulations for the sport at the Olympics.
MAIN DIFFERENCES BETWEEN NHL AND IIHF
Rule
NHL
IIHF
Rink dimensions
200ft x 85ft
200ft x 100ft (15ft wider)
Goal positioning
Goal line is 11ft from end boards
Goal line is 13ft from end boards
Players dressed
Maximum of 18 players on the game sheet
Maximum of 20 players on the game sheet
Face-offs
Visiting team player goes first
Attacking team players goes first
Goalkeeper restrictions
Goalkeepers are forbidden from playing the puck outside the trapezoid lines
No rule
Offside
A shot on a delayed offside will not incur a stoppage
On a delayed offside, any shot will bring about a stoppage
Aside from the most notable differences like rink dimensions, there are plenty of other minor differences between the two sets of rules.
Equipment regulations for helmets, visors, and sticks vary from event to event, while substitution and penalty rules also differ between the NHL and the IIHF.
While regular NHL bettors have an edge in certain areas of Olympics ice hockey betting, they may also find betting on Olympic ice hockey more difficult. If you are a frequent NHL bettor, we recommend you thoroughly understand the nuances of both rule books before making your Olympic ice hockey bets.
Certain players might be more accustomed to playing on Olympic rinks, giving them an advantage at the Games. Conversely, players familiar with operating in the NHL could find it tricky to adapt to the bigger rink.
These may seem like minor details, but they can have a big impact on ice hockey betting at the Olympic Games.
Most Successful Olympic Hockey Teams
Field hockey made its Olympic debut all the way back in 1908, and apart from two subsequent occasions (1912 and 1924), the sport has been featured at every Game since.
Across the men's and women's events, 11 countries have won gold, while only six nations have claimed gold on multiple occasions. In total, 20 countries have won a medal in Olympic field hockey over the years.
Let's take a look at the most successful Olympic hockey teams, starting with men's field hockey.
Most Successful Teams in Men's Olympic Field Hockey
Here are the top men's field hockey teams in the history of the Olympics.
MOST SUCCESSFUL MEN'S FIELD HOCKEY TEAMS IN OLYMPICS HISTORY
Nation
Gold
Silver
Bronze
Total
India
8
1
2
11
Pakistan
3
3
2
8
Great Britain
3
2
4
9
Germany
3
1
3
7
Netherlands
2
4
3
9
Australia
1
3
5
9
West Germany
1
2
–
3
Argentina
1
–
–
1
New Zealand
1
–
–
1
As you can see, India has totally dominated men's field hockey at the Olympics, clinching a record eight gold medals between 1928 and 1980.
Pakistan, Great Britain, and Germany have all won three golds, while the Netherlands has two golds to their name.
Although Australia has claimed nine Olympic medals in men's field hockey, the Aussies have only managed to pick up one gold.
Leading Women's Field Hockey Teams in Olympic History
Here are the most successful nations in women's Olympic field hockey history.
MOST SUCCESSFUL OLYMPICS FIELD HOCKEY TEAMS (WOMEN)
Nation
Gold
Silver
Bronze
Total
Netherlands
3
2
3
8
Australia
3
–
–
3
Germany
1
1
1
3
Great Britain
1
–
2
3
Spain
1
–
–
1
Zimbabwe
1
–
–
1
With three golds each, the Netherlands and Australia lead the way in women's field hockey at the Olympics, although the Dutch have far more medals than any other nation.
Germany, Great Britain, Spain, and Zimbabwe are the only other countries to have won gold in women's Olympic field hockey.
Greatest Men's Olympic Ice Hockey Teams of All Time
Ice hockey first featured at the 1924 Winter Olympics and has been a mainstay at the Games ever since.
Over the men's and women's competitions, 30 separate nations have won an Olympic ice hockey medal, with 14 countries claiming gold. As you are about to learn, one nation has dominated throughout history.
LEADING NATIONS IN OLYMPIC ICE HOCKEY (MEN)
Nation
Gold
Silver
Bronze
Total
Canada
9
4
3
16
Soviet Union
7
1
1
9
United States
2
8
1
11
Sweden
2
3
4
9
Czech Republic
1
–
1
2
Great Britain
1
–
1
2
You probably won't be surprised to see Canada sitting atop the medal table for men's Olympic ice hockey. The Canadians have claimed 16 medals in total, nine of which are gold.
The Soviet Union was also a dominant force in men's ice hockey at the Winter Olympics, winning seven golds before disbanding.
The United States, Sweden, the Czech Republic, and Great Britain have all claimed at least one gold, too.
Most Successful Teams in Women's Olympic Ice Hockey
Women's ice hockey was only introduced to the Olympic program in 1998, meaning it doesn't have the same history as the men's event. Still, Canadians have maintained their domination.
TOP WOMEN'S ICE HOCKEY TEAMS IN OLYMPICS HISTORY
Nation
Gold
Silver
Bronze
Total
Canada
4
2
–
6
United States
2
3
1
6
Sweden
–
1
1
2
Finland
–
–
3
3
Switzerland
–
–
1
1
Canada has featured in all of the women's ice hockey finals at the Winter Olympics and even secured four straight golds between 2002 and 2014.
The USA is the only nation to have beaten Canada to Olympic gold in women's ice hockey, triumphing in 1998 and 2018.
More Olympic Betting Guides
Across the Summer and Winter Games, there are dozens of Olympic sports to bet on. With numerous events and disciplines within each sport, the Olympics betting opportunities are pretty much endless.
For more Olympics content, head over to our Olympics blog. And if you're looking for further betting advice for individual events, our Olympics picks section is the place to go.
If you enjoyed this guide to betting on hockey at the Olympics, then chances are you will also find some of our other Olympic betting guides useful.
You can find more of our betting guides for various Olympics sports below.
June
Sportsbook of the Month

Sign up Bonus
60% Up To $1,000
READ REVIEW
Visit Site
X