History of the Olympic Games
The Olympic Games are the largest international sporting event in the world. Athletes dream of bringing home a gold medal while billions of spectators cheer them on.
There are more than 200 countries that participate in the Olympics. Between the Summer and Winter games, there are more than 400 different sporting events.
Olympic history began in Ancient Greece. However, the exact structure of the event has changed over time.
We explore the full history of the Olympic Games on this page. We also look at how sports betting plays a role in the games.
Ancient Olympics History
The Olympic Games began in Ancient Greece. The first written record of the Olympic Games comes from 776 BC.
At that time, the only event was a 192-meter race called the stade. The word stade is where we get the word stadium. A cook named Coroebus won the event.
While that is the first written record, historians believe that the events had been happening for years before that.
According to legend, Heracules started the Olympics. Heracles is the Greek version of Hercules, the demi-god son of Zeus.
No matter when they started, the ancient Olympics followed the same four-year pattern that we use today. They were part of a festival to honor Zeus in August and September every four years.
The festival took place in Olympia, a small town on the Greek peninsula.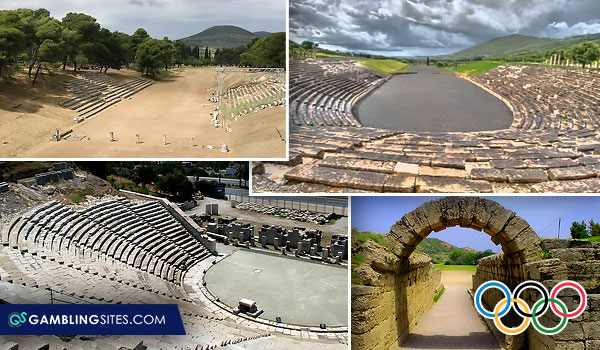 Throughout the history of the Olympics, more sporting events were added to the games. Diaulos and Dolichos were longer races, 400-meters, and 1,500 meters, respectively.
They also included a Pentathlon, which included a race, long jumps, discus throwing, javelin competition, and wrestling.
Later events included boxing, chariot races, and pankration. Pankration was a combination of boxing and wrestling that is similar to today's UFC matches.
Ancient Olympics history lasted for more than 290 Olympiads. They continued even after the Roman Empire captured Rome, but the quality of the games declined.
In 393 A.D., Emporer Theodosius I banned all pagan festivals, including the Olympic Games. That ban ended the Olympics after nearly twelve centuries.
History of the Modern Olympic Games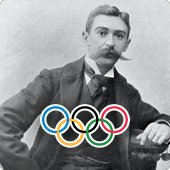 For the next 1,500 years, it seemed like everyone had forgotten about Olympic Games history. Fortunately, Baron Pierre de Coubertin was passionate about both history and physical education.
Coubertin was a French educator. He went to England to study educational philosophy and discovered the importance of organized games for children's moral and social skills.
When he returned to France, he developed his own physical education theory, incorporating his knowledge of Ancient Greece.
Unfortunately, the French schools did not embrace Coubertin's physical education philosophy. So, he began to work toward the creation of an international Olympic Games event.
He developed a philosophy of what the Olympics could represent. It included a definition of amateur athletes, the importance of competitions that crossed class lines, and the idea of a sacred truce during the event.
It took several years, and Coubertin faced multiple challenges, but by 1896, the first modern Olympics were held in Athens. They had 245 athletes from 13 countries, but 200 of them were from Greece.
The first few Olympic events were lackluster and didn't gain the interest of the international community. There were many arguments about who should be allowed to participate.
However, Baron Pierre de Coubertin did not give up. He continued to advocate for the importance of sports and claimed that they offered an opportunity for self-improvement "for every man, woman, and child."
He continued to lead the International Olympic Committee until 1924. Thanks to Coubertin's vision, the modern Olympics offered events for both men and women, regardless of wealth and class.
Summer Olympics History
The first six Olympic Games in modern history were summer games. Since 1924, there have been separate events for summer and winter games.
Since the beginning of Summer Olympic history, there have been 42 different sports featured. However, modern games only include 28 games.
Some games, such as polo and croquet, are not as popular as they once were. Other sports were removed because of controversial winners or unclear rules.
Here are the games currently included in the Summer Olympics and the year they were incorporated.
| | |
| --- | --- |
| Sport | Years Held |
| Athletics | Since 1896 |
| Cycling | Since 1896 |
| Fencing | Since 1896 |
| Gymnatics | Since 1896 |
| Swimming | Since 1896 |
| Water Polo | Since 1900 |
| Rowing | Since 1900 |
| Wrestling | 1896, Since 1904 |
| Weightlifting | 1896, 1904, Since 1920 |
| Tennis | 1896-1924, Since 1988 |
| Sailing | 1900, Since 1908 |
| Equestrian Events | 1900, Since 1912 |
| Archery | 1900-1908, 1920, Since 1972 |
| Diving | Since 1904 |
| Boxing | 1904, 1908, Since 1920 |
| Football | 1900-1928, Since 1936 |
| Shooting | 1896, 1900, 1908-1924, Since 1932 |
| Golf | 1900, 1904, Since 2016 |
| Field Hockey | 1908, 1920, Since 1928 |
| Modern Pentathalon | Since 1912 |
| Basketball | Since 1936 |
| Canoeing | Since 1936 |
| Handball | 1936, Since 1972 |
| Volleyball | Since 1964 |
| Judo | 1964, Since 1972 |
| Artistic Swimming | Since 1984 |
| Table Tennis | Since 1988 |
| Badminton | Since 1992 |
| Baseball | 1992-2008, Resumes 2021 |
| Softball | 1996-2008, Resumes 2021 |
| Taekwondo | Since 2000 |
| Triathalon | Since 2000 |
| Rugby Sevens | Since 2016 |
| Karate | Begins 2021 |
| Skateboarding | Since 2021 |
| Sport Climbing | Since 2021 |
| Surfing | Since 2021 |
CLICK TO SEE MORE
Winter Olympics History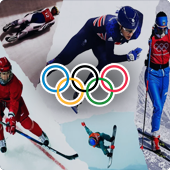 Most of Olympic Games history focused on summer sports. Figure skating competitions were included in some of the early Summer Olympics, but the weather prevented other sports from being incorporated.
Eugenio Brunetta d'Usseaux first suggested the idea of a separate week for the Winter games during the 1912 Olympics in Stockholm.
Sweden opposed the idea because they didn't want Winter Olympics to draw attention away from the Nordic Games, which were held in Sweden every four years from 1901-1926.
D'Usseaux successfully convinced Berlin to host a week dedicated to winter sports in 1916. However, the 1916 Olympics were canceled because of WWI. He died before seeing the first Winter Olympics in 1924.
The First Winter Olympics
The 1924 Summer Olympics were hosted in Paris, but the International Olympic Committee (IOC) agreed to host a separate event for winter sports.
It was known as International Winter Sports Week and was held in Chamonix, France. More than 250 athletes from 16 countries participated.
After seeing the competition's success, the IOC retroactively designated the event as the first Winter Olympics.
From 1924 until 1936, both the Summer and Winter Olympics were hosted by the same country in the same year.
All Olympic events were canceled between 1937 and 1947 because of World War 2.
Between 1948 and 1992, the Summer and Winter Olympics took place in the same year, but they were hosted by different countries.
The current schedule of separate four-year cycles started with the 1994 Winter Olympics.
Games Included in the Winter Olympics
All of the games in the Winter Olympics are sports that are played on snow or ice. Here are the games that are included in the Winter Olympics.
| | |
| --- | --- |
| Sport | Years Held |
| Cross-country Skiing | Since 1924 |
| Figure Skating | Since 1924 |
| Ice Hockey | Since 1924 |
| Nordic Combined | Since 1924 |
| Ski Jumping | Since 1924 |
| Speed Skating | Since 1924 |
| Bobsled | Since 1924 (except for 1960) |
| Curling | 1924, Since 1998 |
| Skeleton | 1928, 1948, Since 2002 |
| Alpine Skiing | Since 1936 |
| Biathlon | Since 1960 |
| Luge | Since 1964 |
| Freestyle Skiing | Since 1992 |
| Short Track Speed Skating | Since 1992 |
| Snowboarding | Since 1998 |
History of the Paralympics, Special Olympics, and Deaflympics
Baron Pierre de Coubertin advocated for all people to have access to sporting events. That included people with diagnosed disabilities, perhaps because his own children were disabled.
There were several athletes with disabilities that participated throughout Olympic history. Only a few of them managed to win medals.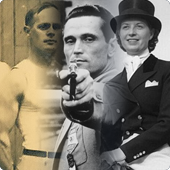 George Eyser was the first athlete with a disability to participate in an Olympic event in 1904. He was a German-American gymnast with a prosthetic leg. Eyser was particularly impressive because he won six medals in one day, three of which were gold.
Karoly Takacs was a Hungarian shooter whose right arm had been amputated. He participated in shooting events left-handed, winning two gold medals.
Lis Hartel was paralyzed from the knees down because of polio. That did not stop her from being the first woman to win a medal in a Dressage event in 1952.
Athletes with disabilities are still allowed to compete in the Olympics. There are also three additional Olympic events that are designated for athletes with disabilities.
Paralympics History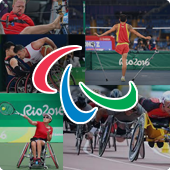 Many people use the terms Paralympics and Special Olympics interchangeably, but they are actually different events. The Paralympics are only open to athletes with designated physical disabilities.
The first event in Paralympics History was called the International Wheelchair games. It was hosted in 1948 by Dr. Ludwig Guttman.
Despite that name, it did not include international athletes. The event was only open to World War II veterans with spinal cord injuries. Dutch and Israeli veterans joined the games in 1952.
In 1960, the games changed the name to become the Paralympics. For the first time, it was open to any athlete who uses a wheelchair, whether they were a veteran or not.
The International Paralympic Committee (IPC) expanded the list of accepted disabilities in 1976. Each of the following disability categories is further broken down into classifications based on the level of impairment.
Impaired muscle power
Impaired passive range of movement
Limb deficiency
Leg length difference
Short stature
Hypertonia
Ataxia
Athetosis
Vision impairment
Intellectual impairment
It is worth noting that the IPC is different from the IOC. An independent organization operates the Paralympics, so they are not part of Olympic Games history.
However, the IPC and IOC have a strong partnership. Since 1988, the Paralympics have taken place in the same host city as the Olympics, using the same facilities.
History of the Special Olympics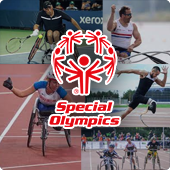 Contrary to the Paralympics, the Special Olympics is part of the history of the Olympic Games because it is an event hosted by the International Olympic Committee.
The primary difference between the Special Olympics and the Paralympics is that the Special Olympics are open to athletes with intellectual disabilities.
These include disabilities like Down Syndrome, Autism, and Fragile X Syndrome. The Special Olympics World Games are open to athletes as young as eight, and there is no maximum age limit.
Another significant difference is that the Special Olympics host events and competitions globally all the time. These local events offer year-round training to 5 million participants in 172 countries.
The flagship events are the Special Olympics World Summer Games or the Special Olympics World Winter Games. They began in 1968 and 1977, respectively.
Thanks to volunteers, athletes in the Special Olympics receive coaching and training, just like athletes without disabilities. Here are the sports they can compete in.
Athletics (Track and Field)
Badminton
Basketball
Bocce
Bowling
Cycling
Equestrian
Football (Soccer)
Golf
Gymnastics — Artistic and Rhythmic
Handball
Judo
Powerlifting
Roller Skating
Sailing
Softball
Swimming
Table Tennis
Tennis
Volleyball
Alpine Skiing
Cross-country Skiing
Floorball
Floor Hockey
Short Track Speed Skating
Snowboarding
Snowshoeing
Speedskating
Figure skating
Cricket
Kayaking
The Special Olympics are truly unique because they go far beyond a simple competition. They provide training, leadership opportunities, health resources, and unified schools for people with intellectual disabilities.
Deaflympics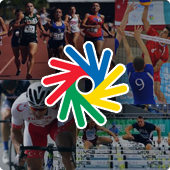 You are probably familiar with the Paralympics and the Special Olympics. It might surprise you to find out that neither of those was the first international sports competition for athletes with disabilities.
The Deaflympics began in Paris in 1924. They are the longest-running multi-sport event besides the Olympics.
At that time, they were officially known as the International Games for the Deaf. Throughout Deaflympic history, they have also been called the International Silent Games or World Games for the Deaf.
In 2001, the official name became Deaflympics. Some people use the term Deaf Olympics, but that is incorrect.
To qualify for the Deaflympics, athletes must have a hearing loss of 55 decibels or more in their better ear. Hearing devices, like hearing aids and cochlear implants, are not allowed.
Because the athletes cannot hear sounds like whistles, bullhorn commands, or starters' guns, the Deaflympics use modified signals. For example, referees wave flags instead of blowing whistles, and flashing lights are used in place of starter guns. Spectators wave their hands instead of applauding.
Other than these differences, the Deaflympic games are similar to the other games that are part of Olympics history. Here are the events that are currently part of the Deaflympics.
Swimming
Athletics
Badminton
Basketball
Bowling
Chess
Curling
Cycling
Football
Futsal
Golf
Handball
Ice Hockey
Judo
Karate
Orienteering
Shooting
Skiing
Snowboarding
Table Tennis
Taekwondo
Tennis
Volleyball
Wrestling
A few of these sports stand out for different reasons. For example, orienteering is a sports category that is only present in the Deaflympics. Participants must use a compass and map to navigate unfamiliar terrain.
Karate is another noteworthy sport because it was added to the Deaflympics before it was added to the traditional Olympics. The Deaflympics added karate in 2009, and the traditional Olympics not until 2021.
Throughout the history of the Olympic Games, the aim has always been to make sports competitions available for all people. All three of these competitions reflect that mindset by welcoming athletes with disabilities.
Timeline of the Olympics
We have covered a lot of information about the history of the Olympics. Most of that information was about how the Olympics got started and how they changed over time.
Several specific events stand out as a crucial part of Olympics history. Here is a timeline of some of the most noteworthy events throughout modern competitions.
1896
The First modern Olympic Games took place in Athens.
1912
Oscar Swahn won the gold medal for the single-shot running deer competition. He was the oldest athlete to win a gold medal and has held onto that title for more than 100 years.
1920
The Olympic Flag with five colored rings on a white background flew for the first time. Baron Pierre de Coubertin designed the flag in 1914. He chose the five colors because every flag of a nation contains at least one of those colors.
1924
The Winter Olympics and the Deaflympics (known then as the International Games for the Deaf) occurred for the first time.
1928
This was the first Olympiad that allowed women to participate in track and field events. Coca-Cola sponsored the Olympic Games for the first time.
1936
Jesse Owens competed in the 100-meter, 200-meter, 4×100 meter relay and long jump events. He won gold in all four events.
1952
Emil Zatopek wins the marathon during his first attempt ever running that far. His previous longest run was the 10,000-meter race, which is just over six miles.
1964
This year was the first time the Olympic Games were broadcast on television worldwide, thanks to satellite communication technology.
1968
Bob Beamon set the world record for the long jump. He jumped 8.90 meters, a length that has not been beaten since.
1972
The Munich Massacre: A terrorist organization known as Black September attacked during the Olympics. They kidnapped and eventually killed 11 members of the Israeli Olympic team and a police officer.
1976
The International Paralympic Committee added new disabilities classification to allow more athletes to participate in the Paralympics.
1988
Canadian runner Ben Johnson set a world record and won a gold medal for the 100-meter race. However, he was stripped of the medal and the world record title a few days later. His urine revealed that he had been taking performance-enhancing drugs.
2000
Rulon Gardner beat Aleksandr Karelin in a wrestling match. Before that match, Karelin hadn't lost a match in thirteen years, and none of his opponents had even scored points in the past six years. Gardner had no Olympic experience.
2008
The Japanese Softball team beat the US team thanks to incredible pitching by Yukiko Ueno. Before this event, the US softball team had won 79 consecutive games and won gold in every softball event in the history of the Olympics.
2012
Usain Bolt sets the world record for the 100-meter race, with a time of only 9.63 seconds.
2016
Katie Ledecky sets the world record for the 400-meter and 800-meter women's swimming competitions. She finished the 400-meter in 3 minutes 56 seconds and the 800-meter in 8 minutes 4 seconds.
Betting on the Olympics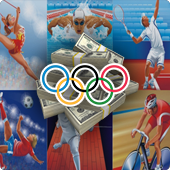 When you consider the scope and popularity of the Olympics, it is not surprising that the Olympics are a significant business opportunity.
The Olympics boost tourism, generate broadcast revenue for television networks, and collect sponsorships. It also generates millions of dollars worth of sports betting revenue.
For example, UK sportsbooks handled more than £80 million in sports bets during the 2012 London games.
Written records show that the history of sports betting goes back as far as the history of the Olympics. People were betting on Olympics in ancient Greece just as people do today.
There is even evidence of athletes accepting bribes to throw the events so that bettors could win. Of course, today's athletes are paid too much to accept bribes, but you can still bet on the Olympic games.
If you are interested in betting on the Olympics, there are a few things you need to know first.
Of course, you need to understand the basics of Olympic betting, including the kinds of bets you can place.
You also need to know some stats about the athletes you will be betting on.
Most bettors take the safe route by betting on the most successful athletes. Many of those athletes break world records repeatedly, so you can bet on whether they will break new records.
However, Olympic Games history is full of stories of upsets where the underdog won unexpectedly.
Reading about some of these noteworthy Olympic events can help you consider your betting approach. We have several resources that can help you become an educated bettor.
AUGUST
Sportsbook of the Month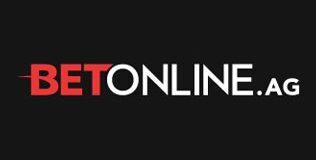 Welcome Bonus
50% up to $1,000
Read Review
Visit Site