Betting on Olympic Basketball
Wondering how or where to bet on Olympic basketball? Wonder no more. This page is designed to answer those questions and bring you up to speed on the format of the basketball tournaments at the Olympics.
We discuss the different types of bets you can make and detail some records as a reference for what's taken place on the hardwood in past Olympic Games.
For everything you need to know about betting on basketball at the Olympics, we've got you covered.
Our Guide to Olympic Basketball Betting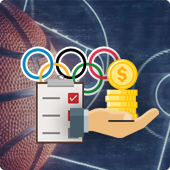 Olympic Basketball Format
12 teams qualify for the Olympic basketball tournament. Here's how teams used to get there.
The reigning champions automatically qualified.
The host nation automatically qualified.
Seven teams qualified through regional championships.
Three teams qualified in the world qualifying tournament.
However, the qualifying procedure was altered in advance of the Tokyo Games. The defending champs and host nation still qualify automatically, while six other nations qualify via the FIBA World Cup of Basketball in 2019.
The final four slots are awarded to the four winners of the FIBA Olympic Qualifying Tournaments (held about a month before the start of the Olympics).
Once the 12-team field is set, the clubs are clustered into three different groups (A, B, C). Each squad competes against the others in their group (each team plays three games). Eight of the 12 advance to the knockout stage.
The top-2 teams from each group advance.
The 2 best third-place teams also advance.
If records are identical, head-to-head results followed by point differential are used as the tiebreakers to decide which teams move forward.
The remaining eight teams are placed into a bracket with the top-four teams seeded. A random draw is used to determine the exact seeding for the bottom-four teams.
A single elimination bracket then takes place over a five-day period. The last team standing wins the gold medal and the loser of the championship game is awarded the silver medal. The two losers of the semifinal matchups square off in the bronze medal game.
From start to finish, the Olympic basketball tournament lasts approximately 15 days.
NBA Rules vs. Olympic Basketball Rules
NBA
Olympics
Game Length
48 Minutes
40 Minutes
Foul Limit
6
5
Court Size
94 x 50 ft
92 x 49 ft
Three-Point Line
23.75 ft (straightaway), 22 ft (corner)
22.15 ft (straightaway), 21.65 ft (corner)
Where to Bet on Olympic Basketball
Occurring just once every four years, you don't want to miss your chance to bet on basketball at the Olympics. Most bookmakers provide Olympic basketball odds and let you bet on the individual games. Some sites offer a wider selection of wagers than others.
To capture the most competitive pricing and get a full range of what's out there, stick to the following online betting sites.
Rank
Betting Site
Exclusive Bonus
Get Started

#1

BetOnline Sports

60% Up To

$1,000

Visit Site

Visit Site

#2

Bovada Sports

50% Up To

$250

Visit Site

Visit Site

#3

BetUS

125% Up To

$2,500

Visit Site

Visit Site

#4

Everygame

100% Up To

$500

Visit Site

Visit Site

#5

MyBookie

100% Up To

$1,000

Visit Site

Visit Site
Basketball betting at the Olympic Games doesn't have to be complicated. These bookies are reputable and offer several banking options.
They post a steady flow of Olympic basketball bets before and during the tournament, including a bevy of Olympic props intended to keep bettors intrigued.
Before you even ask if the top Olympic basketball betting sites are accessible on a mobile device, the answer is yes.
You can place bets on your computer, phone, or tablet and enjoy a satisfying experience.
Types of Olympic Basketball Bets
Let's dig into all of the options when it comes to betting on basketball at the Olympic Games. We'll start with the same basic bets you can place for any NBA game.
Money Line – Betting on who wins the game outright
Spread – Betting on a team to cover the point-spread
Total – Betting on if the game goes over or under the specified total
Not all, but some online sportsbooks will generate odds with ­alternate spreads. For example, let's say you're aiming to back Argentina in a particular contest where they're listed at -5 and odds of -110. You may also have the option to bet on Argentina -10 at +350.
Keep an eye out on odds for quarters, halves, and team totals. These betting markets are also available, they're just not as prevalent as the ones listed above.
Olympic Basketball Futures
Once the 12-team field is set about a month before the Olympic Games get underway, Olympics basketball odds are released for the futures markets.
This is your way of betting on who wins the gold medal, and you should expect to see the pricing fluctuate during the exhibition period.
As the games get closer, odds to win the silver medal and bronze medal should start popping up.
Qualifying Tournament and Exhibition Games
Betting on Olympic basketball starts well before the torch is lit at the Opening Ceremony. The qualifying tournament takes place about a month before and is followed by a series of exhibition games (each team plays five).
In other words, a full slate of basketball betting at the Olympics is available for a six-to-seven-week every fourth summer.
Olympic Basketball Props
The range (and prices) of Olympic basketball prop bets will be different at each site so be sure to surf through your options.
Let's say that the United States is pitted against France in a game. Here's an idea of the types of props you could encounter.
Kevin Durant Total Points
Rudy Gobert Total Rebounds
For a deeper dive into betting basketball props, check out this guide that is chock-full of advice.
Previous Olympic Basketball Champions
Basketball was added to the Summer Games in 1936. There were no games in 1940 or 1944 due to WW2, and the 2020 Games in Tokyo were postponed until 2021 as a result of a pandemic.
Here's a list of all previous Olympic basketball medal winners.
| | | | |
| --- | --- | --- | --- |
| Year | Gold | Silver | Bronze |
| 1936 | United States | Canada | Mexico |
| 1948 | United States | France | Brazil |
| 1952 | United States | Soviet Union | Uruguay |
| 1956 | United States | Soviet Union | Uruguay |
| 1960 | United States | Soviet Union | Brazil |
| 1964 | United States | Soviet Union | Brazil |
| 1968 | United States | Yugoslavia | Soviet Union |
| 1972 | Soviet Union | United States | Cuba |
| 1976 | United States | Yugoslavia | Soviet Union |
| 1980 | Yugoslavia | Italy | Soviet Union |
| 1984 | United States | Spain | Yugoslavia |
| 1988 | Soviet Union | Yugoslavia | United States |
| 1992 | United States | Croatia | Lithuania |
| 1996 | United States | FR Yugoslavia | Lithuania |
| 2000 | United States | France | Lithuania |
| 2004 | Argentina | Italy | United States |
| 2008 | United States | Spain | Argentina |
| 2012 | United States | Spain | Russia |
| 2016 | United States | Serbia | Spain |
The United States has dominated the competition, bringing the gold back to America on 15 out of 18 occasions.
In fact, the US has stood on the podium in every Summer Olympics aside from the 1980 games in Moscow.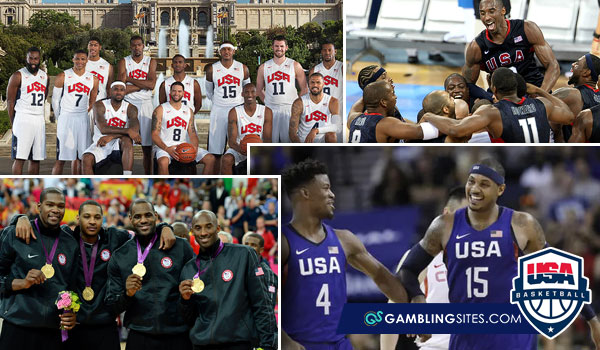 In terms of the total number of medals won in Men's Basketball at the Olympics, the following table breaks down that information.
Olympic Basketball Medal Table (Men)
Nation
Total Medals
Gold
Silver
Bronze
United States
18
15
1
2
Soviet Union
9
2
4
3
Yugoslavia
6
1
4
1
Spain
4
0
3
1
Brazil
3
0
0
3
Lithuania
3
0
0
3
Argentina
2
1
0
1
France
2
0
2
0
Italy
2
0
2
0
Uruguay
2
0
0
2
Canada
1
0
1
0
Croatia
1
0
1
0
Serbia
1
0
1
0
Cuba
1
0
0
1
Mexico
1
0
0
1
Russia
1
0
0
1
It's worth noting that both the Soviet Union and Yugoslavia teams are no longer active.
The Soviet Union last competed in the Olympic basketball tournament in 1988.
Yugoslavia bowed out of the Summer Games after 2000.
Olympic Basketball Records
Everybody loves records, and there are a handful of one's worth mentioning.
We'll start with the biggest margin of victory in an Olympic basketball game; a whopping 100 points. And it happened twice to the same team!
Iraq suffered a 125-25 beatdown versus China and a 120-20 throbbing against Korea – both at the 1948 Summer Olympics.
Check out some more basketball Olympics records.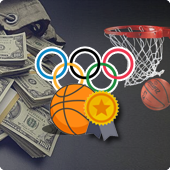 Highest Scoring Game: 229, United States defeated Nigeria 156-73 in 2012
Lowest Scoring Game: 27, United States defeated Canada 19-8 in 1936 (Championship Game)
Most Points Scored in a Single Game: 51, Oscar Schmidt (Brazil vs. Spain in 1988)
Most Consecutive Wins at the Olympics: 63, United States (1936-1972)
We'll finish up with the leading points scorers at Olympic basketball.
Most Career Points at the Olympics
Player
Nation
Total Points Scored
Oscar Schmidt
Brazil
1,093
Andrew Gaze
Australia
789
Pau Gasol
Spain
623
Wlamir Marques
Brazil
537
Luis Scola
Argentina
525
Manu Ginobli
Argentina
523
Sergei Belov
Soviet Union
475
Women's Olympic Basketball Betting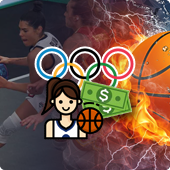 Making its debut in 1976, women's basketball has been entrenched into the Summer Olympic Games ever since.
All of the same Olympic basketball bets you can place on the men's side are available for the women's side as well, although the prop section either won't exist or it'll be much less extensive.
As far as betting on who wins the gold and all the individual games, the online betting sites endorsed on this page will all offer these markets.
Much like the United States men's team has been an unstoppable force throughout history, the American women have been equally as controlling.
Medal Breakdown for Women's Basketball at the Olympics
Year
Gold
Silver
Bronze
1976
Soviet Union
United States
Bulgaria
1980
Soviet Union
Bulgaria
Yugoslavia
1984
United States
South Korea
China
1988
United States
Yugoslavia
Soviet Union
1992
Unified Team
China
United States
1996
United States
Brazil
Australia
2000
United States
Australia
Brazil
2004
United States
Australia
Russia
2008
United States
Australia
Russia
2012
United States
France
Australia
2016
United States
Spain
Serbia
More Advice for Betting on Basketball
Did you find everything you need to be ready for Olympics basketball betting?
A look at past winners and some of the records shows us one thing for sure; the United States has essentially "owned" this tournament. That doesn't mean you should always bet on Team USA, but it's certainly something to bear in mind.
Outside of that important consideration, betting on Olympic basketball is much like betting on other forms of basketball. If you check out our basketball betting guide, you'll find also sorts of useful information and advice that applies at the Olympic Games.
If you're also interested in betting on other sports and events and the Olympics, our main Olympic betting guide covers most of them.
June
Sportsbook of the Month

Sign up Bonus
60% Up To $1,000
READ REVIEW
Visit Site
X