Winged Foot Golf Club – West Course
Have you had any trouble finding a legitimate guide to some of the top-ranked and most exclusive golf clubs in America? Because when we searched the internet for an in-depth and organized guide to the West Course at Winged Foot Golf Club, we just couldn't find anything that was halfway decent.
Rather than mope, we assigned the task to our golf specialists. The result is the page you landed on – an all-inclusive catalog to the private venue in Mamaroneck, New York.
If you want info on how and why the course was opened, we've got you covered.
Looking for a tour of the golf course and its signature holes? No worries; we are going to dive into that topic as well. If you strictly came here looking to relive memories and reminisce about the five occasions a United States Open was held here, no problem. It's all right here.
Just because Winged Foot is luxurious and limited to a select few doesn't mean all golf enthusiasts don't deserve to be keyed in on what's going on and what takes place on the grounds. Well, guess what?
All you have to do is sit back, relax, and get comfortable because we are going to fill you in.
Get acquainted with the golf club by peeking at a few general facts listed below before we segue into all the juicy stuff.
Winged Foot Golf Club: West Course – Key Facts
Location

Mamaroneck, New York

Year Opened

1923

Owner/Operated by

Private

Course Designer

A.W. Tillinghast

Par

72

Yardage

7,264 (2006 U.S. Open yardage)

Host to

U.S. Open (1929, 1959, 1974, 1984, 2006, 2020), 1997 PGA Championship

Official Website
A Private Paradise in New York Opens
One thing you should understand right away about the West Course at Winged Foot is that it isn't the only 18-hole course at the golf club. In fact, Winged Foot GC is the only private venue in the nation that boasts two courses in the country's top 100.
While the East Course is no slouch, ranked as the 62nd-best course in America in 2018, the 10th-ranked West Course is the one that most people talk about.
Despite opening in 1923, Winged Foot Golf Club was actually formed two years prior. In 1921, a group of members from the New York Athletic Club had the idea to build a private and sophisticated golf course.
Who better to assign the task of the design and creation to than A.W. Tillinghast, the Philadelphia native who made a name for himself by building championship-quality golf courses?
The list of his remarkable work goes on and on, but we can tell you that he is the man responsible for several other highly-ranked venues. Bethpage Black and both the Lower and Upper Courses at Baltusrol Golf Club were shaped by A.W., just to name a few of his other notable projects.
When Tillinghast was hired in 1922, he knew he couldn't complete this mission alone. He gathered more than 200 men, used 19 tractors and 60 teams of horses, and went to work diligently.
Moving dirt and chopping down nearly 8,000 trees were just part of what Tillinghast and his crew had to undertake to make this thing happen, but they kept their head down and plugged away.
A.W. did what he did with all his other tracks and that is, design them with purpose, putting the premium on strategy.
The way the putting surfaces are raised and the way the bunkers are contoured make players think twice before stepping up and hitting a shot. The penalties are severe, and if you aren't playing outstanding golf, the difficulty of the holes lets you know in a hurry.
One thing that the members at Winged Foot would like you to know is that they consider their property a golf club, not a country club.
Winged Foot wasn't created so that people could socialize and play tennis, enjoying a Sunday brunch with the family. When you play golf, you walk with an experienced caddie – you don't ride around in a golf cart like at a typical resort course.
One thing is clear. Winged Foot was meant to be a private area for members to come play golf at their choice of two pristine courses.
Speaking of members, don't even think about applying or trying to buy your way into the club. The only way you can gain membership into Winged Foot is if you are cordially invited by the proper authorities. Looking for a tee time? Don't even bother.
The members of the club choose to have an open policy and don't want anyone to have the sense of urgency or feel like they have to rush when getting ready for a round. It's a calm and relaxed setting and one that provides good camaraderie amongst the members.
Essentially, if you are a member of Winged Foot, your tee time is whatever time you end up walking over to the first tee.
The exclusivity of Winged Foot has unfortunately kept it from being talked about in the same breaths as some of the other top-10 courses in the United States, so finding valuable and accurate information on the course's layout isn't so cut and dry.
If you are looking for an explanation of the characteristics and features that make Winged Foot so special, you'll love the following segment.
The West Course in Detail
If you were hoping that you could ease into a round at the West Course at Winged Foot, it's time to wake up and smell the coffee. The course rating is 75.7 from the back tees, and there really aren't any "easy" holes.
You'll want plenty of pre-round warmup because the brutal test of golf coming your way hits you in the face like a ton of bricks, right from the opening tee shot.
The first hole at Winged Foot is a long, 450+ yard par 4 that is fairly straight, with a slight bend to the left. The problem is that it's tree-lined and both sides of the fairway are protected with sticky rough that eats up any drives not hit squarely.
The second hole at the West Course is even longer, this time doglegging ever so gently to the right. A power fade is required for right-handed golfers if they want to find the fairway and have a look at the green.
With large sand traps guarding the left and right openings to the green, combined with a large tree in the rear, the second hole is never a bargain for even the low handicap players.
As tough as the opening two holes are, the next hole is even tougher. Okay, so it's a straightaway par 3 with not much trouble other than a couple bunkers. What makes it so difficult?
How about the fact that the green is tiny, is severely sloped from back to front, and the greenside bunkers are deep and twisted? Did we mention that it's 250 yards from the tips and is going to take a perfectly-struck shot to hold the green?
Not to get redundant, but the 4th hole is the fourth straight hole that's going to test your mettle and patience. Nicknamed "Sound View," the 470-yard 4th hole's green is the northern-most point on the entire golf course.
The setting is gorgeous, but don't let the beauty make you take your eye off the prize, or you'll drop a shot or two without even blinking.
This opening four-hole stretch at the West Course is the epitome of what the golf course is: subtleties in the design that wreak havoc. You can think you are playing good golf and be well over par before you even get to the middle of the back nine.
What is so noticeable throughout the course is how brilliantly-designed the putting surfaces are. Most of the greens have falloffs surrounding the entire perimeter, making putting and chipping around the course arduous.
It's better to just enjoy your time out there than to get consumed by the inevitable frustration that comes along with playing an A.W. Tillinghast design.
When golfers make the turn, they will be embarking on what Tillinghast called the finest par 3 he ever built. Just 188 yards on the card, it doesn't appear like much on paper. However, it's probably the most difficult green to putt on the entire course.
Three-putts are common, and four-putts are not infrequent at this diabolically-designed par 3. As tormenting as it can be on the players, it's still not the hardest hole out here. That title would have to go to the signature hole of the golf course, the 18th.
The Finishing Hole at Winged Foot
The 18th at Winged Foot is nicknamed "Revelations," and that's because anything can happen on the culminating hole of the golf course. The West Course has no letup the entire way around, and the theme is continued all the way through the finish line.
Depending on where the pin is located, the hole will play anywhere from around 445 yards to 475 yards from the furthest back tees. Players need to turn a drive from right to left, and they need to do so by coming out of a chute.
It's an extremely ruthless shot, especially when a Major is on the line. Phil Mickelson still has nightmares over his tee shot during the final round of the 2006 U.S. Open, when he stood on the tee a par away from winning the golf tournament.
Most players will be chasing some sort of mid-long iron in, thus leaving many balls over the back of the green. This leaves golfers with a treacherous downhill and speedy chip shot that'll test even the best players' short games.
We gave you a short glimpse into Phil and his trials and tribulations at the final hole of the '06 Open at Winged Foot, and we want to tell you much more about it.
Before we get to that incredible finish, we need to preface it by talking about the first four occurrences when the USGA hosted their National Championship on the West Course in Mamaroneck, NY.
Five U.S. Opens at Winged Foot Golf Club
By now you know that the 2006 U.S. Open was contested at Winged Foot's West Course. It's time to learn about that instance, along with the other four times golf's "toughest Major to win" has been played there.
After hearing the stories of how tough this course can play and how much excitement there is to be had coming down the wire, you'll no doubt want to make plans for the summer of 2020.
The West Course will be holding a U.S. Open for the 6th time, but let's start the conversation with the first U.S. Open that was played at Winged Foot.
1929
The 1929 Major Championship held at Winged Foot might have been won by a non-professional golfer, but he wasn't just any ordinary amateur. Perhaps you have heard of Bobby Jones, the man who captured the 1929 Championship by holding off Al Espinosa in a playoff.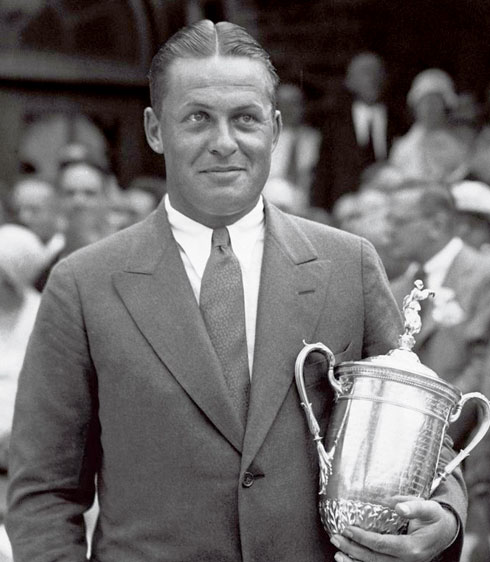 To be fair, he really didn't hold him off during the 36-hole playoff the day that followed the competition. He absolutely bludgeoned him by 23 shots over the course of the two rounds, further cementing his legacy in the sport.
1959
Exactly 30 years after Jones won at Winged Foot, the USGA was back again for a summer golf tournament. The week would belong to "Buffalo" Bill Casper, who went about his business a little differently than the average guy out there.
Billy implemented a unique strategy at Winged Foot in the 1959 U.S. Open, and he didn't care what you thought about it. For example, Casper decided to lay up with a 5-iron on the 250-yard par-three 3rd hole, all four days.
Despite his conservative choice, he was able to chip up and save his par in all four rounds of the tournament.
Carrying a three-stroke advantage into the final round, Casper plodded along, posting two-over-par for the Championship. His total of 282 was good enough to fend off Californian Bob Rosburg by one shot, earning his first of two U.S. Open crowns.
1974
As we begin our brief discussion about the 1974 United States Open, you should be vividly aware of one thing first.
To date, this has been the single-hardest U.S. Open ever played.
Hale Irwin's winning score of +7 is the highest mark to win the tournament in more than 50 years, and there is some theory as to why it played out this way. Remember, Johnny Miller shot a record 63 during the final round at Oakmont the previous year at the U.S. Open.
The USGA was going to do everything in their power to make sure something like that didn't occur again, and perhaps they just went a bit overboard.
Nobody was under par after Thursday, Friday, or Saturday, let alone on the final scoreboard. They don't call it the "Massacre of '74" for nothing, as legends like Palmer, Player, and Nicklaus finished the week at 12, 13, and 14 over par respectively.
Competitor and PGA Tour winner Steve Melnyk stated the following in this article on ESPN.com about the week.
"I remember starting a practice on the 10th hole with 6 balls in my bag. I hit two shots on 17 in the right rough and couldn't find either one of them, and I was out of balls. I hadn't hit one out of play, but I was done after 7 ½ holes."
Despite failing to break 70 in any of the four rounds and posting a total of +7, Hale Irwin escaped the gauntlet as the last man standing.
Obviously, he had a knack for this golf tournament, as Irwin would add another pair of U.S. Open titles (1979, 1990) to his resume by the time he called it quits.
1984
Ready for another playoff at a U.S. Open at Winged Foot? The 1984 tournament provided just that as Fuzzy Zoeller and Greg Norman matched each other for the week. Their final score of 276 (-4) was five shots clear of the rest of the field, although it wasn't set up to be that way from the outset that morning.
When Sunday's round began, Zoeller found himself playing in the final pairing with the 1974 winner, Hale Irwin. While Hale struggled mightily en route to a 79, Zoeller shot level-par and wound up knotted with the Australian.
There would be no "Monday-morning drama," as Fuzzy used 4 birdies against a single bogey to card an exquisite round of 67, bettering Norman by a whopping 8 shots.
It was official; the 1979 Green Jacket winner had another Major Championship trophy to add to his collection.
2006
When the USGA arrived at Winged Foot in the summer of 2006, an over-par score hadn't won the U.S. Open since Andy North's "+1 285" at Cherry Hills Village held up in 1978.
When Colin Montgomerie's Thursday round of one-under-par was the only red number on the board, we knew things were going to get testy by the weekend.
By the time the fourth and final round got underway, Phil Mickelson and Englishman Kenneth Ferrie shared the lead at +2, and only 5 other men were better than +6. This golf tournament was anything but a "sprint to the finish line," but rather a royal rumble of sorts to see who the last man standing would be.
Standing on the 72nd tee, things were looking good for "Phil the Thrill." The lefty was close enough that he could smell victory, and that's when all hell broke loose.
You can hear commentator Johnny Miller say before Phil pulled the trigger, "this better be a 4-wood," referring to Mickelson's choice of clubs for his tee shot on the final hole.
Once the ball sailed well left into the vegetation and crowd of people, what Miller said next won't soon be forgotten.
"Ben Hogan has officially rolled over in his grave. I cannot believe he didn't hit 4-wood there."
As it turns out, maybe Johnny was onto something, because a par would have won Phil the trophy, while a bogey-5 would have been enough for a Monday morning tee time (playoff) with Geoff Ogilvy.
Things went from bad to worse when Phil's second shot struck an elm tree dead-on, sending it into an even more precarious position. His third shot sailed into a plugged lie in a bunker, and when his chip shot for bogey didn't fall, Ogilvy's name was going in the record books.
With a final tally of five over, 285, Geoff Ogilvy was bringing the U.S. Open trophy to back to Australia for the first time in 25 years.
A 6th U.S. Open Is on Its Way
Pretty exciting stuff, wouldn't you say? The great news for all golf fans in the New York area is that they'll have another chance to see world-class players tackling the A.W. Tillinghast setup vying for a National Championship.
The 2020 U.S. Open will be played at Winged Foot's West Course, and don't expect anything less than a fascinating golf tournament.
This is what vice president of the USGA and the head of the championship committee, Thomas O'Toole Jr., told Golf.com.
"Winged Foot offers a spectacular setting in a dynamic market, and has justifiably earned its reputation as one of the premier U.S. Open venues in the nation."
There is no doubt that plenty of drama and heartache will be in store when the Open returns to the West Course. The only question that remains is whether or not you will be there live and in person to soak it all in!
The 1997 PGA Championship
There is one more event to touch on when thinking about Major Championship golf at Winged Foot. The 1997 PGA Championship was played at the West Course, and it was the site of Davis Love III's one and only Major title.
Davis opened with a -4 66 and never looked back. By the time of the final round, Love and his good friend Justin Leonard had separated themselves from the pack, building a seven-shot cushion on the field.
Davis once again fired a 66 and was seemingly never even challenged coming down the stretch. His 5-stroke win netted him $470,000 and the coveted Wanamaker Trophy.
The Surrounding Area
We won't spend too much time pretending to be travel guides, but we will inform you a little bit about what's around Winged Foot Golf Club. To help you get some perspective, you should know that Mamaroneck is just 24-25 miles northeast of all the hoopla in New York City.
The town in Westchester County has a handful of golf courses in the vicinity, but Winged Foot GC is the undebatable jewel of the area.
The airport in Westchester is only about 12 miles from the course, so if you don't plan on spending time in the city, you may want to opt for a plane that lands on the border of Connecticut.
Taking a walk Manor Park in Larchmont Village won't be exactly the same as taking a stroll in Central Park on 5th Avenue, but it can certainly offer some scenic and relaxing views.
If you are planning on going to the 2020 United States Open, plan accordingly. Regardless of if you spend any time in NYC beforehand, just make sure you have plenty of energy to make the 5+ mile walk around the West Course. The humidity and temperatures in June can be a bit sweltering.
Recapping the West Course
With everything about the property scattered in different places all over the internet, it's hard to grasp how esteemed a venue Winged Foot is in the world of golf. We tried to gather all the important information and bring it to you in a prepared manner, all in one place.
Making sure we didn't leave out any highlights for when the U.S. Open has been held here was important, as it helps clarify the magnitude of the situation. That "situation" is that the West Course at Winged Foot is as challenging and demanding of a golf course as you'll ever encounter, and that's putting it nicely.
Players have called the course unfair at times, but that's usually bled out of frustration. The thing is, Winged Foot wasn't supposed to be easy.
A.W. Tillinghast took pride in challenging the willpower of even the most highly-skilled golfers, and that's exactly what happens for all 18 holes on the West Course.
Not only should you have some background knowledge of what panned out during the first five U.S. Opens at Winged Foot, but we also helped get you prepared for the sixth.
We hope you make it there to see it up close and personal because we'll be doing everything we can to be there, too!
May
Sportsbook of the Month

Sign up Bonus
60% Up To $1,000
READ REVIEW
Visit Site
X