TPC Summerlin – First-Class Golfing in Las Vegas
Sin City, the city that never sleeps.
While Las Vegas is known for being littered with a plethora of over-the-top hotel-casinos, there is another form of leisure that the City of Lights features no shortage of.
Golf courses.
With the weather so good all year 'round, Vegas has more than 40 courses in the valley, including a few private gems. One of the private tracks in Vegas also happens to be the home of a PGA Tour event, and it also happens to be the centerpiece of this guide.
It's called TPC Summerlin.
We're going to break it down for you in full detail. In fact, we even have a former member of the club who is going to be the author behind this piece. What better way to gain perspective and point of view than from someone who has played the course more than a few hundred times?
This way, we can paint you a vivid picture of what the layout is like and how the signature holes really play.
We won't forget to include a backstory of how and why this course was built, and we'll certainly discuss the Shriners Hospitals for Children Open that is hosted here every fall.
Those who live in Las Vegas already know that TPC Summerlin is a treat, but they may not have known that it was the site of Tiger Woods' first victory as a professional. And for those who are unfamiliar with "Summy," we'll make sure to fill you in!
Here are some basic truths about the property. Start getting acquainted with TPC Summerlin so that your next Vegas vacation includes a round of golf at one the most exciting PGA Tour stops on the schedule!
TPC Summerlin – Key Facts
Location

Las Vegas, Nevada

Year Opened

1991

Owner/Operated by

Private/PGA Tour TPC Network

Course Designer

Bobby Weed

Par

72 (71 During the Shriners Hospitals for Children Open)

Yardage

7,255 yards

Host to

Shriners Hospitals for Children Open (1991-Current)

Official Website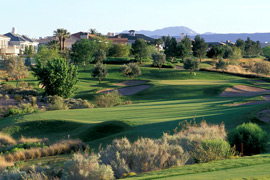 Some Early History
Tournament Player Club, otherwise known simply as "TPC," got its start back in 1980. TPC Sawgrass was opened, and the company built its headquarters in Ponte Vedra Beach, Florida.
That same year, a gentleman by the name of Bobby Weed was soaking up knowledge from Pete Dye at Long Cove Golf Club in Hilton Head, South Carolina.
It didn't take long for Weed to impress Dye, so much so that in 1982, Pete named Bobby as the head superintendent at his masterpiece, TPC Sawgrass. This was also around the time that the PGA Tour decided to partner up with TPC and start developing a network of golf courses, many of which have hosted or currently host a PGA Tour event.
Fast forward another five years, and by 1987, Weed had been promoted to the lead architect for PGA Tour Design Services, Inc.
Bobby would go on to design a number of TPC courses, which now brings us full circle. This is how a humble man from South Carolina wound up moving around some dirt to plan out golf holes on the other side of the country in Las Vegas.
Speaking of the layout, let's now transition into exactly what the members and tour players face when they tee it up at "Summy."
The Ins and Outs of the Layout
For many years, TPC Summerlin was known as one of the easier tracks amongst the network of TPC courses that are used as annual stops on the PGA Tour.
Played as a 5-round, 90-hole tournament until 2005, it was common to see players reach as many as 30 strokes under par during what was back then called The Las Vegas Invitational.
In fact, the tournament scoring record of -31 had been equaled four times, although it's going to be awfully tough for it to happen again now that the tournament has been reduced to 72 holes.
So how the heck did players make so many birdies and eagles?
Let me start describing the layout, and you'll quickly find out.
We mentioned that Bobby Weed was an apprentice under Pete Dye, so it's no wonder that some of the putting surfaces are a bit diabolical. What we haven't mentioned is that Fuzzy Zoeller, the two-time major champion, served as an advisor of sorts to Weed when coming up with the design for TPC Summerlin.
Most know that back in 1991 when this venue opened, the southwest portion of Las Vegas where the course is situated was pretty barren. Houses were starting to get built, and neighborhoods were being developed, but it was pretty much just a massive desert landscape, ripe for the pickings.
That's why the clever design of TPC Summerlin features an assortment of picturesque scenery to take in.
You'll see your typical water hazards, but you'll also see plenty of desolate space scattered with various vegetation. And then, of course, you have the Las Vegas Strip lurking in the backdrop, as the full view can be seen from multiple areas on the property.
Depending on what time of year you play TPC Summerlin, you are bound to see a variety of setups. For example, toward the end of the fall and into the winter season, the grass turns dormant and essentially dies.
The fairways and tee boxes are left in a yellowish-brown state, and the surface of the ground is hard and tight. This makes chipping and pitching the golf ball around these greens incredibly difficult, even for the low handicap players.
In fact, Luke Donald stated after the 2018 Shriners Hospitals for Children Open that he found chipping off the grass around the greens at Summy was as difficult as he has ever witnessed or been a part of.
Perhaps that's why Patrick Cantlay won the 2018 edition at just 9 under par, as opposed to the score of -20 that it took for Rod Pampling to hoist the trophy the prior year.
Now that we have revealed a little bit about what the design and setup are like, let's start examining the flagship holes out there!
3rd Hole
It's either a really difficult par 4 or a pretty simple par 5, depending on who you are.
For members, the 492-yard hole from the back tees plays as a short par 5, but boy, is there trouble to be found. The right side of the fairway is lined with large trees and tangled rough, but right of that is a massive ditch filled with nothing but desert landscape.
So you definitely don't want to miss right.
The problem is, you can't cut off too much of the left side because there is another massive ditch of desert landscape waiting for you on that side as well!
A well-struck tee shot means players will want to cross over to the other section of the fairway in hopes of setting up an easy third shot. The large trench running up the left side intersects the split fairways, as well as crosses over in front of the green.
The point is, at some point or another, you have to carry your ball across a dangerous hazard. With lots of slope on the green and some precariously placed bunkers, this is a hole where you can make a double bogey without so much as blinking your eye.
15th Hole
Who doesn't love a good old drivable par 4?
It's safe to say that almost all great golf courses have at least one shortish par 4 on the card that can be reached from the tee.
In the case of TPC Summerlin in Las Vegas, Nevada, it comes in the form of the 15th hole. It might say 341 yards on the card from the tips, but that is measured if you lay up to the upper right fairway and hit a second shot back across the desert.
But if you laser the pin on a straight line from the back of the tee box, it's really only about a 285-yard carry to cover the intense false front that this putting surface offers. Just about every player will be trying to drive the green come tournament time, but those who pull one left won't be happy.
Nothing but a large waste area consisting of nasty bushes and cactus-like plants awaits players who get a little quick at the top of their swing.
All in all, the 15th hole plays well under par and is one of the easier par 4s that tour players will see during the entire fall portion of the FedEx Cup schedule.
17th Hole
Remember that walk-off ace from Jonathan Byrd in 2010?
If you don't, quickly get caught up by pressing play on this short but dramatic video below.
It's only happened once in a PGA Tour-sanctioned event, and we're not going to hold our breaths waiting for it to happen again.
The 17th hole at TPC Summerlin is a 196-yard downhill par 3 with a really, really deep green. When the pin is cut in the front, the downhill shot could play as little as 165 yards. But if they stick the pin in the back left, and the wind is in, this thing turns into a 220-yard brute of a golf hole.
The entire left side of the green is protected by a lake, but don't think you can just bail out right and be okay. A series of three bunkers guards the right side of the putting surface, and balls tend to bury if they end up here on the fly.
The green does slope severely from right to left, so those who can draw one off the sand traps can usually catch the slope and funnel their ball toward some of the pin placements that are used.
A good swing, and you'll have a reasonable look at a deuce. Hit one crooked, and you might be lucky to walk away with a double.
18th Hole
All great golf courses have a great finishing hole. TPC Summerlin puts a stamp on their 18-hole layout with a treacherous dogleg par 4, one that stretches out to nearly 450 yards from the edge of the back tee.
Easily the most visually intimidating tee shot of the day, players must avoid the massive gorge that runs up the entire left side of this hole. Nothing but nasty bushes and jagged rocks lie in the bottom of this waste area, and there's a high likelihood you won't even find your ball.
This 90-second flyover footage of the culminating hole at the Las Vegas gem will further describe our explanation, so please enjoy.
You'll see that it's no bargain if you miss the fairway right, either.
A collection of fairway bunkers on the right make fitting a drive in the short grass the most demanding shot on the course. The fact that a body of water comes into play short and left of the green only adds to the difficulty presented.
Two great shots can be rewarded with a look at birdie. However, bogeys or worse are far more likely for the average golfer.
The Shriners Hospitals for Children Open
As we have alluded to in previous sections, TPC Summerlin is the home to one of the first events on the PGA Tour's FedEx Cup schedule each and every fall.
Taking place usually in the middle of October, the Shriners Hospitals for Children Open first originated in 1983. The first edition was won by Fuzzy Zoeller, the same individual who would team up with Bobby Weed to design the TPC track in Vegas' Summerlin region a short time later.
The $750,000 up for grabs in during the 1983 "Las Vegas Pro Celebrity Classic" was the most ever offered at that time, setting a new record on tour. The next year, in 1984, the purse was increased to $1,000,000, eclipsing seven figures for the first time in PGA Tour history.
You can easily imagine why every tour pro wanted to come to the Las Vegas stop. High-stakes gambling was taking place on the golf course, not just off it.
After originally being held at Las Vegas Country Club, just east of the Las Vegas Strip, this golf tournament has played a bit of musical chairs, if you will.
Here's a list of Las Vegas courses that have been used at some point or another to host the Shriners Hospitals for Children Open. Keep in mind that this tournament has had a variety of title sponsors over the years and thus has changed titles numerous times.
Desert Inn Country Club (No longer in operation)
Las Vegas Hilton Country Club (Renamed Las Vegas National Golf Club)
Sunrise Golf Club
Showboat Country Club (Renamed Wildhorse Golf Club)
Dunes Country Club (No longer in operation)
Spanish Trail Golf & Country Club
Stallion Mountain Country Club
TPC Canyons (Renamed TPC Las Vegas)
Southern Highlands Golf Club
Bear's Best Golf Club
Despite all the venues to have been utilized over the years, one course that has been a mainstay since 1992 is TPC Summerlin.
Played as a 90-hole event from 1983-2003, the Las Vegas tournament was finally shortened to 72 holes, beginning in 2004. It used to rotate between multiple courses over the first few days, with all players playing their final round of competition at Summerlin.
Also worth noting was how good the scoring here was for an extended period of time.
From 2004-2015, the winning score was 20 under par or greater each and every year.
Patrick Cantlay winning at -9 in 2018 was an anomaly, to say the least. Take a look at this list of some of the recognizable names to have won in Vegas over the past 30+ years.
| | |
| --- | --- |
| Name | Year |
| Fuzzy Zoeller | 1983 |
| Curtis Strange | 1985 |
| Greg Norman | 1986 |
| Paul Azinger | 1987 |
| Gary Koch | 1988 |
| Davis Love III | 1993 |
| Jim Furyk | 1995, 1998, 1999 |
| Tiger Woods | 1996 |
| Stuart Appleby | 2003 |
| Kevin Na | 2011 |
| Ryan Moore | 2012 |
| Webb Simpson | 2014 |
| Patrick Cantlay | 2018 |
There have been plenty of memories, both good and bad, that have taken place at the Sin City PGA Tour event. We already showed you the clip from Jonathan Byrd's historic hole out in the playoff at the 2010 edition, but there is something else incredibly significant that went down at TPC Summerlin.
It was the first of (many, many, many) Tiger Woods' victories.
Tiger Woods Seals His First PGA Tour Victory in Vegas
It wasn't long after Tiger's famous "Hello World" press conference at the tail end of the 1996 summer. In fact, it was less than two months later when Tiger officially announced himself to the golf world as a player to be reckoned with at this level.
The 1996 Las Vegas Invitational was the site of Tiger's maiden victory on the PGA Tour, and boy, was that the beginning of something extraordinary.
It wouldn't come easy for the heralded and much-talked-about 20-year-old phenom, as Woods found himself 8 shots back after Wednesday's opening round. Tiger's 63 on Thursday vaulted him into the conversation, but there was still a lot of work to be done and ground to make up.
After 68 and 67 in the third and fourth rounds, respectively, a Sunday 64 put Woods at 27 under for the week, matching the 5-round total accumulated by Davis Love III.
The two were off to a sudden death playoff, one that was shown live on ESPN in between commercials of Chris Berman doing NFL Primetime!
When Davis failed to get up and down from a greenside bunker, Woods calmly holed his short par putt to seal the deal.
Tiger became the first sponsor's invite to win a PGA Tour event since Phil Mickelson accomplished the feat in Tucson in 1991, and as we all know, this was just the start.
Become a Member Today
Have you played TPC Summerlin?
Despite being a private establishment, there are ample opportunities for an avid golf fan to play a round at Summy. There are promotions that come around where anyone can reserve a tee time, and of course, you can play when accompanied by a member.
Or you can just join the club yourself. This is Vegas, after all, and we promise you, everything is negotiable!
Anyone can gain entry and have a locker at TPC Summerlin, and the membership privileges at TPC Summerlin are nothing to balk at.
Perks of Being a Member
Not only do members at TPC have the benefit of a large driving range and extremely formidable putting green, but the chipping and pitching facility is almost always well-kept and available for practice.
The back of the driving range is where the tour pros hang out, as only players with registered status on a PGA Tour-owned/sanctioned tour have rights to practice in this designated area.
There are many PGA Tour players that reside in Las Vegas, and a number of them frequent TPC Summerlin on a consistent basis. For example, ever wonder why a guy like Kevin Na has such an amazing short game?
Well, we can tell you firsthand that we've seen him out there working on solely his short game for hours and hours at a time. So yes, practice pays off.
Join TPC Summerlin, and you too can start grinding out your short game and lower your handicap. And when you need a break from the links, you'll have several options.
Members can also enjoy the tennis courts and swimming pools located in the area they like to call the Lifestyle Center. The best way to learn about all the amenities that are obtainable is to seek out their membership director and start asking questions.
Good luck haggling the price, and don't be afraid to be aggressive!
Just 25 Minutes from the Las Vegas Strip
If you live in the area, then you already know that the golf course is less than a half-hour drive from the Las Vegas Strip. The shortish commute from the seemingly endless string of bright lights leads you west and toward the Red Rock mountains.
It is these mountains that help set the stage for the beautiful scenery that you can't escape when playing TPC Summerlin. After the round is over, well, that's just going to be up to you.
We aren't going to get into all the things you can do when visiting the town, as there are already hundreds (if not thousands) of websites that attempt that. You know you can gamble, you know you can see shows, and you know there is an overabundance of high-priced and fancy restaurants.
If you were seriously considering joining a golf club in Vegas and don't have 2.5 million bucks lying around to purchase a lot in the Summit, then TPC Summerlin is probably going to be your best bet.
For a mixture of a fun but challenging golf course that has terrific camaraderie amongst the members, you can't do much better.
Final Thoughts
TPC Summerlin is a solid golf club. It's a great environment for a young family to thrive in, as they can surround themselves with like-minded individuals who enjoy making new friends.
But it's also a great place for a serious or aspiring golfer who wants to improve his or her game, perhaps taking it to another level.
Nestled amongst a surplus of golf courses in a 20-mile radius, TPC Summerlin offers a unique test of golf.
On certain days and settings, it can play dangerously difficult and borderline unfair. And then there are days when the course is soft and the conditions are benign, allowing players to take advantage and go low.
J.J. Henry (2013) and Rod Pampling (2016) share the course record with 60, both shot during the first round of competition during the Shriners Hospitals for Children Open.
If you want to test your game at TPC Summerlin, we left you with the information to get your membership application started. Or just call the club and explain to them your situation, and they just might be able to figure something out to get you on.
This guide was meant to serve as a starting point for introducing and explaining TPC Summerlin, but you are much better off seeing it in person for yourself!
May
Sportsbook of the Month

Sign up Bonus
60% Up To $1,000
READ REVIEW
Visit Site
X