TPC Harding Park Golf Course Guide
It doesn't get much better than the view from standing on the 18th tee at TPC Harding Park. Not only are you about to play a stunning 470-yard par four that doglegs sharp to the left, but you can spot Olympic Club in the distance, lurking on the other side of Lake Merced.
Catty-corner from Harding Park is San Francisco Golf Club, another absolute gem designed by famed architect A.W. Tillinghast. A bit further south is California Golf Club, commonly known as "Cal Club," yet another breathtakingly gorgeous layout private as can be.
We could spend days clamoring about the superb tracks in this little pocket of the Bay Area, but you landed on this page hoping to dive into one specific golf course.
You want to know everything there is to know about TPC Harding Park, and thankfully, our team of golf enthusiasts is here to deliver.
TPC Harding Park – Key Facts
Location:

San Francisco, CA

Year Opened:

1925

Owner/Operated By:

PGA Tour Golf Course Properties

Course Designer:

Sam Whiting, Willie Watson

Par:

72

Yardage:

7,169

Host to:

WGC- American Express Championship (2005), Presidents Cup (2009), WGC-Cadillac Match Play (2015), Charles Schwab Cub Championship (2010, 2011, 2013), PGA Championship (2020)

Official Website:

https://tpc.com/hardingpark/
TPC Harding Park – The Backstory
Harding Park Golf Course officially opened on July 18th, 1925. Storied designers Sam Whiting and Willie Watson created this masterpiece just one year after they completed the Lakes and Ocean Courses at nearby Olympic Club.
Named after the 29th President of the United States of America, Warren G. Harding, it wasn't until 2010 that this venue was linked to the TPC network.
After flourishing in the early years and hosting a number of PGA Tour events, conditions at Harding Park became insufficient according to tour standards. So much so that by the culmination of the 1969 San Francisco Invitational, officials decided to remove Harding Park as a regular tour stop. Things turned even bleaker over the next decade, as the city slashed the budget that was responsible for the course's upkeep.
To the dismay of local golf aficionados, their once-lush oasis was simply being deprived.
By 1998, Harding Park was such an afterthought it was relegated to being used as a parking lot during the U.S. Open at Olympic Club. This is when Frank "Sandy" Tatum stepped in to try and save the day.
The San Francisco lawyer and former USGA president started organizing efforts to revive a property he knew deep down was special. Plans with Arnold Palmer's design company were close to being inked but eventually fell through when funding became an issue.
Leading governing officials in San Francisco simply weren't on board with dumping a bunch of money into what's supposed to be a municipal golf course available to the public. The turning point came when a key member of the San Francisco Board of Supervisors convinced his colleagues of all of the potential benefits involved.
Sean Elsbernd was unable to restore the deal that was in place with Arnie, but a proposal to completely renovate Harding Park was ultimately passed in 2001. By early 2002, the digging got underway to add length, refurbish the clubhouse, and install a driving range worthy of hosting major championships.
Speaking of the new-and-improved Harding Park that would open in late August of 2003, let's dive into the layout.
Exploring the Layout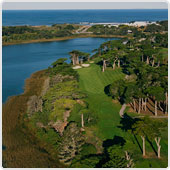 Converted to a par 70 for the 2020 PGA Championship, TPC Harding Park typically plays as a par-72 golf course (the 9th and 12th holes changed to par 4s for the event). Each hole is framed by massive Monterey cypress trees that seamlessly blend into the serene surroundings. It's not the longest golf course to host a major championship by any means, but boy, do you have to be precise.
To achieve sustained success, golfers need to methodically plot their way around Harding Park and attack holes from the proper sides of the fairways. The vegetation bordering the fairways paints a vivid portrait of the proper aiming points, and the smallish greens require pinpoint accuracy or you're generally left with a precarious chip.
Each hole is unique, and every single one is worthy of a being hung up on a wall somewhere. However, there is one hole at Harding Park in particular that you won't ever forget once you play.
#18 – The Finishing Hole at TPC Harding Park
Around 465 yards from the back tee, the signature hole at TPC Harding Park isn't just revered for its utter beauty and tranquility. It happens to be an eloquently designed finishing hole that's hard, but fair, and leaves golfers yearning for more.
You can get a great glimpse of what the tee shot looks like in the short clip below.
Flying Lake Merced and finding the short grass is the first objective. Navigating the uphill second shot and avoiding the bunkers left and thick rough right is the second order of business. An undulating putting surface is complicated by the sheer beauty of the surroundings, and the only thing you'll be thinking when you finish is when you can come back and play TPC Harding Park again.
Fortunately, current rates at Harding Park are extremely palatable.
Past Tournaments at TPC Harding Park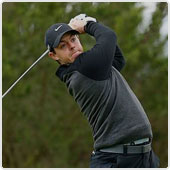 When the renovations that transformed Harding Park into a challenging beast were completed in 2003, the PGA Tour wasted no time ensuring the new layout would be on full display for the golfing world.
2005 WGC-American Express Championship
Talk about a thrilling finish to a World Golf Championship event, 72 holes weren't enough to determine a winner at Harding Park in 2005. Tiger Woods and John Daly both finished at 270 (-10) and were off to sudden-death playoff. Three holes in Daly surrendered by whiffing a short par putt.
The victory was #6 on the season for Tiger and his 46th of his career. It also extended his record in playoffs to an astounding 8-1.
2009 Presidents Cup
Four years later, the Presidents Cup was hosted at Harding Park. And once again, Tiger Woods stole the show. A blemish-free 5-0 record paced the United States to a convincing victory, highlighted by this brilliant 4-iron on #18 to seal a point in his Saturday foursomes match.
Of all of Tiger's memorable club twirls, this one ranks right up at the top.
Charles Schwab Cup Championships (2010, 2011, 2013)
The Champions Tour's version of the season-ending TOUR Championship at East Lake is the Charles Schwab Cup Championship. It was contended at TPC Harding Park three times in a four-year stretch following the Presidents Cup.
In the first edition, John Cook triumphed for the second consecutive year, edging out San Fran native Michael Allen by two shots. The next year, Allen found himself in a similar position, finishing runner-up by two shots to Jay Don Blake.
When the Charles Schwab Cup Championship returned to the Bay Area for the third time in 2013, it was Fred Couples who lit the course up (65-65-68-69) and won by six.
2015 WGC-Cadillac Match Play
It would take the World Golf Championship committee 10 years to make it back to Harding Park, this time, for the match play event in the springtime of 2015.
Rory McIlroy entered the week as the world's #1-ranked golfer, and a 4&2 victory over Gary Woodland in the 18-hole final match meant that's exactly how he would leave. While the finals weren't as dramatic as fans would have hoped for, McIlroy gave them all a taste of his greatness in the closing three holes of his semi-final match.
In a pickle versus Jim Furyk standing on the 16th tee box, Rory utilized a birdie-birdie-eagle finish to send Furyk home packing. It was the 44-footer for eagle on the last that sent the crowd into a frenzy.
Getting to TPC Harding Park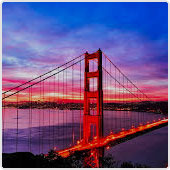 From Oakland, getting to TPC Harding Park is just a short trek west across the San Francisco-Oakland Bay Bridge. It's an even shorter distance from the golf course to the Golden Gate Bridge due north.
The premises of Harding Park are about 10 miles from the hustle and bustle of downtown San Francisco, and a short commute of about 15 minutes could land you on a ferry heading to Alcatraz Island.
We mentioned the proximity to Olympic Club and San Francisco Golf Club, and don't sleep on Lake Merced GC that looms adjacent to the property, just on the other side of John Daly Blvd.
For anyone who studies the best golf courses in the world, the few sandwiched between Daly City and San Francisco are pretty tough to beat.
Final Thoughts
In terms of municipal golf courses that are open to the public, it doesn't get much more pristine than TPC Harding Park. And forget about 18 holes costing an arm and a leg, green fees here are more than reasonable.
Trials and tribulations endured in the early years helped shape what the venue has become today, and a series of high-profile golf tournaments have helped create memories that'll last a lifetime.
All that's left is for you to position yourself in San Francisco and book a time. You'll feel a lot of emotions, but disappointed won't be one of them.
May
Sportsbook of the Month

Sign up Bonus
60% Up To $1,000
READ REVIEW
Visit Site
X