Spyglass Hill Golf Course – Home of the Pebble Beach Pro-Am
Perhaps there are golf courses in the world that are more scenic than Spyglass Hill, but we can promise you the list is short.
Tucked away in the stunning surroundings of Pebble Beach on the Monterey Peninsula, it just doesn't get much better or more pure than the place they call "Spy."
Are you ready for an in-depth guide telling you everything you want to know about the 45th-ranked golf course in America?
According to Golf Digest's top 100 courses in America in 2019, Spyglass Hill is among the very best golf venues in the United States of America. Plus it's public, meaning you can grab a tee time and experience the track for yourself.
So let's start diving in.
Not only will we discuss the beginning of Spyglass Hill Golf Course and how it came to be, but we're going to tour the course meticulously. That means filling you in on the unique characteristics that make this place so special, along with describing the signature holes.
The PGA Tour has utilized Spyglass Hill during their annual AT&T Pebble Beach Pro-Am Tournament every year since 1978, and it's unlikely that changes anytime soon. We'll highlight some of the most memorable moments that have taken place at Spy during this event, showcasing the ties Spyglass shares with the biggest stage in professional golf.
The best part about Spyglass Hill is that it isn't some mysterious place that's ultra-private. It isn't so secluded that you'll never even be able to sniff the front gates. You can head to Pebble Beach and make playing Spyglass Hill one of the centerpieces of your trip.
But for now, let's jump into the bulk of this guide and start interpreting what Spyglass Hill has to offer.
Spyglass Hill Golf Course – Key Facts
Location

Pebble Beach, California

Year Opened

1966

Owner/Operated By

Public/Pebble Beach Company

Course Designer

Robert Trent Jones Sr.

Par

72

Yardage

6,960

Host To

The AT&T Pebble Beach Pro-Am

Official Website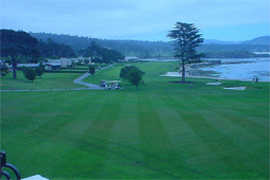 The Early Days – How and Why Spyglass Came to Be
Some golf courses come together quickly. An idea is born, an outline is sketched, and poof. A year or two later, an 18-hole course opens up. But notice we said some and not all courses.
For example, take a track like Spyglass Hills Golf Course in Pebble Beach.
There had been rumors about an additional golf course being added to the Pebble Beach community for quite some time, but nothing had been set in stone. But finally, in 1960, those rumors transformed into concrete plans. The talks about adding in a "sister course" for Pebble Beach Golf Links were made official.
Robert Trent Jones Sr. was the man called in to oversee the project, and boy, did it turn out to be a real "project." It would take six years for the design and construction to be completed, but it was certainly worth the wait.
Those of you unfamiliar with Robert Trent Jones or some of his previous work, do Hazeltine National Golf Club or Firestone Country Club ring any bells? What about Mauna Kea Golf Course, arguably the prettiest golf course in all of Hawaii?
Well, those are just a few of Robert's other gems, but it's safe to say that Spyglass Hill might just be his masterpiece.
The official opening of Spyglass Hill came on March 11th, 1966, although it was "unfastened" under a different name. "Pebble Beach Pines Golf Club" was the original name of the property, but Pebble Beach owner and developer Samuel F.B. Morse had an idea of his own.
After becoming infatuated with the Robert Louis Stevenson novel entitled Treasure Island, Morse changed the designation of the golf club to Spyglass Hill, the name of an area frequented in his favorite book.
In fact, each hole at Spyglass Hill is named after a character from Treasure Island, and today, the "Stevenson School" is an upscale boarding school whose main campus sits just steps away from the 18th tee box.
For more on the aptly-named holes and a complete uncovering of Spyglass Hills, continue reading below.
Touring the 18 Holes at Spyglass GC
We're going to tell you the nicknames of all 18 holes, and we'll make sure to elaborate on the ones that are the most unforgettable. But we'd like to start by discussing some of the features you'll encounter at Spy because it isn't a "traditional" track by any means.
Those who are well-traveled and familiar with different styles of golf courses know the difference between a tree-lined golf course and a desert oasis. They also are aware of the attributes consistent with a links-style course and what design elements are commonly associated with them.
Well, Spyglass Hill doesn't fit neatly into one category or another because it has a brilliant blend of all of the above. There are sections of the course that play alongside the Pacific Ocean, where knee-high wispy grass is present. This reminds players of playing links golf in the UK.
But then take a hole like #7, a gorgeous par 5 carved out from the Del Monte Forest, replicating a golf course with massive trees lining both sides of the fairway. And don't forget about all the ice plant, and whatever you do, don't try and hit out of it!
Trust us, the ball just doesn't come out regardless of how good the ball appears to be sitting. The Aizoaceae, which are called anything from ice plants to stone plants to carpet weeds, have an unrivaled way of twisting your club face upon contact, causing your club to essentially stop dead in its tracks.
These stone plants are scattered across the entire golf course, especially during the opening five holes.
This is because the first five holes at Spy all play with the Pacific Ocean lurking in the immediate backdrop, meaning the natural sand from the coastline comes into play off the edges of the fairways. The final 13 holes meander through the aforementioned Del Monte Forest, creating one of the coolest stretches of golf holes you'll ever come across.
It's almost as if you escape the outside world and the crashing waves up the Pacific and disappear into the abyss. Only that the "abyss" in this case is a magical forest of vegetation and happens to have 13 superb golf holes incorporated into it.
Let's start unveiling exactly what we are talking about, starting with the nicknames for each hole. We'd also like to point out that when Spyglass Hill first opened, the back tees were known as the "Tiger Tees." Incidentally, this is before Tiger Woods was even born, no matter what any so-called golf historian tells you.
| Hole # | Name | Par | Yardage |
| --- | --- | --- | --- |
| 1 | Treasure Island | 5 | 595 |
| 2 | Billy Bones | 4 | 349 |
| 3 | The Black Spot | 3 | 172 |
| 4 | Blind Pew | 4 | 370 |
| 5 | Bird Rock | 3 | 197 |
| 6 | Israel Hands | 4 | 446 |
| 7 | Indian Village | 5 | 529 |
| 8 | Signal Hill | 4 | 399 |
| 9 | Captain Smollett | 4 | 431 |
| 10 | Captain Flint | 4 | 407 |
| 11 | Admiral Benbow | 5 | 528 |
| 12 | Skeleton Island | 3 | 178 |
| 13 | Tom Morgan | 4 | 460 |
| 14 | Long John Silver | 5 | 560 |
| 15 | Jim Hawkins | 3 | 130 |
| 16 | Black Dog | 4 | 476 |
| 17 | Ben Gunn | 4 | 325 |
| 18 | Spyglass | 4 | 408 |
The setting at Spyglass Hill is spectacular, and the golf course doesn't waste any time letting you know how breathtaking the property is.
The opening four holes at Spyglass are as splendid of an opening quartet as you'll find. Period. Right from the get-go, it's very apparent that this course not only is eloquently designed but also isn't intended for the faint of heart.
The Opening Hole – Treasure Island
Truly one of the best par 5s in the entire state of California and one of the better "5-shotters" you'll ever play, the opening hole at Spyglass Hill is exquisite. Nicknamed Treasure Island, you can see the entire Monterey Bay in the distance while standing on the tee box.
If the weather is clear, you can snap photos of the Santa Cruz Mountains and Del Monte Forest, both of which are looming in the background. As far as the hole goes, it's nearly 600 yards with nowhere to really bail out.
The hole bends from right to left as traditional dogleg lefts do, and a power draw from a righty is exactly what the doctor orders. The only obstacles other than rough and tall trees are the three bunkers that safeguard the front of this green. Anything long is going to get stuck in the ice plant, which is a ruthless hazard on its own.
Pros hope to start their day with a 4, but a par won't kill you here. Once you finish at Treasure Island, you emerge from the trees and end up staring at one of the cooler tee shots on the entire course.
Hole #2 – Billy Bones
A short par four (349 yards) on the scorecard doesn't do this hole the justice it deserves. Anyone who assumes it's an easy hole obviously hasn't had the privilege of playing Spyglass Hill before, though, or they wouldn't think such a thing.
For a professional or a low-handicapper, sure, this hole shouldn't present much resistance. They'll be able to hit this green in regulation a high percentage of the time and thus give themselves a good look at a birdie.
But if you miss this fairway and then proceed to miss this green, doubles and triples can sneak up and bite you in the rear. The second shot plays uphill by close to 20 yards, not to mention the prevailing wind will be coming in off the coast and be in a golfer's face.
It gets very narrow toward the back section of this putting surface, making any pin placement not located in the front of this green extremely dubious. When you get to the green, make sure to take a few seconds just to gaze off toward the Pacific Ocean. You might not find a better viewpoint of the Monterey Peninsula anywhere on the golf course.
Hole #3 – The Black Spot
We're running out of descriptive adjectives to properly describe these opening holes at Spy, but that's how dazzling they are. And when you stand on the third tee and look down at the green some 170 yards away, you can't help but smile and soak it all in.
Talk about an unhindered view. You can see as far out as your eyesight can handle, as nothing but endless blue ocean looms in the distance. If the conditions are calm, this downhill par 3 might not be anything more than a stock 9 iron. But if the wind picks up, and the gales are in your face, be prepared to knock down some sort of mid to long iron and try to avoid launching one up into the skyline.
The putting surface is tiny in size, and it "almost secretly" slopes from front to back. If you were hoping this was an ordinary par 3, we apologize for breaking the news. But the third hole at Spyglass Hills Golf Course is anything but ordinary.
Hole #4 – Blind Pew
After reading the descriptions of the first three holes, could you believe that #4 at Spy is without a doubt the flagship hole of the entire layout?
Seriously, that's how remarkable Blind Pew is.
Straight to your left is the Pacific Ocean, whose coastline hugs the left side of this entire dogleg left par 4. And if your caddie points you in the right direction, you'll actually be able to sneak a glimpse of the 1st and 14th holes at the acclaimed Cypress Point Golf Club, one of the top five golf courses on the entire planet.
What makes this hole scoreable is the fact that it's just 370 yards from the back tees, but it's not the length of the hole that grabs players' attention. What is incredible about the fourth hole at Spy is that it features the skinniest green you'll likely ever encounter.
To say the opening of the putting surface is narrow would be a gross understatement, as the green isn't more than 30 feet in width at any point from front to back. Miss your tee shot left, and the only thing between you and the Pacific is some gnarly ice plant. Miss it right, and it's more of the same.
Robert Trent Jones Sr., the masterful creator who is responsible for delivering us Spyglass Hill, has had his hand in hundreds of golf course designs during his illustrious career. And he said he's never built a par 4 he liked better than #4 at Spy.
Hole #6 – Israel Hands
The last time you get to smell the ocean breeze coming off the Pacific is #6, as the golf course takes a turn into the Del Monte Forest as you make the trek up the sixth fairway. Ask anyone who has played Spyglass enough, and they'll unequivocally tell you the sixth is the toughest hole on the property, as it requires two near-perfect shots just to reach the green in regulation.
What says 446 yards on the card plays closer to 480, and that's assuming it isn't sopping wet. If it's pouring outside, and the ball isn't rolling, this hole might as well be a mini par five. Being that it bends gently to the right and has a fairway bunker on each side that pinches this fairway in, #6 at Spyglass isn't just the toughest par on the golf course.
It's one of the toughest holes on the entire Monterey Peninsula, and that's saying a lot.
Hole #14 – Long John Silver
As amazing as the entire golf course is, #14 is our favorite hole at Spyglass when taking everything into account. It's by no means the easiest, despite it being a par 5, as the trials and tribulations of #14 run from start to finish.
A true double-dogleg, an ideal tee shot is one that is hit hard up the center and right at the neck where the fairway starts curving to the right. You'll have to be precise with your layup if you want a shot at birdie because getting it close with your approach from anywhere other than the short grass is an extremely tall task.
There's a pond short right of the green that can't be seen from the tee box, but trust us, it is there. At 560 yards, it's not entirely out of the question for bombers to get home in two here. But it most definitely takes a couple of well-struck pokes.
The tiny bunker behind the green might not look like much on the surface, but it's an extraordinarily precarious spot to wind up – especially if the pin is located on the top shelf.
Hole #16 – Black Dog
If you don't think the sixth hole at Spyglass Hill is the toughest hole on the track, you probably think it's the 16th. Similar to "Israel Hands," the 16th is a dogleg right par 4 that'll take a pair of really well-executed golf shots just to attain a green in regulation.
Squeezing a drive down this fairway is challenge number one, as a large tree on the right-hand side makes favoring the left side natural. The issue is, balls hit hard up the left center wind up running through the short grass and into the rough.
Try to navigate some sort of long iron into a green that is protected by sand traps on either side, and we think you get the drift. All of these "barriers to entry" make it a fine choice for the number two handicap hole on the course.
Hole #17 – Ben Gunn
Named after one of Bob Hanna's favorite characters in Treasure Island, "Benn Gunn" could be categorized as the most intriguing hole at Spyglass Hill, as its mystery is rooted in both the tee shot and approach.
#17's deceptiveness begins on the tee box, as golfers are unable to get a clear view of the landing area in the distance. And when they finally track down their tee balls, players won't be able to see the putting surface.
There are nine bunkers in all on the 17th hole, with five of them surrounding the green as if they were a sandy moat protecting the entrance to a castle. The saving grace (in terms of being able to make a birdie or a par) is that the hole is just 325 yards from the tips, easily the shortest par 4 on the golf course.
The last piece of advice for those who might find themselves here is to make sure to avoid going over this green. We're sure your caddie will remind you of its danger, but going long at #17 is classified by all as simply a big "no-no."
The Final Hole – Spyglass
Fitted perfectly in between what appears to be two endless rows of trees, "Spyglass" is a fun way to end the round. At 408 yards and as straight as an airport runway, the 18th hole causes trouble for those who hit one sideways of the tee. Due to the size and number of trees on the outskirts of the grass, pitching back out to the fairway is generally all a player can do if they happen to hit one crooked.
The most demanding part about the finishing hole is that the green is elevated in a way that you can't see the entire flagstick when standing at the base of the fairway. This makes judging the distance on your second shot difficult, as does the quartet of bunkers than encircle the green.
While it may not appear so from the tee, #18 can be as perilous as any hole out here if you aren't on top of your game.
The AT&T Pebble Beach Pro-Am
Pebble Beach Golf Links is the true host of the AT&T Pebble Beach Pro-Am, but it's not the only course involved. Established in 1937 at Rancho Santa Fe Golf Club, Spyglass first entered the AT&T tournament rotation in 1967.
In fact, aside from 1977, Spyglass Hill Golf Course has been featured in every edition of the AT&T Pebble Beach Pro-Am. As you can probably glean from the title, this is a traditional PGA Tour event, where pros only play alongside other professionals.
A Celebration of Powerful and Wealthy Golf Enthusiasts
When do legends like Wayne Gretzky and Bill Belichick convene at the same place? Where can you find actors and TV personalities like Bill Murray and Chris Berman playing golf and connecting with the fans, having an absolute blast of a time in the process?
There's only one place that I can think of.
Here at the AT&T Pebble Beach Pro-Am, there aren't just 156 pros teeing it up. Instead, there are also 156 amateur golfers joining in on the fun. But not just any amateur golfers. Sources at TheGolfNews.net say that Forbes reported a $25,000 entry fee being attached to the application to partake in the amateur portion of this event – and that was back in 2011.
If anything, that number has likely only risen.
But it takes a lot more than deep pockets to gain entry into this one, folks.
If you think strolling in and paying the 25-large automatically gets you into this tournament, allow us to clear the air of that misconception.
First, you have to get invited. And yes, there's a waiting list, so don't think calling in any special favors is going to work. Those who are lucky enough to "make the cut" then have to pay the entry fee we talked about, but consider the following.
With the average net worth of the 156 amateurs competing being well in excess of 9 figures, this isn't the time to feel sorry for anyone who writes a check for $25k just to play some golf. For guys like Mike Bloomberg who are worth a cool $45 billion, this is literally like spare change we find in the cracks of our sofa.
Past Champions of the AT&T Pebble Beach Pro-Am
We've seen winners of all shapes and sizes at the AT&T Pebble Beach Pro-Am. Some of the highest-profile names in golf have won here, like when Jordan Spieth was victorious at the 2017 AT&T Pebble Beach Pro-Am.
But we've also seen players who are relatively unknown get it done, like when Ted Potter Jr. sealed the deal in 2018. Although household names like Jason Day, Dustin Johnson, Phil Mickelson, and Chez Reavie were in the mix and tied for second, the former star of the Hooters Tour outlasted them all.
Speaking of DJ, the long-hitting South Carolina native won this event back-to-back in 2009 and 2010, becoming just the fifth golfer to accomplish that feat at the Pebble Beach Pro-Am. Take a peek at the other four golfers who won this tournament consecutively, and you'll quickly realize Johnson is in some pretty heady company.
Sam Snead (1937, 1938)
Jack Nicklaus (1972, 1973)
Tom Watson (1977, 1978)
Mark O'Meara (1989, 1990)
Phil Mickelson is one of two men to win this event four times, but Mark O'Meara's five victories at the AT&T Pebble Beach Pro-Am (1985, '89, '90, '92, '97) are the most of all time.
Tiger won this event once in 2000, but his heroic performance that Sunday is still remembered as one of Tiger's most impressive accomplishments to date.
Trailing leader Matt Gogel by seven shots with seven holes to play, Tiger Woods stormed back to win the 2000 AT&T Pebble Beach Pro-Am. This marked Tiger's sixth consecutive victory on the PGA Tour at the time, tying Ben Hogan for the second-longest winning streak in PGA Tour history.
Forget about the 11 straight events Byron Nelson won in 1945 – that's just unspeakable.
Woods' display of mental fortitude and excellence that day still goes down as one of his finest moments ever. Considering how renowned his career has been, that should tell you a lot.
Come to Pebble Beach – An Ideal Golf Vacation Awaits
Have you heard about how awe-inspiring of an area Monterey, California is? Have you been fortunate enough to take a drive down 17-Mile Drive – the picturesque road that winds its way through and around Pebble Beach?
The strip of highway earned its name aptly, as it's a 17-mile-long curving road that takes you on a tour around the peninsula, taking you to the brink of the Pacific coastline and to the point where you can smell the ocean breeze.
If you are lucky enough to experience this memorable drive, chances are you've made it to your final destination, and your Pebble Beach vacation awaits. Few hotels are as luxurious as the Lodge at Pebble Beach and the Inn at Spanish Bay – the pair of properties that are connected to Pebble Beach resorts.
These lodging options aren't cheap, but boy, are they worth it.
Bandon Dunes might be as pure, and this guide to Whistling Straits gives you another amazing option when it comes to booking a golf trip to a public destination.
But when it comes to available golf, nothing in America is quite as prestigious as a trip to Pebble Beach.
Final Words
Good luck finding a public track as pristine as Spyglass Hill Golf. Pebble Beach might receive more notoriety, but those who are well informed will often tell you that Spy is actually the better golf course.
The fact that the AT&T Pebble Beach Pro-Am has continued coming back to Spyglass Hill every year since 1978 despite the plethora of other suitable options on the Monterey Peninsula is all the evidence you need to understand Spyglass Hill's place in history.
But it's not classified as one of the greatest golf venues in the world just because it's the site of a PGA Tour event. It's not just esteemed because it's built on a marvelous piece of property or because it offers views and a style of golf that's unique to the area.
Spyglass Hill is one of the coolest golf courses thanks to the rare combination of possessing all of the above.
May
Sportsbook of the Month

Sign up Bonus
60% Up To $1,000
READ REVIEW
Visit Site
X