Shadow Creek – An Exclusive Golf Club in Las Vegas
Looking for a one-of-a-kind experience on the golf course? Because after playing Shadow Creek in Las Vegas, Nevada, we can say without batting an eyelash that the place is off the charts.
It's a true gem, hidden amongst massive trees in the northern portion of Sin City. Fortunately for you, it happens to be the focus of our discussion.
Many golf fans are left in the dark about this exclusive golf club in Vegas, partly because of how expensive it is to play. We'll get into that whopping $500 price tag later on, as well as tell you all about how and why the place was created in the first place.
It's not a coincidence that Shadow Creek was built in the midst of the Las Vegas Strip, blowing up into a nationally-known phenomenon.
This guide won't be all about the fancy lights, though, as we'll open your eyes to what the layout is like and how pristine the conditions are. There is a gentleman by the name of Michael Jordan.
Perhaps you have heard of him. He hosted an annual celebrity event at Shadow Creek that attracted loads of familiar faces.
Heard of Tiger Woods? He's got a function at the golf course every year as well. We made sure to include a detailed segment about these festivities, and who knows? You might find yourself spectating in the crowd one day!
We'll leave you with a section about the surrounding area in case you feel like ponying up the cash to see the course first-hand.
If you'd rather just go watch the celebs make fools of themselves and enjoy the scenery as part of the gallery, we'll make sure you have the link you need to make that process seamless.
Whether you have heard about the 26th-ranked course in America or not, we're about to unload all the juicy information you need to get caught up with those of us who have been lucky enough to play it more than a handful of times.
Just sit back, relax, and enjoy the tour of the most esteemed track in Las Vegas!
Shadow Creek – Key Facts
Location

Las Vegas, Nevada

Year Opened

1989

Owner/Operated By

MGM Resorts International

Course Designer

Tom Fazio

Par

72

Yardage

7,560 yards

Host To

Michael Jordan Celebrity Invitational (2011-2014), Derek Jeter Celebrity Invitational, Tiger Jam, The Match: Tiger vs. Phil

Official Website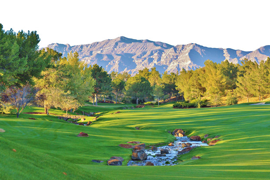 The Origins of Shadow Creek
Today, people who are staying at one of the MGM properties and are willing to pay $500 have no problem getting a tee time at Shadow Creek. On the other hand, back in 1989 when this place first opened, the Pope would have had difficulty getting on the property – that's how secluded this place was.
It's hard to put it into context just how exclusive Shadow Creek used to be, but we can tell you about the process of how and why it was opened, and perhaps you can get a glimpse.
When Las Vegas casino mogul Steve Wynn decided he was going to build a golf course, he made one thing clear.
Wynn wasn't interested in sparing any expenses. He was only interested in creating a luxurious and ultra-private destination for the high rollers of Las Vegas.
Wynn was busy making a name for himself by building the fanciest hotel-casinos in town when the opportunity presented itself. He knew he had a collection of individuals that liked to travel to Las Vegas and gamble away hundreds of thousands of dollars on a whim.
He also knew that many of these "degenerate personalities" also liked playing golf. Why not offer them an outdoor playground to enjoy during the daytime before coming back in the evenings and "donating to the house"?
When we say that Steve decided not to have a cap on the budget to develop this venue, we really mean that. The story goes that somewhere in excess of 50 million dollars was spent to convert the barren, desert landscape to the distinguishable track that it became.
You want to talk about the absolute definition of high-end golf? Shadow Creek is a good place to start.
When you walk around the inside of the clubhouse and look at the names on the lockers, it's quite easy to get star-struck. Take your pick between the richest CEOs on the planet to the most powerful men in America.
Perhaps you'd get a kick out of the high-profile athletes who stake a claim in memberships to the club. We won't disclose all the famous men and women who call Shadow Creek a second home, but we will tell you that Bill Gates, Michael Jordan, and a former President of the United States all have permanent storage areas with their names on them.
As you can start to gather, Wynn's vision involved building the best course imaginable, and he wanted to make it as private as possible. That's when he called in acclaimed golf course architect Tom Fazio to lend a hand.
Tom Fazio's Finest Design
In fairness, what Wynn asked of Fazio was far more than lending a helping hand. He asked him to achieve the nearly impossible task of transforming the blank canvas of dirt into an absolute masterpiece of a golf course, a place that the industry would revel in.
When you look at Golf Digest's 2018 list of the top 100 courses in America, you'll notice that the name "Tom Fazio" seems awfully redundant.
It appears a ridiculous 16 times, to be exact. That's because the Philadelphia native is probably as well-known and as celebrated of a golf course architect as we have in the business. So how impressive is it that his finest work of all according to the rankings is Shadow Creek, the centerpiece of this guide?
And how did it all come together?
What Steve and Tom did was put their hard hats on and get to work. Their first step in making this 350-acre plot of land feel isolated was to start digging. And dig some more.
Enough earth was dug up that dirt was piled up against the fencing, surrounding the entire perimeter of the grounds. The only way to see inside this place while it was being constructed was to be in an airplane or helicopter from above and be staring straight down.
Even the final product is shaped in a way that an aerial shot of the property is the only way to see what's happening inside the premises. When we said this place started out as private as it gets, we weren't kidding.
This was going to be anything but a traditional desert golf course like what folks living in the Las Vegas climate had gotten accustomed to. The dynamic duo of Wynn and Fazio would contour the fairways so that they were lush and rolling, mimicking that of Augusta National.
The pair brought in countless types of vegetation and an inordinate amount of exotic birds and different species of animals. Manmade waterfalls and lakes completed the picturesque layout, altering the property into some sort of scene at a zoo, full of active wildlife.
When you are playing Shadow Creek golf course, it's actually hard to believe you are in Las Vegas, an alleged desert!
Now that you have a foundation for what the course is like, let's start talking about the signature holes on the golf course. Some people simply call this place "The Creek," and it won't take long to figure out why.
Identifying the Can't-Miss Holes
If you want a visualization of how stunning the property is, check out this flyover footage. Just try not to get goosebumps!
If you are ever blessed enough to step foot on the property, you'll quickly understand why this place gets the respect and admiration it does. The truth is, each and every hole is incredible in its own right, so separating one or two and calling them the marquee holes is much easier said than done.
However, after some deliberation, there were five holes that stood out. This collection of golf holes is simply too prominent to leave out of the discussion, so here they are.
The 4th Hole
It's the first par 5 on the golf course, and by golly, you might not see a better one on the entire west coast of the United States. Talk about a gorgeous setting. This 581-yard dogleg left challenges players' attention spans as much as it challenges their skills.
See, not only do players have to try and bend one around the corner, but they have to remain focused on the task at hand despite the many distractions.
We are talking about a glistening lake that looks like it hasn't been touched in a decade. We are referring to the charming backdrop that the overhanging limbs of the dark-green trees provide. You'll even hear anonymous chirping from mysterious-looking feathered animals in the background.
Now you see what we mean when we refer to "staying focused" on the golf hole in front of you! As you get closer to the putting surface, you can feel the hole getting narrower and narrower, all the way up to the ever-so-slim entrance to the green.
Right-handed golfers will be trying to hit some sort of hook into this green, but don't get too greedy.
Those who bite off more than they can chew will watch their balls trickle into the lake and will have to take a penalty. Although, if you are playing golf at Shadow Creek, how much of a penalty can it really be?
The 9th Hole
The last par 4 on the front side is anything but a "cinch par," even for the low-handicap players. At 460 yards and playing back uphill, this hole presents plenty of problems for players that miss the fairway.
Considering its sidewinding shape and the fact that bunkers are looming right and left, hitting the fairway is anything but a bargain.
There is a skinny creek that runs all the way up the left side of the hole, adding to the trouble. The green severely slopes from right to left, and there is a false front short.
Making par isn't too tough here; you just have to hit two perfect swings and have a deft touch with the flat stick. Do that, and you're home free!
The 15th Hole
The final par four on the scorecard might just be the best one yet. It certainly is one of the toughest holes at the Creek, especially when the prevailing wind is back in the players' faces.
Somewhat similar to the design of the 9th, here's another par 4 that bends gently from right to left. Perhaps Fazio loved the 9th hole so much that he wanted to create another version for the back 9.
The biggest difference here is that the creek running up the left side of the hole actually juts across the entrance to the putting surface this time, eliminating the chance of running up an approach shot.
The shape of the green resembles a footprint and is divided into four distinct sections. If your ball winds up on the wrong tier, we won't say it's a guaranteed 3-putt, but your work will certainly be cut out for you.
The 17th Hole
While all 18 holes at Shadow Creek are fantastic, it's pretty safe to say that the 17th would be the popular choice for "favorite hole on the course" if you surveyed 100 people who have played the track.
Standing on the tee box, there are as many photographs snapped as there are balls hit. That's how strikingly beautiful this hole is.
The 17th hole is a downhill par 3 that plays over water, measuring 164 yards from the back tees. The coolest feature of the hole is the fact that the lake in front of the green isn't the only body of flowing water you'll see!
Behind the green, a large waterfall pours down into a pool, which then flows directly into the lake short of the putting surface. It's easy to get caught gazing at the spectacular setting, and therefore it's easy to take your eye off the prize.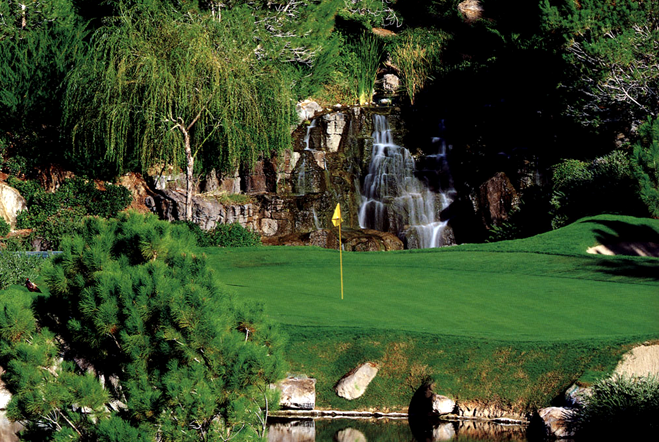 In the event that you do rinse one in the water, take a deep breath and exhale before you start getting upset. You are in Vegas, playing the number-one-ranked golf course in the state, and you should feel fortunate to even be out there.
We promise you that a "wet ball" on 17 isn't as bad as you think and won't be the end of the world. Of course, it could cost you a pretty penny if you happen to be playing a match. If that's the case, you can always "press your opponent" when you get to the 18th tee!
The Finishing Hole
In 2013, golf.com came out with a list of the 50 greatest holes in America. Clocking in at number 45 on the list is the 18th hole at Shadow Creek, a 529-yard par 5 that has a little bit of everything.
Quite frankly, it's beyond us how they found 44 holes they considered better than this, but the fact that no major championships have been played here probably has something to do with that.
It's hard to fully grasp what this hole is like without playing it, but we'll do our best to describe it. There is water all the way up the right side from tee to green, but it's not exactly just one big lake. It appears to be 3 separate bodies of water, each separated by a mini waterfall.
Don't get caught staring too far off to the right, or your ball will sail right into the trouble that's lurking. There are large bunkers in between the right side of the fairway and the hazard, so balls that are just slightly off line to the right still have a chance at staying dry.
The bombers can get home in two and turn this into an eagle opportunity, but it is going to take two serious pokes to get it up the hill and over the water. Any ball that comes up short will be swallowed by "the drink."
If you hit a good drive and lay up properly, your final approach of the day will look like a page right out of a novel, a scene right out of a movie, or whatever other clever phrase you want to use.
The point is, you'll be staring at a flagstick that is surrounded by bright-colored flowers, steep hills, varying vegetation, and probably an ostrich and perhaps even a flamingo.
Knock it on and make your birdie putt, and your post-round lunch inside the clubhouse is going to taste even that much more delicious!
Once a Private Oasis
Those "in the know" don't need to be convinced how legitimate of a golf course Shadow Creek is. This exquisite track in northern Las Vegas is undeniable. So what's holding it back from being in the forefront of the discussion of championship-quality venues?
It's simply the fact that the majority of individuals in the golf industry haven't had the chance to tee it up and see the course in person. And a big reason for that is because of how "snooty" of a club this used to be.
Given the climate in Las Vegas in June, hosting a U.S. Open has always been out of the question. Steve Wynn was approached numerous times in the past about the possibilities of hosting either a PGA or Senior PGA event. To the dismay of tour officials, the casino tycoon politely declined each and every time.
Wynn wasn't interested in showing off his finished product to the rest of the world. Remember, the whole basis of creating the joint in the first place was to offer privacy to the select company that was invited to play.
Shadow Creek's Director of Golf, Mark Brenneman, stated the following.
"We're honestly not trying to attract attention. It's actually the opposite. My feeling is that the spouting whale gets the harpoon."
While some golf courses take pride in showing off their venue for the world to see, Shadow Creek would rather stay out of the public radar and focus on the things that please their customers.
That's why you'll never see a blade of grass out of place anywhere on the grounds. That's why the instant your vehicle (generally a limousine service from an MGM property) pushes across the white entrance gates, you immediately feel like you have been transported to a place far, far away.
No shortcuts are taken; no expenses are spared. It's truly an experience that is unmatched in the city because it's a chance for folks to remove themselves from the hustle and bustle of the Las Vegas Strip and spend 4-5 hours peacefully in paradise.
The great news is that Shadow Creek is still as great as ever, and it's finally accessible for the public to play.
Can I Play Shadow Creek?
Yes. Without any further ado, the answer is yes. You aren't going to find a tee time on golfnow.com, and you probably aren't going to get an invite from one of your coworkers. But if you are a guest of any of the MGM properties and are willing to spend $500, then a tee time is a just a phone call away.
The truth is, a large handful of the golfers that tee it up at Shadow Creek are invited guests of the hotel. These folks might get to skip out on the greens fees, but you can bet your bottom dollar that they are spending lots of money in other ways. They are the "high rollers" of Vegas.
You know, those who have no problem betting $5,000 or more per hand on a blackjack table?
These folks will be pampered with gifts, meals, free rooms, and in this case, free rounds at Shadow Creek. So if you are someone who is planning on taking out a six-figure marker at the Aria or the Bellagio, all you have to do is tell your host what time you want to play the next morning.
A limo and champagne on ice will be waiting downstairs at valet to chauffeur you to the golf course. When the round is over, that same limo will drop you right back off at the tables, and you'll be right back where the casino operators want you!
We would like you to keep in mind that this is Sin City, after all – the "entertainment capital of the world." The city that loves do favors. The good 'ole "I'll scratch your back if you scratch mine." It's a philosophy that is at the foundation of how the entire city was built.
Don't be surprised if there are strings that can be pulled and ways to conjure up a tee time at the Creek, even if you aren't staying at one of MGM's properties. Here is the number you'll want to call to inquire about requesting a tee time.
They will be happy to accommodate you as long as there is something you can bring to the table for them. It's that "back-scratching" tactic I talked about. Don't be afraid to use it!
Some High-Profile Golf Charity Tournaments
Okay, so there haven't been any majors, nor have there been any regulated professional golf tournaments hosted at the Fazio/Wynn co-creation. Perhaps the world's greatest golfers haven't gathered together at Shadow Creek to compete in an event.
But the same can't be said for some of the most recognizable retired athletes, actors, and artists in the world who used to dominate in their respected crafts.
Breeze through the segments below, and you'll catch wind of some of the renowned individuals who have taken part in some of the festivities over the years.
The Michael Jordan Celebrity Invitational
From 2011-2014, Shadow Creek played host to arguably the most illustrious charity golf tournament in the country. We aren't talking about a few former athletes scattered around and a bunch of stand-ins. We are talking about some of the biggest names and most respected competitors we've ever seen.
Another cool element of this event is that this was essentially the only time the public could have access to the course. Purchasing tickets to the MJ Celebrity Invitational meant that fans not only got an up close and personal look at some incredibly notable individuals, but they also got an up close and personal look at the golf course.
Believe it or not, some of the men and women who showed up for the event care more about walking the property and taking in the elegant scenery than watching Roger Clemens or Russell Wilson whack a golf ball.
Certainly, there are those who just come to be near all these famous faces in hopes of getting some pictures and autographs. And that's the beauty; there was something for everyone. All in all, this golf tournament was one big extravaganza.
From its inauguration in 2001 through 2010, the Michael Jordan Celebrity Invitational was hosted at the Ocean Club on Paradise Island in The Bahamas, an unbelievable resort destination. However, it was the last four years of the tournament at Shadow Creek that saw this event blossom.
With more than $7 million raised for charity, it's pretty fair to call this thing a total success. We had teased you by saying that some of the best athletes of all time have been part of this event, and we don't want to leave you hanging.
It's not just guys like Wayne Gretzky and Michael Phelps who supported MJ and played in this thing. Television personalities like Ray Romano and artists such as Nick Jonas and Alan Thicke used to make a habit out of playing in this celebrity invitational.
Here's a full list of the 2014 tournament field in case you were wondering what other names made the trip to the City of Lights in early April that year.
Sadly, that would be the last year of this particular event. Happily, it just cleared the way for another mega-superstar athlete to step in and take over as the host!
The Derek Jeter Celebrity Invitational
If Michael Jordan isn't going to be the lead man in the star-studded Celebrity Invitational at Shadow Creek, then who better to assume the role of tournament host than "Jordan athlete" and New York Yankee legend Derek Jeter!
The man who donned the #2 jersey pinstripes from 1995-2014 replaced Michael Jordan as the lead anchor in 2015, and the tournament hasn't seemed to skip a beat.
In the event's fourth year in 2018, the charity tournament raised more than a million dollars for Derek's "Turn 2 Foundation," which he created all the way back in 1996.
Just like in years past when Michael was the head honcho, a plethora of primetime names can be found at Shadow Creek for Jeter's event. Whether it is singer and songwriter Jason Derulo or former NBA champion Ray Allen, it's blatantly obvious that Derek has lots of friends in many industries.
Tiger Jam
Now, talk about a weekend extravaganza. Here's an event hosted by MGM Resorts that blows almost any weekend festival out of the water.
It's called Tiger Jam, and the title tells you all you need to know about who's in charge. If you like a high-energy atmosphere, check out the poker room at the Aria the Friday night of Tiger Jam.
Play alongside the likes of Phil Hellmuth and Mark Cuban or just follow along behind the rail with a beverage in hand. As exhilarating as the action is, it's just a warmup for what takes place at Shadow Creek the following afternoon.
If you are a part of the weekend, you have a chance to mix it up with the likes of Kid Rock or Houston Rockets' point guard Chris Paul. Once night falls, there is loads of entertainment besides what's taking place on the felt tables.
Concerts and performances are typical on the Saturday evening of Tiger Jam, with new faces appearing year after year. Whether that is Conan O'Brien making the room erupt in laughter or Darius Rucker strumming his guitar, you aren't going to be disappointed.
The best part of all this is that you can lock your tickets up for the next Tiger Jam right now to ensure you don't miss out on any of these highlights. Here's your link to securing those tickets immediately!
The Takeaway
That is Shadow Creek in a nutshell. This page wasn't designed to give you a bunch of tips on where to play golf in Las Vegas or what shenanigans to get involved in when the sun goes down.
This was a planned-out guide to Shadow Creek golf course, unrivaled when it comes to tracks in the state of Nevada.
The place was so private and "hush-hush" for so long that lots of golf enthusiasts aren't even aware that the place exists, let alone how remarkable it is. You won't find many pictures or videos, and the best stories come from those who have been privileged enough to play the course.
With that being said, there is one alternative to learning about Shadow Creek in depth without having the liberty of playing it. And that's to read a detailed article that was prepared by someone who has been out there.
Now that you've located this landing page, you finally have that genuine source you were looking for when it comes to Tom Fazio's Las Vegas brilliant piece of work.
Don't forget about the prospects of being a spectator at either Tiger or Derek Jeter's charity event. If you never get to roll in a putt on the coveted property, at least you have the chance to watch some of your idols in action!
May
Sportsbook of the Month

Sign up Bonus
60% Up To $1,000
READ REVIEW
Visit Site
X