A Guide to the #1-Ranked Golf Course – Pine Valley Golf Club
It stands alone at the top of the totem pole. There's only one golf course in the world with the title "number-1-ranked golf course in all the land," and it's Pine Valley Golf Club. Talk about an ultra-private golf club. This course in Pine Valley, New Jersey, doesn't even have an official website.
Forget searching the web for detailed information on this exclusive golf club. You aren't going to find much. The best way to get to know Pine Valley is to somehow be lucky enough to play it one day.
In the event that you are not an executive of a Fortune 500 Company in New Jersey or haven't been invited to play in the prestigious Crump Cup, reading this guide is going to be the next best thing.
Our team of golf course experts (one of whom was fortunate enough to play Pine Valley back in 2004) is here to tell you everything about Pine Valley that you'd want to know. We'll break down how and when the club was formed, not to mention tell you about the two times the Walker Cup was hosted there.
We'll tour the course by previewing the signature holes, doing our best to portray how special the one-of-a-kind this property is. All we ask is that you follow along and use your imagination.
There are so many unbelievably gorgeous venues all around the world that it's hard to fathom just how immaculate Pine Valley is. Considering it has been called the top course on the planet every year since 1985, you can at least get an idea.
If that's not enough to warrant an individual page explaining its luxury and beauty, we're not sure what is.
Pine Valley Golf Club – Key Facts
Location

Pine Valley, New Jersey

Year Opened

1913

Owner/Operated by

Private

Course Designer

George Arthur Crump, Harry Colt, A.W. Tillinghast, Perry Maxwell, Charles Hugh Alison, Walter Travis

Par

70

Yardage

7,057 yards

Host to

1936 and 1985 Walker Cup, The Crump Cup (1922-current)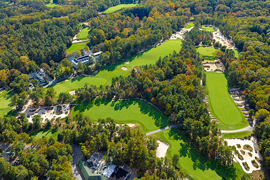 The Beginning of Pine Valley Golf Club
Back in 1913, a group of recreational golfers from Philadelphia decided to buy some sandy land in southern New Jersey's unincorporated pinelands. These men didn't know the first thing about designing a golf course, so they brought in a man who did.
George Arthur Crump was assigned the task of building a golf course on the newly-purchased dirt, and it was never going to be easy. This is the main reason why Crump brought in a host of others to lend a hand with the construction.
This included Harry Colt, A.W. Tillinghast, Perry Maxwell, Charles Hugh Alison, and Walter Travis.
Crump had few "rules" that made some folks in the golf industry think he was rather peculiar – an oddball, some might even say. Although, now more than 100 years later, most consider his ideas as brilliant and well ahead of his time – a savant of some sorts, if you will.
For example, George thought that when someone was playing a certain hole, he or she shouldn't be able to see any other hole. No ifs, no ands, and no buts. Crump also felt that consecutive holes should never be played in the same direction and that no hole should be parallel to another one.
He wanted to design a course that forced players to be creative and think on their feet – using every club in their bag more than once. Not every course that has been built since has adopted these same philosophies, but then again, no other course is as prestigious or acclaimed as Pine Valley Golf Club.
By 1914, the first 11 holes had been constructed. The final product (all 18 holes) wasn't actually completed until 1922, four years after George Crump had passed away.
Tom Fazio came aboard in 1992 to create a "mini Pine Valley" that is simply a shorter version of the real thing.
Along with Ernie Ransome, the two men co-created a short, 10-hole course that is made up of different approach shots throughout the actual course. Speaking of the 18 holes at Pine Valley now is a perfect time to transition into the layout. Something must stand out to make this place so illustrious.
It's our job to fill you in on what that is.
Describing the #1-Ranked Golf Course in the World
It's not easy tracking down details about Pine Valley Golf Club. We know it's tucked away about 20 miles southeast of the center of Philadelphia, about a half hour or so from a famously-oozing cheesesteak from Geno's. All smiles aside, it's not easy finding juicy details about the golf club down the road from Philly.
Pine Valley doesn't even have an official website, and not much is known about the members. This is no coincidence, as we tend to think that they like it that way.
If you expect to see an extravagant and upscale clubhouse, you are in the wrong place. The clubhouse is unassuming and rather outdated. There is a pro shop, bar and dining room, a meeting room, and a small patio section. By the outside appearance, one would never know they were standing on such sacred grounds.
Those who make it out onto the course will need a comfortable pair of golf shoes and plenty of energy. They can forget about riding around in a golf cart during a round of golf at Pine Valley; that won't happen.
It's walking with a caddie (who has probably been working there for 40+ years), as no golf carts are permitted on the facility. The caddies will be donning all white, thus confirming you have landed in "golfing heaven."
We heard some rumbling about some potential "buggies" that are available for those just playing the short, 10-hole course. These rumors cannot be confirmed or denied, but we can say with confidence that nobody playing 18 holes at Pine Valley will do so driving around in a golf cart.
One thing that is for sure is that those 18 holes are as fine of a collection you'll ever lay eyes on. Let's start to take a closer look.
Picturing Pine Valley
The bunkering at Pine Valley is unlike any you'll ever encounter. They've said that the 600+ acres of Pine Valley Golf Club are actually just one massive bunker, with smaller patches and strips of grass carved out amongst the trees.
For starters, forget about looking for a rake. They don't exist at the George Crump creation. The sand traps at Pine Valley are true hazards, ringing ever so true to the old saying "play the ball as it lies."
Perhaps the most famous of all these bunkers is the one known as "Devil's Asshole," the tiny pot bunker that protects the front of the 10th green.
The 161-yard par 3 might not look like much on the scorecard, but the madness that goes on in this bunker is enough to drive even the most patient man crazy. Nine times out of ten, any player who finds the Devil's Asshole bunker will be aiming backward, just trying to get the ball back onto the green grass.
The immensely challenging bunkers are just an example of the attributes that make the golf course so demanding. The fact that every single hole provides golfers with a "daunting task intertwined with natural beauty" is what makes this place so revered.
One of the panelists from golfdigest.com said it best with the following words.
"I've never seen such architectural dominance around an entire course. Every hole could be considered 'all-world' as far as I'm concerned. The variety of every aspect of the course at Pine Valley is unparalleled in the world of golf."
And that came from an individual who makes a living traveling around the best golf courses in the world with the sole purpose of ranking them. One can't really imagine how divine the property is without experiencing it first-hand. Unfortunately, the majority of golf fans around the world will never have that opportunity.
We can tell you that from the outset, a golfer's mind and imagination are captured in full. The opening hole, a sharp dogleg right par 4 that has a treacherous putting surface, quickly announces that this course means business.
If any approach shots miss right, left, or long, the player will be happy to not walk away with worse than a bogey.
The second hole at Pine Valley is a perfect example of what you will come to learn at this golf course. On the card, you'd see a "368-yard par 4" and probably just skim right past it thinking it's an easy par, if not a great chance to pick a shot up.
Let us be the bearer of bad news and tell you that this hole is no bargain. The thought process and attention to detail behind the creation of this hole showcase its brilliance.
A plethora of church pew bunkers line both sides of the fairway. The end of the landing area turns into a steep incline of nasty rough and devasting bunkers that guard the front of the green.
A perfectly-struck tee shot leaves players with a blind second to a green that is dangerous for even the best chippers and putters around. Once you finish the second hole, you'll realize that the next four hours or so will be about hanging on for dear life.
There is no beating around the bus,h ladies and gentlemen.
Pine Valley is an absolutely brutal test of golf. Every ounce of patience and willpower is put to the test.
To prosper at Pine Valley, you need to have fortune on your side, and you need to be clicking on all cylinders. When it comes to facets of the game, you need to have every box checked off.
Simply being a long hitter isn't enough, nor is being deadly accurate off the tee. You need to have a soft pair of hands around the greens and be a wizard with the flat stick. And that's on top of hitting towering laser beams off every tee box.
If a golfer has all of these things going, he or she might have a chance to post a decent number around arguably the most coveted golf club in the United States.
Crump said that a just pretty good shot was of no use at all at Pine Valley, as he wanted to test the best players to their absolute limit and make them better. This is perfectly evidenced by the tee shots at 5 and 6, where decent and even good shots leave you begging.
We could go on telling you about each hole, but certain things would get redundant. The words "treacherous bunkers and death-defying putting surfaces" would get old quickly, and you might lose appreciation for the uniqueness of each one.
If you feel like nine minutes of jaw-dropping flyover footage of the layout at Pine Valley brought to you by an extremely qualified source, check out that link. If you are an avid golf fan, it is impossible to not get engulfed.
The 18 holes at Pine Valley are pure heaven for golf enthusiasts. Every single one presents a picturesque landscape tied into a grueling design. There is no time to shake your head in disappointment over a bad shot when you look up and take in the setting.
The environment of Pine Valley Golf Club is so breathtaking that it really is hard to put it into words and do it proper justice. There really are no adjectives favorable enough that can properly justify the perfection of Pine Valley.
We can attempt to describe the scene as best as we can. Watching the video we provided explains just how pristine the place is.
Two Walker Cups Hosted
Please don't waste any energy or time scouring the "interwebs" looking to see if any PGA Tour events or any Major Championships have been contested at Pine Valley. We can tell you that the answer is none, zero, zilch.
Quite frankly, the golf course doesn't even have the room or space to handle thousands of fans or equipment trucks and camera towers. Pine Valley was never meant for television golf, and that won't be changing anytime soon.
The closest thing to a professional golf tournament being played at Pine Valley Golf Club was the two Walker Cups that were held on the sacred grounds in Pine Valley, New Jersey.
The Walker Cup is the Ryder Cup of amateur golf, pitting the 12 best amateurs in the United States against the 12 best from Great Britain and Ireland. The 1936 and 1985 editions were both held at Pine Valley Golf Club, both won by the American teams.
They walloped the GB&I team in 1936 before narrowly edging them out in 1985 by the count 13-11. In fact, the Americans didn't even lose a single match in the 1936 Walker Cup. The Great Britain and Ireland squad was awarded their 1.5 points that year by halving (tying) three of the matches.
While there haven't been any more team competitions or any PGA Tour events at Pine Valley, there is one golf tournament that the best and most well-connected mid-amateurs have circled on their calendars each and every year.
The Crump Cup
Not all golfers have the talent and skill to turn professional and make a living playing golf. As amazing of a lifestyle that PGA Tour players have, the top-ranked mid-amateurs and seniors in the world might have it just as good or better.
If you can build up a resume worthy of being invited to the annual Crump Cup at Pine Valley, you can tell your family and friends that you've made it. It's not just about being really good, and all the money in the world isn't enough to buy your spot in the tournament's field.
A combination of being one heck of a player and being a reputable person in the golf community is the only way you can get a tee time in late September at the Crump Cup at Pine Valley.
The prestige of being a part of this event is at the top of the list when it comes to amateur golf.
It's been around since 1922, and there just isn't anything else in amateur golf like it.
It starts with 36 holes of stroke-play before transitioning into match-play format. There's a dinner that requires attendees to wear a coat and tie, one where you'll be met and greeted by some highly powerful individuals. If you aren't "on your best behavior," you'll never see the light of day at Pine Valley GC again.
One of the coolest things about the Crump Cup is that the gates are opened to the public for the final day of competition. Before you start making arrangements and charging your camcorder, keep this note in mind.
No spectators will be allowed to take any pictures or videos of any kind. They are not even permitted to bring any phones or recording devices onto the premises. The authorities at Pine Valley are very serious about this policy, so don't try and be cute and pull a fast one.
The Crump Cup might not have the best field in all of amateur golf. But we can assure you that there isn't a single tournament any distinguished amateur golfer would rather be invited to play in. Is it the best tournament in amateur golf?
After reading that article, it's hard to imagine one that's better.
Summarizing Pine Valley Golf Club
To put it blatantly, Pine Valley Golf Club is in a league of its own. Yes, it has the claim of being the number-one-ranked course in the world, but believe it or not, it's more than that.
Trying to list the superlatives of Pine Valley on one page isn't possible by even the savviest and most experienced writers.
Sure, it would be a lot easier to visualize and learn about Pine Valley if the authorities in charge provided more details about what goes on. The truth is, they aren't in the business of letting authors or reporters roam around the property at free will taking notes and writing stories.
Understand that the privacy of the golf course is a big reason why there is so much tradition and mystery surrounding it. The fact that nobody knows anything about who the members are and how you go about acquiring a membership just adds to its superiority.
Unless you get invited to play in the Crump Cup or take in the festivities on that Sunday afternoon in September, you'll probably never experience how perfect Pine Valley really is.
If there were an abundance of guides and reviews of Pine Valley, it just wouldn't be the same.
We weren't sure if there was really such a thing as an impeccable golf course, one with absolutely no flaws.
Then we came across George Crump's magnificent gem in Pine Valley, New Jersey. It's safe to say that we met our match.
May
Sportsbook of the Month

Sign up Bonus
60% Up To $1,000
READ REVIEW
Visit Site
X