A Guide to PGA National's Champion Course
If you watch the PGA Tour regularly, you'll have seen that it takes around 18 to 20 under to win most regular-season events on the FedEx Cup schedule.
But that isn't the case each year at the Honda Classic.
In fact, just twice has it taken more than 9 under par to win the Honda since it moved to PGA National's Champion Course in 2007. And speaking of the Champion Course at PGA National, that's going to be the centerpiece of this article.
This is as pure and detailed of a course guide as you'll be able to track down on the internet when it comes to the Champion Course, so no need to look elsewhere.
We'll talk about its early days and unveil how and why the course was created. We'll take you on a tour of the layout, which of course includes in-depth descriptions of the signature holes.
Because you have heard of the Bear Trap, right?
Once we talk about arguably the most frightening three-hole stretch on the PGA Tour, we'll open your eyes up to everything that's happened at the Honda Classic since it was permanently moved to PGA National in 2007.
Being that it's a public golf course, and the weather is great year-round, setting up a tee time isn't the worst idea you could come up with. Considering that there are an additional four courses on the resort and plenty to do in the vicinity, perhaps you shouldn't just consider setting up the trip.
Perhaps you should book it right now!
We'll point out everything you need to know about traveling to and staying at PGA National in a dedicated segment, but it's time to back things up and start from the beginning!
PGA National – Champion Course – Key Facts
Location

Palm Beach Gardens, Florida

Year Opened

1981

Owner/Operated By

Public

Course Designer

George and Tom Fazio. Redesigned by Jack Nicklaus

Par

72

Yardage

7,045 yards

Host To

The Honda Classic (2007-current), 1983 Ryder Cup, 1987 PGA Championship

Official Website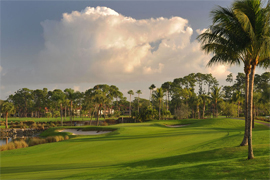 The Champion Course Gets Established
By taking a quick peek at the table of basic facts, you can see that the Champion Course at PGA National opened in 1981. It was November 17th of that year, for those of you who like being precise.
Set in the upscale community of Palm Beach Gardens, Florida, the resort at PGA National is nothing to gawk at.
It's actually quite impressive and particularly stunning if you want to know the truth. The Champion Course is actually just one of five golf courses scattered across the massive resort, and we'll tell you a bit about the other four tracks later on.
But a good starting place is to gain some clarity on this venue's importance in the overall landscape of the game of golf.
Knowing that PGA National is the home of the Professional Golfers' Association of America helps you understand the magnitude and significance that the resort in Palm Beach Gardens holds.
The PGA of America is the organization that is responsible for hosting the PGA Championship, although that is just among their priorities as one of the leading governing bodies in the sport.
Helping grow and evolve the game yet protect and honor the integrity behind it is one of the balancing acts the PGA of America has grown so accustomed to handling superbly.
When the Champion Course was being built in 1980, there was no doubt as to whether or not this golf course would be in line to host prestigious golf tournaments. It wasn't a matter of if; it was just a matter of when and which event would come first.
Renowned course architect Tom Fazio and his uncle George were the two men brought in to create the layout that would serve as the flagship course of the property. This meant that no stones would be left unturned, and nothing would be left to chance.
For more on what the two men would create and who would later come along for a revamp, let's transition into a thorough explanation of the golf course.
Diving into One of Florida's Top Public Golf Courses
On the scorecard of the Champion Course at PGA National, you'll see a course rating of 75.2 and a slope of 148. Anyone who knows what that means understands right off the bat that this track is no bargain.
But let us be the bearer of bad news, because those numbers don't even do this track proper justice. It's actually much harder than that, if you can imagine.
Not only do the fairways and greens undulate severely in different directions, but the steady Florida winds coming in off the Atlantic coast never seem to fade away.
Target golf is hard enough when playing in pristine conditions. Now throw in a swirling wind that reaches as much as 20-25 mph daily and imagine trying to get the ball close on your approach shots.
This golf course was always going to be tough. It was specifically created with that thought in mind.
And when Jack Nicklaus was asked to redesign the golf course in 2002, he came in with the sole purpose of making it a "better" golf course overall.
This didn't just mean trying to make it tougher, but really meant making certain aspects of the track more playable for the average competitor.
The Golden Bear would do a lot more than just amend a couple of holes and beautify the property.
Jack had to reshape multiple fairways, which meant draining out moisture all over the terrain. He recontoured the greens to make them more universally acceptable, although they are by no means any easier than they previously were.
What Jack is most knowingly attached to PGA National's Champion Course for is the work he did with holes 15-17, and we promise to touch on each of them individually in a moment.
But a little more about the general motif of Nicklaus's Palm Beach Gardens oasis first.
The theme of the Champion Course is fairly straightforward, although it doesn't make prospering around this place any simpler. This isn't the style of course that has a ton of blind shots. Most of the holes won't trick a player into not comprehending the ideal strategy.
What makes this golf course so challenging is finding a way to execute the shots properly time and time again. What is required to sustain success around here is a whole lot easier said than done, and that's been evidenced at the Honda Classic year after year.
It's the accuracy and unwavering consistency needed with your ball striking that can sometimes go unnoticed. Playing in steady wind like players experience at the Champion Course means even the slightest mis-hits will be exaggerated.
In a nutshell, any player who isn't hitting quality golf shots is going to get exposed at PGA National. You can't fake your way around here, especially coming down the stretch.
We are talking explicitly about holes 15-17 at PGA National, as we have already alluded to them being famously known as "The Bear Trap."
Describing the Infamous Bear Trap
The penultimate three holes at the Champion Course are not "birdie holes," and that's not going to change anytime soon.
This is how Jack himself matter-of-factly put it.
"I don't care if they make golf balls that go for a thousand yards. The Bear Trap will stand the test of time no matter what the equipment is."
Robert Allenby made it clear what he thought of the hole with this quote.
"On Sunday when the pin is in the back right on No. 17, this is the hardest hole we play on TOUR."
If you aren't shaking in your boots by now after hearing these quotes regarding the treacherous three-hole stretch, just press play below, and then think again.
You can hear pros like Rory McIlroy and Henrik Stenson express the trouble that can be found on these closing holes. Allow us to talk about each one profoundly so that you don't leave here wondering just how brutal they can play.
15th Hole
The par-3 15th can play as short as about 165 yards when the flag is tucked in the front portion but can extend to more than 190 yards when the back of the green is utilized for a pin location.
But you can go ahead and throw those numbers out the window because this hole plays into a prevailing wind that forces players to hit some sort of "three-quarter knockdown" to avoid seeing their ball balloon into the Florida skyline.
Picking a club here is one of the distinct challenges because the type of shot you decide to play will dictate which club is most appropriate.
No matter what conclusion a player comes to, they most certainly cannot bail out to the right. Anything pushed even slightly will likely wind up in the drink.
Birdies are tough to come by, but bogies and doubles are looming for even the highest-ranked professionals who try their hand at #15.
16th Hole
The Bear Trap consists of bookend par 3s that are sandwiched around a ruthless par 4. That callous golf hole is the 16th, and players who aren't careful can make an absolute mess here.
Quite frankly, many find this hole to be tougher than either par 3 in the Bear Trap, simply because it requires two well-struck shots as opposed to just one. The 434-yard par 4 appears straightaway from the tee but severely bends to the right at the kink in the fairway.
The problem is, there is really nowhere to bail out here.
A golfer must find the fairway if he or she plans on reaching the putting surface in regulation because the approach shot is all carry over water.
Thick rough and bunkers on each side of the fairway prevent players from whaling away with their drivers, which is why we see players in the Honda Classic habitually clubbing down to a fairway metal or even a long iron.
Finding the short grass is the premium and really the only way to give yourself a legitimate look at birdie. Everything kicks right and toward the water, not to mention the wind doesn't offer much assistance in your favor.
A couple of great swings, and you can be on your way to a routine par. Anything less than that, and good luck with the final tally!
17th Hole
Robert Allenby already told you that he thought the Sunday back-right pin makes this the toughest hole on the PGA Tour.
What else can humble golf writers say to properly describe this hole better than that?
At around 190-200 yards, the 17th at PGA National's Champion Course is all the par 3 you'll ever want. When the pin is back right and the wind is up, forget it.
One of the things that makes this hole so hard to make a score on is that the bailout area isn't really a bailout area at all.
Obviously, missing short or right is a disaster and means you are re-teeing from the box. But anything long or left is far from a guaranteed up and down. It's actually almost a certain bogey.
The only way to correctly play this hole is to hit a brilliant iron shot and hope that you guessed right as far as the wind goes. Anyone who makes a deuce here can confidently know they are picking up more than a stroke and a half on the field.
The 17th played to a stroke average of 3.533 during the 2018 Honda Classic, with a whopping 30% of the field recording a bogey or worse here.
Being that we keep citing the Honda Classic, let's segue right into the acclaimed event that is held at PGA National each and every year.
The Honda Classic
Ever since 2007, the PGA Tour's Honda Classic has taken place at the Champion Course at PGA National. Not every player likes coming to the stop in Palm Beach Gardens because this track is known to eat players up and spit out the remaining pieces.
It's just a really hard golf course that not every golfer is cut out to have success at.
Just look back at the 2018 edition, and you'll see what we are talking about.
The cut fell at 5 over par, and 4 under par earned you a top-5 finish. Six players failed to break 80 during Friday's second round, and poor Smylie Kaufman fired 83-80. The former LSU golfer had to actually examine himself in the mirror and make sure he was still a professional golfer.
And 2018 wasn't the only year that players struggled to make lots of birdies at the Honda Classic.
Rather than keep you guessing at what it truly takes to win this golf tournament year in and year out, just have a look for yourself.
Honda Classic Results Since Permanent Move to PGA National's Champion Course
Year
Winner
Winning Score (in relation to par)
2007
Mark Wilson
-5
2008
Ernie Els
-6
2009
Y.E. Yang
-9
2010
Camilo Villegas
-13
2011
Rory Sabbatini
-9
2012
Rory McIlroy
-12
2013
Michael Thompson
-9
2014
Russell Henley
-8
2015
Padraig Harrington
-6
2016
Adam Scott
-9
2017
Rickie Fowler
-12
2018
Justin Thomas
-8
As you can plainly see, this isn't exactly the John Deere Classic or the Desert Classic played in La Quinta, California.
You aren't going to see guys getting to 20 under at PGA National. It just doesn't happen.
Justin Thomas took home the handsome $1.188 million check that was awarded to the victorious golfer in 2018, so there is no need to worry about the health or the status of this particular golf tournament.
Ever since it switched over to PGA National for good, the event has seen its player pool blossom into one of the top fields in golf for a non-major or non-WGC event.
Before 2007, the Honda Classic had used a variety of host courses in the state of Florida since it was installed as a PGA Tour event in 1972. And it didn't always draw in the world's best players. Have a glance at all the venues used over the years.
| | | |
| --- | --- | --- |
| Year(s) Hosted | Course | Location |
| 1972-1983 | Inverrary Country Club | Lauderhill, FL |
| 1984-1991 | TPC Eagle Trace | Coral Springs, FL |
| 1992-1995 | Weston Hills Golf and CC | Weston, FL |
| 1996 | TPC Eagle Trace | Coral Springs, FL |
| 1997-2002 | TPC at Heron Bay | Coral Springs |
| 2003-2006 | Country Club at Mirasol | Palm Beach Gardens |
| 2007-Current | PGA National Champion Course | Palm Beach Gardens |
Played in February as part of the "Florida Swing," the Honda Classic is an event that takes a lot of skill and a lot of heart to win. Anyone who can withstand the windy conditions and brutal setup deserves to be recognized as a worthy champion, and they rightfully are.
Honda has been the title sponsor here since 1982, one of the longest-standing relationships in the game of golf. And we don't expect to see the affiliation between the PGA Tour and the well-known automobile manufacturer to end anytime soon.
Because "if it ain't broke, don't fix it!"
The 1983 Ryder Cup – USA Edges Out Europe
The 1983 Ryder Cup was the first major golf tournament held at the Champion Course. And if the PGA of America was hoping to unveil their newest masterpiece in a big way, boy, did they achieve their goal.
At age 43, Jack Nicklaus served as the non-playing captain of the American team, while British counterpart Tony Jacklin had the same role for Team Europe.
Each squad had four rookies and a host of accomplished players, so this would come down to simply who played the best golf over the course of the three days. And talk about an evenly-contested competition – this thing was never separated by more than a point for the entirety of the event.
In fact, after the team format had been completed on Friday and Saturday, the two teams found themselves knotted at 8 points apiece, leaving everything up for grabs during the Sunday singles session.
And although the first match on Sunday between Fuzzy Zoeller and Seve Ballesteros wound up in a "halve," it was a shot that Seve hit on the 18th hole that will go down as possibly the greatest shot we never got to see.
And we aren't just blowing smoke up your you know what. We mean that legitimately.
Due to this match being the first one out, the cameras didn't get there in time to record the action. But it didn't stop Jack Nicklaus from stating that it was the best shot he ever saw. Listen to Seve's caddie Nick De Paul narrate what transpired, and you'll have a firmer grasp on what we are trying to describe.
After losing a 4-up lead with seven holes to play, Ballesteros and Zoeller walked onto the 18th hole all square in their match. And after pumping a drive down the middle, Fuzzy was in "go-zone" for his second shot.
But after Seve duck-hooked his drive and basically topped his second shot into the lip of a bunker some 250 yards away from the green, Fuzzy opted to lay up and ensure he would make a par. And that's when Seve did the unthinkable.
He grabbed his 3-wood and proceeded to hoist a shot over the six-foot lip in front of his ball and carry it about 245 yards and onto the front of the green. And remember, folks, this was with an old-school fairway wood that was actually made out of wood, not the "souped-up" 3 metals that players play with nowadays.
Seve cozied his fourth to about six feet, and the pressure was back on Zoeller. After Fuzzy wedged it to ten feet and missed his birdie putt, Seve drained his six-footer for par and solidified the half point for his team.
As great of a memory as this was for the European, we can assure you he would have traded it all for a victory in the 1983 Ryder Cup.
That honor would belong to the Americans, as they triumphed 14.5 – 13.5 after Tom Watson closed out the 12th and final match 2&1 over Bernard Gallacher. This was an especially significant victory for Team USA because it marked the end of their historic run "owning the Europeans" in Ryder Cup play.
Maybe it was that shot struck by Seve that spurred on what came next, because the Euros won the next three cups and have been the much more productive group ever since.
The 1987 PGA Championship – Just Two Men Break Par
Not only were the temperatures sweltering during the 1987 PGA Championship at PGA National, but the gales were up as well.
Talk about a tough day – Sunday's final round was played in a climate that reached 97 degrees Fahrenheit, a record-high temperature at the time for August 9th in the state of Florida.
Perhaps this is the reason why we haven't seen a major championship held in the Sunshine State since.
You trying playing a major championship under these conditions and see how you do. Chances are you wouldn't fare too well, and neither did many of the game's top players.
Jack Nicklaus finished 8 over par and in a tie for 24th, while two-time PGA Champions Dave Stockton and Lee Trevino failed to even qualify for play over the weekend.
The cut landed at 151 (+7), just to give you some perspective on how demanding the Champion Course played. And as tough as the course played all week long, nothing was as grueling as competing on that final day of the tournament.
Through 54 holes, Mark McCumber and D.A. Weibring shared the lead at -4, while Raymond Floyd and Bobby Wadkins were lurking one shot back. Interestingly enough, tied for 5th with Seve Ballesteros at 2 under par and 2 strokes off the lead was Bobby's older brother Lanny.
And in fact, it was Lanny Wadkins who completed the 72 holes in red figures, joined only by Larry Nelson. After matching each other with 287 totals, the two were off to a sudden-death playoff where it would come down to a test of mental fortitude.
Nelson calmed his nerves and holed his six-footer for par, but Lanny crumbled under the pressure and whiffed on his four-foot par attempt. Just like that, Larry Nelson had won his third major championship and his second Wanamaker Trophy.
And here's a fun fact about this golf tournament. This was the most recent time the PGA Championship was played without a seven-figure purse attached to it. And I can assure you it will be the last.
A Closer Look at the Resort as a Whole
It's not all about the Champion Course at PGA National. There happen to be four additional tracks on the property, and we'd like to unveil them right now.
They might not be as esteemed as the Champion Course, and we can assure you they won't be as perilous to your handicap. But they do represent a wonderful blend of resort courses to mix in with your visit to PGA National!
The Fazio
The initial course on the property wasn't actually the Champion Course – it was the Haig Course. Opened on March 4th, 1980, the Haig Course was designed by George and Tom Fazio and named after Walter Hagen.
But after a renovation by Tommy Fazio in 2012, the course's name was aptly changed to the "Fazio Course." Just to avoid confusion, Tommy Fazio is actually the nephew of the celebrated architect Tom Fazio and the son of Jim Fazio.
Tommy's main concern was being able to challenge the low-handicap players while simultaneously offering a pleasant layout for those less-experienced players.
That explains the eight sets of tee markers that can be utilized here.
The Squire
Unveiled just a couple of weeks before the Champion Course in the fall of 1981, the Squire Course is a par-72 track that honors Gene Sarazen, the legendary golfer ("The Squire" was Sarazen's nickname).
The course measures just 6,447 yards from the tips but challenges players by making them think their way around the golf course. Sharp doglegs and lots of water forces players to lay back off several tees, and those who are accurate and consistent are the ones who get rewarded.
When playing the Squire Course, you'll notice that a large wilderness preserve runs along left side of this hole. Don't go searching in there for any balls, because you may not like what you encounter!
The Palmer
Depending on who you ask, the Palmer Course may be the easiest among the collection of PGA National tracks. That's mainly because there is less trouble off the tee, as the generously-sized fairways are inviting for even a mid-to-high handicapper.
The Arnold Palmer-designed golf course commenced for play in 1984, and it's been a "crowd-pleaser" ever since. The 18th hole at the Palmer Course is a stunning par 5 that clocks in at 601 yards from the Black tees, and there is enough water here for the Navy Seals to train their divers.
The green is protected by a bunker left of the green, plus another sand trap that collects any ball that trickles over the back of the putting surface.
You may need an extra ball to play this hole, and you'll certainly want to have a camera!
The Estates
Last but not least, the Estates Course. Formerly known as Stonewall Golf Club when it opened in 1984, the Estates Course joined the PGA National rotation at the end of the 1988 summer.
Situated about five miles west of the other properties, the tee shots here are among the simplest you'll find at any of the resort's venues. But don't let that fool you into thinking a "90-100 shooter" will have an easy time getting his or her ball in the hole.
The are multiple holes that give players no choice other than to carry hazards with their approach shots, as it's awfully difficult to run a ball through a lake or bunker with an elevated lip.
Karl Litten has built a number of courses throughout the state of Florida, but you'll be hard-pressed to find one that is more fun to play than the Estates Course.
Other Resort Amenities
Are you looking to book a golf vacation? Are you searching for a blend of great golf courses with plenty of stuff to do post-round in a place that also has great weather?
Stop right now because your answer is staring you in the face.
We just finished telling you about all your options to tee it up, so now it's time to brief you on what else you can take part in while staying at the Palm Beach Gardens oasis.
The opportunities at The Spa are endless, so you may want to set aside an afternoon to pamper yourself.
By the time you are done with golf and a massage, you'll have worked up an appetite worthy of dining at Ironwood Steak and Seafood. There, you will be treated to top-notch service and an exquisite menu that features fish caught earlier that morning and a 32 oz bone-in tomahawk rib eye steak.
We're getting hungry just thinking about it.
If you'd rather not spend an arm and a leg for your meal, opt for a lighter bite at the iBar or the iTruck, or even just order food right to your room!
Case in point – spending time at PGA National means it's time to indulge in all the things you love!
A Few Final Remarks
PGA Tour-quality course on-site – check.
Multiple courses for the public to play – check.
A picturesque hotel with boundless ways to have fun – check.
PGA National in Palm Beach Gardens is a first-class resort that really should be visited by all avid golfers. The Champion Course is distinguished, as it is the host of the Honda Classic, mostly because of how fantastic of a track it is.
It's tough, it's scenic, and you'll love every minute of it.
You could spend five days at PGA National Resort and Spa and never leave the property once.
If you are fortunate enough to wind up there, just make sure you don't leave without teeing it up at the Champion Course. Not only will you not be disappointed, but you'll be forever grateful.
May
Sportsbook of the Month

Sign up Bonus
60% Up To $1,000
READ REVIEW
Visit Site
X