Pebble Beach Golf Links – A True Gem of a Golf Course
Close your eyes and take a deep breath. Now think of the most recognizable golf course in America. What name popped into your head first?
Chances are that you uttered "Pebble Beach." If you did, you are in the majority because that's exactly the track that came to our minds first as well. There is a lot of material out on the internet about Pebble Beach, but there wasn't a guide that had it all organized into one place.
Until now.
Our golf experts who have studied and played Pebble Beach Golf Links multiple times are here to break down the most beautiful venue on the PGA Tour schedule. It's been the home of the AT&T Pebble Beach Pro-Am for over 70 years, and we intend on making sure you know all about the tournament's history and most unforgettable moments.
This page would be severely incomplete if we left out the five instances that the U.S. Open has been contested at the luxurious property hidden beneath the Del Monte Forest.
Once you see the highlights and consider the implications from past U.S. Opens at Pebble, you'll understand exactly why we dedicated such a significant portion of this guide to reliving those moments.
If you weren't around or were not yet a fan of golf the last time a Major Championship was held at Pebble, you happen to be in luck. Not only has the USGA announced that the 2027 National Championship will be played at the iconic course in Monterey, but so will the 2019 championship.
If you plan on attending the 2019 U.S. Open at Pebble, you'll thoroughly enjoy our section that unlocks some tips and advice for your future travels.
Begin by taking a quick peek at some basic facts about Pebble Beach Golf Links. After that, transition right into the good stuff!
Pebble Beach Golf Links – Key Facts
Location

Pebble Beach, California

Year Opened

1919

Owner/Operated By

Pebble Beach Company (public golf course)

Course Designer

Jack Neville, Douglas Grant

Par

72 (71 during the 2000 and 2010 U.S. Open)

Yardage

7,040 (2010 U.S. Open yardage)

Host To

AT&T Pebble Beach Pro-Am (1947- Current), U.S. Open (1972, 1982, 1992, 2000, 2010, 2019, 2027), 1977 PGA Championship

Official Website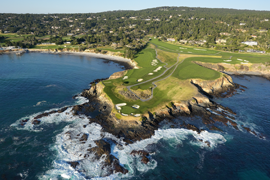 The Roots of Pebble Beach Golf Links
Before we get into all the details and features about the 7th-ranked golf course in America, we want to give you the background story of how the golf course came to be in the first place.
That means we must introduce Samuel Morse, who at the time of the opening was the Duke of Del Monte. He is the man responsible for developing the land at Pebble Beach, but it's two amateur golfers who are credited with designing the actual golf course.
Enter Jack Neville and Douglas Grant, two talented players who had the visions to create a masterpiece on the Monterey Peninsula grounds that were managed by Morse.
These were not random choices by Morse, as both Neville and Grant had a knack for winning golf tournaments in the area. Jack had already won a pair of California State Amateur titles, while Grant was victorious at the Pacific Coast Amateur and a three-time medalist (1917-1919) at the California Am.
The fruition of the golf course was realized on February 22, 1919. Five days later, Morse created the Del Monte Properties Company by purchasing a number of properties in the vicinity, including Hotel Del Monte and the Del Monte Lodge.
He now was in charge of around 18,000 acres on the peninsula, including the Del Monte Forest.
In 1977, eight years after Samuel Morse had passed, the Del Monte Properties Company was transformed into Pebble Beach Company, which was then sold to Twentieth Century Fox.
Just 11 years later in 1990, a wealthy Japanese businessman and avid golfer named Minuro Isutani decided to purchase the company, but then he turned around and sold it two years later.
By 1999, a group of investors led by Arnold Palmer and Clint Eastwood were a bit fed up with all the movement. They, along with Peter Ueberroth, Richard Ferris, and a couple others decided that the corporation needed to be controlled once and for all. They wanted to make sure that the Pebble Beach Company was never sold again.
Fast forward to today, and business has flourished for the number-one-ranked public golf course in America. Unsurprisingly, there has been no new ownership since 1999, meaning the property is still being managed by the Pebble Beach Company and its now 1,500+ employees.
Like the saying goes, "If it ain't broke, don't fix it."
Unveiling Pebble Beach Golf Links
Imagine building a golf course in the perfect location – an area of land nestled into the Monterey Peninsula that borders the Pacific Ocean. Now imagine carving holes out of the beachy landscape in a way that makes the vegetation on the cliffs protrude onto and around the course.
If you can picture all of that, you at least have an initial idea of how Pebble Beach Golf Links was constructed. To truly understand how vivid the scenery is, you have to experience it for yourself.
However, in the meantime, we can at least give you some concentrated descriptions that can hold you over for the time being until you make it there in person.
For example, the putting surface on the par-5 14th hole is about as diabolical of a green as you'll encounter playing golf in the entire country. The seven-hole stretch from 4-10 will be the most remarkable two hours of golf you'll play because it's just one strikingly picturesque hole after another.
Most golf courses would love to be recognized for having one signature hole. The problem at Pebble Beach is that there isn't one signature hole – there are about four or five.
Depending on who you ask, you might hear different stories about what the most famous holes at Pebble Beach are.
What absolutely nobody will argue is that you will not find a better set of a back-to-back par 3 and par 4 than the 7th and 8th holes at Pebble.
The 7th Hole
Forget about looking at the scorecard on this hole, because the 109 yards you'll see marked down doesn't do the 7th hole at Pebble the justice it deserves. It's impossible to play this hole and not get caught staring off into the depths of the Pacific Ocean, wondering how a place this flawless came to be.
We used to hear stories of the wind being so strong off the coast that players had to hit punch 4-irons from the 100-yard tee box. But they were hard to believe without seeing any evidence.
Then we saw these clips of PGA Tour Players chipping 5-irons from about 105 yards away as the gales came pounding in on the players' faces.
There are longer par 3s in the world, and there are certainly harder ones. As far as a more breathtakingly gorgeous setting for a par 3 goes, that's where the 7th at Pebble comes in.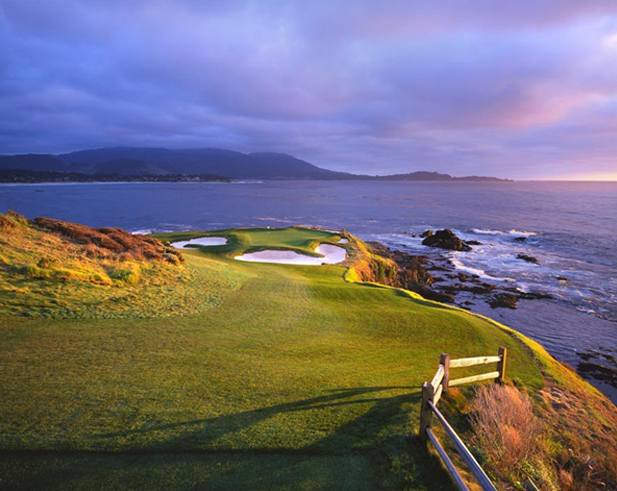 It's a picture-taking paradise that just happens to have one of the coolest 100-yard shots you'll ever hit.
The 8th Hole
Once you walk off the putting surface at the 7th hole, you embark on quite possibly the greatest par 4 in all of golf. That's a very bold statement, but that's how acclaimed the 428-yard 8th hole at Pebble Beach Golf Links has become.
The tee shot is hit from a small tee box that forces players to shoot towards a blind landing area, one that falls off a cliff and down to the beach.
Tour pros need to leave the headcovers on their drivers as the fairway cuts off abruptly at about the 250-yard mark. The approach shot at the 8th hole is said to be Jack Nicklaus's favorite second shot in all of golf.
If you position your tee shot correctly, you will be hitting a shot from around the 180-200-yard range, straight downhill to a smallish green protected by four large greenside bunkers.
Wayward approaches will hope to find the sand traps or sticky grass, or else their ball will be down on the beach being chased by the neighborhood dogs casually strolling around in their backyard.
The 9th and 10th holes continue the theme, running straight along the Pacific coastline, bringing the cliffs and gorse bushes into play throughout the entirety of the holes. Frankly, the entire back nine is full of beautiful golf holes and tough tests, but it's all just intended to set the stage for the finish.
If the 7th and 8th are a pair of consecutive holes that get your blood flowing, good luck containing your excitement and emotions as you walk onto the 17th tee.
17th Hole
It's hard enough to have one of the most well-known par 3s on site, but it's even more dramatic when you have two. The 17th hole at Pebble Beach has been home to some of the most re-played and most talked about shots ever struck in Major Championships.
We're going to showcase some of these electrifying moments, but that's for a separate segment down below.
The 17th hole at Pebble faces directly into the Pacific Ocean, with sunlight and clouds casting shadows across the hour-glassed-shaped green. The tip of the green juts so far out into the Ocean that you actually feel as though you are standing above the water.
You'll need to keep your emotions in check because the feeling gets even more magnified when you step out onto the 18th tee.
18th Hole
We know that saying things like "the most famous par 3" or "the most famous par 4" is probably getting a bit redundant, but there is really no other way to put into words how distinct and recognizable some of these holes at Pebble Beach are.
With everything that's been said about the aforementioned holes, it's hard to imagine that there's one more popular and acclaimed: the 18th.
The 543 yards on the card won't intimidate the bombers or even the low handicap players, but once they peg their ball in their ground and look up, the fear is immediately instilled. When we say this dogleg left par 5 is guarded by the incoming waves from the Pacific, we mean it as literally as can be.
On a clear day, you'll actually see and feel the mist from the waves' crests if you just walk along the left side of the fairway. Players can actually play their ball from the beach if the situation presents itself, just like it did for Jason Day during the final round of the 2018 AT&T Pebble Beach Pro-Am.
There's never any shortage of drama at the 18th hole, especially come tournament time. Speaking of tournament time, let's segue into the annual stop that the PGA Tour makes in February each and every year.
The AT&T Pebble Beach Pro-Am
There are several long-withstanding tournaments on the PGA Tour. However, none have the pedigree that the AT&T Pebble Beach Pro-Am has. Inaugurated in 1937, the Pebble Beach Pro-Am has utilized a handful of courses as host sites for their event.
Pebble Beach Golf Links has been used in the course rotation since 1947 and has been used as the home of the 4th and final round every year.
Due to how much history and awesome memories we have from this tournament, it wouldn't be appropriate to just summarize it all into a few short paragraphs. We decided to do one better and create an all-inclusive catalog of the AT&T Pebble Beach Pro-Am.
We want to tell you about Phil Mickelson winning 4 times, and we want to show you what Tiger did here in 2000 when he was rewriting history every time he teed it up in a golf tournament.
We also want to cover fun parts of the tournament like when Bill Murray used colorful attire and playful banter with the spectators to draw in hordes of people.
Simply put, this golf tournament is like no other on the PGA Tour schedule, and we don't expect anything about that to change anytime soon. Don't miss out on any of the juicy details; check it out for yourself!
United States Opens Played at Pebble
To be fair, the U.S. Opens at Pebble are worthy of having their own individual page as well. Instead, we are going to sift out the best highlights and bring them to you right here. The most logical thing is to go in chronological order, so that's exactly what we do below.
1972
It's hard to forget the first time the USGA brought their National Championship to the stunning venue burrowed between the Del Monte Forest and Carmel Bay. What better way to open Major Championship golf at Pebble Beach than with a Jack Nicklaus victory?
The conditions on the first day were blustery to say the least, as no man broke 71. A few more scoring opportunities opened up during Friday's second round of play, but when it was all said and done, nobody was under par.
Nicklaus and five others were knotted at even-par 144, and the cut was set at +10.
Jack continued to set the pace after his Saturday 72 earned him a one-shot lead heading into Sunday. Given that Jack had already won 10 Majors up to this point, rather than being nervous, the Golden Bear was eagerly awaiting his opportunity to add an 11th to his resume.
The 1-iron Jack swatted on the 71st hole of the 1972 U.S. Open is still widely considered one of the greatest iron shots ever played, and it's what gave him the insurance he needed heading up the par-5 18th.
As you can probably guess, a few minutes later, Jack won his 3rd U.S. Open, a total he wasn't finished adding to just yet.
1982
The 1982 U.S. Open was looking like it was going to be the site of Jack's 5th U.S. Open trophy, until a 32-year-old guy from Kansas City had something to say about it. See, Jack was already in the clubhouse, smiling after shooting a sizzling 69 to post 284, a total of 4 under par.
Tom Watson was tied with Jack but was in a precarious position in the gnarly rough just left of the 17th green. He needed to somehow get up and down for par to keep his hopes and dreams alive of winning the coveted Championship that had alluded him his entire career up until this point.
That's when Watson hit the chip shot heard around the world. Legend has it that Tom actually told his caddie, Bruce Edwards, seconds before he struck the chip that he was planning on sinking it. He told him he was going to win the golf tournament.
The Stanford alum and resident of Stillwell, Kansas, would go on to birdie the final hole, capturing the sought-after hardware and the title of "1982 U.S. Open champ."
It had been 10 years since Nicklaus hit that famous 1-iron in '72. Thankfully, Watson gave the fans something to cheer about once again.
In fact, it would be exactly another 10 years until the USGA was back and players had another shot at glory.
1992
Perhaps the third time was a charm. After dealing with spells of a torrential downpour and harsh winds during the first two U.S. Opens at Pebble, the 1992 tournament offered blue skies and warm temperatures, at least for the first two days.
Oklahoman Gil Morgan raced out to an early 3-shot lead after opening with 66-69, reaching 9 under par through 2 rounds. Incidentally, Gil actually got it as low as 12 under par for the tournament when he birdied the 7th hole on Friday.
So what the heck happened over the weekend? Because Gil finished the tournament at +5 in a tie for 13th. How did he lose 17 shots over the next 29 holes?
What happened was that Morgan caught a case of the double bogeys, otherwise known as "U.S. Open pressure," and folded like a cheap suit. The beneficiary of his Saturday and Sunday struggles was a former Texas Longhorn by the name of Tom Kite.
Kite's extremely steady play over the weekend's slick conditions was enough for the 1989 PGA Tour Player of the Year. Tom would finish his career with this title as his lone Major, but we don't think Kite is losing much sleep over it.
When you win a United States Open at Pebble Beach and join the likes of Jack Nicklaus and Tom Watson, things could be a lot worse.
As for the next man that added his name to that elusive group of Pebble Beach U.S. Open winners…
2000
The 2000 U.S. Open at Pebble was held from June 15-18th, and it's arguably the single most dominant performance in the history of the sport.
Phil Mickelson said in a press conference at the 2018 PLAYERS Championship that the 2000 U.S. Open wasn't arguably the single greatest performance in golf; he flat-out said that it was. When you take everything into account, it's kind of hard to argue against it.
For the first time, Pebble converted the 2nd hole into a par 4, thus turning the par-72 layout into a par 71. One less birdie opportunity meant the field was in for a tough week, and every single participant other than Tiger Woods proved that theory to be true.
Tiger got the party started with a Thursday 65, and he never looked back at the competition. The only time he saw any other golfer in the field was in his rearview mirror because Tiger simply left everyone else in the dust that week. After Friday's 69, his lead had swelled to 6 shots.
It seemed as if Woods was playing a different golf course than everyone else, but that's because he could hit shots that nobody else could.
Like this 7-iron from the deep rough on the par-5 6th.
Just come on, folks. It's a shot that exemplifies Tiger somehow defying odds as he hoisted his ball up and over a massive tree and onto the putting surface within 20 feet of the cup.
By the time players were setting their alarms Saturday night preparing for Sunday's final round, the lead had ballooned to 10! This just wasn't a fair fight, ladies and gentlemen.
Tiger wasn't just winning this golf tournament; he was bludgeoning the golf course while every other competitor faltered and looked like normal human beings.
Rather than coast to victory, Tiger wore his "Sunday Red" and honored his week by playing bogey-free golf. His 67 left him at 12 under par for the week, a mind-boggling 15 shots clear of the field. That field wasn't just a group of good golfers; these were world-class players, the absolute best in the world.
At the time, Tiger became the first man to ever post double digits under par in the 106-year history of the golf tournament. Now you see why Mickelson said what he said.
What Tiger displayed at Pebble in 2000 isn't repeatable, and the golf world will likely never witness something that special again.
2010
When the U.S. Open returned to Pebble Beach in June of 2010, it appeared that Dustin Johnson was on the verge of winning his first Major Championship. The South Carolina product was just a few days shy of celebrating his 26th birthday when he carried a 3-shot lead into the final round.
Unfortunately, DJ was derailed early on when he made a devastating triple-bogey 7 on the second hole. Just like that, his 3-stroke advantage had vanished into thin air, and guys like Woods, Mickelson, and Els were squarely back in the picture.
Conditions were brutal during that final day, with the final three twosomes combining to shoot 23 over par, with no player shooting breaking par. Northern Ireland's Graeme McDowell would be the last man standing when his total of even-par 284 was enough to fend off Frenchman Grégory Havret by a single shot.
This wasn't pretty, and it wasn't the most exciting television, but guess what? Graeme McDowell's name still goes on the U.S. Open Trophy, and it's never coming off.
1977 PGA Championship
Many forget that the 1977 PGA Championship was hosted at Pebble Beach Golf Links, but not Lanny Wadkins. Heading into the last day, none of the attention was on the Wake Forest grad, as Jack Nicklaus was in the final pairing trying to chase down the leader, Gene Littler.
Littler had opened up a 4-shot lead by reaching 10 under par through the first three rounds. The tournament seemed to be in the hands of the former San Diego State Aztec as he reached the back nine holding a 5-shot advantage over the field.
Low and behold, 5 bogies in a 6-hole stretch left the door wide open for Wadkins to slip into a playoff.
After matching with par and birdie on the first two holes of sudden-death, Gene made bogey on the third, while Lanny holed a five-foot par putt to capture the Wanamaker Trophy and his only Major Championship of his career.
2019 and 2027 U.S. Opens Returning to Pebble Beach
So many historical moments at Pebble, so many unforgettable shots hit within the confines of the golf course overlooking Carmel Bay. If you were too young or weren't around when all these magical cases were taking place, there is some fantastic news on the horizon.
The USGA will be hosting the Open at Pebble in both 2019 and 2027, giving all of us golf fans another couple cracks at witnessing history play out up close and personal.
Those of you that would rather play the golf course than watch the tour pros play it, the snippet below is directed to you!
Visiting Monterey Peninsula
You know that Pebble Beach is public, and you know you are itching to get out and play. Here's what you need to know.
The famous and scenic "17-Mile Drive" is where you need to wind up. No matter where you are driving or flying in from, the route into the entrance of Pebble Beach lies within the curvy and sweeping roads of 17-Mile Drive.
As you probably know, Pebble Beach isn't the only world-class golf course in the area. In fact, despite being the 7th-ranked course in all the land, Cypress Point (the 3rd-ranked track) is lurking just across the way. In fact, you can actually see parts of Cypress Point Golf Club from Pebble, and that's not even all.
Monterey Peninsula Country Club, Spyglass Hill, The Links at Spanish Bay, and Poppy Hills Golf Course are all located within the peninsula and within walking distance from each other.
So how does one (not from California) get to this secret area of the Pacific Coast? Fortunately, Monterey has a regional airport just 10-12 minutes from the golf courses, but don't expect to take an international flight here.
If you want to wind up in the hassle-free airport in Monterey Bay, luckily you can find plenty of connectors from some nearby major airports such as Los Angeles (LAX), San Francisco, and Phoenix.
Pebble Beach is about 80 miles south of San Jose and about 240 miles northwest of Santa Barbara. It's the perfect place to vacation and play golf, and it should be on the bucket list for everyone who calls themselves a golf enthusiast.
A Brief Review
There you have it. When it comes to golf courses in America, Pebble Beach Golf Links is as cherished of a place as you can find. It's not just because of how striking the scenery is or because it's situated on the cliffs of the Pacific Ocean.
It's not even because it's where Watson chipped in to beat Jack in '82 or because Tiger throttled the golf world by trumping his opponents by 15 shots in 2000.
Pebble Beach is what it is because of the combination of all of those factors and then some. Our reason for organizing sections and our overall intentions of this guide were focused on one central theme.
We wanted you to arrive at the conclusion feeling like you know a whole lot more about the golf course than you did before you landed on this page. That's why we illustrated the marquee holes, and it's why we covered all the U.S. Opens in detail.
Learning and understanding the significance that Pebble Beach Golf Links has in the world of golf takes time, and it takes research. We did the dirty work, and we hope you enjoyed the outcome.
May
Sportsbook of the Month

Sign up Bonus
60% Up To $1,000
READ REVIEW
Visit Site
X