Oakland Hills Country Club – South Course
Go ahead and search for the top golf courses around the world. You'll find several that have held major championships and belong on the list.
If you keep searching, you'll eventually find a very select collection of venues that have hosted both a major championship and a Ryder Cup.
And then finally, when you continue searching for the most prestigious courses in the United States, you'll eventually come across Oaklands Hills Country Club, notably the South Course.
And then it doesn't get much more prestigious than that.
Designed nearly 100 years ago by famed architect Donald Ross, the South Course at Oakland Hills has been the site of six U.S. Opens and three PGA Championships.
Throw in the Ryder Cup and two U.S. Amateurs that have been contested there, and you are talking about one of the most historical and deeply-rooted tracks we have in the country.
The good news for golf fans like yourself is that the object of this guide is to tell you everything you'd imagine wanting to know about the private country club in Bloomfield Township, Michigan. Anyone who lives in or around Detroit surely already knows how classy Oakland Hills CC is.
Now it's time to give the rest of you a taste.
We'll start by introducing the club and discussing how and why it was opened. Then we'll transition into a detailed description of the layout, and we'll highlight the flagship holes.
Considering how many acclaimed golf tournaments have taken place here, we'll of course make sure to showcase them in individual segments; that way, everything is easy to follow.
Start by taking a peek at the table below so that you can get acquainted with Oakland Hills.
Oakland Hills Country Club – The South Course – Key Facts
Location

Bloomfield Township, Michigan

Year Opened

1918

Owner/Operated By

Private

Course Designer

Donald Ross

Par

72 (played as 70 during major championships)

Yardage

7,445 yards

Host To

U.S. Open (1924, 1937, 1951, 1961, 1985, 1996), PGA Championship (1972, 1979, 2008), 2004 Ryder Cup, U.S. Amateur (2002, 2016)

Official Website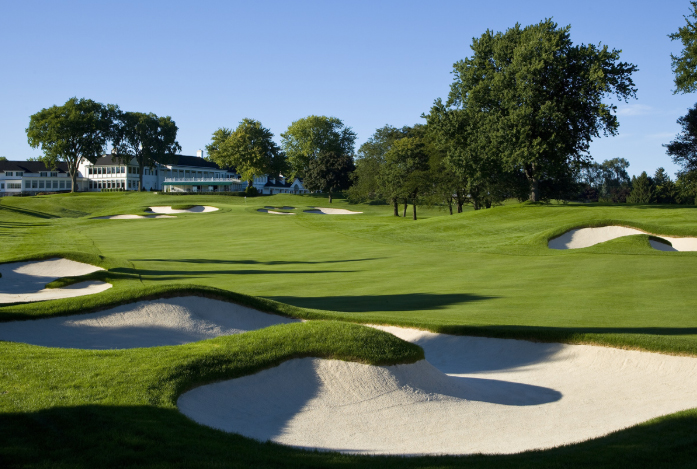 A Country Club Destined for Major Championships
Before we start talking about specifics of the golf course or introduce the major championships that have been hosted here, we want to tell you about the beginnings of Oakland Hills.
The South Course opened in 1918, but you have to go back to 1916 to get the full story.
We can thank Joseph Mack and Norval Hawkins, a pair of high-level execs from Ford Motor Company, as they are the men responsible for getting the initial ball rolling. That initial ball was acquiring 250 acres of land not far from Detroit, just south of Maple Road.
The original plan was to designate 170 of those acres to golf, while the additional 80 acres would be used to develop residential housing. Mack and Hawkins gathered enough people together during an October meeting at the Detroit Athletic Club to put this plan in full motion.
At a rate of $250 each, Mack and Hawkins were able to sell 140 memberships. With that, Oakland Hills Country Club was officially established.
When it came time to build and design the golf course, Donald Ross was hired, proving that their intention was to create something magnificent. The acclaimed course architect was already responsible for producing gems like East Lake Golf Club and Pinehurst #2, so the folks involved with Oakland Hills were in mighty good hands.
They didn't have to twist Donald's arm too hard to get him to buy in, as Ross was quoted saying the following in his book Golf Has Never Failed Me.
"The Lord intended this for a golf course. I rarely find a piece of property so well-suited for a golf course."
When the course was finished and finally opened up for play, Mack served as the club president. Bringing in a golf phenom like Walter Hagen to act as the club's head professional was a wise move, as it expedited the popularity and interest in the country club almost immediately.
By 1922, Ross started working on a second course, which would be aptly named the North Course. That same year, Howard Crane built a massive clubhouse at the extreme cost of $650,000.
The only thing left was to start hosting major championships, which would begin occurring by 1924.
We'd like to point out that before the 1924 U.S. Open was played at Oakland Hill's South Course, the esteemed Western Open had already been held there in 1922.
It was more than clear that this venue was suited for the most renowned events around, and that's exactly what started happening on a regular basis.
We'll unveil the most memorable moments from all the majors that have been played here, but not yet.
Now it's time to open your eyes to the South Course and elaborate on its mesmerizing layout.
A Description of the South Course
You know Donald Ross was the genius brain behind sculpting out the 18 holes, but we want to properly justify how pristine this track really is.
For example, how good is the start of the back 9?
Ross said that the 10th and 11th are the greatest back-to-back par 4s he's ever designed, so take that for what it's worth.
The 17th-ranked golf course in America according to Golf Digest was remodeled by Robert Trent Jones in advance of the 1951 U.S. Open, a job that was intended to be carried out by Ross himself.
Unfortunately, Donald passed away in 1948, leaving his masterpiece in the hands of Jones.
What is still common at the South Course and what is generally found at most Donald Ross creations is severely undulating greens that make controlling your putts excruciatingly difficult.
The putting surfaces are designed in a way that makes chipping the ball incredibly challenging as well, as the multiple tiers represent numerous ways to deter you from getting it close.
But it's not just the greens that make Oakland Hills a championship-quality venue.
The property is scenic, it's picturesque, and it's all those lovely adjectives we associate gorgeous landscapes with.
The surrounding land and atmosphere make those playing the South Course not only feel secure but also like nothing else in the world matters. In a nutshell, Oakland Hills is a very special place.
To help illustrate what the actual course looks and feels like, take a look at the signature holes.
9th Hole
Those playing the South Course who were hoping that the front nine finished on an easy note need to adjust to reality.
Because at nearly 260 yards from the tips, the culminating par 3 on the front side is no bargain, to say the least. The putting surface tilts pretty heavily from back to front, and there are four bunkers that safeguard this green.
Those who wind up over the back will have their work cut out for them trying to get up and down, as bogies and doubles will most definitely come into play.
10th Hole
The first hole that Donald Ross designed was number 10, and this fairly straightaway par 4 can be a doozy for players who aren't paying close attention. The fairway slopes from left to right, meaning balls hit up the center of the fairway will do well not to drip down into the rough or fairway bunkers.
This is an example of how hitting the farthest drive doesn't necessarily mean you'll be in the best position. Laying back to around 175 yards from the green will give players the best chance of having a flat lie in the fairway, which in turn gives them the most realistic shot at making a birdie.
11th Hole
The 11th hole isn't the hardest one at the divine gem located in Bloomfield Township, but it might be the prettiest.
At 455 yards from the back tees, the fairway looks like a meandering strip of grass that is protected by sand on either side. A perfect tee ball would be something hit hard that bends from right to left; that way, it can catch the slope and trundle down the fairway. Those who can pull that off will be left with a short to mid iron into what is a very deceptive green.
Ross threw in one of his favorite aspects, a large false front that causes players fits. An approach shot looking good to a front-hole location could spin off the front and wind up some 35 or 40 yards short of the green, so nothing here can be taken for granted.
16th Hole
And now, for the truly "signature hole" of the property.
Check out this short clip below to get a full understanding of how striking this golf hole is.
The key to playing this hole is to be precise.
Not just with your drive, but with your approach shot, your chips, and your putts.
You'll see if you watch the video that the fairway gets narrower and narrower the farther you hit it. Laying back with a long iron or fairway wood seems like a natural play, as the hole is just a shade over 400 yards from where the pros play.
The large pond that comes into play on the right side of the hole is what makes the 16th so demanding, as players have to be aware of it at all times. When the flag is placed on the right-hand side of this green, knocking one close becomes a brutal test.
Unless you are brave enough to hang one over the lake, anything on this putting surface in regulation is more than acceptable.
So you can see some of the challenges that are presented at the South Course, and you should understand why it's such a great candidate to host major championships.
Read along below, and you'll find out that Oakland Hill's legacy and status among the great courses in America is cemented in stone.
Six U.S. Opens at Oakland Hills
You know a bit about the course history, as far as how and why it was opened. We've illustrated the layout and given you tours of the marquee holes.
And while we have alluded to this place being plastered with famous moments and lots of traditions, it's finally time we got into more detail.
Oakland Hills CC has evolved into one of the most illustrious major championship venues you'll ever encounter, and the 6 U.S. Opens that have been held here are a big reason why.
It all started in 1924.
1924
The first U.S. Open played at Oakland Hills lasted just two days. Players played 36 holes of competition on Thursday, June 5th, and finished the tournament on Friday with an additional 36 holes of play.
Most eyes were on the defending champion, Bobby Jones, who was still just a 22-year-old amateur golfer. Once Bobby fired rounds of 73 and 74 on Friday to grab a share of the overnight lead, the eyes locked onto Jones even more.
But while most were focused on what Bobby was doing, a 31-year-old Englishman by the name of Cyril Walker was quietly going about his business. Three consecutive 74s left Walker tied for the lead (with Jones) when the third round had officially ended, meaning it would all come down to the final 18.
And that's where Cyril Walker had his finest moment as a golfer.
Walker's four-round total of 297 finished three shots clear of Jones, and he was able to outlast the entire field. Not only was this Cyril's lone U.S. Open title, but it would mark the only time he finished inside the top 10.
1937
By 1937, the United States Open golf tournament had been stretched out to three days, with the final two rounds taking place on a Saturday. But that didn't stop Ralph Guldahl in the least from winning the first of his back-to-back U.S. Open trophies.
To make this accomplishment even more impressive, consider that Ralph quit golf entirely for stints as a carpenter and a car salesman less than two years prior! But once Guldahl decided to rededicate himself to the game he loved in 1936, there was no turning back.
Ralph began dominating, playing the best golf of his life. And winning the first of his two U.S. Opens at Oakland Hills in 1937 was perhaps his peak. Rounds of 71-69-72-69 left him at 7 under par and two shots ahead of runner-up Sam Snead.
While this tournament belonged to Guldahl, we would like to unveil something that came out of it.
We'd like to note that the Texas native won this event utilizing 19 clubs. This expedited the rule amendment from the United States Golf Association (USGA) the following year deeming that 14 would be the maximum number of clubs that a golfer could carry.
1951
Not much introduction is needed for the winner of the 1951 U.S. Open at the South Course at Oakland Hills CC because it's hard to imagine that anyone reading this page isn't familiar with Ben Hogan and his laundry list of achievements.
Hogan already had two U.S. Opens under his belt, plus a pair of Wanamaker Trophies from winning the PGA Championship back in 1946 and 1948. So when the 1951 Masters Champ arrived in Bloomfield Township less than two months after triumphing at Augusta, you can imagine what he had in mind.
However, winning the U.S. Open in 1951 wouldn't come easy, as the course played tremendously difficult. To help put things in perspective, there wasn't a single sub-par round fired during rounds 1-3, and only two were shot on Saturday afternoon (final round).
The low round of the championship was the 67 authored by Ben during the final round of competition, including rolling in a 15-footer for birdie on the final hole to cap off a two-stroke win.
It's a bit spotty, and it's in black and white, but you can check out the highlights by pressing play below.
1961
Nobody broke par over the course of 72 holes during the 1961 U.S. Open at Oakland Hills, but ask Gene Littler if he really cares.
The San Diego State University alum won 29 times on the PGA Tour, although he was only able to visit the winner's circle at a major championship one single time. That instance came at the South Course in the summer of '61.
After opening with a 73, Gene rebounded nicely with a 68 in Friday's second round. That left him at 1 over par and in a logjam tie with five other players in third place.
It wasn't until Littler birdied the 11th hole during the final round that he grabbed a share of the lead, and when he made another birdie at 13, it was his for good. Once Doug Sanders, the 54-hole leader, didn't birdie the final hole, the monkey was off of Gene's back.
1985
Andy North has made a name for himself as a golf analyst and commentator and is always looked to for his advice and opinions when the U.S. Open rolls around. That's because Andy won two United States Opens during his career, the second one coming in 1985 when he ended the week at 1 under par.
The 1978 National Champion of the USGA wound up winning this particular golf tournament, but it was a man named Chen Tze-chung who took the golf world by storm over the first three rounds of the competition.
The 26-year-old Taiwanese golfer opened with sizzling 65, setting a new course record in the process. This included making the first double eagle in U.S. Open history when he holed out a 3 wood from 256 yards out on the par-5 2nd hole.
After firing a pair of 69s in the second and third rounds respectively, Chen had built up a 2-stroke advantage over Andy. But then it all came undone on the 5th hole of the final round, where Tze-chung suffered a quadruple bogey, highlighted by the infamous double-hit chip shot.
And then he followed that up with 3 more over-par holes.
So despite shooting 74 on Sunday, Andy North had overtaken the lead and wound up hoisting the U.S. Open Trophy for the second time.
1996
The 6th and most recent United States Open contested at Oakland Hill CC's South Course came in 1996, and what a triumph it was for 38-year-old Steve Jones.
When Steve endured a horrendous dirt biking accident in 1991, it was unsure if he'd ever play another golf tournament again. But after 3 grueling years of rehabilitation, Jones came back to the PGA Tour and got his first win back at the '96 U.S. Open.
After stumbling out of the gates with a 74 on Thursday, Jones used rounds of 66-69 on Friday and Saturday to get into the Sunday final pairing where he began trailing Tom Lehman by a single shot.
Davis Love III played brilliantly the last day, but it was spoiled when he bogeyed 17 and then missed a 3-foot par attempt on the 72nd green. Lehman arrived on the last tee box tied with Jones for the lead, but a wayward drive into a fairway bunker proved costly, as he also bogeyed the last.
That would leave Steve as the last man standing, as he made a solid par to close out his round of 69 and post 2-under, 278 for the tournament. His one-shot victory over Lehman and Love III would represent Jones' only major championship of his stellar career.
A Trio of PGA Championships
There had already been four successful United States Opens held at the South Course at Oakland Hills Country Club, and it was time that the PGA of America wanted in.
So in 1972, the PGA Championship was held in Bloomfield Township for the very first time.
1972
Jack Nicklaus entered the 1972 PGA as the overwhelming favorite to capture the Wanamaker Trophy. Considering that the Golden Bear was victorious at the Masters and U.S. Open and finished second at the British Open in 1972, it's quite simple to understand why.
But Jack never got on track during the week and wound up at +7 and in a tie for 13th.
The man who did get it going was South African world-beater Gary Player. The Black Knight was already responsible for winning 5 majors, and he tasted victory for a 6th time at a major just north of Detroit, right here on the South Course.
After positioning himself inside the top 10 after back-to-back 71s, Player blistered the course on Saturday to the tune of a 3-under 67, supplanting 36-hole leader Jerry Heard and vaulting up to the top of the leaderboard.
A 72 in difficult conditions on Sunday, August 6th, was enough to fend off Americans Tommy Aaron and Jim Jamieson by 2 shots. After winning his first PGA Championship in 1962, Player would celebrate 10 years later with his second and final Wanamaker Trophy.
1979
Australian David Graham fired a scorching 65 on Sunday to storm from behind and win his first major title. David shot 65 on Sunday despite recording a disastrous double bogey on the 18th.
His unfortunate final hole allowed Ben Crenshaw to sneak into a playoff after "Gentle Ben" fired his fourth consecutive sub-70 round of the championship. And one would assume that after doubling the 72nd hole, David Graham would be emotional and unable to regain his composure.
Think again.
Apparently, his poor finish didn't startle him at all, because when he needed an 18-footer for par on the first hole of the sudden-death playoff, Graham drained it. On the second hole of the playoff, David was again forced with a must-make putt to extend the playoff, this time from 10 feet.
Again, he holed it.
By the time David made an 8-foot birdie putt on the third playoff hole, it was over. Crenshaw did all he could, but the day clearly belonged to the 33-year-old Aussie.
2008
We saw this once before.
Padraig Harrington and Sergio Garcia had already battled it out down the stretch on Sunday at a major, and it came at Carnoustie at the 2007 Open Championship. Harrington wound up edging out the Spaniard in a four-hole aggregate playoff to win his first major championship.
Then Paddy backed it up by defending his title at the 2008 Open Championship. And just 3 weeks later at Oakland Hills during the 2008 PGA Championship, the Irishman completed the hat trick, winning his third major title.
He'd have to go through Sergio once again, and Harrington clearly had no qualms about the task at hand. Despite bursting out of the gates with a birdie-eagle start, Garcia faded when his approach shot found the water hazard on the 16th.
Harrington would make birdie on 17 and hole an 18-footer on 18 to seal the deal and end all hopes for Garcia.
It seems like a long time ago, but Paddy Harrington won his 3rd major in the span of 13 months. For that, he'll always be remembered, because winning a trio of majors puts you in some pretty rarefied air.
The 2004 Ryder Cup
We want to touch on the 2004 Ryder Cup that was contested in Bloomfield Township, although we can assure you that the Americans who were part of the beatdown would like to forget what transpired.
The Europeans raced out to a 6 ½ – 1 ½ lead after the first day of play and never looked back.
Sergio Garcia and Lee Westwood led the way, accumulating 4.5 points apiece, while Tiger Woods and Phil Mickelson each had disastrous weeks.
For those that don't remember, the 2004 Ryder Cup was when American captain Hal Sutton infamously paired Tiger and Phil together during Friday's four-ball and foursomes sessions – a move that he surely still regrets.
Because after losing both matches on that Friday, the two haven't played alongside one another in a Ryder Cup since.
Team USA member Chris Riley is remembered for telling Hal he was too tired to play Saturday afternoon unless he got to play with Tiger, although Riley later informed Golf Digest and Alex Myers via podcast that that information wasn't entirely accurate.
Apparently, the Tiger and Davis Love III foursomes pairing for Saturday afternoon had already been set in stone well in advance, so Chris was never really in the cards to play that session anyway.
Regardless of what really happened or whose version of the story you believe, Sutton's group got absolutely obliterated by Team Europe, completely demoralizing the Americans before they even arrived at the course on Sunday morning for the singles session.
Chris DiMarco ended the week as the only United States player with a winning record (2-1-1) and led the squad in points (2.5), while Europe boasted 7 players who recorded 2.5 points or more.
This utter drubbing ended in an 18 ½ – 9 ½ margin, and it actually felt like even more of a butt-whooping than that.
A Pair of U.S. Amateurs
It hasn't just been the professional circuits that have utilized the South Course at Oakland Hills to host their most admired golf tournaments.
Being that the USGA had been so fruitful during their times hosting their National Championship in Bloomfield Township, they decided to host the U.S. Amateur there in 2002.
2002
Ricky Barnes was a stud at the University of Arizona during the summer of 2002, and his stellar game was on full display at the United States Amateur at Oakland Hills.
After shooting 68-69 during the stroke play portion, Barnes ousted future PGA Tour members Brett Stegmaier and Daniel Summerhays in the first two rounds of match play, as well as had to defeat Spencer Levin in the quarters.
And who did Ricky have to go through in the semis to reach the final match?
Just some dude named Bill Haas who was the number 1 seed and one of the most decorated amateurs in the country at the time. And after holding off Bill, Barnes defeated Hunter Mahan 2&1 in the Finals of the 2002 U.S. Am.
2016
The U.S. Amateur returned to Bloomfield Township in 2016 for the second time, once again delivering a champion more than worthy of having his named engraved into the Havemeyer Trophy.
Australian Curtis Luck had just celebrated his 20th birthday the week before arriving in Michigan, but the real celebration would come on the 21st of August after he defeated Brad Dalke 6&4 in the 36-hole final match.
Brad actually birdied the first hole after lunch (19th of the match) to take a 1-up lead, but boy, did that disappear quickly.
Luck would win the next 8 holes consecutively, charging out to a 7-up lead by the time he walked onto the 10th tee box, the 28th hole of the match. When Brad couldn't get up and down and save par on the 32nd hole of the day, the white flag was raised, and Dalke had to surrender.
Curtis Luck was the winner of the 2016 U.S. Am and was on his way to Augusta the following April.
Bloomfield Township – A Suburb of Detroit
Many have never heard of the smallish town of Bloomfield Township, but most of you surely know where Detroit, Michigan, is.
Just 24 miles northwest of the Motor City lies a settlement called Bloomfield Township. While the town isn't known for one thing in particular, it is the hometown of several notable personalities.
Robin Williams, the comedian and actor who passed away in 2014, spent a portion of his childhood growing up in the area. So did Mitt Romney, the former Presidential candidate and Governor of Massachusetts.
Aretha Franklin called Bloomfield Hills home, but the surrounding area has a lot more to offer than just a list of famous people who have lived there.
The Cranbrook Institute of Science is one of the coolest natural museums in all of Michigan, and the adjacent Cranbrook Art Museum is nothing to balk at.
But regardless of how many places of interest there are in the vicinity, nothing is more special than Oakland Hills Country Club.
Host of 9 major championships, only Augusta National has hosted more.
Not only is Oakland Hills South Course in elite company, but it has also solidified its place right near the top of the list.
Final Remarks
If you can somehow muster up enough contacts to be able to book a tee time at Oakland Hill CC's South Course, do not pass up the opportunity.
That is a bold order.
Because Donald Ross's exquisite design in Bloomfield Township isn't just your typical private country club that the average golfer will never get to play.
It is the proud host of 9 major championships, 2 U.S. Amateurs, and a Ryder Cup.
Good luck finding another venue that can match those accolades!
May
Sportsbook of the Month

Sign up Bonus
60% Up To $1,000
READ REVIEW
Visit Site
X