A Detailed Guide of the National Golf Links of America
Go ahead and google "National Golf Links of America" and see what you find. Unfortunately, not much is published about the 8th-ranked golf course in the United States.
Unless you are a member of the club, you won't even have access to their official website, let alone be able to sample the course. The point is, finding a legitimate guide to this extremely private golf club in Southampton is really tough.
In terms of an organized article that sheds light on National Golf Links of America (NGLA), there really isn't much. Hence, the creation of the page you landed on.
Our goal is simple. We want to tell you about how and why this course was created, and more importantly, the individuals who are responsible for making it happen.
There are private golf clubs, and then there are "ultra-private" ones. NGLA undoubtedly falls in the latter category. Obtaining a membership to this club is like securing a reservation at The French Laundry near Napa Valley's wine country when calling the night before. It's meant for a "select few" and comes with a steep price.
The good news is that those of you who never get to experience National Golf Links of America don't have to wonder what the place is like anymore.
The prepared sections below will reveal some hidden features that the elite golf club has to offer. We'll tell you about the surrounding area and even cover the two instances when a prestigious golf tournament was contested on the property.
The time for you to finally uncover what all the hoopla about National Golf Links of America is about is right now!
The table you see consists of a few basic facts that will help set the stage for what's to come.
National Golf Links of America – Key Facts
Location

Southampton, NY

Year Opened

1911

Owner/Operated by

Private

Course Designer

Charles B. Macdonald and Seth Raynor

Par

72

Yardage

6,935 yards

Host to

The Walker Cup (1922, 2013)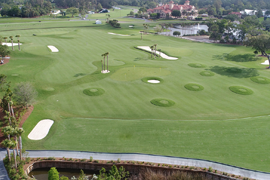 A Quick History Lesson About the Beginning
The beginning of National Golf Links of America dates all the way back to 1904. That is when Charles B. Macdonald made a decision that would change the landscape of golf course design in America forever.
After studying at the University of St. Andrews and learning golf course architecture from Old and Young Tom Morris, Macdonald knew that he had to introduce "British golf" to the States.
After seeing the courses in Scotland, C.B. found that golf courses in America simply lacked character and personality. He was infatuated with the creativity that the terrain of Scottish golf forced players to play with.
It is this same imagination and curiosity that drove Macdonald to take his newfound knowledge to the east coast of America, specifically the Long Island, New York area.
So, back to 1904, the date when C.B. started drawing up his plans to make his dream a reality. His goal was to recreate his favorite holes from the British Isles and somehow manufacture them on US soil.
Luckily for Macdonald, there was a local land surveyor that offered to assist with the oversight of the project. His name was Seth Raynor, and thus the story of the two creating National Golf Links of America was born.
It took a few years of incredibly hard work, but by 1909, the holes began taking shape. By 1911, the NGLA had formally opened. Immediately after the course debuted, authorities in charge of unincorporated land all around the country started pursuing Macdonald and Raynor to seek out their brilliance.
Interestingly enough, Macdonald insisted he wouldn't be paid for any of his work. All he wanted to do was pass on his knowledge to others, like he did for Seth Raynor in this case.
Good luck finding a celebrated golf course architect nowadays that will happily work for free!
In the end, these two men were well ahead of their time and should be considered nothing short of savants. In fact, Seth would go on to become one of the most intricate golf courses designers who's ever lived. Much of that is a direct credit to his apprenticeship under Macdonald.
For more on the construction of the course and its layout, just keep on reading!
Course Interpretation
We had to start by telling you about Charles B. Macdonald's background. This gives you the proper foundation of what his upbringing was like.
National Golf Links of America is built on the picturesque setting of Southampton, New York, right up against the Peconic River. The Long Island Sound lurks just a few miles in the distance.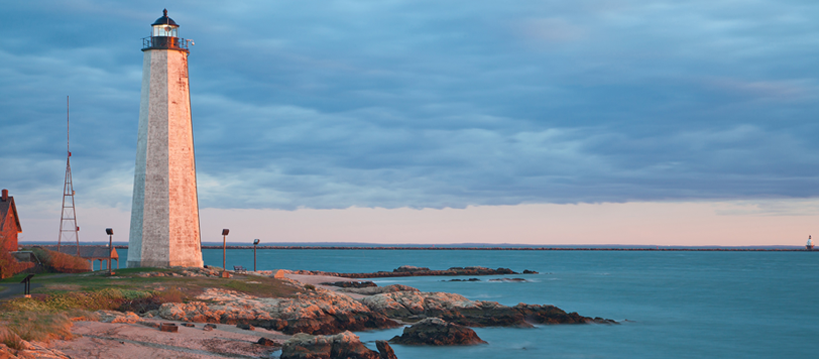 We want you to fully grasp how and why he was able to achieve what he did – and also why he did it.
Before we touch on any of the specific holes, we want to illustrate further what exactly Macdonald was thinking and what kind of features were important to him. We want you to be aware of just how arduous the process was to be able to carry out the vision that C.B. was set on.
For example, more than 10,000 loads of manure and good soil were laid on the land. This came after hordes of bushes were removed and the wet and muddy landscape was ripped up.
To complete the design the way that Macdonald intended, this was all necessary. Although Seth Raynor's role initially was to just oversee the project, he ended up playing a large part in the creation.
For more on what exactly the creation turned out to be, keep reading because that's up next!
Course Features
So, what exactly were Macdonald and Raynor hoping to accomplish with their "British-style" layout? For starters, they wanted to build a course that was playable for golfers of all shapes and sizes. This meant that the 18-hole layout would be suitable for the best professionals in the world and also those recreational players who are far less experienced.
One of the signature ways to allow the versatility of a course to show is by offering "more than one route" to play a hole. Part of what disgusted Macdonald about American courses was that everything was so black and white.
You aim here, you hit it here, you have to carry this bunker, and so on and so forth.
Charles B. wanted to allow players to think their way around the holes and have the opportunity to hit every club in their bag more than once. He wanted a player enjoying the hole just as much on their 100th attempt as they did on their first. There would be no such thing as boring golf. Every stroke had to matter, and every shot had to be unique.
C.B. had gathered that in order to execute his master plan, he had to have the perfect location. What did that mean?
It meant beachy soil or ground that had plenty of sand in it. It meant that the area needed to have a steady influx of wind with no large trees blocking any incoming gusts. He truly needed to find a setting like the one he found on the eastern shores of Long Island.
Take a look at some of the holes from the final product.
Signature Holes
What C.B. Macdonald achieved designing National Golf Links of America was introducing the ideas of certain themes that were prevalent in Scottish golf. Let's take a look at a few of these examples.
The 3rd Hole
The 3rd hole at NGLA is called "Alps," and it's a copycat from the 17th hole at Prestwick Golf Club, the site of the first 10 British Opens. This par 4 is known for players having to hit a blind second shot to a green that is hidden behind "the alps."
Quite literally, the second shot is played to an uphill green that isn't visible from where the players are hitting from. Bunkers lurk short and right for those who aren't precise on this treacherous approach shot.
The 4th Hole
The "Redan" hole at National Golf Links of America was another one that would impersonate a hole that Macdonald fell in love with while overseas. He took the 15th hole at North Berwick and tried to reiterate the design here in Southampton.
We can tell you that a Redan hole means that the putting surface resembles a tabletop that someone lifted up from the front-left corner and just tilted it up slightly.
If you are having trouble picturing it, just check out this short snippet from the 2013 Walker Cup showing C.B. Macdonald biographer George Bahto discussing the exquisitely-designed 4th hole.
The 7th Hole
Most of you are familiar with the "Road Hole" at St. Andrews. You know, the one where players hit drives over the hotel that juts across the right side of the fairway? The one that has the infamous pot bunker in front of the green and a strip of road just steps beyond the putting surface?
It's only one of the most well-known par 4s on the entire planet, so why wouldn't C.B. want to bring it over to his masterpiece in Long Island?
Not only did Macdonald bring elements of the Road Hole to NGLA, but he also didn't take any shortcuts. Save for no hotel intruding over the fairway, this hole sets up very similarly to 17 at St. Andrews.
Around 480 yards from the back tees, this hole is no bargain for even the low-handicap players. Sure, it helps that it plays as a par 5 for members, rather than a brutally long and difficult par 4. There are massive bunkers that players must aim over, mimicking the hotel on 17 at St. Andrews.
A pot bunker is plopped right in front of the green, almost identical to the one in front of the original Road Hole's green. And yes, there is even a road behind the surface to complete the emulation.
Those who appreciate history and tradition will have no choice but to fall in love with the hole that is aptly nicknamed "St. Andrews."
The 13th Hole
C.B. Macdonald was so fond of links golf and St. Andrews in particular that he took another page directly from their book. This time, he would use the 11th hole at St. Andrews and reproduce the par 3 as the 13th hole at National Golf Links.
The "Eden" hole has some very explicit rules that make it comparable to the 11th at St. Andrews. For those that want the details, here is a perfect explanation of what an Eden hole actually means. We're talking replicating bunkers in the same positions, even shaping them the same way.
Also, the green slopes dramatically from back to front, forcing players who go over the green into some very precarious positions.
Many architects have tried to recreate Eden holes all over the world, and sometimes they come out pretty well. However, there isn't much of a debate for which one is the best. That title goes to the 13th at Macdonald and Raynor's cherished design.
As Private as It Gets
We told you about how and why the golf course was built. We elaborated on the thought process behind the creation as well as depicted the flagship holes that have been taken straight from the Scottish Links golf.
We have alluded to this being an ultra-private club, but now it's time to just tell you the flat-out truth.
As Robert Boyle wrote in a piece for Sports Illustrated in the 1960s,
"It's the snootiest golf course in America."
You can define "snootiest" however you like, but the point is, this place is as private and coveted as any golf club in the country.
We can't unveil everything about what it takes to become a member, not because we want to keep the information hidden from you, but quite frankly, because this is information that hasn't been made privy to the public.
What we can tell you is that gaining membership to National Golf Links of America comes by way of an invitation.
We don't know the exact figure of the initiation fee, but we can comment that it is well over $100,000, and quite possibly upwards of $500,000 or more. There is no such thing as "unaccompanied guests," period.
A member can bring a guest along, but the member must be part of the group that tees off.
Despite being on the outside, we did our fair share of digging and came up with a pretty interesting tidbit that we'd like to share. National Golf Links of America is renowned for the "best lunch in golf."
The extravagant meal fit for a king includes crab cakes and beef and kidney pie, as well as shepherd's pie and mac 'n cheese. Yes, seafood lovers, a gorgeous lobster tail is also included.
This over-the-top menu should help clarify the types of folks who are fortunate to have lockers at NGLA. We'd love to share more about what goes on inside the walls of the golf club, but this is about as much information as they have let leak out.
If you had trouble accessing their website, don't worry – your internet is working just fine. The fact that non-members can't peek at their website isn't a mistake. It's by design. It's exactly the way the members like it, and we don't expect this to change anytime soon.
The 1922 Walker Cup
The historical context of this particular Walker Cup is enormous, considering it was the very first one ever played.
After an exchange of letters and conversations between the United States Golf Association (USGA) and the Royal & Ancient (R&A), it was decided that the inaugural competition between the best amateur golfers from America and Great Britain and Ireland would face off in a team competition.
It was decided that National Golf Links of America would be the site where it all went down.
They decided that each team would have eight players, including a playing-captain. In this instance, the captain of the GB & I squad had to be relieved for a substitute. Robert Harris was replaced by Englishman Bernard Darwin, who incidentally went on to win his singles match against the American captain, William C. Fownes Jr.
Speaking of the format, the 1922 edition consisted of 12 total matches. On Monday, August 28, 1922, the first four (36-hole foursome) matches were played, while eight singles matches would ensue the following morning.
Initially, there was no such thing as "halving a match." If players were tied after the 36 holes, they kept playing until a winner was determined.
When the dust finally settled on Tuesday, the team from Great Britain and Ireland had accumulated just 4 of the 12 possible points. Thanks to 2-0 records from Bobby Jones, Francis Ouimet, and Jesse Guilford, the Americans won 8 matches. Just like that, the first-ever Walker Cup Trophy was awarded to the United States.
The 2013 Walker Cup
After hosting the very first Walker Cup in 1922, there were no major golf tournaments at National Golf Links of America for quite some time. You have to fast forward 91 years to the 2013 Walker Cup Match to find the next time a distinguishable golf tournament was hosted at the C.B. Macdonald and Seth Raynor design.
By now, the format had been tweaked. There was a total of 26 points up for grabs, and each team was comprised of 10 players rather than 8. Both foursomes and singles are played each day, with all 20 participants playing during the final singles session.
Thanks to the trio of Alabama Crimson Tide golfers, the USA squad dominated this Walker Cup, winning 17-9.
After narrowly losing the Cup in 2011, American captain Jim Holtgrieve made it his mission to make sure he and his team would not let a repeat performance occur. Holtgrieve had his men prepared from the get-go, especially during the 8 singles matches on Saturday afternoon.
After going down 2 ½ – 1 ½ in the morning foursomes session, the American squad won 6 ½ of the 8 available points to take a commanding 8-4 lead into the second and final day. After splitting the quartet of foursomes matches Sunday morning, Holtgrieve's bunch once again throttled the guys from Great Britain and Ireland in the singles format.
Coming off a disappointing loss on the Scottish turf in 2011, Holtgrieve was able to redeem himself. Their firm victory at the 2013 Walker Cup Match meant the trophy was staying on "this side" of the pond this time.
Tucked Away in Southampton
New York is home to a handful of great courses, but there is one area specifically where some of the best in the world are concentrated. If you have been blessed enough to have played golf on Long Island, chances are you know about what Southampton has to offer in terms of world-class venues.
Not only do you have our centerpiece tucked in between Shinnecock Bay and the Peconic River, but the 4th-ranked track in the nation (Shinnecock Hills Golf Club) and Southampton GC surround National Golf Links of America, bordering its edges.
You even have Sebonack Golf Club, a Jack Nicklaus and Tom Doak co-design completed in 2006 that will absolutely knock your socks off.
The only unfortunate part about all these places we are salivating over is that due to their exclusiveness, 99+% of us will never get to play the courses to truly see what they're like.
That's why guides like these come in handy, so you can have the pleasure of at least having a sneak peek into what life is like at a place like NGLA.
Heading to the Island?
There is absolutely no reason to bother giving you any travel tips for those of you who are contemplating heading to the ritzy area of Long Island. If you have a tee time at National Golf Links of America, we're going to go ahead and presume that you don't need links to the cheapest hotels in the area.
Surely you don't need directions from John F. Kennedy International Airport. Heck, if you are in with the crowd at this place, you are probably flying private or are being helicoptered in.
The truth is, a chunk of the members and the people who get to play National Golf Links of America are commuters from the city. Many of the successful men and women on Wall Street like to hop on the I-495 on a Friday afternoon and enjoy the two-hour drive eastbound towards their "weekend playground," as some New Yorkers who frequent the Hamptons like to refer to the area.
If you can somehow pull enough strings to play the course, make sure you take full advantage and make it happen. This saying probably gets overused, but "there really aren't many experiences like it."
Some Final Thoughts
There you have it. We hope you enjoyed learning all about National Golf Links of America. Most golf courses this pristine are celebrated with dozens of well-written articles so that the entire golf world can understand how spectacular they are.
The only reason NGLA doesn't receive the same recognition as some of the other top-10 courses in the country is because of how secluded this place is.
The location isn't hidden, but the majority of what goes on at the club is.
We did our best to scour the best available sources so that we could talk articulately about the property.
Letting you inside the mind of C.B. Macdonald as he was designing the layout allows you to grasp his theories and ideas about how golf is intended to be played.
Although the PGA Tour has never stepped foot on National Golf Links to host an official event, there have been a pair of Walker Cups that were contested at the golf course.
We didn't bother giving too many tips on traveling to Southampton because we are confident that if you secure a tee time at National Golf Links of America, you have a pretty darn good idea of how to get there and what else is in the vicinity.
Don't feel bad if you don't have the connections to get out there. Hardly anyone does. At least you have this page to fall back on!
May
Sportsbook of the Month

Sign up Bonus
60% Up To $1,000
READ REVIEW
Visit Site
X