All About the East Course at Merion Golf Club
You made it to this page, so chances are you're a fan of really great golf courses. Perhaps you are trying to get acquainted with a top-10 course in the country. Or maybe you just want to learn about a venue that has hosted 5 U.S. Opens and 6 U.S. Amateurs.
Either way, the East Course at Merion Golf Club checks all those boxes, and our golf experts are here today to break it down for you.
We'll tell you all about how and why a championship golf course was built in Ardmore, Pennsylvania, and we'll discuss the features of the course that make it so challenging.
After we tour the track and unveil the signature holes, we'll transition right into the five times the United States Open was contested at Merion. We'll even touch on the six U.S. Amateurs that have been played there and may even shed light on a team competition returning to Merion's East Course in 2022.
You'll just have to continue reading below in order to get filled in on all the details. Begin with the key facts underneath and proceed right into the bulk of the guide.
Enjoy the journey through the 6th-ranked golf course in the United States of America!
Merion Golf Club: East Course – Key Facts
Location

Ardmore, Pennsylvania

Year Opened

1912

Owner/Operated by

Private

Course Designer

Hugh Irvine Wilson

Par

72

Yardage

6,592 (The course was lengthened to 6,996 for play at the 2013 U.S. Open)

Host to

U.S. Open (1934, 1950, 1971, 1981, 2013), U.S. Amateur (1916, 1924, 1930, 1966, 1989, 2005)

Official Website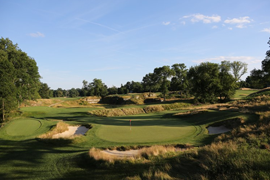 Let's Start from the Beginning
To understand the full picture of how Merion Golf Club was established, we have to take you all the way back to 1910. The Merion Cricket Club Golf Committee already had the Haverford golf course, but it was becoming too short for the "new" Haskell ball that had come along.
They decided to build a bigger golf course, and they assigned the task of creating it to a man named Hugh Irvine Wilson. By the following year, the plans were in place, and Wilson was starting to plan out the design.
The problem was that Wilson had never designed a golf course in his life and needed to start doing some homework quickly. As the story goes, Wilson actually canceled his trip on the Titanic in 1912 to instead stay in the British Isles and continue looking for ideas for the new project he was undertaking.
As it turns out, his life was spared, and the East Course at Merion Golf Club opened later that year. If that wasn't a win-win for Hugh Wilson and the entire golf community, we're not sure what is.
All in all, Hugh spent more than six months in England and Scotland, studying the intricacies of the top golf courses in the area. Once you see and understand what Merion Golf Club is like, it's easy to identify that Wilson got some ideas from across the pond.
Speaking of the characteristics of the East Course, let's now segue right into that discussion!
The Fierce Setup
The first thing you need to do when trying to understand the difficulties presented at Merion is ignore the yardage on the scorecard. The tips read under 6,600 yards, and you are probably thinking that with today's equipment, this is a walk in the park.
You would be sorely mistaken because there isn't a tougher 6,600-yard golf course on the entire planet.
Before we get into the details and tell you about the design, we want to reveal a few of the nuances that make Merion stand out. For example, you won't see players looking to see which way the flag is blowing when trying to decipher what the wind is doing.
That's because the East Course doesn't utilize typical flags. Instead, each pin has a wicker basket placed atop the pole.
Why Merion's East Course has implemented wicker baskets instead of standard flags is still a mystery that none has discovered. Even the pins that hold the wicker baskets are not traditional.
Rather than a fiberglass pole that is flexible, Merion uses metal poles that are stiff as a brick. If a ball catches the pole solidly, there's no telling where it could ricochet off to.
They're a big part of the East Course and no doubt are the symbol of Merion Golf Club. Perhaps that is why the club stays "mum" whenever asked about the origins of the wicker baskets or why they are even used in the first place, like Frank Nobilo does in this short clip.
"We do know where these are made, but we're sworn to secrecy."
The Layout
From the opening tee shot at Merion's East Course, golfers know it is going to be a special day. The members' dining area is just a few feet from the first tee box, meaning players will hear the silverware and glasses clanking around while they try to zero in on the short par 4.
Large trees and sand traps litter the hole on both sides, which is a common theme at Merion. Forget about bailout areas and getting away with poorly-hit golf shots at this track; it just doesn't happen.
While you can certainly be rewarded for playing the proper shot, the improper ones get exaggerated and magnified at a place like Merion.
It would be unfair to call out specific holes and say that they are harder than others because there is no such thing as an easy hole at the East Course. Sure, the length can be deceiving and trick you into thinking a certain hole is a breeze – but that's exactly when it jumps up and bites you.
The complexity of the putting surfaces combined with the gnarly grass that surrounds all the bunkers more than makes up for the "short length" one might see on the card. Merion Golf Club is an ideal example of how you don't have to lengthen a course to make it more difficult.
It may not challenge an experienced golfer with extraordinary distances, but it sure will challenge their patience and resolve.
However, when it comes to setting the course up for a U.S. Open, Merion has no problem building new tees to "stretch out" a few holes. For example, take a peek at how the 5th and the 18th played back in '13.
The 5th hole at Merion was already a brute when it was around 420 yards. When the USGA decided to have it play in excess of 500 yards during the 2013 U.S. Open, the hole played to a stroke average of 4.71.
Only 12 birdies were made here during the entire week, compared to 220 bogies and 51 double bogies (or worse). It's long, it's tight, and it's just plain nasty.
The 18th hole isn't much easier, as it also took players an average of 4.71 strokes to complete this hole during the most recent U.S. Open that was held here. It was pushed back to 521 yards, and it forces players to carry a quarry with their drives. Did we mention the tee shot was blind?
For those walking off the 245-yard par-3 17th hole thinking it was the last tough hole of the round, boy, do they have another thing coming.U.S. Opens at Merion
As private and hidden as Merion Golf Club is, you may be wondering why it's so revered in the golf community. A big part of history and tradition immersed into the club lies within the prestigious golf tournaments that have been played here.
There have been five United States Opens over the years at Merion, with the most recent coming in 2013. Let's take a look at each of the instances the USGA chose the East Course at Merion as the host site for their National Championship of professional golf.
1934
The 1934 U.S. Open didn't go according to how most had planned, but if you ask the native of Monterey, California, Olin Dutra, he'd tell you it went famously. See, after 36 holes, Dutra was sitting at 10 over par after shooting rounds of 76-74.
Trailing leader Bobby Cruickshank by 8 shots with two rounds to go, things weren't looking too promising for the 33-year-old man with Spanish roots.
Despite battling a severe case of amoebic dysentery (a painful disease causing severe stomach and abdomen pains), Olin didn't let it bother him during the 36-hole final day of the competition.
Instead, he sucked on sugar cubes the entire afternoon en route to shooting 71-72, good enough to capture the U.S. Open Trophy.
1950
The 1950 United States Open at Merion started off with a bang. American Lee Mackey got hot on Thursday and opened with a round of 6-under-par 64, establishing a new U.S. Open single-round scoring record.
This mark would stand for 23 years until Johnny Miller shot 63 at Oakmont in the 1973 U.S. Open. Unfortunately for Mackey, a second-round 81 derailed any hopes of winning the tournament, and he wound up barely cracking the top 25.
By the time that the 72 holes were completed on Saturday, June 10th, three men were tied atop the board after having posted 287 (+7) for the week. Lloyd Mangrum, George Fazio, and Ben Hogan were the golfers who had a "date with destiny" the following morning to determine who would be crowned the champion.
Hogan was by the far the steadiest man in the 18-hole playoff, using 2 birdies against a single bogey to shoot 69, easily beating Mangrum (73) and Fazio (75). Hardly anyone was surprised, as at the time, Ben was already the proud owner of three Major Championships.
With all that being said, the 1950 U.S. Open will be remembered for two reasons.
First, it marked the first Major victory for Hogan since he nearly lost his life in a head-on collision with a Greyhound bus the previous year.
The bevy of critical injuries he endured was enough for doctors to tell Ben he may never walk again, let alone play the game he loved. Lo and behold, not even a double-fracture of his pelvis, a fractured collarbone, chipped ribs, or even severe blood clots could stop "The Hawk."
Secondly, the 72nd hole of this championship is the site of the highly-regarded photograph of Hogan striking his approach shot with a 1-iron. Thanks to Hogan's heroics and that iconic shot, this golf tournament won't ever be forgotten.
1971
If you like U.S. Open playoffs at Merion Golf Club, get ready for an all-time classic battle between two of the greatest golfing legends who have ever lived. Lee Trevino and Jack Nicklaus found themselves deadlocked at even par when the 72 holes had come to a halt.
The next morning on the first tee of the 18-hole playoff between the two good friends and champion golfers is the site of a story that has lived on since it took place.
As you can see here, just before the two men teed off to embark on the day, Trevino whipped out a fake, rubber snake and tossed it in the direction of the Golden Bear.
Did it rattle Nicklaus? Was it a harmless stunt that meant nothing? The answer will never be known, but all we do know is that Trevino went on to shoot 68 compared to Nicklaus' 71.
For what it's worth, Jack was 3 over through three holes, so maybe Lee's "little gamesmanship" on the first tee paid dividends after all!
1981
For the 1981 U.S. Open at Merion GC, the USGA utilized the same 6,544-yard setup that they'd used 10 years earlier during Trevino's triumph over Nicklaus. This time, five men would complete 72 holes in the red, while Nicklaus again shot even par – this time tying for 6th place.
David Graham woke up on Sunday for the final round trailing George Burns by 3 shots, although birdies at 1 and 2 quickly got him right into the thick of it. He was able to separate himself from the pack on the back nine, eventually shooting 67 to post 7 under for the tournament, good enough for a 3-stroke win.
With his victory, Graham became the first Australian to capture a United States Open, a feat that was celebrated profoundly in his homeland. We wouldn't see another Aussie get it done at America's National Championship until Geoff Ogilvy got his hands on the trophy in 2006.
2013
The most recent visit the USGA has paid to Merion for a U.S. Open was in 2013, and boy, was this a brutal test of golf. The field was completely stacked, and not one man broke par for the week.
Tiger Woods was healthy and in the midst of his 2013 PGA Tour Player of the Year campaign, and all Woods did was finish the golf tournament at 13 strokes over par, failing to break 70 the entire week.
At 6,996 yards, the only unfortunate aspect about the Championship is that one could argue that the original integrity of the Hugh Wilson creation was sacrificed by adding so much length.
Many golfers were blatant when saying the USGA set the course up unfairly, as we learned in this article on sbnation.com. Zach Johnson, for example, was quoted as saying the following.
"I would describe the whole golf course as manipulated. It just enhances my disdain for the USGA and how it manipulates golf courses."
It played as more of a "battle royale," with players eliminating themselves from contention with mistake after mistake. It was a grueling test of patience and will, and when it was all said and done, Englishman Justin Rose was the last man standing.
Justin's rounds of 71-69-71-70 for a total of 281 (1 over par) were just enough to fend off Jason Day and Phil Mickelson by two shots. The first Major Championship for the future Olympian and gold medalist winner was the first U.S. Open title for England since Tony Jacklin won in 1970.
U.S. Amateurs at Merion
While you have to dig to locate some valuable information about the earliest U.S. Opens at Merion Golf Club, there had actually already been three U.S. Amateurs played at the East Course before the first U.S. Open was held in 1934.
1916
The first of those occurrences came back in 1916, with Chick Evans winning the first of his two U.S. Amateurs (the other came in 1920).
Remarkably, the Chicago resident won both the U.S. Amateur and the U.S. Open in the same year in 1916, becoming the first man to conquer such an incredible feat (matched later by only Bobby Jones). More impressively, he did all of this with a bag of just seven wooden clubs.
If you have heard of the Evans Scholars Foundation, an association that raises money for college scholarships for prospective caddies, you should know that it's named after Charles "Chick" Evans.
1924
Now that we've brought up Bobby Jones, it's time we tell you about the 1924 U.S. Am at Merion. This victory was significant in that it marked the beginning of Bobby Jones' dominance in this championship. He may have won it for the first time in 1924, but he also won in 1925, '27, '28, and '30.
Jones blitzed past his competitors, especially in the semi-final match. Facing off against 1913 U.S. Open winner Francis Ouimet, Jones throttled Ouimet 11&10.
Don't be too alarmed by the beating that Jones put on a fellow participant in the U.S. Amateur. The Georgia Tech and Harvard University grad made a habit out of doing that for the next six years.
1930
We apologize for spoiling how this turns out, but no one should have been surprised that Bobby Jones won the 1930 U.S. Amateur at Merion's East Course. This win was monumental, as it capped off Jones winning the Grand Slam that year, a feat that no man had ever come close to accomplishing.
After winning both the U.S. Open and British Open in 1930, Bobby also was victorious at the British Amateur.
Jones arrived in Ardmore on the heels of dominating his competition all summer long, and he didn't disappoint once the bell rang. After putting a spanking on his buddy Jess Sweetser in the semi-final match 9&8, he clobbered Eugene Homans 8&7 in the final match in front of a record (at the time) of 18,000 patrons.
It was official; Bobby Jones had achieved the unthinkable by winning "the four majors." Thankfully for fans in the Philadelphia area, Merion Golf Club was the site of the final act.
1966
The 1966 U.S. Amateur was the second year in a row that the USGA abandoned the match-play format and opted for 72 holes of stroke play with a cut after the first two rounds.
The week belonged to Canadian Gary Cowan, who was somewhat of an afterthought after rounds of 74-72-72 left him four shots off the pace with 18 holes remaining.
His final round of 67 was the best of the week and enough to break the 34-year drought of non-American-born winners in this coveted championship. Also noteworthy, this was the first time that ABC television had broadcasted the tournament live.
1989
The favorites don't always come out on top, which is exactly why the game of golf isn't played out on paper. As was the case at Merion in 1989, when first-time USGA competitor Chris Patton emerged from his family's 300-acre farm in Fountain Inn, South Carolina, to take the crown as U.S. Amateur champ.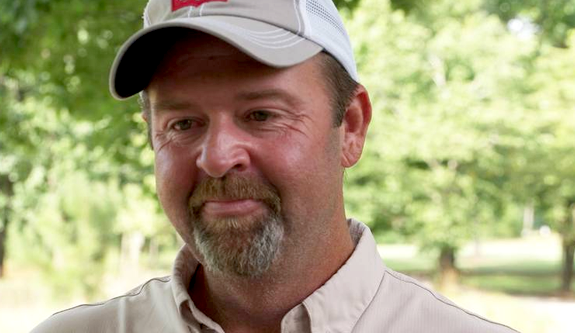 With the appearance of a linebacker, Patton used his fearless attitude and deft touch around the greens to power through each opponent.
Chris was a self-taught player who didn't have the funds and opportunity to travel around playing golf as a junior, but that didn't slow him down this week. He wound up defeating Danny Green 3&1 in the final match to secure the sought-after Havemeyer Trophy.
2005
If you follow the PGA Tour, you have likely heard of Francesco Molinari. What you may not have known is that the Italian star's older brother Edoardo was the first family member to strike gold in competitive golf.
He did so by breaking out at the 2005 U.S. Amateur at the East Course at Merion, persevering through a handful of gritty challengers.
Edoardo's bracket alone consisted of names like Webb Simpson and Anthony Kim, not to mention the two-time Arnold Palmer Invitational winner Matt Every, whom Molinari outlasted in 19 holes in his second-round match.
After dispatching Northwestern University senior Dillon Dougherty 4&3 in the final match, the title of U.S. Amateur champion was heading to Italy for the first time. By virtue of this win, Eduardo locked up his spot in the 2006 Masters.
2009 Walker Cup
We felt it was imperative to also note that the 2009 Walker Cup was contested at Merion Golf Club. Captain Buddy Marucci led the American squad to a convincing 16 ½ – 9 ½ victory over the team from Great Britain and Ireland.
The team was absolutely stacked, as 6 of the 10 members were successful PGA Tour players.
Led by 4-0 performances by Oklahoma State stars Rickie Fowler and Peter Uihlein, the team from the USA was simply too much too handle.
Describing Ardmore, PA
Merion Golf Club is located about 15 or 20 miles west of Philadelphia in Haverford Township, a small community in the suburb of Ardmore. While Haverford College and Bryn Mawr College border the edge of Merion GC, well-known Villanova University is just 3 miles northwest of Merion.
The private golf club might be in a quaint part of town, but the hustle and bustle of downtown Philly is just an earshot away. A good-old oozing cheesesteak from Pat's King of Steaks is less than a half hour commute away.
Catching an Eagles or Phillies game at Lincoln Financial Field or Citizens Bank Park is even closer, as is the Wells Fargo Center (home of the NBA's 76er's franchise). If you aren't into sports, attractions like the Philadelphia Museum of Fine Art and the site of the Liberty Bell are right in the same vicinity.
If you ever get the opportunity to play or be a spectator at Merion, you won't want to pass it up. With the airport in Philly just 20 minutes or so south of the club, getting there will not be an issue, and anyone can do it.
Receiving an invite to the East Course in the first place…now, that's where you'll have to get a bit lucky.
Closing Remarks
We hope you found our guide to the East Course at Merion Golf Club useful, as we tried to portray the club for exactly what it is. While it has been the site of 11 combined U.S. Opens and Amateurs, we don't want you to lose sight of how exclusive the property is.
We uncovered the early days of the golf club outside Philadelphia, as well as told you about the featured qualities of the course. There are aspects you will encounter at Merion that will make it memorable, no matter how many rounds of golf you have played in your lifetime.
Have you ever experienced flagpoles that have large wicker baskets resting atop? Have you played a course that has a members' dining area just a few feet from where the opening tee shot is struck?
Oh yeah – we failed to mention that the club strictly enforces a "zero mulligans off the first tee" policy, with absolutely no exceptions.
These are just a few of the unique characteristics of Merion, as the golf club is truly spectacular and one-of-a-kind. We hope you are fortunate to one day see it for yourself because it will be a day you'll never forget.
May
Sportsbook of the Month

Sign up Bonus
60% Up To $1,000
READ REVIEW
Visit Site
X