A Detailed Guide to Hazeltine National Golf Club
How does a golf course become renowned? The way we see it, there are a couple of different things that need to happen for a golf course to be elevated into the category we call "something special."
Courses get the respect they deserve when the layouts are designed and created by distinguished architects. The next way to get noticed as an esteemed golf course is to be the site of multiple major championships.
Once you host the world's best players under tournament conditions, you have officially made your mark and have entered the conversation of "great golf courses."
In the case of Hazeltine National Golf Club, you get the best of both worlds! Not only was the town of Chaska, Minnesota, bolstered by having Robert Trent Jones Sr. lead the way in the course's design, but just four years after the track was opened, the USGA came rolling into town!
By reading this complete guide to Hazeltine National GC, you are going to be treated to everything about the club from beginning to end, from how and why it got started all the way to the main characteristics of the setting.
As for that well-known par four on the back nine, don't worry. We'll elaborate on the 16th hole and express to you what makes it so great.
As we have alluded, golf tournaments of the most prestigious nature have been contested here. Two U.S. Opens and a pair of PGA Championships have been held at Hazeltine, and we plan on covering them all in great depth in segments below. We'll even tell you about when the U.S. Amateur was played at Hazeltine in 2006, and that's not all!
We'll discuss the 2016 Ryder Cup and shed light on a future Ryder Cup that already has Hazeltine National GC penciled in as the location.
Basically, anything and everything you could imagine wanting to know about the private golf club in Chaska, Minnesota, is going to be revealed here.
Keep in mind that this is coming from a genuine source. We have talented writers who specialize in golf, and they're just waiting to deliver you all the news and take you on an informational journey. All you have to do is get nice and comfy and enjoy the ride!
Hazeltine National Club – Key Facts
Location

Chaska, Minnesota

Year Opened

1962

Owner/Operated by

Private

Course Designer

Robert Trent Jones Sr.

Par

72

Yardage

7,678 yards

Host to

U.S. Open (1970, 1991), PGA Championship (2002, 2009), 2006 U.S. Amateur, 2028 Ryder Cup

Official Website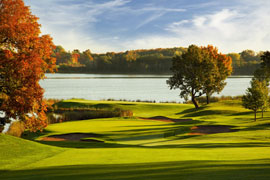 Plans Change; Let's Call It Hazeltine
The story of why a private golf club was established in Chaska, Minnesota, is quite simple. Former head of the United States Golf Association (USGA) Totten Heffelfinger wanted to build a course that accomplished two goals.
Primarily, he wanted to construct a championship-quality venue that would be suitable for hosting major championships. Secondly, he wanted to produce a private golf club that would deliver a top-notch experience to its members.
Generating good camaraderie amongst the select individuals that were part of the club was an important aspect to Heffelfinger.
So how does one go about executing this plan? The first step was to hire someone who could carry out Heffelfinger's vision.
Who better to bring in to call the shots than acclaimed golf course architect Robert Trent Jones? The English-born designer who received his schooling at Cornell University answered the call and wasted no time getting to work.
Originally called the Executive Golf Club, the name was changed to Hazeltine National thanks to the body of water that bordered the property, Hazeltine Lake.
The course opened in 1962 and received raving reviews. So much so that the USGA quickly decided that the 1966 Women's U.S. Open would be played on the track.
During its first few years of existence, things were going famously for the new golf club. Hazeltine was awarded the 1970 U.S. Open, and everything seemed to be going according to plan. However, it was then, after the first round of play, that negative discussions about the golf course finally came pouring in.
To make a long story short, nearly half the field (including many big names) failed to break 80 the first day. It was cold, it was windy, and the course played brutally long.
This wasn't the type of golf that fans wanted to see. Soon after this tournament, it was evident that some changes needed to be made.
Rather than rush through what amendments were made, let's transition into a section that illustrates Hazeltine's design in much more depth. Let's take a look at the layout and the signature hole.
Course Illustration
The first and obvious thing to bring up about Hazeltine National Golf Club is its extraordinary length. Distance was added in advance of the 2009 PGA Championship, tipping the golf course out at a whopping 7,647 yards.
At the time, this was the longest yardage ever played in a major championship.
On top of being painfully long, the golf course has fairly small greens, and the fairways are narrow and undulating. Encountering uneven lies and awkward stances in the middle of the short grass is just part of the strategic design.
The course was converted to all bentgrass in 2010, and the greens have been known to run as pure as a glass table ever since. Other projects to upgrade different sections of the course have been scheduled, mostly in order to keep up with the technology of today's game.
To keep things sincere, many of the restorations and improvements in recent years have been carried out by Robert's son Rees, a celebrated designer in his own right.
Although Rees has altered a few things and added some new tees, the majority of these changes have been simply cosmetic. Consider them all part of an ongoing "beautification process."
Exactly half of the holes feature some sort of water hazard, and the course is kept in immaculate conditions for most of the year. Obviously, the harsh Minnesota winters and brisk temperatures are enough to halt play for at least a few months, but when the ice melts sometime in March, the golf course comes back to life.
As gorgeous as the entire layout is, one hole has set itself apart as the flagship hole of the property. In fact, it's said that the 16th hole at Hazeltine National Golf Club is the most recognizable hole in the entire state of Minnesota.
Legendary golfer and announcer Johnny Miller called it the toughest par 4 he's ever played. Take a look at the stunning 16th.
The 16th Hole
Are you ready for a jaw-dropping par 4? You know there has to be some element of surprise attached if Johnny Miller is calling a 402-yard par 4 the hardest he has ever played.
Perhaps it's because there is absolutely nowhere to bail out. Maybe it's because bogeys and doubles are lurking for those individuals who are not precise.
The tee shot must carry a significant portion of Hazeltine Lake, but that's not all. Any drives pushed right will end up at the bottom of the "drink." The players who miss the fairway left will be lucky just to find their golf ball.
It will either be nestled down in some sticky rough and underneath large trees or it will be in the creek that rides up the left side of the fairway. And that's not all.
Did you think that the area surrounding the landing area was the only one protected by a hazard? Think again, because the putting surface of the 16th hole is a peninsula-shaped green. The entire left side, right side, and rear of the green is nothing but cold, blue water.
If that wasn't enough, due to the hole being so open, this tends to be the windiest spot on the entire golf course. Unequivocally, this is one tough golf hole. Interestingly enough, Robert Trent Jones originally designed this as a long 225-yard par 3, and it played as such when the course first opened.
It wasn't until 1978 and after lots of complaining that Jones decided to switch the hole to par 4. So much so that during the 1970 U.S. Open, players sarcastically called this the only dogleg-right par 3 in the country.
One of the participants that week, Dave Hill, went as far as comparing it to a rugged field, saying that some corn and some cows were about the only things missing.
Despite the controversy surrounding the golf hole back then, time has passed, and opinions have evolved. It has blossomed into one of the better par 4s anywhere in the country.
It's difficult, and it makes players think. It requires creativity and an open mind and will reward those who are exact.
That sure sounds like the definition of a fantastic golf hole to us.
If you are interested in getting a peek at the facilities and want to watch some drone footage depicting aerial shots of the golf course, just press play below. You'll get a taste of how serene and spotless the property is.
A Pair of U.S. Opens
It didn't take long for the USGA to come to the conclusion that Hazeltine National Golf Club was fit to be a major-championship venue. In fact, they tested the waters in 1966 with the Women's Open just four years after the course opened.
The event would be won by Indiana native Sandra Spuzich. It's momentous because it paved the way for more acclaimed golf tournaments to be played at Hazeltine in the future.
That future came just four years later at the 1970 U.S. Open.
1970
Tony Jacklin had a heck of a career. He would go on and captain the European Ryder Cup team on four straight occasions from 1983-1989, stamping his name in the European golf record books.
However, before Jacklin was leading his countrymen, he was busy winning major championships as a competitor. He first won the Open Championship in 1969 at Royal Lytham & St. Annes before claiming his second major at the 1970 U.S. Open at Hazeltine.
If you are only a fan of closely-contested golf tournaments that go down to the wire, you might as well just skip this section. Jacklin got the party started on Thursday by shooting one-under-par 71, the only man in the field to break par.
In fact, conditions were so fierce that day that the next-best score was 73, leaving Jacklin with a two-shot lead.
The Englishman would follow his opening round with three consecutive rounds of 70, posting a total of seven-under-par, 280. This was significant for a couple reasons. For starters, Tony shot 4 sub-par rounds and ended up running away from the field, winning by seven shots.
Secondly, this win marked the first time an Englishman would have his name engraved on the U.S Open Trophy in 46 years.
1991
The next time the USGA decided to host their National Championship at the Robert Trent Jones design in Chaska, Minnesota, was in 1991. This time, nobody was able to break away from the field at the par-72 track that was set up at nearly 7,200 yards.
Remember, folks, they didn't have adjustable weights and 460cc driver heads back in 1991 like they do now. Oh yeah, and the tour pros played a soft balata ball, not some 4-piece ball with 352 perfect tetrahedral dimples! While 7,200 yards might not seem like much in today's day and age, you better believe the field had their hands full back in '91.
This particular week at Hazeltine, there were two men that had done enough to separate themselves by the time Sunday's round began. Adding to the storyline, both of these men were notable players.
Going into the week, Payne Stewart already had amassed 7 career PGA Tour titles and had a major championship (1989 PGA Championship) under his belt. On the flip side, former USC Trojan Scott Simpson had won five times on tour, including the 1987 U.S. Open at Olympic Club.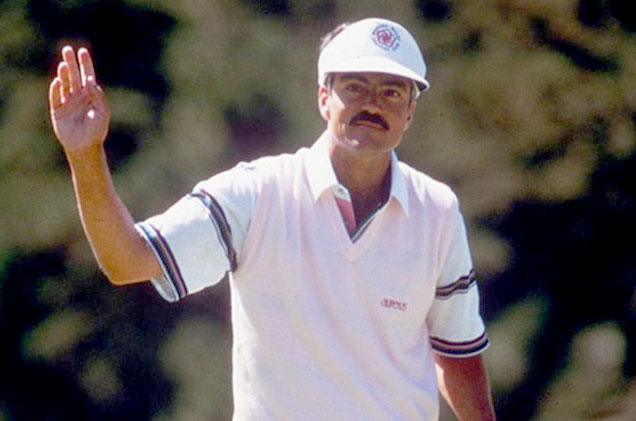 The two foes were knotted at six under, four shots clear of everybody else after Saturday's third round. A couple of even-par 72s later, and the two men were still tied. This time, they would get to sleep on it before playing an 18-hole playoff the following morning.
Things were going according to plan for Simpson, as he found himself two strokes ahead of Stewart with just three holes to play. The good 'ole "two-shot swing" ensued when Payne birdied 16 combined with Scott's bogey.
Suddenly, the lead had dissipated, and Payne had evened the match. Two more bogeys from Simpson on 17 and 18 against two pars from Payne, and that was all she wrote.
The knickers-wearing dude from Springfield, Missouri, was finally a U.S. Open champ.
A Couple PGA Championships
It might have taken longer than it should have, but the PGA of America finally came to Chaska in 2002 to host the PGA Championship.
2002
We promise not to waste your time. When you think of Rich Beem winning the 2002 PGA Championship at Hazeltine, only one thought comes to mind. Or should we say that only one clip comes to mind?
That is what Rich Beem looked like after tapping in on the 72nd hole, knowing his name was going on the Wanamaker Trophy. While he appears elated after holing out the final putt, it was more a feeling of relief and perhaps disbelief.
Did Rich Beem really just fend off a late Tiger Woods rally? Tiger had birdied his final four holes to post 279 (-9) in the clubhouse. Somehow, some way, a 31-year-old dude named Rich Beem got in at 10-under-par and was a major champ.
While Rich hasn't found the winner's circle on the PGA Tour since that memorable day in August, it doesn't take away from his incredible performance that week in 2002.
Before we move on to the 2009 PGA, there is one more moment to cover. Now, it's not earth-shattering breaking news to state that Tiger Woods has hit his fair share of remarkable golf shots throughout his career.
With that being said, no single golf shot Tiger has ever hit on the PGA Tour displayed more brute strength, talent, and skills than this mind-boggling 3 iron he hit from a fairway bunker on the 18th hole during Friday's second round.
We could go on and on about that particular shot, but Billy Kratzert already informed us that it was likely the greatest shot he's ever seen. David Feherty called it the most remarkable piece of athleticism he's ever seen on a golf course.
To add to the aura of the unforgettable shot, Tiger went on and converted the putt for birdie. Would you really expect anything else from a vintage TW?
2009
Apparently, Tiger Woods has made it a habit of finishing as the "bridesmaid" at PGA Championships at Hazeltine National GC. Just like in 2002, Tiger would finish 2nd at the 2009 PGA Championship, again to an unlikely foe.
Y.E. Yang was the man responsible for "taming the tiger" on that final day. In fact, this was the first time ever that Tiger wasn't victorious when holding the 54-hole lead in a major championship. And that wasn't the only first of the week.
Yang's victory marked the first major championship won by an Asian-born player. Throw in the fact that he began the day not only paired in the final group with Woods and facing all the pressure, but he began the final day trailing Woods by 3!
Not only did he beat Woods on Sunday, but he thrashed him by five shots in a mano a mano battle Tiger probably still loses sleep over. The two men stood on the 10th tee on Sunday, tied for the lead. Tiger shot 1 over, and Yang shot 3 under.
Perhaps this was the first chink in Tiger's armor. Remember, it was just a couple months later when the Thanksgiving crash/debacle with his wife all went down.
The 2006 U.S. Amateur
If you look at the match-play tree from the 2006 U.S. Amateur at Hazeltine, it's essentially a precursor for the next generation of the PGA Tour. The eventual winner was a 23-year-old Scotsman who has developed into a very fine player on the European Tour.
His name is Richie Ramsay, and it was this particular week in late August of 2006 where he first introduced himself to the world of golf.
Richie eased into match play as the 19 seed but was quickly overlooked, thanks to the bevy of world-class names that surrounded him. For example, the top seed was Billy Horschel. Names like Dustin Johnson and Kevin Tway qualified for match play but were unable to advance past the second round.
Ramsay was able to win his first three matches with relative ease, but that's when things got a bit sticky. You'd think he caught a break having to face a 17-year-old high schooler in the quarterfinals, except there was one problem.
That high-schooler was named Rickie Fowler. After escaping that battle in 21 holes, Richie's next opponent in the semifinals was Wake Forest star Webb Simpson, who he narrowly beat 1 up.
A 4&2 victory in the Finals against University of Missouri golfer John Kelly was all she wrote for the Aberdeen, Scotland, native. Considering the road that Richie Ramsey had to travel, there's no question that he earned his name on the Havemeyer Trophy.
The 2016 Ryder Cup
American golf fans will remember the 2016 Ryder Cup for as long as they live. The Europeans arrived in Chaska in 2016 on the heels of winning 6 of the last 7 Cups, including the last three in a row. If you remember, late 2014 was when the United States of America was sick and tired of continually losing the Cup.
This is when they decided to create a task force that would select a captain and implement new strategies.
Tiger Woods and Phil Mickelson led this charge, and boy did it pay off. Davis Love III was chosen as captain, and from then on, everything seemed to click for team USA. Once the American squad swept the opening foursomes session 4-0, they were off to the races and never looked back, winning the Cup handily 17-11.
As far as highlights from this magical week in Minnesota, well, there was no shortage of those. As electrifying as the golf was all week long, much of it was overshadowed by the drama surrounding Patrick Reed and Rory McIlroy's Sunday singles match.
Rather than just show you one highlight, we chose to show you a short clip that features the top 5 moments of the week. It's no surprise that 3 of these 5 instances came from that singles match we just spoke of.
When Phil Mickelson and Sergio Garcia each shoot 9-under-par to halve their match and it's hardly even mentioned, you know something pretty special was going on around them.
Describing the atmosphere at Hazeltine on that final day of the '16 Ryder, it's hard to put into words.
Never have we seen golfers that pumped up and energized. Apparently, that's what happens when the pride of your country is on the line.
The Ryder Cup Is Returning to Hazeltine!
After what happened at the 2016 Ryder Cup, it was only a matter of time until an announcement was made on when the event would be returning to the venue in Chaska. That declaration came in late March of 2018. The PGA of America decided that Hazeltine National Golf Club would host the 2028 Ryder Cup.
If the quality of golf is anything like it was in 2016, the Minnesota locals won't be disappointed.
Where Is Chaska, Minnesota?
So where in the state of Minnesota is this place? What's the nearby area like? Hazeltine National Golf Club is located near a lake in Minnesota. Does that narrow it down?
Obviously, that was a joke, and we hope you appreciated our humor. In all seriousness, Hazeltine Lake and the private golf club are located in the town of Chaska in the Minnesota county of Carver.
For those that are unfamiliar, Chaska is just 25 miles west of the Minneapolis-St. Paul International Airport and about the same distance from downtown Minneapolis.
If you plan on attending the 2028 Ryder Cup or you pulled enough strings to secure an upcoming tee time at Hazeltine, you are in for loads of fun.
You won't need a tour guide or an expert of the area to tell you that going to Mall of America is a must if you are flying into Minneapolis. Just a couple of miles away from where your plane will land lies the largest mall in the entire nation.
Forget about the number of stores or available parking lot spaces; the figures are astonishing and hard to keep track of.
Just know that the largest indoor theme park in America is just part of the gigantic complex. You'll need more than a couple days to explore the entire compound, that you can count on.
Of course, you won't want to spend all your time inside if you are in the vicinity of Hazeltine National Golf Club and the weather is cooperating. Minnesota isn't nicknamed "The Land of 10,000 Lakes" for nothing.
Taking a boat ride and fishing for bass is just another day in the office for the Minnesotans when the climate is warm. Lake Minnetonka is one of the popular lakes that tourists like to visit, thanks to the bevy of activities and attractions that await when they get there.
We aren't going to recommend that you spend the Christmas holidays freezing in Chaska, but the summertime is a whole other story. If you have the opportunity to play or even visit Hazeltine National when the sun is shining, don't even think twice.
Just don't forget to take plenty of pictures and mental notes, because not all places are as breathtaking and picturesque as the grounds of Hazeltine National Golf Club.
A Brief Summary
The history and traditions that are attached to Hazeltine National make you think the golf club has been around a lot longer than it actually has. The place didn't open until 1962 yet has already hosted an impressive collection of illustrious golf tournaments.
That should tell you all you need to know about how great of a golf course it is.
We wanted you to be aware that Hazeltine was always destined to host major championships. It was the main reason that the USGA teamed up with Robert Trent Jones Sr. to build it in the first place.
If you caught any of the 2016 Ryder Cup at Hazeltine or caught any of the highlights, it's obvious that the course is more than equipped to handle the drama of a primetime golf tournament.
And here is some great news for all of our valued readers. You have plenty of time to make the arrangements and be a spectator in 2028 when the Ryder Cup returns.
The weather will be great in September, and there is plenty to see and do. I don't know what the Mall of America will have added on by then, but it sure would be fun to see.
May
Sportsbook of the Month

Sign up Bonus
60% Up To $1,000
READ REVIEW
Visit Site
X