Colonial Country Club – A Golfing Gem in Texas
Some refer to it simply as Hogan's Alley. Others are familiar with the venue because it's the host of the Fort Worth Invitational- you know, that golf tournament in which the winner dons a tartan plaid jacket?
We're talking about Colonial Country Club, the divinely-designed golf course in the heart of Fort Worth, Texas, just a mile or so away from the TCU campus.
Locals know it as a quaint and private country club, a place that only the privileged members have access to. Others know it from afar after seeing it on display year in and year out during the Fort Worth Invitational.
The object of this guide is to break the golf course down, all the way from start to finish. That way, regardless of which boat you are in, you'll know everything you could imagine wanting to know.
We'll start by giving you a brief introduction as to how and why the club was started in the first place. Trying to describe the property in detail without giving you an in-depth description of the layout and the signature holes just wouldn't make sense, so we'll take good care of you in that regard.
Being that the aforementioned Fort Worth Invitational is such a large part of why this golf course is so revered, we'll dedicate an entire section to what the event is all about. Yes, this includes highlights and recollections of the tournament's most memorable moments.
We'll make sure to inform you of all the different names the tournament has been called, as the "Fort Worth Invitational" is actually no longer even the current title.
The 2019 edition will be called the Charles Schwab Challenge, as Charles Schwab took over as title sponsor just a month after the conclusion of the 2018 event.
For those of you who might be in the market for a trip to Fort Worth to see a PGA Tour event, we'll leave you with a segment that covers the nearby area and how to go about securing your tickets.
Basically, by the time you are finished reading this guide- you'll know as much or more about the golf course as most of the club's members who are forced to pay monthly dues!
Start with a few basic facts before jumping into all the descriptive sub-headings!
Colonial Country Club – Key Facts
Location

Fort Worth, Texas

Year Opened

1936

Owners

Private

Course Designer

John Bredemus and Perry Maxwell

Par

70

Yardage

7,209 yards

Host To

Charles Schwab Challenge (1946-Current), 1941 U.S. Open

Official Website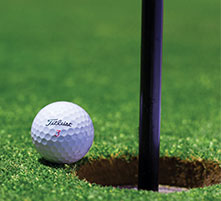 A Timeline of Colonial Country Club and Its History
If you look at the table above, you'll see that this course has been around for quite a long time. The year Colonial Country Club officially opened its doors was in 1936, but the idea of creating the venue came long before that.
It's actually an interesting story and one that may never have come to be had a certain board of directors just given in.
It starts with a man by the name of Marvin Leonard. Marvin fell in love with the game of golf sometime in the 1920s, even becoming a fairly decent player in his own right. He could break 80 on a good day and was eager to get better, but he clearly wasn't good enough to turn professional.
However, Marvin didn't let the fact that he wasn't good enough to turn pro hinder his plans of having a life that centered around the game he loved. That's why he started studying how golf courses were created and built, eventually becoming infatuated with the processes and procedures involved.
It was his research into the grass and sand that was used to build golf courses that turned out to be his true passion, or "calling," if you will. He realized how much smoother and better an alternative form of grass was, and that's what put his plans into motion.
Leonard grew extremely fond of the idea of somehow implementing Bentgrass greens into Texas, despite Bermudagrass being the dominant surface in the region. Due to the heat and natural climate in Texas, it was assumed that Bentgrass greens would never survive.
He had begged and begged the authorities to let him do a trial and error of sorts, asking to temporarily switch out a couple of the Bermudagrass greens to Bentgrass. He even offered to assume liability and pay for the installments of Bermudagrass in the event that his theory didn't work out.
After countless attempts to gain permission, Leonard's pleas were forcefully shot down,and his dreams were beginning to look bleak. He was finally told that if he wanted to have Bentgrass greens on a golf course, then he ought to build one from scratch.
That's when Marvin must have kicked himself and decided to exactly that.
It was then that he approached Perry Maxwell and John Bredemus for some assistance. Both of these men were respected in the golf course design industry, and Leonard was interested in their input. After the three men bounced around various ideas and theologies surrounding how a course should be built and how the holes should be laid out, a final blueprint of "Colonial Golf Club" started coming to fruition.
By the time 1935 was coming to an end, the plans were well into motion, and the course was just about complete.
Leonard started inviting distinguished individuals to play his new track, specifying that it consisted of all Bentgrass putting surfaces.
By early 1936, more than 100 folks had put down the $50 security deposit that Marvin had required, although no membership fees or dues were charged besides that. It wouldn't take long for people in the golf community to realize that Leonard's premonitions about Bentgrass being the far superior option were spot on.
In fact, Marvin was so proud of what he created that he started writing letters to the United States Golf Association (USGA) in hopes of landing a United States Open at his new golf club. Thanks to the support of some prominent locals, Marvin's wish was finally granted.
While the positive remarks and rave reviews went a long way, it was likely the promise of $25,000 in revenue that was enough to push the USGA over the edge and get them on board.
Either way and to the delight of Leonard, the announcement that Colonial Golf Club would be the host of the 1941 U.S. Open is what came next. Not long after that, the course that became known as the "Home of Ben Hogan" was awarded a PGA Tour event, one that is still hosted at Colonial today.
We'll get into both the 1941 U.S. Open and the Fort Worth Invitational down below, but we first want you to join us as we explore the design and discuss all of the course's features.
In case you weren't aware, Colonial is a one-of-a-kind track that is unlike what you see today from golf course architecture. It's safe to say that they don't build them like this anymore.
Recognizing the Par-70 Layout
Don't let some of the tournament scores fool you into thinking that Colonial Country Club isn't a challenging golf course. Colonial CC is one of the "true tests" that makes a player think on each and every tee box.
Due to the shapes of certain holes, tour pros are forced to leave the headcover on their driver much of the time, instead having to opt for a shorter club that gives them a better chance at hitting the fairway. Some of the intense doglegs require a player to be on a certain side of the short grass if they intend on having a clear look at the pin.
After opening with a fairly gettable par 5 and a short par 4, golfers embark on one of the toughest three-hole stretches that you'll find anywhere on the planet.
We're talking about holes 3-5, otherwise known simply as the "Horrible Horseshoe."
Take a look below as we illustrate what the players will face during this trio of holes when they tee it up in the Charles Schwab Challenge (formerly known as the Fort Worth Invitational).
But before you do that, prep yourself by watching this short clip that highlights PGA Tour players describing the brutality of the Horrible Horseshoe. That'll help set the stage.
The 3rd Hole
Players better hope they pick up an early birdie or two before they arrive at the third tee, because things get much, much tougher. The 480+ yard par 4 is anything but straightaway, as the hole bends sharply to the left around the landing area of the tee shots.
Unfortunately, cutting the corner isn't an option thanks to a series of three sand traps guarding the dogleg. Competitors will have no choice other than sending it out to the right and hoping their ball stays in the fairway.
That will leave them with some sort of mid to long iron left to a green that has another trio of bunkers lurking. We told you,folks, that this was anything but a simple golf hole.
Despite overall scoring being pretty good at Colonial, there was no surprise that only 11% of the field birdied this hole in 2018, compared to the 22% that made bogey or worse.
The 4th Hole
If you thought the first hole of the Horrible Horseshoe was tough sledding, wait until you read this description about the 4th hole.
Who doesn't love a 247-yard par 3 that plays to an elevated and precarious green? Well, add in the fact that this hole typically plays into the wind and that the putting surface is generally firm, and you can see why making par here is extremely difficult.
Even the well-struck 2 irons and hybrids have a habit of rolling through the back of the green, leaving players with ever-so-gentle chip shots back to the perched surface.
There are no secrets here.
Make a 3, and you are gaining ground on the field. It's as simple as that.
The 5th Hole
The 5th hole at Colonial isn't just the final hole of the Horrible Horseshoe and the harshest hole on the golf course.
Colonial's vicious 5th hole is one of the toughest holes on the entire PGA Tour schedule.
Like the par-4 third, this hole plays over 480 yards and has a pretty severe kink to it. Rather than curve to the left, the 5th hole is a dogleg right par 4 that is every bit as demanding as a professional golfer can ask for.
A righty is essentially forced to hit some sort of fade off the tee;otherwise, a straight ball will roll through the fairway and bleed into the rough. Those who cut it too much will be in the hazard and mass of trees that sits right of this fairway, so bailing out in one direction is far from a viable option.
As PGA Tour member Matt Jones alluded to in the video preceding this segment, sometimes pulling a 2 iron off the tee just to ensure you hit the fairway is the way to go. But just be prepared for a 220+ yard approach shot, which won't be a bargain, either!
Players who can get out of the horseshoe without surrendering a shot will arrive at the 6th tee with a huge smile on their face. The course will get easier from there, although hitting fairways will still be the key to a successful round.
Potential Renovation in the Works?
No matter how great a golf course is, over time, changes are sometimes necessary.
Perhaps "changes" isn't the correct word, and "modifications" would be a better choice of vocabulary. Nobody is suggesting that the course be ripped up and rebuilt from scratch. But a few renovations such as "beautifying" up a few holes seems to make a lot of sense.
Members at Colonial Country Club brought in famed course architect Gil Hanse to head the project, and it'll be interesting to see how the developments play out.
Rob Hood, the tournament chairman at Colonial, calmly stated the following.
"There will be no tractors showing up on Monday. We're just talking. You don't want to stick your head in the sand. You want to keep moving. You want to keep learning. And you want to get opinions from people who know what they're doing."
It's clear that the original integrity and design of the track will be kept in the forefront of the planning, but a few alterations for the better will likely only make this venue an even more respected PGA Tour destination.
Speaking of a respected PGA Tour destination, it took exhausting attempts and a little bit of luck for Colonial to land its first big event way back in 1941, just five years after the club had opened.
To find out what that event was, just keep on reading!
The 1941 U.S. Open
You already know the story of how and why the 1941 United States Open was decided to be held at Colonial. The golf course was admired for having the only Bentgrass greens in the state of Texas, and the USGA was being guaranteed a hefty sum of money.
How bad of a situation could it really be? Because for PGA Tour player Craig Wood, it turned out to be one of the best weeks of his life.
Back in 1941, the U.S. Open was a 72-hole tournament, but it was contested over the course of three days instead of four. Saturday would comprise of 36 holes, as the players who made the cut played their third and fourth rounds on the same day.
To make matters tougher, the climate in early June in Texas isn't mild,to say the least. Players not only had to contend with a difficult setup, but they also had to deal with significantly high temperatures. Staying in the moment and playing your best golf wasn't impossible, but it was close to unbearable.
The last man standing at the end of the week was 39-year-old Craig Wood, the man who was just two months removed from winning the Green Jacket at Augusta. The 1941 Masters winner had to wait 39 years to taste victory in a major championship.
This next time, he waited less than 8 weeks.
Considering that Craig had been carrying the title of being the first golfer to lose all four majors in a playoff, we'd say that Wood had "put his time in" and "paid his dues." Finally winning the Masters and getting the monkey off his back probably felt more like a relief.
This victory could truly be celebrated.
When you take into account everything that had transpired, you realize what an accomplishment this was for Wood.
Craig nearly walked off the golf course on Thursday after double-bogeying his opening hole and complaining of back pain. But, rather than quit, Craig was urged to continue fighting. And boy, did Craig go to battle.
After opening with 73-71 and being 4 over par, Wood used back-to-back rounds of even-par 70 to post a total of 284, one that failed to be matched by any other competitor. Three-time major winner Denny Shute finished runner-up at 287, while Ben Hogan and Johnny Bulla tied for third at 289.
The Fort Worth Invitational
You may not see the Fort Worth Invitational on the 2018/2019 PGA Tour FedEx Cup schedule, but look closely. In the same exact time slot, you'll see something called the Charles Schwab Challenge. That's because Charles Schwab signed a four-year agreement to sponsor the event, and that agreement is underway.
Played in late May and traditionally concluding on the day before Memorial Day, the 2019 edition will immediately follow the PGA Championship at Bethpage Park. Perhaps some of the big names won't be there competing due to the scheduling conflict, but we can assure you that plenty of world-class players will be in the field.
In terms of past champions, 2018 FedEx Cup Justin Rose got his year kicked off by winning the 2018 Fort Worth Invitational, shooting a sizzling score of 20 under par in the process. Believe it or not, that still came up a single shot short of Zach Johnson's tournament scoring record of 259 (-21), set when ZJ won the event in 2010.
Zach would win the event again in 2012, joining a coveted list of players who have won this event multiple times. Take a peek at the 11 men who have won this golf tournament on more than one occasion.
Multiple-Time Winners of the Charles Schwab Challenge
Player
# of Wins (Years)
Ben Hogan
5 (1946, 1947, 1952, 1953, 1959)
Julius Boros
2 (1960, 1963)
Billy Casper
2 (1964, 1968)
Lee Trevino
2 (1976, 1978)
Ben Crenshaw
2 (1977, 1990)
Bruce Lietzke
2 (1980, 1992)
Corey Pavin
2 (1985, 1996)
Nick Price
2 (1994, 2002)
Kenny Perry
2 (2203, 2005)
Phil Mickelson
2 (2000, 2008)
Zach Johnson
2 (2010, 2012)
As you can plainly see, no man has won this event more than Ben Hogan, who retired from the game with 5 trophies from what was then called the Colonial National Invitation.
No wonder Colonial Country Club is known as the true "Hogan's Alley."
Speaking of past names of this golf tournament, quickly glance over the table below. You'll see the plethora of titles that this tremendous golf tournament in Fort Worth, Texas, has gone by over the years.
We'll start with its inception, which came all the way back in 1946.
Name Changes Over the Years
Tournament Name
Year(s)
Colonial Invitational
1946-1988, 1995
Southwestern Bell Colonial
1989-1994
MasterCard Colonial
1996-2002
Bank of America Colonial
2003-2006
Crowne Plaza Invitational at Colonial
2007-2015
Dean & Deluca Invitational
20016-2017
Fort Worth Invitational
2018
Charles Schwab Challenge
2019-Current
It remains to be seen how long the partnership with Charles Schwab will last, but they've inked themselves in at least through the 2022 event.
Whether or not this tournament gets a new sponsor or stays with Schwab won't change the fact that the PGA Tour will be coming back to Colonial for as long as we can predict.
What's Nearby?
We hinted in the introduction that Colonial Country Club sits in the same section of Fort Worth as Texas Christian University, the home of the Horned Frogs.
For those who are unaware, this area is about 35 miles west of Downtown Dallas.
Halfway between the country club and the Reunion Tower, a central landmark in the Downtown Dallas area is AT&T Stadium. The home of the Dallas Cowboys is such an incredible, multifaceted structure that it's worth checking out even if it's the offseason for "America's Team."
And if you are more of a baseball fan, the home of the Rangers MLB franchise is adjacent to the Cowboys home field.
We recommend planning ahead and timing your trip up to perfection. Hear us out.
The Rangers will be hosting games during the same week that the Charles Schwab Challenge comes to town. So sports fans in Fort Worth, why not double up on the action?
You can watch a PGA Tour event up close and personal in the afternoon, followed by a trip to Globe Life Park in the evening fora baseball game.
Don't forget about Six Flags Over Texas, the massive amusement park with endless activities for children and adults of all shapes and sizes. And then,of course, they have the Fort Worth Stockyards for those who are interested in Western heritage.
Just make sure you set enough time aside for your journey through the Stockyards, as the cattle drive that's held twice daily normally generates plenty of foot traffic in the district.
All in all, you'll never run out of things to do or places to see in the Fort Worth/Dallas area.
If you are there for Memorial Day weekend and grab hold of some tickets to the Charles Schwab Challenge, even better!
Some Lasting Remarks
You can travel the country far and wide, and you may not encounter a course as blissfully designed as Colonial Country Club. It's a perfect example that lengthening a golf course isn't the only way to make a course more difficult or more demanding nowadays.
In fact, sometimes a shorter hole that forces players to make more strategic decisions is the way to trip them up.
The greatest thing about Colonial CC is that you get the best of both worlds, as there a few long holes that provide stern tests for even the bombers. But it's the doglegs, the tree-lined fairways, and the eloquently designed nuances that truly make this place stand out.
This guide is intended to serve as your one-stop shop for anything you need to know about the home of the PGA Tour stop in Fort Worth. We gave you some history of its early days. and we toured the famous "Horrible Horseshoe."
Discussing the 1941 U.S. Open and Fort Worth Invitational was just to help round out how magnificent and acclaimed this property really is.
We hope you get to experience it first-hand one day, because it's something that a true golf fan will cherish and never forget.
May
Sportsbook of the Month

Sign up Bonus
60% Up To $1,000
READ REVIEW
Visit Site
X