All About the Bay Hill Club and Lodge Golf Course
It's the golf course synonymous with the King, Arnold Palmer. It has been the site of eight Tiger Woods victories, including some mammoth-sized fist pumps on the 18th green.
We could only be talking about one place, and it's called Bay Hill Club and Lodge.
The 27-hole private country club in Bay Hill, Florida, has been the home of the Arnold Palmer Invitational since the first year it was played in 1979. The highlights and memories that have been created here are nothing short of remarkable, and we plan on unveiling them by the time you are finished with this page.
The overall plan for this guide is to tell you all the important details of that tournament and this golf course. Being that it is a private oasis just outside Orlando, not everyone knows how special and how beautiful this place is.
That why our top golf enthusiast is here to break it all down!
From the time it was opened to what has happened recently, enjoy your journey through Bay Hill.
Bay Hill Club and Lodge – Key Facts
Location

Bay Hill, Florida

Year Opened

1961

Owner/Operated By

Private

Course Designer

Dick Wilson

Par

72

Yardage

7,419 yards

Host To

The Arnold Palmer Invitational (1979-Current)

Official Website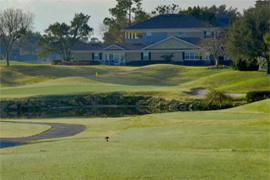 Some Early Notes About Bay Hill
Before we jump into a discussion about Arnold Palmer and the golf tournament hosted in his honor, we need to give you a solid foundation for how this golf course even came to be in the first place.
Believe it or not, when Bay Hill was designed and built, it actually had nothing to do with Arnold Palmer.
The story of how and why this golf course came to be is actually quite ironic.
The huge parcel of land in central Florida where this course is now based was supposed to be used to grow citrus, only there was one major problem. Something to do with a lack of nutrients in the ground made it uneconomical to grow fruits on the land.
This meant that the massive acreage owned by Dr. P. Phillips needed to be turned into something else viable. It wouldn't be long before Dr. Phillips' son had an idea, assisted by some outside help.
The proposal for building a championship golf course first came into play in 1959, thanks to a pair of savvy businessmen. Tom Barnes, along with his business partner Tom Dore, were the two men that put a plan in motion to develop this gorgeous tract of rolling hills and wetlands into a divine golf course.
By 1961, Dick Wilson was hired to design an 18-hole layout. They say the rest is history, but we'll fill you in if you just continue reading below.
Arnold Palmer Gets Involved
We are going to take a close look at the golf course and talk about the signature holes – don't worry. But we first need to keep things flowing and tell you how and why the King got involved.
The year was 1965, the same year that a man by the name of Walt Disney acquired more than 27,000 acres nearby to build a place that would become Walt Disney World.
Arnold was playing in a charity tournament that was being hosted at Bay Hill, and the newspaper's headlines read, "Palmer Brings Bay Hill to Knees."
Call it love at first sight, because Arnold was utterly enamored with the property from the moment he laid eyes on it. He told his wife when he got home that he wanted to own it one day, and he wasn't kidding.
Fast forward five years, and we arrive at 1970, the year in which Palmer decided to make his dream become a reality. Arnold extended himself into a five-year lease with Bay Hill Club and Lodge, with the option to purchase the club.
By 1979, this place was more than a championship-quality golf course. It was ready to host a PGA Tour event.
We'll tell you all about the Arnold Palmer Invitational, but let's first take a deep dive into the layout.
A Close Look at the Golf Course
We told you that Dick Wilson was the man who generated the original 18-hole layout at Bay Hill. What we haven't gotten to until now is that Arnold Palmer came to the site in 2009 to apply his special touch.
Arnie's beautification process turned into a full-bloom renovation, and Palmer was heavily involved the entire time. The first thing he focused on was improving the greens.
That meant a complete redesign of all 18 putting surfaces. Amending all the greens also meant Palmer and his staff had to go to work on recontouring the bunkers and rough lines, which, as you can imagine, was quite the procedure.
Length was added to certain holes, but it was the overall enhancement of the aesthetics and the playability of the golf course that was greatly improved.
Set in the heart of Orlando's abundance of fantastic tracks, Bay Hill Club and Lodge has a lot of great holes. But there are a few that are spectacular.
Take a look as we unveil the flagship holes at the King's masterpiece.
The 6th Hole
Nothing against the first five holes of this golf course, but #6 is where the magic starts happening. Perhaps the most recognizable hole on the property, this 555-yard par 5 is one of the more memorable "5-shotters" around – period.
In 1998, during the final round of the Bay Hill Invitational, John Daly took 18 shots to complete the 6th hole.
When you actually see the design and shape of this hole, and you understand Daly's personality, things start to become a bit clearer. Rather than keep you in the dark about what this hole looks like, check out the 63-second flyover footage that portrays the 6th hole perfectly.
There's not else much we can say to give the hole proper justice that isn't displayed in the short clip above, but just know it's one of the holes that tour pros seriously look forward to playing.
At least the ones who are confident in their ball striking!
The 13th Hole
It's not often that the shortest par 4 on the golf course is the number-one handicap hole.
But that is the case with the 13th hole at Bay Hill Club and Lodge. At just 370 yards from the back tees, this devilish par 4 is not for the faint of heart.
For pros, it actually doesn't cause too many fits. Most guys lay up short of the fairway bunkers with some sort of long iron, and then proceed to hit a short iron or wedge onto the smallish green protected by water and sand traps.
But for those who aren't professionals, this hole can be a doozy.
Missing the fairway means players have to try and carry the water hazard from either sticky rough or a bunker. Missing this tricky putting surface with your approach leaves you in precarious positions that require a bit of luck to get the ball up and down.
All in all, par is a terrific score at 13 because the members make plenty of doubles and triples here!
The 16th Hole
The 16th hole at Bay Hill is the last legitimate scoring opportunity for golfers. At just 517 yards from the tips, the longer hitters can make "mincemeat" out of the final par 5.
This hole's only real defense off the tee are sand traps left and right of the fairway that can no longer be carried from the back tee box.
But a high power fade from a right-handed golfer will still leave just a middle to long-iron left into a hole that typically surrenders as many or more eagles as it does bogies during the Arnold Palmer Invitational.
There is a stream of water that juts across the fairway in front of the green, so players do have to elevate their second shots if they are trying to get home in two.
But even with that being said, this is as much of a "birdie hole" as tour players will encounter.
Hey, even the high handicappers should have a legit shot at making a par!
The 18th Hole
The final hole at Bay Hill is a stunningly-designed par 4 that course designers should really admire. Anyone building a golf course looking for a model for a classic culminating hole, look no further than 18 at Bay Hill.
The memories and highlights created here are noteworthy, to say the least, and we're going to reveal a couple of them a little further down the page when discussing the prestigious golf tournament that's held here.
But we want to give you a thorough description of the hole itself first.
No. 18 can stretch out to more than 460 yards when a back-right pin placement is utilized, as it typically is on Sundays of the Arnold Palmer Invitational. The fairway cuts off at around 325 yards from the back tee, so some players opt to rip a 3-wood as far down the fairway as they can.
There aren't any traps in play off the tee, but staying in the short stuff is critical.
Hitting the fairway is an absolute must if players expect to be able to get their second shots close.
Because they have virtually no chance of doing so from the rough. Around the green is where all the trouble awaits because the putting surface is safeguarded by three bunkers, rocks, and water.
We don't want to spoil what the likes of Tiger and Rory have done here over the years, so please, just stay tuned.
The Arnold Palmer Invitational
Now that you've been entertained and informed on what the layout at Bay Hill is all about, let's discuss the golf tournament that has put this place on the map.
Officially established in 1979, the Arnold Palmer Invitational (API) took over the Florida Citrus Open Invitational that was played at Rio Pinar CC from 1966-1978.
What began in 1979 as the Bay Hill Citrus Classic evolved into the Bay Hill Classic and then the Hertz Bay Classic. Swiss food and drink conglomerate Nestle took over as the title sponsor from 1989-1995 before Office Depot presented us with the Bay Hill Invitational from 1996-1998.
This tournament went by the "Bay Hill" all the way through 2006, before being changed to the Arnold Palmer Invitational permanently in 2007.
This makes this competition one of just five PGA Tour events that have been awarded "Invitational status," which also means it has a smaller field.
Just 120 of the best golfers in the world are invited to participate in the API, whereas a typical PGA Tour event consists of 156 players at the beginning of the week.
Just to give you an idea of what it takes to win this thing, check out the who won and what the winning score was since 2007.
| | | |
| --- | --- | --- |
| Year | Winner | Score |
| 2007 | Vijay Singh | 272 (-8) |
| 2008 | Tiger Woods | 270 (-10) |
| 2009 | Tiger Woods | 275 (-5) |
| 2010 | Ernie Els | 277 (-11) |
| 2011 | Martin Laird | 280 (-8) |
| 2012 | Tiger Woods | 275 (-13) |
| 2013 | Tiger Woods | 275 (-13) |
| 2014 | Matt Every | 275 (-13) |
| 2015 | Matt Every | 269 (-19) |
| 2016 | Jason Day | 271 (-17) |
| 2017 | Marc Leishman | 277 (-11) |
| 2018 | Rory McIlroy | 270 (-18) |
A couple things to quickly point out.
The course was amended and played as a par 70 from 2007-2009, but that was short-lived. The golf course was designed to play as a par 72 with four par 5s, so they've kept it like so since 2010.
The other obvious thing to take away from the recent list of winners above is that you see the name "Tiger Woods" four times. Well, guess what?
Tiger has actually won this event a remarkable eight times because he won four straight from 2000-2003.
Seriously.
This includes winning by a total landslide in 2003 when he shot 19 under and clipped the entire field by 11 despite feeling ill the whole week!
It's too hard to keep track of all of Tiger's heroic moments at Bay Hill Club and Lodge. If we wanted to reminisce watching highlights, we'd be here for the next two hours.
But know that in 2008, he poured in a 30-foot curling left-to-right putt for birdie on the 72nd hole to win the tournament in incredibly dramatic fashion. But he wasn't done.
Because then in 2009, he did this…
If you don't get chills watching Tiger hole clutch putts like that, then you must not truly appreciate the game of golf and what that individual has done for the sport.
But let's not make this segment all about Mr. Woods, because he's not the only man to have found success at the stunning golf course inside the gates of Bay Hill.
Tom Kite and Loren Roberts each have a pair of first-place trophies from this specific golf tournament, as do Ernie Els and Matt Every. But if you watched the conclusion of how the 2018 API played out, then perhaps you saw the coolest performance since that of Tiger during his heyday.
The 2018 Arnold Palmer Invitational
Rory McIlroy put on a show on Sunday, ripping the back 9 to pieces en route to a three-stroke victory over Bryson DeChambeau.
Starting the day at 12 under and two off the lead held by Henrik Stenson, Rory entered a zone on Sunday that few golfers have experienced. After playing bogey-free golf through 12 holes and being 3 under par on the afternoon, "Rors" turned on that switch that we all can only dream of being able to flick upright.
Rory birdied 13, 14, 15, and 16 before holing this theatrical birdie putt on the final hole. Talk about having a hot putter – McIlroy needed just 100 putts to complete the 72 holes, by far his fewest number of putts in a tournament as a professional.
A Private Establishment Outside Orlando
We have disclosed quite a bit of information about the golf course at Bay Hill Club and Lodge, and we most definitely opened your eyes to the Arnold Palmer Invitational.
Now we'd like to point out some of the other features of the property.
Before we get into some of the amenities that are offered, we'd like to elaborate on the nine-hole course that was added to the club.
The "Charger 9" is an additional nine holes of golf that was designed and built by Bob Simmons in 1969. At a hair over 3300 yards from the green (back) tees, this course won't be as demanding as the championship layout, but it offers just as much beauty.
The 3rd hole is a 313-yard par 4 that has two bodies of water running up the right side of the hole and extending out in front of the green. There is a saying that all great golf courses have one drivable par 4, and the Charger 9 is no exception.
The 4th and 5th holes represent back-to-back par 5s and give low-handicap players their two most feasible opportunities to cash in on a birdie. While #4 is fairly straightway with bunkers being the only hazards, #5 is a sharp dogleg left that has a large pond lurking to the right of the green.
We recommend using the Charger 9 as a warmup of sorts for your round on the big course, but don't take that the wrong way. The Charger 9 is a fantastic and well-manicured stretch of golf and will be enjoyed by all golf enthusiasts.
Speaking of golf enthusiasts, we have yet to tell you the best part about Bay Hill Club and Lodge, the so-called private resort in Orlando, Florida. We want to let you in on a little secret.
It's not as "exclusive" as you may think, and you and your golf buddies can book your trip and set up your tee time right now!
Follow along…
Come Stay and Play at Bay Hill!
That's right; you read that correctly.
Despite being touted as a private establishment reserved for members only, Bay Hill Club and Lodge actually falls into a different category.
It's called "semi-private."
This means that you don't actually need to be a member who pays monthly dues to snag a tee time at the course that Tiger has won an astonishing eight times at.
Do you want to re-create a moment like the one Rory McIlroy had at the '18 API?
Because you can, and it's just a click away!
Book your accommodation and tee time at Bay Hill right here in a matter of minutes. Or call 1-888-422-9445, and one of their lovely employees will be happy to get you set up.
What semi-private really means is that if you are staying at their lodge, you can play their golf course. This doesn't mean anyone can just show up at Bay Hill and pay a certain price and get on the golf course – it doesn't quite work like that.
However, Bay Hill will cater to those who choose to vacation on their premises.
Will it be cheap? No.
Will the humidity go away if you choose to play Bay Hill in the summer? Probably and almost surely not.
But will you get your money's worth and create priceless memories? Chances are, you will.
Especially when you hear about all the amenities this place has to offer!
Where do we even start?
Close your eyes and imagine a really upscale resort with all the bells and whistles you'd expect from a top-notch facility.
Now open your eyes and picture what we've described to you about Bay Hill Club and Lodge, and get ready to add in the following.
Six luxurious tennis courts – four Deco-Turf and two Har-Tru courts. Our tennis buffs can get excited about that!
Fitness center filled with everything a "gym rat" could want
Premier salon and spa with a bevy of well-being and personal-enhancement treatments available. This includes five types of massages and a duo of body therapy sources
Marina equipped for fishing and boating activities. Guided tours available as well!
Enough dining options that will leave even an avid foodie in good spirits
We don't want to pretend to be a travel guide for the Lodge, as the concierge at Bay Hill Club will take care of all your needs and be at your beck and call.
And if working on and improving your golf game is important to you, perhaps take a gander at the Arnold Palmer Golf Academy that is based right out of Bay Hill Club and Lodge.
The type of instruction and tips taught here are as close of a replication as possible to the type of guidance you would have gotten from the King himself.
It's not just a bunch of swing instructors who take you out on the range and work on your technique.
The Arnold Palmer Golf Academy has qualified individuals who focus on areas such as short game, scoring, course management, and of course, the fundamentals.
The bottom line here, as is with everything involved with this golf course and resort, is that everything is top-shelf.
No stones are unturned.
A Short Rundown
Do whatever you have to do.
If that is to ask your boss for time off of work or ask your spouse for a few days away with your buddies, just do it.
Schedule a trip to Bay Hill Club and Lodge and treat yourself to a few days in golfing paradise.
Use this guide as your foundation, as we aimed to tell you everything you'd want to know about the property known for being Arnold Palmer's retreat.
We told you about the early days, and we gave you a pretty in-depth description of the layout and crucial holes.
The amenities and activities available for guests of the resort are second to none, and you could spend hours drooling over highlights of the Arnold Palmer Invitational from Tiger Woods alone.
The man has won the tournament an absurd eight times.
And who knows?
The way Tiger has resurfaced, we may have to update this page at some point and change that number to nine!
May
Sportsbook of the Month

Sign up Bonus
60% Up To $1,000
READ REVIEW
Visit Site
X