A Guide to the Lower Course at Baltusrol Golf Club
Those of you who are true golf historians have surely heard of Baltusrol Golf Club.
We'll begin by stating that any golf facility in America would be stoked to have their track ranked inside the top 100 in the nation. The members at Baltusrol GC in have it even better, as their club boasts a pair of courses nestled inside the top 70!
As nice as the Upper Course is at Baltusrol, it is the Lower Course that is immersed in even more rich history and memories. Out of the seven United States Opens played on the property, the most recent four have taken place on the Lower Course.
Both PGA Championships (2005 and 2016) to come to Baltusrol were held at the Lower Course, as will the 2029 PGA when that time arrives.
The bottom line is that few courses in the country are steeped in as much tradition as the one we are going to unveil on this page.
There is a lot to cover if we don't want to leave any important details out. So without any further ado, it's time to dive in!
Baltusrol Golf Club: Lower Course – Key Facts
Location

Springfield, New Jersey

Year Opened

Club Established in 1895, Lower Course Opened in 1922

Owner/Operated by

Private

Course Designer

A.W. Tillinghast (Multiple Restorations by Robert Trent Jones and Rees Jones)

Par

72 (70 During Major Championships)

Yardage

7,400 yards

Host to

U.S. Open (1954, 1967, 1980, 1993), PGA Championship (2005, 2016, 2029)

Official Website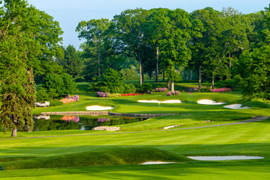 The Early Days at Baltusrol Golf Club
Way back in 1895, a man named Louis Keller founded Baltusrol Golf Club. The farmland was rehabilitated into a golf course as the game of golf began to gain popularity around the turn of the century, but there was a tragic event that took place on the grounds some 60 years prior.
The owners of the territory were the Roll family, and the head of the family was a man named Baltus. Disastrously, Baltus was viciously murdered during a robbery attempt gone awry in 1831. To honor Roll's life, the club would be fittingly named Baltusrol.
It wouldn't take long for the initial 9-hole course to be created, which was soon transformed into an 18-hole track. By 1903, the Old Course at Baltusrol had held its first United States Open, won by Scotsman Willie Anderson with a total of 307.
After hosting another Open in 1915, the club knew that they needed to expand and improve their golf course if they wanted to continue hosting major championships.
It was then that Keller decided to team up with A.W. Tillinghast, the incredibly distinguished golf course architect from nearby Philadelphia, to create something special.
In fact, what Tillinghast proposed was something that had never been done in America before. His idea was to completely abolish the existing course and clear out enough room to build two courses side-by-side.
Back in 1915, such an expansive and all-embracing project had never been attempted, let alone conquered. On top of that, Keller and his club already had an established 18-hole course that had hosted a pair of U.S. Opens and a U.S. Amateur.
So was it worth it to assume this much risk and start from scratch?
Considering the end result of both the Upper and the Lower Courses, it's pretty safe to say that the answer was a resounding "yes."
For a man who is responsible for creating a bevy of world-class golf courses, Baltusrol is known as Tillinghast's most important project he ever built. We plan on telling you all about the intricacies within the design, but in order to properly do that, we need to start fresh with a brand-new section.
Giving You a Taste of the Lower Course
Chances are you may never have the privilege of being able to play the Lower Course at Baltusrol Golf Club.
Your consolation is to carefully read this segment as we try and paint the picture of the layout as vividly as we can.
Since A.W. designed this masterpiece, there have been numerous renovations done to help comply with today's equipment. But it is important to note that the routing of the holes and positions of the greens have remained unchanged for nearly 100 years.
Whether it was Robert Trent Jones or his son Rees, the acclaimed designers who have come in to lengthen holes and reidentify certain particulars have made sure not to disturb Tillinghast's original intentions. A.W.'s innovative ideas can still be admired today.
For example, Tillinghast was keen on setting up holes in a way that made players favor one side of the fairway in order to have the proper angle to attack the pin from. He made famous the use of "cross-bunkers," essentially using sand traps to cut fairways into separate sections.
See, there was nothing really unique or special about the land that the course was built on. A.W. had to get creative and use his expertise to make this course as magnificent as it is. Like the brilliant way he used the bunkers to help set the framework of each putting surface.
Or how he shaped certain fairways on the longer holes like downward ramps, helping players propel the ball nearer to the green.
In all aspects, Tillinghast took his exceptional vision to build an amazing golf course, and he went out and executed.
Fast forward to today, and Baltusrol's Lower Course is ranked 39th in America in GolfDigest.com's most recent rankings. To continue showing you how and why this place is so fantastic, let's look at the three signature holes of the property.
Interestingly enough, come tournament time, the final two holes represent the only par fives on the entire golf course. Can you think of a major that ended with back-to-back par fives?
We'll give you a big hint. The Lower Course stands alone.
The 4th Hole – A Gorgeous Par 3
You had better hit a quality shot on the 4th hole at the Lower Course, or you're bound to make a really big number. The 199-yard par 3 forces players to hit over an enormous pond, meaning this shot is "all carry."
Missing short isn't an option, but those who hit it over and beyond the 4th green will be left in an ever so precarious position. A quartet of bunkers safeguards the putting surface, and it's all tangled-up rough beside that.
Try hitting a greenside bunker shot with nothing but a big, blue lake lurking in the backdrop – it's not the ideal scenario.
Nothing but large trees and delicate vegetation surround the 4th hole, making it easy to take your eye off the prize and fall victim to the beauty. It's the combination of the charming setting and the design of the hole that makes this the most outstanding par 3 on the property.
The 17th Hole
With how far guys are hitting the golf ball nowadays, there aren't many true "three-shot par fives" out there anymore.
However, with the 17th at the Lower Course clocking in at around 650 yards, few if any players will have an opportunity to get home in two. To be frank, those who miss the fairway with their tee shots will be lucky if they can reach the green in three shots.
It's not that the rough is the longest we've ever seen, but the thickness and density of the grass make the ball sink down to the bottom. Forget about hitting a long iron out of this stuff, because it takes brute strength just to advance the ball 100 yards or so with a wedge.
Once players carry the series of cross-bunkers with their second shots, the job is only half done. The area short and right of the green is another series of sand traps, with just a skinny chute of grass being the only way a player can run a ball onto this green.
Don't just take our word for it. See it for yourself.
This video clip highlights the 17th hole at the Lower Course, so take a look at how much of a beast this hole really is.
The Finishing Par 5
While the 17th hole will test the mettle of even the very best players, the culminating hole at the site of Phil Mickelson's second major championship victory is much more attainable.
Nearly a full 100 yards shorter than 17, the 18th hole bends gently to the left as it climbs uphill toward the clubhouse. A good drive will give players a very reasonable shot at reaching the green in two, and we've seen eagle made at crunch time before.
Jason Day eagled the 72nd hole at the 2016 PGA Championship to at least put a little pressure on eventual champion Jimmy Walker, but he still came up a single shot short.
There is a lengthy body of water that meanders up the left side of this hole, even at one point jutting across the grass and splitting the hole into two distinct fairways. Yes, it is much easier than the 17th, but don't take this par five for granted. Get one in the short stuff from the tee, and then go from there.
Two well-struck shots by a professional, and they'll be staring at a birdie opportunity. Hit one crooked off the tee, and they'll be fighting their way up the hole just to salvage a par.
Now that you have the setting for the final two holes, let's start looking at the major championships that have been hosted here. If you're looking for the highlights and incredible shot-making, you'll find it below if you just keep reading!
U.S. Opens Hosted at Baltusrol's Lower Course
Have you heard of that golfer named Jack Nicklaus? You know, the man they call the Golden Bear and the most distinguished professional golfer that has ever stepped foot on Earth? That guy.
Well, he made the most of his opportunities playing the Lower Course, winning a duo of U.S. Opens here in the process. In fact, Jack set a U.S. Open scoring record at the 1967 U.S. Open, only to break his own record when he returned to Baltusrol for the same tournament in 1980.
Allow us to elaborate more on these two instances, as well as the other two times the American National Championship came to Springfield, New Jersey.
1954
Ed Furgol had a relatively quiet career on the PGA Tour, winning a total of six events from 1947-1957. His most memorable moment came during the summer of 1954 when he triumphed at the United States Open.
This marked the first time the U.S. Open would be nationally televised, and it was also the initial case of ropes being used to regulate the spectators. Clearly, the game of golf was heading in the right direction.
By the time the second round had concluded, Furgol was sitting at 1 over par, tied with Ben Hogan for second place and two shots behind leader Gene Littler. 36 holes later, and Furgol was in the clubhouse at +4 (284), waiting to see if it would be enough. When Dick Mayer double-bogeyed the final hole, Furgol realized it was.
Ed's steady rounds of 71-70-71-72 earned him a check for $6,000 and more importantly, a place in the tournament's history forever.
1967
When Jack Nicklaus arrived at Baltusrol in 1967, he perhaps wasn't touted as the golfing legend he is today. But keep in mind that the dude had already won 6 major championships, including the Grand Slam, and was undoubtedly the top player in the world.
So when he stormed out to a Sunday 65 to come back and win the golf tournament, it wasn't all that big of a surprise. The fact that he set a new U.S. Open scoring record – that was to be expected from the former Ohio State standout.
To add to the drama, Arnold Palmer finished runner-up to Jack, and this was the last major that Ben Hogan ever competed in.
How's that for storylines and front-page material?
As far as the actual play of the tournament went, the headlines had belonged to an amateur named
Marty Fleckman, who held the solo-lead of the tournament after 54 holes. As one could imagine, the pressure of trying to hold a lead in a U.S. Open and fend off the likes of Nicklaus and Palmer was way too much for a 23-year-old amateur to handle.
Fleckman cracked and shot a final round of 80, dropping him all the way back into 18th. It would be quickly forgotten in the golf world because the final day would belong to Jack.
To end things in style, Nicklaus laced a 1-iron from 238 yards out in the fairway to about 20 feet before calmly rolling in the birdie putt to put a record score in the history books.
That is until the Golden Bear made his return to the Lower Course just 13 years later…
1980
Back again for another U.S. Open, but that wouldn't change the end result.
As previously mentioned, Jack Nicklaus wrapped up this title, this one the 16th major championship of his career. This time, Jack decided not to wait until the fourth and final round to pounce on the leaders. In 1980, Jack made the conscious decision to end all other golfers' hopes and dreams by Thursday evening.
And how did he do that?
He opened with a blistering and record-tying round of 63. That's how.
Despite starting the tournament with a historic round, Jack found himself tied with Isao Aoki at six under par by the time he awoke on Sunday morning. Jack went on to shoot 68 to clip Aoki by two, as Tom Watson was amongst the trio of men who finished another two shots back in third.
At 40 years old, Jack wasn't supposed to still be winning majors. And he certainly wasn't supposed to be out there breaking the tournament scoring record.
1993
The last time the United States Open was contested at Baltusrol's Lower Course, Lee Janzen was the last man standing. Shooting the identical score of 272 shot by Jack Nicklaus here in 1980, Lee was able to tie the U.S. Open scoring mark that had stood for 13 years.
A round of 67 on Thursday left Janzen tied with Craig Stadler, just one shot behind a threesome of leaders. But after Janzen shot another 67 on Friday, he found himself two shots clear of the field when the weekend play got underway.
An even-keeled third round of 69 put Janzen in a prime position to capture his first major championship, and he wouldn't let this opportunity be passed up.
By the time the dust settled on Sunday, Janzen's 69 meant that he was just the second player ever to record four rounds in the 60s during a U.S. Open (Lee Trevino, 1968). More importantly, his total of 8 under par was enough to stay two shots ahead of Payne Stewart and stamp his name on the U.S. Open Trophy.
Phil the Thrill – The 2005 PGA Championship
It had been just over a year since Phil Mickelson had gotten the monkey off his back. The 2004 Masters Champ finally had a major championship on his resume, so now was the time to start adding more notches onto his belt.
Phil's first and only Wanamaker Trophy came right here at the Lower Course in August of 2005, and he claimed it in quite the dramatic fashion. Despite opening with 67-65 and racing out to a 3-shot cushion, things would tighten up.
A Saturday round of 2-over-par 72 meant that Phil found himself deadlocked with Davis Love III when 54 holes were in the books. With another 10 players between 1 and 3 shots behind, this was still anybody's golf tournament.
Rather than find out who would win the tournament on Sunday as is tradition, the fans in Springfield, New Jersey, had to come back the next morning to watch the final few holes play out. A torrential downpour delayed the action, meaning that Tiger Woods was actually the clubhouse leader when play was halted on Sunday evening.
When play resumed the next morning, the gallery on 18 was treated to one of Phil Mickelson's most classic and iconic short game shots, a ridiculous flop from the matted-down rough that cozied up to about 2 feet from the cup.
Take a look for yourself.
Playing the final hole tied with Thomas Bjorn and Steve Elkington, it was this up and down on the final hole for birdie that would lift Mickelson to four under par and atop the leaderboard. Now armed with his second major, the floodgates had been blown wide open for the man they call "Lefty."
Jimmy Walker Tames Baltusrol – The 2016 PGA Championship
The second time the PGA of America came to Baltusrol GC to host their marquee event was in 2016. Once again, the week wouldn't conclude without a handful of extraordinary instances and highlights.
By the time the fat lady was singing on July 31st, it was Jimmy Walker at -14 and one shot clear of the defending PGA Champion, Jason Day. It was the first major for the former Baylor Bear, and boy, was it an arduous final day.
Poor weather allowed just 37 players to complete their third round on Saturday, with multiple groups never even teeing off. This meant that the final day was scheduled for a 36-hole marathon for most of the players in contention as they had to battle it out during a slugfest of a final day.
Thanks to a clean card consisting of 15 pars and 3 birdies, Jimmy Walker captured the 2016 PGA Championship, etching his name into the 37-pound Wanamaker Trophy for the rest of eternity.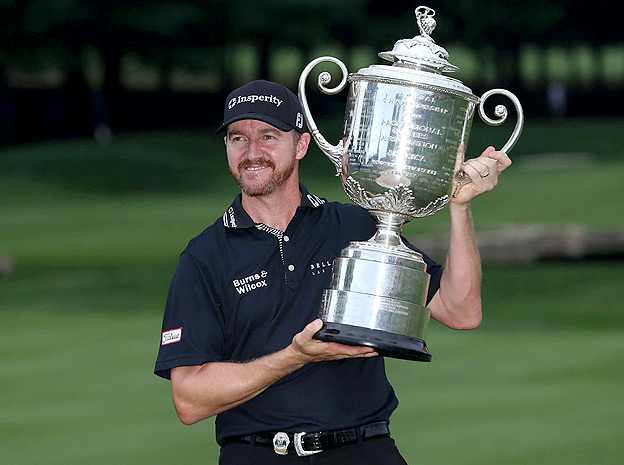 The 2029 PGA Championship
We know it is still a ways away, but why not start thinking about some future plans? The 2029 PGA Championship at Baltusrol's Lower Course will be the third time that this major championship has been played at the private A.W. Tillinghast design in Springfield, New Jersey.
As you learned above, for each of these three instances, the tournament was played at the Lower and not the Upper Course. Nothing against the 61st-ranked course in America, but the Lower Course is more suited to host the prestigious events.
It's hard to say what the world of golf will look like by then, but I imagine they'll have to continue "doctoring up" the venue so that it's appropriate to host a major. Dustin Johnson and Brooks Koepka are already flying the ball 315 with no problem, so who knows?
By 2029, a 330-yard carry might just be the norm!
If you do find yourself in a situation where you can attend the PGA Championship next time it's at Baltusrol, use the passage below to help guide yourself around the area.
Where Is Baltusrol Golf Club?
If you have never heard of Springfield, New Jersey, you likely aren't alone. Given that the town has less than 20,000 inhabitants, we can forgive you if you are scratching your head and saying, "Where is Springfield?"
Springfield is a township in Union County, located just 25 or so miles west of the center of the Big Apple. That's right. Times Square is just a short 40-or-so-minute commute from Baltusrol, and there are plenty of forms of transportation to get there.
There are a plethora of surrounding golf courses, but nothing that can hold a candle to both of A.W. Tillinghast's premium pieces of work at Baltusrol. In fact, the grounds of Baltusrol Golf Club are so sacred that the club was awarded a place on the National Register of Historic Places in 2005.
Furthermore, Baltusrol was selected as a National Historic Landmark in 2014, becoming just the fourth golf course to join this coveted list.
Given that you know that Manhattan is just on the other side of the Hudson River, you shouldn't have any shortage of things to do if you happen to be visiting Springfield.
Lenape Park is just a couple miles from the golf course, but don't expect it to provide the views and scenery that Central Park would if you decide to cross the river.
If you are ever fortunate enough to score an invite to Baltusrol, don't be foolish and pass it up. If you want to be able to tell your friends or your grandchildren that you have stepped foot on A.W. Tillinghast's most significant creation, you'll have to make your way to Baltusrol Golf Club.
Going Away
As far as we're concerned, the Lower Course is about as pure as it gets.
You can search the United States long and far in an attempt to find a more immaculate golf course – we're just not so sure you'll be able to come up with anything as pristine.
Baltusrol Golf Club wasn't designed to just be an ordinary 36-hole golf facility for its members and their guests. Along with Louis Keller, A.W. Tillinghast knew that this place was going to be special and that it would host major championships for as long as they will be played.
We elaborated on the extensive project that was building out the course two layouts at Baltusrol, and we even toured the flagship holes. You know all about the U.S. Opens and PGA Championships that have taken place there.
The only thing left is to find a way to play the golf course yourself!
If you are unable to pull the necessary strings, take solace knowing that you can head to Baltusrol's Lower Course in 2029 and watch the best players in the world tackle the par-70 track.
This course won't be going anywhere, and all the vital details will remain intact.
As they say with the true "gems" in the world of golf, some things are better when left untouched!
May
Sportsbook of the Month

Sign up Bonus
60% Up To $1,000
READ REVIEW
Visit Site
X