Austin Country Club – A Leading PGA Tour Venue
Those of you who love March Madness and can't wait to fill out a bracket, we've got news for you. There's another bracket worth filling out.
It's called the World Golf Championships-Dell Technologies Match Play, and it coincides with the NCAA Men's Basketball Tournament every year at the end of March. And dating back to 2016, it's had a permanent home.
The site of the PGA Tour's only individual match play event is Austin Country Club, and it's time you find out just how spectacular the venue is. We'll tour the golf course and expand on the signature holes, but we also want to shed light on the deep history that is rooted beneath this private club.
As you'll soon find out, what you currently see sitting on the south bank of the Colorado River isn't the original location of where Austin Country Club was built. Start by taking a peek at some basic facts about the Pete Dye-designed gem before finding out exactly how it all got started.
Austin Country Club – Key Facts
Austin Country Club – Key Facts
Location

Austin, Texas

Year Opened

1899, present site established in 1984

Owner/Operated By

Private

Course Designer

Pete Dye

Par

72

Yardage

7,108 (during the 2018 WGC Match Play)

Host To

The WGC-Dell Technologies Match Play (2016-Current)

Official Website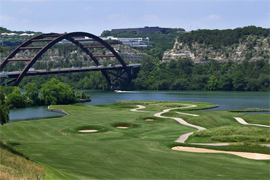 Understanding the Roots of Austin Country Club
Thanks to a gentleman by the name of Lewis Hancock, Austin Country Club originated on November 14th, 1899. Due to his forward-thinking mentality, Hancock was able to formulate and execute ideas that others simply couldn't.
For example, starting the first private country club in Texas.
Serving as the mayor of Austin by age 40 in 1886, Lewis was treasured in the community. The graduate of Harvard Law School had a wide skill set and was involved in many endeavors around the city of Austin. In fact, keeping busy with so many work obligations was actually what set his plan in motion.
That plan was to create a place where successful and accomplished businessmen could relax and wind down during their free time. Being that golf was an outdoor sport, and the game was the perfect avenue for what Hancock was trying to accomplish, his idea that turned into a plan then became his mission.
Creating a private country club was next up on the agenda. We told you he was wise beyond his years, and here's the proof.
When Austin CC opened toward the end of 1899, it was the first golf course/country club in the entire state of Texas. Lewis was able to make his dream come true thanks to raising a whole bunch of dough from some of the wealthiest families in all of Austin.
A nine-hole course and a two-room clubhouse were all the original property had to offer, but then again, that was pretty spiffy back in the late 19th century.
Assuming the title of President of the Club, Mr. Hancock was the head honcho at Austin CC for the first 17 years of its existence. And even after his tenure was over, it was known among the locals that only the most privileged individuals would have the option of joining the country club.
By 1949, it had been decided that the golf club had outgrown its land, and it was time for an upgrade. A new venue was built in East Austin, but that setting lasted just 35 years before Austin CC was on the move again. Their previous facility (from 1949-1984) is known today as Riverside Golf Course, a public track next to Austin Community College's Riverside campus.
The present-day Austin CC finally came to life in 1984, and that's where we can transition seamlessly into an in-depth description of the current location.
A Layout Eloquently Designed for Match Play
Imagine if Texas and Scotland had a baby. And envision the diabolical Pete Dye as the man in charge to tie everything together in the form of 18 golf holes.
If you can wrap your head around those ideas and process that information, then you'll have a terrific starting point to understanding the layout at Austin Country Club.
If you aren't familiar with Pete Dye the architect or some of his past work, perhaps you have heard of TPC Sawgrass. What about Whistling Straits? Does the Ocean Course at Kiawah Island Golf Resort ring a bell?
The point is, Pete Dye is known for producing treacherous and arduous golf courses not designed for the faint of heart. And Austin Country Club fits nicely within Dye's portfolio of other masterpieces.
We alluded to Austin CC finding a new home in 1984, and that was in Davenport Ranch. Situated just nine miles northwest of downtown Austin, it's the ideal location for hosting the PGA Tour's lone match-play event. We'll get into some of the opportunities and things to do within the vicinity, but for now, let's focus on the stunning layout that Pete Dye put together.
It's important to note that the two nines are flipped during competition at the WGC Match Play event, and for good reason. The 9th hole at Austin CC serves as an absolutely perfect 18th hole for a match-play tournament. But before we tell you specifically about the risk/reward setup that the final hole of the event presents, there are a few more characteristics of the property that we'd like to point out.
We mentioned that there were some Scottish attributes found at this Pete Dye design, and the deep pot bunkers scattered all around are your first big clue.
Like in Scotland, many of these pot bunkers are shaped in a way that players who wind up in them are unable to aim at their target. Forcing golfers to pitch out directly sideways in many scenarios is very reminiscent of playing golf in the UK – and notably Scotland.
You'll see massive dips and major undulations throughout the contours of the fairways and greens, rarely leaving players with even lies. You'll also notice that there is a section of the course known as the lowlands, which are holes 3-7 (12-16 during the WGC Match Play). These are the holes closest to the water, or in this case, the Colorado River.
The other 13 holes make up the "highlands," which are higher in elevation, enveloped in rolling hills. Large limestone slabs that were extracted on-site help transform this links-style course into a more prototypical track that one would find in the state of Texas.
To help further our elaboration on how the course is arranged and which holes are the most memorable, check out our thorough accounts of the flagship holes.
Hole #2 – "Earth's Edge"
Played as #11 for members at Austin CC, players in the WGC Match Play get one of the toughest holes on the course out of the way at the get-go. It's a daunting tee shot, considering players see a huge gorge of bushes in the direct line of sight of where they are trying to drive their golf balls.
Deer Creek Canyon runs along the entire left side of this 470-yard meaty par 4, swallowing any balls pulled or hooked left of the fairway's outline. Par is a tremendous score here.
Hole #12 – "Iron Bridge"
Aside from maybe #9 (the final hole during the match play event), "Iron Bridge" is easily the most unforgettable hole out here. It's the hole where players habitually rip 400+ yard drives thanks to the downhill landing area that awaits well below where players tee off from.
Here, watch Rory McIlroy blast one some 410 yards during the 2017 Match Play.
You can see that players take dead aim at the Iron Bridge, arched in the distance. They just don't want to miss their second shots left or long, or their ball winds up with the fish in the Colorado River. This hole is supremely designed for match play, as anything from eagle up to double bogey is in play here.
How a player stands in his match through the first 11 holes will likely determine how aggressive he decides to be on this highly-esteemed par 5.
Hole #13 – "Cape Dye"
The greatest golf courses generally consist of a drivable par 4, and Austin Country Club is no different. Number four, utilized as #13 come tourney time, is an exquisite example of a short par 4.
The scorecard tells you that "Cape Dye" measures 317 yards from the tips, but certain wind conditions force players into pushing something out to the right into the fat of the fairway. If the wind is helping, players who carry the water have no chance at holding the green, as the putting surface dries out and caroms balls up in the air like a taut trampoline.
Laying up with a long iron off the tee might seem like the prudent play, but it actually serves as the best opportunity to make a birdie.
Chicks might dig the long ball, but dialed-in wedge play and solid putting are what cashes the checks. It's also the recipe for success at Cape Dye.
Hole #15 – "Puzzle Landing"
This 440-yard par 4 is called "Puzzle Landing" for good reason. When looking at this hole from an aerial view, it appears that you are staring at an enlarged "question mark." It's almost like two mini-doglegs in one, leaving players mystified as to what shape of shot to hit and where to aim and land their ball.
The sandy bunkers guarding the right side of the fairway are the main obstacle to overcome on the 15th, and birdies most certainly can be had. But a poor swing or a bad break, and double bogey can sneak up on a player in an instant.
Hole #17 – "Windy Cove"
You'll see lots of matches won and lost here at "Windy Cove." The eighth hole at Austin CC sets up as the textbook penultimate hole for a round of match play, especially when the hole location is positioned in the back left.
A well-struck short iron on an aggressive line can give players the tap-in birdie they are looking for. But those who get a bit overly ambitious shooting for this flag in a swirling wind tend to see their ball disappear into a cavernous gully.
When there is a fine line between a birdie and a bogey, that's the pure definition of a fantastic match-play hole.
Hole #18 – "Two Chimneys"
What a sweet hole to finish the round on. Those who are acquainted with the Valley of Sin that protects the front of the 18th green at the Old Course at St. Andrews will know where the basis for creating this hole was born.
It's called "Two Chimneys" because the purpose and goal here is to fit your tee shot between the two chimneys conveniently set in the Texas skyline. Aiming for the chimney on the right and ripping a driver gives players a chance to catch the slope and trundle all the way onto the putting surface.
Sending a tee ball toward the left chimney works just fine as well, as the left-to-right sloping fairway kicks balls back into the heart of the short grass.
It almost certainly will take a birdie to win this hole, and in some cases, birdies just earn players a halve.
Being that we have referenced the WGC-Dell Match Play on numerous occasions, let's give it the proper introduction and illustration that it deserves.
The World Golf Championships-Dell Technologies Match Play
Let's dive into the WGC Match Play events that have been played at Austin CC. Aside from the majors, the World Golf Championship events are the biggest and most admired tournaments on the PGA Tour. Not only has Austin Country Club been the host of the flagship match play event for the past three years, but it will be the location of the WGC-Dell Technologies Match Play event for the foreseeable future.
Before you look at the results, here's a glance at some rules surrounding the unique format, starting with how players earn a tee time.
Players qualify based on their position in the Official World Golf Ranking (OWGR). The top 64 players (as of the week before the event) are in. Should any player inside the top 64 decide not to play, the 65th-ranked player is next up.
The players are divvied up into four pods, or four separate "player pools." The top 16 players are deemed in "Pool A," while seed numbers 17-32 make up "Pool B." Pool C consists of the 33rd-48th seeded golfers, and Pool D is rounded out by the last 16 men who squeezed their way into the field.
One player from each of the four pools is chosen at random to make up the 16 groups. This means that every group has exactly one player from each of the four pools.
The four players in every group each play one match against another competitor in their group over the first three days. Whoever emerges from their "four-man group" advances to the next round. This means that by the end of the third day, the field of 64 players will have been narrowed down to 16.
From there on out, it's just a good-old-fashioned match-play bracket. It'll mimic what the Sweet 16 in March Madness is like.
If any of that seemed confusing, perhaps looking at how the 2016 WGC-Dell Technologies Match Play panned out will help.
The 2016 WGC-Dell Match Play
The top-three-ranked players in the world at the time (Jordan Spieth, Jason Day, Rory McIlroy) all made it through their group and into the "Sweet 16." But when Louis Oosthuizen dispelled Spieth 4&2 in the Round of 16, dreams of winning were over for the reigning Masters and U.S. Open champ.
And after Louis dusted off Dustin Johnson in the quarterfinals, it was clear the South African was a man on a mission. A convincing 4&3 victory over Rafa Cabrera-Bello put Louis into the finals.
At the bottom of the bracket, World #2 Jason Day had no qualms fending off Brandt Snedeker or Brooks Koepka, setting up a massively intriguing semifinal match with World #3, Rory McIlroy. Day was able to take care of Rory thanks to a miraculous up-and-down on the final hole. Holing a clutch 15-footer meant that "a date" with Louis Oosthuizen was inevitable.
Jason came out guns blazing and never really let Louis have a chance, finishing him off 5&4. This was the second WGC Match Play title for Day in three years after the Aussie took home the trophy in 2014 as well.
Cabrera-Bello beat McIlroy 3&2 in Sunday's consolation match, although it is safe to say Rory was a bit disinterested not to be playing in the final.
The 2017 WGC-Dell Technologies Match Play
There may have been some "lesser-known" players making waves at the 2017 WGC-Dell Technologies Match Play event, but that didn't stop the finals from showcasing two of the world's elite and most powerful golfers.
Dustin Johnson started the week ranked #1 in the world, and that's exactly how he'd leave Austin. Dustin went 3-0 during pool play, dispatching Martin Kaymer, Jimmy Walker, and Webb Simpson, all with relative ease.
In the Round of 16, Dustin whooped Zach Johnson 5&4. Then he beat Alex Noren 3&2 in the quarters. DJ was five matches in and had yet to even see the 17th or 18th holes!
That changed when Japanese-born player Hideto Tanihara took Dustin to the final hole, but it wasn't enough to knock Johnson off his pedestal. Dustin stayed on course and was able to narrowly escape, punching his ticket into the final match.
Like Johnson, Jon Rahm was hardly tested getting out of his pool, going 3-0 and breezing past his counterparts. This included a 6&4 drubbing over his boyhood idol and native countryman Sergio Garcia on day three.
And apparently Rahm enjoys that "6&4 count," because that's exactly how badly he demoralized Charles Howell III in the first match of the knockout rounds. And believe it or not, it gets better.
Rahm only needed 13 holes later that afternoon to eliminate Soren Kjeldsen 7&5, setting up a semifinal clash with Bill Haas. Bill never really stood a chance, and the city of Austin got the match they were hoping to see in the final. Rahm had claimed he wanted a shot at the world's top player, and now he was getting that opportunity.
Showing signs of frustration early, Rahm was five down through eight holes and looked like he was going to get run right off the golf course. But the electrifying Spaniard fought back on the back nine with birdies of his own and forced DJ all the way to the final hole.
However, his bid at beating the "top dog" would come up a hair short, and Dustin walked away as the victor, 1-up. Never trailing a single time over the span of 112 holes played, it's safe to say that Dustin Johnson deserved to win this one.
The 2018 WGC-Dell Technologies Match Play
The 2018 WGC-Dell Technologies Match Play ended in a blowout victory for Bubba Watson. Beating fellow Bulldog Kevin Kisner 7&6 in the final was the cherry on top of what was a marvelous week for the left-hander.
The 2.5 points Bubba racked up during pool play was enough to advance to the Round of 16. That's where Watson would square off with another southpaw who also happened to be a product of the University of Georgia Men's Golf Team. And after outlasting Brian Harman in 2&1, he quickly bounced Kiradech Aphibarnrat 5&3.
An impressive 3&2 victory of Justin Thomas set up the final match, which, as we mentioned above, was never in doubt. The only match more lopsided than the final was the 8&6 pummeling that Kevin Kisner laid on Ian Poulter in the quarters.
So even though Kisner fell short in the final match, he still chalked it up as a very productive week.
The 2019 WGC-Dell Technologies Match Play
Set for March 27-31, the 2019 WGC-Dell Technologies Match Play will be played at none other than the centerpiece of this page, Austin Country Club.
We'll be sure to preview that event in great detail and offer betting tips when the time comes. It's the same weekend that the Men's NCAA Division I Men's Basketball Tournament will be narrowing its field from 16 down to the Final Four, so it's easy for golf to get lost in the shuffle.
But if the Match Play event provides as much drama and excitement as it has in years past, you won't want to miss out!
Come Check Out Austin!
A good chunk of American sports fans flock to Las Vegas during the final weekend of March, and we can't say we blame them. With that being said, for any avid sports fan who is a fan of the PGA Tour and who might be looking for an alternative to making the trek down to Sin City, here's an idea.
Head to Austin for the WGC-Dell Technologies Match Play!
The way the format is now set up, you are guaranteed to get to see your favorite player in action for at least three days. With as many big names as there are in the game of golf today, it's impossible to see a "bad matchup" the entire week.
And it doesn't just have to be about golf during your vacation.
Less than a 20-minute commute from downtown Austin, the country club might take up the bulk of your mornings and afternoons. But once nighttime falls, there won't be any shortage of bars and restaurants for you and your family/group of friends to enjoy.
What used to just be known as the home of the Texas Longhorns is now one of the up-and-coming technological landmarks in the country. Anyone who comes to the area can experience a whole lot more than good barbeque and world-class golf.
Check it out for yourself, and you won't leave disappointed.
Harvey Penick and What He Means to Austin CC
If we wrote a guide dedicated to Austin CC and failed to bring up Harvey Penick and what his life's work has meant to the country club, we just wouldn't be doing a very good job of illustrating this golf course as a whole.
In fact, it would be downright blasphemous.
Born in Austin in 1904, Harvey Penick began caddying at the original Austin Country Club when he was just eight years old. Those wondering if Penick stood out or excelled at his job, we'll tell you that he was promoted to the assistant pro of the club by the time he was 13.
Once he achieved his high school diploma at age 18, Harvey was the head golf professional at Austin CC. And that's the title he would hold for the next 50 years.
During his extended tenure, his involvement with golf in the city of Austin continued to grow. In 1931, before turning 27, Penick was hired as the head coach of the University of Texas Golf Team, where he would lead the men's and women's programs for the next 32 years.
While coaching the Longhorns, Penick had the privilege to instruct and chaperone Tom Kite and Ben Crenshaw, two men who repeatedly clamor about Penick when asked of his significance to their illustrious careers.
And if being the head honcho of the most prestigious team and golf club in town wasn't enough on the list of accolades, try this next one on for size.
The book that Harvey co-wrote (along with Bud Shrake) in 1992 entitled "Harvey Penick's Little Red Book" has sold more copies to date than any other golf book in history. The manner in which he simplifies the process and unveils the tips and philosophies behind becoming a better golfer is hard to put into words.
Grab a copy of this easy read, and chances are you won't be able to put it down until you are finished.
Penick passed away in the spring of 1995 after battling multiple illnesses, but that didn't stop him from passing on instruction to Ben Crenshaw on his deathbed during his final days.
The day after Harvey's funeral was the first round of the 1995 Masters, a golf tournament that Crenshaw would unbelievably go on to win. Fighting back tears after the emotional roller-coaster ride, Ben had this to say.
"It was kind of like I felt this hand on my shoulder, guiding me along."
Today at Austin Country Club, Penick's legendary status lives on. Those who take lessons at the club take them at the Harvey Penick Learning Center, named in honor of the world-renowned golf personality.
Going Away
That's Austin Country Club for you wrapped up into one organized page. If you landed on this link, chances are it's because you are interested in finding out more about the WGC-Dell Technologies Match Play and the course it is hosted at.
Hopefully, you found what you are looking for, as well as learned a great deal about what makes this venue so special.
Between Harvey Penick's contributions to being the host of the most scintillating match-play event in professional golf, Austin Country Club deserved a guide that was devoted to revealing the course's true colors.
While the city of Austin is typically all about the burnt orange, don't forget about the luscious green landscape at Austin CC. It's beyond exceptional.
May
Sportsbook of the Month

Sign up Bonus
60% Up To $1,000
READ REVIEW
Visit Site
X