A Comprehensive Guide to Aronimink Golf Club
There are a number of great private golf courses in America that nobody seems to talk about. This is simply because some of these venues are so exclusive that not enough people know enough about them to offer valuable insight. If you haven't heard of Aronimink Golf Club in Newton Square, Pennsylvania, that's okay; a lot of fans in the golf community haven't, either.
By reading the organized sections in this guide, you'll get to the bottom of this page feeling like you've just walked off the 18th hole. We want to open your eyes to a place that some say is Donald Ross's finest work of all.
We'll give you a detailed description of the track and its signature holes so that you can be the judge to see if that bold statement rings true.
Despite being a quiet and quaint golf club, the world's best players have gathered at Aronimink on at least a few occasions, including a past (and future) Major Championship.
We'll highlight each time the PGA Tour has played a tournament at the Donald Ross design, as well as showcase the 1977 U.S. Amateur that was contested at the golf course.
The only thing you have to do in order to get familiar with Aronimink GC is grab a cold beverage and follow along. The table below consisting of a handful of basic facts about the property is a good place to start!
Aronimink Golf Club – Key Facts
Location

Newton Square, Pennsylvania

Year Opened

1897 (Course completed in 1928)

Owner/Operated by

Private

Course Designer

Donald Ross (Restoration in 2003 by Ron Prichard)

Par

70

Yardage

7,237 yards

Host to

2018 BMW Championship, PGA Championship (1962, 2027), 1977 U.S. Amateur, AT&T National (2010, 2011)

Official Website

www.aronimink.org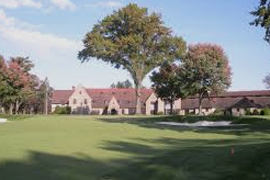 Introducing Aronimink Golf Club
The United States is fortunate to be the home of a plethora of private golf clubs that are rich in history and steeped in tradition. Aronimink Golf Club just outside Philadelphia is a perfect example of an old-school golf club.
We could start with when Donald Ross built the golf course you see today, but Aronimink was actually established some 30 years prior. The Belmont Golf Association had a 9-hole course laid out on the corner of Chester Avenue and 52nd Street by 1897 that can be traced as the origins of Aronimink Golf Club.
By 1902, the group of golfers moved a couple blocks away to Whitby Ave. and 54th Street, but this would not be the final move. By 1913, they had outgrown this location and moved again, this time to Drexel Hill.
It wasn't until 1926 that Aronimink got its big break.
The club purchased 300 acres in an area known as Newton Square and planned to build a championship-quality golf course. The man they would hire to fulfill their dreams in the small Philadelphia suburb was none other than Donald Ross.
The Scottish course architect was already acclaimed for his craft after creating masterpieces such as Pinehurst #2 and East Lake Golf Club, just to shout out a couple of his previous creations.
Once he was assigned the task to deliver a battle-tested track to Newton Square, there was little doubt whether or not he would execute.
Donald's vision would come to fruition on Memorial Day 1928, the first day the completed 18-hole course at Aronimink Golf Club was officially open for business. Just how brilliantly designed is this place? According to Donald Ross when he came back in 1948:
"I intended to make this my masterpiece, but not until today did I realize that I build better than I know."
The appreciation levels for how stunning Aronimink is can only be fully understood by those who are fortunate enough to play it on a regular basis.
Those of us who haven't been blessed with a chance to tee it up at Aronimink can only dream of the opportunity. In the interim, at least you have a devoted segment that outlines the layout and takes you on a tour of the course right underneath this text!
Unveiling the Golf Course
If you know anything about Donald Ross golf courses, you know that he uses a variety of natural elements that wreak havoc for players. Whether it is undulating greens with mounds and bumps or it's eloquently-positioned bunkers that balls seem to gravitate towards, Ross knows how to get underneath a golfer's skin.
What is so noticeable at this particular track is how the rolling fairways seem to be reminiscent of a course in Scotland. This makes plenty of sense, as Ross's roots lie in his hometown of Dornoch.
Donald's designs consistently challenge players by demanding excellence not just off the tee, but on and around the greens especially. This is no different at Aronimink and is in fact very obvious.
Check out the following video for a look at what this course is really like.
In 2003, a local course architect who had studied Aronimink and Donald Ross for years was asked to come in and renovate the property. Ron Prichard wasn't asked to redesign or change anything, but rather he was asked to restore the golf course back to its original condition.
This was not a simple chore, as the mission to "bring Aronimink back to life" was a mission that included diligent reviewing of Donald Ross's original drawings.
This meant reinstating greens and bunkers to their intended sizes as well as eliminating some plants and vegetation to open up 360-degree views. If Ross was alive to see the attention to detail paid by Prichard during this project, he would have been elated.
You know that Donald Ross likes to play tricks on the players' minds; that's a common characteristic that he's always utilized. The nuances and general contours generally provide problems to even the low handicap players.
Aronimink has 75 bunkers in all, each one strategically placed. Let's take a peek at some of the marquee holes at Aronimink that will help paint the picture of what the layout is like.
The Opening Hole at Aronimink
Those wondering if this Aronimink track is any good will get smacked in the face with an absolute beauty of a hole right from the get-go. Around 430 yards and fairly straight, the 1st hole may seem ordinary by just glancing at the scorecard.
But let us tell you, the first hole at Aronimink sets the stage for what's to come. You're in for a four-hour stroll around what is as finely-manicured of a golf course as you'll ever encounter.
You've probably heard the saying, "There isn't a blade of grass out of place" when golfers are talking about a course that's in great shape. Well, Aronimink is the epitome of an immaculate golf course, and the first hole is a perfect definition.
The tee shot plummets down into a somewhat-generous landing before shooting players directly back up a steep incline. The green has two tiers and slopes severely from right to left. Those who miss right when the pin is on the right might as well just write down a bogey and walk to the second.
The next three holes are all par 4s where par is a great score. The 5th hole is a par 3 where, again, par will be a terrific score.
The 5th Hole
What won't look like much on the card is actually one of the most articulately-designed par 3s that Donald Ross ever built. Around 180 yards and playing downhill, this will just be a 7- or 8-iron for most tour pros, but they better not get greedy. Aiming for the center of the green will do wonders, as missing this green in regulation will make saving par incredibly difficult.
Three massive sand traps protect the front of this green, and they are no bargain to get up and down from. These bunkers are seriously deep and will inevitably lead to bogeys and doubles.
Depending on where the pin is located, this short par 3 can turn out to be quite devilish for those who don't give it their full attention.
The 10th Hole
If you like easing into a round of golf, just make sure you don't start your round at Aronimink on the back nine. The 10th hole is probably the toughest of any on the golf course despite being straightforward from the tee.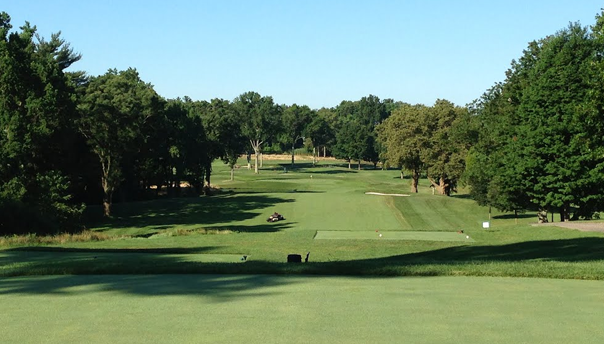 You'll have no issues with the hole as long as you can hit a gentle draw off the tee and stripe a perfectly-struck mid to long iron to a putting surface that is safeguarded by a pond that looms in front and to the left of the green.
Did we mention the rough is long and sticky, and the right side of the fairway has a large bunker and a couple of gigantic Sycamore trees that protrude into the sightlines of the players?
Around 450 yards, if the pros miss the fairway, it's likely just a layup in hopes of making par the hard way. If you are a recreational player who winds up in the long grass off the 10th tee at Aronimink, bogey is actually a heck of a score!
The 12th Hole
There are so many great par 4s at Aronimink that it's hard to separate which ones stand out. Once you step foot on the 12th tee, you'll quickly understand why we couldn't leave this one out of the discussion. Generally, 460-yard par 4s are brutal enough. Now throw in an approach shot that is straight back uphill with bunkers littered all over the left and right sides.
As with almost all of Donald Ross's putting surfaces, the green at 12 swells up and down and falls off on the edges.
Standing on the tee, you can see the entire hole right in front of you, its remarkable beauty and all. Just don't take too many photos or take your eye off the prize for too long, or a good round can get spoiled in a heartbeat.
The 16th Hole
The final 6 holes don't get much easier, although there is one birdie opportunity players won't want to pass up. That comes in the form of the par-5 16th hole.
Nicknamed "Sioux" due to the native roots and ties to the origins of the golf course, this hole finally presents an opportunity for highly-skilled golfers to "get one back." As long as some of the young guns hit the ball nowadays, this 558-yard hole will just be a driver and a 4-iron for the bombers.
The real stresses of the hole are found with the subtleties of the green's complex. Don't take what you think is an easy chip shot for granted, or you'll go begging as you walk to 17.
We explained portions of the golf course so that you can have an idea of how the Ross design challenges players and tests their patience. Now it's time to find out how the pros have fared when they came to Aronimink for a golf tournament.
The 2018 BMW Championship
Have you been following the 2018 FedEx Cup? If so, you know that the goal of every player is to make it to the Tour Championship in Atlanta. That means getting into the top 30 of the FedEx Cup points list after the completion of the first three playoff events.
As for the players' last and final chance to earn points and qualify for East Lake? That comes at the 2018 BMW Championship at Aronimink Golf Club.
Only the top 70 in points following the Dell Technologies Championship will earn tee times at Aronimink on September 6th, making it an extremely enviable place to be after Labor Day.
Since this golf tournament was established for the inaugural FedEx Cup season in 2007, the BMW Championship (formerly called the Western Open) has bounced around different golf courses. It has been hosted at Cog Hill Golf and Country Club on four occasions (2007, 2009-2011), as well as Conway Farms three times (2013, 2015, 2017).
After playing the 2018 edition at Aronimink GC, the event will head to Medinah CC outside Chicago in 2019.
As for who will be competing in the 2018 BMW Championship? The exact field remains to be seen. You can certainly expect to see the familiar faces like Justin Thomas and Jordan Spieth, but don't be surprised to see some fresh new faces.
Expect nothing less than a thrilling finish at the third leg of the FedEx Cup Playoffs. After all, the BMW Championship was the recipient of the PGA Tour's Tournament of the Year three straight seasons from 2012-2014.
A Pair of PGA Tour Events
Now that we have introduced a playoff event at Aronimink, let's discuss the two previous instances that the PGA Tour came to the private club in Newton Square, PA.
2010 AT&T National
Sandwiched between the U.S. and British Opens, the 2010 AT&T National featured a top-tiered field and a $6.2 million purse. Defending champ Tiger Woods never broke par in any of the four rounds en route to an uncharacteristic 46th-place finish.
This particular week belonged to Englishman Justin Rose, who won for just the second time in his career at the time. After opening up a 4-shot lead heading into Sunday's final round, "Rosey" casually parred his last seven holes to fend off a charging Ryan Moore.
2011 AT&T National
Ready for something special? Imagine shooting even par on your front nine and signing for a course record 62 two hours later. Imagine making a par on 18 to cap off a back-nine 27.
As crazy as it sounds, this is exactly what 2011 AT&T National champion Nick Watney did on a magical Saturday in July 2011.
The Fresno State grad made 6 birdies and an eagle over his final nine while on his way to setting a new low mark at the Donald Ross design. Even better, Nick looked stronger than ever the following day as the leader. He sank 4 birdies along with 14 pars on his path towards a bogey-free 66 that left him two shots clear of the field.
As for as another golfer who showed he has an affinity for Aronimink, how about Jeff Overton? The former Indian Hoosier (tied with Adam Scott and Charles Howell III) actually finished 3rd in this event for the second consecutive year after coming up two shots short of Justin Rose the previous year.
The 1962 PGA Championship
We all know who Gary Player is. The South African golfer known as "The Black Knight" would end up winning the career grand slam, elevating his name into the upper echelon of golf legends.
However, when "Mr. Fitness" showed up to Aronimink during the summer of 1962 for the PGA Championship, the 26-year-old had only won one Major and a total of five tournaments as a professional.
Trailing first-round leader John Barnum by 6 shots after Thursday, Player didn't panic; he just started playing better. After brilliant rounds of 67-69 on Friday/Saturday, Gary found himself in the final group on Sunday. His round of even-par 70 was just enough to capture the Wanamaker Trophy for the first time.
Speaking of firsts, the 1962 PGA Championship at Aronimink was the first for a guy they would eventually nickname the "Golden Bear." Jack Nicklaus was only 22 years old at the time, but that didn't stop him from finishing in a tie for 3rd place.
The 2027 PGA Championship
We have some good news for golf fans in the northeast, especially those who live near Philadelphia. The PGA Championship is returning to Aronimink in 2027. This will mark the first time a Major has been held at the property in 65 years, and we're happy they made the decision to finally come back.
We'll be happy to update this segment and recap the event when the appropriate time comes. Don't hold your breath, because we have plenty more PGA Championships to cover in the meantime!
1977 U.S. Amateur
There has been one United States Amateur contested at Aronimink GC, and we can tell you one person who most certainly hasn't forgotten it.
Brigham Young University senior John Fought was already a distinguished collegiate player by the time he showed up to face the world's best amateur golfers in the summer of '77.
What he did this week at the Am was simply play the best golf
from start to finish.
During the final match, Fought was hardly challenged. His 9&8 thrashing over Doug Fischesser was the largest margin of defeat in the championship match since Harvie Ward downed Bill Hyndman in 1955 by the same count. Despite never panning out into a household name on the PGA Tour, the former BYU Cougar did win twice on the biggest stage.
Ironically enough, his two victories came in back-to-back weeks in 1979. With that being said, inking his name on the Havemeyer Trophy in 1977 is still his most recognizable accomplishments on the links.
Less Than 20 Miles from Downtown Philly
We understand that due to the exclusiveness, the majority of you will never have the opportunity to tee it up at Aronimink Golf Club. That doesn't mean you won't have a chance to see the golf course up close and personal when the PGA Tour comes to town.
If you are planning on attending an event at Aronimink, we'll assume you have a nice itinerary set up, and you can't wait to get going. The surrounding area is scattered with private country clubs, including Merion Golf Club, a top-10-ranked golf course that is just a few miles east in Ardmore.
Don't even think about a making a trip to Aronimink that doesn't include a pit-stop in the City of Brotherly Love. Whether you like Pat's King of Steaks or you prefer Geno's, it would be a crime to come all the way out to Newton Square and not get an authentic Philly cheesesteak.
If you happen to be flying into Philadelphia International Airport, all you'll have to do is Uber about 7 miles towards Center City, and you'll run right into heaven on a French roll.
For those who count calories or perhaps don't eat meat, Philadelphia has plenty more to offer. They have a professional team in every major sport, and the Philadelphia Museum of Art is spectacular.
If you want to experience an attraction you can't find anywhere else, visiting the Liberty Bell involves no fees and no planning, just an open mind and a camera.
Final Notes
The northeast region of the United States is a great place to be if you are a fan of awesome golf courses. Some of the best that the country has to offer happen to be within the vicinity of Philadelphia, and Aronimink Golf Club might just be the crown jewel.
It's private, it's quiet, and not everyone gets the privilege of being able to play what is said to be Donald Ross's most fluent design.
And that is EXACTLY how the members of the club prefer it.
Our golf gurus created this guide so that you didn't have to be left in the dark anymore about a golf course that doesn't get the notoriety it deserves.
We tried to illustrate what the golf course is like, focusing on the characteristics that are common throughout the 18 holes. After discussing how and when Aronimink came to be back before 1900, we talked about some of the more memorable holes out there.
It's hard to single any out any as the entire track is stupendous, but we wanted to give you a little taste of what the players face. Revealing each any every time a PGA Tour event has been and will be played at Aronimink helps shed light on how genuinely pure of a golf course this place is.
If you are in the select few and end up getting to see Aronimink firsthand, bravo. It's impossible to be disappointed, and you will absolutely love it. For those of us that can only dream, at least we have this guide to fall back on!
May
Sportsbook of the Month

Sign up Bonus
60% Up To $1,000
READ REVIEW
Visit Site
X