Famous Golf Courses Around the World
If you love golf like we do, finding this page is a huge blessing! You can stop searching all over the internet for a site filled with detailed descriptions of the most well-known golf courses in the world. We couldn't find anything that was well-thought out, so we went to work on creating one ourselves.
Our golf experts produced an organized catalog of the most esteemed golf courses not just in America but all over the world. We are talking about full-blown, individual pages on the most prestigious golf clubs on the planet.
This page is going to be your hub for finding all of those devoted guides. From the most recognizable clubs in the United States like Augusta National and Pebble Beach to courses in the British Open rotation like Carnoustie and St Andrews, we plan on revealing what makes these places so prominent.
Are you interested in reading about the courses that annually host tournaments on the PGA and European Tours? Would you rather learn about the most exclusive and highest-ranked golf clubs that you may only dream about playing? Or perhaps you are looking to book a golf trip with some buddies and need some tips and advice on where to go and how to get there.
There are some hidden gems that you may not have heard of that need to be on your list of courses to play one day. The good news is that we are going to help you get there.
Here are the first of many courses:
**More courses coming soon!!**
Do any of those places ring a bell? Did you spot any courses you want to learn more about? Enjoy bouncing around from course to course. You'll probably become a country club historian by the time you are finished!
If you want to know what to expect in each guide or why we chose the courses we did, continue reading below.
Why Read Our Guides?
Here's the truth. If you are not a fan of golf or aren't interested in reading about the most acclaimed venues in the world, you won't gain much from this page. However, we'll venture to guess that, considering you landed on this page, you don't fall into that category. In fact, you most likely are a giant fan of golf just like us.
Some of you may be the all-encompassing kind of golf fan who just can't get enough of the sport. You know – the men and women who read golf magazines, play 18 holes on a Saturday and Sunday, and come home and watch The Golf Channel at night.
If that is you, surely we don't have to twist your arm too hard to get you to read an articulate and well-versed article on a place like Chicago Golf Club or the Ocean Course at Kiawah Island.
Now let's say you don't even play golf. Let's say you just like betting on the tournaments as a way to make money.
If you are really serious about your craft, then chances are you are looking for every edge you can find over your betting counterparts. If you are trying to bet on the Memorial Tournament at Muirfield Village, wouldn't you like to know every little detail that could factor into the betting?
What kinds of scores does it usually takes to make the cut, and how low is the average winning score? Is it a course that traditionally suits the bombers, or do only the golfers with a deft touch around the greens succeed here?
The point we are trying to bring to light for bettors is this: even if you don't consider yourself a huge fan of golf, there is still plenty of value in our guides.
The more facts and data you have in front of you to comb through, the more accurate and "on point" your projections should be.
We know we have our readers that absolutely love the game of golf, just like we know we have our sports bettors that just like spotting an edge and turning a profit, no matter what sport or contest it is.
The cool thing is that both of you can make good use of what you find in our individual course guides. But you know who will really gain the most from reading about the golf courses we cover?
It's the ladies and gentlemen who absolutely crave reading about golf history. It's the golfers out there who want to travel far and wide and experience golf at its best. Those are the folks who will really get a kick out of what we offer, in our opinion.
Which Golf Courses Made Our List?
There are roughly 34,000 golf courses in the world, with nearly half of them located in the United States of America. The others are spread around over 200 different countries.
So how did we narrow it down?
It was easy. We gathered a list of all the courses we anticipated our readers would want to dive into. For example, we know many of you are sports bettors and are looking to unlock tips and information that can give you an edge in the betting arena.
That's why we went through the PGA Tour and European Tour schedule and started knocking off the courses that each tour comes back to, year in and year out. Acquiring sophisticated knowledge about a specific venue will help point you in the right direction for knowing the types of players to target each week.
Clearly, the Majors are the four individual tournaments that all golf enthusiasts have circled on their calendars each year. You'll conveniently find on our list all the courses that have been used to host the Majors, as they are extremely distinguishable in their own rights.
If a golf course has hosted a Major Championship in the last 20 years, you can find it on this page!
As far as the highest-ranked golf courses in the world go, don't worry for a second. We'll include all the top-ranked masterpieces like Pine Valley Golf Club and Cypress Point. Some of the most elite and high-end tracks are ones that stay out of the public eye.
If you want to uncover what makes them so special, all you have to do is click on the name of the course above. Our golf gurus take it from there.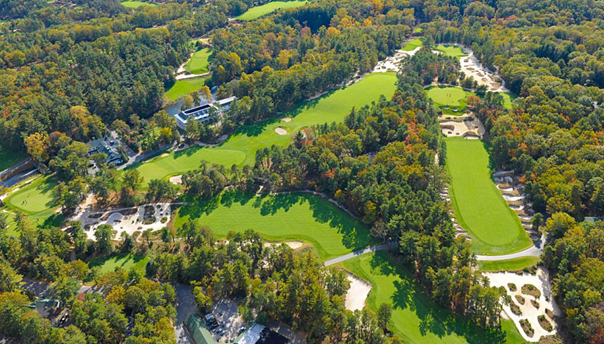 We understand that not everyone wants to bet on professional golf tournaments, and not everyone cares about learning about an ultra-private country club that they'll never get to play. What if you are just an avid golfer who wants to set up a golf trip with some friends and wants to know the best places to go?
We didn't forget about you. Resorts like Bandon Dunes and the American Club in Kohler, Wisconsin, are not only properties with multiple championship golf courses on site, but they are also public places, and reservations can be made at the drop of the hat.
You'll just want to make sure you are fully aware of what to expect before you start planning an itinerary, and that's exactly where we come in.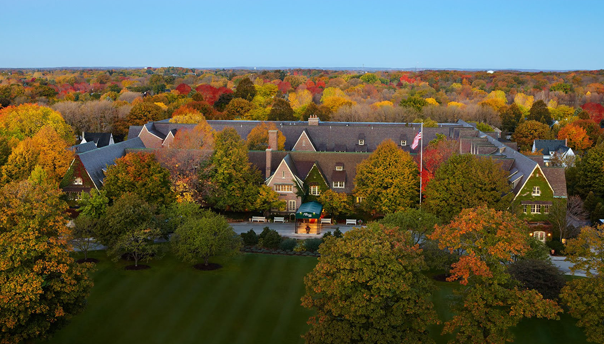 When you decide to read one of our golf course pages, be prepared to learn a whole lot more than just the basics you would find on a travel site. The pages are written by golf specialists who have, in many cases, played the course they are writing about.
Therefore, we have provided you with golf course guides that are as real and genuine as they come.
Our Individual Course Guides Cover Everything
We wanted to make this process as easy and seamless as possible.
You can simply click on the name of the golf course, and you'll be transported to a guide that unveils more than you can imagine learning. We'll always start by giving you some sort of introduction to the early days of the course.
How it opened, why it opened, when it opened… If the course was redesigned or modified in later years, we'll tell you about it.
When we describe the layout of a course, we don't just give you the condensed "Cliffs Notes" version. We take pride in explaining the nuances of each track so that you can paint a picture in your mind while reading the descriptions we give.
Vivid portrayals will make reading about the course so much more enjoyable, so that's exactly what we intend on doing.
If you are reading about a course that hosts the same PGA Tour event year after year – for example, TPC Sawgrass or Torrey Pines – expect the highlights and memorable moments over the years to be included. If you are reading about one of the destination properties like Whistling Straits, we'll make sure we leave no stones unturned when it comes to scheduling the trip.
There is no point in reading about golf courses if they weren't written by someone who is knowledgeable, passionate, and has done the necessary homework and research.
We can assure you that any content you come across in the golf course guides was generated by someone who cares deeply about the subject.
What Makes a Golf Course Famous?
You may have already started perusing through our extensive list of courses, and that's okay. That's exactly what they are there for. This segment is where we clarify what makes a golf course worthy of standing out. In other words, what makes a golf course famous?
As you begin to make your way through our catalog of courses, it will be obvious that certain golf clubs made the list for different reasons. Some courses are well known because they have hosted Major Championships.
For example, take a course like Oakmont Country Club just outside Pittsburgh. It's extraordinarily difficult and well-manicured; there's no doubt about it. However, the 8 U.S. Opens and 3 PGA Championships that Oakmont has hosted are the reasons that everyone in the golf community admires it.
Now take a course like Pebble Beach, for example. It doesn't matter how many significant tournaments have been played there. Pebble is known and revered for its natural beauty and stunning landscape. The legend himself, Jack Nicklaus, famously had this to say.
"If I had only one more round to play, I would choose to play it at Pebble Beach. I've loved this course from the first time I saw it. It's possibly the best in the world."
Pebble is a rare case because not only is it a top-10 golf course in the world on its own, but it also has hosted Majors and even hosts an annual event on tour (AT&T Pebble Beach Pro-Am).
There are some spectacular clubs out there that have never hosted a PGA Tour-regulated event, but that hasn't held them back from rising to the top of the rankings.
We are talking about places like Pine Valley Golf Club or National Golf Links of America, just to name a couple. Some courses have such a perfect blend of exclusivity and raw beauty that they just can't be denied.
The bottom line is that there are more ways than one to be classified as a renowned golf course. Like the saying goes, "there's more than one way to skin a cat."
Different Types of Courses
There's one final thing to take into account when reviewing the golf course pages. Depending on the region of the world or the reason it's on the list, there are varying styles of golf courses that you'll run into. Allow us to quickly elaborate on that point.
U.S. Open Style
Everybody who watches golf knows what this means. Think about a course that is set up with narrow fairways and thick rough. One that has 500-yard par 4s and baked-out greens that are off-the-charts fast.
Courses that make the best players in the world look like weekend hacks are going to make their way onto this page. Think Shinnecock Hills Golf Club in Southampton or Olympic Club in San Francisco.
Links Golf
Not every course has to have greens that run 12 or 13 on the Stimpmeter for it to be difficult. Some courses challenge the players by strategically placing pot bunkers in the middle of the fairways.
They use Mother Nature and the typically poor weather as their main defense mechanisms. This is called links golf, and it's found all over the United Kingdom, especially in Scotland. Imagine in-course out-of-bounds stakes and massive humps and bumps on the greens. Think of tall, wispy grass.
Think St Andrews, the home of golf, or Royal Troon. Links golf isn't easy and requires you to have a persevering attitude. Once you realize that, it's arguably the most fun way to play golf.
Tree-Lined
Depending on where you are, you will encounter golf courses that are littered with enormous trees, shaping each hole as if the fairways are carved-out paths that lead you to the greens.
These are the style of tracks that require precision off the tee and the ability to shape the ball in both directions.
Tree-lined courses are the ones with holes that dogleg in both directions, and in many cases have overhanging limbs that will force you to maneuver your golf ball around them. Think about Harbour Town Golf Links on Hilton Head Island or TPC Sawgrass in Ponte Vedra Beach.
Wide-Open, Bomber's Paradise
This is quite possibly the most stress-free way to play golf. These are the rounds where you can spray it left and right off the tee and never lose a golf ball. Rather than have 380-yard par 4s that bend around a crowd of trees, "bomber's paradise" types of courses allow you to employ the "grip it and rip it philosophy."
These tracks will feature much wider fairways and less trouble off the tee. The punchline is that these courses are generally longer in length and boast incredibly undulating greens.
Basically, it's easy to hit fairways and greens, but it's tough to get the ball in the hole.
Think about the Plantation Course at Kapalua, where the PGA Tour kicks off the new calendar year by hosting all the winners from the previous season. Players know it's a great way start the year and pad their ball-striking stats. By the time they hit the Florida Swing in late February, they'll need it!
Summing It Up
The fact of the matter is this: if you want to research a golf course, you can look it up and hope that it has a legitimate website that fills you in on some important facts and details about the property. But that requires searching and hoping.
We suggest you bookmark this page and never search for information on a world-class golf course again. Whether you want to know about one of the top-ranked courses in the world, or you want to know where to schedule your next golf vacation, we have you covered!
If you aren't even a golfer and just want scope out the course each week to gain some betting edges, we deliver on that account, as well.
We tried to divulge as many of the noteworthy golf courses around the globe as we could, and we'll continually be adding more.
We know many of you are interested in gaining insight on the most amazing golf courses that exist. Our job is to make finding and reading about those locations as easy and enjoyable as possible!
July
Sportsbook of the Month

Sign up Bonus
60% Up To $1,000
READ REVIEW
Visit Site
X