Using Stats and Trends for Formula 1 Betting
Betting on Formula 1 is always fun. But if you want to make the most of your money, using stats and trends for F1 betting can put you in pole position.
Formula One is a sport of fine margins, meaning cars, drivers, and teams must be in the best possible shape for every race. In the same way, bettors need to research and study the statistics in order to win real cash.
On this page, we cover everything you need to know about how to use stats and trends when betting on Formula 1. We look at preseason testing, qualifying, pit stops, records, and much more.
So, if you want to get up to speed with all the best stats for Formula One betting – keep reading!
Utilizing Formula 1 Preseason Testing Stats
Some of the best stats for Formula 1 betting can be found prior to the season commencing. Before we even hear the first "lights out and away we go" of the year, preseason testing gives us an initial indication of how drivers, cars, and teams will fare during the upcoming campaign.
Testing generally takes place a couple of weeks before the season gets underway and usually runs from Friday to Sunday. Across the three days, the primary objective for each team is to get their cars out on the track, push them to the limit, and prepare for the year ahead.
Not only does testing allow teams to get ready for the season, but it also enables bettors to analyze the Formula One stats and prepare their F1 futures and prop bets.
Let's take a look at the fastest lap times from day three of 2020 preseason testing.
TESTING DAY 3 – BARCELONA (2020)
Driver
Team
Lap Time
Gap
Valtteri Bottas
Mercedes
1:15.732
–
Lewis Hamilton
Mercedes
1:16.516
+0.784
Estseban Ocon
Renault
1:17.102
+1.370
Lance Stroll
Racing Point
1:17.338
+1.606
Daniil Kvyat
AlphaTauri
1:17.427
+1.695
Antonio Giovinazzi
Alfa Romeo
1:17.469
+1.737
As the table above shows, Mercedes clinched a 1-2 on the final day of testing in 2020, meaning the team's drivers occupied the top two spots on the leaderboard.
Predictably, Mercedes won the World Constructors' Championship later that year, racking up 573 points in the process. Second-placed Red Bull picked up 319 points, while third-place McLaren claimed 202.
If you follow preseason testing and gauge how the teams perform, it will stand you in good stead for betting on Formula One outrights such as the Drivers' Championship and the Constructors' Championship.
What to Look Out for in Preseason Testing
During every offseason, teams make multiple alterations to their cars. From aerodynamics to engine performance, F1 cars vary drastically from one year to the next.
With so many changes taking place, drivers won't always leave the garage with the intention of producing the fastest lap in preseason testing. Instead, they could simply be gathering aero data or checking systems. Some lap times are pretty much meaningless as a result.
Here are a few key things to focus on in preseason testing.
Watch for Performance Runs
These are laps when teams run a car on minimal fuel and use set-up changes to figure out one-lap performance.
Performance runs are relatively easy to spot. Drivers will alternate between fast and slow laps, enabling their tires to recover and the hybrid system to recharge following a quick lap.
Look Out for Race Sims
Each driver will usually attempt to complete a race simulation during testing. This enables the driver to see how the car fares over the distance of a Grand Prix.
Race sims can be detected by a string of steady lap times over a long period, so it is worth remembering that drivers won't usually be aiming for the fastest possible lap during this time.
Testing Isn't Always Accurate
Yes, preseason testing gives us a good indication of what will happen when the real racing begins. But it doesn't always tell the full story.
For various reasons, teams can struggle in testing before excelling when the season gets underway. With that in mind, you should always look at the bigger picture before placing your F1 futures.
Analyzing Driver Records in Each F1 Grand Prix
Some drivers perform better at certain circuits, it's as simple as that. Sure, the top drivers are bound to rack up more race victories at most Grand Prix, simply because they win more races overall. But F1 trends show that certain drivers clearly enjoy racing at specific circuits.
When it comes to using stats for F1 betting, you can pick up plenty of information during the season, or even over the course of a single race weekend. However, it can take years to spot trends using this metric.
That said, if you're serious about betting on F1, you can win good money by researching which drivers prefer certain tracks.
Check out the list below to discover the drivers with the most wins at the same Grand Prix.
Michael Schumacher – French Grand Prix (8 Wins)
Lewis Hamilton – Hungarian Grand Prix (8 Wins)
Michael Schumacher – Canadian Grand Prix, San Marino Grand Prix (7 Wins)
Lewis Hamilton – Canadian Grand Prix, British Grand Prix (7 Wins)
Alain Prost – Brazilian Grand Prix, French Grand Prix (6 Wins)
Ayrton Senna – Monaco Grand Prix (6 Wins)
Even if you are completely new to Formula One betting, you probably don't need us to tell you that Michael Schumacher no longer races. Still, Lewis Hamilton remains one of the best F1 drivers on the planet today.
Hamilton has competed in the Hungarian Grand Prix 14 times over the years, registering eight first-place finishes along the way. That means the Englishman has won almost 60% of the races he has entered at the Hungaroring.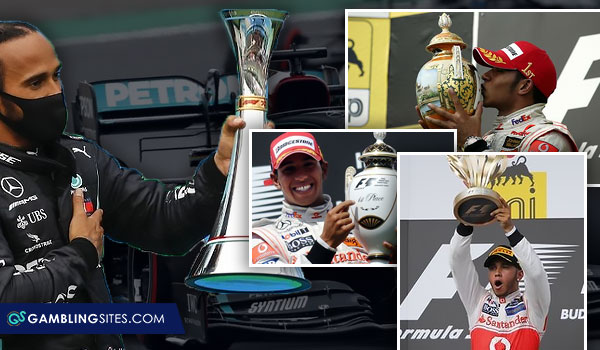 The Mercedes star has also secured seven wins at both the Canadian and British Grand Prix since his career began in 2007.
Ultimately, most drivers have preferred circuits, meaning their driving style works best at specific tracks. For that reason, you should always assess the history of a driver at any given track before betting on a Formula 1 race.
Practice and Qualifying Stats in Formula One
While preseason testing gives us an idea of how each car, driver, and team will fare when the season gets underway, practice and qualifying give us insight into how the upcoming race is likely to unfold.
Before every Grand Prix, all 20 drivers must participate in qualifying to determine the grid positions.
By following the qualifiers, you can gain an advantage on the F1 betting apps when it comes to wagering on the actual race.
Let's not forget that you can directly bet on Formula One qualifying, too. You can wager on where drivers will place, who will clinch pole, which cars will make it to the last qualifying phase, and more.
Before you start betting on F1 qualifying, make sure you understand how the qualifying process works.
How Does F1 Qualifying Work?
Here are the three stages of F1 qualifying that apply to all races on the calendar.
Q1: During the first qualifying phase, all 20 cars attempt to set the fastest lap time. The slowest five cars are eliminated and handed the bottom five grid positions
Q2: The next stage of qualifying sees the remaining 15 cars battle it out in the same format. Once again, the slowest five cars are eliminated and given the grid positions of 11 to 15.
Q3: The remaining ten cars then compete for the top ten grid spots in Q3. The fastest car secures pole position, while the other nine cars are placed accordingly.
Qualifying often dishes up some of the best stats for Formula 1 betting, as the process tells us which drivers are likely to perform better when the lights go out for real.
For example, if Driver A outperforms Driver B during the qualifiers, the chances are that Driver A will finish ahead of Driver B in the actual race. As we know, certain cars and drivers are suited to specific tracks more than others.
It is also worth pointing out that qualifying doesn't always see the best drivers finish at the top end of the grid. Teams can get penalized for a whole host of reasons, meaning even the best cars are handed grid penalties.
Before you bet on Formula One qualifying or use the qualifying times to aid your race wagers, look out for grid penalties. Top drivers could start outside the leading grid places but make their way through the field as the race develops.
Studying Trends Relating to Track Types
If you want to use trends and stats for betting on Formula 1, you should always assess where a race is being held before you part ways with your cash.
The F1 calendar comprises a mixture of three circuit types – race, street, and road. The table below details the main characteristics of each style of track.
THE DIFFERENT F1 CIRCUIT TYPES
Track Type
Characteristics
Race circuit
A permanent, purpose-built track with large run-off areas and lengthy straights.
Street circuit
Tight corners and minimal straights, usually hosted in cities.
Road circuit
Road circuits generally feature a mixture of public roads and permanent track.
Race circuits such as Monza in Italy and Silverstone in England are purpose-built tracks. This means they have long straights and large run-off areas, making overtaking easier.
By contrast, street circuits like Monaco use everyday roads. As a result, drivers get very few opportunities to overtake on street tracks due to the tight nature of the circuit.
Meanwhile, road circuits usually feature a blend of both race and street track characteristics.
Qualifying isn't always overly important on race circuits. With plenty of straight track to utilize, drivers get multiple opportunities to overtake one another. But when it comes to street circuits, the importance of grid positioning is massive.
On tracks such as Monaco, it is common to see a driver secure the pole and hold onto first place for the duration of the race.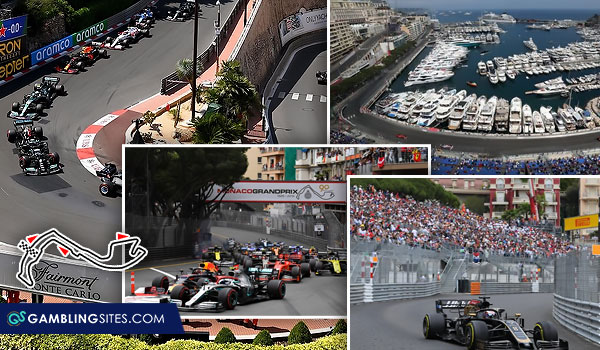 Yes, there can be more crashes on tighter circuits. But the lack of overtaking opportunities gives the cars at the front a huge advantage.
Don't assume that a driver who seals pole position on a street circuit will ALWAYS then go on to win the race. But it is far more likely to happen on a street track than on a race circuit.
Why Pit Stop Stats Are Vital for F1 Betting
Every single millisecond counts in Formula One. Of course, the drivers get the job done on the track. But, on race day, the entire team plays a pivotal role.
It is no coincidence that the top drivers have the best teams around them. After all, teams literally spend millions of dollars on research to gain a minuscule advantage over their rivals.
So, when it comes to analyzing stats and trends for F1 betting, you should look at the numbers behind every pit stop and study each set of mechanics in the pits.
The average Formula 1 pit stop takes between two and 2.5 seconds. However, a select handful of teams have recorded sub-two second pit stops in recent years.
The table below details every pit stop under two seconds in F1 history.
SUB-TWO SECOND PIT STOPS IN FORMULA ONE
Year
Team
Driver
Pit Stop Time
2019
Red Bull
Max Verstappen
1.82 seconds
2019
Red Bull
Max Verstappen
1.88 seconds
2019
Red Bull
Pierre Gasly
1.91 seconds
2016
Williams
Felipe Massa
1.92 seconds
2013
Red Bull
Mark Webber
1.923 seconds
2018
Ferrari
Sebastian Vettel
1.97 seconds
As you can see, Red Bull Racing is the king of the speedy pit stop. The Austrian energy drink giant boasts four of the six sub-two second pit stops ever registered in the sport and also holds the record for the fastest pit stop in F1 history.
During the 2019 Brazilian Grand Prix, Red Bull's mechanics managed to change all four of Max Verstappen's tires in just 1.82 seconds.
In the heat of battle, a fast pit stop can give a driver and their team a massive edge.
Consider the Recent DHL Fastest Pit Stop Award Winners
Since 2015, the DHL Fastest Pit Stop Award has been handed to the quickest team every season. You probably won't be surprised to learn that Red Bull has dominated the prize since its inception.
Here are the winners of the DHL Fastest Pit Stop Award.
2015: Ferrari
2016: Williams
2017: Mercedes
2018: Red Bull
2019: Red Bull
2020: Red Bull
Red Bull recorded the fastest pit stop in 15 of the 17 races during the 2020 season, amassing a whopping 555 points along the way. Williams – the second-fastest team that year – only managed to accumulate 264 points. That gives you an idea of just how quick Red Bull's mechanics were.
Still, it is worth noting that a team's domination won't last forever. Red Bull may have ruled the pits in recent times, but other teams will almost certainly win the award in the coming seasons.
As different mechanics come and go, teams' strategies will change. If you can keep on top of all the pit lane action and watch for emerging trends, you will give yourself a far better chance of winning your F1 bets.
The Importance of Winning Streaks in Formula 1
Using stats when betting on Formula 1 can sometimes take a lot of time and effort. However, there is nothing complicated about this particular F1 betting strategy.
This may sound like an obvious thing to do, but keeping an eye out for winning streaks is one of the best ways to enhance your chances of landing your Formula One bets.
We all know that winning back-to-back F1 races is no mean feat. There are quite literally thousands of variables involved in every single Grand Prix, meaning so many things can go wrong. But when everything is going to plan, some drivers have the ability to win a succession of races.
Back in 2013, Sebastian Vettel won nine straight races on his way to winning the Drivers' Championship. The German – who represented Red Bull at the time – took the chequered flag in Belgium, Italy, Singapore, South Korea, Japan, Indian, Abu Dhabi, Brazil, and the United States that year.
MOST CONSECUTIVE WINS IN FORUMLA 1 HISTROY
Driver
Season
Consecutive Wins
Sebastian Vettel
2013
9
Alberto Ascari
1952-53
7
Michael Schumacher
2004
7
Nico Rosberg
2015-16
7
Michael Schumacher
2000-01
6
The legendary Michael Schumacher won seven consecutive races during the 2004 season, while Alberto Ascari and Nico Rosberg have also notched seven-race winning streaks across two seasons.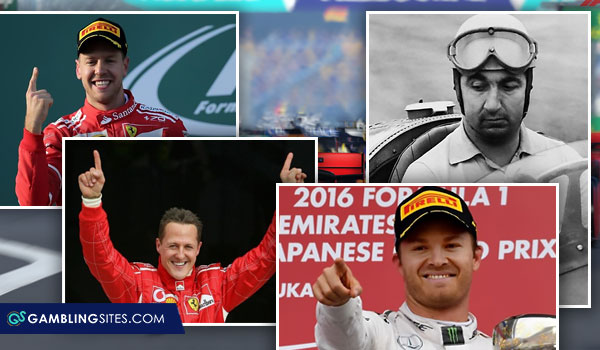 Needless to say, everything has to be perfect for a run of this magnitude to happen. The driver needs to be at the top of their game, the car must be faultless, and the mechanics can't put a foot wrong.
By following both the race results and driver standings, you can detect F1 trends and gauge when a driver could be about to enjoy a winning streak.
If a driver has won two or three races in a row and looks in unstoppable form, why not back them to take the chequered flag at the next Grand Prix?
F1 Betting and Fastest Lap Stats
There was a time when pride was the only thing that a driver received for recording the fastest lap in an F1 race. But, since 2019, drivers have been rewarded for the achievement with a bonus point. That point counts towards both the Drivers' and Constructors' Championship.
Consequently, betting on the fastest lap in any given race has become a popular option in recent years. The F1 odds within the market can often be seriously attractive.
You could be forgiven for thinking that the race winner always registers the fastest lap. Sure, that is not uncommon. A lot of the time, though, drivers further back can clinch the bonus point.
In fact, towards the end of the 2020 F1 season, three different drivers outside the top six notched the fastest lap in a race.
George Russel – Sakhir (Finished 9th)
Lando Norris – Turkey (Finished 8th)
Daniel Ricciardo– Abu Dhabi (Finished 7th)
Nothing is stopping you from placing a fastest lap wager before a Grand Prix, but this market is frequently used when participating in live betting. Betting on F1 live can be hugely profitable, and this particular bet is a great example of why.
To make the most of this Formula 1 betting market, you need to be watching the race. If you are following the action, you will give yourself a greater chance of landing your live F1 bets.
Drivers at the front often use tactics to control the race, meaning they won't always be interested in recording the fastest lap. On the flip side, drivers further back – who don't stand a chance of sealing a podium finish – usually put more effort into claiming the bonus point.
This results in drivers at the bottom end of the top ten making a late tire change or strategy adjustment to hunt down the fastest lap as the race nears its end.
If you keep an eye on the fastest lap stats throughout the race and predict which drivers will push for the bonus point, your live Formula One betting experience will go up a notch.
Useful Formula 1 Stats and Records
Before we wrap up this guide to using statistics when betting on Formula One, let's check out some key F1 stats and records.
Stats for F1 Drivers
What better place to start than the all-time Drivers' Championship leaderboard?
MOST DRIVERS' CHAMPIONSHIPS IN F1 HISTORY
Driver
Championships
First
Most Recent
Michael Schumacher
7
1994
2004
Lewis Hamilton
7
2008
2020
Juan Manuel Fangio
5
1951
1957
Alain Prost
4
1985
1993
Sebastian Vettel
4
2010
2013
Two men – Schumacher and Hamilton – have won seven Drivers' Championships. The only other active driver on the leaderboard is Vettel, who won four straight titles between 2010 and 2013.
Here's a look at drivers with the most Grand Prix wins during a single season.
MOST WINS IN A SEASON (DRIVER)
Driver
Season
Races
Wins
Win %
Michael Schumacher
2004
18
13
72.22%
Sebastian Vettel
2013
19
13
68.42%
Michael Schumacher
2002
17
11
64.71%
Sebastian Vettel
2011
19
11
57.89%
Lewis Hamilton
2014
19
11
57.89%
Lewis Hamilton
2018
21
11
52.37%
Lewis Hamilton
2019
21
11
52.37%
Lewis Hamilton
2020
17
11
64.71%
Unsurprisingly, Schumacher, Hamilton, and Vettel dominate the chart above. Schumacher is the only man to have won over 70% of his races in a single season.
The following table highlights some of the best rookie seasons from drivers.
MOST WINS IN DEBUT SEASON (DRIVER)
Driver
Season
Wins
Jacques Villeneuve
1996
4
Lewis Hamilton
2007
4
Juan Manuel Fangio
1950
3
Nino Farina
1950
3
Only four drivers have won three or more races in their maiden Formula 1 season. Hamilton won four races in 2007 before claiming the first of his seven titles the following year.
This table shows the most successful F1 drivers in terms of pole positions secured during a season.
MOST POLE POSITIONS IN A SEASON (DRIVER)
Driver
Season
Entries
Poles
Sebastian Vettel
2011
19
15
Nigel Mansell
1992
16
14
Ayrton Senna
1988
16
13
Ayrton Senna
1989
16
13
Alain Prost
1993
16
13
Lewis Hamilton
2016
21
12
When it comes to clinching pole position, Vettel finds himself at the top of this leaderboard. During his second championship-winning season, the German sealed pole in 15 of his 19 races.
Formula One Constructor Stats
Here are some noteworthy Formula 1 stats for constructors, starting with the overall Constructors' Championship charts.
MOST CONTRUCTORS' CHAMPIONSHIPS IN F1 HISTORY
Constructor
Championships
First
Most Recent
Ferrari
16
1961
2008
Williams
9
1980
1997
McLaren
8
1974
1998
Lotus
7
1963
1978
Mercedes
7
2014
2020
Red Bull
4
2010
2013
Ferrari has claimed more Constructors' Championships than any other manufacturer. However, it is worth noting that the Italian company has entered far more races than any other constructor.
Red Bull won each of their four titles between 2010 and 2013, while Mercedes clinched seven consecutive titles between 2014 and 2020.
Now here's the most successful constructors in terms of races won in a single season.
MOST RACE WINS IN A SEASON (CONSTRUCTOR)
Constructor
Season
Races
Wins
Win %
Mercedes
2016
21
19
90.5%
Mercedes
2014
19
16
84.2%
Mercedes
2015
19
16
84.2%
McLaren
1988
16
15
93.8%
Ferrari
2002
17
15
88.2%
Ferrari
2004
18
15
83.3%
During their third championship-winning season, Mercedes won 19 of the 21 races, chalking up an unrivaled win percentage of 90.5%.
This table shows the longest winning streaks in specific Grand Prix by constructors.
MOST CONSECUTIVE WINS IN THE SAME GRAND PRIX (CONSTRUCTOR)
Constructor
Consecutive Wins
Grand Prix
Years
Mercedes
7
Russia
2014-2020*
McLaren
6
Monaco
1988-1993
Mercedes
6
Japan
2014-2019*
Mercedes
6
Abu Dhabi
2014-2019
Ferrari
5
Japan
2000-2004
Ferrari
5
United States
2002-2006
* = Sequence ongoing
Mercedes loves racing in Russia! Hamilton and co. have won seven straight races at Sochi Autodrum, and that sequence is still ongoing.
The same constructor dominates in terms of most pole positions during a season.
MOST POLE POSITIONS IN A SEASON (CONSTRUCTOR)
Constructor
Season
Races
Poles
Pole %
Mercedes
2016
21
20
95.2%
Red Bull
2011
19
18
94.7%
Mercedes
2014
19
18
94.7%
Mercedes
2015
19
18
94.7%
McLaren
1988
16
15
93.8%
McLaren
1989
16
15
93.8%
In the 2016 season, Mercedes booked a remarkable 20 poles in 21 races!
Closing Thoughts on Using Stats for F1 Betting
Using trends and stats for betting on F1 can significantly enhance your prospects of making successful Formula 1 predictions. But it is vitally important that you don't rely solely on the numbers.
Although following the statistics will give you a far better chance of winning your Formula One bets, you should always watch the races and keep an eye out for emerging trends.
Nowadays, there are countless F1 betting apps and websites that enable us to follow all the relevant stats. Both the official Formula 1 site and STATS F1 are excellent examples.
Still, watching the races – and following the practices and qualifiers – will only improve your Formula 1 betting experience.
You can keep up to date with all the latest F1 news and analysis in our Formula One blog, where our team publishes regular posts.
If you want to start betting on F1 races right away, why not check out the motorsport picks section of our site? We provide regular Formula 1 betting picks, along with a host of different races from around the world.
May
Sportsbook of the Month

Sign up Bonus
60% Up To $1,000
READ REVIEW
Visit Site
X