Baseball's Greatest Players – Modern Greats in the MLB
The game of baseball is in a great place. When you've got a guy that works as hard as Mike Trout does as the face of your league, you know that Major League Baseball is in some pretty good hands.
For the most part, the black cloud hung over the game by the steroid era is behind us. The game is being dominated by players who are athletic specimens. They are big, they are strong, and they are fast. They are getting there by outworking their counterparts.
When considering the names that resonate as the best players in the league today, we have to look at the guys who dominate the competition. Some of these players are at the tail-end of their lifespan in MLB, while others have just embarked on what promises to be long and successful careers.
Watching the influx of new talent cross paths with the players who have already achieved greatness has been wonderful to watch. We look forward to seeing new faces emerge and join this list.
When they do, we will be happy to update the page accordingly. But before we start gushing about the players atop the totem pole today, we have to pay tribute to those who are on their way out. For example, a guy like Albert Pujols.
Albert Pujols
Born

January 16, 1980

Birth Place

Santo Domingo, Dominican Republic

MLB Career

2001- still playing

Highlights

One of the top ten hitters of all time. Three MVP trophies, two World Series rings

Teams Played For

St. Louis Cardinals, Los Angeles Angels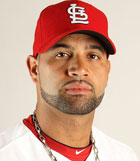 Albert Pujols has quietly been going about his business in Major League Baseball since 2001. Looking at the back of Albert's baseball card almost seems fake. Looking at his numbers year after year resembles a character you may have created in a video game.
His line of .329, thirty-seven homers, 130 RBI, and forty-seven doubles as the National League Rookie of the Year in 2001 warned us that he was going to have a career for the ages. We will talk about crazy and outlandish stats throughout this page, there is no doubt. This next one could be the most impressive.
Pujols spent his first ten seasons in the league without ever hitting under .312. He didn't have a season under thirty-two homers or 103 RBI. He averaged .331, forty-three doubles, forty-one homers, and 123 RBI per season during his initial ten seasons in the league.
That is unheard of for anyone in the game, let alone for someone who is just entering the league.
It is the most consistent ten-year stretch of hitting for average and power the game has ever seen. It took Albert until his eleventh year in the "Bigs" to average under .300 and have less than one hundred RBI.
The funny thing is that he hit .299 and drove in ninety-nine runs that year to go with his thirty-seven homers, so it's not like he missed the mark by a lot.
The question isn't if Albert Pujols will be a first-ballot Hall of Famer. The better question is whether he will break the record for the highest percentage of votes. Don't get it twisted; when Albert decides to finally retire, his overall hitting numbers will firmly place him as a top-five hitter of all time.
Max Scherzer
Born

July 27, 1984

Birth Place

Chesterfield, Missouri

MLB Career

2008- still playing

Highlights

MLB-record twenty K's in a single game. Pair of no-hitters in 2015. Three Cy Young Awards (two NL, one AL)

Teams Played For

Arizona Diamondbacks, Detroit Tigers, Washington Nationals
Max Scherzer is still going strong for the Washington Nationals. He won back-to-back National League Cy Young Awards in the nation's capital in 2016 and 2017. Winning this award meant beating out the likes of teammate Stephen Strasburg, Clayton Kershaw, Madison Bumgarner, and all the other aces the National League has to offer.
It would be foolish to argue with Max's place on our list, as he has turned heads in Major League Baseball for several years now. You love records, so we are going to give you one of the most admirable ones in the game.
On May 11, 2016, Max struck out twenty batters, tying a Major League record set by Roger Clemens and Kerry Wood.
Max led the league in wins in 2013, 2014, and 2016. During his "off year" in 2015, Max threw two no-hitters. It has become fairly evident that Max Scherzer likes striking batters out, and he likes winning games. As history has shown us, that is a pretty solid recipe for getting into Cooperstown.
Corey Kluber
Born

April 10, 1986

Birth Place

Birmingham, Alabama

MLB Career

2011- still playing

Highlights

A two-time Cy Young Award winner, led AL in wins and ERA in 2017

Teams Played For

Cleveland Indians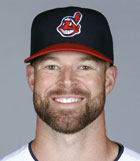 Some call him "Klubot," while others just call him Corey. Whatever you want to call Mr. Kluber is fine because it won't change the way he goes out and utterly dominates the batters he faces. Talk about a model of consistency. All Kluber does is pound the strike zone and record outs.
He isn't the most outspoken individual, and he won't try to use words to intimidate you. What he'll do is use a wide array of pitches to fool his opposition, and he does that time and time again.
It'd be one thing to have a sweet fastball and an unhittable curve. But Corey has both of those things, yet it is his sinker and cutter that he relies on most.
When batters play the guessing game with the Cleveland Indians' ace, they typically end up on the losing side of the equation.
The 2014 American League Cy Young winner got even better in 2016 and 2017, adding another Cy Young to his collection in '17.
He strikes out batters at a fairly high rate and allows fewer baserunners per start than almost every other pitcher in the league. He sports a career ERA of 3.07, which looks to be on the move down after posting a ridiculous 2.25 mark in 2017. It has been more of the same in 2018, as Kluber is hovering around the 2.5 mark and has been lights-out as usual.
A couple more seasons like this, and his date with Cooperstown is all but a lock.
Clayton Kershaw
Born

March 19, 1988

Birth Place

Dallas, Texas

MLB Career

2008- still playing

Highlights

Three-time Cy Young Award Winner. 2014 NL MVP. Winner of 2011 Triple Crown and Gold Glove

Teams Played For

Los Angeles Dodgers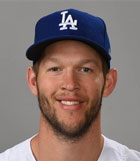 This left-handed pitcher has some of the nastiest stuff we have ever seen. He has been on every National League All-Star team since 2011, and he has gotten there by being the most dominant pitcher in the league.
In a day and age where we don't commonly see starting pitchers winning Most Valuable Player awards, Clayton defied odds and hoisted the trophy in 2014.
His 2011 Triple Crown year featured a 21-5 record and a 2.28 ERA. His 248 K's over 233.1 innings was his first "breakout year," if you will. Since then, Clayton has been lights-out just about every time he has taken the hill for the Dodgers.
His 2014 season, in which he earned the National League MVP, was just silly. His 21-3 mark and 1.77 ERA meant he was nearly unhittable for the entirety of the season. He was still able to strike out 239 batters over 198.1 innings after missing over a month of the season due to a strained back muscle.
Clayton finally joined the club of pitchers to toss 300 or more strikeouts in a single season when he K'd 301 batters in 2015.
Clearly, it is too early to put him in the Sandy Koufax/Randy Johnson conversation as the best southpaw to ever play, but don't think Kershaw doesn't have his eye set on that mark.
Chris Sale
Born

March 30, 1989

Birth Place

Lakeland, Florida

MLB Career

2010- still playing

Highlights

Fastest pitcher in MLB history to record 1,500 strikeouts. MLB-career leader with 10.7 Ks/9

Teams Played For

Chicago White Sox, Boston Red Sox
The Boston Red Sox sure did themselves a favor in 2017 when they acquired Chicago White Sox ace Chris Sale. "The Condor" has surpassed Clayton Kershaw as the most dominant left-handed pitcher in the game, and it's pretty incredible when you consider he has done this with a skinny, 180-pound frame.
Chris Sale is lengthy, standing at 6'6", and his delivery is not easy to track from a batter's viewpoint. It's one of the main reasons that the Florida-born pitcher has struck out more batters per 9 innings than any other man in history.
That's right; his 10.7 batters he K's per 9 is a shade above the 10.6 of Randy Johnson, the man second on that list.
There is absolutely no denying Sale's excellence, and the fans in Beantown got to witness that during his first year with the club. In 2017, Sale struck out a mind-boggling 308 batters, all while recording a stout 2.90 ERA over 214.1 innings.
If Chris would have started his career with Boston as opposed to the White Sox organization, there is no telling how many Cy Youngs and World Series rings this man may have. The good news is that he's got plenty of time left to bring some hardware back to Fenway Park.
José Altuve
Born

May 6, 1990

Birth Place

Maracay, Venezuela

MLB Career

2011- still playing

Highlights

2017 AL MVP and World Series Champion. Three-time AL Batting Champion

Teams Played For

Houston Astros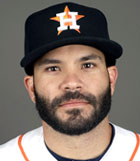 José Altuve was having a tremendous start to his career before 2017. Winning the AL Most Valuable Player award and World Series ring in '17…it doesn't get much better than that in this sport.
After entering the league in 2011 as a twenty-one-year-old rookie, José took a little bit of time adjusting to the "big leagues." It is safe to say that by the time the 2014 season began, Altuve had figured things out.
Since 2014, José has batted .334, while averaging thirty-nine steals and forty-two doubles per season. At a mere 5'5" tall, you wouldn't think the Astros' speedy second baseman would have the power to hit the ball out of the ballpark.
You would be incorrect. José hit twenty-four homers in 2016 and twenty-four more in 2017, as his power numbers have increased year after year.
He is still a little young to start throwing out "greatest second baseman of all time," but he is certainly on his way to being in that conversation. You have heard the 2015 Gold Glove winner's name being mentioned as one of the best players in the league for a while now. Get used to hearing it, because José Altuve isn't slowing down anytime soon.
Nolan Arenado
Born

April 16, 1991

Birth Place

Newport Beach, California

MLB Career

2013- still playing

Highlights

Gold Glove in each of first five seasons. Led NL in HR in 2015 and 2016

Teams Played For

Colorado Rockies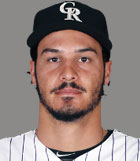 Those of you who aren't as familiar with this name, start learning it. The Colorado Rockies' everyday third basemen since 2013 has taken the league by storm with his baseball abilities. Normally, a guy that hits as well and hard as Nolan does would be known for his power.
The problem is that this guy might just be the greatest defensive third baseman that's ever played the hot corner in the "Big Leagues." He has shown off his range more times than we can count.
He makes the diving stop look effortless and has been robbing players of extra-base hits since he arrived on the scene in 2013. He has won the NL Gold Glove at third base in each of his five seasons since joining the Rockies. Look for that number to continue piling up.
As amazing of a defender as he is, his talents as a right-handed batter are right on par. His forty-two and forty-one homers in 2015 and 2016 led the National League, as did his 130 and 133 RBI.
Apparently he slowed down in 2017 by hitting .309 with only thirty-seven homers and 130 RBI.
You have to remember that this isn't the late '90s when guys hit fifty and sixty homers like it was nothing. Having three consecutive seasons of 130 or more RBI in today's game is astonishing.
It goes to show you how great of a player this kid is. On the continued trajectory he is on, don't be surprised if in 2028, people are calling him the best third baseman the game has ever seen.
Mike Trout
Born

August 7, 1991

Birth Place

Vineland, New Jersey

MLB Career

2011- still playing

Highlights

2012 Rookie of the Year. Two-time AL MVP

Teams Played For

Los Angeles Angels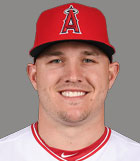 Mike Trout has been the face of Major League Baseball for so long now that people tend to forget how young this guy is. Born in 1991, Mike Trout has plenty of time to add to his already-outstanding accolades.
Mike thrust himself into the conversation of best players in the league as a rookie in 2012 when he led the American League in stolen bases (forty-nine) while hitting .326.
Trout's thirty homers during his first season, combined with his speed around the basepaths, alerted the public that this kid was the real deal.
He has already won a pair of AL Most Valuable Player awards (2014, 2016), and he is just getting better.
Mookie Betts
Born

October 7, 1992

Birth Place

Nashville, Tennessee

MLB Career

2014- still playing

Highlights

2016 Silver Slugger Award, AL MVP in his first full season (2015). A defensive stud

Teams Played For

Boston Red Sox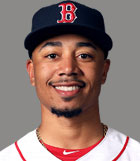 Normally with a player this early in his career, it would be a bit premature to crown them as a lock to make the Hall of Fame. But if the first 4 seasons of Mookie Betts' career are any indication of what's to come from the Boston Red Sox outfielder, then he's on his way to being a first-ballot selection.
Just look at what #50 did for the fans at Fenway Park during his first full season with the club in 2015. Then look at how much he improved in 2016, clubbing 31 jacks to go along with 26 steals and a .318 batting average.
Talk about a player who can literally do it all – Mookie Betts is that guy. Forget about questioning his skills as a defender, because this cat snagged Gold Gloves in both 2016 and 2017. He can hit for average, he can hit for power, and the dude can fly around the base paths.
When the Boston franchise drafted Mookie in 2011 in the 5th round, they were hoping he could one day blossom into an everyday outfielder for the club and perhaps even be their leadoff man.
It didn't take long for Betts to laugh off those expectations, because right now, he's in the conversation with Mike Trout as the best player in the game today. When it's all said and done, who knows how extraordinary Mookie's numbers will be?
Only time will tell, and we'll all be watching.
Bryce Harper
Born

October 16, 1992

Birth Place

Las Vegas, Nevada

MLB Career

2012- still playing

Highlights

2012 NL Rookie of the Year. 2015 NL MVP

Teams Played For

Washington Nationals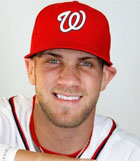 Bryce Harper is one of those players—you either love him or you hate him. What we mean is that if you root against the Washington Nationals, you probably don't like him, as he has hurt your team in the past.
If you are a fan of the Nationals or just appreciate the guys with the most talent, you are probably a fan of Bryce Harper.
The left-handed hitting right fielder hasn't caught anyone in the Major League by surprise. The first-overall pick by Washington in the 2010 draft had been touted as a prodigy since his early youth growing up in Las Vegas, Nevada.
The only way to live up to the hype that surrounded Bryce was to go out and dominate, which is exactly what he did in 2015 as a twenty-two-year-old.
Bryce hit .330 and hit forty-two home runs while drawing 124 walks. His .460 on-base percentage led all players. Bryce Harper made it known that he wasn't going to be some hot-shot prospect that never panned out.
Harper is well on his way to becoming a Hall of Fame right fielder.
A Quick Recap of the Material
Although the game of baseball has evolved, the object and goals of the game remain unchanged. Sure, we have seen instant replay added, and the players come on and off the disabled list at an absurd rate compared to previous eras.
But Major League Baseball is still as pure and as great as it has ever been. Thanks to the players mentioned in this catalog, fans all over the world have idols to look up to and heroes to root for.
Just like these players looked up to the ones that came before them, the next crop of all-stars who are growing up right now are doing the same. They are watching the likes of Mike Trout sprinting to the wall to rob a home run from going over the fence.
They can see what Max Scherzer and Corey Kluber have done to opposing hitters and how silly Chris Sale can make a left-handed batter look.
The reason we bring all these names to your attention is because we want you to recognize the best and most skilled players in today's game. If we left off your favorite player and you think he deserves a spot on this page, please feel free to contact us and let us know.
If we feel that the reasons are justified, you'll get your wish, and we'll start tacking on more names!
May
Sportsbook of the Month

Sign up Bonus
60% Up To $1,000
READ REVIEW
Visit Site
X