Baseball's Greatest Players – MLB Icons from the '40s Through the '80s
Ready for a trip down memory lane? Players come and go all the time in Major League Baseball. It's the ones that are remembered and talked about long after their playing days are over that go down as the legends of the game.
From Cooperstown's very first Hall of Fame Class in 1936 all the way to the current superstars today, many men have planted their names in the record books. The point of this page is to focus on a specific era of Major League Baseball and discuss the players who are still etched in our minds some 50+ years later.
We are talking about the players who made their debut post-World War II. We'll start with guys who played their first game in the late 1940s. We'll go all the way up to men who were born in the early 1950s and played their best ball in the '70s and '80s.
If you want to scroll down the page and read about your favorite player of all time, go right ahead. We have organized the page chronologically, so it won't take long to find "your guy." Otherwise, start below with arguably the greatest catcher of all time.
After all, only one man in the history of the sport has won 10 World Series as a player.
Yogi Berra
Born

May 12, 1925

Birth Place

St. Louis, Missouri

MLB Career

1946-1965

Highlights

MLB record ten World Series rings as a player. Eighteen-time All-Star, three-time AL MVP.

Teams Played For

New York Yankees, New York Mets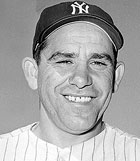 They say you play the game to try to win World Championships. Apparently, Yogi Berra got the memo loud and clear. As the catcher for the New York Yankees from 1946-1963, Berra won ten World Series, which is more than any other player has ever won. As much as we love seeing records get broken, this one is going to be awfully hard to catch.
Having a World Championship for each finger on both hands and being known as one of the best catchers of all time without a doubt rockets Yogi into the upper echelon of "Major League Baseball gods."
He made the All-Star team eighteen times and has three AL MVP trophies to his credit. Anyone who knows baseball understands the significance of having a catcher who can be effective as a batter and as a defensive player. Berra was "that guy," as he could put the ball in play and hit for power.
His potency as a batter should not overshadow his defensive prowess. He led the American League in putouts eight times and double plays six times. He was quick, he was smart, and he was reliable—the exact attributes a manager prays his catcher has.
Yogi Berra was everything and more to the New York Yankees franchise. As cool as individual statistics are, athletes play sports for opportunities to win Championships.
Winning multiple World Series titles elevates the way players are talked about and remembered. Winning ten of them is inconceivable to those that know what it takes to win even just one.
When you hear people talking about the greatest catchers of all time, the conversation usually centers around this guy.
Willie Mays
Born

May 6, 1931

Birth Place

Westfield, Alabama

MLB Career

1951-1973

Highlights

660 career home runs. Twelve consecutive Gold Gloves (1957-1968). Hit four HR in one game.

Teams Played For

New York/San Francisco Giants, New York Mets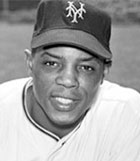 It wouldn't matter if we were including the top five players of all time or the top forty of all time. Willie Mays would be included either way, as this man was the definition of a true all-around baseball player.
Willie hit for power, he ran with incredible speed, and he was the best defensive outfielder of his generation, and perhaps of all time.
Many remember "The Catch" that Mays made during Game 1 of the 1954 World Series. In a 2-2 game and with two men on base in the eighth inning, Vic Wertz sent a towering foul ball into deep centerfield. Willie ran underneath the ball and caught it underhand with his back completely facing the batter.
That play was just an example of what Willie could do with a baseball glove on his hand. He was the recipient of the Gold Glove Award twelve straight times, but don't think for a split second that Willie was some kind of defensive specialist.
The Giants center fielder ended his career with 660 home runs, putting him in the top five in one of the most sought-after records in all of sports. We have seen plenty of guys come up in the Major League and hit for power and hit for consistency.
We have seen a bunch of amazing defensive outfielders, as well as numerous guys that knew how to steal bases.
What we weren't used to seeing was a guy that was capable of doing all of those things. Mays led the NL in home runs on four occasions, the same number of times he led the league in stolen bases. While nobody knows for sure how "The Say Hey Kid" earned that nickname, it doesn't really matter.
When you are widely considered the greatest "Five-tool" player that's ever played the game, you can have whatever nickname you want.
Mickey Mantle
Born

October 20, 1931

Birth Place

Spavinaw, Oklahoma

MLB Career

1951-1968

Highlights

Seven World Series, three-time AL MVP, 1956 Triple Crown Winner. 536 Career Home runs.

Teams Played For

New York Yankees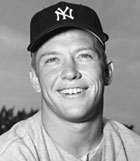 When the Yankees were winning all those World Series in the 1950s, they had a team full of great of players. Their centerfielder Mickey Mantle was the heart and soul of the whole team. Mickey did it all for New York.
He covered plenty of ground in the outfield and could consistently hit for average, as he hit over .300 ten times during his eighteen-year career.
What Mantle was really known for was his power. Mickey had a knack for hitting the long ball. 536 during his career, to be exact, many of which were 500+ foot moonshots.
Without the technology we have today that measures the distance of players' homers, it's difficult to calculate just how far some of Mantle's home runs traveled. Myths of him hitting a 643-foot shot straight out of Tiger Stadium in 1960 are out there, although the exact distance the ball traveled can't be known for certain.
What is so impressive is that Mickey was able to do this hitting both left.. AND right-handed.
He is the all-time leader in home runs hit by a switch hitter, with thirty-two more than the next closest competitor (Eddie Murray).
The 1956 season saw Mickey achieve what all great hitters dream of accomplishing—the Triple Crown. Mantle's mammoth numbers of a .353 average, fifty-two homers, and 130 RBI were good enough to sweep the American League hitters.
That 1956 season got even better for Mickey. He would win his first of three AL MVP Awards, not to mention his fourth of his seven World Series titles. He smacked fifty-four homers during the 1961 campaign, his most in one season, culminating a seven-year stretch where Mantle averaged a whopping 41.4 homers per year.
His #7 Yankees' jersey was retired in 1969, and he joined other first-ballot Hall of Famers in Cooperstown in 1974.
Hank Aaron
Born

February 5, 1934

Birth Place

Mobile, Alabama

MLB Career

1954-1976

Highlights

Career leader in RBI with 2,297. Second of all time in home runs with 755.

Teams Played For

Milwaukee/Atlanta Braves, Milwaukee Brewers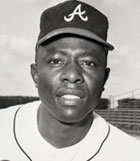 If you are a fan of statistics and records, get nice and comfy for this segment on Hank Aaron. A player isn't a bonafide top-ten player of all time without being a true standout performer, and that's exactly what "Hammerin' Hank" was for his entire twenty-three-year MLB career.
You probably already know that his 755 career home runs was a Major League record for over thirty years and is still the second most of all time. What you may not have known is that his 2,297 RBI is the most by anyone in the history of the sport, and his 3,771 hits is third all time.
Hank probably had his most fun during the 1957 baseball season, as he won his one and only World Series Title. His forty-four jacks, 132 ribbies, and .322 clip at the plate he enjoyed that season were just the cherry on top, and they came with his first and only NL MVP award.
How does one player hit 755 home runs at the Major League level, you may ask? For starters, nobody has more thirty-home-run seasons (fifteen) than Aaron. He had a streak of nineteen consecutive seasons (1955-1973) in which he hit twenty-four or more long balls.
Throw in the six seasons that saw Aaron launch forty-four or more dingers. Start doing some math, and you will quickly see the home run totals add up at a historic pace.
His twenty-five All-Star Game selections is a Major League record, as are his 1,477 extra-base hits and his 6,856 total bases he accumulated. This guy is literally a walking record book when it comes to hittings stats.
The combination of Hank's talents and his longevity in the game are what made attaining these numbers possible.
Bottom line—you can't have a conversation about the greatest hitters in the history of the sport without including the 1982 first-ballot Hall of Famer.
Roberto Clemente
Born

August 18, 1934

Birth Place

Barrio San Anton, Carolina, Puerto Rico

MLB Career

1955-1972

Highlights

Twelve consecutive Gold Gloves. Four-time NL Batting Champion.

Teams Played For

Pittsburgh Pirates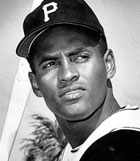 Roberto Clemente's time on earth was fatefully cut short in 1972 at age 38. On his way to Nicaragua to support and bring medical relief to earthquake victims, the plane Clemente was a passenger on crashed.
While he will always be linked to his tragic passing, his efforts and contributions as the Pittsburgh right fielder will never be forgotten.
His twelve consecutive gold gloves he won from 1961-1972 are tied with Willie Mays' for the most career gold gloves by an outfielder. He led the National League in batting average four times, including thirteen seasons with a mark above .300.
It is fitting that Roberto ended his career with exactly three thousand hits. When you talk about the ultimate combination of an extraordinary fielder and an outstanding hitter, you end up with Roberto Clemente.
His cannon of an arm in right field was evidenced by his 260 outfield assists from the position. That is seventy-four more assists thrown than any other right fielder the sport has ever seen.
Roberto Clemente was a can't-miss type of player, and the Pittsburgh Pirates franchise was more than fortunate to have him for eighteen seasons. As great of a ballplayer as Clemente was, people around him said he was an even better person. It was as if he cared more about helping others than taking care of his own needs.
Major League Baseball recognized this and since 1971 has handed out the "Roberto Clemente Award" every year. The honor recognizes the individual player who has displayed exemplary community work along with being a stud on the field.
He was inducted into Cooperstown in 1973, becoming the first Latin American player in the club. If you are looking for the type of player who was a true role model for young children who want to grow up and make a difference, look no further. Roberto Clemente is your guy.
Frank Robinson
Born

August 31, 1935

Birth Place

Beaumont, Texas

MLB Career

1956-1976

Highlights

1966 Triple Crown winner. Only player to win both the NL and AL MVP Award.

Teams Played For

Cincinnati Reds, Baltimore Orioles, Los Angeles Dodgers, California Angels, Cleveland Indians.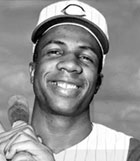 It is awfully hard trying to rank the best baseball players of all time. Trying to compare players and statistics from different eras can be challenging when trying to decipher who is better than who. One way to assure yourself a spot on our list is by doing something no other player in the history of Major League Baseball has done.
In his first year as a Baltimore Oriole in 1966, Frank Robinson became the first player in history to win an MVP Award in both leagues. He had also won the 1961 NL MVP as an outfielder for the Cincinnati Reds.
The power hitter, who spent his adolescent years at McClymonds High School in Oakland, California, was actually overshadowed by one of his classmates.
Boston Celtic legend Bill Russell, a basketball teammate of Robinson, commanded most of the school's attention. However, it didn't take Frank long to get his feet wet at the Major League level.
As a first-year player in 1956, Robinson tied a Major League rookie record with thirty-eight homers while scoring 122 runs. He hit .322 the following season and was off to the races.
Despite having his best two statistical years in 1961 and 1962, it was in 1966 when Robinson finally secured a Triple Crown, smacking a career-high forty-nine home runs.
He would finish his career with 586 homers, good enough for tenth of all time. He joined Hank Aaron as the only two players that were inducted into Cooperstown in 1982 by the Baseball Writers Association of America (BBWAA).
Frank was a dominant right-handed power hitter that excelled in both leagues. As long as people are debating the most feared hitters in history, Robinson's name will be part of the discussion.
Sandy Koufax
Born

December 30, 1935

Birth Place

Brooklyn, New York

MLB Career

1955-1966

Highlights

Three-time Triple Crown Winner (pitcher). Pitched four no-hitters, one perfect game.

Teams Played For

Brooklyn/Los Angeles Dodgers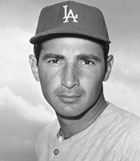 Sandy Koufax may not have had as prolonged of a career as some other terrific starting pitchers. Don't let that confuse you into not considering Sandy as one of the two best left-handed pitchers of all time. Koufax was forced to retire at the young age of thirty after suffering through terrible pain and swelling in his pitching arm.
It's quite a shame, as Sandy was in the absolute prime of his career. He was coming off a year in which he won his second straight NL Cy Young Award and pitching Triple Crown. To put things in perspective, you have to just look at his numbers during his final two seasons for yourself.
He won twenty-six games in 1965 and twenty-seven games in 1966. He struck out 699 batters and maintained a 1.89 ERA over the 658 2/3 innings he threw during his last two years.
Sandy was only thirty years old when the agony in his left arm became intolerable. As hard and as well as the guy had been pitching, it's not hard to believe he was experiencing discomfort.
Sandy had said that if he continued to pitch, he feared he would lose all mobility in his left arm by the time he got older. Koufax made the decision to walk away from the game and he wasn't concerned about what anyone thought or said. He was a man of his word, and that was more than apparent when Game 1 of the 1965 World Series approached.
The game was being played on Yom Kippur, the holiest day on the Jewish calendar. As a man of his faith, Sandy refused to pitch Game 1, as it conflicted with the holiday.
Dodger fans were able to forgive Koufax after he pitched a three-hit shutout in Game 7 on just two days' rest to capture the '65 World Series.
With four no-hitters to his credit, only Nolan Ryan can claim more nine-inning no-hit performances. When Sandy was inducted into Cooperstown in 1972 at age thirty-six, he became the youngest member ever welcomed in the history of the Hall of Fame.
When it comes to the best left-handed starters in MLB history, don't look past Koufax.
Carl Yastrzemski
Born

August 22, 1939

Birth Place

Southampton, New York

MLB Career

1961-1983

Highlights

1967 Triple Crown winner. Seven-time Gold Glove, eighteen-time All-Star

Teams Played For

Boston Red Sox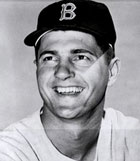 Carl "Yaz" Yastrzemski was in a tough spot when he started playing for the Boston Red Sox in 1961. Legendary left fielder Ted Williams had just retired, and there were some pretty big shoes to fill in the middle of the Red Sox lineup. While he was not as complete a hitter as Teddy was, he was a far better defensive player.
During the twelve seasons that he played left field for Boston, Yastrzemski won seven Gold Gloves, while leading the league in outfield assists seven different times.
After gradually figuring things out over his first two seasons, Yaz was locked and loaded at the plate by the time his third season started in 1963. He would lead the league in doubles, walks, and batting average. No longer would #8 in Boston only be thought of as an amazing player in the field.
Carl was an all-around stud, as evidenced by his eighteen All-Star Game selections. His highlight season came in 1967 when he won the Triple Crown and was named the American League Most Valuable Player.
In 1989, Yaz received a substantial 94.6% of votes and was a first-ballot Hall of Famer. As storied of a franchise as the Boston Red Sox is, there are very few players that have meant and achieved more than Carl Yastrzemski.
Pete Rose
Born

April 14, 1941

Birth Place

Cincinnati, Ohio

MLB Career

1963-1986

Highlights

All-time MLB leader in hits (4,256) and games played (3,562). Three-time World Series Champion.

Teams Played For

Cincinnati Reds, Philadelphia Phillies, Montreal Expos.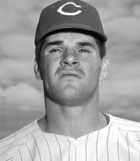 Everyone in baseball knows and remembers Pete Rose for his infamous betting scandal. Rose had admitted that he had bet on Cincinnati Reds games in which he played in and managed, which is obviously a big "no-no" in Major League Baseball.
Rather than spend the time speculating what did or didn't happen, let's focus this portion of the page on what Rose did on the field.
The list of records Pete accumulated during his tenure in the league stretches pretty long. The most notable ones are his 4,256 hits and 3,215 singles he hit in the big leagues. To help you understand how durable this guy was, check out the following.
Games Played: 3,562
Plate Appearances: 15,890
At Bats: 14,053
All of the numbers above are records in Major League Baseball. The 1963 National League Rookie of the Year started getting hits in his first season and didn't stop for the next twenty-four years. Pete had more than two hundred hits in a season ten different times, a record he shares with Ichiro Suzuki.
It wasn't all about individual awards and records for Rose. He matched his three batting titles with three World Series rings. The seventeen-time All-Star was known as "Charlie Hustle" for his extreme determination and the passion he showed for the game.
Pete was used all over the infield and outfield throughout his career; he just wanted to play and get on base.
Unfortunately, it was his poor decisions he made that have cost him a spot in Cooperstown. There is no debating that Pete Rose made mistakes and wasn't honest and forthright about them at the beginning.
That doesn't mean we should forget his excellence and consistency he brought to the table for more than twenty years.
Like it or not, Pete Rose is the all-time leader in hits. With the closest active player some 1,200 hits behind Pete, it's safe to say this record isn't falling anytime soon.
Tom Seaver
Born

November 17, 1944

Birth Place

Fresno, California

MLB Career

1967-1986

Highlights

3,640 career strikeouts, 311 career wins. Three-time Cy Young Award Winner.

Teams Played For

New York Mets, Cincinnati Reds, Chicago White Sox, Boston Red Sox.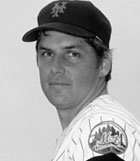 A lot of players on this list were standout talents from the time they were teenagers. As a tenth-round pick after playing two years of college baseball at the University of Southern California, Tom Seaver was not a "can't-miss" product right out of high school.
Once he arrived in the New York Mets rotation in 1967, he would no longer be overlooked.
The 1967 Rookie of the Year would go on to lead the National league in ERA and strikeouts five times a piece, also leading the league in wins on three occasions. He won three Cy Young Awards during his first nine seasons as a New York Met. He won his only World Series in 1969 and pitched his only no-hitter in 1978.
Tom's 3,640 strikeouts during his tenure in the league are good enough for sixth of all time amongst all baseball players. With all that being said, Tom Seaver isn't the flashiest pitcher on this list.
He didn't throw the fastest fastball or have the deadliest curveball, but he knew how to get it done. Unfortunately for the Mets, things turned ugly between Seaver and the front office during the 1977 season.
In a nutshell, the two sides were unable to negotiate a contract, and the Mets abruptly traded Seaver.
The Cincinnati Reds were the beneficiary of this debacle, and Tom would play there until returning to the Mets organization in 1983. It was the damage with the Mets over his first ten seasons that enabled Seaver to earn the highest percentage of Hall of Fame votes that any pitcher in the history of the game has ever received.
The 98.8% of votes he received on his first ballot puts Tom in rarefied air when it comes to Hall of Fame pitchers.
Steve Carlton
Born

December 22, 1944

Birth Place

Miami, Florida

MLB Career

1965-1988

Highlights

4,136 strikeouts. Four Cy Young Awards, 1972 Triple Crown winner.

Teams Played For

St. Louis Cardinals, Philadelphia Phillies, San Francisco Giants, Chicago White Sox, Cleveland Indians, Minnesota Twins.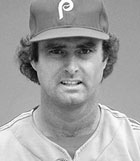 Steve Carlton started his career with the St. Louis Cardinals in 1965 and was a solid pitcher in the league through 1971. Like many other players during this era, a salary dispute ensued, and the Cardinals organization traded Carlton to the Philadelphia Phillies before the '72 season got underway.
Boy, did they end up regretting this move. In his first year in the "city of brotherly love," Steve hurled 346 1/3 innings on his way to winning the Triple Crown. Twenty-seven wins, 310 strikeouts, and a 1.97 ERA.
His performance that season, which also included thirty complete games, must have had the Cardinals in a daze, just like the batters Carlton faced that year.
What makes this season even more astonishing is the that the Phillies went 59-97 that year, having one of the worst offenses in the league. The 46% of the team's wins that Carlton was responsible for that year is an MLB record that still stands today.
Carlton's biggest struggles in baseball weren't with opposing batters. Steve grew so fed up with the questions he was being asked by media members that by 1976 he eventually stopped talking to them altogether.
Apparently, all this did was motivate him even more, as he added three more Cy Young Awards in 1977, 1980, and 1982, becoming the first pitcher at that time to ever win four Cy Young Awards.
By the time it was all said and done for Carlton, he had 4,136 strikeouts to go with those four Cy Youngs. As one of only four pitchers in MLB history that have surpassed four thousand total strikeouts, Steve Carlton's place on this list was more than deserved.
Reggie Jackson
Born

May 18, 1946

Birth Place

Wyncote, Pennsylvania

MLB Career

1967-1987

Highlights

"Mr. October" won five World Series. Hit three HR in the final game of the 1977 World Series.

Teams Played For

Kansas City/ Oakland Athletics, Baltimore Orioles, New York Yankees, California Angels.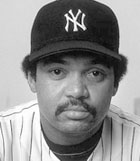 Some of the greatest MLB players of all time will tell you that they were born to play the game. Reggie Jackson could have played whatever sport he wanted to—he was that athletic and that gifted.
In fact, he was recruited by the universities of Oklahoma, Alabama, and Georgia to play football, despite suffering fractures in five cervical vertebrae as a junior in high school.
Instead of potentially never being able to walk again like the doctors had told Jackson, Reggie decided he was going to be different. Believe it or not, once Reggie healed up, he accepted a football scholarship at Arizona State University.
Reggie had hoped to play two sports, but was initially just given the opportunity to put on the shoulder pads and helmet.
Once Jackson stumbled onto the baseball practice field one afternoon during his freshman season, it was all over for football. The baseball coach told Reggie he would "take a look," and gave him five pitches. Jackson smacked three of those five pitches over the fence, and the home run hitting career of Reggie Jackson was officially underway.
Jackson launched forty-seven dingers in his second full season in the Big Leagues while playing for the Oakland Athletics. He played wonderfully for Oakland over eight seasons, including winning the American League Most Valuable Player award in 1973.
The A's won three consecutive World Series from 1972-1974, and their right fielder that "was supposed to be a football player" was a big reason why.
However, it was what he did years later in the postseason as a member of the New York Yankees that Reggie Jackson will always be remembered for.
With his team leading the 1977 World Series 3-2 against the Los Angeles Dodgers, Jackson was saving his ultimate heroics for Game 6. Reggie clubbed three home runs in the series-sealing victory. What's even more notable is each of the three home runs came on the first pitch of each at-bat, against three different pitchers.
He rightfully earned his "Mr. October" nickname for his clutch postseason performance. Not a bad thing, considering that October is the most significant time in Major League Baseball.
Nolan Ryan
Born

January 31, 1947

Birth Place

Refugio, Texas

MLB Career

1966-1993

Highlights

All-time leader with 5,714 strikeouts. All-time leader with seven no-hitters.

Teams Played For

New York Mets, California Angels, Houston Astros, Texas Rangers.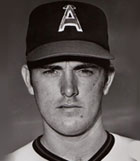 There are not many things that get a pitcher more excited than striking out a Major League batter. Nobody on the face of this earth got to experience that feeling more times than Nolan Ryan. 5,714 times, to be exact, which is 839 more strikeouts than Randy Johnson, the next closest competitor.
The kid from Texas threw so hard as a high school pitcher that some batters declined to take their at-bats against him. He started his career in New York as a member of the Mets rotation and never won more than ten games in a season. The trade to the California Angels at the end of 1971 was a great chance for Ryan to have a fresh start. How's this for a reincarnation?
In Nolan's first three seasons as an Angel, he won nineteen, twenty-one, and twenty-two games. More impressively, he struck out a silly 1,079 batters, which equals outs to 359.7 Ks per year. Something tells us the Mets regretted letting go of the man that would come to be known as the "strikeout king."
He would tack on three more 300+ strikeout seasons, including during the 1989 season at age forty-two! Most pitchers would be thrilled to strike out fifteen batters in a single game one time. Nolan did that twenty-six times.
Besides getting batters to habitually swing and miss, Ryan was known for "the no-hitter." No pitcher has more than four career "no-no's" on their resumé. Nolan Ryan has seven.
Ryan also owns the title of being the pitcher that allowed the least number of hits per nine innings (6.56) over a career. His twenty-seven seasons played are more than any single player in the last 100+ years.
There is absolutely no denying what Nolan Ryan has accomplished in the game of baseball. His 98.8% of votes received on the first ballot is only surpassed by Ken Griffey Jr. and Tom Seaver.
Don't even think about having a legitimate conversation about the best pitchers of all time without having a plenty to say about Nolan Ryan.
Johnny Bench
Born

December 7, 1947

Birth Place

Oklahoma City, Oklahoma

MLB Career

1967-1983

Highlights

Two-time World Series Champion and two-time NL MVP. Ten consecutive Gold Gloves (1968-1977).

Teams Played For

Cincinnati Reds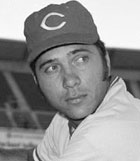 You may notice that there aren't very many catchers on this list of baseball's greatest players. Johnny Bench's place in baseball history left us no choice but to include the fourteen-time All-Star.
In 1968, Bench became the first catcher to ever win the Rookie of the Year Award, and his livelihood as the Cincinnati Reds catcher for the next fifteen years was underway.
The reason many catchers aren't on this list is because very rarely do they put up offensive numbers like the power-hitting first basemen and outfielders. Someone forgot to tell Johnny that catchers normally don't hit forty-five homers and drive in 148 runs in a single season.
That's exactly what Johnny did when he won his first of two NL Most Valuable Player awards in 1970. The "Big Red Machine" refers to the incredible Reds' teams during the 1970s. While Pete Rose stole a lot of the limelight, it was Bench that was the glue that held everything together.
If you aren't convinced that Bench is worthy of being on this list, take it up with the Baseball Writers Association of America that vote on Hall of Fame candidates. Bench received 96.4% of the total votes, the highest percentage ever recorded for a catcher.
Mike Schmidt
Born

September 27, 1949

Birth Place

Dayton, Ohio

MLB Career

1972-1989

Highlights

Three-time NL MVP, hit four HR in a single game, ten-time Gold Glove Winner.

Teams Played For

Philadelphia Phillies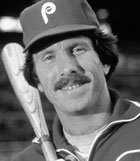 Waiting for the best third basemen of all time? Wait no longer; Mike Schmidt is here. The guy who manned the hot corner for the Philadelphia Phillies throughout the '70s and '80s hit more home runs than any third basemen in the history of the sport.
Schmidt wasn't only smashing homers and driving in runs for the Phillies. He played as good or better defense than any other third basemen that came before him. His ten Gold Gloves at the position is the second most of any player.
As good as his entire time in a Phillies uniform was, he enjoyed his best season in 1980, but not just because he hit a career-high forty-eight home runs and won the first of his three NL Most Valuable Player awards. Mike had the most fun during the 1980 campaign because the Phillies won the World Series, his only taste of glory during his eighteen years in the league.
When you hit thirty-five or more homers eleven times, they start to add up. Mike hit thirty-one-plus jacks in thirteen of the fourteen seasons from 1974-1987. Clearly, this guy had a knack for the long ball.
But it was his play at third base that makes him the legend that he is. A lot of players have come into this league and hit for power. To find a guy that could hit 548 home runs and play incredible defense night in and night out was a rare combination.
There's a reason Mike received 96.5% of the votes in 1995. This first-ballot Hall of Famer was the best in the business when it comes to the totem pole of third basemen. The only guy that really came close was the next man on our list.
George Brett
Born

May 15, 1953

Birth Place

Glen Dale, West Virginia

MLB Career

1973-1993

Highlights

"The Pine Tar incident." Three-time AL Batting Champion, 1980 AL MVP

Teams Played For

Kansas City Royals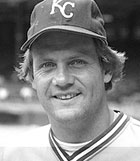 George Brett was one feisty baseball player. The Kansas City Royals third and first basemen from 1973-1993 was a darn good player. As consistently good as he was and despite his 3,154-lifetime hits, George has always and will always be remembered for his "pine tar incident."
We can guarantee you Brett doesn't live a single day in his life without having to answer some sort of question regarding the time he went absolutely bonkers at Yankee Stadium.
During the summer of the 1983 season, Brett hit a two-run homer with two outs in the top of the ninth inning to give his team a 5-4 lead. New York Yankees skipper Billy Martin requested that the umpires examine Brett's bat, as it appeared there was "too much pine tar" rubbed into the middle portion.
What ensued next was absolute mayhem. After a discussion, home plate umpire Tim McClelland ruled that the bat did in fact have too much pine tar and ruled Brett out. That meant he was the third out of the inning, and the Yankees were now 4-3 winners.
The moment McClelland gave the "out" signal towards the Kansas City dugout, George charged out in a rage you have to see to believe.
While it may be unfortunate for Brett that he will always be linked to his reaction that day, the video shows you exactly how passionate about the game this guy was. We all crack a smile every time we see George's eruption.
While it's okay to laugh a little bit, let's not forget his 1980 MVP season. His twenty-four home runs and 118 RBI were solid. It was his .390 batting average that pushed him over the edge into the elite club that is AL MVP winners.
The thirteen-time All-Star has a 1985 World Series ring and he received the sixth-highest percentage of votes (98.2%) of any first-ballot Hall of Fame player. As comical as you may have found that short video, his spot on this list is more than justified.
The Takeaway
We hope you made it all the way through or that you at least read some snippets from each of the players above. This era of MLB legends includes some of the biggest names in the history of the sport.
Not just the really good players, but the ones who have plastered their names the record books forever.
We saw a home run king named Hank Aaron surpass Babe Ruth's seemingly untouchable mark of 714 homers. We saw Nolan Ryan throw a league-record 7 no-hitters, including tossing a "no-no" for 3 different franchises.
Having a conversation about the greatest MLB players to ever live is absolutely impossible without talking about the individuals on this page. It was no doubt men like Walter Johnson and Honus Wagner that set the stage for future stars to come.
But it is what these men in this guide accomplished on the diamond that garnered them a spot on our list.
There is no question that new faces will emerge. We'll be introduced to players that will go on and have incredible careers and even wind up in Cooperstown. But no matter what happens, we can never take away what these players achieved during their heyday.
You'll see baseball players attempt to break some of these records that were set. However, some of them will remain standing for as long as even your grandchildren live.
May
Sportsbook of the Month

Sign up Bonus
60% Up To $1,000
READ REVIEW
Visit Site
X