Baseball's Earliest Stars – The First MLB Legends
You've seen highlights. You've heard stories. You've probably seen the eye-popping statistics, too.
If you are too young to have appreciated the earliest legends in the game of baseball, it's time to get focused and get locked into this page. Before anyone knew who Mike Trout and Clayton Kershaw were, there were guys like Ken Griffey Jr. and Randy Johnson dominating the game.
Even before Nolan Ryan came along and stamped his name all over the record books, it was Willie Mays and Mickey Mantle who were the faces of the league. But believe it or not, none of these names are classified as the first legends of the game.
I'm talking about guys from the inaugural class of the Hall of Fame in 1936. Certainly names like Ty Cobb and Walter Johnson ring a bell, right? What about Babe Ruth?
Get comfortable and enjoy reading our guide to the original behemoths of the game. Whether that is learning something about the Great Bambino that you weren't aware of or it's being introduced to Jimmie Foxx for the first time, you'll find this article extremely informative.
Surely you have heard of the Cy Young award, the piece of hardware that Major League Baseball hands out to the top pitcher in each league every season. Why don't we start there, with the individual who was so dominant during his career that the award is actually named in his ha honor?
Cy Young
Born

March 29, 1867

Birth Place

Gilmore, Ohio

MLB Career

1890-1911

Highlights

All-time leader in wins (511), innings pitched (7,356), and games started (815)

Teams Played For

Cleveland Spiders, St. Louis Perfectos/Cardinals, Boston Americans/Red Sox, Cleveland Naps, Boston Rustlers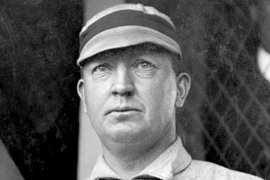 We like the hearing the phrase "records are made to be broken." We all love seeing Major League Baseball players setting new records, and it happens all the time. Here's one record we can assure you won't ever be touched: Cy Young's inconceivable mark of 511 career wins.
It's hard to put Young's pitching statistics into words with the way the game is played today. From 1891-1909, Cy never won less than eighteen games. In fact, he won an average of 25.7 games per year over that nineteen-year stretch.
The way the game was played back then as opposed to now certainly skews the stats when trying to compare Cy Young to a pitcher in today's game. Rather than do that, just appreciate the durability of this man's career. His records of 815 games started, with 749 of those being complete games, simply can't be fathomed with the way the league is currently set up.
Considering that the award for the best pitcher in the American and National League every year is named after him, that should say plenty for what his contributions to the game were.
Honus Wagner
Born

February 24, 1874

Birth Place

Chartiers Borough, Pennsylvania

MLB Career

1897-1917

Highlights

Eight-time NL Batting Champion, Five-time NL RBI and Stolen Bases Leader

Teams Played For

Louisville Colonels, Pittsburgh Pirates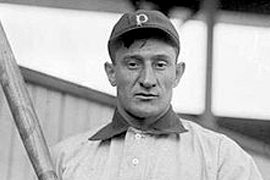 Honus Wagner was a heck of a baseball player for someone who wasn't even considered the "baseball player of the family." Honus has been talked about as the greatest shortstop to ever live, and his consistency backs it up.
Wagner batted .345 over fourteen seasons from 1899-1912, stealing an average of forty-two bases per year, not to mention being the NL RBI leader five times. Do you like guys that don't strike out and get on base?
How about 963 walks and 735 strikeouts over his twenty-one-year career? It is extremely rare nowadays to see a player walk more than they strike out. For Wagner, it was a thing of the norm.
Despite his accolades, it is the infamous "T206 Honus Wagner baseball card" that he is most notoriously linked to. Only fifty-seven prints of the card are out there, and who knows how many are actually still circulating? What we do know is that in 2016, through Goldin Auctions, the card sold for a record $3.2 million. This broke the previous record set by—wait for it….
A different version of the same card, known as the "Gretzky Wagner," sold for $2.8 million in 2007. No matter how good of a ballplayer Honus was, these striking amounts of money paid for his baseball card are going to be the first thing people think about when Honus Wagner's name is mentioned.
Christy Mathewson
Born

August 12, 1880

Birth Place

Factoryville, Pennsylvania

MLB Career

1900-1916

Highlights

Ranks third all-time with 373 Wins. Two World Series, two no-hitters

Teams Played For

New York Giants, Cincinnati Reds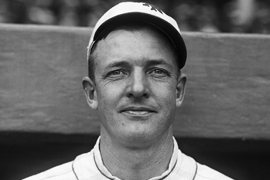 Christy Mathewson is hands-down one of the greatest pitchers who has ever lived. His 373 wins is a National League record, and he led the league in ERA five times. The two-time World Series Champion actually had to make a choice to focus on baseball in 1902.
Christy was a professional football player, playing fullback and dropkicker for the Pittsburgh Stars the same year he was pitching for the New York Giants baseball team.
Fortunately, by 1903, Mathewson decided to focus on baseball, and boy did that pay off.
He would win thirty, thirty-three, and thirty-one games over each of the next three seasons as a full-time baseball player. A seventeen-year career with an Earned Run Average (ERA) of 2.13 undoubtedly leaves him in squarely in the center of the discussion for the top five to ten pitchers of all time.
Ty Cobb
Born

December 18, 1886

Birth Place

Narrows, Georgia

MLB Career

1905-1928

Highlights

Career average of .367 is highest of all time. 1909 Triple Crown Winner

Teams Played For

Detroit Tigers, Philadelphia Athletics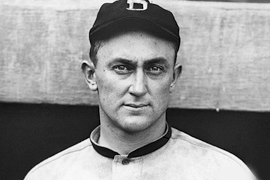 One of only two men to ever eclipse four thousand hits, Ty Cobb has a seat front and center on the stage of the greatest and most consistent hitters the game has ever seen. We don't want to bore you with his year-by-year astounding batting averages, but we will tell you that his career mark of .367 is the greatest of all time.
If you are waiting to see if that record will ever be broken, we advise you not to hold your breath. Just imagine hitting .396, stealing sixty-three bases, having nintey-five RBIs, and having more walks than strikeouts.
Now imagine averaging those numbers over a five-year stretch like Ty Cobb did during the 1909-1913 seasons.
Ty Cobb achieved things no other baseball player has ever achieved, and that is why he is remembered as one of the all-time greats. He manned center field for the Detroit Tigers from 1905-1926, and was the epitome of a five-tool, or all-around player.
Winning the Triple Crown in 1909 is a perfect example of that. Cobb ranks fourth of all time with 897 stolen bases, and eighth of all time with 1,944 runs batted in (RBI). Ty is the only player in the top ten in both of these categories.
In fact, no other player is even close to being in the top ten in steals and RBI, signifying how wide Cobb's skill set was as a player.
Walter Johnson
Born

November 6, 1887

Birth Place

Humboldt, Kansas

MLB Career

1907-1927

Highlights

MLB-record 110 shutouts. Ranks second of all time with 417 wins.

Teams Played For

Washington Senators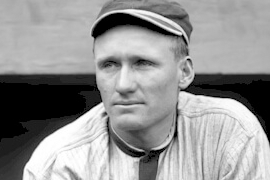 The first true power pitcher. Before the days of radar guns and guys throwing 100+ mph, Walter Johnson was known as the guy with the most feared fastball. Walter is one of only two men to eclipse four hundred career wins as a pitcher, as his 417 wins are forty-four more than Christy Mathewson, who ranks third of all time.
Check out this nine-year stretch Johnson had from 1910-1918. He averaged three more than 348 innings pitched per year. Think he had trouble managing that workload? Not so much. He maintained a 1.60 ERA over that struck out way more batters than anyone else during that span.
Walter won the pitching Triple Crown (League leader in wins, strikeouts, and ERA), but not just once or twice. He won it three times (1913, 1918, 1924), winning the AL MVP Award in 1913 and 1924.
Johnson is known as one of the "Five Immortals," thanks to being part of the original 1936 Hall of Fame class. Along with the other four inductions (Ty Cobb, Honus Wagner, Christy Mathewson, and Babe Ruth), Walter will never be forgotten, thanks to his contributions to the game as a starting pitcher.
Babe Ruth
Born

February 6, 1895

Birth Place

Baltimore, Maryland

MLB Career

1914-1935

Highlights

Seven-time World Series Champion, twelve-time AL Home Run Leader. AL ERA Leader in 1916.

Teams Played For

Boston Red Sox, New York Yankees, Boston Braves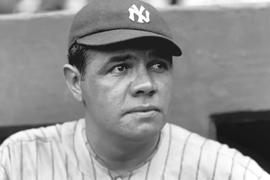 This segment is tough to complete in just a few paragraphs. To be fair to Babe Ruth, a lengthy, eight-page article would seem appropriate to try to list his accomplishments and to paint the picture of what his impact on the game of baseball has meant. Our team of baseballs enthusiasts will do their best to summarize The Sultan of Swat's career.
Babe Ruth is arguably the greatest baseball player to ever live. We say "arguably" because people love debating the all-time greats in any sport. Babe did things no other baseball player has ever done at the Major League level.
We hear stories of great high school and even college ballplayers who can play "both ways"—guys that can hit and can pitch—but we don't see that in Major League Baseball.
Babe, or the "Great Bambino," as he was often called, defied odds.
Babe was able to not only pitch and play in the outfield in the Majors, but he absolutely excelled in both areas.
Let's start with his prowess at the plate, as his career batting statistics rank him at or near the top in many of the major categories.
Ruth is second of all time in RBI with 2,214. His 714 home runs are third of all time. Many baseball historians say that the best and truest way to measure a hitter's efficiency is by slugging percentage. Babe's career mark of .6897% is the highest in the history of the sport.
Only Barry Bonds and Rickey Henderson were walked more times, but the Babe's OPS (On-base % + Slugging %) of 1.164 is the highest the game has ever seen. Of course, we could continue going on and on about how tremendous of a hitter the Great Bambino was, but we still need to talk about his accomplishments as a pitcher!
Let's look at the 1916 MLB season to get an idea of whether arguably the best hitter in the history of baseball could pitch as well. Ruth won twenty-three games that year, compiling a league-best 1.75 ERA over 323 2/3 innings pitched.
The following season, in 1917, Babe backed that up by winning twenty-four games over 326 1/3 innings while achieving a 2.01 ERA. These pitching numbers alone are enough to warrant him a spot on our page, and he wasn't even known as a pitcher!
We can't conclude a piece on Babe Ruth without paying tribute to his infamous "calling his shot" in 1932. It was on October 1st during the fifth inning of Game 3 of the World Series.
Ruth pointed his right hand out toward the centerfield wall at Wrigley Field, signaling that he was about to hit a home run. On the very next pitch, Ruth did just that, smashing a ball to straightaway center field, out of the park!
The footage of his heroics can be seen in this grainy film of the magical moment.
While we could continue praising Ruth for several more paragraphs, the writing should be on the wall by now. By all baseball measurements, Babe is undoubtedly on the shortlist for the greatest player in history.
Lou Gehrig
Born

June 19, 1903

Birth Place

Yorkville, Manhattan, New York

MLB Career

1923-1939

Highlights

Eight World Series rings, 1934 Triple Crown winner. Hit four home runs in a single game.

Teams Played For

New York Yankees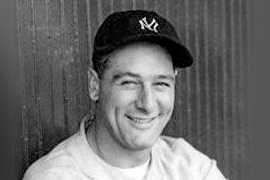 When your "Yankees #4" is the first jersey to ever be retired, you know you earned your spot on this list. Although Lou Gehrig's life was cut short at age 37, his contributions to the game of baseball will live on forever. Known as the first "iron-man" in the sport, Lou played a remarkable 2,130 consecutive games before his body became too weak to play.
Certainly, he will always be connected to the amyotrophic lateral sclerosis (ALS) sickness that took his life. The disease is commonly referred to as "Lou Gehrig's disease," so you can imagine the legacy that this man left. His accomplishments on the baseball diamond were nothing short of marvelous.
The left-handed first basemen played his entire seventeen-year career with the New York Yankees and maintained a .340 batting average during those years. Lou didn't just hit for average; he drove in runs at a preposterous pace.
His 185 "ribbies" in 1931 is the second most ever in a single season, and it wasn't a fluke for Gehrig. He had already had 173 RBI in a season twice (1927, 1930) before that!
In the eleven years from 1927-1937, Lou averaged an astounding thirty-nine homers and 154 RBI per season while batting .350. Let's throw in the 113 walks compared to fifty-three strikeouts Lou averaged over this timespan. Saying Lou Gehrig was a consistently great baseball player doesn't do him enough justice.
Gehrig has been cemented as the greatest first basemen of all time, and one of the top ten players, period.
Jimmie Foxx
Born

October 22, 1907

Birth Place

Sudlersville, Maryland

MLB Career

1925-1945

Highlights

1933 Triple Crown Winner. Three-time AL MVP and two-time World Series Champion.

Teams Played For

Philadelphia Athletics, Boston Red Sox, Chicago Cubs, Philadelphia Phillies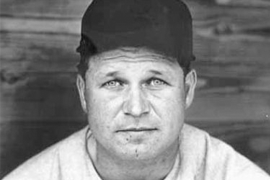 Jimmie Fox had one heck of a career playing professional baseball. Jimmie broke into the league like many players do, improving each and every year over his first few seasons.
By the time the 1932 season arrived, things changed. The term "breakout year" would an understatement when you consider these gaudy numbers.
If you want to be picky, Jimmie actually ripped off sixty dingers that season. Two home runs came in games that were eventually rained out, thus the stats were wiped clean from those contests.
The only reason he didn't win the Triple Crown was because Dale Alexander had a batting average three points higher, although with today's rules, Alexander would not have had enough at-bats to qualify.
Not to worry for Foxx, as the next year he went on to capture the elusive Triple Crown. In 1933, he stuffed the stat sheet with a .356, forty-eight home runs, and 163 RBI, all tops in the American League.
The nine-time All Star ended his career with 1,922 runs batted in, which is still in the top ten of all time.
Foxx was a well-traveled man, playing for four different ballclubs during his career. While he did much of his damage during his first ten years of his career as a member of the Philadelphia Athletics, he showed that he had plenty left in the tank when he arrived in Boston in 1936.
In his first five seasons with the Red Sox, Jimmie's numbers equated out to .325, forty homers, and 134 RBI per season.
With a career average of .325 and 534 home runs, it's pretty obvious why Foxx was a first ballot Hall of Famer in 1951.
Joe DiMaggio
Born

November 25, 1914

Birth Place

Martinez, California

MLB Career

1936-1951

Highlights

MLB-record fifty-six-game hitting streak. Nine World Series rings, three-time AL MVP.

Teams Played For

New York Yankees
Can you imagine playing thirteen years of professional baseball and capturing a World Series ring in nine of those seasons? If your name was Joe DiMaggio, you wouldn't have to imagine. Joe wasted no time getting his career started. The Yankees won the World Series in each of DiMaggio's first four seasons in the league, and Joe was a big reason why.
His franchise record for most homers hit in a season by a rookie (twenty-nine) in 1936 stood for eighty-one years until Aaron Judge eclipsed the mark in 2017. DiMaggio averaged 133 RBI over his first seven seasons, without recording a single year with less than 125 RBI. As dependable as he was at the plate, Joe was even more reliable of a centerfielder for the Yankees.
DiMaggio earned the nickname "Yankee Clipper" from the team's announcer after having his speed and range in the outfield likened to that of a new airplane on the market.
For a guy who was that skilled on offense and defense, it is no wonder he's talked about as one of the greatest outfielders in the history of the sport.
Joe was not one to shy away from the spotlight, as evidenced by an on-and-off relationship with actress/singer Marilyn Monroe. Despite being involved in a high-profile marriage, it is his feats on the baseball field that DiMaggio is remembered for.
His fifty-six-game hitting streak during the 1941 campaign is one of the most sought-after records in the sport and is unlikely to ever be matched. In 1949, he became the first baseball player to ever sign a contract in excess of $100,000.
Overall, we'd say this a pretty full and entertaining resumé for a guy who just played the game he loved.
Ted Williams
Born

August 30, 1918

Birth Place

San Diego, California

MLB Career

1939-1960

Highlights

Two-time Triple Crown winner (1942, 1947). Career On-Base % of .482 is an MLB record.

Teams Played For

Boston Red Sox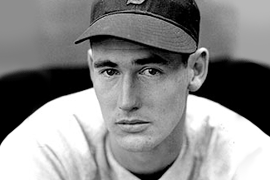 Nineteen seasons in Major League Baseball, all playing left field for the Boston Red Sox. There have been very few hitters in the game of baseball, if any at all, that have been better then #9 was in Fenway Park. "Teddy Ballgame," as Ted Williams was often called, had a goal and he wasn't afraid to talk about it.
Teddy had told people that he wanted to be known as "the greatest hitter to ever live." Williams had pretty good foresight. It has been more than fifty years since he played his last game, and he is still honored as the greatest hitter to ever play.
It wasn't just that Williams could hit for power and average—he had a discipline at the plate that was wise beyond his years. His 2,021 career walks (fourth of all time), combined with his .344 average, left him with a career on-base percentage of .482. That is good enough for the highest mark in Major League Baseball history.
Don't go comparing Williams' numbers to the best players who play the game today. Ted's simply going to leave them in the dust.
In his first eight years in Major League Baseball, his numbers resemble something of a created player in a video game. He batted .353, averaging thirty-nine doubles, thirty-three homers, and 130 RBI. Even more impressive was his ability to get on base.
Over those same eight seasons, he averaged 138 walks per year, compared to only forty-seven strikeouts.
Here's another crazy Ted Williams stat: the two-time AL Triple Crown Winner (1942, 1947) played nineteen seasons and was selected to the American League All-Star team nineteen times. He led the AL in RBI and home runs four times and was the batting champion six times.
Being a member of the "500 home run club" was just another feather in the cap for Williams. The 1960 season would be his last, and Teddy went out with a bang—literally. In his final at-bat of his career, he clubbed his 521st home run. Not a bad way to go out, Mr. Williams.
Bob Feller
Born

November 3, 1918

Birth Place

Van Meter, Iowa

MLB Career

1936-1956

Highlights

Led MLB in strikeouts seven times. Three career no-hitters. 1940 AL Pitching Triple Crown Winner.

Teams Played For

Cleveland Indians
If Bob Feller's name doesn't ring a bell, you are about to be enlightened. All Feller did during his eighteen years of service in Major League Baseball was lead the American League in strikeouts seven times. He won the Triple Crown for pitchers in 1940 and a World Series in 1948.
You don't get the nickname "Heater from Van Meter" by throwing the ball softly. Bob Feller was something of a teenage prodigy. The speed and subtle movement on his fastball looked like that of a top Major League hurler by the time Bob was seventeen years old. That's exactly why the Cleveland Indians gave the adolescent a chance.
Feller K'd (struck out) fifteen batters in his first professional start, a record for any pitcher in their first-ever start. Just two weeks later, Bob "matched his age" and struck out seventeen batters against the Philadelphia Athletics.
It was clear from the get-go that this kid was going to be special, and he did not disappoint.
It wasn't just people around the league that were captivated by Feller and his pitching abilities. He opened the 1937 season on the cover of Time Magazine. People were absolutely fascinated with how a seventeen-year-old kid could just come in and dominate the best hitters on the planet.
By the time it was all said and done, Feller had three no-hitters to his name. Add the nine "one-hitters" Bob Feller threw, and you begin to see how dominant this guy was.
When he was inducted into the Hall of Fame in his first year of eligibility in 1962, he did so by receiving the fourth highest percentage of votes (93.8%) at the time.
The question isn't if Bob Feller belongs on the list of the best pitchers of all time. The question is where he ranks amongst the other all-time greats.
Jackie Robinson
Born

January 31, 1919

Birth Place

Cairo, Georgia

MLB Career

1947-1956

Highlights

His #42 jersey is retired by all MLB teams. 1949 NL Batting Champion and MVP.

Teams Played For

Brooklyn Dodgers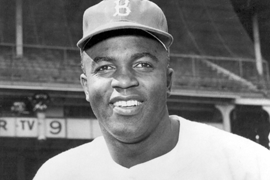 Jackie Robinson was a stud on the baseball diamond. Jackie stole exactly one hundred bases during his first four years without ever being caught stealing. His career batting average of .311 makes him one of the more stable second basemen to play the game.
The truth is, it is Jackie's impact on the game of baseball that made him a can't-miss player for this list. Being great isn't just about numbers and statistics.
A player's lasting influence on the game can go a long way to creating a legacy, and it's hard to argue that any single baseball player has had more of an impact on the game of baseball.
His #42 jersey isn't just retired by the Brooklyn Dodgers, the team on which he played his entire ten-year career.
All thirty teams in Major League Baseball have retired the #42 jersey in honor of what Jackie meant to the game. On April 15th of every MLB season, every player in the league wears a #42 jersey to remember what Jackie did.
What Robinson did and is so famously cherished for was "breaking the color barrier" in baseball.
At the time, the only African Americans playing professional baseball were those playing in the Negro Leagues. When the Dodgers started Jackie in the infield on April 15th, 1947, the color barrier was officially broken.
With Jackie playing every day for the Brooklyn Dodgers, African Americans starting swarming the ballparks to get a look at Jackie. While the fans of his color enjoyed seeing Jackie, the same couldn't be said for all the players and coaches around the league.
Some teams had threatened to "boycott playing" if Jackie was in the lineup. This was a much different time than today's landscape, and Jackie suffered through his fair share of mistreatment.
This didn't stop Jackie from having a more-than-stellar rookie season, in which he batted .297 and stole twenty-nine bases. He was awarded the 1974 NL Rookie of the Year Award and went on to play ten seasons in Brooklyn.
As steady as Jackie was on the field, he will forever be linked to contributions to the African American community and the game itself.
Stan Musial
Born

November 21, 1920

Birth Place

Donora, Pennsylvania

MLB Career

1941-1963

Highlights

Seven-time NL Batting Champion, three-time NL MVP. 3,630-lifetime hits (fourth of all time).

Teams Played For

St. Louis Cardinals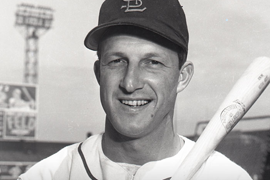 Stan Musial is the epitome of the type of player that had to be included in a guide talking about the greatest baseball players to ever live. His twenty-four All-Star Game selections ties Willie Mays and Hank Aaron for the most of all time. His record of six career All-Star Game home runs still stands today.
There is no metric of the game whatsoever that points towards anything other than greatness when it comes to "Stan the Man's" numbers. His 1,951 RBI ranks seventh of all time, and the guy batted .340 over his first seventeen seasons, never finishing a season under .310.
Stan won three World Series (1942, 1944, 1946) while playing first base and outfield, and has the third most doubles (725) in Major League Baseball history.
Not too bad for a guy that the Cardinals had actually recruited in the late 1930s to be a pitcher. In fact, Musial started his career on the mound before a weakening arm forced him to play in the outfield full-time.
This "weakened arm" was a blessing in disguise for Stan and all of St. Louis. Once Stan was called up to the big league club, he compiled twenty hits over his first twelve games, and the rest, as they say, is history.
The reason his #6 jersey is retired in St. Louis is because he is, simply put, the greatest St. Louis Cardinal of all time. He is on many baseball historians' lists of the "top ten players to ever live."
It is his remarkable consistency at the plate and in the field that earned him a spot on the coveted lists. For us, clearly he was a no-brainer.
Conclusion
So there you have it. From Cy Young all the way down to Stan Musial, this was the first generation of players who left their imprints on the game of baseball forever. Not only are they Hall of Fame players, but these are men who put up numbers so gaudy that it's hard to even fathom.
If you are wondering when a pitcher will come along and match some of the incredible accomplishments of the pitchers we spoke about, don't hold your breath. It's never going to happen again.
The days of seeing a pitcher throw 400+ innings in a single season are over, let alone doing it four consecutive years like Cy Young. You won't see starters win 30+ games back-to-back like Christy Mathewson did for the New York Giants from 1903-1905. That is a thing of the past.
So rather than try and compare the superstars from the current era to the legends of the past, just appreciate these men for what they achieved. It's really quite remarkable.
May
Sportsbook of the Month

Sign up Bonus
60% Up To $1,000
READ REVIEW
Visit Site
X