An Overview of the Est. $4.4 Billion Social Casino Gambling Market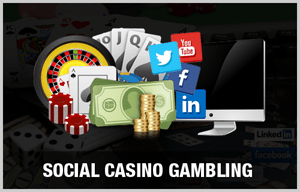 I saw a stat (pulled from a decade ago) that said more than 1.6 billion people gamble each year.
Knowing that, would you be surprised to hear that even more people play social casino games? One statistic said that more than 11 million users visit the top social casino games on Facebook daily.
That comes out to more than 4 billion users per year. About 2.5x the number of people who gamble for real money.
Now, that is only the user-base and not money spent or earned. Social games are nowhere near traditional gambling in that sense, where traditional gambling generates $100+ billion each year.
But social gambling is still brand new, and it's still growing. It's currently a $3.4 billion niche market with experts estimating it'll reach $4.4 billion by 2017. It makes up 4% of the overall $91 billion social gaming market – which is comparable to traditional gambling.
The point is this: social casino gaming is a big deal.
So big, in fact, that many traditional poker and casino companies are buying their way into this space. We have a few examples later on, but the most current example is the World Poker Tour. On August 31st, 2016, they announced the launch of their social casino platform, PlayWPT, which includes both poker and slot games.
Anyway, chances are you're already familiar with social games. Maybe you already have a favorite social slots or blackjack game you play. If not, then we'll bet you've at least seen these games on your Facebook.

If not, that's okay too. Either way, you're about to learn (more) about social casino gaming. The following sections will cover:
What social gaming is.
How social gambling is different from traditional gambling.
Social gambling companies and games.
Risks and downsides (including addiction).
Thoughts on why social gambling is legal while many forms of (online) gambling is not.
What the future has in store for social gamers.
What is Social Gambling?
If you do any amount of research on this topic, you'll quickly find out that everyone has their own definition of what social gaming or social gambling is.
It's even more confusing when you talk about gambling because social gambling can also mean poker and casino games you play in a home with other people.
But, for our purpose here, social gambling means playing casino games on social networks like Facebook or MySpace.
These games are usually played in your browser or from a mobile app on your tablet or phone.
First timer? Getting started is simple. Here's the process I went through to launch Zynga Poker on Facebook:
Logged into Facebook.
Typed "poker" into the search bar. Found and clicked Zynga Poker.
Chose what details I wanted to share with them.
Declined offers to purchase chips or upgrade my account.
Chose the SNG section. Chose a game to enter.
That's it. Each game is different, but getting started is as simple as playing at a traditional poker room or casino – minus the need or option to deposit real money.
And that's because you won't find real money social gambling. For various reasons. It's illegal in some countries, and in others …well, real money games have been attempted, but ultimately failed.
To be clear – you can spend money. You can buy chips, gifts for other players, VIP upgrades and all kinds of stuff. It depends on the game you play. But for various reasons – some we discuss below – you won't receive anything of tangible value.
What Makes Social Games …Social?
What makes these social games – other than being hosted and played on a social network – is that most games include some form of social interaction. This can include any combination of the following:
Playing with other players.
Sharing your results with your friends or followers.
Inviting others to play the game with you.
Posting awards, accolades and achievements to your profile.
And so on.
This in turn can create a viral effect that can quickly build a self-sustaining, perpetuating user-base for the game. Assuming the game's any good, of course.
This is a bit different from traditional gambling in that they need to rely more on advertising and affiliates to grow. Part of this is probably due to the stigma that follows traditional gambling, whereas social gambling isn't scrutinized as much.
On a smaller level, social gaming companies use different strategies to get you to share and come back to play their games. In many ways they mirror traditional video games, even though social games are less challenging and have shorter game play.
For example, here are two common strategies developers use:
You are given different goals to achieve, each one harder and more time consuming than the last. Each action you take will push you towards a goal that can lead to higher gaming capital.
This comes in many forms, such as badges, trophies, accolades and achievements. These can be earned by playing or by completing tasks, such as sharing the game or your results to your profile.
Gaming capital is one of the biggest differences between social casino games and traditional casinos. The former you're playing for virtual goods, which we'll talk more about later, whereas in the latter you're playing for real money.
From a developer and psychological perspective, they do this to give you meaning; to justify all the time you spend playing or to gain an improved sense of self and to complete goals (thus complete a sense of self).
You also have reason to come back to play more.
Examples of Social Gambling Games
Now that you know what social games are and have an idea of how they work, let's look at some examples of the top social games, social casino developers, and the games you can play.
Let's start with the most popular social games. Chances are you've heard of some of these:
Mob Wars
FarmVille
Mafia Wars
CityVille
Farm Town
Texas Holdem Poker
Slotomania
Blitz Bingo
Here are some of the larger and more well-known social game developers:
Zynga
Wooga
Gameforge
Bigpoint Games
Goodgame Studios
Plinga
Kabam
RockYou
Now let's now look at social casino developers and games. Who are the biggest or most popular developers? And, what are the most popular casino games you can play?
In no particular order:
Slotomania (https://www.slotomania.com/)

You can play slots and more slots. You can play from your browser or on your tablet or phone using their app. When you sign up they'll give you free coins to play with. They have more than 5 million users and developed by Playtika (http://www.playtika.com/), who happens to be owned by Caesar Interactive Entertainment.

Bingo Blitz (https://www.bingoblitz.com/)

Also developed by Playtika. Play slots and bingo with unique features such as power ups, collection items and achievements. They have more than 5 million followers on Facebook.

Zynga (https://www.zynga.com/)

They've developed many games, but their specific casino games include Zynga Poker, Zynga Poker Classic, Hit It Rich! Slots and Wizard of Oz slots. Their Texas HoldEm Poker app has 66,779,000+ likes and more than 5 million players. You can see their casino games here.

DoubleDown Casino (http://www.doubledowncasino.com/)

This is from IGT. They offer more than 70 different slots, as well as video poker, blackjack, roulette and more. One of the benefits to playing here is you get to play slots like Wheel of Fortune, Double Diamond, DaVinci Diamonds, The Ellen DeGeneres Show slots – and many others exclusively from IGT. They have more than 7.6 million Facebook followers and 1 million players.

Big Fish Casino (http://www.bigfishgames.com/)

They offer a large variety of games, too. You can play craps, slots, blackjack and roulette. They offer 100,000 free bonus chips, free spins, bonus games, jackpots and free daily games. They have more than 759,000 followers and 100,000 users.

High 5 Casino (https://www.high5games.com/)

Play more than 170 slot machines. They have more than 1 million followers and 13 million users.
There are many others. We haven't even begun to scratch the surface. A search on Facebook or in the Apple or Android app store will reveal tons of game and app options.
The 5 Biggest Differences Between Social Casino Games & Traditional Gambling
Let's now look at 5 examples of how social casino games are different from traditional casino games. Keep in mind many, if not most of these examples will apply to ALL social network games – not just casino.
You have the community vibe. This is more the case with games like blackjack and poker, though, rather than slots and roulette.
It's sharable. You won't see someone bragging about how they're playing slots on 888 or poker on 5Dimes. Too many people have negative views on traditional gambling.

However, since no money's at risk, people are less wound up about freemium or social casino games. Thus, more people are open to sharing their results.

These games are free to play. There are options for you to spend money (which we'll cover in a second). But you don't have to spend money to play.
You can compete against friends. This can be a slot score, number of blackjack hands you won in a row, or whatever twists the social app comes up with. You don't see this very much in casinos outside of slots tournaments or poker leaderboards. And, again, this is often without prejudice.
They don't make money from players betting on outcomes. They charge for perks, add-ons and upgrades. We talk more about how social game developers make money in the next section.
How Social Casino Developers Make Money
Believe it or not, these companies don't exist just to entertain you. They're also in it to make money.
Here are the different ways they accomplish that:
Virtual Goods
This covers a wide assortment of things. This can be power ups, more chips/coins, avatar accessories, decorative items or virtual gifts you can send to another player. Often times – depending on the game – virtual goods can help you get farther in the game, or achieve a higher score.
Advertising
This can include banner or contextual advertising, much like you'd see on websites, apps on your phone, on Google's search engine, and more. Ad inventory is offered to advertisers; when an ad is shown, or when a user clicks the ad, money is both spent/earned.
Product Placement
This is sort of like a movie or TV show. A game can inject a product or brand into the game in some way. In-game product placements can cost hundreds of thousands of dollars depending on the placement and how popular (how many users, activity, etc.) the game is.
Lead Generation
This often goes hand in hand with advertising. However, what's unique about lead generation in social gambling is you'll see offers to sign up for goods or services in exchange for virtual gifts – some form of advancement or in-game perk.
White Label
The developer creates the game, but leave it open for branding. Then someone can buy/lease the game – likely with their own plans for monetization – and brand it however they want.
These are the most common monetization methods. However, sometimes a developer will try a unique way to make money.
Take Zynga, for example. Back in 2013 they decided to launch both real money poker and casino apps to the 18+ crowd in the UK on Facebook.
But no more than 14 months later they decided to close both real money options because they struggled to convert free money players into real money players. This is a challenge even online casinos and poker rooms struggle with today.
Are There Any Downsides or Risks to Social Gambling?
Are there any actual consequences to social gambling?
Maybe, but it depends.
We found an interesting interview at VegasSlotsOnline.com where game developer Diana Gruber talked briefly about social gambling.
One of the interesting things she pointed out is that social gaming is more like shareware than traditional gambling. Here's why that's interesting (emphasis ours):
Yes, because gambling is regulated and shareware is not. In a shareware game, anything goes. You can completely control the player experience. You can make their luck run in streaks. You can give them volatility like a roller coaster. You can change the RTP so they win all month and go broke on payday. If you have an idea and you think it will give you a competitive edge, there is nothing stopping you from trying it in a social gaming environment.
Social casino developers can do anything. They can create a faux experience that is unlike what you'd actually experience in a real money casino.
And the problem with this?
It might lead the person to signing up to a real money casino with unrealistic expectations. Or, maybe manipulate them into buying in-game purchases to try to win more often.
Can you see how this could be dangerous?
Dr. Mark Griffiths, a Professor of Gambling Studies at Nottingham Trent University's International Gaming Research Unit, agrees (emphasis ours):
Dr. Griffiths says that the behavioural and social conditioning of social slots and gaming is no different to real-money gambling, apart from the fact you're not "risking" real money:
"At some later point, players can think, 'God, if I'd played this for money I could've won this. There's always that possibility that people will think that by playing for real money they'll be getting those odds that they were getting in those social gambling events. And, of course, that's not the case at all."

http://www.flushdraw.net/news/when-does-social-gaming-become-gambling/
But here's where we think "it depends."
We feel like there's got to be some personal accountability. That the person playing should have educated themselves on how gambling works. And, at the very least that the casino has an advantage on nearly every bet made under their roof.
That's what we mean by "it depends." At some point you have to place the responsibility onto the player.
But that's in a perfect world, not the one we live in. And we have to create laws, rules and regulations that protect the lowest common denominator – the gullible people who fall too easily for pipe dreams.
Anyway …that's one potential danger.
Another is the addictive nature of these games. They're still casino games, which encourage you to play more through bells, whistles and small wins.
Then there's the achievement aspect of these games. Where you're encouraged to play as much as you can to achieve as much as you can. This is even more addicting when you're able to share this to social platforms to brag to your friends – or challenge them to beat your score.
According to Dr. Griffiths this can be bad too. That addictions don't have to come down to winning or losing money. But that addiction can also come in the form of time spent. The time you lose playing these games can have a negative impact on your life, too.
And then you have the risks associated with freemium games that have in-game purchases. No doubt you've heard the stories of kids or teenagers playing freemium games, only to buy in-game options or cheats to advance levels or unlock stuff.
Their parents don't know any better …until the phone bill comes in the mail, with hundreds or even thousands of dollars in additional charges.
So, those are some of the bigger risks or downsides to social casino games. It's still gambling, and depending on the game you play, there are still opportunities for you to spend money …even lots of it.
But not everyone agrees social casino gambling is dangerous. According to Christoph Jenke, the COO of social betting game Crowdpark:
"Social gambling is so different from real-life gambling because users think of it as casual games. The amounts of money placed are far smaller, and the pull of casinos – dark halls with lots of noise and flashing lights – doesn't exist." He added that "Social games do try to elicit the addictive factor, but it's far more playful."
Is he right? Is he wrong?
No idea – he's certainly biased. But lawmakers have no idea, either. They're still trying to figure out whether social gambling needs to be regulated or not.
Why is Social Gambling Allowed When Real Money Gambling Isn't?
Because social gambling games are similar, if not identical to real gambling games – and also have addictive qualities – there have been many debates about whether or not social games need to be regulated.
Probably the biggest reason why they're legal in the United States is that you can't get/win money out of the game. That's the conclusion Venture Beat came to back in 2009.
First, they brought up both the Wire Act and UIGEA. But both of these are vague and don't cover apps.
Then they talked about each individual state. Each state defines gambling as betting on a game of chance. But then some games are a game of chance in one state, while in others it's a game of skill.
The one common denominator they found is that gambling involves putting up something of value to get something of value back out. And that's something that applies to most states, too. So, they took that and applied it to a social casino app.
Here's their thought process:
You (can) put money into the system. Just like a traditional casino game.
What about the game? Is it a game of skill or game of chance? The powers to be says it doesn't matter because you can't collect money from it.
But what about virtual goods – what are they worth? How do you define their value? Now this is where things get interesting.
One example they gave was about how, in Japan, you can play Pachinko (a casino-like game) and earn currency in the form of small metal balls. These balls can be traded for real-world items – even cash – without consequence. They concluded – and we agree – this isn't any different than traditional gambling.
Venture Beat asked Matt Jacobs, a Sacramento-based former federal prosecutor who has worked on some gambling related cases. Here's what he had to say:
One of the potential issues in some games is how you get virtual goods out. Game developers will say 'they're not really being played for money, that what you win is not money.' I'm not sure that this ultimately works. You're getting something of value, or at least of arguable value. These goods are advertised as costing money, even just a buck or two. You can win virtual currency that's clearly equivalent to real money, and use that to buy virtual gifts.


http://venturebeat.com/2009/06/04/could-social-gaming-companies-get-nailed-for-illegal-gambling/
Makes sense. And it'd mean that receiving anything – even small metal balls – would be illegal in the United States. Especially if they were exchanged for goods or money – even if on the secondary market, as you'll see in a second.
Then Venture Beat looked at Zynga's Texas Holdem. They wanted to see if it fit the definition of gambling. Back then this game brought in the largest portion of the company's revenue.
You get chips when you sign up. You get even more each time you log in.
Then the game lets you buy virtual chips or take advertising offers to get them. This is also how you reach the top tables without having to earn your way.
So, what happens to your money? Zynga's chief executive says, nothing – you can't take money out of the game in any form of value. You don't even win virtual prizes that are worth money.
And that seems to be the one key difference – the very reason why you can play social casino games legally in the United States. Money can go in, but you receive nothing of tangible value in return.
That said, there are second hand markets for virtual goods such as Zynga chips. These sites are often credit card fraud rings who buy chips and then re-sell them. And the crazy part?
Social gaming companies are responsible for them – what they do and what they sell – whether they own them or not. This is seemingly unlike Japan, where companies apparently are getting away with players exchanging their metal balls for things of value.
Speaking of virtual goods, Venture Beat also considered the virtual gifts you can send to others. The law is even cloudier here. Facebook, at the time, limited you to sending 16 gifts per day, which only cost 5-10 in game chip-dollars (that's nothing compared to the number of chips you receive when you log in).
In terms of value, the question posed was whether you were getting any value outside of the thought of posting a gift to someone's wall. Maybe not, but then what happens if/when that gift's actually worth something? When it has verifiable retail value – what do you do then?
That's what lawmakers will have to figure out if they want to regulate the market – if they even see a need to. Who knows? Like traditional gambling there are people on both sides of the debate.
For now, it seems to be fine so long as you're not receiving anything of value.
What Does the Future Hold for Social Gambling?
Another interesting thing we found from Venture Beat was their coverage of the 2015 Casual Connect Tel Aviv conference. There, Adam Krejcik, an analyst at Eilers Research, provided his 13 predictions of the social casino market.
Most of them apply to social game companies. However, he did predict a handful of things players will find exciting.
1
Developers will create more skill-based games.
They're looking at the current trends – esports, daily fantasy sports betting and the general focus on skill gaming (which you can see in other social gaming apps like Candy Crush). They said random games of chance tend to appeal to the older crowd. Adding skill games will allow them to reach to the younger crowd.
2
Live dealer games will become more popular.
This is similar to traditional online gambling. They said some companies are experimenting with live dealers in order to make the came even more social. They say poker is a good example. But we think blackjack, baccarat and roulette would be good choices, too.
3
Casino games will monetize on Oculus Rift.
Adam thinks it'll be a while before VR googles become a big market. But when they do social casino games will be one of the first genres to monetize it well – by creating an entertaining and engaging Vegas-style experience.
4
Big gaming equipment suppliers will open up.
He says that the big known slot machine makers like IGT already have their own social casino games (like the DoubleDown casino we mentioned earlier). He thinks customers will want more, and may even force suppliers to license their digital social games on a third party basis. In other words, your favorite real money casino games may be ported online to social media platforms.
5
Amaya (and PokerStars) will get serious about social games.
PokerStars is the biggest real money poker room and casino online. And because social casino games are such a lucrative market, it's only a matter of time before they enter it.