Spider-Man Slot Machines
In recent years, a deal was signed between Marvel Comics and noted casino game designer Playtech. This agreement gave the latter company the right to develop slots based on various Marvel titles,and they've turned out a number of these products in recent times. Spider-Man was a natural choice for such an adaptation, and the wall-crawling superhero has joined the likes of Daredevil andGhost Rider as virtual slot machine characters.
Background on Spider-Man
The mascot of Marvel Comics, Spider-Man was created by Stan Lee and Steve Ditko and debuted in Amazing Fantasy #15 (August 1962). He's since gained a permanent place in pop culture,appearing in movies, comic strips, and even Saturday morning cartoons.
According to his origin story, nerdy high school student Peter Parker is bitten by a radioactive spider while attending a science exhibit. Soon after, he finds himself blessed with the powers ofa spider- including the ability to climb walls and proportionate strength and agility. Using his knowledge of science, he also develops a pair of wrist mounted web-shooters that allow him to bindfoes and swing across the city of Manhattan.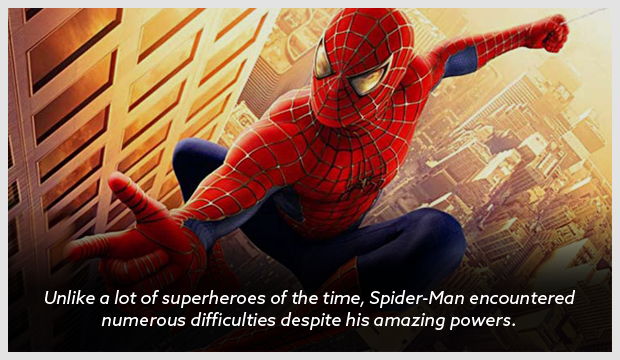 Unlike a lot of superheroes of the time, Spider-Man encountered numerous difficulties despite his amazing powers.
He was still picked on by high school bullies in his alter ego, and he soon drew the hatred of a vengeful newspaper editor named J. Jonah Jameson. There were plenty of other obstacles toovercome, which made Spidey a "common man's" superhero instead of someone who seemed above it all.
Like most Marvel heroes, the Spider-Man rogue's gallery ranges from the cool to the downright absurd. If you're unfamiliar with his comic book appearances, here are some of the many foes thathe's had to tangle with over the years (Green Goblin gets an entry in the section devoted to the pay table):
Doctor Octopus – A brilliant scientist with four mechanical arms who's proven to be one of Spider-Man's oldest and most dangerous foes.
Vulture – A deadly criminal with a harness that allows him to fly and bestows super-strength. Despite appearing to be elderly, he remains a challenging foe for Spider-Man.
Sandman – A powerful shapeshifter who can turn himself into sand. He's been both an enemy and ally of Spider-Man.
Lizard – A brilliant genetic biologist who transforms into a deadly lizard-like creature.
Electro – A career supervillain with the ability to project and manipulate electricity.
Kraven the Hunter – A crazed big game hunter who views Spidey as the ultimate trophy.
Rhino – A dimwitted powerhouse with armor resembling the appearance of a rhinoceros.
Kingpin – Before he became Daredevil's primary nemesis, this massive New York crime lord often butted heads with Spidey.
Venom – Spider-Man once wore a symbiotic alien costume. When he rejected the creature, it chose another host and sought to destroy its former wearer.
Spider-Man Slot Pay Table
Like all slot machines, the pay table is comprised of a number of different winning combinations. In order to keep track of these icons, as well as their various prize amounts, we proudly presentthe following section.
Please keep in mind that prizes are expressed as "credits" instead of "dollars." Credits are determined the size of the line wager, so a $5 bet that pays 5 credits would be worth $25.
Spider-Man Wild

You don't really get to see a lot of 'ol Webhead with this symbol, as most of it is devoted to the word "Wild" in oversized letters. It substitutes for all icons except the bonus symbol (moreon that in a later section), and it offers the following payouts: 150 credits for three matches, 1000 for four, and 10000 for five.

Green Goblin

The deranged Norman Osborn is perhaps the supervillain most associated with Spider-Man, and his appearances in comics goes all the way back to 1964. Created by Stan Lee and Steve Ditko, thegenius inventor rides a glider, dresses like a goblin, and likes to lob explosive pumpkins at his opponents. In this slot, he pays 100 credits for three matches, 500 for four, and 1000 forfive.

Mary Jane Watson

In the early days of the Spider-Man comics, Mary Jane was Peter Parker's neighbor and friend. She later became romantically linked to the superhero, often vying with Gwen Stacy for hisaffections. Later, following the tragic death of Stacy (at the hands of the Green Goblin), she became the main woman in his life and later married him. A gorgeous fashion model, thisgreen-eyed redhead pays 50 credits for three matches, 200 for four, and 300 for five.

Manhattan Skyscrapers

Spider-Man spends most of his time working and fighting crime in the city of Manhattan, so this icon is most appropriate. When part of a winning combination, it pays 40 credits for threematches, 100 for four, or 200 for five.

Camera & Newspaper

Peter Parker makes his living as a photographer for the Daily Bugle, and both of these icons are directly tied to his career choice. The Bugle is managed by J. Jonah Jameson, a cigar-lovinggrouch who constantly tries to ruin the reputation of Spider-Man (while unwittingly serving as his employer). When either of these symbols makes up a winning combination, they pay thefollowing: 25 credits for three matches, 60 for four, and 150 for five.

Ace & King

The highest poker playing card values, the ace and king often serve as filler for slot machine symbols. In this case, they pay 20 credits for three matches, 40 for four, and 100 for five.

Queen & Jack

These playing card icons pay 15 credits for three matches, 25 for four, and 75 for five.

Ten & Nine

These playing card symbols offer the lowest payouts in the game. When one of these is part of a winning combo, they offer 10 credits for three matches, 20 for four, or 50 for five.
Bonus Features for the Spider-Man Slot
While the basic pay table offers a number of appealing payouts, the game also includes a wide range of bonus features to dramatically increase your winnings. This section covers each, whichshould prepare you for upcoming gaming sessions.
Spider-Man Wild Feature

Spider-Man is seen sticking to a wall beside the reels, and sometimes he'll randomly shoot webs at the playing area. When this happens, anywhere from two to four icons are turned into wildsfor the next spin. This bonus only appears during the main game, and it cannot be triggered at the same time as the Spidey Snapshot feature.

Spidey Snapshot Feature

While the reels are spinning, Spider-Man may decide to drop in front of the screen and get his picture taken by a camera. When this happens, the player receives a cash prize equal to anywherefrom x3 to x10 the total wager. This only occurs during the main game, and it can't take place at the same time as the Spider-Man Wild Feature.

Ultimate Fight Feature

Spider-Man and the Green Goblin battle above the rooftops of the city. For each successful strike that Spidey lands, the player is awarded a cash prize. If our hero is able to emergevictorious, then the player is awarded an additional sum of money.

City Chase Feature

This feature has Spidey swinging across the city in pursuit of the Green Goblin, with bonus icons collected along the way. Cash prizes are hidden behind various items, and the round continuesuntil a "Collect" icon is uncovered.

Hot Zone Free Games

During this phase, the player is awarded 20 free games. Spidey throws webbing onto a random section of the screen, creating a 2×2 hot zone that's active for three spins. Any wilds that showup in the zone remain there until the hot zone ends, and any Green Goblin symbols that becomes entangled in the webbing pay x2.

Rivaling Free Games

The player receives 10 free games with an initial multiplier of x1. If the spider symbol appears on reel three during this period, the counter keeping track of the remaining spins stops(giving unlimited spins). The appearance of the spider icon on reel three also causes the multiplier to increase by one, with a limit of x5. If the pumpkin symbol appears on the third reel,the Green Goblin causes the multiplier to reset to x1, and the game countdown resumes. These free games cannot be retriggered.

Radioactive Free Games

The player receives 15 free games when this feature becomes active. A radioactive spider symbol is added to the third reel and acts as a wild, and getting another on the third reel results inmore of these wild icons being randomly added to the second and fourth reels. These free games can't be retriggered.
Mystery Progressive Jackpots
Like all Marvel slot from Playtech, this game offers four random progressive jackpots. These payouts can appear at any time, and even a losing spin can result in a massive win for the player.
The progressives are known (in ascending order) as Power, Extra Power, Super Power, and Ultimate Power. The least of the bunch normally pays a few hundred dollars, while Ultimate Power can riseto over a million dollars.
In order to win one of these jackpots, the player must uncover squares on a 4×5 grid. Each of the 20 squares contains an icon corresponding to one of the jackpots, and getting three of the sameicon allows the player to win the corresponding amount.
Slot Machine Control Panel
The Spider-Man slot has a number of options on the control panel, and this section is devoted to explaining each.
Info – By clicking this button, you can look at the pay table, payline configurations, bonus information, and much more.
Lines – This is where the player determines how many paylines to make active. The highest number is 25, while the lowest is a single payline.
Line Bet Plus – Clicking here raises the size of the wager per payline. The highest possible denomination is $5.00, which would amount to $125 per spin with all 25 linesactive.
Line Bet Minus – Clicking here lowers the size of the wager per payline. The lowest possible denomination is $0.01, which would amount to $0.25 per spin with all 25 linesactive.
Win – If the player is fortunate enough to win, this is where their prize money is displayed.
Total Bet – The size of the player's total wager for the upcoming spin.
Auto Play – If you tire of clicking the spin button over and over, you can let the auto play button do all the work for you. Options include 10, 25, 50, and 99 spins. Onceyou've made your selection, the spins occur automatically. If you want to go back to manual spinning, just press the stop button that appears in place of the auto play symbol.
Turbo Mode – Normally, a spin on this slot machine takes five seconds to finish from the moment the button is clicked. By engaging the turbo mode, though, you can shave thistime down to three seconds.
Spin – As you might have guessed, clicking on this icon sets the reels into motion. Once they've started spinning, the button transforms into a stop icon. By clicking this, thereels stop prematurely. This does not, however, affect the outcome of the spin (as this is determined by the random number generator the moment you click the button).
Sounds and Graphics
Most of the Marvel slots from Playtech are lacking in the sound and graphics department. That's not the case with the Spider-Man slot, however, as it features tension-filled music and actualcomic book artwork on the reels. Of all the Marvel slots I've played, this is the one that's most appealing to my inner geek.
Summary
The Spider-Man slot machines from Playtech provide a solid all-around experience. The selection of payouts are solid, there are numerous bonus features to enjoy, and the sound and graphics arebetter than what I would've expected to find. If you're drawing up a list of superhero slots to play, I suggest placing this one at the top.

Sign up Bonus
250% Up To $5,000
READ REVIEW
Visit Site
X