All About Backgammon – How to Play and More
It's hard to imagine life 50 years ago, let alone 500, but backgammon made its first appearance 5,000 years ago. This is one of the oldest board games in existence, and it's still played all over the world today. Many people play the game purely for entertainment purposes, but gambling on backgammon is also very common.
The objective in backgammon is to get all 15 of your game pieces (or "checkers") off the board before your opponent. It's a combination of skill and luck, as you have your choice of moves based on the roll of two dice. The level of strategy involved means that good players will beat weaker opponents more often than not.
There are backgammon clubs and societies in many parts of the world, and they typically organize regular competitions and tournaments for players of all levels. For the more serious players, there are national and international tournaments available. Winning these can be quite lucrative, as the prize money offered can be quite substantial. Of course, there's the prestige, too. You can even play backgammon online these days, for real money or just for fun.
On this page, we've detailed everything you need to know about backgammon, starting with its origins.
Where Did Backgammon Begin?
Backgammon is thought to be a direct derivation of a Persian game called Senat. Senat was the "game of 30 squares" played on a wooden board, much like today's game.
The rules of Senat are not entirely clear, but relics of the original boards have been found in Persia, Greece, Rome, and the Far East.
In fact, it was just in 2004 that an archaeological dig team in the Iranian city of Shahr-e Sukhteh unearthed a board made of ebony along with 60 pieces resembling checkers. Upon further investigation, they found that the game had been imported to Iran from India.
Regardless of its exact origin, it's clear that backgammon is one of the oldest games on record.
In 220 AD, the Chinese were introduced to the earlier version of the game during the Wei Dynasty. Japanese players also enjoyed the game but were banned during Empress Jito's reign from 690 to 697 AD, as it was considered illegal gambling.
Backgammon Spreads to Europe
From Asia, Europe was next to embrace backgammon, although it wasn't known by that name until 1645 AD when the Irish referred to it as baggammon. Before that, it was commonly known as Tabula or Tables.
The game spread to Europe as early as 902 AD through Italy and Spain, with the English being introduced to it in 1025 AD. There was an almost constant fine-tuning to the rules, and as a result, there have always been unknowns as to the earlier gameplay and exactly how it evolved.
It wasn't until 1743 that the first official rules were published, by Edmund Hoyle.
It was an upper-class, private club game in the early 20th century, and the US made its contribution to backgammon with the 1920 invention of the doubling cube in New York. The doubling cube helped to enhance the game from a gambling perspective.
A 1982 US Court Case
There has been plenty of controversy over backgammon and its relationship to gambling over the years. An example of this came in 1982 when the State of Oregon in the United States argued that backgammon is a game of chance and should be subject to the gambling laws implemented state-wide.
The defendant in the case was Ted Barr, a backgammon tournament director. Barr's attorney put together a defense based on that fact that backgammon is missing a critical element of gambling, the element of surprise or something being hidden. For example, blackjack betting is based on not knowing the dealer's cards. In poker, you don't know what your opponents are holding in their hands.
Backgammon, on the other hand, is entirely transparent. The board is in front of you, and both players have the same information to work with, as well as identical starting points.
The court ruled in Barr's favor, agreeing that there was a difference between a game of skill and traditional casino games. Therefore, the conclusion was that he was not promoting illegal gambling.
Let the Tournaments Begin
The 1960s ushered in the era of backgammon tournaments, allowing international players to compete against each other in an official setting.
Prince Alexis Obolensky, Turkish born, emigrated to the US from France in the 1920s and is known as "The Father of Modern Backgammon." He co-founded the World Backgammon Club and the International Backgammon Association. Although some reports reference Las Vegas as the site of the first tournament in 1967, Obolensky put together the inaugural competition in 1964 in the Bahamas. It was a red-carpet experience with celebrities and royal guests.
In 1968, though, American Tim Holland captured the World title in widespread competition and retained it until 1973. He also went on to author "Backgammon for People Who Hate to Lose" in 1978.
Fast forward to the modern day, and the World Championship is still a big deal. At the time of writing (2018), the next one is due to take place in Monte Carlo, Monaco. Experienced players will be looking to unseat the 2017 champion, Didier Assaraf from France.
The main event isn't the only game in town, though. The World Champion Backgammon schedule includes Senior events, Super Jackpot, Speedgammon, Juniors Tournaments, the Ladies World Championship, High Roller Jackpots, and other side events.
You can easily see how backgammon is not just a game that sits in the back of your closet. It's one of the longest-running board-type games with interest that never seems to wane.
The Set-Up – Backgammon Board and Game Pieces
The set-up for backgammon is a compact one. Everything fits together nicely within the fold-up board that resembles a mini suitcase when it's closed.
Game Components
The components required for a game of backgammon are as follows.
Board
30 game pieces (checkers) divided into two distinct colors
Two pairs of dice
Two dice cups (optional)
Doubling cube with pips 2, 4, 8, 15, 32, and 64
Here's an example of what a typical backgammon set looks like.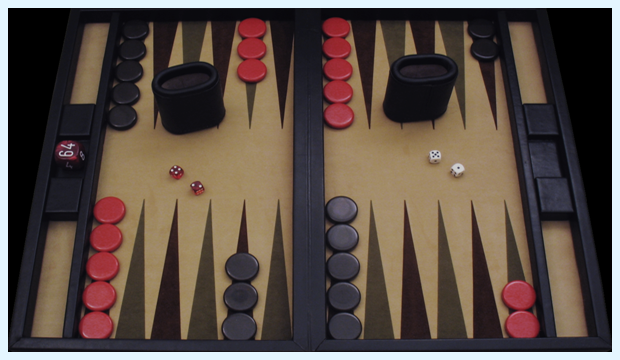 Setting up the Backgammon Board
When you open up the board, it's divided out into four sections each with 24 triangles or points (six per section).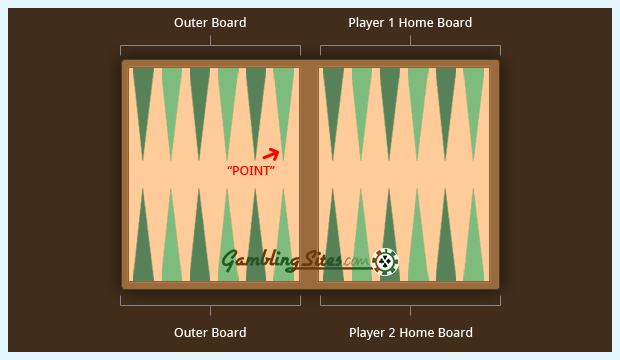 The players will sit across from each other, and one player will move the pieces clockwise from right to left. The other player will move counterclockwise from left to right.
The checkers are set up as follows.
Five on the 6th point
Three on the 8th point
Five on the 13th point
Two on the 24th point
Here's how the board should look once the checkers are in place.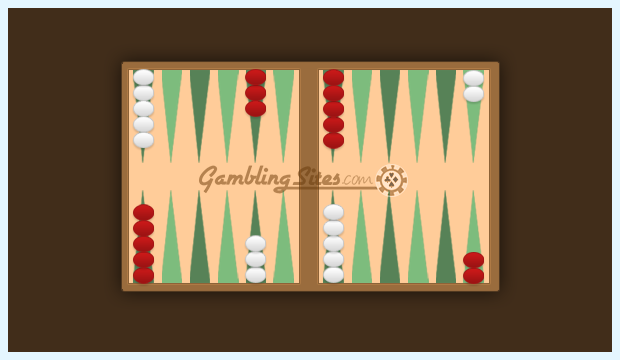 Each player has their own two dice for the game, along with an optional dice cup.
The Point of the Points
Before getting into the moves and strategy, it's essential to have an understanding of the different components of the game. The following are descriptions of the gaming areas, as well as some terms that you'll find helpful if you're about to set up your first game board.
Point

A point indicates one game space or one move. When a player rolls the dice, each pip is converted to one point. For example, if a die comes up as two, the player can move two spaces or points in the direction of their home area. More than one checker can rest on a single point, but they must be from a single player. Two players cannot occupy one point or game space at the same time.
Home area

The home area is the final quarter section of the game board for each player. It's the last section that the checkers pass through before finally being removed from the game board. Your opponent's home area is essentially the starting point. It's the farthest section from your home area.
Bar

The bar is the center section of the board. It's the location of the crease when you fold up the game board. When a player's checker is "hit," it is temporarily placed on the bar until it can be moved back into play.
Block

A block occurs when a point has two or more of your opponent's checkers on it. You can't move your checker to a blocked location.
Blot

A blot is a space or point that has only one checker resting on it. It's a vulnerable spot for that player, as it doesn't block the opponent.
Hit

A hit occurs when one player can make a move to a blot occupied by the opponent. The opponent's checker is considered to be "hit" and is moved to the "bar" until it's time for the owner's next play.
Bearing off

Bearing off is removing your checker from the board. The objective of backgammon is to bear off your checkers before your opponent.
Doubles

A player that rolls the same pip value on both dice at once has doubles. That player gets to make twice the moves. So, if a player rolls a "3" and a "3," he or she now has four "3" moves. Meaning, one or more checkers will be moved three points forward for a total of four times instead of two. Regular non-double rolls only permit two moves; doubles allow for four. Doubles = double the moves.
Gammon

A gammon is a win for one player when the opponent hasn't even moved all of their checkers to their home area, so hasn't been able to bear off even one. In a regular game, a gammon is worth two points.
Backgammon

A backgammon is a win with the same premise as a gammon, but the opponent also has one or more of their checkers in the winner's home area. In a regular game, backgammon is worth three points.
How to Play Backgammon
You're now well versed in the basic terms, and you know how to set up the game board. Before we get into the moves and actual gameplay, there are a few other essential things to consider.
You can't "bear off" your game pieces (checkers) until you have all 15 of them in your home area.
When you get "hit," your next move has to be getting your checker back into play by using at least one of the pips that show up on your next dice roll. You'll start it in your opponent's home area, which is the farthest point from your home section.
Each die plays separately. If you roll a "6" and a "4," you play each one individually. So, you can move one checker forward six spaces and another checker four points ahead. Or, you can select one and advance it ten spaces total.
Who Moves First?
After you and your opponent have your game board set up correctly, you'll each roll one of your dice.
Whoever rolls the highest number is the first to move. That player uses the combination of the roll-off as the first play. He or she doesn't roll again.
Therefore, if one player rolled a "3," and the other a "5," the "5" player goes first and has to play the "3" and "5" for the first actions.
Then, the opponent will roll a fresh combination and gameplay continues from there.
It's Your Turn
Whenever it's your turn, you'll make your moves with the objective of getting all of your checkers into your home area.
With each roll of the dice, a few things can happen.
You can play each die separately and move one of your checkers forward for the number of pips indicated. Then, you can choose a second checker and move it the number of spaces as shown on the second die.
You can select one checker and move it forward for the number of spaces indicated based on the total of the dice roll.
You can land on one of your opponent's blots. Meaning, a game space where your opponent has only one checker resting and is vulnerable to a hit. You'll then take over the point and send the opposition to the bar.
You'll roll doubles, and you can then make four different moves instead of two. If you roll two "5s," for example, you can make four different "five-space forward moves."
If you have a checker on the bar, you have to use one of the die rolls to get your piece back in play. That means you start it at the opposite end of the board (across from your last space before bearing off).
Optional – there is an option to use the doubling cube and challenge your opponent, but we'll get into that in a separate section.
Bearing Off
You first want to get all of your checkers into your home section, and then it's time to bear off or get them off the board and out of play.
Remember, the objective is to clear the board of your checkers while your opponent still has at least one remaining.
The rules for bearing off are as follows.
You can't remove any checkers until your entire collection of 15 is resting in your home area.
You'll bear off just like playing a regular dice roll. You can play each die separately with two separate checkers.
You don't need to roll an exact number to bear off. As long as it's the number you need or higher, you can make your move.
Scoring
The scoring system is about as primary as it comes when you're just talking about regular backgammon with no doubling cube or other twists.
A win = one point
A gammon = two points
A backgammon = three points
The winner receives points representing the highest attained of the three possibilities.
The Backgammon Doubling Cube
The doubling cube not only ups the gambling stakes, but is a tool for players to further showcase their strategy and skills by adding a new component to the game.
A regular game is worth one point. That's without a gammon or backgammon incorporated. So, keeping in mind the one-point start, a doubling cube is used to indicate the current value of the game and always starts at one.
The way that it works is that a player who feels he or she has a commanding lead in the game and is confident in an ultimate win may challenge the opponent to a double-up.
If the point value is still set at one, doubling raises the stakes to two points for the game-winner.
The opponent then has the following two options.
Decline the double-up and take a -1 score for the game.
Accept the double and then retain control of the doubling cube.
Control of the doubling cube allows the opponent the opportunity to issue a new double-up challenge if, at some point, he or she feels confident in taking over the lead.
When can a player issue a double-up challenge?
If no double-up challenge has yet to be issued during a game, either player can prompt one. It has to be that player's turn and announced before rolling the dice.
Two Doubling Cube Rules
There are two rules for using the doubling cube in backgammon.
The Crawford Rule is used in Backgammon Tournament Play. When one player is just one point away from winning a match, the doubling cube can't be used in the very next game. For example, if the match is set at five points and one player gets the winning game point that then puts her at "four," the doubling cube can't be used at all in the next game. The player is now at one point from an overall victory.
The Jacoby Rule is used in Backgammon Cash Play. While the Crawford Rule is typically standard, the Jacoby Rule is optional and can be used in money games. The rule states that, if a doubling cube is not activated during a game, then gammons and backgammons are only scored at one point.
Backgammon Strategy
Aside from the basics like either focusing on moving quickly around the board or hitting your opponent as often as possible, there are a few other tactics you can implement to up your game.
Build a Wall
One of the more common defensive strategies is to move your checkers purposefully to have four or more points blocked in a row. That means your opponent can't come anywhere near your blocked grouping. You can't be hit unless you leave a one-checker blot.
A Block in Your Opponent's Home Area
This particular line of attack has you leaving a point blocked in your opponent's home section. Not only does it make it harder for him to get his pieces home, but it gives you a safe place to land if you should get hit.
Even Distribution
Instead of leaving points with three or more checkers, you could disperse them across the board as much as possible to leave your opponent lacking in potential future moves.
As you become more practiced, you'll know when it's best to employ these techniques, or you could switch it up to keep your opponent on his toes. There are even possibilities for you to combine different strategies into one game, depending on your dice rolls. Keep in mind that you can plan to use a particular tactic, but ultimately, it all hinges on the numbers you have to work with, as backgammon is a combination of strategy and randomness or luck.
Variations of Backgammon
We could fill a book detailing all of the different variations of the original and most basic game of backgammon. But here are a few that you may find interesting.
LongGammon

While the gameplay is essentially the same, instead of four starting points, all checkers are placed at one point in the opponent's home section.
No Chance

This game is played without the dice. Instead, players choose their numbers and move accordingly.
Russian Backgammon

Russian Backgammon is more of a head-to-head race type of competition. Both players start on the same side of the board and race for the same home section, rather than play across from each other and move in opposite directions.
Backwards Play

You can move your checkers forward or backward depending on the roll and your strategy.
Fixed-Dice Backgammon

The result of the first roll ends up being the two pips played throughout the game.
Old English

There are two differences between the Old English style and the standard game. The first is that all checkers start off the board. The second is that doubles are played with the opposite sides of the dice.
Exact Bearoff

This version adds an additional challenge, as players have to roll the exact number required to bear off each checker. So, the game takes longer and could make some extra twists and turns.
Backgammon – From the Board to the Virtual Board
FIBS, or the First International Backgammon Server, was developed in Sweden in 1993 and is still being used. It allows more than 100 players to compete at once. There are other backgammon-dedicated sites like Extreme Backgammon and VIP Backgammon.
If you're looking for real cash wagering on backgammon, the internet has opened up a global market for that as well. However, casinos that do carry backgammon are showing a relatively low RTP of around 90%. Compared to blackjack, which can come in at 99% or even 100%, it is a more significant challenge to win. But if you love the game as well as the excitement of real cash wagering, then the opportunities are available to you.
You'll find some places to play online backgammon listed on the following page.
Conclusion
You may or may not know the name Falafel Natanzon, the highest-ranked backgammon player in the world. But how about actors Lucille Ball, John Huston, Kevin Bacon, or Alice in Wonderland author Lewis Carroll?
In Scotland, it's called Gammon; in Germany, Puff. In France, it's called Tric-Trac, and it's Shesh Desh in Israel and Arabic.
No matter what you call it or where you play it…celebrity, professional, or total novice…Backgammon isn't going anywhere. It's one of the world's oldest games and has survived and retained its popularity due to its combination of strategy and luck, as well as the numerous variations available to keep things exciting and players on their toes.