SpinsVilla Casino Review for 2022
Welcome! You've arrived at our SpinsVilla Casino Review.
We are going to cover all the information you need to know about their online casino, including the games they offer, their promotions, and banking information.
Most importantly, you won't leave without knowing once and for all if we believe that the SpinsVilla Casino is worth your time. We know that your time is valuable, and we definitely don't want you to waste it.
So we wanted to get all the research and legwork done for you… Now, let's find out if SpinsVilla Casino measures up!
VISIT SpinsVilla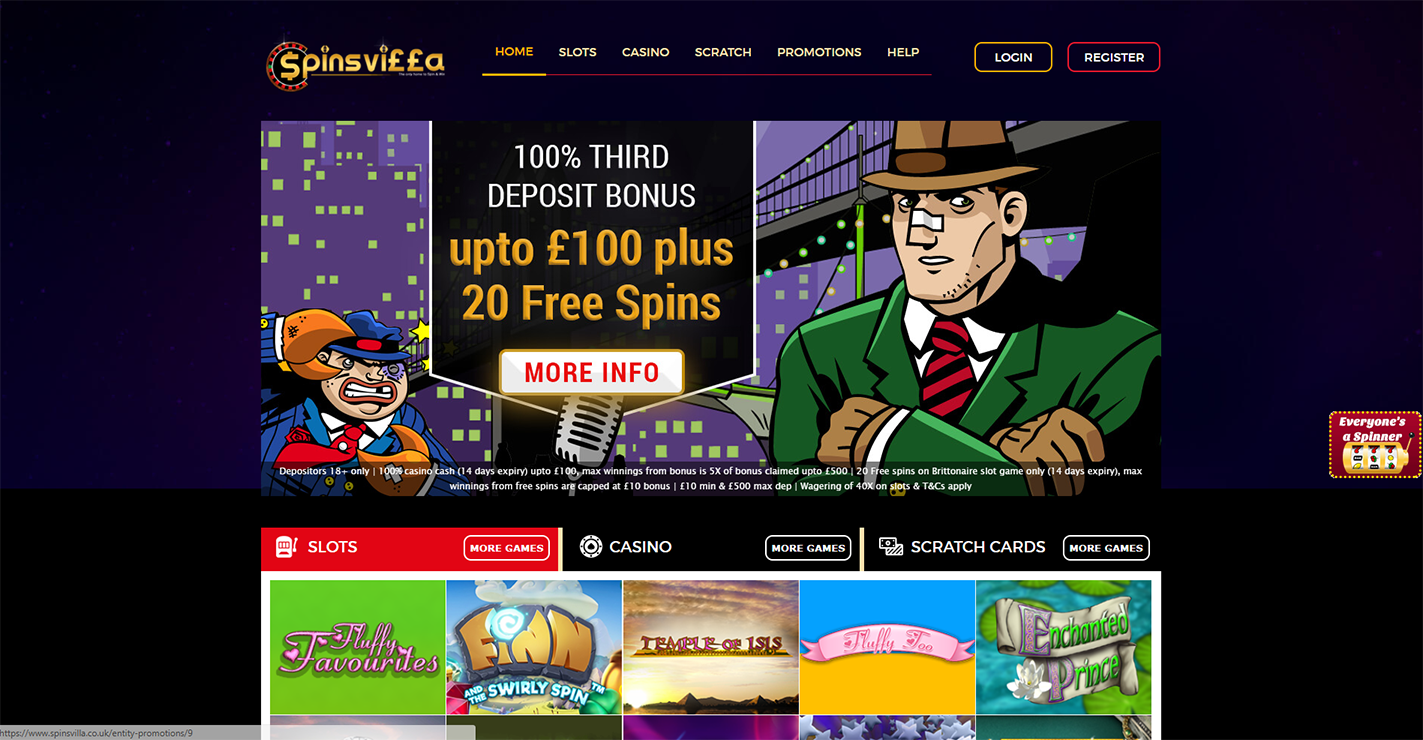 Website: www.spinsvilla.co.uk
Launched in 2016
Licensed by the Isle of Man Gambling Commission
Email: accounts@mobilecasinonetwork.com
Telephone: +44 (0) 2036 081305
Decent Slot Games
Very Poor Selection of Casino Games
No Live Dealer Games Offered
Long Withdrawal Times
US Players Not Accepted
Promotions
Do they offer a welcome bonus? What are the terms?
SpinsVilla Casino has a welcome bonus for their new players. All first deposits are matched at 100% (up to $200) and new players also get 25 free spins on the slot game Brittonaire. Simply use promo code FIRSTBONUS to redeem this offer.
There are quite a few restrictive terms to this bonus (and for that matter, all the bonuses on SpinsVilla). For starters, this offer expires in 14 days, so make sure to use those spins quickly!
There is a minimum deposit amount of $10 and a maximum amount of $500; however, since the maximum match bonus amount is $200, I would recommend not exceeding $200 for first deposits. Any higher a deposit would just be wasted and would be better used in subsequent bonuses.
Another one of the restrictive rules is that the maximum amount won in the free spins is capped at $10 (regardless of how much you actually win in the spins).
And one of the most restrictive of terms for all the bonuses on SpinsVilla: there is a forty-times wagering requirement before making a withdrawal. This means that if you redeem a match bonus of $100, you will have to wager $4000 before you can make a withdrawal.
What additional promotions can you claim?
Second Deposit Bonus: SpinsVilla Casino will match your second deposit at 100% (up to $100) and give an additional 15 free spins. Simply use promo code SECONDBONUS to redeem this offer.
Third Deposit Bonus: SpinsVilla Casino will match your third deposit at 100% (up to $100) and give an additional 20 free spins. Simply use promo code THIRDBONUS to redeem this offer.
Casino Cash Rewards: SpinsVilla Casino has a loyalty rewards program for their players, up to 20%. The more you deposit, the more cash back you will earn. You need to deposit a minimum of $50 to be eligible for this offer. Deposits between $50 and $99 will earn a 5% reward. Deposits between $100 and $499 will earn a 10% reward. Deposits between $500 and $999 will earn a 15% reward. And finally, the most lucrative of the rewards are for deposits over $1000, where players will earn a 20% reward.
Do they have a comps and/or VIP program?
SpinsVilla Casino does not offer a comp or VIP program at this time.
Casino Games
SpinsVilla Casino offers three main categories of games: slots, casino games, and scratch games. Let's explore all three of these categories to make sure you know exactly what to expect. One feature that is unfortunately missing from SpinsVilla Casino that I was definitely hoping to see is a Live Dealer or Live Casino feature.
What devices is their casino compatible with? Are they mobile compatible?
SpinsVilla Casino offers both an instant play version and a downloadable software casino version for your desktop computer.
The download version of SpinsVilla requires a minimum of 512MB of RAM and a screen resolution of at least 800 x 600 pixels with a minimum of 256 colors. The software requirements are Windows XP, Windows Vista, Windows 7, or Windows 8.
SpinsVilla Casino is also available on mobile devices. Unfortunately, not all games are available on all platforms, though. Players will notice that some games that are available on Android smartphones are not available on Apple smartphones (and vice versa).
Also, there are some games that can only be found on the desktop version of the game (instant play or download). This kind of inconsistency is frustrating for players, and it is definitely a notable drawback.
What are some examples of games you can play?
Below are some examples from each of SpinsVilla Casino's main categories (slots, casino and scratch). The slots list is just a selection of the games offered, whereas the other two categories are the complete list of games offered (at the time of the publishing of this review).
Slots
Dracula
Guns N Roses
The Invisible Man
Wild Wild West: The Great Train Heist
Fluffy Favourites
Emoji Planet
Mega Moolah
Crystal Drop
Irish Gold
New Honey Bees
Rolling in the Dough
Bloodshot
Atari Asteroids
Atari Black Widow
Atari Star Raiders
Jimi Hendrix
Playboy
Terminator 2
Wild Vegas
Game of Thrones
Cupid's Arrow
Jurassic Park
Warlords: Crystals of Power
Santa in Town
Wizard's Castle
The Twisted Circus
Agent Jane Blonde
Bridesmaids
The Three Stooges: Disorder in the Court
White Wizard Deluxe
Big Ben
Brittonaire
Break Da Bank
Break Da Bank Again
Sharknado
Creature from the Black Lagoon
Halloweenies
Scruffy Duck
Jack Hammer

Casino
Jacks or Better
Keno
European Roulette Gold
Rio Bingo
Premier Roulette
Blackjack
Deuces Wild
Tens or Better
French Roulette
Aces and Faces
American Roulette
Scratch
The Alchemist
Zodiac Fortune
Royal Charm
Cash Cuisine
Cops and Robbers
Dragon Scrolls
Atari Asteroids – Instant Win
Atari Asteroids
Star Raiders
Cold Cash
Diamond Dreams
Go Bananas
Happy Hour
Lucky Fish
Lucky 7's
Scratch N Win
Treasures of King Arthur
Bargainista
Dog N Roll
Kitten Ball
Rubies and Sapphires
What do you think of their casino?
SpinsVilla Casino has a good selection of slot games available. I think most slot players will find at least a few of their favorite games on SpinsVilla, and there is enough selection that hopefully everyone will find a few new favorites as well.
There are also quite a few branded slot games available, which is a definite plus. When checking out a new online casino, there is nothing I like to see more than brand-name slot games.
These are the games that we all like to play in the brick-and-mortar casinos, and I always want to find the same types of games online. Let's be honest, no one wants to play cheesy knock-off games… we all want the real deal, right?
When it comes to table games, SpinsVilla falls rather short of the mark. They do not offer the variety in table games that I would like to see in an online casino. They basically only have a few blackjack and roulette games, plus a couple novelty games like keno and bingo.
There are so many casino games missing from this site, it's almost laughable.
What about craps?
Let it Ride?
Three-Card Poker?
Baccarat?
Pai Gow Poker?
Caribbean Stud Poker?
The list goes on and on. I am very disappointed in the table game selection (or lack thereof) on SpinsVilla Casino.
Another popular feature that is notably missing from SpinsVilla Casino is a Live Dealer or Live Casino option. This is an area that they could easily add to increase the number of table games available. The fact that this is also missing from SpinsVilla is a serious drawback. There is simply not enough variety in table games to recommend this site.
Overall, I must say that I would only recommend this site for exclusively slot players.
It is my belief that any player interested in playing table games would be very disappointed in SpinsVilla Casino and should look elsewhere.
Banking
Payment methods can vary depending on location. The following deposit options are currently listed on their website:
Visa
MasterCard
Visa Electron Debit Card
Maestro Debit Card
PayPal
Boku
Ukash
PaySafeCard
Neteller
The following withdrawal options are currently listed on their website:
Visa
MasterCard
Visa Electron Debit Card
Maestro Debit Card
PayPal
Boku
Neteller
SpinsVilla Casino never charges their players any payment processing fees, which is definitely a plus. That being said, make sure to check your banking institution and/or the payment provider (i.e. credit card company) to verify any fees they might charge.
The only thing worse than processing fees are surprise processing fees! It's better to be informed before making the payment, rather than finding out after the fact. No one likes after-the-fact information!
The minimum deposit amount for all payment methods is $10.
All withdrawals must be verified prior to being approved. You will need to send in identity documents and prove your identity before you will be allowed to process any cashouts.
SpinsVilla has a Withdrawal Team that will check if you have met the withdrawal criteria, and then your withdrawal will be processed within 24-48 hours. Withdrawals cannot be cancelled after they have been processed by the Withdrawal Team.
Any deposits made with promotional bonuses have special terms and conditions regarding cashouts, so make sure to double-check your promotion rules before requesting a withdrawal. For example, for bonuses that have a 40x wagering requirement, you will have to wager 40 times more than the bonus amount before you are allowed to make a withdrawal.
Any requests made before this wagering requirement is met will be removed from your account, so it's best to make certain of your eligibility before making any withdrawal requests!
Customer Support
How do you contact SpinsVilla Casino? When are they available?

PHONE: +44 (0) 2036 081305
EMAIL: accounts@mobilecasinonetwork.com
LIVE CHAT
SpinsVilla Casino has customer support available for their players 24 hours a day, 7 days a week, via their live chat feature.
This can be accessed from any page by using the live chat button. The customer service team can also be reached by phone or email, should those methods be more your speed.
Note that email requests have the longest response time, for obvious reasons. However, they do attempt to respond in a timely fashion. If you are interested in a more immediate response, live chat or phone are more logical contact choices.
Company
Who owns and operates SpinsVilla Casino? How long have they been in business?
SpinsVilla Casino is owned and operated by Cozy Games Management Limited, and they have been in existence since 2016.
How's their reputation? What do others think of them?
Since SpinsVilla Casino is a relatively new site (only in existence since 2016), there is limited information about them online. The reviews I did find were mostly positive regarding slot game selection.
Unfortunately, the reviews often also had negative feedback regarding unreliable cashout times. This is very concerning feedback, and not something to take lightly. When it comes to online casino reviews, there is nothing that is a bigger red flag than repeated problems with unreliable or overly lengthy withdrawals.
There are only two reviews on www.askgamblers.com. One gives the site a 5/10 for good games, but lengthy withdrawals. The other gives the site a 1/10 and says that SpinsVilla is a "terrible site" with vague terms and conditions and unhelpful live chat representatives.
SpinsVilla Casino only gets a 2.4/5 on www.LatestCasinoBonuses.com. Again, the only complaint seems to be the withdrawal process. They warn that the withdrawal rules are unreasonable and restrictive for most players.
Based on the limited information found online regarding SpinsVilla Casino, I'm hesitant to recommend the site. There is simply not enough of an online reputation for me to feel confident enough to suggest that players give it a try.
Hopefully this is only because the site is fairly new, and it will change with more exposure in the future.
For now, it simply doesn't seem worth the hassle of long and restrictive cashouts for the limited variety of games offered.
Restricted Countries
What countries are prohibited from playing here?
There is no available list of restricted countries on SpinsVilla's website. That being said, they do state that only the countries listed in their registration screen are allowed to play at SpinsVilla, and all other countries will be removed and will forfeit their balances.
Therefore, here is a list of countries that ARE allowed to play at SpinsVilla Casino:
Anguilla
Bermuda
British Indian Ocean Territory
British Virgin Islands
Cayman Islands
Falkland Islands
Finland
Gibraltar
Guernsey
Republic of Ireland
Isle of Man
Jersey
Malta
Montserrat
Pitcairn
Saint Helena
South Georgia and the South Sandwich Islands
Sweden
Switzerland
Turks and Caicos Islands
United Kingdom
It can be extrapolated that all countries not listed above are considered restricted countries on SpinsVilla Casino and are not allowed to play on this website.
Conclusion
What do we think of SpinsVilla Casino? Do we recommend them to our readers?
I think SpinsVilla Casino has a relatively broad selection of slot games that would appeal to most slot players. They have a number of branded slots that players will appreciate and enjoy.
That being said, there is a definite lack of variety in casino games, and this is a huge drawback for SpinsVilla Casino. They do not offer nearly enough table games to their players.
The lack of feedback online regarding SpinsVilla Casino is another drawback. There are limited reviews on the popular websites, and those that are there do offer some concerns. The main concern is that withdrawals on SpinsVilla Casino take longer than the posted cashout times.
Also, the terms and conditions regarding cashouts are very restrictive, making it even more difficult to get your money.
For these reasons, I do not recommend SpinsVilla Casino.
That being said, these are just my opinions, and I encourage you to do your own research and come to your own conclusions. I would just ask that you make sure to read the fine print and confirm any unclear terms and conditions with customer support prior to making a deposit.