DraftDay.com Review
ESPN.com has noted that fantasy sports betting is a billion-dollar industry that has less competition than most markets its size. DraftDay became another contender in 2011 when they launched www.DraftDay.com. The company offers daily fantasy leagues for major league baseball, football, basketball, and hockey as well as professional golf.
Thousands of dollars are paid out each week and you could be one of the lucky winners when you sign up for an account at this site.
DraftDay is particularly appealing to new players because it is easy to navigate, provides a wealth of information for newbies, and offers a money back guarantee on your first game of $11 or less, if you are not satisfied.
More importantly, the Harrison, New York based company is rather small scale in comparison to its competitors which makes it less daunting for someone who is just getting their feet wet.
With a promise of "pulse-pounding excitement", we had to give them a try.
VISIT DraftDay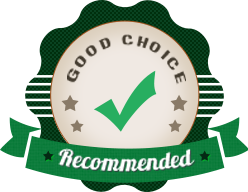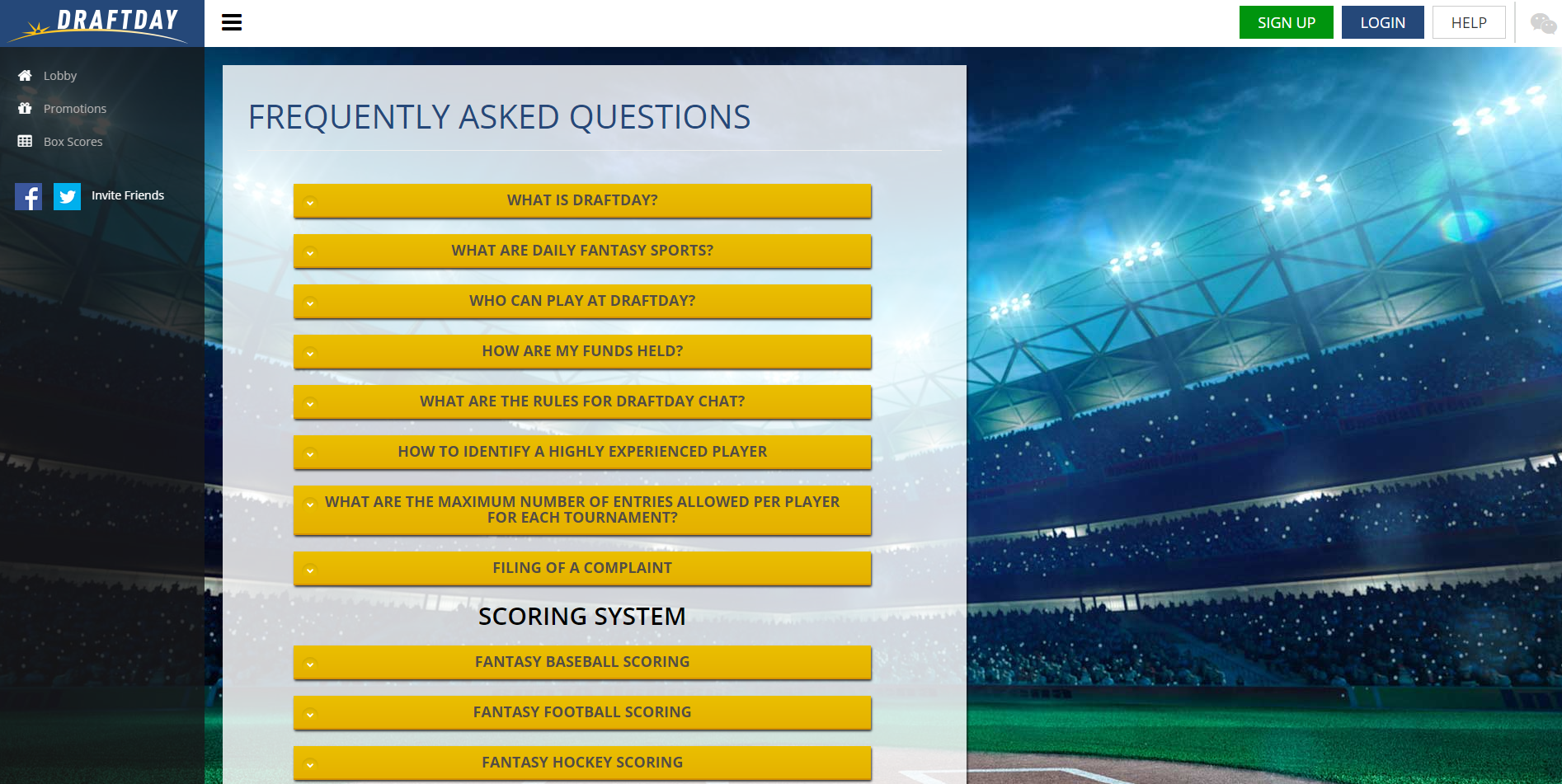 Established in 2011
Website – DraftDay.com
Based in Harrison, New York
Email – Support@DraftDay.com
Trusted name in the industry
Mobile friendly
Multiple contest formats
Strong deposit bonus
Fairly new to market
Lack of collegiate sports
Playing at DraftDay
DraftDay is open to residents of Canada and the United States with some restrictions. Residents of the following states and countries of the Northern Hemisphere are not eligible for play for pay accounts or bonuses due to the laws of their jurisdictions:
Arizona
Louisiana
Washington
Iowa
Montana
Vermont
Quebec
Puerto Rico
**Individuals who reside in Nebraska or Alabama must be 19 years of age to open an account; all other members must be 18.
How do I make a deposit?
Get in on the action by making your first deposit with any of the following:
Visa
MasterCard
American Express
Or make your deposit securely from your bank or other funding source via PayPal. There is a minimum deposit of $10 required, maximum of $1000.
How do I get paid?
When you are ready to cashout your earnings, simply click on CashOut under your account page. Payouts are only made through:
**You must have a minimum withdrawal of $20, there is no maximum.
PLEASE NOTE:
Free money from freeroll tournaments must be put into play within one month before it can be withdrawn. If it is not, the site can reclaim those funds.
Customer Support
How do I contact?
If you need help, you can contact customer support. You are guaranteed to get an ultra-fast response in as little as 10 minutes.
How do I play?
Getting started at this site takes less than five minutes. After a short info form, you will be prompted to take advantage of the 100% match deposit or continue to play for free. Browse the lobby of contests and join the one that you are most interested in to start drafting your team.
If you want to get some feedback from other players, simply open up the chat box located at the bottom right of the screen. This is an on-going chat where users can talk with other users about anything and everything related to the day's games, teams, and fantasy play.
PRO TIP
Set up a news alert for your favorite teams and players that pings to your phone. This way, you will always be ahead of the curve knowing what's going on with your favorite fantasy players and can adjust your team accordingly.
Can I play on my mobile device?
DraftDay.com can be accessed on your mobile device web browser. Alternatively, there are three games available in app form: Rapid Fire Max allows you to win 20x your buy in; Pick'em offers tiers of players to make it easier to draft your team; and Rapid Fire allows you to select 3 of 5 head-to-head matchups. If you pick correctly for all three, you will win.
Is it legal to play at this site?
As a fantasy betting site, DraftDay is completely legal to gamble on. The 2006 enactment of the Unlawful Internet Gambling Enforcement Act specifically excluded skill based games such as fantasy betting.
This company operates under the same terms as season-long sports leagues but on a daily scale. Furthermore, this company is a member of FSTA – The Fantasy Sports Trade Association.
FSTA is an organization who oversees all pertinent aspects of fantasy sports leagues. The group was launched in 1999 with representatives from Sporting News, CDM, EA Sports, and Fantasy Insights. To learn more about this organization or file a comment or complaint against DraftDay, visit www.FSTA.org or reach a representative via phone at (312) 771-7019.
Deposit Bonus
This site offers a 100% match up to $600 on your first deposit. There is a maximum deposit limit of $1000 with a maximum bonus amount of $600. The deposit is released in increments as you play. For every buy-in, you will receive 4% of the amount in your bonus funds. If the buy-in is $10 then you would receive $0.40 of your bonus credited to your account.
Can the bonus amount be withdrawn?
Once you have received your bonus funds, you can use them like any other cash. This means that they can be withdrawn or played.
Does this bonus expire?
Bonus expiration dates fluctuate based on the bonus. You will be notified of the expiration when you choose a bonus, in the terms and conditions you accept.
Promotions & Game Types
When you choose to play at DraftDay you can expect a variety of promotions and types of games. Every month there is at least $3,000 in free rolls that you can gain entry to based on your buy-in activity. Keep an eye on the promotions section of your account for other offerings for games in the sports leagues offered here – golf, basketball, hockey, football, and baseball.
The signature promotion offered by this company is the Perfect Lineup which offers a top prize of $1,000,000. All you have to do is draft your team with players who you believe will be the top scoring that day. Players must be 21 years or older to partake in this promotion.
Refer-A-Friend
There are two options when it comes to referring a friend. The first is called the $5 Challenge. Invite your friends to play one-on-one against you and the winner will receive $5 free. Alternatively, when you refer a friend through your referral link and they make a deposit of at least $25, you will receive $15 instantly.
What game formats are available?
Choose the contest that best fits your needs with the following formats. There is no limit to the number of contests you can enter at one time.
Standard – Must have set number of participants by start of live game to proceed.
Guaranteed Games – Full prize pool is paid to entrants even if the roster is not full.
Target – Win based on the total point of your team.
Live Draft – Begins once enough entrants have signed up. At that time, players will select draft pick in order of their draft number until all teams are filled.
Turbo – Players from early games are included, only.
Fifty-Fifty – Top 50% of winners slits the prize pool.
Modified Salary Cap – Different starting amounts are available, may be more or less than standard game cap.
Conclusion
DraftDay states that they wanted to create a fantasy sports betting site that felt like home – and they have succeeded. This company offers the sweet, familiar feel you get from being in your hometown.
With several unique features like autodraft on live games, the Free $5 Challenges, and their own variety of tournaments – there is plenty to enjoy whether you are a first-time fantasy player or have been enjoying this skill for years.
While the site is still in its early years, we think it has a lot of promise ahead of it. Unfortunately it has experienced slower growth than its billion-dollar-per-year competitors and that certainly plays a toll in the number of players driving their business to this site. The lack of collegiate sports may also bother some bettors – if that is something you are looking for.
Overall, DraftDay is a must-try site for North American punters. There are hundreds of contests offered each week and buy-ins range from free to $1000 – meaning that you can get in on the action no matter what your budget is. To get you started, take advantage of the 100% deposit match bonus ($600 max) when you sign up for an account through the link provided.
We're sorry, residents of your region are not accepted by this gambling site!
OK