Draftboard Review
The daily fantasy sports industry has seen its fair share of legal roadblocks through its first few years, but it continues to grow rapidly nevertheless.
DraftKings and FanDuel may be the two most recognizable DFS platforms – especially for those of us that are bombarded with their television ads – but there is a host of smaller operations looking to differentiate themselves, as well.
We can include Draftboard in the much larger group of much smaller sites looking to name for themselves.
Draftboard certainly does not have the name recognition of some of the more well-known DFS outfits as of yet, but we're going to take some time today to try and help you get familiar with one of the newest sites in the burgeoning market.
VISIT Draftboard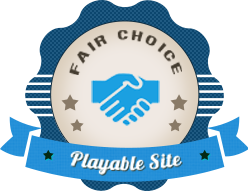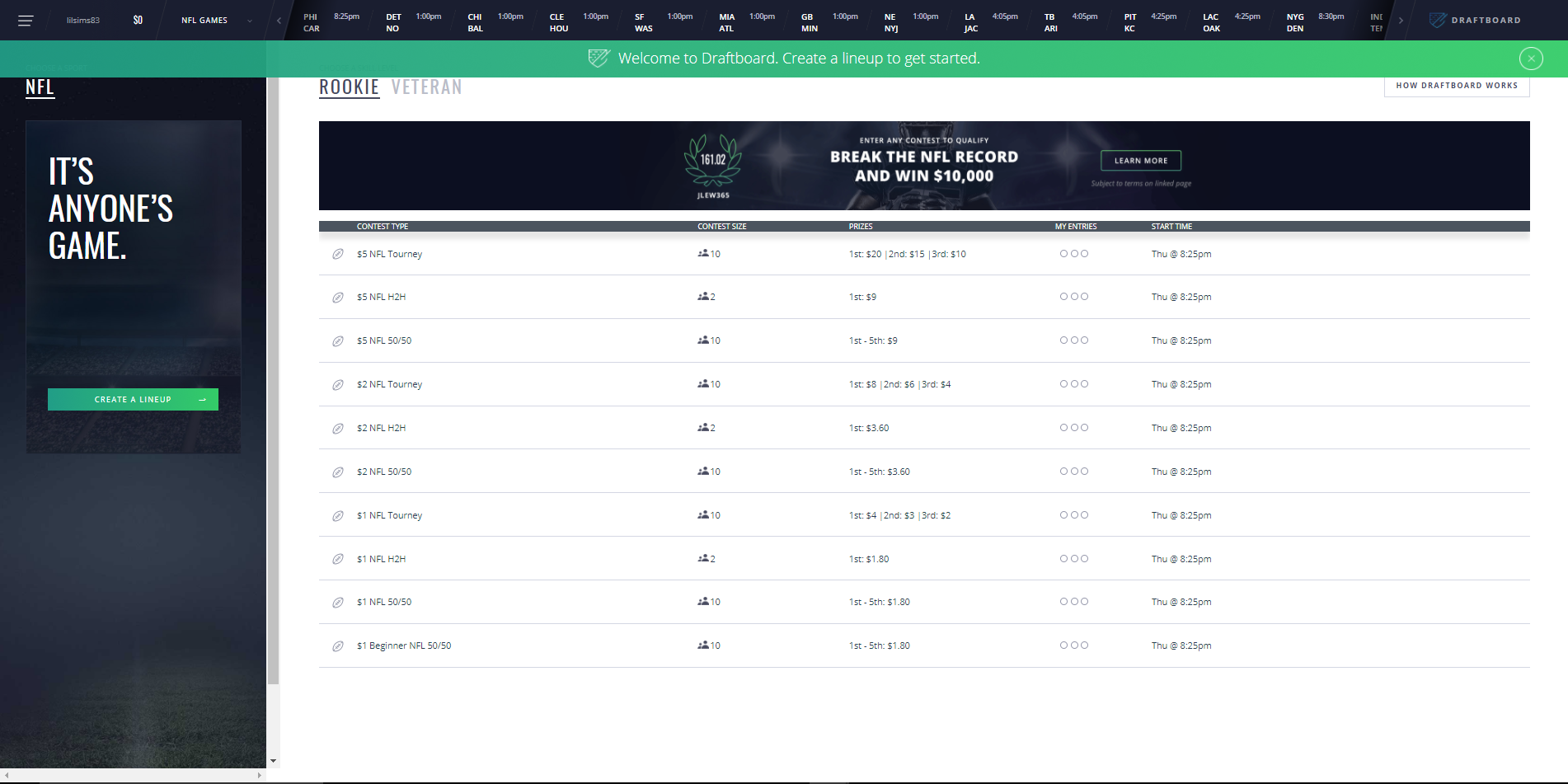 Established in 2017
Website – www.draftboard.com
Based in Las Vegas and New York City
Email – support@draftboard.com
Great Draftboard Live Experience
Unique Approach to Multi-Entry
Very new in the industry
Allowed in Very Few States
About Draftboard
What is Draftboard?
DraftKings and FanDuel have established themselves as the titans of the daily fantasy sports industry, but that has not stopped others from trying to get in on the action.
Draftboard was founded by poker pro Phil Galfond, who said that he wanted to try and level the playing field for the average daily fantasy sports player.
Like DraftKings and Fanduel, Draftboard offers salary cap-style games in which players select a team comprised of real-life athletes. If you can cobble together a team that fits under the salary cap that produces enough fantasy points, you are going to win some real money.
Is Draftboard Legal or a Scam?
Draftboard has not been live for very long - it launched in September of 2017 - but early indications are favorable on the reputation front. Galfond is a recognizable name to those that are familiar with the world of professional poker. Back in 2013, he launched a poker training site, called Run It Once, with fellow poker pros Ben Sulsky, Hac Dang and Di Dang.
While some feel as though traditional daily fantasy sports platforms are designed to bilk money out of novice players, Draftboard was created with the intention of making it so that even new players can win. Galfond and CEO Dan Quinn were originally planning to create a new training site but decided to instead use their ideas to create their own DFS platform.
As is the case with DraftKings and FanDuel, Draftboard makes most of its profit via a site rake, which is a small fee players pay to play.
You enter a head-to-head or a 50/50 style game in which half of all entrants win cash in the end. If the entry fee is $1 for a "double-up" contest, you win $1.80 back rather than fully doubling your money. That $0.20 difference goes to Draftboard
Different contests have different entry fees, and the rake is not exactly the same for all of them.
We will dive into the different contest types offered by Draftboard a little bit later. The rake certainly is not a scam, it's merely the fee Draftboard charges in order to provide a service to players.
Who Can Play?
Daily fantasy sports are legal on a federal level thanks to the Unlawful Internet Gambling Enforcement Act of 2006. However, not all states allow players to play DFS for money. Players located in the following states are ineligible to play on Draftboard (for now):
Alabama
Arizona
Delaware
Florida
Georgia
Hawaii
Idaho
Illinois
Indiana
Iowa
Louisiana
Missouri
Montana
Nevada
New Hampshire
New York
Texas
Vermont
Virginia
Washington
So, essentially, if you're located in a state that starts with "I", you're out of luck. If you are located in one of the aforementioned states, you will not be able to add funds to your account, nor will you be able to play in a paid game.
This could change in the future, but Quinn says that the company is taking a legally conservative approach to where it offers its product. Draftboard is in the process of applying for licenses in a number of states that are currently barred.
You also must be at least 18-years-old to play if you're in one of the few states that do allow paid games on Draftboard. There are a couple of exceptions, though. You must be at least 19 if you're in Nebraska or Canada, and you have to be at least 21 to play in Massachusetts.
Draftboard is also trying to get out ahead of another problem that plagues some other DFS sites: multi-accounting.
Draftboard explicitly states that if they determine that one person has "opened, maintained, used or controlled" more than one account, all of your accounts may be subject to termination or suspension, and they also reserve the right to revoke or withhold any prizes you may have won.
How Do You Play?
If you are familiar with the way other DFS sites operate, you surely get the gist of what to do on Draftboard.
Account Creation and Deposits
First off, you have to create an account. Doing so is quite simple. You have to provide a little bit of personal information before submitting your username and password. As you may imagine, Draftboard reserves the right to change your name if they deem it offensive, so keep it clean. Keep your dirty jokes to yourself, people.
You have to pay to enter contests, so you're going to have to get some money into your account next. When you first try to deposit money, Draftboard will ask you to verify your account. So, you enter your first and last name as well as your date of birth, and you're good to go.
Once that is done, you can deposit money using a bank account, credit card or a PayPal account. You can deposit as much money as you'd like (in most states) so that you can set yourself up to get in on the action. Draftboard does have a minimum deposit of $5, however.
Some states do have legal deposit limits. Players in Massachusetts and Maryland may only deposit $1,000 per calendar month. Tennessee resident deposits are capped at $2,500 per month.

Build your Lineup
Once your account is all set up and your account has some cash, you create a lineup of players to enter into contests. Draftboard hosts contests in numerous different sports, including:
Football (NFL)
Basketball (NBA)
Baseball (MLB)
Hockey (NHL)
They may add other sports (soccer, golf, etc.) once they begin to establish themselves in the industry.
Different sports have different rules, so be sure to familiarize yourself with Draftboard's scoring system. Rushing and receiving touchdowns are worth six points apiece, for example. Players may also lose points for interceptions or lost fumbles.
The concept is simple. You want to fill out your roster with players that you believe are good value plays based on their respective price tags.
Better players tend to be the more expensive options, and you can't just stack your lineup with the highest-priced options at each position. You are going to have to do some research in order to establish which cheaper players you think have a chance of paying off handsomely.
Once you fill every open position - for NFL there is a quarterback, two running backs, two wide receivers, a tight end and two flex positions - you can save your lineup and enter it into contests.

Enter Contests
The contest entry system is something that separates Draftboard from its competitors. While other platforms like FanDuel have attempted to divide more experienced players from rookies, more often than not the pros are still able to pick out and target new players.
In trying to separate Draftboard from the aforementioned DFS powerhouses, Galfond and Quinn have attempted to make it easier for new players to play and win early on. Draftboard's entry system, called FairMatch, makes it so that experienced and professional players cannot actively seek out newbies.
They have divided their contests into tiers.
The "Rookie Lobby" includes games with entry fees from $1 to $5.
The "Veteran Lobby" includes contests with entry fees that start at $10.
Per the site's rules, you will only be allowed to enter contests in one lobby on a given day for each sport. So, you cannot enter a contest for $25 and then go back and play a bunch of $1 head-to-heads.
On other sites, contests that allow multi-entry can often be dominated by those with a higher bankroll. Draftboard takes a vastly different approach to multi-entry. The FairMatch comes into play once again here.
Let's Say, For Example:
A contest has 25 entries from 14 different users. 14 users entered once, seven entered twice and four entered three times. Using the first entries from each of the 14 players, Draftboard then separates the entries into groups. The first 10 entries (all different players) will be placed into one 10-person contest. That leaves four other first entries, that will then be placed in a separate 10-person contest along with six-second entries.
No single account may have more than one entry in a contest. If a player enters contests that do not fill, those entries will be canceled and the entry fees will be refunded to the user's account.

Contest Types
While the method for entry is different on Draftboard, the contest types are very similar to those offered on other DFS platforms. Draftboard has tournaments with guaranteed prize pools, as well as "cash games" in which half of those that enter will win and double their entry fee, as mentioned previously.
Tournaments have a guaranteed prize pool, meaning the contests will go live even if the game does not fill with players. In a 10-person tournament with a $5 entry fee, for example, first place will take home $20, second place wins $15 and third place takes $10. The other seven players in the game win nothing.
Tournaments generally offer bigger prizes, but there's also more risk involved than with cash games.
Winning first place in a big tournament can win you hundreds or thousands, but these types of games offer fewer payout spots than cash games. As mentioned earlier, the payout structure of a 10-person tournament on Draftboard is such that only the top-three finishers win cash.
With cash games, you're looking at a smaller payout, but it's easier to place than tournaments are. We touched on the way 50/50 and head-to-head contests work earlier. If you enter a $2 50/50 or head-to-head, those that finish in the top-half of the field will win $3.60.
Remember, Draftboard takes that extra $0.40 from each entrant as the rake. If you enter a $5 50/50 or head-to-head, those that finish in the top-half win $9.
Playing cash games is a good way to slowly build up your bankroll.
Win and Withdrawal
Obviously, if you win money, you'll want to be able to keep that money for yourself. Keeping a little bit of money in your Draftboard account is necessary to keep entering more contests, but at some point, you are going to want to withdraw that cash so that you can actually use it for other things, like buying a boat or funding a trip to Hawaii.
Withdrawing is easy. You simply go back to your account and click the "withdraw" tab at the top of the page.
As of now, the only method of withdrawal supported on Draftboard is PayPal, so be sure to have a PayPal account set up before you withdraw.
Check withdrawals are not currently supported. All PayPal withdrawals will be processed within 48 hours, or the next business day if your request comes in during the weekend.
Using Draftboard
Unlike some of its competitors, Draftboard uses a simple, easy-to-use interface. There is a scroll-down menu in the upper-left corner of the screen from which you can navigate your way around the site. From here, you can go into the contest lobby, which is where you enter contests.
You can also check your live, in-progress scores and track them throughout the day.
One of the crown jewels of the Draftboard
experience is "Draftboard Live."
Unlike other sites, which use a traditional scoreboard and allow you to view updated stats, the Draftboard Live experience is aesthetically pleasing.
You still get live scoring updates, but in the middle of the screen Draftboard essentially gives you something like a video game experience. As live plays occur, Draftboard will essentially recreate the play using a video simulation on a football field in the middle of your screen. So, you'll see a little 3D quarterback completing a pass to a little 3D wide receiver, complete with accurate player names and all.
The drop-down menu also allows you to check your previous results, go into your own account or sign out completely.
Responsible Play
Daily fantasy sports have always blurred the lines between games of chance and games of skill. While advocates of DFS will stop short of labeling it as the same thing as gambling, there are obviously some links between the two, even if DFS is more of a game of skill.
Gambling addiction is a real thing, and it may extend to daily fantasy sports. Draftboard has a series of guidelines posted to the site that may help players manage their DFS playing habits.
The site allows players the opportunity to set deposit limits, for example. You can also place a dollar limit on the value of contests you are able to play. You may also disable your account completely for as long as you want without deleting it if you need some time away.
Draftboard also offers parental controls of the sort. If you believe a player under the minimum age requirement is operating a Draftboard account, you may contact the site's support team and they will close the account immediately and refund all funds in the account within a week of closure.
Frequently Asked Questions
Does Draftboard offer mobile compatibility?
As of now, the only way to access Draftboard from your mobile device is by using your smartphone's internet browser. An iOS or Android app may be on the way at some point, but for now, you'll have to resort to using your phone or tablet's Safari, Chrome, etc.
Fortunately, the site has been optimized to fit the screen on mobile devices. So, the Draftboard mobile experience is exactly the same interface as the one you'll see on your standard desktop computer.
Does Draftboard offer loyalty bonuses?
On most DFS platforms, those that enter contests are able to accumulate loyalty points, which can then be used later to earn free entries or buy site merchandise.
Draftboard is still in its early stages, so it has not yet gotten to more advanced things like the loyalty bonuses that you will find on competitors like FanDuel or DraftKings. As is the case with a mobile app, perhaps this is something the folks at Draftboard will tackle at some point.
For now, Draftboard is banking on their unique base product being good enough to keep getting people to come back and to attract new players.
Does Draftboard offer deposit bonuses?
Once you create your account, you will notice a balance of $1. Draftboard gives those that register a dollar as a means of essentially giving players a way to sample the product for free. Draftboard is calling it the "Dollar and a Dream" promotion.
Additionally, players that enter any NFL contest are automatically entered into the Record Breaker promotion. This means that any time a team sets a new record for a high score on Draftboard, the site awards the user an additional $10,000.
So, on the site's first week, when the previous high score was 0, somebody won $10,000 thanks to this promotion. It is designed to keep players interested and to continue to play on the site.
Do I have to pay to play?
As mentioned previously, Draftboard has an early promotion that puts $1 into your account upon its creation. So, you get one free try to win some money. So, if you win on that free entry and keep backing that up with win after win, you didn't technically have to pay anything to play.
That said, it is more likely that you are going to have to make a deposit at some point if you wish to keep playing. So, while it's possible for you to build a winning streak off of that first free dollar, it is not particularly likely.
Is Draftboard legal?
At the federal level, Draftboard is, indeed, completely legal. Whether you are eligible to play is determined based on your location. The 20 states in which Draftboard is restricted are listed above.
Is Draftboard safe?
Draftboard is still extremely young, but the masterminds behind the site, Phil Galfond and Dan Quinn, are well-respected names within the poker industry.
They would likely not have put their respective reputations on the line in order to back a corrupt product, so we feel fairly confident in saying that Draftboard is a safe place to play.
Is Draftboard a gambling site?
Daily fantasy sports are largely considered to be games of skill, so, no, playing on Draftboard does not really mean you are gambling. Those that have excelled in the DFS industry haven't been able to do so thanks to an abundance of sheer luck. In order to enjoy sustained success in DFS, you typically need to do a good amount of research.
There is some luck involved, of course, but you do still have to use your brain if you're going to win money consistently.
Customer Support
How do I contact Draftboard?
If you have any questions at all about Draftboard, you can email at:
They do not currently have a live chat function, though that could be something we see as the operation expands in the future.
Conclusion
Considering the relative youth of the site, the verdict is still out on whether Draftboard will be able to grow into one of the mainstays in the DFS industry.
Putting forth a product that can legitimately compete with DraftKings and FanDuel has been a tall task for developers. While sites like Fantasy Draft and Draftboard have gained popularity, neither is on the level of either DK or FD as of yet.
Those behind Draftboard are optimistic that things like FairMatch, the beautiful live scoring screen and the unique approach to multi-entry will be enough to separate the site from the pack of also-rans that make up the rest of the industry.
It's early, but there is legitimate potential here.