Bingo Hall Review
Thanks for dropping by our Bingo Hall review. This is an interesting one.
Bingo Hall's been around for more than a decade. They accept US players, have lots of bingo and casino games for you to play, and I don't think I've ever seen a casino or bingo hall with more bonuses and prizes than they do.
I know what you're thinking – sounds great, where do I sign up?
But hold on a minute. I discovered a few things I'm not so crazy about. While not illegal, the things I found fall somewhere between tacky and unethical …maybe even predatory.
That's not to say you shouldn't sign up here. Not at all.
What I'm saying is Bingo Hall's approach – especially when it comes to offer terms and cash outs – might turn some people off.
The only way to know for sure, though, is to read our review.
Let's start with their games.
VISIT Bingo Hall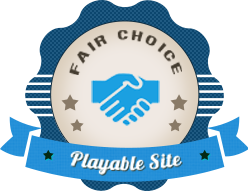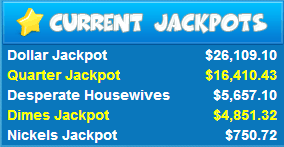 Website – BingoHall.ag
Launched in 2002
Licensed in Costa Rica
Email – support@bingohall.ag
Telephone – +1 800-274-7345
Excellent bonuses & promotions
Top quality software
Good range of jackpots
US customers welcomed
75 ball bingo only
BingoHall.ag is More Than Just Bingo Games
Let's start with bingo, since that's the main draw for most people.
Bingo Hall's games are powered by Parlay Entertainment, who's known for having high quality software.
Their rooms and card prices include:
Supernova - $3 card
Fair and Square - $3 card
Dollar - $1 card
Quarter - .25 card
Main - .25 card
Desperate Housewives - .20 card
Crazy - .10 card
Nickels - .05 card
Newbie - .01 card
It's great seeing how cheap it can be to play. You can really make a $5, $10 or $20 stretch here. Or you can go all out and play up to 24 cards at once.
Each room has its own prize pool. These range from .01 to $2,500. Some look like they have guarantees, while others are purely based on the number of people who've bought in. Some of them have jackpots, too – the amounts posted vary from $300 to $24,000. It looks like there's plenty of money to win. That's always a good sign.
Bingo Hall offers normal options like auto-daub, so you won't ever miss a number. You can pre-purchase your tickets too, so you never miss a game.
The biggest complaint I have about their bingo games is how you can only play 75-ball bingo. There are no 80 or 90-ball options. That's a small complaint in the grand scheme of things, though.
In between bingo matches, you can spend time in their casino and arcade section. Here they offer games from BetSoft and Rival. Both are top-notch software companies.
Here's a list of the games you can play:
Pull Tabs
The general idea here is to buy a card. Then you'll have 5 chances to pull the cards. If you uncover 3 of the same symbols on a card, you'll win a prize per the prize table.
Here are your options:
Gold Rush - $ 1
Gold Rush - $ 0.5
Gold Rush - $ 0.25
Alleycat - $ 1
Bank Heist - $ 1
Hole in One - $ 1
Alien Encounter - $ 0.5
Alleycat - $ 0.25
Ole West - $ 1
Alleycat - $ 0.5
Bank Heist - $ 0.5
Monster Bucks - $ 1
Money Hog - $ 0.25
Money Hog - $ 0.5
Jungle Safari - $ 0.5
Hole in One - $ 0.5
Pirates Cove - $ 0.25
Monster Bucks - $ 0.25
Pirates Cove - $ 0.5
Alien Encounter - $ 0.25
Ole West - $ 0.5
Monster Bucks - $ 0.5
Bank Heist - $ 0.25
Jungle Safari - $ 0.25
Pirates Cove - $ 1
Jungle Safari - $ 1
Ole West - $ 0.25
Hole in One - $ 0.25
Money Hog - $ 1
You'll have lots of choices here ranging from classic to 3D machines with 1-9 lines.
Slots
Here are the titles you can play:
Aladdin's Magical Treasure
Black Diamond
Wild Sevens
Crazy Jungle
Good Girl, Bad Girl
Greedy Goblins
New Tales Of Egypt
Diablo 13
Alkemor's Tower
7 Monkeys
Event Horizon
Witches Cauldron
Pinocchio
Lucky Fishing
Trolling For Treasure
Get Crackin
Treasures of Pharaohs
Three Times the Riches
Hollywood Reels
Super 7s
Diamond Surprise
Firestorm 7
Citrus 7s
Lucky 7s
2 million bc
Double Scoop Delight
Rainforest Riches
Mad Orchestra
Karat Crazy
Lucky 7s (5 Line)
7s Ablaze (5 Line)
Fire and Ice
Dwarven Gold
Wild Cherry
Dice and Fire
Fire and Ice (5 Line)
Forest Treasure
Black and White Gold
Double Diamond (5 Line)
Wild Cherry (5 Line)
Double Diamond
Black and White Gold
7s Ablaze
Orbital Mining
Viking & Striking
SugarPop
Quest for the Minotaur
Ducks'n'Eggs
GYPSY ROSE
Carnival Of Venice
Summer Party
Lady of the Moon
Bee Land
Lucky Day At The Races
Lucky Number
Lotto Mania
Sugar Rush Valentines Day
Reel Gangsters
Tales Of Egypt
Happy Circus
Sugar Rush Winter
Fandango's 15 Lines
Great Reef
Voyager's Quest
Bingo Slot
Sugar Rush
Redbeard & Co
Transylvania
Ocean Fantasy
Lost Inca's Gold
Daytona Gold
Sugar Rush Summer
Douguie's Delights
Glorious Rome
Religion of Champions
Merry Bells
Sweet Surprise
Grave Grabbers
Slot Dunk
Lost Gems of Brussels
Fruit Slot
Cool Stone Age
Beauty Salon
Graveyard Shift
Shia Safavids
Global Cup Soccer
Diamond Dazzle
Forest Frenzy
My favorite slots here – hands down – are the machines from BetSoft.
What's most unique about them are their 3D slots. These machines have excellent graphics that make you feel as if you're playing a video game or watching a movie. They have fun intro scenes and bonus rounds, too.
I've tried a few of their machines. I suggest starting with Greedy Goblins.
But don't neglect their Rival slots. Rival's claim-to-fame are their i-Slots. These are story-based slots where you progress through a story while playing a normal game of slots. These stories mimic a soap opera where you'll watch plots filled with love, lies and deceit.
You simply can't go wrong in their slots section.
Video Poker
Here are the video poker games you can choose from:
Jacks or Better Poker
Deuces Wild
Joker Poker
Deuces Wild
Bonus Poker Deluxe
All American
Deuces and Jokers
Tens or Better
Double Joker
Deuces & Joker
Joker Poker
They have a larger variety of video poker variants than some casinos.
And to wrap their games up, you can also play keno.
And while Bingo Hall doesn't have a mobile app, their website is mobile-optimized. I checked their site out from my iPhone and everything looked great. From what I could tell most, if not all of their games were available, too.
Bingo Hall Offers Thousands in Promotions Every Week
Bingo Hall has TONS of promotions. Seriously. They offer limited time deals, free play offers and match bonuses for every day of the week. They have a HUGE VIP program, too.
But …it's not all sunshine and roses. There are some not-so-good things, too. I'll share what those are as I go through each of their offers.
Free $25 Offer – This offer is for all new customers. When you sign up they'll give you $25 to try out all their games.
This is a nice offer. However, what's frustrating about it is how they don't promote it much or make it obvious. It's almost as if they're hiding it. I only found out about it by digging through their help section.
New players are also eligible for the following match bonuses:
500% bonus on your 1st deposit.
700% bonus on your 2nd deposit.
815% bonus on your 3rd deposit.
Another frustrating thing is how hard they make it to find their terms for clearing their bonuses. This, too, I had to find by digging through their help section.
Here's what I found out:
You need to rollover the deposit and bonus 3x.
You must rollover the sign-up bonus 3x.
You must rollover any free bonus 3x.
That's all they say about it. It's not very clear, and what's even more confusing is the overlap. They all say pretty much the same thing.
Please Note:
These terms likely apply to all the following offers. However, they do say in their terms that rollover requirements are on a case-by-case basis. So be sure to read their terms carefully before you participate in an offer.
One other thing – if you don't want their welcome offer, or any other offers, be sure to contact them by live chat or email to let them know. Otherwise the offer(s) will automatically be added to your account.
Other than their welcome offer, they have daily deposit bonuses. These are match bonus offers for every day of the week.
Here's what you can get:
Monday
Deposit $100 and get a 400% bonus.
Deposit up to $100 and get a 250% bonus.
Tuesday
Deposit $500+ and get a 600% bonus.
Deposit $250+ and get a 500% bonus.
Deposit $150 and get a 450% bonus.
Deposit $100 and get a 400% bonus.
Deposit up to $100 and get a 250% bonus.
Wednesday
Deposit $250+ and get a 500% bonus.
Deposit $150 and get a 450% bonus.
Deposit $100 and get a 400% bonus.
Deposit up to $100 and get a 250% bonus.
Thursday
Deposit $500+ and get a 600% bonus.
Deposit $250+ and get a 500% bonus.
Deposit $150 and get a 450% bonus.
Deposit $100 and get a 400% bonus.
Deposit up to $100 and get a 250% bonus.
Friday
Deposit $100+ and get a 400% bonus.
Deposit up to $100 and get a 250% bonus.
Saturday
Deposit $500+ and get an 800% bonus.
Deposit $250 and get a 700% bonus.
Deposit $50 and get a 600% bonus.
Sunday
Deposit $100+ and get a 400% bonus.
Deposit up to $100 and get a 250% bonus.
If you want free money to play with you have NO excuses. You have TONS of options every day of the week.
(I'm sort of surprised these offers don't have caps -or, maybe it's like their terms- and it's not something easy to find.)
And that's still not all. Bingo Hall has around a dozen other offers running. Some are evergreen, while others are for a limited time only. We've included their evergreen offers below.
Mid-Day Specials - Enter the Mid-Day Specials event every day from 12-3pm in both the Dollar and Quarters Rooms for your chance to win $500.
Join The Morning Madness – Play the Morning Madness bingo tournament for a chance to win a piece of the $1,000 prize pool. This runs for 2 hours every day.
Million Dollar Party – Every night from 9pm to 3am you can play for your piece of a $2 million prize pool.
Daily Giveaway – A daily gift, available for you to claim simply by logging into your account.
All Stars – This is a tourney that runs on Mondays, Wednesdays and Fridays. Get as many stars as you can to win cash rewards.
Lucky 5 – This tourney runs every day from 5-7 pm. Play special speed games with fixed prizes of $1,000 on every 5th There's a guaranteed prize of $100.
Taboo Room – This room takes you on an adventure where you get to speak your mind with no boundaries! Enjoy this eccentric room daily between 11pm and 2am for your chance at big cash prizes.
Afterhours Raffle – Get one raffle ticket for every deposit you make between 2-7am EST. If your number's called you can win as much as $1,000.
Supernova Room – Open every night of the week from 6pm to 12am.
Rebound Tournament – Send Bingo Hall 30 game numbers from games you lost on Tuesday and Wednesday in the Desperate Housewives Room for an invite to play free games with $100 prizes every Friday between 10-11pm EST.
Chat Games – Join to play and win daily chat games.
Fusion Room – Open every morning from 9-11am and every evening from 8-11pm.
Blackout Bingo – Play every Tuesday and Saturday from 7pm to 1am. They're running coverall specials with a lot of different cash prizes.
Afterhours Lounge – Lots of late night bingo excitement. This room is open every night from 2am to 7am EST.
Team Bingo Smackdown – Play for $3,000 every Thursday from 12am to 10pm in the Fair and Square Room.
Smackdown Playoffs – Play in the Dollar Room every Saturday between 6-9pm EST to win your way to a cash trophy at the end of each month.
Grand Derby – A one-of-a-kind race hosted daily from 9pm to 12am EST. You'll have a chance to earn 100BBs.
Rallies & Happy Hours – Play in the Quarter and Desperate Housewives Rooms daily and be active in chat, and you can walk away with cash bonuses.
Unlimited BBs – Play in the Crazy Room every Monday from 6-9pm EST. Play your favorite chat games and the managers will award you with 3 BBs.
Gildopoly – Play in the Supernova Room from 6-9pm EST for your chance to play for different BB prizes.
Jet Set Club – Play every Tuesday and Thursday from 7-11pm EST and Saturday from 5-9pm EST.
Whew!
You really can't complain about offers here. I'd like to see more transparency about their rollover terms, though. But as far as the offers themselves go, there is something for everyone, for every day of the week.
Bingo Hall's Multi-Level VIP Program
Bingo Hall also offers an extensive, multi-level VIP program.
Here are all their tiers:
Basic
Rookie
Steel
Bronze
Silver
Gold
Platinum
Princess
Queen
Champion
Master
There are lots of perks, and they all improve as you move up in levels. Some of the perks include payout limit increases (total and frequency), how much cash back (Bingo Bucks) you can receive (quantity and frequency), birthday bonuses, bingo shop and VIP room access.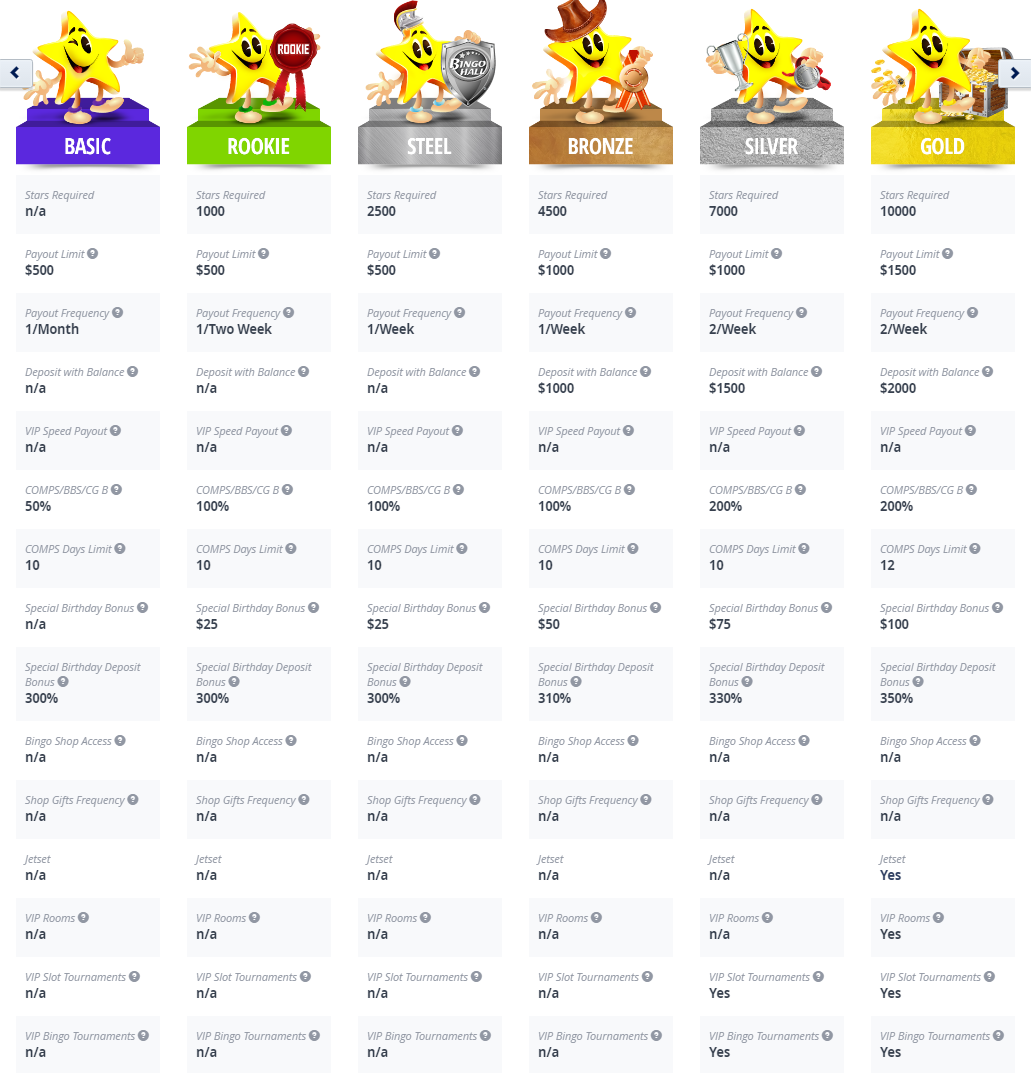 I'm not a fan of some of the perks – or what the perks reveal about Bingo Hall. But I'll talk more about that in my conclusion.
Your Banking Options
The payment options Bingo Hall accepts include:
Visa
MasterCard
American Express
Money Transfers
Neteller
EcoPayz
Skrill
The minimum deposit is $25.
For cash outs you can use:
Neteller – The min cash out is $50.
EcoPayz – The min cash out is $50.
Bank Wire – The min cash out is $500. It also has a $28.75 fee.
Skrill – The min cash out is $50.
Paper Check (by mail) – The min cash out is $300. There's a $20 deliver fee.
A $50 minimum is reasonable for cash outs. Unfortunately, US players won't be able to use any of those options. The only options they have are wires and checks.
And these minimum limits are insane. $500 for a bank wire? $300 for a paper check? Then you have fees on top of that, not including the fees you will likely pay (at least for the wire) from your bank.
But that's not the only crazy part.
You're limited on how much you can cash out each month based on your VIP stats. The lowest tier is limited to one $500 payment per month.
US players have to hit that on the money if they want a wire. Otherwise they have to have $300+ for a check.
But what if you have $100, $200 or $299 and want to cash out your funds? There's no other option. This will make it incredibly frustrating for Americans wanting to cash out smaller amounts.
If you have any questions about that, banking, their games or anything else at all, you can reach out to Bingo Hall's support using:

Customer Service Phone: 1-866-814-0052
Live Chat: For members who are logged in.
I sent them two emails around 5pm PST and received responses to both within an hour of sending each one. The staff was helpful, too, so no complaints there.
Conclusion
I have mixed feelings. Let's start with the negative stuff.
I didn't like how hard it is to find their terms. They're not doing anything wrong per se, not making their terms front and center. But that doesn't stop it from feeling sneaky.
That's not my biggest gripe, though.
What I like least of all are their payout limits. From what I understand – and later confirmed with their support – is the amount you're able to cash out is based on your VIP status.
For example, if you're on the lowest tier you can request 1 cash out per month for a maximum of $500. The next tier is like that, too.
Sure, as you move up in tiers you'll be able to cash out more often for larger sums. But you shouldn't be forced to play more in order to cash out YOUR money.
It feels like they're trying to force you to keep your money on their site. Especially when you consider how their bank wires and paper checks have mins of at least $300. That means Americans on the lowest tier(s) can only cash out between $300 and $500. Any more or any less and it stays on the site.
It almost feels predatory…
Outside of those things, though, there's not much to complain about. In fact, there's a lot to like about Bingo Hall.
For example:
They offer thousands of dollars in free money, match bonuses and prize pools – of all shapes and sizes – every single day of the week.
They have several uniquely themed bingo rooms. Many of these rooms have progressive jackpots, some of which that have prize pools as large as $25,000.
You can play more than 100 different casino and arcade games from top software providers like BetSoft and Rival.
US players can play here.
There's not a lot of bad comments about them, either. Especially if you ignore the standard scam sites where people complain about losing or rigged games.
The bottom line – they appear to be a safe site with lots of offers and games to play. However, many aspects of their site feel sneaky, even predatory.
It's a toss-up. So, here's my suggestion:
If you play here, you should do so knowing that cashing out might be downright difficult. But if you're playing with money you can afford to lose (which you should) and you're not in a hurry to get your money off the site, then I don't feel there's any harm in checking them out.
We're sorry, residents of your region are not accepted by this gambling site!
OK