Play Sic Bo Online for Real Money
Sic Bo is a dice-based game of chance and betting strategy. You can play Sic Bo online for real money at many gambling sites, including some that offer live dealer tables.
In this guide we explain all about playing this game, starting with a list of the best online casinos for Sic Bo.
Rank
Gambling Site
Exclusive Bonus
Products
Get Started

#1

Bovada

50% Up To

$250

Visit Site

Bovada

#2

Las Atlantis

280% Up To

$14,000

Visit Site

Las Atlantis

#3

BetUS

125% Up To

$2,500

Visit Site

BetUS

#4

BetOnline

60% Up To

$1,000

Visit Site

BetOnline

#5

SportsBetting.ag

100% Up To

$1,000

Visit Site

SportsBetting.ag
Sic Bo originated in China and has been popular for years in various casinos in Macau and elsewhere in Asia. The game has also expanded to be available in various casinos in the United States and the United Kingdom.
More recently, Sic Bo has become a hit at online casinos throughout the world. The versatility of the game and the fun features it offers appeal to a variety of players.
Even though it's not as popular as some of the better-known casino games, you have several options for playing Sic Bo games online. It's important to choose your online gambling venues carefully, though.
The top Sic Bo casinos that we recommend are safe and offer a great gaming experience. The same can't be said of all online casinos, which is why we suggest you follow our recommendations.
We explain more about where to play Sic Bo online later, but let's start with some details on how to play.
How to Play Sic Bo For Real Money
Real money Sic Bo games work with three six-sided dice. You will place various wagers on the table surrounding how you feel the dice will land.
Sic Bo is a game of prediction. It is similar to roulette, craps, and other games you might find at casinos. But it is all about picking how the three dice will appear.
Types of Sic Bo Bets
You can win real money through one of many bets on a Sic Bo table. Here are the wagers available and how much cash you could win.
The payouts here are based on what most of the top online casinos for real money Sic Bo provide. The totals may vary by venue, but this is the most common standard you'll find.
Single Dice Bet (1:1 for one dice, 2:1 for two dice, 3:1 for three dice)

You can place a bet that one or more of the dice will feature a specific number. You'll get a greater payout if two or three of the dice have your number.
Two-Dice Bet (6:1)

A two-dice bet states that you think two specific numbers will appear on a roll. You have fifteen combinations to choose from, ranging from 1-and-2 to 5-and-6.
Three-Dice Total Bet (6:1 to 60:1)

You can predict the total value of the three dice as they appear. There are fourteen betting choices here, ranging from 4 to 17. The lowest odds are 6:1 for totals from 9 to 12, as those are the combinations more likely to appear. You will get a 60:1 payout if you accurately predict that the dice will total 4 or 17.
Double (11:1)

A double wager says that two dice of the same value will appear. You have six choices for this option.
Small or Big (1:1)

A small or big wager entails saying that the total value of the dice will be either high or low. A Small bet says that the total will be from 4 to 10. A Large bet will go from 11 to 17. You will lose if any triple appears.
Odd or Even (1:1)

This next wager is similar to what you'd find on a roulette table. You're betting on whether the sum of the dice is an odd or even total.
Any Triple (30:1)

You can predict that a triple will appear and get a 30:1 payout. A triple is when all three dice have the same number. All six potentials for a triple are covered in this bet.
Specific Triple (180:1)

The highest-paying bet is where you say that all three dice will land on one specific number. You can pick from any of the six triples here.
Sic Bo Probabilities
All of the bets above are options when you play online Sic Bo for real money. But you should be aware of the probabilities associated with some of these wagers.
Big/Small and Odd/Even bets have the highest probability to win
The two-dice combinations offer a 13.9% chance to win
Single-dice bets are appealing, but you're more likely to win with one entry
Triples pay the most, but they have the worst chances
You can place bets on Sic Bo games in many ways, but you always have the final choice over what works. There's nothing wrong with going after a high payout, so long as you're aware that your chances of winning are lower.
For more information on how to play Sic Bo, please see our complete guide to the game.
Why Play Sic Bo Online?
Real money online Sic Bo is appealing for many reasons. While it can be a great experience to play the game in a real casino, the online version comes with several distinct advantages.
Here are some of the main benefits.
It's not easy to find real money Sic Bo games at casinos outside Asia
It is more convenient to play real money Sic Bo online than it is to visit a casino
You can find bonuses and promotions through many gambling websites
It isn't hard to play online Sic Bo for real money if you know where to visit. All you have to do is find and join a reputable online casino that offers this game.
We can help you find the best online casinos for real money Sic Bo games. Simply refer to our rankings at the top of this page, or read our reviews of gambling websites to find out more about our recommendations.
You can then start playing real money online Sic Bo as soon you sign to a casino. Don't forget to see what bonus money is available, as this is one of the benefits of playing online that we mentioned above. You won't find these rewards at traditional land-based gaming venues.
Before we move on to what top Sic Bo casinos have to offer, here are a few more reasons to play this game. These apply whether you play online or live.
The variety of bets in this game makes for something fun to play
You can turn a small bit of money into something huge
You can also enjoy using a bit of strategy when making your pick
Ranking the Top Online Casinos for Sic Bo
It can be a challenge to decide which real money Sic Bo websites to play at, simply because there are so many choices. We only recommend the very best, but how do we determine which ones fit the bill?
We consider many factors when ranking Sic Bo online casinos, and here are the most important.
The best sites are safe to use

A site needs to protect your financial data and ensure your content isn't lost. They also need to be reputable and trustworthy, so you know they won't disappear with your cash.
The best Sic Bo casinos provide fair games

All quality online casino sites should feature programs that ensure the fairness of games. They should provide a realistic experience in terms of how the game plays.
Online casinos should support many deposit options

Many of these venues can handle cards and online transfer services. Some real money online Sic Bo sites have started accepting Bitcoin and other cryptocurrencies, too.
Great casinos should offer fast payouts

When you're lucky enough to win some money playing Sic Bo, you shouldn't have to wait too long for your funds.
Generous bonuses should available

The best real money Sic Bo casinos offer promotions that provide "free" money for play at the tables.
There are several other qualities we look for, too, but the ones we've mentioned here are the ones that matter the most to your online gaming experience.
It's only by carefully examining all the available options that we're able to confidently state that our recommendations are genuinely the best Sic Bo casinos online right now.

Play Sic Bo Online With Live Dealers
One of the best ways to play online Sic Bo for real money is by playing with real dealers. Many online gaming venues offer Sic Bo games that feature real people running the games.
Here's how Sic Bo games with live dealers work.
There are dealers operating Sic Bo tables in a studio or actual gaming floor.
The action from these tables is streamed directly to you.
You place different bets on the table by clicking in the appropriate spots.
You have to complete those bets within enough time. There should be a timer on the site that lets you know when you need to finish your wagers before the next roll.
The dealer rolls the dice after the time runs out.
You get a payout based on whatever bets you match.
Live dealer Sic Bo games are among the most popular you will find at casinos. People appreciate live dealer games for how they are more realistic and offer a relaxed atmosphere. Taking time in between draws is a plus, as people won't rush their way through their Sic Bo games too fast.
Some of these live dealer games also come with chat features. You could interact with other players or with the Sic Bo dealer if you wish. The feature adds to the social experience that comes with the game.
It's even possible to play live dealer Sic Bo on your mobile device!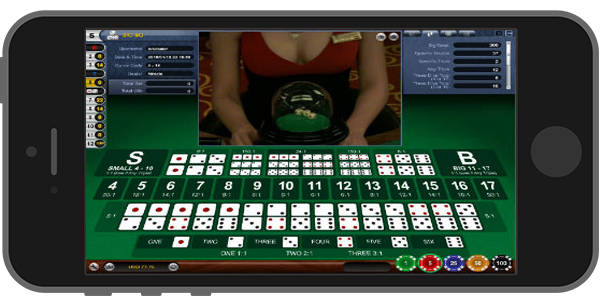 Real Money Sic Bo FAQ
Can you play Sic Bo online for real money?

A

Yes, and it's easy to do. You can get on the site and start playing after you complete your deposit.

Is it legal to play real money Sic Bo online?

A

Real money Sic Bo games are legal if you use the right site. The best real money Sic Bo sites have licenses from proper gambling authorities.

Is it safe to play online Sic Bo for real money?

A

The top online Sic Bo casinos feature many protective measures to ensure your content stays safe. These venues employ SSL encryption to protect your funds and your identity.

How many wagers can I place on a round of Sic Bo?

A

You can place as many wagers as you wish on a single roll.

Are there limits to how much I can wager?

A

You may be subject to some table limits when you play Sic Bo online for real money. There are typically table minimums, too, although these tend to be very low.