Gambling in Washington: Laws, Live Venues & Top Sites
Washington Gambling Law Overview
Casino Gambling: Legal
Tribal Gambling: Legal
Poker: Legal
Horse Racing Betting: Legal
Dog Racing Betting: Not Legal
Lottery: Legal
Daily Fantasy Sports: Not Legal
Charitable Gaming: Legal
Social Gambling: Legal
Online Gambling: Not Legal
In 2006, Washington gained infamy for making it a felony to play online casino games and poker.
Based on this, you'd think that the Evergreen State has one of the harshest gambling criminal codes known to man.
But Washington does offer a good deal of legal gaming options, including tribal casinos, horse racing, lotteries, charitable gaming, and social gaming.
Despite all of the legal forms of gambling in this state, you still need to be careful.
This is especially the case since Washington once prosecuted a man over a fantasy NASCAR site.
We'll discuss this incident later along with key laws that you should be aware of.
But let's first look at an overview of Washington's gambling industry.
Washington's biggest source of gaming revenue is the lottery, which generates over $700 million annually. After prizes and administrative costs are paid, approximately 25% of this amount ($175m) goes towards various state programs.
The Evergreen State also generates solid tax revenue off licensed cardrooms. The cardrooms earn over $250 million per year, with over $25 million of this going towards state taxes.
Washington's tribal casinos collectively earn almost $2 billion per year. But they don't have to pay taxes, meaning most of this money goes towards funding tribal needs and paying employees.
Washington Gambling Stats & Key Info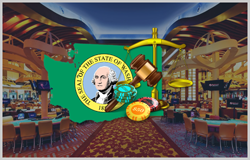 Age Requirements: 18-21, depending on casino
Approximate Annual Gambling Revenue: $3billion
Approximate Annual Gambling Taxes: $210 billion
Number of Commercial Casinos: 0
Number of Racinos: 0
Number of Tribal Casinos: 28
Casino Regulatory Body: Washington State Gambling Commission
Lottery National Rankings: 29th
One interesting thing about Washington's casinos is that they don't have a set gambling age. 18 is the minimum age for tribal casinos, but gaming establishments can also set the standard at 21.
Those old enough to enjoy Washington's casino gaming can look forward to a wealth of slot machines and table games. In fact, the entire state offers over 33,300 slots and 1,155 table games.
Auburn's Muckleshoot Casino is the largest gaming establishment in Washington, offering over 3,100 slot machines and 75 table games. Ilani Casino is the second biggest with 2,500 slots and 20 table games.
Beyond these large tribal establishments, Washington's gambling scene mainly consists of small bingo parlors, poker rooms, and mini casinos. The latter are limited to 15 tables, with potential games including baccarat, blackjack, Caribbean stud, Let It Ride, and Pai Gow poker.
Legal Status of Gambling in Washington
While lengthy, Washington's criminal code offers clear language on what constitutes legal and illegal gambling.
The only problem is that Washington's gambling laws seem to change on a regular basis. Because of this, you should contact a Washington-based attorney if you have any serious questions about the state's constitution and/or what we discuss here.
RCW 9.46.0237 defines gambling with the following:
"… staking or risking something of value upon the outcome of a contest of chance or a future contingent event not under the person's control or influence, upon an agreement or understanding that the person or someone else will receive something of value in the event of a certain outcome."
The majority of Washington's gambling punishments are aimed at those who operate unlicensed forms of gaming, engage in bookmaking, or cheat in licensed gambling. Here are some of the violations:
Offering greyhound racing in any form is a class B felony (RCW 9.46.039).
Offering any form of gambling without a license is a class B felon (RCW 9.46.160).
Aiding and abetting illegal gambling operations is a class B felony (RCW 9A.20.021).
Cheating in any form of licensed gambling is a class C felony (RCW 9.46.1961).
"Professional gambling," or rather operating and profiting from an illegal betting operation, is a class C felony (RCW 9.46.221).
Working for an illegal gambling operation is a gross misdemeanor (RCW 9.46.1962).
Using illegal gambling equipment is a felony violation (RCW 9.46.231).
It's illegal to transmit or receive "gambling information by telephone, telegraph, radio, semaphore, the internet, a telecommunications transmission system, or similar means (RCW 9.46.240)."
Below you can see penalties for violating Washington's gambling laws:
Misdemeanor – Up to 90 days in county jail and/or a $1,000 fine.
Gross Misdemeanor – Up to one year in jail and/or a $5,000 fine.
Class C Felony – Up to 5 years in prison and/or a $10,000 fine.
Class B Felony – Up to 10 years in prison and/or a $20,000 fine.
Based on all of the felonies and punishments, violating Washington's gambling laws is a scary prospect.
But the state has enough legal gambling opportunities that you shouldn't have a problem with this. These legal activities include: amusement games, bingo, card games, charity gambling, lotteries, pari-mutuel, punch boards, pull-tabs, and social gaming.
Below you can read what to expect from each of Washington's legal gambling activities.

Tribal Casino Gambling
Washington has a large number of tribal casinos that are run by over 20 tribes.
Most of these casinos are found in the western part of the state, near the Seattle-Tacoma area. Another concentration of casinos is found in the eastern part of Washington, near Spokane.
Ilani became the first major tribal casino to open near the southern border. This $500 million complex was built to take advantage of the nearby Portland metropolitan area.
As mentioned before, most Washington casinos are small operations that only offer table games. Referred to as mini casinos, these establishments have select hours and are limited to 15 tables or less.
Thanks to all of its casinos, the Washington gaming industry brings in almost $2 billion. This number could increase greatly as Ilani Casino continues maturing.

Charitable Gambling
Eligible charities are allowed to offer bingo and raffles, provided they obtain licensing. You can see stipulations for what constitutes an eligible charity below:
Qualified charities include any group that exists for "charitable, benevolent, eleemosynary, educational, civic, patriotic, political, social, fraternal, athletic, or agricultural purposes only."
Qualified corporations include any entity with a principal purpose to furnish volunteer aid to members of the armed forces and/or to mitigate the "sufferings caused by a pestilence, famine, fire, floods, and other national calamities."
Organizations wishing to offer charity gaming must have operated for at least 12 calendar months before being eligible for a gaming license.
Charity groups must also have no less than 15 bona-fide members with an equal right to vote in the election of officers and board members.
Organizations must have made significant progress towards accomplishing the purpose of their charity for 12 consecutive months.
Members of the charity can't profit in any way from gambling, and all proceeds must go to the recognized cause.

Lottery
Approved in 1982, the Washington Lottery offers an average variety of games when compared to other states.
Their offerings include daily keno, Hit 5, Lotto, Mega Millions, Powerball, and scratch-offs.

Pari-Mutuel Betting
Greyhound racing is explicitly banned in Washington's constitution, but horse racing is legal. The Washington Horse Racing Commission governs the state's racing industry.
Auburn's Emerald Downs and Sun Downs are the only tracks that offer live racing. The rest of Washington's horse racing industry is based on off-track betting facilities.

Poker
Washington has over 300 poker tables, which is far more than most states. In comparison, Nevada, America's gambling capital, has 730 poker tables.
But while Washington may have a lot of poker tables, they don't have many large cardrooms. The majority are 3-5 table venues that are based in bars or restaurants.
Mucklesshoot Casino owns the state's biggest poker room with 32 tables. Tulalip Resort has the next largest at 20 tables.
Both of these venues offer a wide variety of games, including 7-card stud, Crazy Pineapple, HORSE, limit Texas hold'em, no-limit Texas hold'em, Omaha, Omaha Hi-Lo, pot-limit Omaha, and Razz.

Social Gambling
Social card games are legal under Washington law. Here's how RCW 9.46.0265 defines a participant in these social games:
"A natural person who gambles at a social game of chance on equal terms with the other participants shall not be considered as rendering material assistance to the establishment, conduct or operation of the social game merely by performing, without fee or remuneration, acts directed toward the arrangement or facilitation of the game, such as inviting persons to play, permitting the use of premises for the game, or supplying cards or other equipment to be used in the games."
As you can see, the key distinction is that nobody takes a cut of the action or profits through other services (i.e. selling drinks and food).
While the Evergreen State is fine with you playing card games, office betting pools are considered illegal. Covered in this report, the Washington State Gambling Commission offers the following on the subject:
"However, bracket pools, office sports pools, and fantasy sports have never been authorized as gambling activities in Washington State and are illegal."
Where Can I Gamble in Washington?
Online Gambling Options in Washington
In 2006, Washington amended their constitution to include the strictest laws against online gaming anywhere.
The state can pursue felony charges against anyone caught playing at an internet gaming site. Here's the law, as per RCW 9.46.240:
"Whoever knowingly transmits or receives gambling information by telephone, telegraph, radio, semaphore, the internet, a telecommunications transmission system, or similar means, or knowingly installs or maintains equipment for the transmission or receipt of gambling information shall be guilty of a class C felony subject to the penalty set forth in RCW 9A.20.021."
As covered before, Washington's class C felony charge carries up to 5 years imprisonment and a $10,000 fine.
This punishment is harsh to say the least. But the good news is that the Evergreen State has never prosecuted anybody for playing online casino or poker games.
Nevertheless, you'll have trouble finding offshore casinos, poker sites, and sportsbooks that are willing to serve Washington.
Attempts to Legalize Online Poker in Washington
Ever since Washington amended their constitution to make online gaming illegal, there have been attempts to challenge RCW 9.46.240 and legalize poker.
The first challenge came from poker player Lee Russo and the Poker Players Alliance (PPA) in 2010. Russo and the PPA argued that Washington residents have the right to play poker, and they shouldn't be subject to a felony for doing so.
The Washington Supreme Court admitted that they don't endorse the law. But they also ruled that state legislators have the right to pass such a statue and punishment.
House Bill 1824 was introduced in 2013 as a means to reduce the penalty for recreational online poker players to a civil infraction. The legislation received a short hearing but never advanced.
In 2015, state Rep. Sherry Appleton introduced HB 1114, which would've legalized internet poker. Unfortunately, the bill never gained much traction.
Appleton and state Rep. Vincent Buys reintroduced the legislation in 2016. Once again, the bill failed to even get a hearing.
Despite the lack of success for online gaming legislation, politicians are at least taking steps towards reducing Washington's draconian iGaming laws.
Washington Arrests NASCAR Fantasy Operator
As reported by KXLY.com, the Washington State Gambling Commission arrested a Spokane man for running an online fantasy NASCAR site.
David Watkins, who operated FantasyThunder.com, was arrested in 2011 after running the site for a decade.
Several players claimed that Watkins owed them money, which was part of the reasoning behind the raid. Furthermore, Watkins was said to have kept half of the fantasy fees, which is an enormous commission for fantasy sports.
The gambling commission agents charged Watkins with running an illegal gambling site, and transmitting gambling information by computer and telephone.
Watkins' punishments included receiving 12 months' probation, forfeiting $100,000 in profit, and seeing FantasyThunder shut down.
Daily Fantasy Sports Declared Illegal in Washington
The David Watkins case was brought up during a lawsuit between the state of New York and leading daily fantasy sports (DFS) sites. The reason why is because Washington is the only American state to have prosecuted a fantasy sports site.
According to ESPN, the Washington State Gambling Commission was asked to comment on the case regarding New York.
"Any DFS company operating in Washington or providing services to Washington residents would be illegal under state law," said a spokesperson.
This statement is in line with Watkins' 2011 arrest and Washington's tough laws on internet gaming.
Cowlitz Tribe Opens $510 Million Ilani Casino
Backed by Connecticut's Mohegan Tribe and opened by Washington's Cowlitz Tribe, Ilani Casino launched tofanfare in 2017.
The $510 million complex has gained attention for its vast number of slot machines, 15 restaurants, and Vegas-style resort amenities. Its location is also a hot topic because Ilani is located in La Center, WA – just 25 miles from downtown Portland, Oregon.
The strategic location is used to take advantage of Portland's metropolitan population of 2.39 million. The casino also benefits from limited competition in Portland, where only a few cardrooms and distant tribal casinos exist.
Ilani Casino has immediately provided benefits to the Cowlitz Tribe, which was poor due to failed land negotiations with the US government in the 19th century.
But while Ilani might be a boon to the Cowlitz, it's hurting Oregon's Grande Ronde Community Tribe. The Grande Ronde own the Spirit Mountain Casino south of Portland, and they estimate that they're losing 40% revenue due to the new casino.
According to USA Today, the Oregon tribe sued to prevent the Ilani Casino from opening. But the Grande Ronde Community dropped their lawsuit in 2016.
Washington Gambling FAQ
Are Daily Fantasy Sports Legal in Washington?
No. DFS falls under the umbrella of RCW 9.46.240, which makes it a felony to engage in online gaming. The Washington State Gambling Commission backed this up by saying that DFS is illegal by state law.
In 2015, state Rep. Eric Pettigrew and state Sen. Pam Roach introduced legislation that would've classified DFS as a skill-based activity. But like many other online gaming bills in Washington, this legislation didn't go anywhere.
Is My Home Poker Game Legal
Yes. Washington's constitution states that social card games are fine, provided the host isn't banking the action and/or providing through other means.
But Washington does allow cities to pass local ordinances that ban social gaming. As reported by Fox News, the Gambling Commission shut down nickel-and-dime poker games at the Snohomish Senior Center.
The reasoning is that a local ordinance bans gambling in Snohomish, and the seniors continued to play poker anyways.
Is My March Madness Betting Pool Legal?
No. The Washington State Gambling Commission has previously stated that office betting pools and fantasy sports are illegal.
It's odd that the state would allow friendly card-game wagers, but not betting on the NCAA March Madness tournament. Our guess is that Washington had a trouble with bookmaking in previous decades and has carried a strict anti-sports betting stance.
We're not encouraging you to offer office betting pools every year. But we can't find one instance of somebody being arrested for running a non-profit March Madness bracket.
Odds are that you'll be perfectly fine as long as nobody in the office betting pool is taking fees from players.
History of Washington Gambling Laws
State government makes gambling illegal to help curb the problem

Horse racing banned
Pari-mutuel betting legalized
Government approves slot machines for charity organizations
Washington Supreme Court bans slot machines for non-profit purposes
Voters reject giving cities the right to offer charity gaming
Bingo and raffles approved; law enforcement arrests 50 police officers and officials for taking gambling bribes
Voters reject greyhound racing
Washington Gambling Commission created to monitor charity gaming
Puyallup Tribe opens Washington's first casino
Federal government orders Puyallup Casino to close
Voters approve state lottery
Several tribes open bingo halls, while Lummi Tribe offers blackjack
: Indian Gaming Regulatory Act passed
Lummi Tribe opens state's first authorized casino
Tulalip Tribe opens casino
Nooksack Tribe opens casino
Voters reject bid from 19 tribes to offer slot machines at their casinos
Gov. Gary Locke signs compact with 12 tribes that allows slot machines
Washington bans all forms of online poker
State makes various changes to poker limits at cardrooms
State raises Texas hold'em limits from $40 to $100 due to voter demand
Bills to legalize online poker both fail to advance
Casino Ilani opens near Oregon border
Conclusion
Washington changes their gaming laws more than most states. We're not sure why, but legislators can't seem to stop tinkering with their gambling legislation.
We reiterate that you should contact a Washington attorney if you have any major questions beyond what we've covered.
But as a rule of thumb, you should be fine as long as you avoid online gaming and unlicensed gambling establishments.
For whatever reason, Washington decided internet gaming is so bad that they made the activity a felony. Fortunately, some politicians are making efforts to legalize iGaming, or at least lessen the stiff punishments.
In the meantime, you can enjoy a wide range of other gambling activities in the Evergreen State, including charitable gaming, horse racing, lotteries, social gaming, poker, and tribal casinos.
Given that Washington has 94 gaming establishments, you'll never have to look far to place a legal bet.