Gambling in Oklahoma: Laws, Live Venues & Top Sites
Oklahoma Gambling Law Overview
Casino Gambling: Legal
Tribal Gambling: Legal
Poker: Legal (Tribal Only)
Horse Racing Betting: Legal
Dog Racing Betting: Not Legal
Lottery: Legal
Daily Fantasy Sports: Not Specified
Charitable Gaming: Legal
Social Gambling: Not Legal
Online Gambling: Not Specified
Like other states in the Midwest, Oklahoma doesn't have a big population at 3.92 million residents.
Despite its smallish population, the Sooner State has become the capital of tribal gaming, with dozens of Native American casinos located within its borders.
Of course, this should be little surprise when considering that Oklahoma has the highest per-capita number of Native American residents.
The tribal casinos collectively bring in billions of dollars every year, giving Oklahoma one of the biggest casino industries in the US.
With how large their tribal gaming presence is, you'd think that the state would be more lenient with other forms of gaming.
But they have strict regulations against most other gambling, including bans on social gaming, and felony laws against sports bettors.
With harsh statues in place, Oklahoma is definitely one state where you don't want to violate gambling laws. That said, let's continue discussing their laws and overall gaming industry.
As covered in the introduction, Oklahoma has a thriving tribal gaming market. And one big reason for this is because the state's tribes are allowed to offer both Class II and Class III gaming.
The Class III category includes Vegas-style gaming like baccarat, blackjack, craps, roulette, three-card poker, and slot machines.
Class II gaming consists of bingo, pull-tabs, and punch boards. This category also features slot machines that determine results with electronic bingo drawings, rather than random number generators.
Under the Indian Gaming Regulatory Act (IGRA) of 1988, states are only mandated to allow Class II games when they negotiate compacts with tribes.
But given that Oklahoma's tribes can also offer Class III games, they're able to draw more players thanks to increased variety.
This has been good for both the tribes and state. Oklahoma casinos collectively made a record-$4.2 billion in 2014, and they've continued to generate a significant amount of revenue ever since.
Native American casinos only have to pay exclusivity fees from their Class III earnings. This amount reached $2.2 billion in 2016, with $132 million going to the state in fees.
Oklahoma's other big source of gambling revenue comes from their lottery, which generates $200 million in ticket sales per year.
35%, or $70 million, of this amount goes towards the state, which is then distributed among the K-12 school fund, teachers' retirement, career tech, and higher education fund.
Oklahoma Gambling Stats & Key Info
Age Requirements

18 & 21

Approximate Annual Gambling Revenue

$2.4 billion

Approximate Annual Gambling Taxes

$200 million

Number of Commercial Casinos

0

Number of Racinos

1

Number of Tribal Casinos

126

Casino Regulatory Body

Oklahoma Office for State Finance, OSF Games Compliance Unit, Oklahoma Indiana Gaming Association

Lottery National Rankings

37th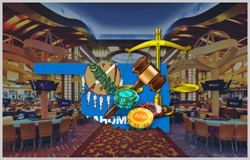 The reason for the split minimum gambling ages is that some reservations allow 18-year-olds, while others set the minimum at 21.
Another odd thing about Oklahoma's gaming market is that it's governed by multiple entities. We see that the Oklahoma Office for State Finance and OSF Games Compliance Unit have a hand in state-regulated activities, while the Oklahoma Indian Gaming Association handles the casinos.
Speaking of which, there are numerous tribal casinos to oversee. We still can't get over how a state with less than 4 million people features 126 casinos.
The biggest of these casinos is WinStar World Casino & Resort, which is also one of the largest gambling establishments in the world. WinStar features 7,400 slot machines, 96 table games, and a big poker room.
The second-largest casino is the Norman-based Riverwind, which offers 2,700 slot machines and 96 table games.
Legal Status of Gambling in Oklahoma
Despite their warm embrace of tribal gaming and the money it brings, Oklahoma isn't tolerant of most other forms of gambling. This is why it's important that you understand as much as possible about their gaming laws before playing anything outside of casinos.
The best place to start is with how Oklahoma's criminal code defines an illegal bet, as per statue 21-981 (1):
"A 'bet' is a bargain in which the parties agree that, dependent upon chance, or in which one of the parties to the transaction has valid reason to believe that it is dependent upon chance, one stands to win or lose something of value specified in the agreement."
This statue goes on to carve out exceptions for business transactions, rodeos, fairs, athletic tournaments, and approved charity gambling.
Statue 21-981 offers a broad definition of illegal bets that doesn't leave much room for gambling outside of casinos. In fact, section 21-942 makes it illegal to even participate in a private gaming function:
"Any person who bets or plays at any of said prohibited games, or who shall bet or play at any games whatsoever, for money, property, checks, credits or other representatives of value with cards, dice or any other device which may be adapted to or used in playing any game of chance or in which chance is a material element, shall be guilty of a misdemeanor, and upon conviction thereof shall be punished by a fine of not less than Twenty-five Dollars ($25.00), nor more than One Hundred Dollars ($100.00), or by imprisonment in the county jail for a term of not less than one (1) day, nor more than thirty (30) days, or by both such fine and imprisonment."
As you can see, Oklahoma's laws leave open the possibility of up to 30 days' imprisonment if you're caught engaging in any type of private gambling. This means no social poker games, office betting pools, or making sports bets with your buddies.
One thing that you definitely want to avoid in the Sooner State is holding a for-profit gambling function because it's a serious felony. As per statue 21-941, anybody guilty of holding or dealing an illegal gambling game is subject to a fine between $500 and $2,000, and 1-10 years in a state penitentiary.
The good news is that we only see a couple of incidents where people have been busted for private gaming within the last decade. Nevertheless, it's wise to proceed with caution if you engage in any social gambling functions here.
Casino (Commercial) Gambling
Oklahoma doesn't have any commercial casinos, and this is explicitly outlawed in their criminal code.
Defined in statue 21-982, commercial gaming includes anything from taking profits from a gambling place to conducting an illegal lottery. Anybody found guilty of violating commercial gaming laws is subject to a $25,000 fine and up to 10 years in state prison.
Given that Oklahoma generates over $130 million from tribal exclusivity fees, they're very protective of their casino industry. The government is also motivated by the fact that these casinos employ more than 37,000 Oklahomans and have a $1.2 billion impact on the state economy.
Charitable Gaming
As per the Oklahoma Charity Games Act, charitable gaming is legal in this state. But considering the penalties and charges that we covered above, you'll want to make sure that your form of charity gaming is approved by the state.
Covered in Title 3A sections 401 and 402, the Oklahoma Charity Games Act allows approved charities to offer bingo, pull-tabs (break open tickets), and raffles. But charities aren't allowed to hold any form of casino-style gaming or poker tournaments.
Regarding accepted charities, Statue 21-1051v2 (3)(a) reads that churches, public & private schools, student groups, parent-teacher organizations, fire departments, and police departments can all use charity gambling to raise money.
This statue also stresses that nobody from the charity can profit in any way from the gambling action.
Horse and Dog Racing
Passed in 1983, the Oklahoma Horse Racing Act allows betting on horse racing. In 2004, a referendum was passed to allow racetracks to add casino-style gaming.
The state only has three racetracks right now, including Sallisaw's Blue Ribbon Downs, Oklahoma City's Remington Park, and Claremore's Will Rogers Downs.
Lottery
When compared to other states, Oklahoma was late to pass and approve lottery legislation, doing so in 2004 and 2005.
Although the Oklahoma Lottery hasn't been as lucrative as tribal gaming, it still provides a significant amount of money to the state's school system and higher education fund.
The Oklahoma Lottery offers scratch-off tickets, state drawings, and multi-state tickets for Mega Millions and Powerball.
Poker
Oklahoma has one of the best poker scenes in the Midwest, with rooms featured at a number of their tribal casinos.
The largest poker room is found at WinStar World Casino & Resort. They regularly offer full cash tables along with a weekly tournament schedule with 5-figure events.
Social Gambling
Again, statue 21-942 makes it illegal to hold gambling events of any type. This law fails to exempt any form of private gaming, meaning even low-stakes poker games and office betting pools are technically illegal.
Odds are slim that your penny ante poker game played with buddies will be raided by the police. But we suggest avoiding high stakes games, and playing any place where somebody is collecting rake.
After searching, we found two incidents where private gaming functions were busted by police.
According to NewsOn6, police raided a Tulsa bar in 2013 because they were holding an illegal poker game. An undercover officer scouted out the game and found that the bar owners were asking players to pay chips to stay in the game, which is illegal by Oklahoma law.
As reported by WRAL, police, federal agents, and the National Guard busted a warehouse that was holding a high stakes poker game. Local police asked for backup because they believed that guns and drugs were on the scene.
Following the raid, authorities arrested 41 people on drug, gambling, and weapons charges.
Tribal Gambling
Oklahoma's congress approved the State Tribal Gaming Act in 2004, and voters approved the measure later the same year. This cleared the way for tribal casinos to offer both Class II and Class III gaming.
The only catch is that tribal casinos aren't allowed to offer house-banked table games. But tribes get around this rule by taking fees before hands begin.
Other than this small tweak, Oklahoma tribal casinos are much like establishments found in Las Vegas, Atlantic City, and other major US gambling hubs.
Where Can I Gamble in Oklahoma?
Online Gambling Options in Oklahoma
No part of Oklahoma's constitution specifically addresses online gaming. But their criminal code does include vague language that could potentially be used to drum up a case against online gamblers.
One such section is 21-964 (A)(2), which covers electronic devices used in gaming:
"Any machine, instrument, mechanism, or device that operates or may be played or operated mechanically, electrically, automatically, or manually, and which can be played or operated by any person by paying to or depositing with any person, or by depositing with or into any cache, slot, or place a coin, chip, token, check, credit, money, representative of value, or a thing of value, and by which play or operation such person will stand to win or lose, whether by skill or chance, or by both, a thing of value."
This statue addresses many characteristics of an illegal slot machine. But some of the language can also address making online casino deposits with a computer or smartphone.
Normally, this wouldn't bother us too much because many states have vague language that can apply to mobile devices and computers. But Oklahoma does have one incident in their past involving a gambler who was indicted on three counts of illegal gaming, including "using a computer to gamble."
According to NewsOK, Oklahoma City police officer Roland Benavides was betting on horse racing at online sportsbooks in 2011. While this is troubling for any online gambler in the state, the internet gaming charges were a byproduct of an investigation into Benavides' performance as a police officer.
Other than Benavides, we can't find any other incidents of online gamblers being arrested. That said, many in the Sooner State continue playing at offshore casinos, poker sites, and sportsbooks without fear.
Tribes Open Online Poker Site
In 2013, the Arapaho and Cheyenne Tribes launched a site called PokerTribes.com, which offered real money online poker to Oklahomans.
Gov. Mary Fallin said that PokerTribes couldn't feature in-state real money gaming because it's not covered in their compact. But Fallin did allow the tribes to service international players, provided they gave 20% of revenues to the government.
Despite the governor's approval, the Department of Indian Affairs denied the request while citing that it went against the IGRA.
The Arapahos and Cheyennes eventually dropped the project after pouring $9.5 million into it. As reported by NewsOK, the reason given was a change in political structure within both tribes.
Considering the financial struggles of the tribes after spending so much money on legal fees and building the website, it's likely that PokerTribes.com's failure played a role in the leadership changes.
The Iowa Tribe picked up where these tribes left off in 2016, hoping to offer online poker to international players. They too ran into legal challenges, but won the right to offer real money play when District Judge David L. Russell ruled in the Iowa Tribe's favor.
Bill to Legalize Daily Fantasy Sports
Two different bills to legalize and regulate daily fantasy sports (DFS) have been introduced to the state legislature. But HB 2278 and SB 1396 never gained any traction due to serious challenges from tribal gaming interests.
A coalition of tribal leaders was formed to combat both pieces of legislation.
Following the disappearance of the bills, Cherokee Nation Chief Bill Jon Baker wrote a letter supporting the defeat of legal DFS. Baker also made it clear that the tribes would continue to contest any efforts to make DFS legal in the state.
Taking this into account, it's clear that Oklahoma tribes won't go for any form of internet gaming unless they're at the forefront.
Oklahoma Gambling FAQ
Are Class II Slot Machines Fair?
Yes. Class II and Class III slot machines both deliver fair and random results. The only difference is in how the combinations are determined.
In the case of Class II machines, results coincide with bingo numbers that are drawn while you're playing. When your slot machine hits the right combination of bingo numbers, you win the prize that's awarded in the coinciding bingo draw.
Class III slot machines, or those commonly featured at commercial casinos, operate through a random number generator (RNG). The RNG cycles through millions of number combinations that determine if your spin is a winner or loser.
Oklahoma tribal casinos can offer both types of slots, although they have to negotiate and gain approval for Class III slot machines.
No. Oklahoma's criminal code makes it clear that any type of gambling function outside of approved options is illegal.
Section 21-942 of the criminal code discusses how participating in any game where items of value are being exchanged is illegal.
But it's highly unlikely that a low-stakes poker game will be the target of law enforcement. In fact, the only instances we can find of games being busted within the past 10 years involve a bar charging mid-game fees, and a warehouse with guns and drugs.
We're not saying this clears you for social gambling. But you should be fine as long as it's a low-key function where the host isn't profiting in any manner.
How Can PokerTribes.com Be Legal?
The key issue behind the Iowa Tribe's fight for legal internet poker – as well as the Arapaho and Cheyenne Tribes before them – is that reservations are sovereign territories. And this should give them the right to offer online poker to international residents if their tribal laws allow it.
Of course, Oklahoma also has the right to determine what should and shouldn't be allowed within their borders. The key stipulation for Gov. Mary Fallin is that she didn't want PokerTribes offering real money play to her residents.
The Department of Indian Affairs provided legal challenges along the way because they don't think internet poker falls in line with the IGRA. But the tribe won this legal battle and now offers online poker to those outside the US.
They also offer play money games to anybody living within America.
Why Does Oklahoma Only Have Tribal Casinos?
In many ways, the Sooner State is an anomaly when it comes to gambling.
They approved the lottery and tribal gaming much later than most states. But due to their large Indian population, tribal gaming quickly exploded.
Tribes are understandably against commercial casinos run by private companies. And given the large Native American influence in the state, commercial gambling has never been given serious thought.
It also doesn't hurt that Oklahoma's government earns more than $130 million annually for allowing tribes exclusive rights to casino gaming. While this is only 5-7% of annual tribal casino revenue, it's still significant for a state this size.
History of Oklahoma Gambling Laws
1916
Oklahoma bans all forms of gambling
1983

State passes Horse Racing Act
2004
Tribal casinos approved
2005
Oklahoma Lottery approved
2013
Tribes allowed to offer international online gambling, but not to in-state residents
2014
Tribal Casinos earn record $4.2 billion in revenue
2016
Oklahoma's Iowa Tribe launches international real money poker site
Conclusion
Oklahoma is a great gambling state if you're mostly interested in land-based casinos. That's because they have dozens of Native American casinos with Class II and Class III gaming.
With at least one casino in every Oklahoma county, you never have to go far to find a gaming establishment.
Another notable form of gambling here is the Oklahoma Lottery, which offers a variety of tickets for both state and multi-state lotteries.
Downsides to this gambling market is their stance on private gambling. With how liberal Oklahoma is towards tribal casinos, we're surprised that you're not even cleared to play a social dice or card game with your buddies.
The state also frowns upon internet gaming, based on their dealings with the Iowa Tribe and the Roland Benavides case. And considering the tribal coalition's opposition to DFS, we don't ever see Oklahoma legalizing and regulating online gaming.
Because of this, offshore casino, poker, and sports betting sites remain Oklahomans' best option to gamble online. And outside of the Benavides case – which stemmed from an investigation into his law enforcement career – we don't see much danger in playing online casino games within state lines.