Gambling in Nevada – Best Gambling Sites and Legal Status
Nevada Gambling Law Overview
Casino Gambling: Legal
Tribal Gambling: Legal
Poker: Legal
Horse Racing Betting: Legal
Dog Racing Betting: Not Legal
Lottery: Not Legal
Daily Fantasy Sports: Legal
Charitable Gaming: Legal
Social Gambling: Legal
Online Gambling: Legal
In 1931, Nevada became the first state to legalize casino gaming. Since then, they've built a massive gambling empire that features over 320 casinos across the state.
This means that you'll never have to look far when searching for a gaming option in the Silver State.
But even Nevada has its limits because they're one of only five states that doesn't have a lottery. And while pari-mutuel wagering is legal in Nevada, they don't have any active racetracks.
We also found some antiquated language in the state criminal code that spells out problems for law-abiding gamblers.We'll discuss this in the Legal Status section, but let's first review Nevada's gambling industry.
While more and more states are offering legal casinos, none come close to generating the same kind of gambling revenue that Nevada does.
Casinos across the state haul in over $11 billion per year from gambling alone. According to UNLV's Center for Gaming Research, almost $6.4 billion of this amount comes from the Las Vegas Strip.
Nevada's other big sources of gambling revenue are as follows:
Washoe County = $809.6 million
Boulder Strip = $788 million
Downtown Vegas = $564.6 million
Nevada has one of the lowest gambling tax rates in the world. They levy a 6.75% tax on gaming revenue, along with another 1% in fees (7.75% total).
Due to this ultra-low tax rate, Nevada earns less tax revenue that other states like Pennsylvania and Indiana, which generate far less gaming revenue.
But the Silver State also collects another $2 billion on resort taxes and fees, meaning casino resorts generate over $2.8 billion in annual tax money. And this doesn't even begin to measure the impact of casinos employing 170,000 people throughout the state.
Nevada Gambling Stats & Key Info
Age Requirements

21

Approximate Annual Gambling Revenue

$11.1 billion

Approximate Annual Gambling Taxes

$860 million

Number of Commercial Casinos

324

Number of Rancinos

0

Number of Tribal Casinos

0

Casino Regulatory Body

Nevada Gaming Control Board

Lottery National Rankings

N/A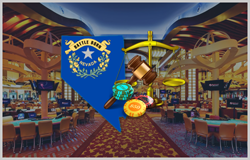 Transition to Legal Status of Gambling
As you can see in the stats box, Nevada has 324 casinos at the time of this writing.
The Venetian is the largest of these casinos, offering 3,400 slot machines and 160 table games over 120,000 square feet.
The MGM Grand is the biggest in terms of space, spanning 170,000 square feet and offering 2,500 slots and 170 table games. Red Rock Casino Resort & Spa is also significant, offering 2,700 slot machines across 87,000 square feet.
What's amazing is that these are just a few of the numerous large casinos found on the Vegas Strip.
Legal Status of Gambling in Nevada
In statue 463.0129, Nevada states how important casino gambling is to their economy and that strict regulations are needed to protect this industry.
They're not kidding about the strict regulations either. NRS 465.088 states that the max penalty for a felony gambling conviction is a 1-6 year prison sentence and $10,000 fine.
Discussed in sections 465.070 to 465.085, these punishments are reserved for serious offenses like cheating in casino games, point shaving (sports betting), and dealers/managers working with players to cheat.
You're guilty of a misdemeanor if caught gamblingbeyond licensed activities in Nevada. NRS 463.0153 defines gambling as follows:
"… to deal, operate, carry on, conduct, maintain or expose for play any game as defined in NRS 463.0152, or to operate an inter-casino linked system."
NRS 463.0152 lists the following as examples of gambling:
Baccarat
Beat the banker
Big injun
Big klondike
Bingo
Blackjack
Chemin de fer
Chinese chuck-a-luck (dai shu)
Chuck-a-luck
Craps
Fan-tan
Faro
Monte
Pai gow
Panguingui
Poker
Roulette
Seven-and-a-half
Slot machine
Twenty-one
Wheel of fortune
Any banking or percentage game
Any other game or device approved by the commission
The big problem with this list is that only 10 of these games are actually found in casinos. You'll need Google to figure out what the other half of these outdated games are.
You can definitely tell that this section was written decades ago, and the modern gambler will have no idea what big injun, big Klondike, and cluck-a-luck are.
While this list may be useless, it's easy to stay on the right side of the law thanks to all of Nevada's casino options. We'll discuss these more below along with Nevada's other forms of legal gambling.
Casino Gambling
While Nevada has transformed itself into an all-around entertainment destination, their brick-and-mortar casino industry still represents a large chunk of the state's tourism.
324 casinos are spread throughout Nevada, with Las Vegas housing over 100 casinos itself.
Other casino hubs in the Battle Ready State include Reno, Laughlin, and Carson City. Reno is the most notable of these because it has 20 casinos along with ski resorts and other attractions.
What's fun about Nevada's casino industry is that you can find slot machines virtually anywhere, whether it be an airport, bar, gas station, or restaurant.
The only major Nevada town that's banned gambling is Boulder City, which is located less than 30 miles from Vegas. Boulder City was built to house Hoover Dam workers, and they outlawed gambling to protect the dam workers' income.
Charitable Gaming
This state has liberal charity gambling laws, allowing civic, educational, fraternal, humanitarian, patriotic, and religious groups to hold gaming fundraisers.
These nonprofit organizations can offer bingo, lottery, raffle, and casino night events to raise money. But all of the proceeds must go to the designated charity or cause.
Daily Fantasy Sports
In 2015, the Nevada Attorney General's office wrote a 17-page paper detailing how daily fantasy sports (DFS) constitutes gambling. They then asked industry leaders DraftKings and FanDuel to vacate the market because they're unlicensed operations.
Nevada issued their first DFS license to USFantasy, with operates through casino sportsbooks.
As reported by Engadget, USFantasy's games don't work like normal DFS. Instead of having a limited salary cap, USFantasy players choose athletes at a certain position and bet where they'll rank at that position.
Engadget noted that this feels more like horse racing than traditional DFS.
Horse Racing
Horse racing is legal in Nevada, but they don't have any active racetracks. The only live racing is performed at the state's fairgrounds on a limited basis.
The large majority of Nevada's horse racing industry centers on off-track wagering. You can find simulcast betting at many casinos throughout the state.
State Lottery
Along with Alabama, Alaska, Hawaii, and Utah, Nevada is one of only 5 states without a lottery.
Many attempts have been made to instate a lottery over the years, but Nevada's casino industry has always opposed such measures.
When the state first legalized gambling, they wanted to focus on casinos. And this line of thinking continues decades later.
Live Poker
Nevada is home to the largest concentration of poker tables in the world. Over 500 poker tables are found in Las Vegas alone, while the state features over 730 tables.
Vegas has several famous high stakes poker rooms, including the Bellagio (Bobby's Room), Aria (Ivey Room), and Wynn Poker Room.
Sin City also hosts the annual World Series of Poker (WSOP), which is the biggest poker tournament series on the planet.
Held every year from May to July, this event draws over 100,000 poker players and offers more than $200 million in prize money.
Social Gambling
NRS 461.0152exempts social gaming from Nevada's gambling definition with the following passage:
"[Gambling] does not include games played with cards in private homes or residences in which no person makes money for operating the game."
No state constitution offers a more clear-cut indication of social gaming's legality than this.
The key is that the host or person operating the game doesn't profit in any way, including serving food and drinks.
Sports Betting
Nevada is one of only four states where sports betting is legal. And they're the only state that offers full-blown sports wagering.
Nevada was grandfathered into the Professional Sports and Amateur Protection Act (PASPA) in 1992, which bans sports betting on a federal level. Given that the Silver State already featured sportsbooks, they were allowed to continue doing so.
The only other American state that currently offers sports betting is Delaware, which is limited to NFL parlays. Meanwhile, Nevada has full-service sportsbooks that offer action on a wide range of sports and bets.
Nevada sportsbooks handle $4 billion in annual bets, winning over $220 million of this amount.
Tribal Gaming
A little-known fact about Nevada's gaming industry is that they also feature two tribal casinos. These include the Avi Resort and Snow Mountain Smoke Shop.
Both casinos are on native reservations, and they don't have to pay taxes to the Nevada government. But the downside is that these casinos must deal with intense competition from numerous commercial gaming venues.
Where Can I Gamble in Nevada?
Online Gambling Options in Nevada
Just like Nevada was the first state to legalize casinos, they're also the first to legalize online poker.
The Nevada Gaming Control Board approved regulated internet poker in December, 2011, while the state House and Senate passed the bill in February 2013.
Ultimate Poker was the first site into the market, launching in April 2013. But they didn't experience much success and shut down their poker site in November 2014.
WSOP.com is the most-successful poker site in Nevada, averaging around 200 cash game players per hour. Real Gaming is the only other option, but their traffic has been nonexistent ever since they opened in late 2014.
Success has been limited for Nevada's online poker market. Despite nearly 40 million tourists visiting Las Vegas every year, their iPoker operation only made $11 million in 2014.
After this, Nevada announced that they'll no longer release revenue reports until they have 3 operators.
One weakness to the state's online gaming market is that you can only play poker. The state chose to experiment with internet poker first, while there's no word on if online casino games will be legalized.
At the time of this writing, Nevadans only options for iGaming include the WSOP.com and Real Gaming poker rooms.
Sharing Online Poker Players with Delaware
In February 2014, Delaware Gov. Jack Markell and Nevada Gov. Brian Sandoval signed an interstate online poker pact. Taking effect in March 2015, the deal sees both states share their internet poker pools to increase liquidity.
This was a necessary move by both states due to their small populations and lower-than-expected poker traffic. The network isn't thriving, but it's producing better results than what was seen prior to the compact.
Efforts to Legalize a Lottery
Since 1975, almost 30 attempts have been made to legalize a lottery in Nevada. And every attempt has failed up to this point.
As the Las Vegas Review-Journal points out, the main reason is because the casino industry is staunchly against adding more competition. Nevadans must drive to neighboring states like California and Arizona to purchase lottery tickets.
Assemblyman Harvey Munford attempted to change this in 2015, proposing a bill to legalize the lottery. While his legislation received praise from both the house and senate, it never got a committee vote.
"There is no question but that the gaming people put pressure on leadership to kill it," said Munford.
Vegas Transforms into All-Around Entertainment Destination
Nevada was hit hard by the Great American Recession in the late 2000s. Tourism and gambling revenue fell during this period since Americans had less money to spend.
Las Vegas took this opportunity to transform their focus from gambling to becoming an all-around entertainment destination.
Over the past several years, Nevada resorts have put more effort into their nightclubs, restaurants, pools, shopping, and spas. Examples of these changes include:
A 20,000-seat arena being built near Monte Carlo and New York-New York casinos.
Monte Carlo spending $450 million to renovate The Park, a dining and shopping area.
MGM contributing to art exhibits around the city.
A new Topgolf complex that allows players to golf at simulated versions of famous courses.
Building Las Vegas Stadium, which will be home to the Las Vegas Raiders NFL team.
The good news for Vegas is that these efforts have paid off. 2016 was a record year for Sin City, with 42.9 billion visitors spending $35.5 billion.
Less than 32% of this amount was spent on gambling, which is a far cry from a decade ago, when over 50% of revenue came from gaming.
The Millennial Gambling Dilemma
While Nevada has expanded its entertainment horizons to generate revenue in different ways, casinos are still trying to crack the millennium puzzle.
Those aged 21-34 aren't spending much on casino games, but rather putting their money towards clubbing, dining, and shopping.
Casinos are now trying to capture this demographic's attention through skill-based gaming and eSports. Most millennials aren't interested in house-banked games, so skill-based games could further entice them.
These efforts are in their beginning stages, and it'll be a while before we know how successful they are.
Nevada Gambling FAQ
Can I Play at Online Casinos and Sportsbooks in Nevada?
No. The only internet gaming options you have in the Silver State include their licensed poker sites.
Nevada's constitution has two different sections that address the illegality of online gaming. The first comes from NRS 465.093 (a), which discusses using devices to bet outside of Nevada:
"… place, send, transmit or relay through a medium of communication a wager to another person or an establishment that is located within or outside of this state."
NRS 463.016425 explains how it's illegal to send or receive money from gaming sites:
"'Interactive gaming' means the conduct of gambling games through the use of communications technology that allows a person, utilizing money, checks, electronic checks, electronic transfers of money, credit cards, debit cards or any other instrumentality, to transmit to a computer information to assist in the placing of a bet or wager and corresponding information related to the display of the game, game outcomes or other similar information."
In short, you should avoid placing any bets outside of the regulated online poker sites that Nevada offers.
Where do I Find the Best Odds in Vegas?
Generally, you'll find the best casino odds off the Vegas Strip, including the downtown area and North Las Vegas.
These areas are less visited than the Strip because they don't have the same lavish resorts and amenities. This means you can find lower stakes and better odds at many downtown and North Vegas casinos.
Here are some examples of what you'll find away from the Strip:
Some of the loosest slot machines are found at Boulder Station, Gold Coast, Green Valley Ranch, Red Rock, Sunset Station, and Texas Station.
El Cortez and the Alamo truck stop casinos are good for low-stakes blackjack with player-friendly odds.
Eureka, Palms, South Point, and the D offer cheap video poker with good comps.
Why am I not Getting Free Comps in Vegas Casinos?
A common Vegas misconception is that you merely need to start gambling to be comped – regardless of the stakes or your playing volume.
The truth is that pit bosses and cocktail waitresses closely watch players to ensure that they're betting enough to receive comps like free drinks, meals, and hotel stays.
Some casinos have even installed light systems on slot machines, which turn green when you bet enough to earn a free drink.
One thing you can do to speed up the comp process includes asking the pit boss to rate your table game play, and signing up for a slots club card.
What Age do You have to be to Gamble in Vegas?
Although Las Vegas is loose with many of its laws, they enforce a strict minimum gambling age of 21. Minors can walk through casinos to access other areas, but they can't stop or sit down on the casino floor.
In 2017, Assemblyman Jim Wheeler introduced a bill to lower the legal gambling age to 18. But this legislation received little support and was quickly shot down.
Few casinos have any interest in lowering the gaming age to 18 because it would be harder to prevent underage drinking.
Atlantic City had this problem in 1983, when their gambling age was 18, but the drinking age was raised to 21. After just a few months, casinos offered overwhelming support to increase the gaming age to 21.
History of Nevada Gambling Laws
1909
Nevada bans all forms of gambling
1931

Assembly Bill 98 legalizes casino gaming in Nevada
1931
Reno's Bank Club offers first legal gaming in Nevada
1931
Northern Club issued first Las Vegas casino license
1942
El Rancho Vegas builds first casino-hotel resort in Vegas
1946
Nevada begins collecting tax revenue on gambling
1955
Nevada Gaming Control Board created
1966

aesar's Palace begins operating on Las Vegas Strip
1973
MGM Grand opens on the Strip
2004
Nevada casino revenue tops $10 billion
2007
Nevada gaming revenue sets US record at $12.7 billion
2011
Gaming Control Board passes online poker legislation
2013
Ultimate Poker becomes first legal, regulated poker site in the US
2015
Delaware and Nevada sign compact to share online poker player pools
Conclusion
Nevada has staked its reputation on wide-open gambling options across the state, including numerous casinos, sportsbooks, and off-track betting sites. But as you can see, there are some limitations to Nevada's gambling laws.
The most-glaring limitation is that you can't buy lottery tickets in the Battle Ready State. Politicians have made over two dozen attempts to change this, but to no avail.
You also won't find any active racetracks in the state. We imagine that the horse racing industry doesn't want to compete in a saturated market where casinos rule.
While Nevada has legal online gaming, this is currently limited to poker sites. Online poker hasn't been a boon to Vegas casinos, so we don't see them expanding to internet casinos any time soon.
With so many other states legalizing gambling and offering casinos, it'll be interesting to see if Nevada relaxes their gaming regulations even more in the future.
They're already the first to legalize casino gambling and online poker. And now they're moving into skill-based gaming as a way to attract millennials.
It remains to be seen whether or not these efforts increase Nevada's casino market even more. But even if this doesn't happen, they'll still remain American's top casino destination as well as one of the largest tourism hotspots.