Kentucky Gambling: Laws, History & Online Gambling Options
Kentucky Gambling Law Overview
Casino Gambling: Not Legal
Poker: Not Legal
Horse Racing Betting: Legal
Dog Racing Betting: Not Legal
Lottery: Legal
Daily Fantasy Sports: Not Specified
Charitable Gaming: Legal
Social Gambling: Legal
Online Gambling: Not Specified
In most cases, Kentucky gambling law is strict. The state's history as the epicenter of thoroughbred breeding and racing means that wagering on horse races is generally exempt from the tough anti-gaming laws in place in the Bluegrass State.
Kentucky allows its citizens a few traditional American ways to gamble. The state runs its own popular lottery system and Kentucky residents are allowed to buy tickets for multi-state drawings as well. Kentucky just moved to allow online lottery sales, which is seen as a huge step in the direction of expanded access to regulated gaming. Charitable games are provided for, and rules for private games make it clear what the state expects of citizens in private betting pools.
But the one thing that's missing in Kentucky is legal access to traditional casino gambling. Kentucky residents have to travel to nearby states to get their fix of table games, slot machines, and other Vegas classics.
We look at existing Kentucky law and examine why the state is so dead-set against casino gambling, below.
Recent efforts to legalize casino gambling in Kentucky were met with consternation by the state's highest house of Congress. That happened in both 2010 and 2012. Part of the reason for the state's dragging its feet is the large amount of revenue they already earn from horse race betting. Check out some key facts about Kentucky's gambling industry below.
Kentucky Gambling Stats & Key Info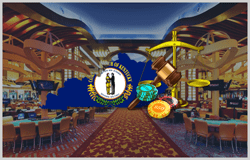 Age Requirements: 18 for horse race betting
Approximate Annual Gambling Revenue: $839 million
Approximate Annual Gambling Taxes: $310 million
Number of Commercial Casinos: 0
Number of Racinos: 0
Number of Tribal Casinos: 0
Casino Regulatory Body: Kentucky Horse Racing Authority
Lottery National Rankings: 20th
You've got some knowledge about the state's betting business under your belt. You're ready to read our analysis of Kentucky's notoriously-tough gambling laws. Pay close attention to the specific and at times archaic wording of the state's restrictions on betting. As is often the case, Kentucky's gaming laws depend on old interpretations and definitions, and should the state decide to relax existing betting laws, they'd also have to deal with existing language in the penal code that doesn't jibe with the modern gambling industry.
The Legal Status of Gambling in Kentucky
We found that many forms of gambling are strictly-regulated or downright illegal in the state of Kentucky.
Let's start our analysis of the legality of Kentucky gambling by breaking down the state's definition of gambling:
"Gambling means staking or risking something of value upon the outcome of a contest, game, gaming scheme, or gaming device, based on element of chance, and an agreement that someone will receive something of value in the event of a certain outcome."
We added emphasis to that quote to point out the most important section of that statute. By saying explicitly that illegal gambling must be based on chance, Kentucky left their gaming law open to interpretation. According to the above statute, for an act of gambling to be considered legal it must use skill as the major factor in determining wins, losses, and payouts. In other words, if a player's ability makes them more likely to win and profit from the game, it is probably legal. In legalese, "skill must sufficiently govern the results."
Any game that doesn't meet that standard is an illegal gamble.
The best example of a game in which skill sufficiently governs the results is poker. Though we're not lawyers, we think you could make an argument that a private game of poker is legal in Kentucky because all the participants depend on skill for their winnings. Sports bettors might make a similar argument.
Regardless of their ability to defend their gambling as a skill game – what would happen to a person in Kentucky if they were charged with a count of illegal gambling?
A first offense is considered a misdemeanor, but it's a low-class offense for which you'd literally get a ticket and a fine of $50-$100. Where things get serious in Kentucky is with repeat offenders. Unlike most US states, Kentucky imposes a felony charge for a second offense of simple gambling. The penalty includes a jail sentence and a hefty fine in the thousands of dollars.
What are some exceptions in Kentucky's anti-gambling laws?
Horse racing betting & charitable gambling.

Horse Racing
The most obvious exception to Kentucky's anti-gambling laws is the state's many horse tracks and OTB facilities. The world-famous famous Kentucky Derby at the gorgeous Churchill Downs racetrack operates year-round, as do six other major harness and straight racing courses. Kentucky has a new form of legal gambling at its historic racetracks – a new series of instant racing game machines at race tracks that allow bettors to wager on historic races. They look like slot machines, but these games are really just Kentucky pari-mutuel wagering in an electronic format.

Charitable Gambling
An exception is also made for charitable gambling, in this case bingo games, raffles, and even sales of scratch-off type tickets. These games are legal if all proceeds go to certain charity organizations recognized by the state. These groups cannot use slot machines, table games, video machines, or even live horse races during legal charitable gaming.
Is Online Gambling Legal in Kentucky?
Online gambling is not explicitly illegal in Kentucky.
Here's all that means:
We couldn't find any law or statute that applies directly to the practice of placing wagers over the Internet. The only partially-relevant language in the state's criminal code allows for online pari-mutuel bets, as part of a provision allowing OTB wagers.
Unfortunately, that law is written so that only pari-mutuel wagers are made explicitly legal. Such is the strong heritage of horse racing in the state.
Is it possible to interpret Kentucky law to get a better idea of the exact legal status of online gambling?
How about this: in 2008, the state of Kentucky attempted to seize 141 domain names related to online gambling. Kentucky was the first state to bring legal action against online gambling providers, and it resulted in a seizure of certain domain names.
Governor Steve Beshear had this to say about the seizures:
"The owners and operators of these sites prey on Kentucky citizens, including our youth, and deprive the Commonwealth of millions of dollars in revenue. It's an underworld wrought with scams and schemes."
Clearly, the state is not thrilled at the idea of people placing online wagers inside state lines.
But notice that the state went after the providers of online wagers, not their players. To date, no Kentucky citizens has ever been charged with a crime related to online gambling. As in the above case, the only cases that have gotten anywhere near trial have had to do with illegal gambling operations and operators, and not individual bettors.
We think that all this evidence adds up to a simple fact:
Online gambling is not illegal in the state of Kentucky.
Of course, we don't want you to think this represents actual legal advice. If you have genuine legal concerns about online gaming in the Commonwealth of Kentucky, consult a legal professional familiar with state gaming law.
Where Can I Gamble In Kentucky?
Nearest Casinos to Kentucky
Unless you have a peculiar desire to play the Instant Racing games available at a few of Kentucky's race tracks, the only way you can gamble is to drive out of Kentucky and visit a casino in a neighboring state. The closest casinos to most of Kentucky are in Indiana. Here's a brief guide to the three casinos nearest the Bluegrass State:

Horseshoe Southern Indiana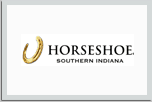 Address: 11999 Casino Center Dr SE, Elizabeth, IN 47117
Venue Type:Riverboat Casino
As the closest gambling venue to Louisville, the Horseshoe is aimed primarily at the large pool of bettors just over the border in Kentucky that don't have easy access to any other form of casino gambling. This is the world's largest riverboat casino, with four tiers and a massive restaurant and shopping complex featuring an upscale steakhouse and 24-hour diner. The gaming floor is just under 100,000 square feet, and features 2,800 slot machines, and 140+ table games.

Belterra Casino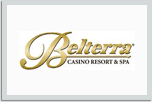 Address: 777 Belterra Dr, Florence, IN 47020
Venue Type:Riverboat Casino
Belterra Casino is basically Horseshoe Light. Its 1/3 the size, hosts about 1/3 the games, and offers about 1/3 the amenities. If you live further north than Louisville, its way easier to get to Belterra than to the Horseshoe. Besides, parking is free at Belterra, the crowds are smaller, and the food and drinks are much more affordable.

Hollywood Casino Lawrenceburg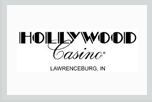 Address: 777 Hollywood Blvd, Lawrenceburg, IN 47025
Venue Type:Commercial Casino
Halfway between Cincinnati and Louisville, Hollywood Casino Lawrenceburg is a pleasant drive away from millions of Kentucky citizens. This casino is open 24 hours, provides round-the-clock live poker, a 150,000 square foot casino, thousands of gaming machines, and 150 gaming tables, most of which are open 24 hours a day.
Online Gambling Options in Kentucky
Because the state of Kentucky doesn't consider online gambling explicitly illegal, addressing only the operators of illegal gambling games, it's safe to place online bets while in the borders of the state. That's because Kentucky law doesn't address the practice of using the Internet to place bets. As is often the case, the culprit here is the state's antiquated approach to gambling, which it generally considers an unwanted vice. So long as the state doesn't act to explicitly outlaw the practice, we think you're safe as a bettor placing Web-based wagers while within Kentucky borders.
Recommended Gambling Sites for Kentucky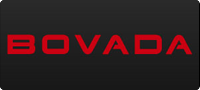 Bonus 50% up to $250
Read Review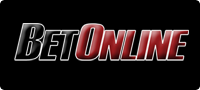 Bonus 100% up to $1000
Read Review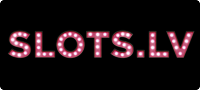 Bonus 200% up to $5000
Read Review
History of Kentucky Gambling Laws

Kentucky bans all gambling except bets on horse races
Legality of horse race betting upheld
State lottery established

Charitable gambling legalized
Kentucky senate votes down casino gambling legalization
Further Reading on Kentucky Gambling Law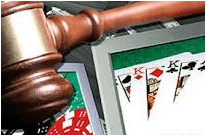 Kentucky Gambling Law Summary
If you're interested in digging deeper into the state's gaming law than we have in this article, you should start here. This page collects direct quotes from Kentucky statutes related to gaming in one convenient place. The site also hosts other resources for people interesting in American gambling law, including a long list of Useful Links that we use all the time in our own research of state gaming law in the United States.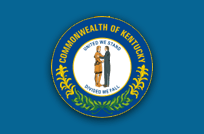 Kentucky Department of Charitable Gaming
The state's charitable gaming laws are convoluted and very specific. If you're planning on operating a charity event involving gambling in the Bluegrass State, you can start at this page to keep your game in line with state gambling statutes. Kentucky is generally friendly to charitable gambling, but you do need to follow a few rules.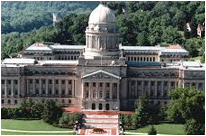 Kentucky Legislature Guide to Revised Gambling Statutes
Because Kentucky is one of a handful of US states that's always shifting its policies towards gaming, we think this site is a good bookmark for Kentucky residents concerned about gaming legality. It's updated every time a gaming law changes – and in Kentucky, that's a common occurrence. Stay up-to-date with Kentucky's gaming regulations by checking this site every few months.
Kentucky Gambling FAQ
How can I make sure my private game of poker is legal in Kentucky?
By law, social games of chance are all permitted within Kentucky borders. The tricky part is determining what makes a game social and what makes it a "game of chance." Basically, our interpretation holds that any contest or game in which chance is a driving factor in the outcome is considered a game of chance, while "social" in Kentucky terms means that it takes place privately in a person's home among friends with a legitimate social relationship. Kentucky law goes so far as to protect people who host private or social games of chance, giving them the affirmative defense against an illegal gambling charge that the activity they were hosting is a social game according to the tenets of the state penal code.
What is the difference between a charitable game and a commercial game by Kentucky law?
The single most important factor in determining whether a non-profit group is running legal charitable games or illegal commercial gaming is the amount wagered, meaning the amount of money won and lost by that group's customers. When a group's take or loss exceeds $25,000, an investigation is triggered, and the group is presumed to be engaging in commercial gambling. Charitable games that take place on dates other than their approved date are also at risk for being declared illegal.
What charitable games can I host in Kentucky without acquiring a license?
Here's a list of games that Kentucky law says you can host for charitable purposes without any sort of special licensure:
Dart throw
Basketball shot
Golf putting contest
Bean bag toss
Duck pond
Live auctions
Silent auctions
Milk bottle throw
Bean count
In Summary
Kentucky is still the land of pari-mutuel wagering on horse racing. The majority of the state's income from gaming is due to horse race betting, though the lottery is slowly gaining ground. Now that big casino companies are eyeballing venues like Bluegrass Downs for potential development as casinos, it's clear that the state is heading towards expanded legalization.
Gambling law is a hot topic in Kentucky, specifically casino gambling. It's seen by many as a potential source of additional revenue. Kentucky's neighbors either already offer casino gambling or are making moves to do so, and with that kind of competition, it's hard to imagine the Commonwealth not trying to recapture some of that money heading to neighboring state coffers.
Will Kentucky soon be the newest American state to allow tribal and commercial gambling?
With the state headed for a critical series of legislative debates on the issue, only time will tell.