Illinois Gambling: Legal Status, FAQ and Where to Gamble Online
Illinois Gambling Law Overview
Casino Gambling: Legal
Tribal Gambling: Not Legal
Poker: Legal
Horse Racing Betting: Legal
Dog Racing Betting: Not Legal
Lottery: Legal
Daily Fantasy Sports: Not Legal
Charitable Gaming: Legal
Social Gambling: Not Legal
Online Gambling: Not Legal
Illinois is sometimes referred to as a microcosm of the United States, meaning their behavior reflects the average American. And based on the numerous betting options that are offered to their residents, we can assume that Americans love gambling.
While Illinois isn't the Wild West of gaming, they do offer plenty of riverboat casinos and lottery retailers.
The Land of Lincoln hasn't always been this liberal with regard to gaming. But they've gradually loosened regulations since the 1970s, when their state lottery and horseracing industry were created.
The big reason for the change of heart is that politicians grew tired of seeing tax dollars pour into Indiana casinos. And the end result is that the Prairie State now offers more than enough gambling options for its residents.
One thing that surprises us, though, is that Illinois is one of the few states to ban online gaming. We'll discuss this later, but let's first look at their gaming industry along with important laws you should know about this state.
With a population of 12.88 million, Illinois has plenty of people to support its thriving gambling industry. And this includes the Illinois State Lottery, which generates over $2.8 billion in ticket sales every month.
After prizes and retailer commissions are paid out, 24% of this amount, or approximately $670 million, goes into the Common School Fund. This is a tremendous amount when compared to most other states, and it plays a big role in maintaining and upgrading Illinois' school facilities.
The other big source of gaming revenue is the state's riverboat casinos, which earn over $1.4 billion per year. The state features 10 riverboat casinos, with the largest concentration in counties surrounding the Chicago area.
Illinois taxes their casinos more heavily than any other state. Based on annual casino revenue, the tax rate starts at 15% ($25m annual) and goes up to 50% ($200m or more).
Compare this to Nevada, which charges a flat 7.75% tax rate (includes 1% fees).
Despite the high taxes, this hasn't discouraged the industry since most of the riverboat casinos are still successful. This has in turn helped make Illinois one of the most successful states in terms of gambling revenue.
Illinois Gambling Stats & Key Info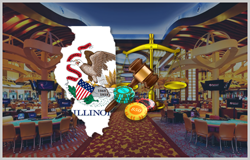 Age Requirements: 18 for lottery; 21 for casinos
Approximate Annual Gambling Revenue: $4.8 billion
Approximate Annual Gambling Taxes: $1.6 billion
Number of Commercial Casinos: 10
Number of Racinos: 0
Number of Tribal Casinos: 0
Casino Regulatory Body: Illinois Gaming Board
Lottery National Rankings: 7th
Transition to Legal Status of Gambling
While the bulk of Illinois' gambling revenue comes from the lottery, they also feature a sizeable casino industry.
Their largest casino is Hollywood Casino Joliet, which has nearly 1,200 slot machines and 20 table games. The second-biggestcasino is Par-A-Dice Hotel, which also features over 1,150 slot machines and 21 table games.
Their minimum gambling ages are similar to most other states, with 18 being the minimum lottery age and 21 being the minimum for riverboat casinos.
Legal Status of Gambling in Illinois
Illinois' criminal code begins with a lengthy section in Article 28 that defines illegal gambling. Here's an abridged version of what gambling types are listed as illegal under Sect. 28-1:
Playing any "game of chance or skill for money or other thing of value."
Betting on any game, contest, or political race.
Possessing or owning a book or instrument used to keep track of bets and wagers.
Selling pools upon the result of any game, contest of skill, or political race.
Operating an unapproved lottery.
Transmitting information as to wagers via radio, telephone, or telegraph, including info on betting odds or changes in betting odds.
We're not lawyers, but our translation from the Illinois criminal code is to avoid bookmaking and/or betting on anything outside of licensed casinos or lotteries. Unfortunately, this also means that private gambling is illegal, even if it's just a low-stakes game with your friends.
Of course, Illinois carves out a number of exceptions, including riverboat casinos, pari-mutuel betting, pull-tabs, lottery tickets, scratch-offs, and charity bingo & raffles.
One other part of the criminal code worth highlighting is what the state deems to be an illegal gambling device. Here's the definition via statue 28-2 (a):
"A 'gambling device is any clock, tape machine, slot machine or other machines or device for the reception of money or other thing of value on chance or skill or upon the action of which money or other thing of value is staked, hazarded, bet, won or lost; or any mechanism, furniture, fixture, equipment or other device designed primarily for use in a gambling place."
Exceptions for what's not a gambling device include:
A "coin-in-the-slot operated mechanical device played for amusement" that doesn't offer money or right to receive money as prizes.
Vending machines "by which full and adequate return is made for the money invested" and doesn't include an element of chance.
A crane game that awards toys and novelty prizes worth less than $25.
"Redemption machine" featuring skill-based activities like bowling, rolling, shooting, or throwing a ball. Only novelty prizes or non-cashable tokens can be awarded, with prizes being worth less than $25.
Video game terminals at licensed truck stops, fraternal establishments, or any other business in accordance with the Video Gaming Act 9230 ILCS 40/1 et seq.].
Overall, Illinois' restricted forms of gaming and illegal gambling device definition follow a commonsense approach.

Casino (Riverboat) Gambling
In 1990, Illinois passed the Riverboat Gambling Act, becoming the second state to allow such gaming.
This act also created the Illinois Gaming Board, which determines who receives riverboat casino licenses. In 2012, they awarded the 10th and final license to River Casino Des Plaines.
The primary motivation for passing this legislation is that lawmakers wanted to boost river towns, which were struggling in the late 1980s and early 1990s. Another reason is that the state didn't want their residents pouring tax dollars into Iowa riverboats.
An original stipulation of this law is that the boats had to be cruising while patrons were gambling. But this rule was changed in 1999 so that riverboats could still offer gaming when docked.
Another stipulation is that no riverboat gambling is allowed in Cook County (Chicago), which is meant to protect the horseracing industry here. Nevertheless, several riverboat gaming venues have cropped up in surrounding counties.
Senate Bill 1793 sought to increase the number of riverboat casino licenses, but then-Governor Pat Quinn vetoed the matter.
Given that casino competition has increased in Indiana and surrounding states, many riverboat casinos have concentrated on becoming all-around entertainment destinations that feature celebrities, comedians, and musical acts.

Charitable Gaming
The Charitable Games Act [230 ILCS 30/1 et seq.] allowed approved charities to conduct certain types of gaming for non-profit purposes.
Accepted forms of charity gaming include bingo, pull-tabs, raffles, 5-card stud poker, and Texas hold'em poker. Given that many states don't allow their charities to offer poker, Illinois is pretty liberal in this regard.
Another rule in charities' favor is that they can offer cash prizes as rewards.

Horse Racing
Signed into effect in 1975, the Illinois Horse Racing Act allows licensed tracks to offer both harness and thoroughbred racing. Simulcast wagering and off-track betting were approved in 1985 and 1987, respectively.
Illinois has a long history of horseracing, dating back to the first track being built in 1830. But it took almost a century and a half before the activity was officially legalized and regulated.
Today, the Prairie State has four different tracks, including Arlington International Racecourse, Balmoral Park Race Track, Du Quion State Fair Harness Racing, and Fairmount Park Racetrack.
Like many other states, Illinois' pari-mutuel industry is in decline. Once worth well over a billion dollars in the early 1990s, horseracing now generates around $650 million per year.
Pari-mutuel betting is no longer the draw that it was once thanks to increased competition from riverboat casinos, video gaming terminals, the lottery, and out-of-state competition.
Several bills have been proposed to allow slot machines at racetracks (a.k.a. racinos). But all of these measures were defeated thanks to vetoes from former Gov. Pat Quinn.

State Lottery
In 1975, state legislators created the Illinois State Lottery in order to fund local schools. The result has been a success so far, with the lottery earning over $2.8 billion annually in recent years.
But many complain that the Common School Fund is too reliant on the lottery, with inner-city Chicago schools needing an influx of taxpayer money to help.
Another controversy involves the Northstar Lottery Group, a private company that's been tasked with running the Illinois State Lottery ever since 2012.
According to the Chicago Tribune, Northstar has been accused by players of offering fraudulent scratch-off tickets. Specifically, the private company is accused of discontinuing unpopular games early when they were reaching profitability for players.
A class-action lawsuit has been filed on behalf of players, which would repay all affected people who bought tickets for the discontinued games.
Despite the controversies, the Illinois State Lottery continues to rank within the top 10 in terms of revenue. More than 60% of earnings come from scratch-offs, while the rest comes from Pick 3, Pick 4, Mega Millions, and Powerball tickets.

Poker
Illinois has a number of casino-based poker rooms dotting its landscape.
The largest of these poker rooms is at Grand Victoria Casino in Elgin, where you'll find 12 tables and a regular tournament schedule. Another notable poker room is located at Harrah's Joliet, where you'll find 8 tables.
Other poker venues in the state include: Harrah's Metropolis, Hollywood Casino Aurora, Hollywood Casino Joliet, Jumer's Casino, and Par-A-Dice.

Social Gambling
As covered earlier, Article 28 Sect. 28-1 states that it's illegal to play any game of chance or skill for money and other valuables in Illinois.
This is a cut-and-dried definition of illegal gambling that leaves little to interpret. Furthermore, no carve-outs are made for private or social gambling.
If you play in a low-stakes game with a few friends, chances are unlikely that your private gambling function will be raided. But the odds increase as the number of participants grows.
Such was the case in 2015, when police raided a Naperville poker game and arrested 13 people.
As reported by ABC 7 Chicago, officers confiscated $25,000 in cash, evidence of gambling, and three cars: a 2015 Lamborghini Huracan, 2014 E63 AMG Mercedes, and 2011 Porsche Panamera.
12 of the arrested parties were charged with misdemeanor gambling, and four were charged with possession of a controlled substance.
As you can see, there's more to this bust due to the large game size and drugs involved. But you should still be careful if you're going to hold private gambling functions in the Land of Lincoln.

Tribal Gaming
The town of Shabbona, Illinois has been fighting for years to build a tribal casino. And these efforts peaked in 2016, when the Prairie Band Potawatomi Tribe began lobbying for the right to offer gambling.
Located 70 miles west of Chicago, the small town originally wanted to build a 24-hour bingo hall. But the US Department of the Interior wasn't convinced that the 128 acres owned by the Prairie Band Potawatomi counts as a legitimate reservation.
Given that no tribal bingo hall was built in Shabbona, Illinois still remains without tribal gaming.
Video Gaming
In 2009, the Video Gaming Act was passed, clearing the way for bars, truck stops, fraternal organizations, and veterans establishments to offer video gaming terminals.It wasn't until 2012 that the first machines were rolled out in Illinois.
Operators of these games must adhere to a number of conditions.
First off, each voting jurisdiction can decide whether or not they want video gaming terminals. To date, only around 40% of jurisdictions have voted to allow video gambling.
Other conditions include that video terminals can't be placed near riverboat casinos, churches, or schools.
Where Can I Gamble in Illinois?
Online Gambling Options in Illinois
Internet gaming is addressed under the criminal code's illegal gambling offenses in Article 29 Sect. 28-1:
" … knowingly establishes, maintains, or operates an Internet site that permits a person to play a game of chance or skill for money or other thing of value by means of the Internet or to make a wager upon the result of any game, contest, political nomination, appointment, or election by means of the Internet."
This language is aimed at offshore operators who offer gambling to Illinois residents. But this section also suggests that state lawmakers don't want their residents gambling online either.
Does this mean that you'll be prosecuted for internet gaming?
The odds are slim, and we've yet to see any online gamblers busted in the Prairie State. But what you'll notice is that many offshore casinos and poker sites that normally serve Americans will exclude Illinois residents.
An exception to Sect. 28-1 is made for internet lottery sales, which you can see below:
"The purchase of lottery tickets through the Internet for a lottery conducted by the State of Illinois under the program established in Section 7.12 of the Illinois Lottery Law [20 ILCS 1605/7.12]."
State politicians approved online lottery ticket sales in 2013. And while this is an obvious example of hypocrisy, it makes sense because Illinois doesn't generate any revenue from offshore operators.
Attorney General Declares Daily Fantasy Sports Illegal in 2015
In late 2015, Illinois Attorney General Lisa Madigan came out and voiced her opinion that daily fantasy sports (DFS) "clearly constitute gambling."
Through a 15-page paper, Madigan went on to state that Illinois' criminal code "prohibits the playing of 'games of chance or skill for money.'" And while she admits that DFS does involve skill, the element of chance and entry fees make the activity illegal in her eyes.
As reported by the Chicago Tribune, Madigan asked the industry's biggest sites to add Illinois to their exempt list.
At this point, Illinois is merely operating on the opinion that DFS is illegal. But Rep. Scott Drury took this a step further in 2016 by introducing House Bill 6586, which would make it illegal to operate a DFS site in the state.
HB 6586 didn't have much support in congress, but it's another sign that Illinois won't be reversing their opinion on DFS any time soon.
Online Gambling Legislation Falters
Senate President John Cullerton has long been a proponent of online poker in the state. He believes that this would be a good way to supplement land-based casino revenue.
But Cullerton doesn't think that this issue can move forward until Illinois decides whether or not they want to add commercial casinos.
State Senators Donnie Trotter and Terry Link are also fans of internet gaming, introducing SB 1739 in 2013. Attached to a Chicago Casino Development Act, this bill sought to legalize online gambling in the state.
But most lawmakers weren't in favor of SB 1739, and it was removed from the casino development act. This is the last time that a serious effort was made towards legalizing internet gaming in Illinois.
Push for Land Based Casinos
Over the past few years, there's been a movement to legalize land-based commercial casinos.
At the time of this writing, congress is reviewing SB 7, which would add 6 land-based casinos, including one in Chicago.
While the legislation has moved through the state senate, it's questionable whether SB 7 will be passed. After all, Gov. Bruce Rauner isn't in favor of expanding gambling due to all of the state's riverboat casinos.
Proponents of SB 7 argue that it would contribute up to $1 billion in licensing fees to the government and add more jobs. Additionally, it'd generate an estimated $560 million in annual tax revenue.
Another effect would be keeping more Illinois gamblers in-state, rather than traveling to Indiana casinos.
At the moment, riverboat casinos still enjoy a monopoly in the Land of Lincoln. As a concession to riverboats, SB 7 proposes that casinos pay flat taxes of 16% on table games and 20% on slot machines.
While this is still high in comparison to other states, many riverboats would prefer this to the current tax rate, which goes as high as 50%.
More points in SB 7 include adding slot machines to the state's racetracks, and also installing slots at Chicago's airports.
Illinois Gambling FAQ
Where does Illinois Lottery Revenue Go?
According to the Illinois Association of School Boards (IASB), 62 cents of every dollar spent on the lottery goes towards paying prizes. 12 more cents goes towards paying commissions, bonuses, and operating expenses.
This leaves 24 cents per dollar going towards the Common School Fund, which doesn't actually cover much of what Illinois' schools need to operate.
The IASB report states that Illinois' 3,862 public schools require over $30 billion to operate each year. This means that the lottery's Common School Fund contribution only paid 6.7% of this cost.
Even still, $670 million can certainly help fund some of the schools' expenses.
Is Online Gambling Legal?
No. Section 28-1 of Article 28 specifically mentions that "an internet site" offering gaming is illegal. The language is aimed at operators, but this could possibly be used against online gamblers along with other points of Sect. 28-1.
Speaking of which, Illinois defines illegal betting as playing game of chance or skill for money and/or valuables. Even if prosecutors don't use the mention of an internet site, they can still pursue people for making a bet in any way.
Of course, this doesn't mean that law enforcement is actively looking for people gambling online. In fact, we can't find one instance of somebody who's been arrested for internet gaming.
But the truth is that you'll have a tough time finding offshore sites that will service residents of Illinois. Article 28 makes it explicitly clear that online gaming isn't tolerated in the state.
The only exception is for internet lottery sales, which were excluded by politicians in 2013.
Is Home Poker Legal in Illinois?
No. While Illinois' criminal code doesn't specifically address social and private gambling, we can again refer to Article 28 to see that betting on anything outside of licensed options is illegal.
As unfair as it may seem, Illinois doesn't even want you playing low-stakes card games with your friends. But does this mean that nobody plays poker with their friends on the weekends?
Absolutely not because there are many people who gamble on card games in private. Furthermore, it's a waste of law enforcement's time to stake out penny ante poker games.
As we discussed earlier, the main thing that police are looking for is large, high stakes games that could be subject to other crimes like drug and illegal weapons possession.
This was the case in the 2013 Naperville game that was busted, where a 13-player game was raided because police also suspected drugs on the premises.
Why doesn't Illinois Have Brick-and-Mortar Casinos?
Illinois was actually a pioneer when they legalized riverboat gambling, becoming the second state behind Iowa to do so. Back then, few states were even thinking about casino gaming at this time, let alone legalizing them.
Once the Illinois Gaming Board began issuing licenses and riverboat casinos started being built, the state quickly experienced a gambling boom.
This growth has since stabilized, and state politicians don't see the viability in adding more casinos to fix the problem.
It also doesn't help that the past and current governors – Pat Quinn and Bruce Rauner – aren't staunch gambling enthusiasts.
Senate Bill 7 is circulating around congress at this time and would add 6 casinos in the state. But it's unclear whether the legislation has any chance of making it past Rauner's desk.
History of Illinois Gambling Laws
First racetrack opens in Chicago

Riverboat gambling begins
Illinois State Lottery begins running
Congress approves Horse Racing Act
Simulcast betting approved
Illinois legalizes off-track betting
Riverboat Gambling Act is passed

Amendment made to allow riverboats to offer gambling when docked
Video Gaming Act approved.
10th and final riverboat casino opens in Des Plaines.
HB 4148, an attempt to legalize online poker, falters in congress.
Internet lottery sales legalized.
Gov. Quinn vetoes bill to expand riverboat gambling.
Attorney General states that daily fantasy sports are illegal.
Conclusion
Illinois has fully embraced riverboat gambling since legalizing it in 1990. Now, their waterways are lined with 10 casinos, several of which rival big land-based casinos.
The Illinois State Lottery has also been quite successful, despite hiccups by the private company that runs the operation. With over $2.8 billion in annual revenue, Illinois has one of the biggest lotteries in the US.
The state's racetracks have been in decline for a while, and certain lawmakers are trying to fix this by adding slot machines. But so far, these efforts have proven fruitless.
The same can be said for land-based casinos, which, due to existing riverboat establishments, don't have much support.
Online gaming hasn't gained many supporters in Illinois either. And given that their criminal code essentially makes internet gaming illegal, you should proceed with caution here.
Another area to watch yourself is social gambling because Illinois has a broad definition of illegal gaming that doesn't exclude private functions. If you're going to play a home poker game, be sure to keep the stakes low and the game quiet.
Given that Illinois offers riverboat casinos, poker rooms, racetracks, and a lottery, you at least have plenty of legal options available.