Gambling in Arkansas: Online Gambling, Laws and Live Venues
Arkansas Gambling Law Overview
Casino Gambling: Not Legal
Poker: Not Legal
Horse Racing Betting: Legal
Dog Racing Betting: Legal
Lottery: Legal
Daily Fantasy Sports: Legal
Charitable Gaming: Legal
Social Gambling: Not Legal
Online Gambling: Not Specified
The Natural State has an interesting history with gambling. The city of Little Rock was once an American gambling hotspot, arguably the busiest gambling town in the world in its heyday. But times change, and as part of an attempt to change its hillbilly image, the state outlawed all forms of gambling for decades.
Arkansas gambling law allows for casinos. The state is home to two gambling venues, with room for more. The problem is that the state's strict regulations prevent these "casinos" from offering much in the way of traditional gambling. Modern visitors to or residents of Arkansas actually have very few legal gambling options. It's a shame that the state is so anti-gaming, considering how important the hobby was to this part of the world at one point in the recent past.
To make matters worse, Arkansas is another example of a US state with misleading and frustrating language in its gaming statutes. The state of Arkansas doesn't do much to make it clear which games are legal, which are not, and what regulations must be followed in order to remain on the right side of the law.
It should already be clear that Arkansas isn't a gaming-friendly state. With just two properties that could even remotely be considered casinos, not to mention total restrictions on all forms of social gaming, it's no wonder Arkansas isn't known as a gambler's paradise. Take a look at a few key stats to put the rest of the information you're going to learn about The Natural State's gambling law in context.
Arkansas Gambling Stats & Key Info
Age Requirements

18 to buy lottery tickets, 21 for any other form of legal gambling

Approximate Annual Gambling Revenue

$3.5 billion

Approximate Annual Gambling Taxes

$39.5 million

Number of Commercial Casinos

0

Number of Racinos

0

Number of Tribal Casinos

0

Casino Regulatory Body

Arkansas Racing Commission

Lottery National Rankings

5th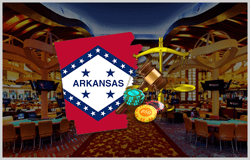 If you've read our guides to other state's gambling laws, you'll notice when you read the data in the above box that Arkansas earns very little money from gaming. The obvious reason for the state's anemic $39.5 million take is that only two casino-style venues exist in the state. It doesn't help that greyhound and horse racing events are reporting all-time low profits, with races averaging fewer than $3,000 in bets for the first time in modern history.
The fact that Arkansas citizens support the state's "scholarship lottery" so strongly implies that the state is ready for increased access to gambling. Let's take a longer look at Arkansas state law to put the numbers above in context.
What Gambling Laws Apply In Arkansas?
Most forms of gambling are illegal in the state of Arkansas. We're not lawyers, but you don't need to be to interpret the basic tenets of Arkansas gaming law. Look at Section 5-66-106 of the 2010 Arkansas Code. The law says plainly:
"It is unlawful for any person to bet any money or other valuable thing or any representative of anything that is esteemed of value on any game prohibited by state law."
Those last four words are really powerful – they give the state the right to regulate and legalize games of their choosing. Language like that makes it easy for lawmakers in the state to exercise complete control over gambling in the state.
Does that law apply to the casino gambling that's currently going on at two different venues within state lines?
It's not clear – because of the way Arkansas defines gambling, interpretation is left wide open.
Look back at the law – as far as we can tell, "any game of chance where you can win money" is pretty clear. But then a list of exceptions are made – some pari-mutuel betting is allowed, as are a few specific charitable games (bingo and raffle only), and there's even a tidy exception for social gambling.
But where are the exceptions for the games available at Arkansas casinos?
One of these casinos is in Hot Springs, that ancient home of gambling and good times. The Oaklawn Jockey Club is a horse track first and foremost. It was allowed to include electronic gambling machines after a major renovation about a decade ago. You won't find table games, poker, or other casino classics. Instead, you can place bets on virtual horse races, gamble at a few slot machines, and find some video poker terminals with really low limits. It's a racino – but one that operates games which are not granted an exception under Section 5-66-106.
The state's other gambling venue is Southland Greyhound Park. Located in West Memphis, Arkansas, Southland is a massive greyhound race track with a tiny attached "casino" composed entirely of slot and video poker machines. Again, you won't find table games, poker games, or any other traditional casino contests.
Gambling has been illegal state-wide in Arkansas since 1967. Outside of the excepted games listed above (social games, charity games, and racetrack bets), any game that involves a wager and money is not allowed.
So how do Southland and Oaklawn stay open?
It's complicated.
You could say the parks are grandfathered, in a sense. As far as we can tell from reading about the history of these venues, they exist thanks in no small part to extortion and bribery on the part of their old owners. In modern times, the tracks remained open because they made the vast majority of their income from race betting, not from gambling. The expansion of these parks into de facto "racinos" has been a long time coming.
Outside of some lack of clarity and transparency, Arkansas law when it comes to gambling is short and to the point. Compared to states like Alabama, which has the world's longest criminal code and constitution, Arkansas' gaming law is downright elegant. The penalty for a first offense of simple gambling is worth mentioning – a fine between $50 and $100. This is a petty infraction, similar to a parking ticket. In that sense, the Natural State is somewhat gambling-friendly.
Is Online Gambling Legal in Arkansas?
There is no law prohibiting online gambling in Arkansas' criminal code or gaming statutes. We couldn't find a single instance of a gambler being arrested or charged with any crime related to online betting. But as is often the case in anti-gaming states, it wouldn't be that much of a stretch to use another Arkansas law to prosecute some for betting online. It's never happened before, but it's not hard to imagine.
For example, you could be charged with the offense of simple gambling because online gambling hasn't been explicitly legalized by another statute. That's where the tricky language used in Arkansas' criminal code (and the codes of many other conservative states) makes the question of legal online gambling complicated.
Could Arkansas move to legalize or regulate online gambling in the future?
It doesn't appear likely
There has been no talk about the subject among state lawmakers. A tiny glimmer of hope is on the horizon, in the form of attempts to legalize table gambling and open up tribal gambling opportunities in the state. But opinions on whether or not that would be good for Arkansas-based online gamblers is split.
Gambling Venues in Arkansas

Oaklawn Park Racing & Gaming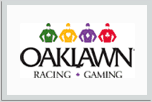 Address: 2705 Central Ave, Hot Springs, AR 71901
Venue Type:Racino

Southland Park Gaming & Racing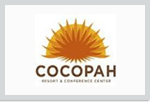 Address: 1550 Ingram Blvd, West Memphis, AR 72301
Venue Type: Racino
What Gambling Sites Can I Use in Arkansas?
If you're looking for Web-based action and you live in the state of Arkansas, you're (technically) in luck. The state's constitution doesn't make any mention of online gambling, doesn't take any steps to describe it, and imposes no penalty on a person who is "caught" placing an online bet.
This means that online gambling is implicitly legal. It may be odd that a state which includes a total ban on private social gambling, even in the privacy of a citizen's home, doesn't have any opinion on Web-based gaming, but that's the situation. The long and short of it is that, so long as you're playing at a site that's operated from an offshore location, you're participating in a technically-legal gambling game.
Recommended Gambling Sites for Arkansas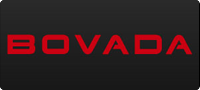 Bonus 50% up to $250
Read Review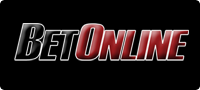 Bonus 100% up to $1000
Read Review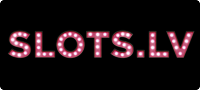 Bonus 200% up to $5000
Read Review
History of Arkansas Gambling Laws
1880

Oaklawn racetrack opens for business
1947
Crackdown on illegal gambling operators
1967
Gambling declared illegal statewide
2005

Games of Skill legislation passes, expanding gaming at racinos
2009
Arkansas Scholarship Lottery begins
Arkansas & Problem Gambling
We think it's worth pointing out that Arkansas is the only US state to allow any form of organized gambling and not provide any state funding to combat gambling addiction. In 2009, lawmakers allocated $200,000 a year to help treat Arkansas gambling addicts, but a Conservative government takeover looking to cut spending wiped that funding out all the way to zero.
Thankfully, a group called The National Council on Problem Gambling acted fast, creating a special helpline just for Arkansas citizens. In a wise move, both The Southland and Oaklawn racino properties contributed equal sums of cash to help the operation.
Unfortunately, The National Council and both racinos have been arguing for some time that a much greater effort is necessary. After all, though Arkansas lawmakers may not like to think of it as gambling, what goes on at Oaklawn and Southland is not just "skill gaming," especially when you consider that some $3.5 billion is poured into legal gambling wagers each year.
Additional resources on Arkansas gambling laws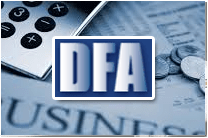 Arkansas Department of Finance FAQ on Gambling Machines
The Arkansas Department of Finance has ultimate jurisdiction over pretty much anything gaming-related within the state. This FAQ contains a wealth of information about the legality of various types of machine games in Arkansas. Its essential reading for people with legitimate concerns about the legality of games they play or host in their home or business.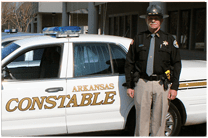 Arkansas Justice Department: "Prohibited Behavior"
This lengthy list of prohibited activities applies to businesses that operate a beer, liquor, OR gambling license. It's sort of an etiquette book combined with a staunchly-conservative bureaucratic "DO and DO NOT" list. It's educational, but also essential for anyone in the state interested in providing booze, bets, or other adult pleasures.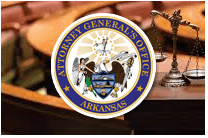 Arkansas Attorney General Opinions Search
This is a useful tool for anyone researching the legal status of gambling in the state of Arkansas. With this tool, you can search for recent opinions by the Arkansas Attorney General's office. We like to search for "gambling," but I suppose you could search for things like "slot machines," or "gaming machines," or even "tribal gaming." Have a blast.
Arkansas Gambling FAQ
What is the average return for Arkansas' special "electronic games of skill?"
Arkansas' special gambling machines found at the state's two pari-mutuel facilities are broadly defined by the state as "games played through any electronic device or machine that affords an opportunity for the exercise of skill or judgment where the outcome is not completely controlled by chance alone." In reality, you'll find that these games are very close to video poker, video blackjack, and traditional slot machines made legal by the opportunity to re-spin the reels.
By Arkansas law, no game can have a theoretical return percentage of 83%. Because Arkansas' gambling regulations are so strict, we know pretty much exactly how much these games are returning. For the one year period from July 2014 through June 2015, Arkansas casino reports indicate that the average return at Oaklawn was 93.77%, while at Southland it was 93.01%.
What is the penalty for owning an illegal gambling device in Arkansas?
State law makes it very clear that owning, operating, or even financing the ownership, sale, or trade of a gambling device is illegal. State law takes things several steps too far, clarifying that it is also illegal to own or operate such a device in a home, business, or boat of any kind, an obvious attempt to quash the spread of gambling boats at the turn of the 20th century. The penalty schedule isn't that oppressive, a surprise for an anti-gaming state like Arkansas.
According to state law, "Upon conviction, a person who violates this section is guilty of an unclassified misdemeanor and shall be fined in any sum not less than one hundred dollars ($100) and may be imprisoned any length of time not less than thirty (30) days nor more than one (1) year." There's no indication that a repeat offense garners a larger penalty.
Does Arkansas actively pursue illegal gambling charges against its citizens?
The unfortunate answer here appears to be – "Yes." The reason for this is partly based in the state's law books. According to Arkansas law, all courts in the state are required to "broadly define" the term gaming. That means that if a case against a person or a business relies on a question of the definition of the concept of gambling, the law is required to define the term as broadly as possible, and generally side with the state.
Also, if you do a quick search of the news, you'll find plenty of examples of people being charged with crimes ranging from simple gambling to the operation of a gambling house. This isn't all that common in other US states, even southern states like Arkansas.
The state doesn't take kindly to bettors who win during games the state deems illegal – if you lose money or property while gambling in an illegal game, you have ninety days to sue the winner, in which case the state almost always returns the lost property.
Another part of the Arkansas penal code says explicitly that "It is the duty of each prosecuting attorney in this state who knows or is informed of any person [owning or operating an illegal game] to take immediate steps to have the person immediately arrested for trial, and the prosecuting attorney shall have the person arrested as provided in this subsection for each separate offense done or committed on every separate day."
In Summary
If you have concerns about the legality of online gambling (or any other form of betting) in the state of Arkansas, feel free to contact a lawyer. We say this because Arkansas appears to be really strict about their gaming laws. It's not often that we see anti-gaming authorities actively enforcing state laws.Check out this case from 2010 in which the FBI worked with Arkansas cops and state troopers to bust a group of people offering illegal "8-liner" games in their private businesses. Three people were charged with the crime of "operating an illegal gambling business." They were given class C Felony convictions, a prison sentence of five years, and fines of $25,000 apiece. For each person, this was their first gaming-related conviction.
If you live in Arkansas or plan to visit, you should check out the facts about the state's gaming policy for yourself. There is no specific law against the practice of online gambling within the Natural State, but it is clear from a few other statutes that betting is tightly-controlled in the state. There's no telling what law may be used to prosecute an individual for betting, seize his assets, or send him to prison.