Gambling in Alabama: Legal Status, Online Gambling Options & More
Alabama Gambling Law Overview
Casino Gambling: Not Legal
Tribal Gambling: Legal
Poker: Not Legal
Horse Racing Betting: Legal
Dog Racing Betting: Legal
Lottery: Not Legal

(though a statewide vote to legalize is looming)

Daily Fantasy Sports: Not Legal
Charitable Gaming: Legal

(in select counties and cities)

Social Gambling: Legal
Online Gambling: Not Specified
Alabama gambling law is strange. The state allows four pari-mutuel and gambling facilities to operate e-bingo in clear defiance of state law. Three regulated Native American "casinos" operate within state lines, but aren't allowed to offer traditional slots, blackjack, poker, and many other games germane to the casino business. Social gambling is explicitly illegal – meanwhile, state lawmakers push for the creation of more commercial venues with expanded rosters of games.
The confusing nature of gambling law in Alabama has to do with the age of the laws. The language in Alabama's law books is old-fashioned, with language that's often archaic. The state code fails to address modern features like the use of the Internet to place bets. Though some legislators are trying to update the law to match the times, Alabama's politically-conservative streak runs deep, as does its legacy of restricting gambling.
This page covers the facts related to the legality of various forms of gambling in the state of Alabama, and a range of other relevant information too.
The information in the box below should give you a good idea of the complicated nature of gambling law in the Yellowhammer State. Yes, Alabama has dog and horse race betting, and the state is considering the creation of a lottery and the expansion of existing legal gambling options. But the state of Alabama must be a confusing place to operate games of chance – over the past twenty years, electronic bingo and other games have gone from illegal to legal and all the way back around again. While the state has only recently re-legalized horse race betting, lawmakers are dragging their feet on the question of allowing for more regulated gaming statewide.
Alabama Gambling Stats & Key Info
Age Requirements

18 at tribal venues, 19 at dog and horse race betting tracks

Number of Commercial Casinos

0

Number of Rancinos

1

Number of Tribal Casinos

3

Casino Regulatory Body

Alabama Department of Revenue

Lottery National Rankings

n/a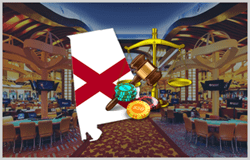 We've tried to prepare you for the rigidity and density of Alabama's gaming law. We've compared it to the size of India's constitution. We've gone out of our way to fill you in on the simple fact that Alabama law in general (and gaming law in particular) is tough to dig through and even more tough to condense to a guide this size.
Having said all that, we've spent a lot of time and energy creating a logical and easy to understand breakdown of gaming laws in the state of Alabama. Remember – if you still have question, there's an excellent FAQ section further down the page to help you wrap your head around what we'd say is the worst-written set of gaming laws in the country.
The Legal Status of Gambling in Alabama
Based on a plain reading of the state's constitutions, anyone who places a wager on anything is committing a crime. This quote (from section 13A-12-20 of the constitution) defines illegal gambling as:
". . . [staking] or risk[ing] something of value upon the outcome of a contest of chance or a future contingent event not under his control or influence, upon an agreement or understanding that he or someone else will receive something of value in the event of a certain outcome."
Take that language to its literal end, and all bets are illegal in Alabama. That's odd, because anyone can travel to the state and place wagers on e-bingo, pull-tab games, and horse or greyhound racing.
How can that be, if all wagers are illegal?
Alabama is one of a number of US states that defer to municipal and county laws in the case of gambling regulation. In cities and counties where allowances for certain types of bets are made, the state won't intervene. This has something to do with historical precedent and something to do with Alabama's tendency toward paranoia regarding any centralized authority.
But Alabama just loves laws.
Their constitution is the longest in the entire world. The Constitution of India – governing 1.25 billion people – is only 1/3 the length of Alabama's document. Alabama's gaming laws are all more than a century old, ratified in 1901. Rather than amend the world's longest state legal document, Alabama's government has decided to defer to county and municipal law.
As a result, seven cities (and two entire counties) have legalized certain forms of gambling. All these areas made a simple analysis of the cost vs. benefit of legalizing e-bingo and race betting and determined legalization was worthwhile. Technically, these areas have been breaking state law for forty or fifty years, but all with no incident and no record of an arrest. So long as the action is limited to electronic bingo and race betting, the state has no interest in intervening.
How crazy is Alabama's gaming law?
Here's a tidbit from section 13A-12-50 that goes a long way toward describing just how arcane the state's regulations can get:
"No person or persons shall maintain or use any electric bells, wires or signals or any elevators or dumbwaiters or other implements or appliances connected with any gaming place or rooms used for gaming."
The penalty for communicating with gamblers or people inside known gambling halls?
A felony conviction, five years' imprisonment, and a hefty fine.
While other states struggle to even define illegal gambling, Alabama's thorough Constitution outlines every possible activity related to betting and provides a stiff penalty.
Is Online Gambling Legal in Alabama?
Remember when we said that Alabama's gaming law is archaic?
It's true.
For instance, there's no mention of the Internet whatsoever.
But don't think that online gambling is legal just because state law doesn't specifically mention the Internet. Any prosecutor worth his salt could make a case that your laptop, smartphone, or computer (used to access online casinos or sportsbooks) constitutes an illegal gambling device.
It wouldn't be hard for a lawyer to argue that online poker "chips" (or even a piece of online slot software) constitutes an illegal gambling machine as well. This hasn't happened yet – but because the language is so loose, it's a possibility.
Here's how Alabama law defines an illegal gambling device:
"Any device, machine, paraphernalia or equipment that is normally used or usable in the playing phases of any gambling activity, whether that activity consists of gambling between persons or gambling by a person involving the playing of a machine."
The language here is so loose that it's not hard to imagine a computer used for a game of online blackjack or a parlay bet as a gambling device. After all, it is normally used in the playing phase of a gambling activity.
What could happen if you were to be prosecuted for owning an illegal gambling device?
For starters, you'll probably be convicted of a felony. You'll have your voting rights taken away, and you'll spend as many as ten years in a state prison. You could be held liable for up to $15,000 in fines (plus an additional charge for each illegal machine you're found to be in possession of) on top of everything else. And yes – these are among the toughest penalties in the country related to gambling.
Scary facts aside, online gambling in Alabama is a decidedly low-risk activity. An article from a Birmingham news station quotes one of that city's vice detectives as saying "We haven't made any [arrests for sports betting]. Nobody's complaining about it." Clearly, law enforcement related to gambling is all about handling complaints. No complaint, no enforcement.
Daily Fantasy Sports Law in Alabama
As we were preparing this guide to Alabama gaming law, news came over the wire that the state of Alabama had just declared real-money daily fantasy sports betting illegal. Alabama's Attorney General, Luther Strange, announced in April of 2016 that DFS betting violates state law. This announcement doesn't target players – only operators.
In an announcement declaring DFS illegal, Strange's office said all DFS sites have just two weeks to stop doing business in Alabama. The office declared:
"Daily fantasy sports operators claim that they operate legally under Alabama law. However, paid daily fantasy sports contests are in fact illegal gambling under Alabama law."
This isn't just one of the most boring responses to the question of DFS' legality, it's one of the least encouraging. Wouldn't you know it, neighboring Tennessee was so inspired by Alabama's announcement, the state made the same move a day later.
This news comes just weeks after some progress was made in the state house – two bills to legalize and regulate DFS as a new source of revenue for the state passed low-ranking committees. This announcement pretty much kills those bills, though we're still watching the news for updates. At the moment, real money bets on DFS are illegal, according to the Alabama AG's office.
Where Can I Gamble in Alabama?

Wind Creek Casino & Hotel Montgomery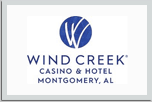 Address: 1801 Eddie Tullis Drive, Montgomery, Alabama 36117
Venue Type:Tribal Casino

Wind Creek Casino & Hotel Wetumpka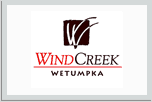 Address: 100 River Oaks Drive, Wetumpka, Alabama 36092
Venue Type:Tribal Casino

Wind Creek Casino & Hotel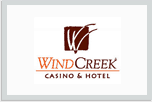 Address: 303 Poarch Road, Atmore, Alabama 36502
Venue Type:Tribal Casino
Online Gambling Options in Alabama
As confusing as Alabama law is, one thing remains clear – online gambling is not explicitly illegal. Provided you're placing bets with a service that operates from offshore, you can place bets, make deposits, get withdrawals, and do all the other things traditional for online gamblers without fear of recrimination from the state.
Of course, since this is Alabama, other caveats exist – mainly, you're not allowed to place bets at an online daily fantasy sports betting site. Don't forget that the implied legal status of online gambling is up for debate pretty much at all times while the state legislators meet. Alabama has a way of pulling the rug out from under gamblers overnight, making certain bets illegal that had been legal for years, while creating new regulated markets at the same time.
Recommended Gambling Sites for Alabama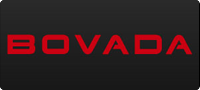 Bonus 50% up to $250
Read Review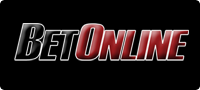 Bonus 100% up to $1000
Read Review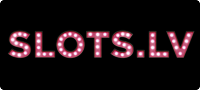 Bonus 200% up to $5000
Read Review

History on Alabama Gambling Laws
1901
Alabama state law bans all forms of gambling
1971
Greyhound and horse race betting declared legal
1980
Charitable bingo declared legal
1988

Tribal casinos (slot machines and bingo) declared legal
Further Reading On Alabama Gambling Law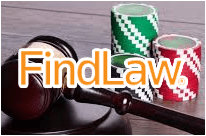 Alabama Gambling Laws from FindLaw.com
This well-organized and fact-based assessment of existing Alabama gambling laws is vital to an understanding of the state's attitude towards gaming. The information is categorized and backed up by evidence from the state's Constitution.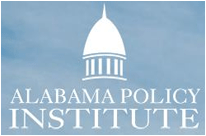 A look at gambling by the Alabama Policy Institute
The API is a conservative think-tank. We've included their collection of anti-gambling rhetoric to give some additional perspective on the issue from the other side. Topics include: Lottery Economics, The Government's Betrayal of the Poor, and How to Strengthen Alabama's Gambling Laws.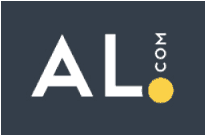 Gambling, Bingo, and the Rule of Law – an editorial in AL.com
This well-written and often hilarious editorial reveals a lot about public perception of Alabama gambling law. The best quote – "Anyone with an ounce of common sense should know the difference between a slot machine and the game of bingo, but, in Alabama, we have a legal test for it." This is a thoughtful discussion of Alabama's Byzantine gaming regulations.
Alabama Gambling FAQ
Is bookmaking legal in Alabama?
There's a persistent rumor among some citizens of Alabama that bookmaking is accidentally legal, due to a loophole in the law. We've hunted down the cause of this controversy, and we're here to say, once and for all, that it is NOT legal to act as a bookmaker in the state. The confusion comes from the weird wording of the state constitution:
"Bookmaking is defined as unlawfully accepting bets from members of the public as a business, rather than in a casual or personal fashion, upon the outcome of future contingent events."
That sentence implies that "casual" or "personal" bookmaking is legal. The trouble is that the state doesn't clarify the difference between casual and professional bookmaking. Common sense says that if you're making a significant income from operating a bookmaking service, you're breaking the law. If, on the other hand, your office is hosting a Super Bowl or March Madness pool, the state doesn't care.
What makes a social game legal in Alabama?
One feature of Alabama law that is decidedly progressive is the state's position on private or "social" gambling. Check this out, from the penalty clause for the crime of simple gambling:
"It is a defense to a prosecution under this section that a person charged with being a player was engaged in a social game in a private place."
Clearly, the state recognizes a distinction between games played privately and those played in public. But how can you stay within the law? How can you make sure that your private game is a legal (social) one? That's unclear. The only mention of the phrase "social game" in the entirety of Alabama's world-record state constitution comes from the passage we just quoted. By our best reading, so long as your game is not visible to the general public and held in a private home (not an office or other private space), you're playing a legal private and social game.
What gambling devices are legal in Alabama?
State law refers to all gambling devices that are not considered slot machines as "crane machines or devices." By state law, if such a machine is "… designed and manufactured only for bona fide amusement purposes and involves at least some skill in its operation," it is legal. That makes all carnival and amusement games legal, provided they involve an element of skill and aren't run for the purposes of gambling. But, since this is Alabama, the restrictions continue – an amusement is illegal if it rewards anything but "noncash merchandise," and even then, the value of the prize must be less than five dollars. There's a pretty funny list of recognized legal amusements in the constitution, which we can't totally reprint here for space concerns. But it includes things like: pinball games, console machines, video games, claw machines, bowling machines, foosball, target games, kiddie rides, and air hockey machines. Rest assured – you won't get arrested for playing Skeeball in the Yellowhammer State.
Are any bills under consideration in Alabama that would legalize gambling?
Yes, but none that are likely to change things on a grand scale. One bill would legalize electronic bingo and other gaming machines at VictoryLand, a once-popular bingo hall and electronic casino in the state. Unfortunately, lawmakers say that bill is doomed. Another bill is under consideration that would take steps to keep another venue, Greenetrack, open for business. This bill is also considered unlikely to pass.
Why do all Alabama gaming machines display bingo cards on their cases?
This is a symptom of Alabama's draconian gaming regulations. All of Alabama's tribal casinos operate as Class II gaming facilities. Class II games are based on the rules of bingo or pull-tab games. Class II games are different from Class I games like slot machines and table games, though their designers go out of their way to produce games that mimic video poker and slots. Class II regulations require gaming machines in this state to be based on the basic rules of bingo or pull tab games. To ensure that their games are legal under Alabama's difficult gaming machine laws, designers keep the rules as close to the rules of bingo as they can, but without the use of paper cards or daubers.
In Summary
Legal gaming is available in The Yellowhammer State. Seven sanctioned gambling venues exist in seven different Alabama cities, providing games like e-bingo and off-track race bets. The popularity of electronic bingo in the state pretty much demanded the creation of legal avenues to access it. You may not find a legal poker game in the state, with even private home games outlawed in the state penal code, but plenty of machine gaming is available.
Is Alabama about to institute a state-run lottery game and regulated poker and table gambling?
It looks that way. The state's only recognized tribal group has offered to pay for an entire year's budget deficit in exchange for an exclusive contract to offer table games, slots, and other traditional casino contests not currently available by state law. A state revenue shortfall of more than $250 million looms large in the future. Alabama could be the next big frontier in tribal gambling.