Gambling Laws in Israel
Unlike many other countries, you don't need a law degree to understand the intricacies of the gambling laws in Israel. Gambling legislation in Israel is short and sweet. There are two legal forms of gambling, two governing agencies, and two ways to place bets.
Our guide to Israel gambling laws is anything but short and sweet, though. We cover everything you need to know about the legalities of gambling in Israel.
Israel Gambling Laws – What Our Guide Covers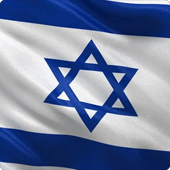 The status of both in-person and online gambling in Israel.
Penalties for violating gambling regulations in Israel.
Top casino gambling destinations for Israelis.
Most popular games in the country.
The outlook for future gambling expansion.
Gambling laws and regulations in Israel haven't changed drastically for centuries. Israel is predominantly Jewish (approximately 75%) and various interpretations of rabbinical writings and customs frown on betting on games of chance.
In short, the country has adopted an anti-gambling stance. There are only a few exceptions, which we explore in this guide to Israel's gambling legislation.
Evolution of Israel Gambling Laws
It wasn't until 1951 that the door opened to new Israel gaming laws with a national government lottery.
Sixteen years later, Israeli punters could finally put their money where their mouths are with legal sports betting.
1951 and 1967 are the key dates in gambling history, but there are several other dates that are important to the evolution of gambling regulations in Israel.
1951
A lottery for charitable purposes provides the first legal gambling in Israel.
1967
Israel gambling laws expand to allow for sports gambling (eventually covering online bets).
1977
Penal Law 5737 is enacted. This piece of Israel gambling legislation banned all other betting, lotteries, and games of chance.
2017
Israel reverses its ruling on horse racing, shutting down access to online services.
2017
Official Israel online gambling legislation passed: "Powers to Prevent Offenses through an Internet Site."
2018
Mifal HaPais removed keno cards from its lottery services.
As you can see, a short-lived online horse racing betting experiment was on the books from 2012 to 2017. That's the only addition to the other two gambling options in Israel; lottery and sports betting.
You'll also notice that there aren't many chapters in the book of in-person and online gambling laws in Israel. The timeline began in 1951, and not a whole lot has transpired since then.
Who Oversees Israel Regulated Gambling?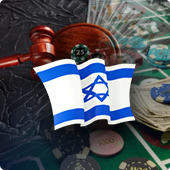 There's little need for oversight with only two forms of legal in-person and online gambling in Israel.
The Israeli government is the ultimate authority, but the lottery and sports gambling each have a dedicated board to manage operations, too.
The betting laws in Israel fall under two pieces of legislation.
Penal Law 5737 (1977)
Powers to Prevent Offenses through an Internet Site (2017)
Here is what you need to know about this legislation.
Penal Law 5737
In 1977, Penal Law 5737 outlined all prohibited gambling activities aside from the lottery and sports betting sanctioned by the ISBB.
The new Israel gambling laws and regulations covered all forms of betting, including outside lotteries.
However, like most locations, it didn't foresee a world with gambling access from home through computers and smartphones.
Powers to Prevent Offenses through an Internet Site
For a few decades, online gambling was perceived as illegal in Israel but without explicit penalties.
That's where the 2017 law "Powers to Prevent Offenses through an Internet Site" picks up the slack. It clamps down on access to gambling sites from other jurisdictions.
The Israeli government is so serious about its anti-gambling legislation that some government employees, including police officers, aren't permitted to visit a casino, even on holiday.
Mifal HaPais – The Israel National Lottery
Mifal HaPais was initially introduced in 1951 to raise funds for new hospital construction in Tel Aviv. As it evolved into a national lottery program, it expanded its financial reach to include education, arts, and recreation.
There are just under 2,400 lottery retailers in Israel today. It is estimated that half of the population participates in the lottery (or has at some point).
Mifal HaPais offers a wide range of products, including scratchcards and a subscription. But the premier draw is Lotto. It starts at five million shekels (NIS 5 million) and increases until someone wins.
Israel National Lottery Tax
In 2007, a record NIS 16 million was paid to one lucky winner. Unfortunately, it was four years after the new lottery tax passed. Otherwise, the winner would have received the full 16 million.
The lottery tax started at 25% but has increased twice since. Current Israel laws for gambling state that any winnings over NIS 50,000 are now taxed at 35%.
Freak Lottery Anomaly
In 2010, Mifal HaPais made national and international news when the same six lotto numbers came out twice and just a month apart.
The odds of hitting the exact six-number combination in the Israel lottery is one in 18,598,272. Can you imagine beating those odds twice in a month?
Curious about the winning numbers? They're 13, 14, 26, 32, 33, and 36.
Why Israel's Lottery Winners Wear Masks
Unlike in the United States, where names and images of big lottery winners are plastered all over the media, Israel takes the opposite approach. The country protects the identity of its prize recipients.
The winners' names are withheld and, if they make a public appearance, they wear a mask.
It's not a bad practice considering how many distant family members and financial planners seem to come out of the woodwork when someone has a seven-figure payday!
Sports Betting Laws in Israel
Wagering on sports isn't just the only other form of betting, but the only form of legal online gambling in Israel.
Sports betting was approved in 1967 through retailers but has since expanded to include online services. The catch is that they need to be provided by the ISBB (Israel Sports Betting Board).
Here is what you need to know about the online betting laws in Israel.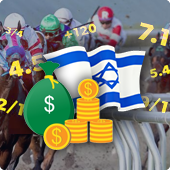 The Sports Betting Board received the go-ahead to expand its services to horse racing, but it never took advantage of the opportunity.
So, in 2012, the Israelian government cut a deal with Irish and British betting shops. They handled all of the tote betting in return for a piece of the action returned to Israel.
The partnership appeared to be successful. But in 2017, at the same time the government cracked down on illegal online gambling, it severed ties with the betting shops.
Horse racing enthusiasts could legally gamble online in Israel for five years, but the country is now back to two sanctioned betting activities.
Online Gambling Legislation in Israel
We've already briefly touched on online gambling in Israel. You now know that it's legal to place a digital sports bet, as long as it's through the official Israel gambling website managed by the ISBB.
Penal Law 5737 Neglected Virtual Gambling
From about 1996 to 2017, Israel laws for gambling online were assumed to be covered under Penal Law 5737. Law enforcement went as far as issuing ISP restrictions on unregulated gambling sites.
However, Penal Law 5737 doesn't explicitly touch on Israel online gambling laws. After all, it went on the books back in the 1970s.
That means those ISP restrictions were unlawful. Therefore, the initial legal action toward out-of-area online casinos was temporarily reversed.
That's not the end of the story, though.
Online Gambling in Israel Addressed in 2017
Public officials were intent on stopping gambling money from crossing the border. The firm stance against online betting in Israel prompted the enactment of updated anti-gambling laws in 2017.
The "Powers to Prevent Offenses through an Internet Site" (aka Israel's anti-online gambling legislation) isn't ambiguous. Not only does it extend 5737 to online access, but it broadens the authority of law enforcement.
The ISP restrictions that Israeli courts initially threw out were back in play. Additionally, gamblers could now face punishment for online gambling in Israel.
Online Casinos Not Allowed, but Gambling Providers Are
Even though online casinos and poker rooms are illegal in Israel, the country still reaps some benefits from those that run them.
Were you aware that a few of the top online gambling sites and online casino software providers are based in Israel? Here are some examples.
Because the operators aren't offering their services to Israelis, they maintain their headquarters without any legal issues. It's beneficial for the country because of the taxable income.
Mixed Bag for Digital Access in Israel Gambling Laws
We can't definitively say that online gambling is illegal in Israel, as there is a homegrown online sports betting service.
Aside from that, though, government officials have done their best to discourage residents from using unregulated betting sites.
Despite threats of fines or imprisonment, residents are still participating in online casino gambling in Israel.
Out-of-area operators have made slots and table games accessible by offering services in Hebrew and accepting shekels as currency. Although Israel blocks some domains, others are still in full swing.
Casino Laws in Israel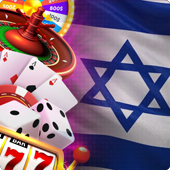 We've covered the lottery, sports betting, and how the online gambling laws extended to horse racing for a brief five-year period.
Now let's look at the land-based and online casino laws in Israel.
Israeli gamblers tend to have an affinity for table games, like blackjack and baccarat.
Unfortunately, they come up short on all accounts. There are no casinos anywhere in the country, and Israel online casino gambling laws also take internet casinos off the table.
So, what do you do if you live in Israel and want to play some slots or sit down at a blackjack table? Locals have come up with two solutions.
Travel
Underground gambling
Many Israelis who enjoy casino gambling cross the border into Egypt. There are quite a few full-service casinos nearby, including the following.
Taba Sands
Movenpick
The Hilton
Another alternative, which doesn't require as much of a commute, is the underground gambling community throughout the country. It might be somewhat hidden, but it's still significant.
Blackjack, roulette, and baccarat are extremely popular and prevalent at these private hideaways.
In fact, these games are so popular that underground gambling in Israel is estimated to be worth $3.5 billion (with a B) annually.
Yes, these games break Israel gambling laws, but they're still going strong regardless.
Overview of Israel Gambling Legislation and Laws Today
As you can now see, Israel's gambling laws haven't changed much over thousands of years. The biggest changes have happened over the past few decades.
Here is an overview of what the Israel gambling legislation allows and prohibits today.
| | | |
| --- | --- | --- |
| Regulated Gambling in Israel | Regulated Online Gambling in Israel | Prohibited by Israel Gambling Legislation (live and online) |
| Lottery | Sports betting | Slot machines |
| Sports betting | | Casino table games |
| | | Keno |
| | | Poker |
| | | Video Poker |
| | | Horse Racing |
Now let's look at the consequences for illegal gambling in Israel.
Punishment for Illegal Gambling in Israel
When it comes to penalties and punishment for illegal gambling, Israel isn't out of step with many other locations. There are plenty of laws on the books.
Local authorities can make arrests or issue fines, but it's not as if it's their primary focus.
You might find the occasional raid on an underground gambling establishment. Israel also likes to make a point by putting the spotlight on illegal gambling sites and publicly blocking their domains.
However, it's more of a "when time permits" project.
Conclusion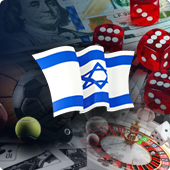 Israel hasn't embraced gambling expansion historically. However, it doesn't mean that opportunities haven't been up for discussion.
A proposed project for a vacation resort in Eilat has been in the pending stages since the early 1990s. Some politicians are proponents of creating a mini-Vegas-style vacation resort in the area.
Moving forward with Eilat would be a viable way to inject some much-needed cash into the economy.
While plans have been on the back burner for a while, the COVID-19 pandemic prompted new discussion. Tourism has waned, and casinos in Israel could be a shot in the arm for the economy.
However, don't start booking a room yet, as it's all just speculation and wishful thinking at this point.
Questions About Laws for Gambling in Israel
What Is the Legal Gambling Age in Israel?

A

You must be 18 to purchase lottery tickets or place a sports bet in Israel.

Are There Casinos in Israel?

A

No, there aren't any land-based casinos in Israel. However, there are some out-of-area online casinos that cater to Israelis. Here is a list of the best casinos online.

Can You Legally Gamble Online in Israel?

A

Yes and no. Online sports betting is permitted through the regulated sports betting service overseen by the Israel Sports Betting Board.

Other forms of gambling online in Israel, including casinos and poker rooms, aren't approved.

Do Israeli Gambling Laws Extend to Social Games?

A

Social gaming is permissible if absolutely nothing is won or lost. So, not only are cash games illegal, but any betting opportunities where something of value is changing hands is prohibited, too.