Gambling Laws in Argentina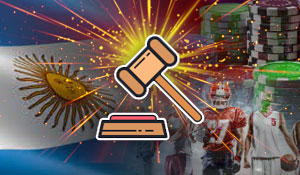 Whether you're in the mood to play casino games in person or online, buy a lottery ticket, catch a horse race, or bet on football – you're in luck. Argentina's gambling laws provide for everything.
Argentina is the eighth-largest country in the world, with the second-largest economy in South America. That economy is bolstered with nearly $15 billion in gambling revenue, and the number continues to rise.
While casinos, lottery, and pari-mutuel have been around for decades, online gambling is becoming a homegrown industry.
Online gambling laws for Argentina have been loose since 2008, when a proposed government ban on offshore providers failed. Instead of calling it a day, Argentina, instead, turned its attention to licensing and regulation to keep some of the cash from flooding out of the area.
Nothing's out of the realm of possibility when it comes to gambling and online gambling laws in Argentina. But, we're still about to fill you in on the specifics. That includes where legal betting in Argentina has been and where it's heading in 2021 and beyond.
Overview of Argentina Gambling Laws
If we had to describe the situation with Argentina's gambling laws in a single sentence, it would be – Argentina allows for every betting opportunity, both land-based and online.
Gambling legislation in Argentina is loose, but not all forms of betting and gaming are officially licensed and regulated.
There was a national lottery that was once the only federally legislated program. It started in 1893, but the 21st century witnessed the end of an era as the National Lottery held its last draw in February of 2018.
Argentina Gambling Laws By Province
Now, without the national lottery, everything is in the hands of the 23 provinces plus the city of Buenos Aires, which has different governing powers.
That means provincial lotteries, casinos, bingo, pari-mutuel, sports betting, and Argentina's online gambling laws and provisions are all dealt with by local government.
Provinces can decide which activities are regulated, and that means tighter controls on land-based operations as they're easy to spot. But when it comes to online gambling, it's not quite that simple.
However, when you can't beat 'em, you join 'em, and that's the philosophy many locations are taking.
The following is a breakdown of where each of the 23 provincial jurisdictions and autonomous Buenos Aires stands with online gambling.
Online Gambling in Argentina
Province
Status
Buenos Aires
In-province approved, but not active
Catamarca
In the discussion stage
Chabut
In the discussion stage
Chaco
Approved, regulated, and active
City of Buenos Aires
City-approved but not active – coming in 2021
Cordoba
In the discussion stage
Corrientes
In the discussion stage
Entre Rios
Approved, regulated, and active
Formosa
In-province approved, but not active
Jujuy
In the discussion stage
La Pampa
Approved, regulated, and active
La Rioja
In the discussion stage
Mendoza
In the process of regulation
Misiones
Approved, regulated, and active
Neuquen
Approved, regulated, and active
Rio Negro
Approved, regulated, and active
Salta
In the discussion stage
San Juan
In the discussion stage
San Luis
Approved, regulated, and active
Santa Cruz
Approved, regulated, and active
Santa Fe
In-province approved, but not active
Santiago del Estero
In the discussion stage
Tierra del Fuego
In the discussion stage
Tucuman
Approved, regulated, and active
Legal Online Gambling in Buenos Aires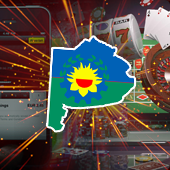 The City of Buenos Aires is moving full speed ahead with a newly approved online gambling program.
City legislation received the go-ahead in early 2020 with some modifications later in the year. The original plan left out land-based casinos, but the revised version has opened the virtual door to Casino de Puerto Madero and Hipodromo de Palermo.
If either is interested in securing online gambling licensing, they're now on the list.
Buenos Aires estimates anywhere from $6 to $9 million in annual revenue based on the new Argentina online gaming laws.
Evolution of Argentina Gambling Laws
If you compare Argentina to nearby Brazil, you'll note a stark contrast in the history of gambling and current legislation. Brazil has been ultra-conservative, flip-flopping back and forth with yes gambling, no gambling for more than a century.
On the other hand, Argentina has taken a more hands-off approach, allowing the chips to fall where they may. There have been some milestones along the way. But, for the most part, Argentina's gambling laws evolved naturally.
1880
The Turf betting game was the popular form of gambling in Argentina
1882
Establishment of the Buenos Aires Jockey Club
1893
Lottery of Beneficence introduced (aka the National Lottery)
1902
Strict ban on illegal gambling
1944
The National Lottery (Loteria Nacional Sociedad del Estado) expanded and took on oversight of Argentina's racetracks
1971
Sports predictions approved
1980
The Jockey Club of Buenos Aires assumed responsibility for horse racing from the National Lottery
1990
Land-based betting shops like Ladbrokes started to pop up – nothing formally legislated
1999
Supreme Court made a formal decree that gambling decisions and regulation would be in the hands of the provinces
2002
The government started providing licenses for online poker operators
2006
BetVictor was the first licensed operator to provide online betting services in Argentina
2008
The Argentinian government attempted an unsuccessful ban on online gambling
2018
The National Lottery was dissolved
2021
Even though there aren't official online gambling programs across the country yet, the government raises taxes for online gambling from 2% to 5%
Casinos in Every Argentinian Province
Close to 200 casinos are spread throughout Argentina, providing 25,000 slot machines and 1,000 table games.
The Hipodromo Argentino de Palermo has 4,000+ slots, which is more than any other gambling venue in Argentina. However, it's a racino and doesn't carry the wide range of betting opportunities you'll find with the official "casino" designation.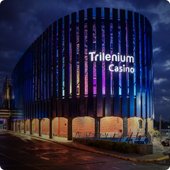 For the largest casinos with table games and poker, as well as slots, you'd head to the Trilenium.
It's located in the city of Tigre and boasts 1,700 slots and 74 table games.
Trilenium Casino
Perú 1385, B1648 Tigre, Provincia de Buenos Aires
Phone: +54 11 4731-7001
Like all of the other gambling pursuits, Argentina's gambling laws regarding casinos are pretty much nonexistent.
There's no federal program declaring casino gaming legal or illegal. We'll sound like a broken record, but it's up to the provinces to decide who can and can't stay in their jurisdictions.
Gambling Venues With a History
Casinos have been around for more than 100 years, though, and regional governments aren't going to buck tradition.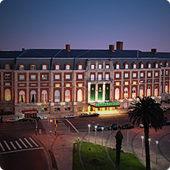 Take the Casino Central, for example. It's located about five hours from the city of Buenos Aires in Mar del Plata.
It opened in 1939 and is still an operational casino that can accommodate up to 18,000 players, as well as a historical landmark.
Casino Central
Maritimo Patricio Peralta Ramos 2148, Mar del Plata, Buenos Aires
Phone: +54 223 495 7011
Some of the land-based casinos are part of the Argentina online gambling law discussions of late.
Instead of losing income to outside providers, land-based owners are expressing interest in launching virtual services, especially since the pandemic of 2020 meant forced closures.
An Exception to Argentina Gambling Laws
While casinos are divvied up across provinces, the nation's capital, Buenos Aires, is the exception to the rule.
Casinos and bingo halls aren't approved in Buenos Aires. While there is a casino and racino, their homes are on the water and the racetrack.
The Casino Buenos Aires takes up three decks on the Estrella de la Fortuna, a Mississippi riverboat-like vessel with 700 slots and 100 table games.
Casino Buenos Aires (on board the Estrella de la Fortuna)
Elvira Rawson de Dellpiane
Phone: +54 11 4363 3100
Argentinian Horse Racing
The Buenos Aires Jockey Club was established back in 1892, and racecourses like the Hipodromo Argentino de Palermo first opened in 1876.
Despite only three currently active thoroughbred courses, Argentines are still horse racing fans.
The San Isidro course hosts one of 12 stops on the Gran Premio Latinoamericano circuit.
El Latino is South America's most valuable race with a $500,000 purse. It's also the home of the Argentine Jockey Club's Carrera de las Estrellas, or Race of the Stars, which is similar to the Breeders Cup.
Horse racing is year-round in Argentina under the auspices of the Jockey Club.
Jockey Club
Alvear 1345, C1014AAA Buenos Aires
Phone: 054 11 4815 0561
Website: jockeyclub.com.ar/
Here are details of the three racetracks.
| | | |
| --- | --- | --- |
| Track | Address | Phone |
| Hipodromo de La Plata | 116, Av. 44 1900, B1908FMN La Plata, Provincia de Buenos Aires | +54 221 483-5015 |
| Hipodromo de San Isidro | Av. Bernabé Márquez 700, B1642 Buenos Aires, Provincia de Buenos Aires | +54 11 4743-4011 |
| Hipodromo de Palermo | Av. Del Libertador 4101, C1426 CABA | +54 11 4778-2800 |
Like many countries where horse racing is popular, Argentina has a triple crown series. The three races making up the series are as follows.
Grand Premio Polla de Potrillos – Hipodromo Argentino de Palermo (1 mile on dirt)
Grand Premio Jockey Club – Hipdromo de San Isidro (1 ¼ mile on turf)
Grand Premio Nacional (Argentine Derby) – Hipodromo Argentino de Palermo (1 9/16 mile on dirt)
Wagering on horse racing is prevalent at the betting shops that have been in Argentina since the 1990, and online betting is also an option.
While offshore operators have traditionally handled online action, the situation is changing. Many of the provinces have already launched official programs that will keep the billions in annual wagering in-country.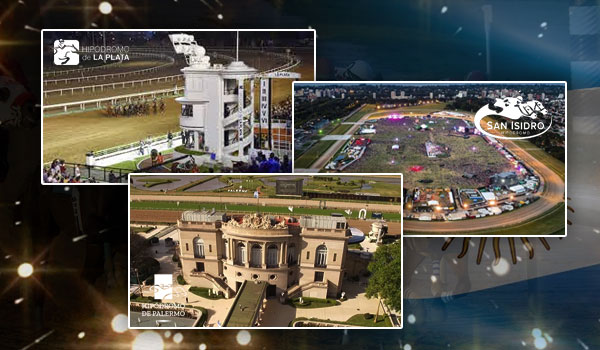 Lotteries in Argentina
February 2, 2018, was a sad day for some Argentines, as it closed the chapter on the Argentina National Lottery that had been a mainstay since 1893.
In addition to the number draws, the National Lottery maintained racetrack concessions from 1944 to 1980.
The historical significance is gone, but Argentines still have lottery action through provincial-run programs.
One of the most recent launches was in Santa Cruz in June of 2020. The new Lotería de Santa Cruz provides Quiniela santacruceña. The game will benefit health and social action projects in the local communities.
This particular lottery program stands out as it's fully automated. Instead of a manual drawing-room, it's computerized.
Provincial lotteries were already inching their way to the $1 billion (US) annual mark ($1.6 billion with the National Lottery) a few years ago. So, the addition of new programs, like Lotería de Santa Cruz, will boost that figure significantly, providing more benefit to the provinces.
Other Forms of Gambling in Argentina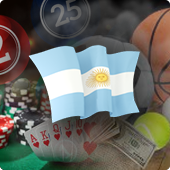 The names will change, and the venues may look different, but bingo, poker, casinos, and betting shops are part of the Argentine landscape.
While each province can allow or reject gambling opportunities, refusing them is a rare occurrence.
Even with online sports betting up in the air as far as provincial regulation in some places, residents still have access to real money gambling sites from offshore providers.
Bingo
Argentina currently has 46 land-based bingo parlors that have received the official stamp of approval from local governments.
Online bingo for real money is also accessible, even though Argentina online gambling laws don't make specific provisions.
Poker
Poker was one of the first games prompting the Argentine government to stand up and take notice.
Starting in 2002, it began licensing poker operations, even though the provinces still have their say.
Sports Betting
You could say that compared to other forms of gambling in Argentina, sports betting resides in the gray area more than anything else. When betting shops started emerging in the 1990s, they weren't on the officially approved list, but they weren't turned away either.
It's been a similar situation with the online sports betting industry as well. However, that's all changing with the new online gambling licenses.
Here are some of the most popular sports events to bet on in Argentina.
FIFA World Cup
Argentina Open
The Grand National
Argentine Open Polo Tournament
Buenos Aires Marathon
National soccer team matches
New Online Gambling Licenses in the Capital
With the national lottery defunct, new programs are emerging like the City of Buenos Aires' LOTBA (Loteria de la Ciudad). It's regulating gambling in the city, including online gambling licenses covering sports betting, as well as casino games and online lottery sales.
LOTBA requirements include a $30,000 (US) license processing and a fixed annual fee of $100,00. Applicants need at least $2 million in the bank and must have two or more years in the industry with a clean track record.
One of the first licenses could go to Casino de Puerto Madero. Other contenders include Paddy Power Betfair, The Stars Group, Intralot with Bin Baires, Argen Bingo and William Hill, and Bet365 with Pasteko.
There won't be a licensee limit imposed. Once again, Argentina has its anything goes philosophy with gambling.
The Future of Gambling in Argentina
Don't expect gambling in Argentina to be wrapped in a neat little package with a bow. It's a loosely constructed situation without a governing body and local legislation that isn't tightly regulated.
While the new online licenses throughout the country will positively affect the local economies, punters will not push offshore operators aside entirely.
However, as Argentina is taking steps to provide a much more structured online gambling program, it could clamp down on offshore operators.
The UK, for example, allows out of area providers to obtain UK licensing. That way, the gambling commission functions as a regulatory agency, and the country benefits from taxes and licensing fees.
Recap of Gambling Laws in Argentina
There's not much that you could think of that you can't find in Argentina gambling-wise. Land-based casinos, betting shops, horse racetracks, and lottery sales are located across the country.
Online gambling laws in Argentina are also much more liberal than what you'll find in many other locations. Although most betting sites haven't traditionally been licensed or monitored, they've been allowed to do business with Argentines.
However, the situation is slowly evolving. Argentina is changing its stance regarding allowing online gambling pursuits. The governments have decided to benefit from it, rather than standing by and watching as millions, and even billions of pesos, leave the country.
Argentina Gambling Laws FAQ
What is the legal gambling age in Argentina?

A

To participate in any form of betting (casino, sports, bingo, lottery, etc.), Argentines need to be at least 18.

Is online gambling legal in Argentina?

A

Yes. In most parts of Argentina, online betting is allowed. While the city of Buenos Aires is the current exception, the situation is changing in 2021 with new online gambling legislation.

Can you bet on horse racing in Argentina?

A

Yes. Three racetracks accept on-course bets. Additionally, Argentina has betting shops and online betting site availability.

What happened to the National Lottery in Argentina?

A

Argentina's National Lottery, which has been around since 1893, was shut down in 2018. Players can still buy lottery tickets in Argentina, though, through provincial lotteries.

Do Argentina's casinos have Vegas-style gaming?

A

Yes. You'll find a plethora of betting opportunities. While games vary depending on the venue, Argentine casinos have table games, poker, slots, and other gambling machines.